We did a 10 days trip to Rajasthan covering Jaipur and Udaipur in September, 2016. Although there is so much more to see in Rajasthan, still we had included only these two cities in our itinerary so that we could thoroughly enjoy every bit of these two places. I was sure, with 10 days at hand, we could do all there was to do and see all there was to see in Rajasthan. But, to my surprise, we still feel short of time. There is so much of culture and tradition to soak into that it was simply impossible to have it all. There's still more left to cover. We hope to return back soon and cover the rest.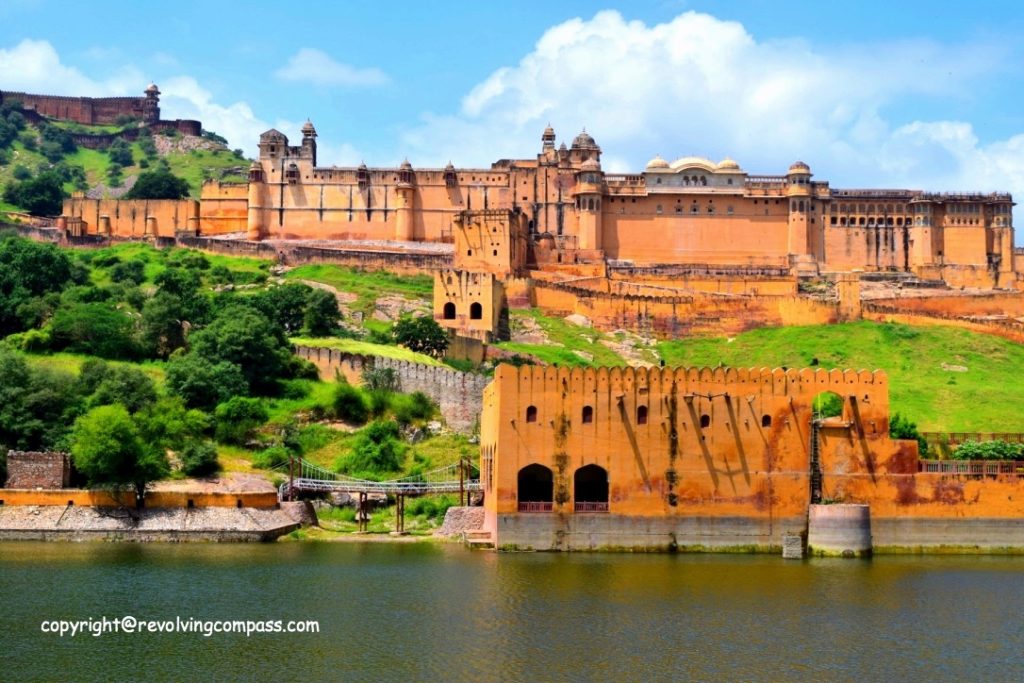 In the meanwhile, we decided to add this post so that it helps any other traveler do their due diligence and form their itinerary accordingly. So, here goes a list of things that we missed on our recent trip of Rajasthan or that we wished to have done differently, had we known better.
1) Minimum two full weeks itinerary instead of 10 days
Although we went for 10 days vacation covering just two well connected beautiful cities , still time felt short. We had a toddler with us and we had to spend some extra time resting between places. Instead of 12-14 hrs a day, we had to stick to 8 hrs a day itineraries. Moreover, most of the places worth visiting open to tourists by 9am and close by 5-6pm. Due to this, time felt even lesser. Had we foreseen it, we would have planned a trip of  2 weeks so that we had more time to soak into the Rajasthan culture and tradition. And also cover everything that we had to miss on in these two cities.
I am not sure when we will get a chance to make a trip to these cities again. But to all fellow travelers, I would recommend to make a minimum of two weeks itinerary when going on a trip to Rajasthan, particularly if you are traveling from far. If you are going on weekend getaways from other nearby cities, then maybe you can stick to one location at a time. This way, you will be able to do justice to the place you visit.
2) Cover places around Jaipur, Rajasthan
Jaipur as a city can be covered in three to four days. We do recommend a 3 days itinerary of Jaipur here. But, there are many places around Jaipur within 200km worth visiting. We had not taken this factor into account when we did our trip. Had we put some extra days into our itinerary, we could have made day trips to Bharatpur, Sikar, Alwar, Ranthambore, Bhangarh, Pushkar, Ajmer etc. But there was so much to see and do in the city itself that we couldn't step out of the city within the three days that we spent there. We wish to plan another trip to Jaipur, wherein we stay in Jaipur for a week or ten days and do beautiful day trips to all these adjoining places.
If you base yourself in Jaipur when you travel to Rajasthan, I will strongly recommend to visit these beautiful destinations around Jaipur. To cover Jaipur city as well as these places around will require a minimun of two weeks itinerary. Also, if forming this itinerary, you can take into account the weather conditions. For instance, Ranthambore national park opens for tourists only post monsoons, in the month of October. When we went to Rajasthan in September, the park was still closed for tourists.
3) A visit to Anokhi Hand Printing Museum in Jaipur , Rajasthan
I particularly love the hand printing that is tradition of Rajasthan. I was eager to visit Anokhi hand printing museum to see how the different kind of hand printings are done. Anokhi hand printing museum is located very near to Amber fort in Jaipur, Rajasthan. But, unfortunately, we had planned to visit Amber fort on Monday. And this museum stays closed on Mondays. But we didn't have time to alter our plans. So, we decided to continue with our trip to Amer, Jaigarh and Nahargarh forts. Thus, we had to drop Anokhi Hand Printing Museum. Next time when I go to Rajasthan, I am surely going to make it here. But had I known this fact beforehand that the museum remains closed on Mondays, I would have better planned my itinerary so I could accommodate this place in our itinerary.
4) A boat ride on lake Pichola in Udaipur, Rajasthan
Well, you might be smiling by now. Went to Udaipur and didn't do a boat ride on lake Pichola, huh!! In a way, it was a calculated decision at our part to stay farther, near to Fateh Sagar lake instead of lake Pichola. As, we liked the quiet area around Fateh Sagar lake compared to the busy commercialized area surrounding lake Pichola. Still we were counting on one boat ride in lake Pichola. But we couldn't do it in lieu of time. Actually, we left the city of Udaipur carving for a boat ride on lake Pichola. And it is really hard to wait for the next time.
We did a four day trip of Udaipur city. In these four days, two days we went out, one on a day trip to Ranakpore and Kumbhalgarh and another one on a day trip to Chittorgarh. So, we actually spent only two days in the city of Udaipur. Although we did a lot during these two days. On one of these days we visited the places around Fateh Sagar lake like Sahelion ki Bari, Shilpgram etc. On the last day of our trip in Udaipur, we visited the old city covering the Udaipur City Palace, Jagadish Temple, Bagore Ki Haveli Museum and did a lot of shopping end of the day. We couldn't get time for boat ride on lake Pichola at the end of it all.
5) Visiting more temples of Jaipur and Udaipur in Rajasthan
There are so many beautiful temples in Jaipur and Udaipur. We visited some but wanted to pay a homage to some more , which we couldn't due to lack of timing. We, however, happened to visit the marvelous Jain Temple of Ranakpore which more than compensated for what we missed, still, wish we could have visited some more. As, my mom was particularly eager to visit the pilgrimage & holy places. These include the Karni Mata Temple, Ekling Ji Temple, Srinath Ji Temple of Udaipur. Also, the Birla temple and Kalki Temple of Jaipur. Definitely when we go there next time, we will cover these. But wish we had little more time for these temples. Since they are all unique (and famous) in their architecture.
6) Being early bird in Chokhi Dhani, Jaipur, Rajasthan
On our last day in Jaipur , we visited Chokhi Dhani in the evening. Our cab was delayed by an hour. Then, we didn't know the route.  Finally, with the help of gps and some guidance from locals here and there we arrived at Chokhi Dhani. Upon arrival, we had to roam a little before we were able to fix our parking spot.
By the time we arrived at the resort, it was 8pm (That also, on a Sunday evening). It was crowded and we had only 3 hours left to enjoy the place and have our dinner as well. As, the resort closes at 11pm. Once we entered inside Chokhi Dhani, we realised there was much more to cover & see than we had anticipated. In no time, we were already preparing for our way back. Time just flew as we went through different stalls, performances and street food counters. I particularly regret to have missed the pottery unit where we could try our hands on pottery making and take with us the miniature pottery created on the wheels – our own master art!! Seriously, wished we would have started early and reached the resort by max 6pm.
7) Trying the street food of Rajasthan
Don't really know why this one didn't fall in place. Most probably because in both Jaipur and Udaipur we stayed in farther locations away from the hustle and bustle of the main city. And we also did day trips out of the city. So, on most of the days by the time we returned back to the city it was dinner time, and we headed straight to our hotel. We wish we would have got a chance to try the famous thalis, Samosa and kachoris, matka kulfis and other mouth watering street delicacies of Rajasthan.
I particularly wanted to try the mouth watering Pani Puri in Rajasthan. Because I had heard the taste is quiet unique here (nothing surprising , pani puri does have a different taste in almost all the states of India, each adding a twist of it's own and I love them all ). Next time when I am going to make my trip to Rajasthan, I will make sure not to miss on the street food part at any cost.
8) Visit to these places is Jaipur and Udaipur, Rajasthan
There were a few things that we had planned in Jaipur and Udaipur. Also, we had added a few places to visit and dine here and there. For instance , Leela for a dinner overlooking lake Pichola, Birla temple and Shisodri Rani Palace in Jaipur and several other such places that we couldn't accommodate in our itinerary. So, basically, even within the city, we had to drop a few places here and there from our itinerary because of the crunch of time that we had. Next time when we make our trip, we will cover the places that are left.
9) Visit to an artist village
We wanted to keep a day for visit to a nearby artist village in Jaipur wherein we could see how the paintings, tie-dye, and carpet weaving and blue pottery are done. But unfortunately, we couldn't get time to materialize this visit. I am an artist at heart, who loves to get her hands on painting, pottery, and other crafts. So, for me, this trip meant a lot. But we couldn't do it. I have heard Rajasthan is full of artists and their villages.
So, next time, even if I happen to visit any other part of Rajasthan, still I will try to find out an artisit village near it and make a trip there. But I truly wish I could have done it on this trip itself. So, for those who are planning your trip to Rajasthan, I would strongly urge you to include a visit to an artist village in Rajasthan. Without this, the trip would remain incomplete.
10) Namkeens and Sweets of Rajasthan
Rajasthan is famous for it's namkeens (salty snack items) and sweets which last long. We wanted to buy some Rajasthani delicacies, including sweets and namkeens that are trademark of Rajasthan. And we also wanted to take these with us on our way back home, also, as gift for friends and relatives. We had saved this for the last moment so that whatever we buy would be as fresh as possible. But finally, at the end, we didn't get time to buy these. Guess we should have bought a little here and there as we got chance. Nevertheless, Bikaner is quiet famous for it's namkeens and we haven't been there yet. So once we go there, we will make up for this loss.
Still, the fact that we still are wishing for things to have done on the trip , guess we needed better planning (and more number of days) for our trip. Gosh! we need to make another trip to Rajasthan soon….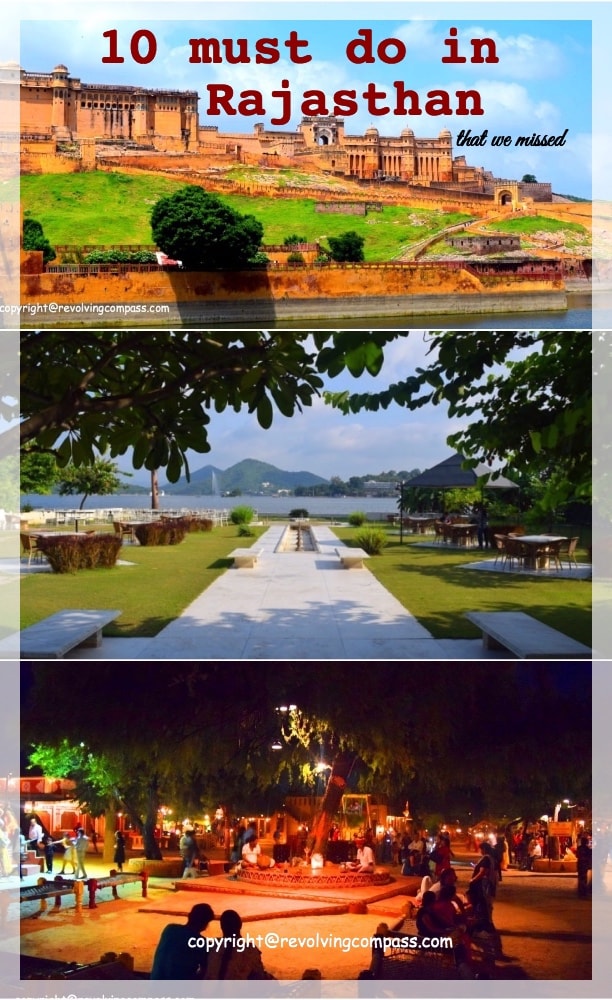 You might as well be interested in
Beautiful Wedding depiction at Bagore Ki Haveli Museum
Shilpgram: Must visit in Udaipur
A day trip to Chittorgarh fort from Udaipur
A day trip to Kumbhalgarh fort from Udaipur
The magnificent Jain Temple of Ranakpur
How best to spend 4 days in Udaipur – itinerary 
An evening at Chokhi Dhani, Jaipur
The unconquored fort of Nahargarh, Jaipur
One day trip to Amer fort, Jaipur
Hotel Ram Pratap Palace, Udaipur
Bagore ki Haveli Museum, Udaipur