Venture into a cozy café
Shimla has a lot of nice and cozy cafes. Most of them have cozy interiors and beautiful stunning view of hills outside. Many have rooftop or balcony where one can calmly sit with a mug of warm coffee or a piece of melt-in-mouth delicious honey cake and watch the abuzz of the town against the backdrops of majestic Himalayas. Some of the infamous cafes and eateries of Shimla which are a must try for any visitor are:
Honey Hut
It is a concept chain café that features only honey based products. It is located right on the mall road. Along with the delicious honey base products, it offers a magnificent view of the surrounding hills while you take a bite into the delicacies.
Sharma Vaishno Dhaba
It is a dhaba restaurant on the Kufri-Chail road, a pure veg one, with dirt cheap price and highly delicious home cooked meals.
Goofa-Ashiana
Located right on the ridge, it's a combination of two restaurants – Goofa in the basement and Ashiana on the top. The restaurant is strategically located to provide 360 degree view of the whole town of Shimla.
Indian Coffee House
This quaint and old establishment has become an institute in itself. Right on the buzzing mall road, it is famous for its delicious coffee and snacks since ages.
Aunty's kitchen
Located near Shimla fire station, it is one of the oldest chinese restaurants in Shimla. Try out the momos and the noodles here when you happen to be passing by this area. The warm welcome of the host will surely melt your heart.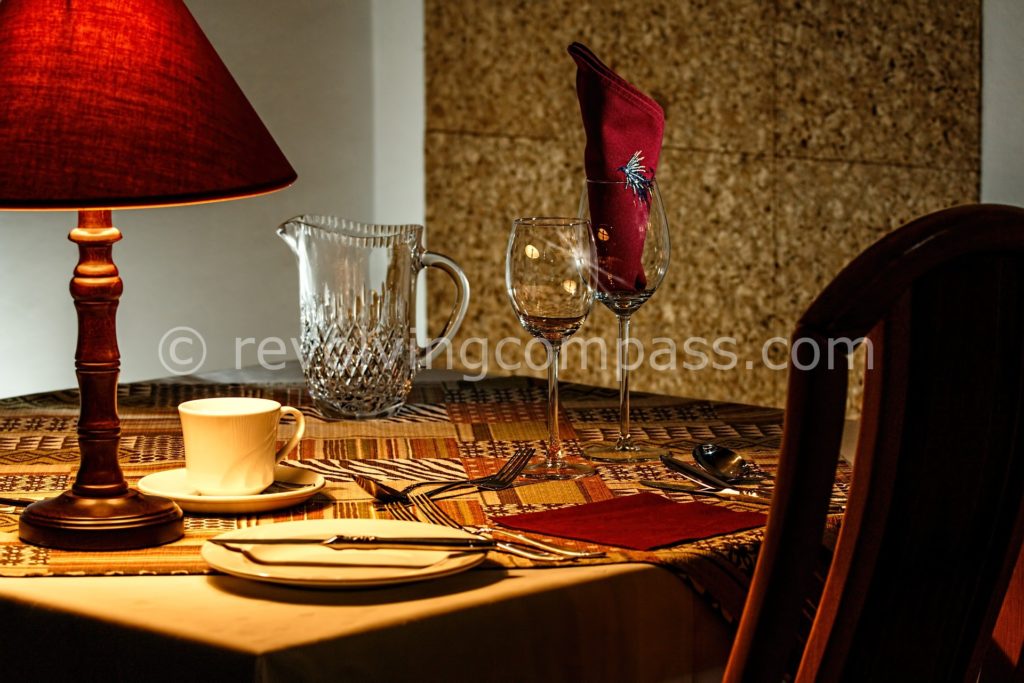 Stroll on the ridge & mall road
A stroll on the ridge and the mall road, anytime during the day, is a delightful experience. Walk slow, while browsing through the numerous tiny shops and street vendor carts that line the mall road. While walking, buy some tiny winy stuff here and there. Also, stop for a while and rest on a bench set on the side. While at the ridge, snap some beautiful photographs which will become memories forever. Eat some steaming hot street food (beware, they might be spicy! 🙂 ).
You can also indulge into an ice cream while the cold winds gush through your hair. Overall, there is so much to do and so much to see on the ridge and the mall road, that one can easily spend half day to one day strolling in and around, discovering new things, or simply soaking into the beauty of the place. And we did exactly that. We arrived here in the afternoon and strolled leisurely around till it turned dark. Then we took the government installed lift and descended back into the town, boarding our cab on to the way back to our homestay.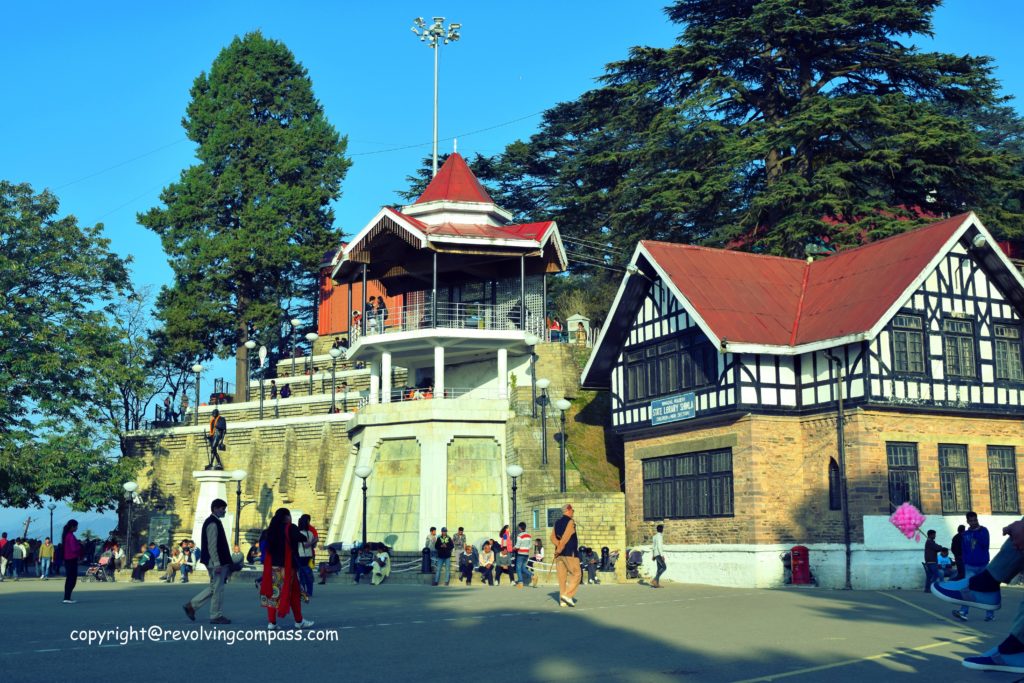 Read a book in your resort lawn
After all, natural beauty is something one wants to indulge into at a place like Shimla. But, romancing the nature can't be a passing affair. Here, one needs to go slow and steady :). For this same reason, we prefer homestays and hotels that have a good amount of open space and nice view of the surroundings. So that we can sit right into the lawn or on the terrace, enjoy a book, indulge into leisurely talk with family and friends or the owner. And, watch our toddler play while we simply soak into the natural beauty. The homestay we stayed in this time around had a huge terrace, aesthetically decorated and abundant in sunshine. Our family loved to soak into the morning sun here, chit chatting. While the little one enjoyed running around from person to person, exploring this new home away from home.
Since Shimla is so beautiful, most of the hotels and resorts or even homestays provide stunning views of the surrounding. Unlike many other tourist destinations, any spot here proves to be beautiful spot. So, you can indulge into this activity anywhere in Shimla.
Indulge in some local talk
Beware of travel agencies and other locals trying to trap you into a tourist net. But do indulge into little local talk here and there while you stroll around, trek, stop by shops and restaurtants. The locals would fill you in on the history, culture and other significant details related to the place. Stories that you would love to learn and then narrate to others. We happened to stay in a homestay when we went to Shimla. The host was generous enough to indulge into some nice conversations with us. He even gave us useful tips on how to travel and where to travel, on a daily basis, with details and historical significance of various places.
The same destination looks like two different world to the locals and tourists. If you really need to get the essence of the place, the only way is to interract with the locals. You can as well choose local places to eat your food instead of fancy restaurants. Also, buy your soveniers from local vendors in the small shops. Ask them what to see, where to eat, what to do. And, they will happily fill you in with enough information.
Spend some time in Himalayan Bird Park
If you are a nature lover and like to take your travel slow, you would love to spend time at the Himalayan Bird Park. Alas, we couldn't make it to this place this time when we visited Shimla, but we yern to visit again and make it here.The park is lush green, naturally beautiful and hosts a huge collection of common and rare species of birds. It is more commonly known as Himlayana Aviary. The park is best visited during the summer months of March-September when it is thriving with birds. It is a paradise for bird watchers.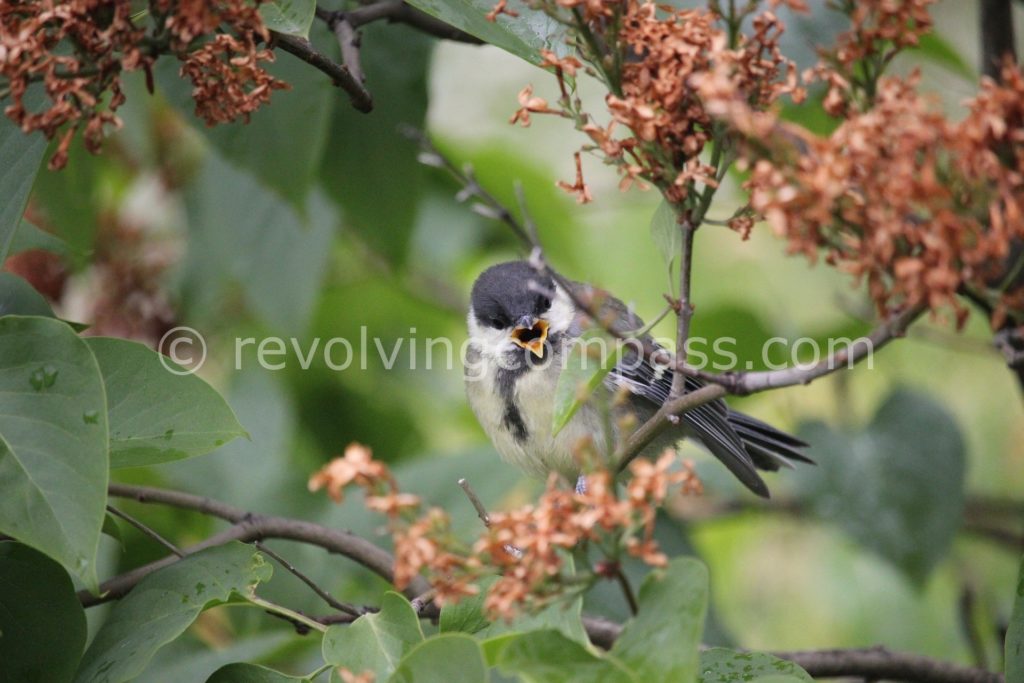 Visit Naldehra Golf Course
It's a huge golf course. It also houses a golf club. The employees and staff are warm and courteous. One can enjoy a few shots of golf while visiting here. It is lush green, peaceful and stunningly beautiful. Even if one doesn't want to really indulge into golf, one can easily spend hours here relaxing on the grounds and admiring the lush greenery and natural beauty. There are trekking trails around the golf course that can be taken during the day. We had a wonderful time trailing on the Naldehra trek when we visited Shimla last.
Relax in Chail Cricket Ground (At a little distance from Shimla)
The Chail cricket ground is the highest cricket ground in the world! The ground is huge and green. If one happens to visit Chail or is staying in Chail itself, then it is a must visit. You can as well do a day trip to Chail from Shimla, covering the Chail palace as well. It is an old palace amidst beautiful landscape, a must visit.
Visit Annadale
Annadale is a cricket and polo ground, located 4km from the ridge. The place hosts picnic parties, birthday balls, fancy fair flowers, races and polo matches. From here one can view vast stretches of green hills and forests. Tourist visit here for picnic in a nice relaxing atmosphere and soaking into the surrounding beauty.
Have a picnic at the Naldehra trek
Naldehra trek is located amidst dense deodar and pine forests. It has a hiking trek with vast stretches of greenery surrounding it. At one end, it meets the beautiful Naldehra golf course. Horses are provided for trekking and one can go by foot as well. Many tourists visit this place for picnic amongst the woods. However, beware of monkeys here when you open up your mouth watering delicacies 🙂 Our packet of biscuit was snatched away by a monkey even before we could realize what was happening !! 😀 . But definitely, the trek is ever refreshing.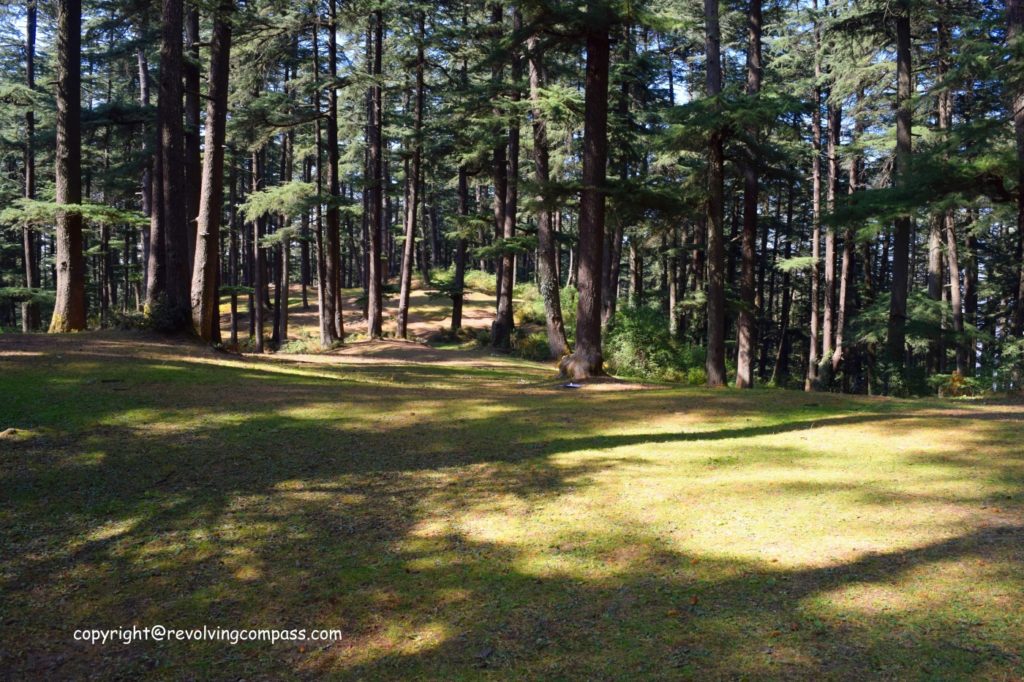 Take a heritage walk around Shimla
Shimla can be called a walker's paradise. Every lane here would take you through buildings and monuments with significant history and reach culture. The best way to get acquainted is to take a heritage walk under Shimla's heritage zone.The walk stretches from viceregal lodge to the ridge. Imposing and attractive structures like the christ church, the giety theatre, the band stand, heritage hotels, old office buildings like those of the telegraph and thomas cook, and government offices are highlight of this walking tour. Loose yourself to discover a different world in the lanes of Shimla … through the heritage walk.
Tips on visiting Shimla
There is so much to see and so much to do in Shimla, so, allocate ample time. We visited for 3 days but that time seemed to be too small.
Wear comfortable cloths and keep warm cloths with you, even when visiting in summer months.
Wear comfortable walking shoes because the best way you can explore Shimla is by walking on foot.
Try out local restaurants and road side dhabas for food.
Buy soveniers from the local shops on mall road and lakkar bazar, you might need to bargain a little.
Go to the offbeat spots, which will give you the time and opportunity to experience the serene atmosphere of Shimla in tranquility.
Interract with the locals, they are quiet generous and helping.
You can reach Shimla from Delhi or Chindigarh. Both have international airports and both are well connected to Shimla by road as well as rail route.
You can as well try the Kalka Shimla toy train to ply to Shimla. It is an experience of a lifetime.
Club a few other locations along with Shimla when visiting here – like Kufri, Chail, Manali, Kullu etc.
You might as well be interested in
11 major attractions of Shimla
Shimla to Manali – one of the most scenic road trips in India