When we visited Shimla in November, 2016, we did a lot of research to figure out the best stay option for us. We were traveling with our 1.5 years old daughter and a big family. We had a list of constraints and we searched hard for a stay option which would have all that we were looking for. We shot individual mails to these hotels enquiring about the different things that we were looking for and that were not clearly mentioned on their website or the online booking agency website. It was a lengthy and tiresome process. This is what led us to realize that lots of travelers like us must be going through similar process, spending a lot of time trying to find out the best possible stay options for them.
So, this time around, we decided to not only review the place we ended up staying at, but also make a list of the close contenders along with their pros and cons, so that fellow travelers would benefit from it.
Budget places that we considered & would recommend:
Prim Resort, Shimla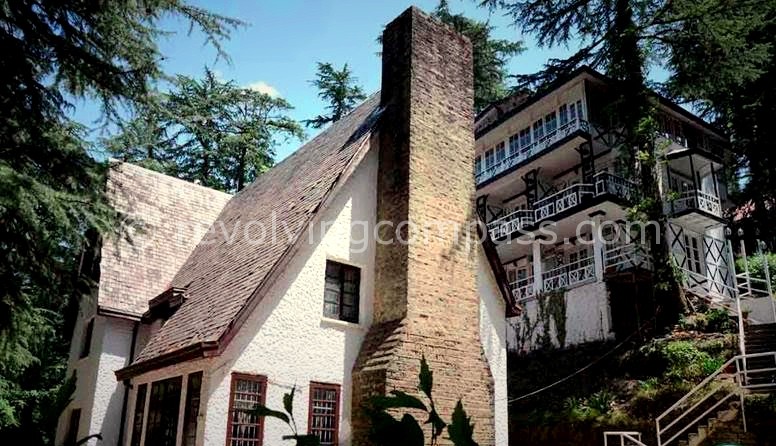 This is a beautiful bungalow located near the mall road, Shimla.
It is a heritage resort of British times. While, it reminds one of a British Manor in Windsor, UK. Also, it is a heritage resort. And, it's the erstwhile post office (circa 1893) which has made the transition to a 19 room resort for the discerning. It is adorned with Victorian furniture and several antiques viz. a 100 year old Piano, an even older fireplace, the place is full of memories and memorabilia. And, it's located quiet near the Mall Road, giving it the advantage of being near mall road and still being a quaint resort.  The resort is a haven of peace away from the buzz of the city while still being at walking distance from it. Finally, a charming forest full of birds and a Golf Course (Annadale) across the premises complete the whole resort setup . We talked to the manager and he was very keen at having us there. Actually, he was providing a very decent discounted package as well, since we were visiting at just the start of tourist season. The in-campus restaurant is renounded to serve delicious food.
Pros:
Nice food options
Lots of options inside with a sprawling living room and outside with a big lawn to leisure and relax
Although close to Mall road, it's set at an incline and hidden from the hustle and bustle of the town
Cons:
The last few hundred meters stretch to the place is steep and narrow. It would require a skilled driver to drive with confidence on this stretch
If one would want to walk all the way from Mall road, it would be little tiring because of the steep incline.
Reason we didn't end up here:
We had a toddler and parents with us. We also had two big vehicles that we had hired right from Chandigarh. We didn't feel confident enough to take a ride down the steep slope to the hotel. Also, walking on the steep hills was not an option for our parents. Although, the hotel was ready to send across it's own vehicles for pickup from Mall road , or, it's own skilled drivers in case someone with a personal vehicle didn't feel confident enough to drive. But, still we thought not to go for these options this time. In case we happen to visit again, we would love to consider staying here.
Hotel Kapil
A small property with around 15 rooms right on the heart of the mall room. This turned out to be a good budget option if one were looking to stay right amidst the town and at minutes distance from the mall road. However, it didn't meet many criteria which we were looking for, so, we had to drop off the option.
Pros:
Budget property
Situated in the heart of mall road
Arranges for site seeing
Cons:
Lack of many on – premise facilities like they have only partial power backup, no laundry, recreational room or lawn
Car parking was not available on the premises
No lifts facility
The only way to access this hotel from mall road was the government installed public lifts.
Reason we didn't end up here:
For our parents, a lift was a must to access the upper floors as they have knee problem. For our toddler, we were looking for a little space to engage her, so a lawn or basic minimum recreation was a must. For someone who would love to just stay for the night while roam around Shimla most of the daytime, this hotel can be a good option. But one should be prepared to take the government lift at the mall, which at times has huge queue and long waiting times.
Hotel Springfield's, Shimla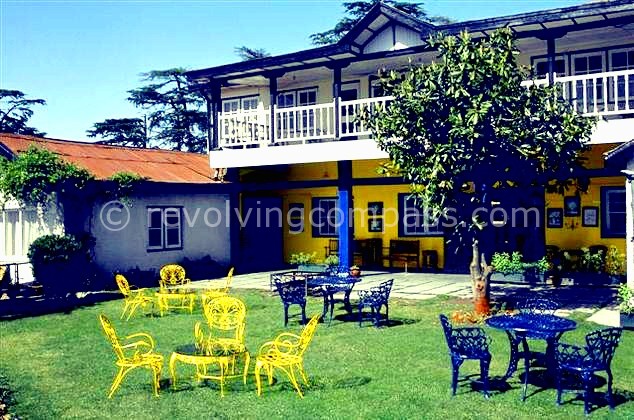 It is an old bungalow converted into a hotel. The rooms are huge, with complete rustic décor, wooden floor, aesthetically decorated roofs, and a fireplace in each room. Most of the rooms here have a generous valley view. The property is located some 15 mins away from mall road, Shimla. Cars are available at the premise to drop the tourists to mall road. Located in a quaint location with all the facilities one looks for in a hotel, lovely corridors, seating area, parlours and breathtaking view of the surroundings make this place an obvious choice.
Pros:
Good hospitality and courteous staff (as per tripadvisor review)
All the amenities one looks for in a hotel
Nice food
Nice view
Cons:
None that we knew of
Reason we didn't end up here :
We almost ended up booking here but there was a last minute addition in our group, when a friend joined us and unfortunately there were no more rooms available here. We would love to stay here next time.
Toshila Royal View Shimla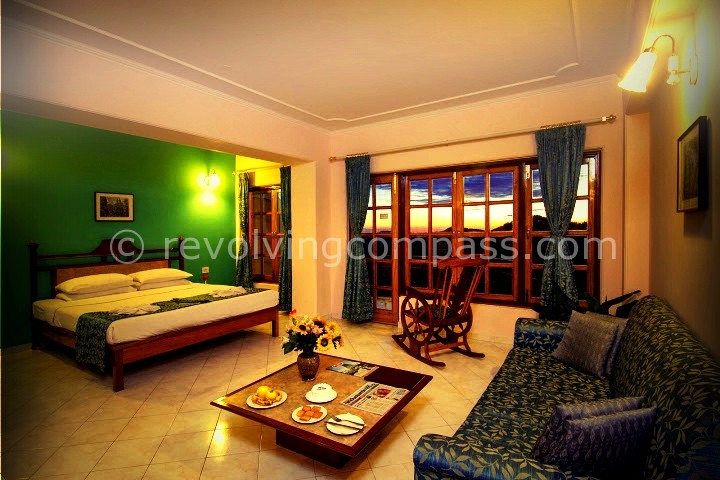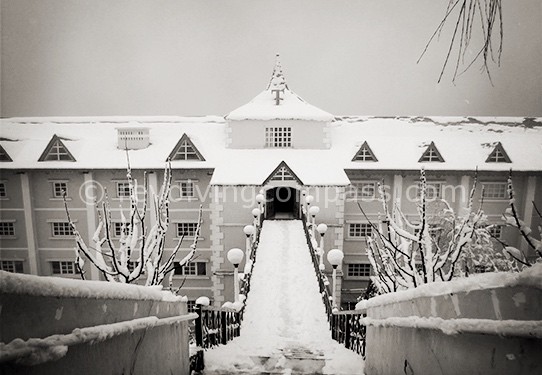 This is a beautiful resort, located little far from the mall road. It is actually located on the fringe of the triangle where the roads from Shimla, Chail and Kufri merge. To be precise, it is located on the Chail-Kufri road. The resort is located amidst dense pine forests. Every room is provided with a private balcony that opens towards the magestic view of Himalayas. The resort has all the basic amenities that one looks for : 77 well furnished rooms, multi-cuisine restaurant, a well-stocked bar, health club, sauna, steam, gym, Jacuzzi, indoor games and a sophisticated conference hall overlooking the pine valley with modern conference equipment
Pros:
Very nice location
Well appointed with all basic amenities
Car parking and driver's dormitory are also available
Cons:
None that we knew of
Reason we didn't end up here :
We were prefering a location nearer to the mail town of Shimla compared to where this resort was. In future, we would definitely love to stay here. If one plans to book a stay here, it would be a good idea to deal directly with the hotel management, cutting off any third parties involved. That would definitely land a better deal.
United 21 Resort Chail
Located almost 4km from the Chail palace, in an absolute tranquil place with great valley views, right in the lap of nature is United 21 Resort Chail. Tripadvisor reviews are quiet strong. Looked like a promising stay option if one were willing to stay here for the tranquil experience of a hill station, away from the hustle and bustle of the town.
Pros:
Mesmerizing view of the natural surrounding
Nice food and courteous staff
Cons:
None that we could make out
Reason we didn't end up here :
We were going to a cold weather/ hill station for the first time with our toddler . So, we were not very sure how she would take it. We didn't want to stay too far off the reach of the main town in case she needed anything at odd hours. We would like to experience a stay at this place some time in future. We would love to make a trip to Chail for the tranquil experience it has to offer and this hotel would be one of our top choices there.
Village Live in Resort Chail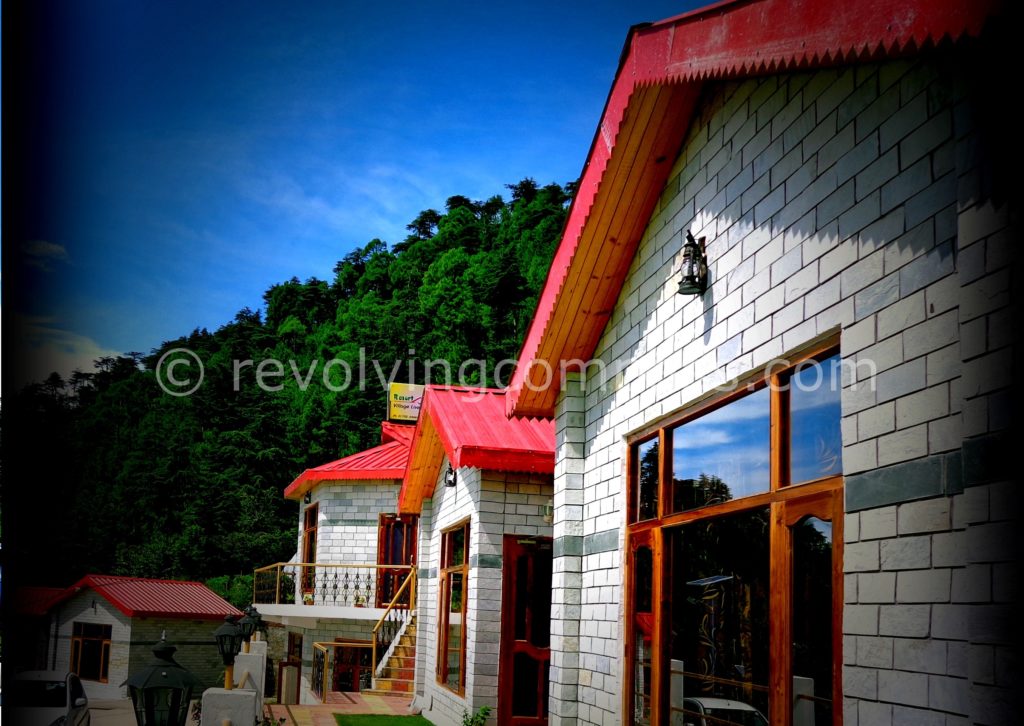 Centrally located in Chail. Close to Kali Mandir, Palace, and most of the other attractions of Chail. As per the inputs of fellow travellers who have been here , the place has particularly mesmerizing views of sunset. It is located amidst serene surroundings of Chail, at a nice peaceful location with beautiful panoramic views of the hills and valleys.
Pros:
Nice and courteous staff, good food
Very nice location in Chail
Cons:
None that we could make out
Reason we didn't end up here :
Same as the previous one, Chail was a little offbeat and this being our first trip with the toddler, we were seeing how she adjusts to the hills and the change of climate. So, we wanted to stay a little nearer to the main town of Shimla. But we would now love to stay here in future whenever we would go stay in Chail since it looks like one of the best options in Chail.
High to Premium budget places that we would have loved to stay at
There were some premium budget places that we would have very much loved to stay at, but we didn't want to take it this high on our pockets. However, if you want to go for one, here's the list for you:
Hotel Grand Sunset, Chail
Located almost the entrance to Chail, this hotel provides a very attractive view of the valleys surrounded by the hills, and ofcourse the sunsets right behind the hills. All the rooms have full glass windows that have view of the valley. The rooms are well appointed with all the modern facilities.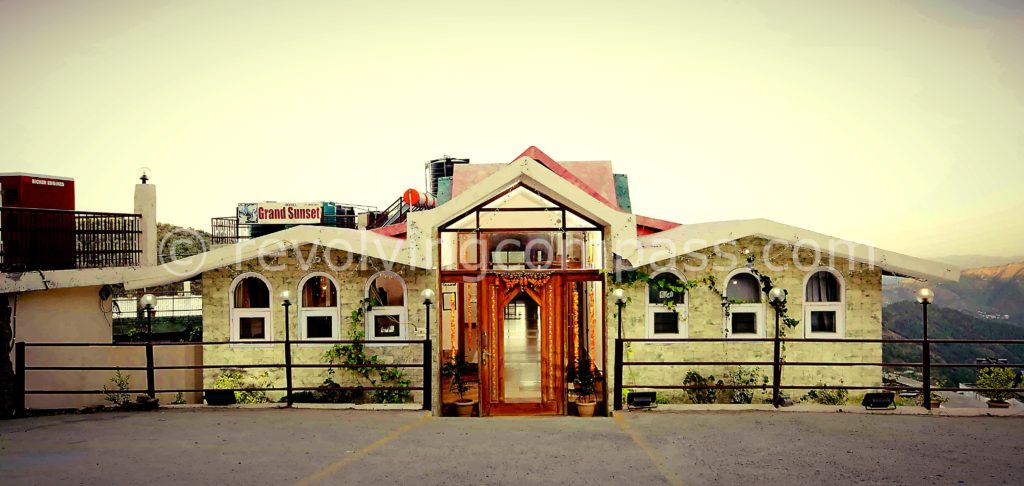 Kufri Holiday Resort, Shimla
As the name suggests, this resort is located in Kufri, which is at a higher altitude than Shimla, less populated and surrounded with dense pine plantations, very near to the reserve forest sanctuary. Perfect location, high standard stay, not so high prices!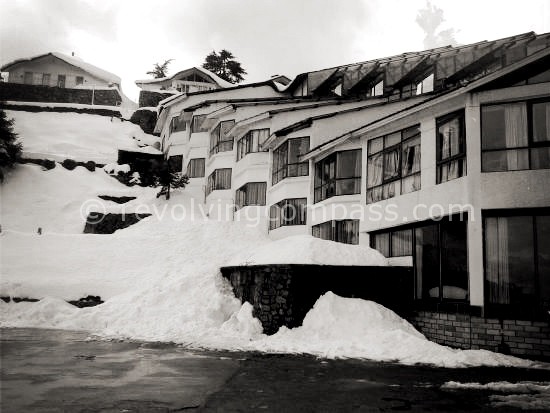 Koti Resorts, Shimla
Koti resort is located on a hill top, about 6600ft above sea level. It is surrounded with deodar forests and apple orchards. It is located between Mashobra and Naldera Golf Course , almost 30 minutes from Shimla. It has 54 elegant rooms to choose from.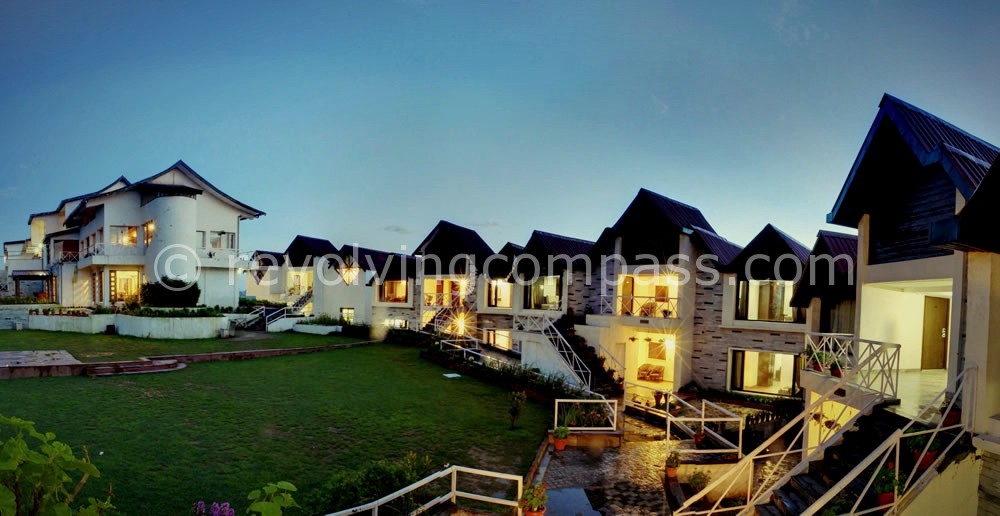 Maple Resort, Chail
This is yet another resort located amidst the deodar trees, appple orchards and wild flower beds. This resort has a kids club in house, with several recreational facilities for kids like chess, carrom, badminton, cricket etc. The playgrounds have swings and there is an in-built waterfall in the premise.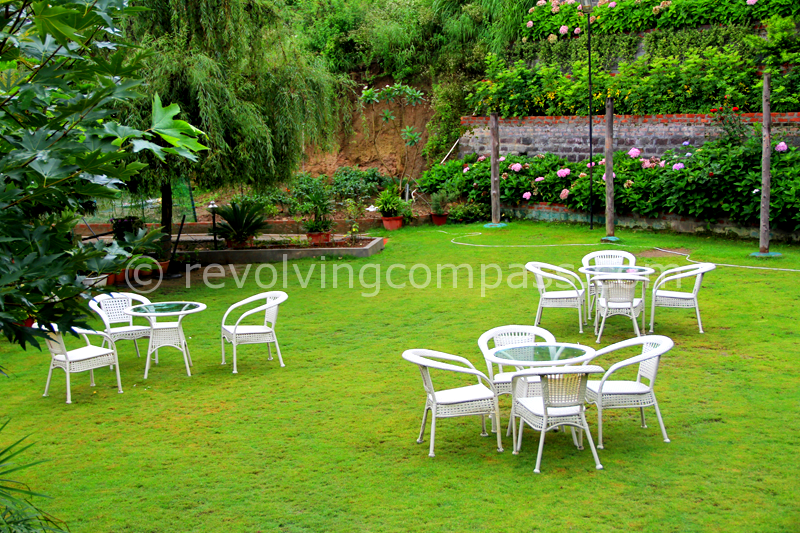 Torrentium Lodge, Shimla
It is a drive – in heritage property in the heart of Shimla. The property is more than 100 years old. It's in house restaurant, Moti Mahal, is operational since 1920. The property is situated at 10 minutes drive from Shimla bus stand and is at 15 minutes walk from mall road.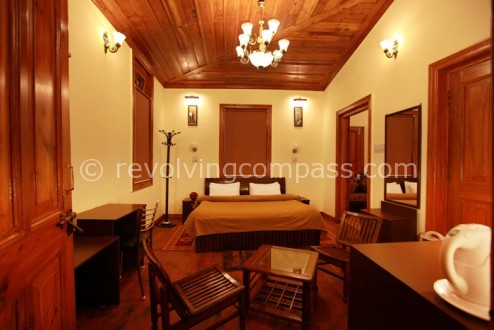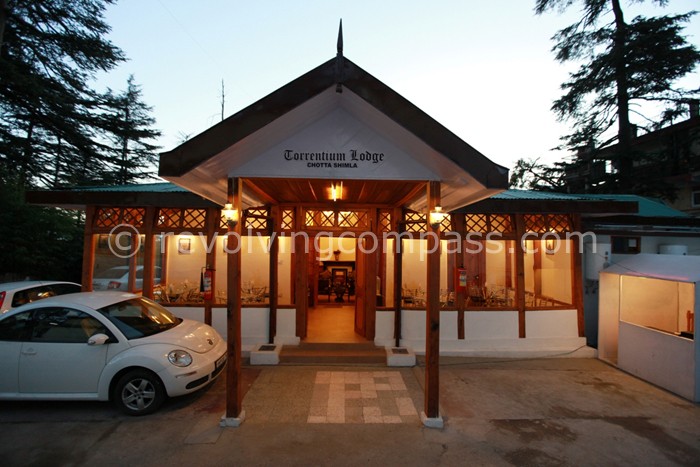 Flag House Resort, Shimla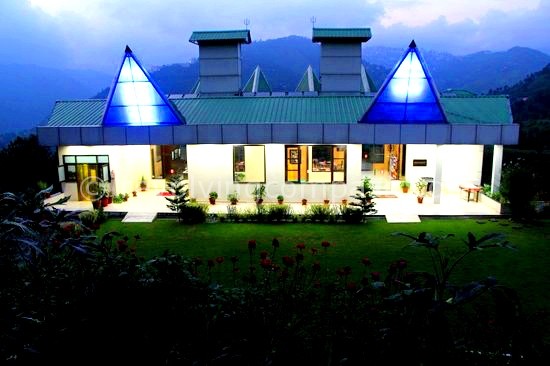 It is a luxury resort located in the hills of Shimla. It is strategically located 18km from Shimla, 18km from Chail and 28 km from Kufri. It has various categories of luxurious rooms.The superior rooms and cottages have private balconies with panoramic view of the valley and mountains.
Snow Valley Resort, Shimla
A centrally air conditioned hotel with 72 rooms, with all modern facilities and surrounded by beautiful views on all sides – that is Snow Valley Resort, Shimla. It is located at 15 mins drive from mall road. It has all the amenities required for a comfortable stay.
So, where did we ended up staying ?
We choose a homestay, Little Chili, Shimla. It was located around 5km off the main town. Serene locality, aesthetically done interiors, a property with just 4 rooms, and the warmth of the host won our heart. We could even use their kitchen to cook meals for our daughter. We & our family were the sole occupants of the homestay and it became more like a home away from home !! We discovered a little known gem at the end…