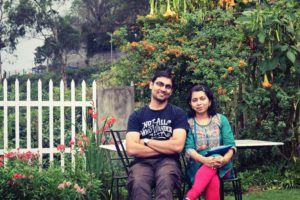 We are a techie couple and travel enthusiast. After much soul searching (and 25+ travels so far in our years of togetherness) we found that travel is one thing we are both passionate about. We love traveling. We decided to start sharing our travel experience to benefit our fellow travelers. We are family traveler – a couple & parents to a toddler. We meticulously plan our travels , tailor make them to fit into our budget and then shoot for it. Neha does most of the pen and paper work(of course on her electronic device) and Abhishek then sets off to execute the plan. Together, we are capable of providing tailored travel plans to suite your needs and answer your queries. We have many exciting journeys planned for the future. Stay tuned to live our travel stories through this blog.
Interested to know the story behind our travel stories? Head here.
We are open to writing travel reviews, articles, affiliate programs and sponsorships. You can contact us vi email (@abhishek.star@gmail.com or mun.neha@gmail.com) or you can leave a comment at the post to which your query relates.
---