The Andretta Pottery Studio and Craft society is a beautiful place to visit in Himachal Pradesh. It is located in the heart of the artist village, Andretta. And we visited here on our trip to Palampur, Kangra Valley, India.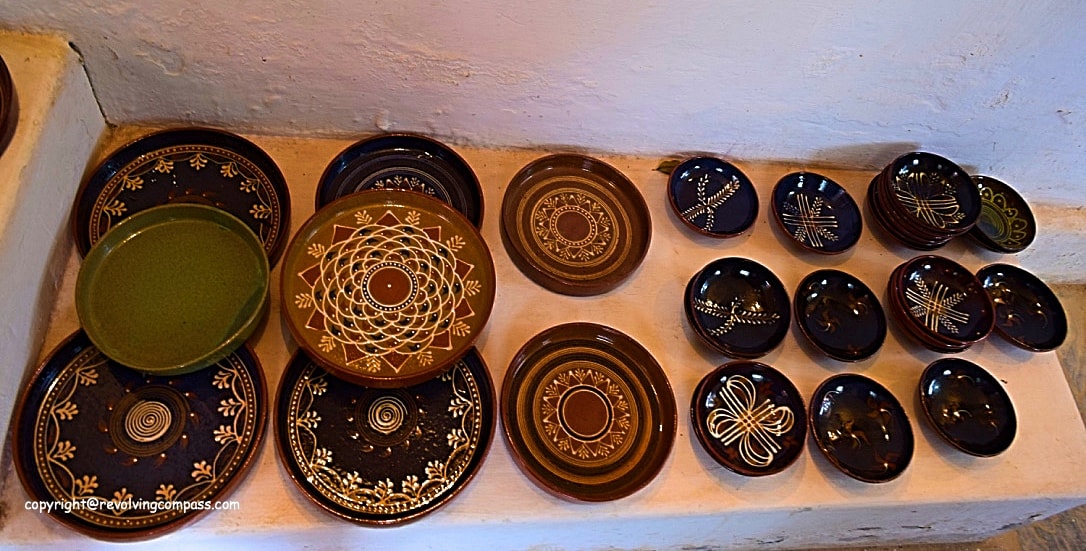 History of Andretta Pottery Studio
Gurucharan Singh who started the wave
The Andretta Pottery Studio and Craft Society date back to as far as 1985. The love for pottery that led to the creation of Andretta Studio was a result of much earlier efforts of Late Sardar Gurucharan Singh. Actually, this love found roots by accident! When he went to help his father's friend in his brick making business at Delhi Potteries. So fascinated was he seeing the pottery making there, that he decided to pursue it. Later, he went on to study ceramics in Tokyo. Then he returned to India. And founded the All India Fine Arts and Crafts Society (AIFACS) in 1927. Post this, he was unstoppable in spreading the love for pottery.
He was head of the Government Pottery Institute at Ambala for a long time. Afterwards, he started the Delhi Blue Art Pottery. Which is now known as the Delhi Blue Pottery Trust. The fine quality magnetic tiles produced here were used in many public buildings in India. In 1974 Gurucharan Singh got awarded the Sahitya Kala Parishad's best artist award. Followed by the Padmashree in 1991, one of the most honorable awards in India. He also authored Pottery in India, published in 1979.
Sardar Mansimran Singh who took it forward
Mansimran Singh, fondly known as 'mini' is Gurucharan Singh's son. He studied pottery with his father. And then joined his father in the business of pottery making. He went to UK and that is where he met his future wife Mary, also a potter. Later, they moved together to Palampur in Himachal Pradesh where they started the Andretta Pottery Studio.
Pottery course at Andretta Pottery
At Andretta Pottery, Mini and Mary run a pottery course which is 3 months long. It is an introductory course. The course fee includes food, lodging and education. Through this 3 months long pottery course, one can get hands on pottery experience and learn how well he or she fits into the pottery world. Then, he or she can decide whether to continue further in this line. Those passionate about pottery love the course run by Andretta Pottery. And most of them continue their association with Andretta Pottery far beyond the initial 3 months. Like Shubham who is currently a passionate member of the Andretta Pottery studio . He has been working on the premises for more than 2 years now and is so passionate about his work.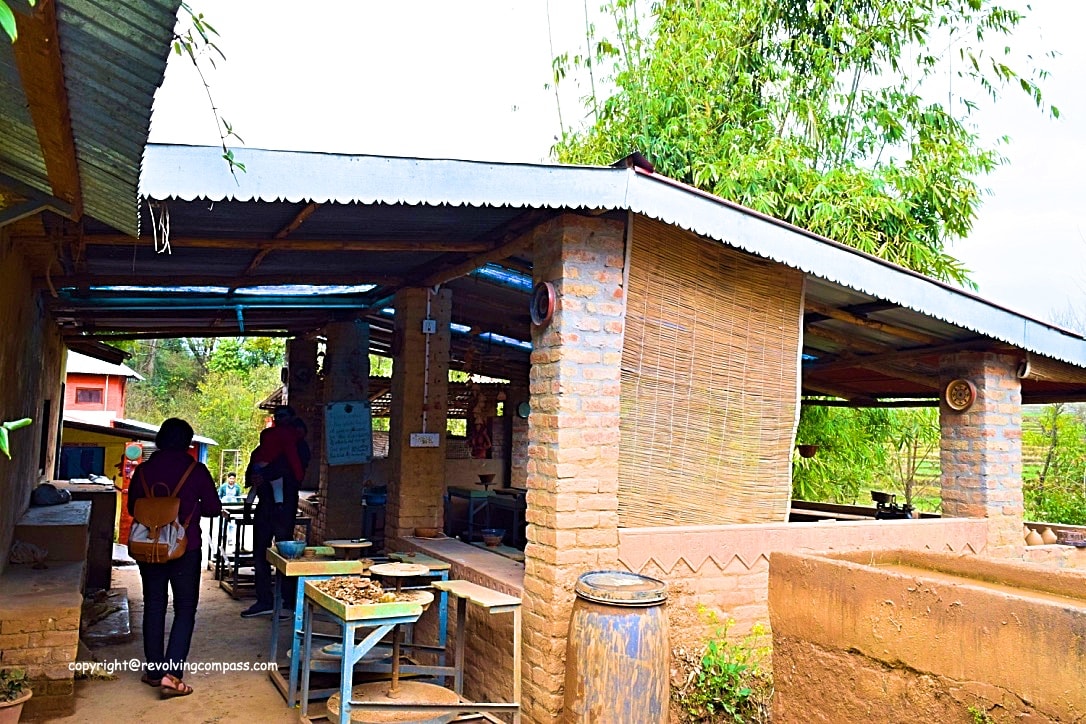 What we have heard from the students is that, not only is the course interesting, but so is the day to day life at Andretta Pottery. Given that it is situated in the picturesque settings of the Kangra Valley. So, the students make the most of living in the beautiful Himalayan ranges with frequent trekking, bonfires, campings and other activities that make life and learning so much more fun and enjoyable.
A tour through Andretta Pottery Studio
As soon as our plan for visiting Palampur, Himachal Pradesh was formalized, we had started looking for places to visit and things to do in Palampur. And the list goes incomplete without a visit to Andretta Pottery Studio. Plus, being an artist at heart, I was particularly interested in visiting this beautiful art heaven. Finally, we reached the Lodge at Wah Tea Estate in Palampur on the third day of our visit. The manager, Nikhita, talked to Shubham and arranged for our meetup inside the Andretta Pottery Studio. Since it was a sunday, there were no classes today.
Reaching Andretta Pottery
We soon headed on our four wheeler, into the village of Palampur, to reach out to Andretta Pottery. The roads got narrower. I was somehow expecting a big banner or something to indicate the Pottery Studio Premises. But there was nothing. Actually, we crossed the studio and went ahead. And at the end of the road, we asked a small shop owner for the directions to Andretta Pottery. Surprisingly, he pointed back in the direction we had come from. Nevertheless, we followed it and started back.
This time, we were more cautious, looking for small signs to indicate the presence of Andretta Pottery Studio. Soon, we saw a small blue board in a corner indicating the pottery studio. What we saw was a humble entrance gate, made of bamboo. And a small village house kind of structure inside. We were still not sure that we had reached the right spot. However, we decided to explore
Inside Andretta Pottery
We entered inside. There was a small passageway, with an open verandah kind of space at one side. Here we could see some pottery wheels and a lot of pottery in the making – at different stages. This was definitely the pottery studio. So humble, yet so beautiful. Splattered with clay and mud here and there. Nothing, but the beautiful creations placed in the studio caught our immediate attention. There was no need of any other aesthetic decor element here.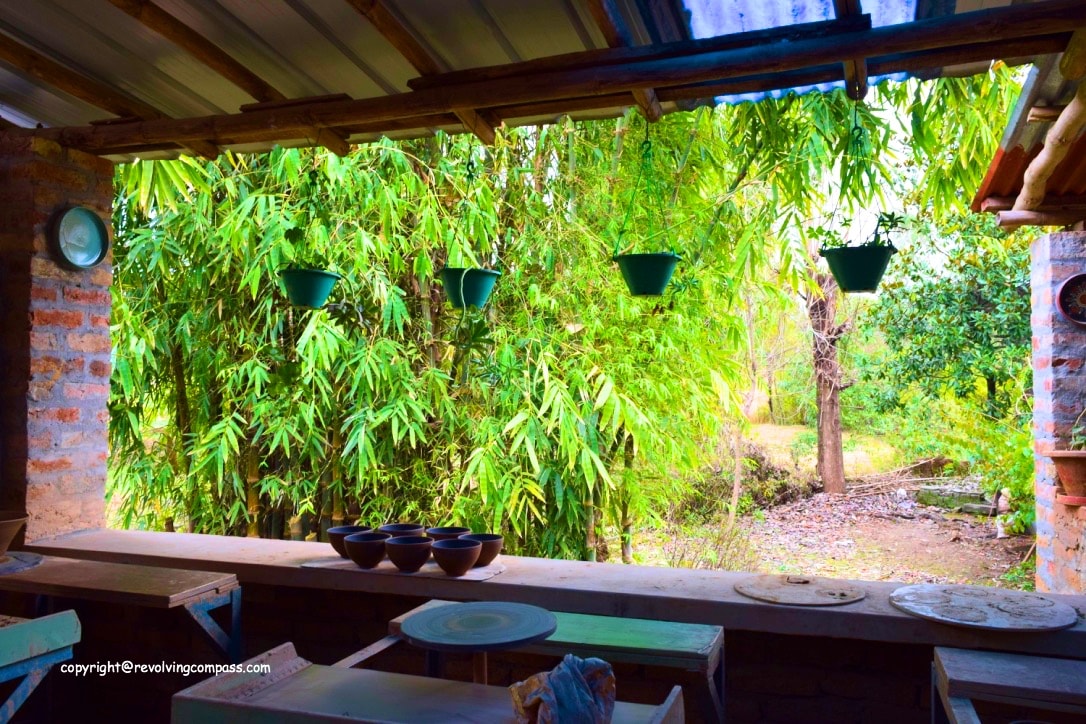 Soon, we were greeted by Shubham, who came from inside one of the rooms at the end of the passageway. He was wearing a long apron and holding his pottery clay and some other tools in his hands. Apparently, in spite of  this being a Sunday, he was at work. And why not. That is the passion that drives the students, workers and every one else at Andretta Pottery Studio. Soon, we were immersed in a talk with Shubham. While his skilled hands went on coloring some bowls that he had made earlier. We went on talking, but our eyes were fixed on how skillfully he was doing the pottery.
Pottery making at Andretta Pottery
As Shubham worked on his pottery, he went on explaining to us how the pots are made from clay. How it takes a lot of patience and preciseness to first shape any piece of clay. And then it is left to dry. Then it is baked. Then the glazing layer is done on it. And again, it dries for quiet a few days. And finally the patterns are formed on it. Thus, emerges the beautiful pieces of pottery.
Pottery hands on for guests at Andretta Pottery
Next, looking at Shubham making the pottery, we couldn't hold ourselves from trying a hands on. The good news is that there is a hands on pottery making session for guests at Andretta Pottery. With a minimal charge of INR 150/- per head, you can get the control of the pottery wheel. And the host will assist you in creating a beautiful piece of art with your very own hands. We also tried our hands on the pottery and made a beautiful bowl with the help of Shubham. It was quiet an experience!!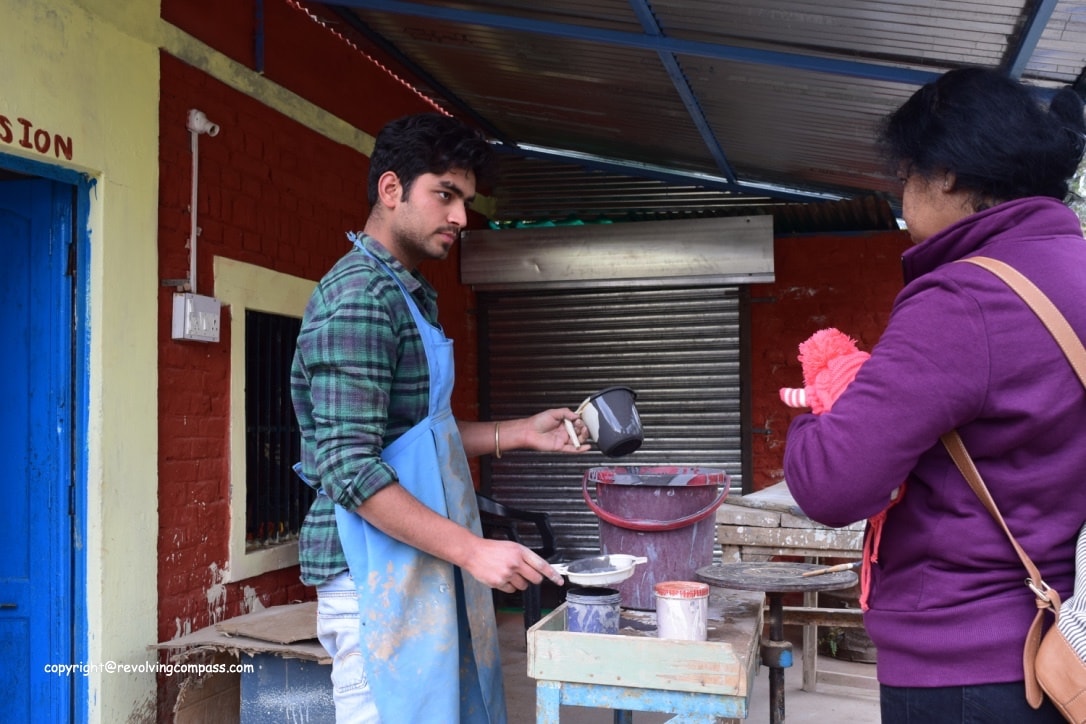 Terracotta Museum  at Andretta pottery
There is a Terracotta Museum at the premises of Andretta pottery. This museum holds beautiful works of terracotta and clay. Alas, it was closed on Sunday. However much we wanted, we couldn't visit the interiors of the museum. But Palampur and Andretta Pottery fascinated us so much, we are sure we are going to return one day. And then we will explore it's length and breadth.
Pottery shop at Andretta Pottery
Andretta Pottery campus not only has the studio where the students are taught. But it also has a manufacturing unit right there. And the unique and beautiful pieces of pottery that are made here travel through length and breadth of India to different retail chains that sell them. It was interesting to see many and different pieces of work inside a store room that were ready to get the finishing touch and then head out to decorate the world.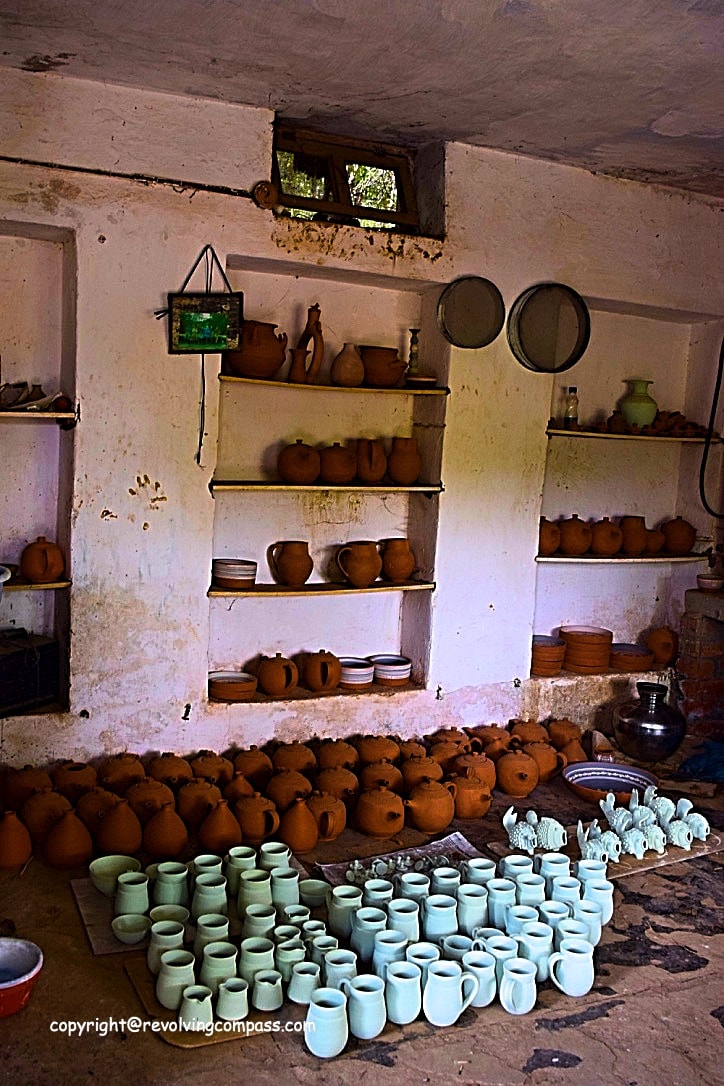 Apart from that, there are a number of completed pieces of the fine art available right at the premises of Andretta Pottery in a small room or shop. The prices of products are mentioned. And as a guest, you are free to make your choice and buy a few pieces. Which I must tell you, is going to be extremely difficult. Because each piece here has a unique pattern and a unique design. Colors also vary. And it is so difficult to contain yourself with one or just a few. There are plates, bowls, serving bowls, show pieces, wall hangings and many other things available in this small shop.
We finally made our choice and picked a beautiful serving tray for our home. Thereafter, we headed back, bidding good bye to Shubham and thanking him for the wonderful time that we spend at Andretta Pottery Studio. Particularly looking at the wonderful pieces. And trying the hands on pottery.
Tips on visiting Andretta Pottery
Keep looking for the sign board, as you approach Andretta Pottery. Since the board is small, you might miss it.
However, everyone in and around the village seems to know the address, so, you can ask anyone in case you face difficulty.
Visit on a weekday. Then you get to see how students are taught etc.
Visiting on a weekday, you can visit the terracotta museum as well.
You must try your hands on pottery if you are visiting Andretta Pottery. It is a fantastic experience.
It takes 1-2 hours to visit Andretta Pottery. You can plan any time during the day.
You might as well like
Our beautiful stay at the Lodge at Wah, Palampur
An amazing stay at Norwood Green , Palampur
A complete guide to Palampur, a beautiful town in Kangra Valley of Himalayas