Our recent trip to Europe was about a lot of fun, beautiful memories, holiday and enjoyment. But, it was also about a lot of experimentation. We experimented with food, self planned walking tours, getting lost in streets of Europe, trying the effective means of commute, packing light, discovering vegetarian survival strategies and so much more. An important part of this experimentation was an apartment stay. I know, it's very common and many of you might have already done it. But it was the first time for us. We have mostly travelled in the Indian subcontinent and we have stayed either in hotels or in home stays. But never in a flat all to ourselves. Europe has many more accommodation options that are yet to gain full fledged popularity in India, like hostels, dormitories and apartments.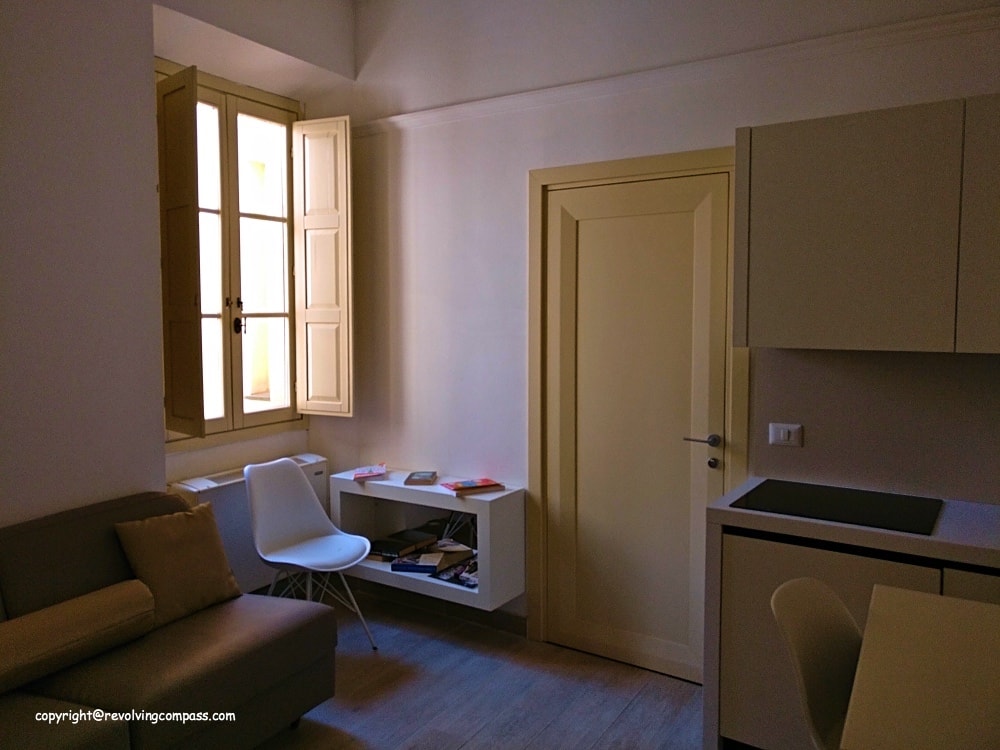 Arrival at Palazzo Dei Ciompi Florence
We booked Palazzo Dei Ciompi Florence for our stay in the renaissance town. After having spent 2 days in Rome, we headed here for a 2 nights stay. The apartment is conveniently located into the heart of Florence. And it is not very far from the train station. As a result, we soon arrived here after exiting the train station. Although, we had booked a taxi drop from the train station to Palazzo Dei Ciompi Florence, the distance is very much walkable. If only we didn't have that much luggage with us, (Oh yes, I know, everyone warned to pack light for Europe, and believe me we tried our best. ) , we would have walked to Palazzo Dei Ciompi Florence.
Nevertheless, we reached the apartment in less than 10 minutes. As we got down from our taxi and dragged our luggage to the entrance, a huge gate greeted us. Through it, there was a second gate that led to the heart of the apartment. At the ground floor is the office cum reception. When we arrived here, it was afternoon time. The receptionist was awaiting us (How sweet of her!). Soon, we completed the check-in formalities and collected the keys to our apartment. And also some maps of florence that were conveniently placed in the waiting lounge for our convenience.
Our flat at Palazzo Dei Ciompi Florence
Our flat was at the fourth floor. The small lobby, with a main door of its own, had entrance to two flats, one of those being ours. And any guess about the name of the duo of the flats? Well it was named "Lianardo-da-vinci". What better name can one expect for their flat in the heart of Renaissance.  As we entered inside, we felt a very relaxing and informal aura. It is a two bedroom apartment.
Living Room & Corridor
The living room has a sofa at one side and a small kitchen with a dining table tucked in the other side. And the kitchen is fully equipped to cook a meal. That includes an induction cooktop, a small microwave, water kettle, all the pots, pans, plates and cutlery, a small freeze and a sync to wash your dishes. Moving on to the passage behind the living area, it has a big mirror at one end and a sleek counter with a few chairs to have your breakfast or do anything else. The passage opens to two bedrooms and one common bathroom.
Bedrooms
Both the rooms are neat and clean, with beautiful lighting and enough space to accommodate your luggage. What's more. They have the classic Italian windows with shutters. And a small painted glass window as well. As a bonus, the windows opened to beautiful views outside. Even the dome of the Basilica at Duomo is visible from one of the windows. Other than that, you can see the old Tuscany town stretching in front of you. The sunset views from these windows were also very amazing.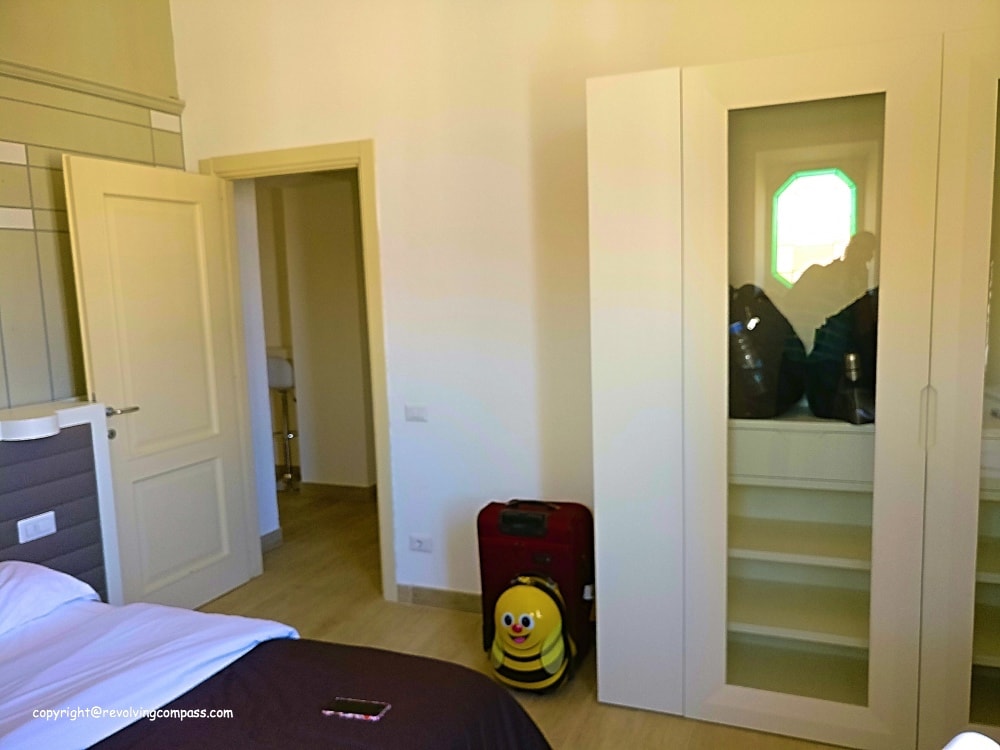 The neighborhood of Palazzo Dei Ciompi Florence
As we settled ourselves into the rooms, we felt a wave of relaxation running through us. We got fresh and then embarked on one of our self planned walking tours to explore the beauty of florence. As we headed out of the apartment, there was another sweet surprise awaiting for us. Right on the corner of the street was a vegan restaurant and in front of it an ice-cream parlor. We vegetarians were so delighted on the discovery. Thus, we had a fulfilling veg burger each before proceeding further on our walking tour. After getting our meals packed, we sat on the steps of the platform just outside of the apartment. And had our hearty meals.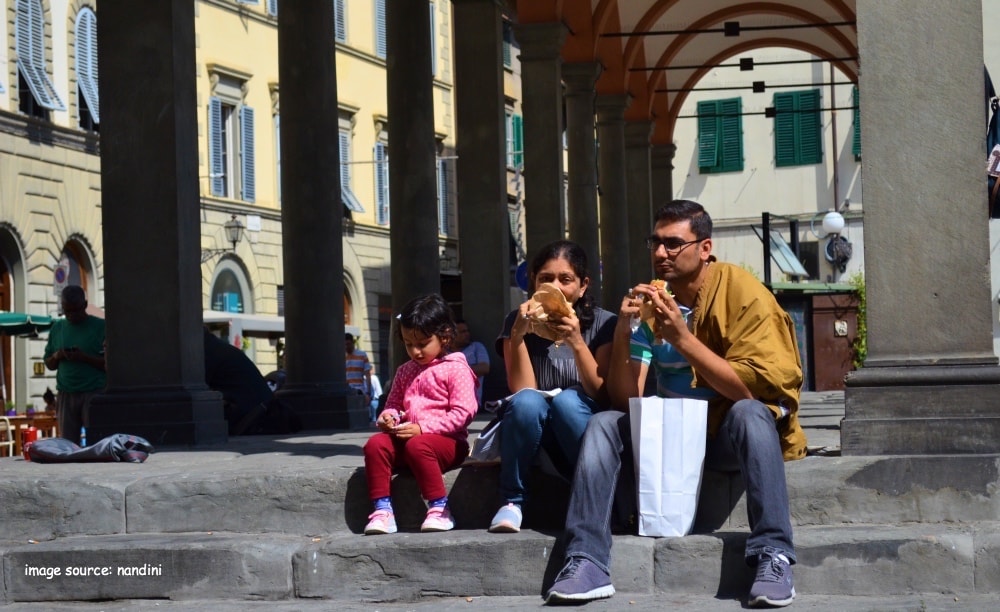 When we were heading back from the walking tour, we thought of preparing our own meal today. Now, that's the beauty of staying in an apartment. Just as the locals would do, we did some grocery shopping from a store on our way back to the apartment. Then we prepared our meal. And we had a lovely time, having the meal and chitchatting with our friends in the common living area. Thereafter we took turns to wash the plate. Not only was the meal lovely because we prepared it together, it was so much lighter on our pockets too than takeaway meals that we earlier had.
The fun part of living in Palazzo Dei Ciompi Florence
Post dinner began the preparation of the next day. On the same dining table we spread our maps and figured out the routes for our next day's endeavor. What I experienced is that the common living room becomes a beautiful place to enjoy ourselves when staying in an apartment vs a hotel, more so when you are traveling with friends and are scattered across rooms. Even our little one got more space to play. And she freely ran from one room to another without me having to worry about where she is headed.
The breakfast at Palazzo Dei Ciompi Florence
The apartment seems to have a tie up with the café-bar right besides it. So, we had our complementary breakfast there. The menu spread was nothing compared to that of the hotels. But it was so delicious and fulfilling. So, did we mind? Not a bit. The café has a lovely outdoor sitting. And it was such a delight to have our breakfast here, with the early morning sun bathing us over. Along with having our breakfast, we enjoyed watching the locals slowly go about their morning activities in the street. Some were out with their pets on a morning walk. Others came to pick some stuff for breakfast from nearby stores. And almost everyone stopped by to say a "hello" or at least throw a generous smile on us. How lovely!!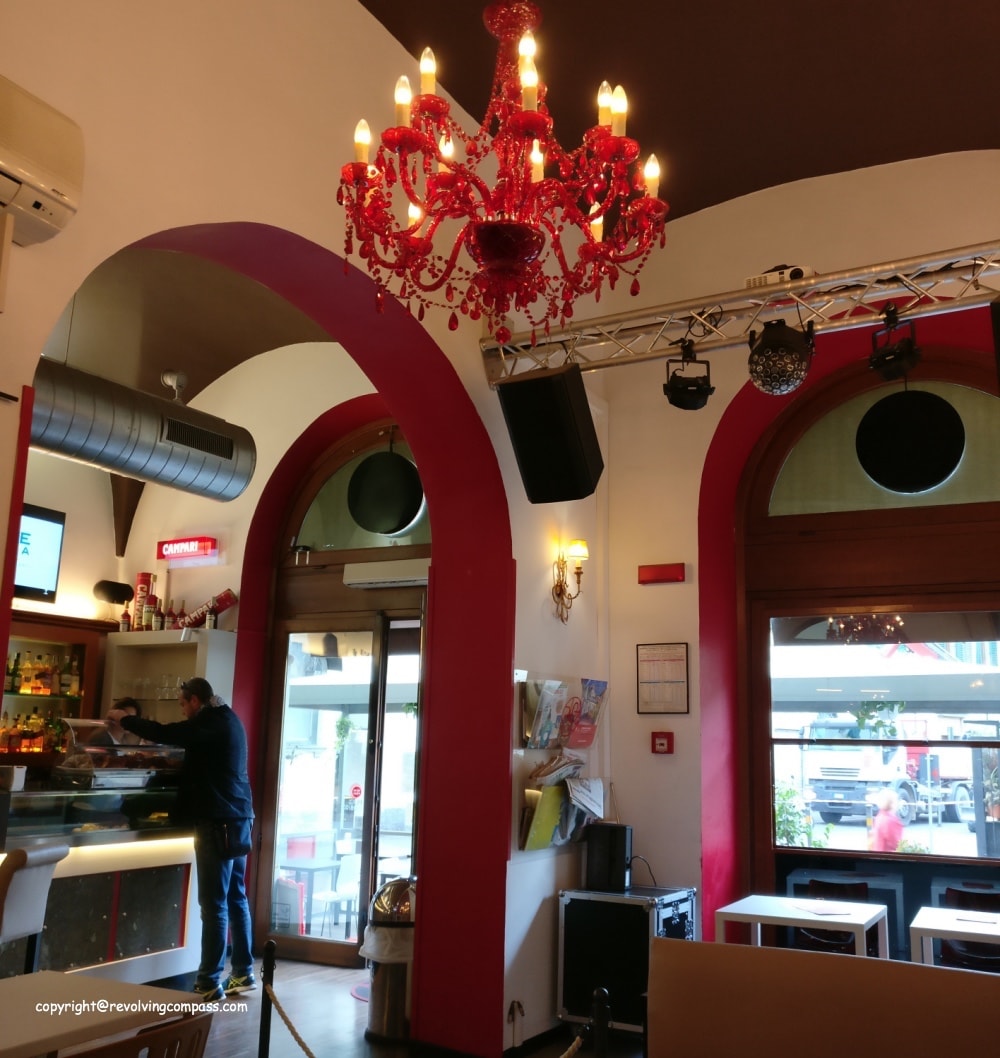 The location of Palazzo Dei Ciompi Florence
I cannot brag enough about the location of Palazzo Dei Ciompi Florence. Not only is the apartment located at walking distance from the train station. But it is also located right in the center of the old Florence. And that being quiet close to most of the major places to see in Florence. On the one hand, it is located at walking distance from river Arno, Uffizzi Gallery, Ponte Vecchio, Bobili Garden and Pitti Palace. And on the other hand, it is at a stones throw from the Duomo square, Santa Novella square, Acedemia Gallery and many other prominent structures. We had only 48 hours to spend in total. Yet, we were able to make the most of these 48 hours in Florence.
Had it not been for the central location of Palazzo Dei Ciompi Florence, this won't have been possible. We designed two walking tours of Florence from our apartment. And we took both of them. These were the best possible way to explore Florence in the limited time that we had there. Read about our self planned and self guided walking tours of florence here in part 1 and part 2. Even the grocery shops and restaurants were at a few meters from the apartment. So, after completing our walking tours, we were able to shop for our needs and happily prepare our meals at the end of the day.
Conclusion
I guess the apartment living experience that we had at Palazzo Dei Ciompi Florence is going to remain with us forever as one of the most delightful stay experiences that we had in this Europe trip. And if we are ever going to return back to Florence, we are going to stay here for sure. Overall, it was comfortable, with great views and in the center of Florence.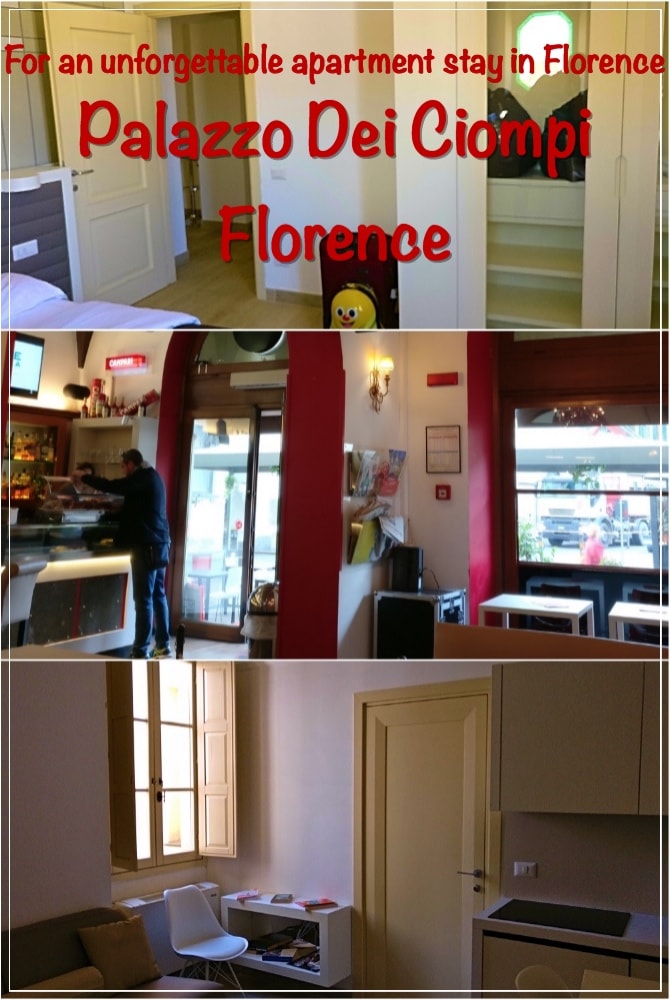 You might as well like
A self planned free walking tour of Florence , Part – 1
A self planned free walking tour of Florence, Part – 2