This time around I happened to be in Goa around a weekend, with an equally enthusiastic (read shopaholic) friend. So, we decided to hit the infamous Arpora flea market. Although, soon after visiting the market, I was forced to wonder why is it even named a market. Because, true that there are lots of shopping options here. But, there is so much of food, music, dance, tattooing and so much more to the place. So that, by all means, it is a fare, more than a market.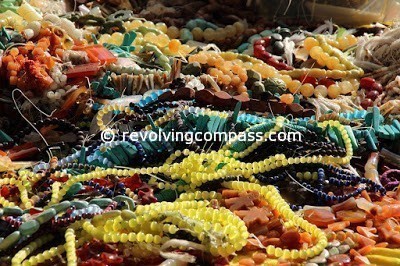 What is Arpora flea Market?
Arpora flea market is one of the many open air flea markets that are setup in Goa on a weekly basis. These markets are infamous for dirt cheap local products, souvenirs, local food stalls, music, opera and amazing night life. The Arpora flea market is setup very near to calangute beach, on the calangute-anjuna road. From calangute beach, it takes 5 minutes drive to reach the market. You can even walk down to it. The whole marketplace is surrounded by make shift tent. And, there is distinct entry and exit gates to the market.
What is on offer at Arpora flea Market?
Shops
It has a very good expanse of numerous stalls selling all different kind of products. In particular, products that would attract tourist attention, particularly foreign tourists wherein they would be looking for souvenirs or famous products from India to take back home.
But you must have a good bargaining skill to get a good deal here. However, what would be the definition of a "good deal" when there's no end to bargaining. Well, in my opinion, once you form a price of the product in your mind looking at its worth and you are able to get it into that price range – you can happily call it a great deal. So we did. Just to give you an idea, we liked a bag. The price quoted by the shopkeeper was INR 550 , we quoted INR 250 and finally the deal was done at INR 300 🙂
Entertainment
But apart from the buzzing shops, there is so much more to the market. Which means, there is something for even the non-shopaholics . There are artists and musicians, playing live. Which completely charges up the environment. And you will find numerous people applauding to their performance. Actually, when we visited, the environment was so charged up. My toddler (who was just 20 months old at that time) couldn't help swing to the beats as we stopped by 🙂
Food
Then comes the food stalls . Again a number of them are present, well organized in one section of the flea market offering everything from Goan delicacies , to south indian delights to Italian pizzas, wood-fire pizzas and other subcontinental mouth watering food.
Our experience at Arpora Flea Market
Sunset on calangute beach
This time around, we had stayed in South Goa. One evening, we decided to drive off to Calangute and also experience Arpora Flea Market. We reached Calangute by evening 4:30. We spent some time on the beach and then headed to a beachside restaurant. The view of sunset from here was simply amazing, so, couldn't contain sharing with our readers.
We had some light snacks and soft drinks. While our daughter seemed to be thoroughly enjoying, walking across the deck of the restaurant. There is something about Goa, I have never seen her in such high spirits on any other vacation. From here, we decided to head to Arpora Flea Market. However, we decided to take a slow walk all through the Calangute street before boarding our cab. Then, in our cab, it took us just 5 minutes to reach Arpora Flea Market.
And then night in Arpora flea market
Shopping
We reached the market just when it was starting off. The benefit of being early is that you can be done through a portion of the place before the crowd starts to swarm the place. We did exactly that. As we stepped inside the market from the main gate, we saw rows of shops standing in neat lines. And there were several such rows. We started at one end and just strolled through, mostly window shopping. We didn't shop much in this market. It was just the feel of the place that kept us glued to it. We crossed shops of silver jewelry, brass antiques, woolens (this one made me wonder, seriously, woolens in Goa! Would people buy that? maybe tourists from cold places would).
Then the next lane consisted of garment shops, utensil shops, shops selling utensils, Goan spices, dry fruits – particularly the famous Goan cashews. Then came shops selling old books, hats, bags and backpacks, beachwear etc. And then there were more shops in the next lane. So on and so forth. We continued weeding through the lanes. The good thing was, we were enjoying the energy of the place and our toddler was enjoying thoroughly.
Food
At last we reached back near the starting point. And then we saw the food stalls. There were a number of stalls put up in a neat line one besides the other. They were serving local cuisines, rolls, pizzas and parathas , Chinese as well. We ordered some food from here. There were chairs and tables arranged in front of the food stall to have the food. But alas, all were occupied by now. Obviously, we had spent quiet some time circling the shops it seems. But, finally, we found a small space besides a stage made for live performance. Then one of us guarded the precious seat while the other one went ahead to bring some delicious pizzas. Food was great. Even if there was no proper place for us to shift, we thoroughly enjoyed the food.
Entertainment
Along with our food, we also enjoyed couple of live songs and dance performances. After this, we decided to head back to our hotel as our little one was tired and sleepy. Overall, we had a wonderful time in this market. We spend close to 5 hours in the market and we didn't even realize where the time had flown. This, in itself, is a testimony of how much you can enjoy the place. I would say, a must visit at least once.
The market starts from 6:30 in the evening and goes on well into the night. The stalls are up and running till 3 or 4 am in the morning. Overall, I would say the market is a must visit at least once when you are in Goa. The whole street market shopping, including the bargaining, the food, the performances…everything there was an enticing experience.
Here's a glimpse of the colorful pictures you can see when you search for arpora flea market, to give you an idea of the vibrancy and liveliness of the atmosphere there :
Items on sale in the Arpora flea market
Small wooden furnitures
Different kind of souvenirs – key chains, show pieces (wooden/shell/marble/metal), wall hangings
Jewelry (shell, stones, oxidized silver, wood, metal)
Woolen/Silk/Cotton stoles
T-shirts, beachwear and other garments suitable to Goan climate
Goan spices and dry fruits
Bags, purses, backpacks (leather, cotton, jute, synthetic leather)
Paintings
Flipflops and other foot wear
And many other things…please add if I am missing anything major
Useful links to get more information about the flea market
Tips to visit
Head here in the evening. The market starts thriving only after 6pm. And it goes on till late into the night like 2 am.
If you are with toddlers like us, then make sure your toddler gets some sleep during the day so that you can enjoy the night market.
You will get plenty of food and water in this place, so need not worry about this aspect
You should be ready to bargain – there is huge amount of bargaining in place, you should get most of the things at one third of the price mentioned, if at all you are inclined on shopping
There is a lot of culture to soak in. There is local Goan food, music, dance and body art, apart from shopping. So, you can plan to visit here even if you are not interested in shopping
As usual, wear comfortable cotton cloths. It's pleasant at night. But because of the crowd that the place slowly gathers, you might feel warm.