We took a day trip from Bangalore to Kolar district in Karnataka, India. It was a cultural trip covering the temples of the region. Because we had planned it especially for our parents. The advantage is that Kolar is located quiet near to Bangalore. And even nearer to the eastern part of Bangalore where we reside. So, it meant a very short trip for our parents. It was both easy and interesting for them.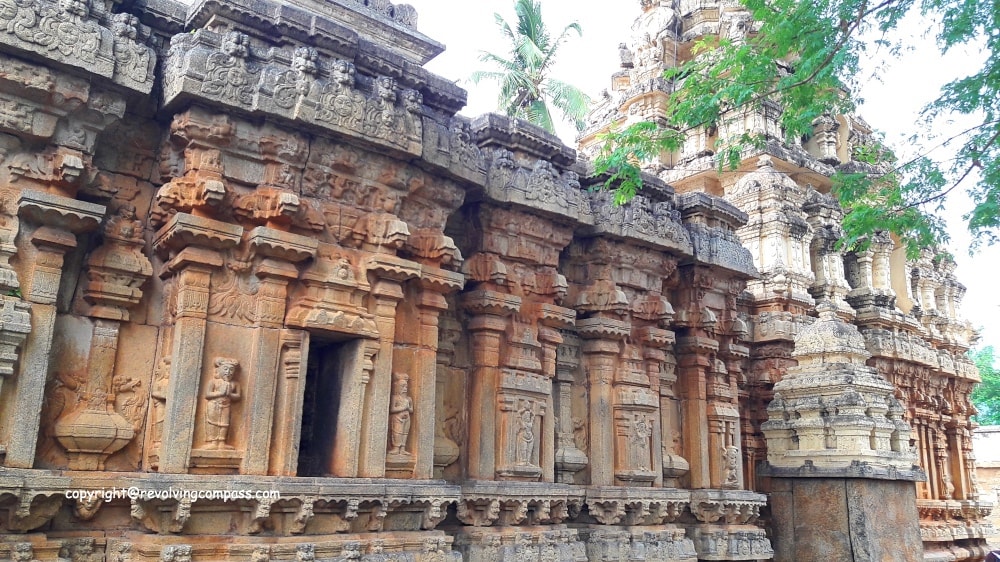 So, we visited the main town of Kolar district, the village of Avani and the Kotilingeshwara temple on the state highway while back to Bangalore. Most of these temples are very ancient and have unique architecture. As a result, they are declared as national heritage by the Archeological Survey of India and thus, they are protected monuments as well. Although there are a few other interesting things to do in Kolar district. So, here's a list of things to do when in Kolar as per our experience.
Getting from Bangalore to Kolar
The drive from Bangalore to Kolar is quiet easy one. Once you hit the highway, there is hardly any traffic. And Kolar is located quiet close to Bangalore. Even more so to east Bangalore. That gives an advantage to people who stay close to this side of Bangalore like Whitefield, Kadugodi, K R Puram etc. If you are planning a day trip from Bangalore, Kolar is one of the perfect destinations. Be it trekking or picnic or cultural experience that you are seeking. Or let it be just a long drive. Kolar is not going to disappoint you, as is evident from the list of things to do in Kolar that we laid out for you here.
As you hit the highway, drive towards Hoskote. There are a lot of restaurants on the way as you start approaching Hoskote. You can stop in one of them for breakfast. We crossed Hoskote on our way from Bangalore to Kolar. And then stopped at a Kamat Upchar hotel for breakfast. It is a simple outlet of the famous Kamat chain of restaurants that you find all over the highways around Bangalore. There are South Indian breakfast options available. And there is a beautiful landscaping around the hotel with beautiful flowers & trees around, a small children's play area, ample parking space and clean restrooms.
After having our breakfast here, we proceeded further on our journey from Bangalore to Kolar. Soon, we arrived at Kolar. It was almost a 1.5 hours drive from our home to here. As we arrived at Kolar, we took a diversion from the highway into the town and proceeded towards our first destination – the Someshwara Temple.
Someshwara Temple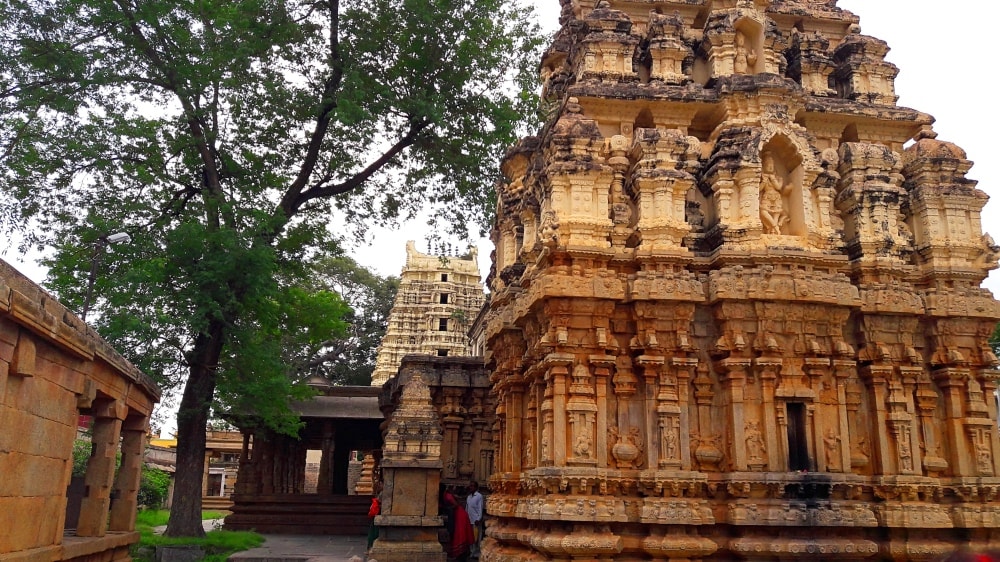 A day trip from Bangalore to Kolar would be incomplete without visiting the Someshwara Temple. The temple lies in the area of old fort of Kolar. The Chola Dynasty built this temple in around 11th century. And then the temple was later expanded by the Vijaynagara Empire and thus reflects a fine example of their architectural style. No wonder it reminded us of our trip to Hampi and the beautiful temples there, as we stepped inside Someshwara Temple. The temple has a beautiful architecture. It is particularly characterized by heavy pillars with beautiful carvings on them. There is a kalyan mandapa also inside the temple. Some of the carvings on the temples also resemble Thai, Chinese and European style of architecture.
We reached the Someshwara Temple early in the morning. It is primarily the temple of God Shiva. The temple was getting ready at this point of time for the morning prayers. We visited the premises, admiring the beautiful architecture of the temple and offered our prayers as well. Next, we walked to the Kolaramma temple which is situated almost besides the Someshwara Temple.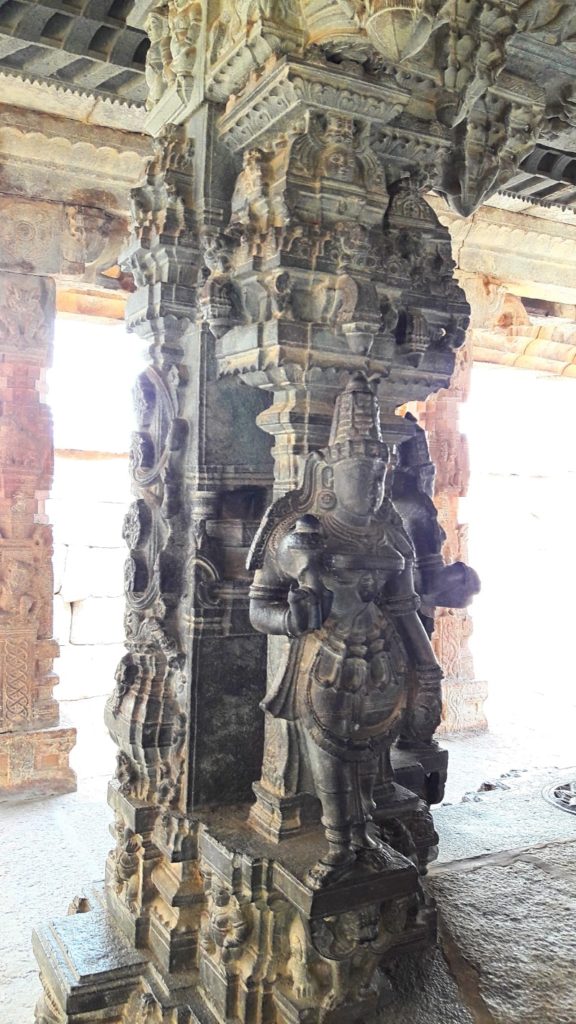 Kolaramma Temple
Another must visit when on a trip from Bangalore to Kolar is the Kolaramma Temple. As we stepped out of the Someshwara Temple, next we visited here. Another ancient temple, although smaller than the Someshwara temple, this one is dedicated to goddess Parvati, the wife of Shiva. Again, the temple premises are characterized by beautiful pillars and carvings. Although it is built around the same time as Someshwara temple. Yet it has it's own characteristic architecture that gets evident as you take a round of the temple.
As, this temple is built by the Cholas.  In the premises of this same temple, you will also find the idol of Chelamma (The scorpion Goddess). It is strongly believed that if you offer prayers at this shrine, you will be guarded against Scorpion bites by this Goddess. Another very interesting fact to note about this temple is the hundi (well), which is put for donation collection. Although it looks small from the exteriors. Yet, there is a big base beneath it. Once you drop a coin, you can feel it travel down and make a 'click' sound as it lands over the vast collection of coins accumulated here over hundreds of years.
Anthara Gange
We planned to keep our Bangalore to Kolar trip as a cultural and heritage trip. So that our parents can enjoy it to the fullest. In the pursuit of the same, we decided that Anthara Gange will be our next stop on our Bangalore to Kolar trip. Anthata Gange is a sacred stream that pours through the mouth of a bull. It is located on a hill. Besides the Anthara Gange lies the KasiVishweshwara Temple, primarily dedicated to the God Shiva.  The phrase "Anthara Gange" means "Ganges from deep". It is believed that the river Ganga gets underground in North India and emerges here in South India through the mouth of the bull. For the same reason, this place is also referred to as "Kasi of South India" or "Dakshin Kasi".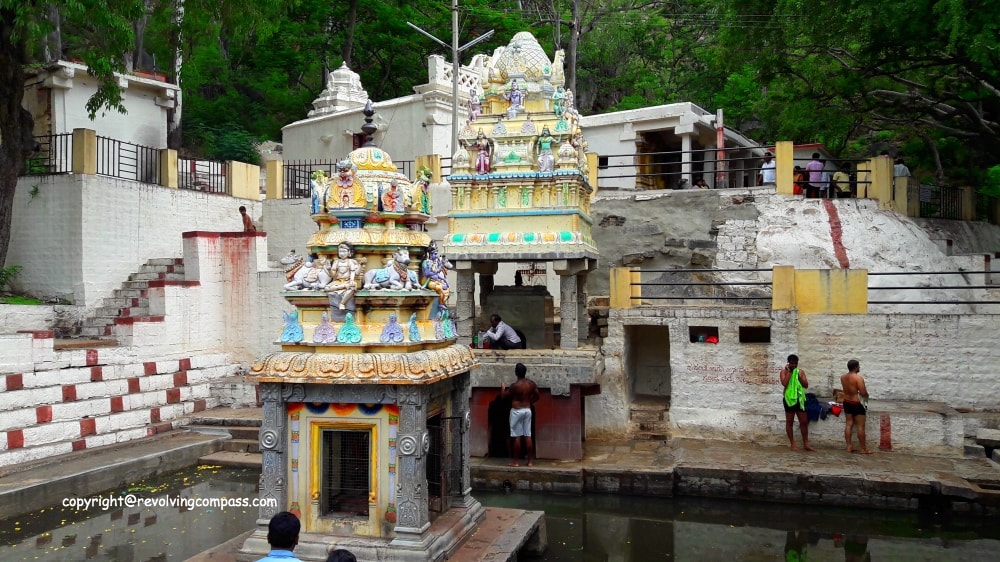 How to reach here
There are two ways to reach the hill. One is a motorable route while the other consists of a flight of numerous stairs. We choose the second one. As we slowly stepped onto the stairs and started our climb towards Anthara Gange. We noticed that both sides of the stairs are flanked by several different varieties of flora. And it seems that many different varieties of fauna also reside in the forest that stretches beyond these trees into the hills. Since, we heard many animals and birds from deep within the forest. Particularly peacocks. The climb up the hill is exhausting but very pleasant. However, to make it easy, you can take stops in between, like we did. You will find benches put at regular interval for people to rest.
Once you reach the temple, beware of monkeys. There are hundreds of monkeys in the temple premises. They are used to human presence. But still, well, they are monkeys. If you have any food items in your hands then they will come and snatch them. Otherwise, you will just find them hopping and jumping around. After we finished visiting the temple, on our way back to the road, we took a little divergence in the middle. A flight of stairs here lead to a small spot developed for site-seeing. It gives a nice view of the hills and forests around.
Trekking in Anthara Gange caves
The Anthara Gange and hills around it also make for a beautiful trekking spot. Group trekking is a frequent activity in this area along with night stay in camps. Since, the hill top gives very scenic views of seven different towns around. And the place is also full of many different varieties of flora, fauna and rocks of very interesting shapes. Although, we didn't have any plans of trekking this time. As, we were accompanied with our parents and this was a day trip. Trekking and spending a night into the Anthara Gange caves sounds very interesting. Even more so after visiting the temple and looking at the kind of rocks and caves in the region. We will definitely plan a Bangalore to Kolar trip in near future dedicated to the trekking experience.
Ramalingeshwara group of temples in Avani
After visiting the beautiful temples of the town of Kolar, next we headed to Avani on our Bangalore to Kolar trip. Avani is a small village in the Kolar district of Karnataka. And it is famous as the "Gaya of South India". It hosts the Ramalingeshwara group of temples at the foothill of a small rocky hill. And as per the legends, Saint Valmiki, the author of Ramayana resided here in his cottage. And devi Sita also lived here after opting for exile. Her sons were also born here. And during the famous Ashwamedha Yagya, this is where Rama and his brothers took up a battle against his sons who had stopped the horse of the Yagya.
As a repentance for their action of battle against children, Rama and his brothers prayed here. They established "shivlingas" to pray for forgiveness of their sins. Around each shivlinga, one temple has been formed and named after the person who established it. So, you will find a group of temples here, each with a shivlinga established in it. Besides, there are temples of Lord Ganesha and Parvathi as well in the premises. Besides the temple, there is a pond. And up on the hill besides it, there is a temple of Sita. It is believed that childless couples come here for prayers and they are granted their wish.
More than anything else, I was super impressed by the beautiful architecture of the temple of Avani that immediately reminded me of the temple of Lepakshi. And the group of shrines inside the temple campus that reminds one of the panch ratha group of monuments in Mahabalipuram. There are many interesting details about the temple of Avani. Read more on the beautiful temple of Avani and it's surroundings here in this post.
Kotilingeshwara Temple
After visiting the temples of Avani, we next proceeded to Kotilingeshwara temple on our Bangalore to Kolar trip. Koti means "ten million" and "linga" means the symbol of Shivling. The Kotilingeshwara temple has the biggest Shivling in the entire world. But apart from that, the temple aims at hosting ten million Shivlings. Big and small, in different sizes, these Shivlings are donated and established by the devotees. It's a pleasure to see the sea of Shivlings. The temple premises have been further developed to host other deities, including all forms of Goddess Durga and a big idol of lord Hanumana.
Although it was a pleasure to visit the big courtyard of the temple where the Shivlings and other deities hold your attention. I found the temple little more commercialized as well as crowded. There is an entrance fee to the temple and there are huge queues to the main shrine. Which can get inconvenient for some visitors, particularly elderly and smaller children. Perhaps the reason being this temple is quiet famous in the area. And we also visited on a Monday, which is the day devoted to Lord Shiva. So, maybe other days are less crowded, just speculating. But as per the statistics, more than two lakh people visit here on the day of Mahashivratri.I can't imagine how crowded it must be then.

Kolar gold mines
Although we didn't really go to the Kolar gold mines on our day trip from Bangalore to Kolar. But you can when you plan a trip. Kolar district was once famous in Karnataka for it's gold mines. Although the mines are exhausted of gold now. But they still tell the tale of the prosperity of Kolar. The mines were fully operational at the time of Mysore kingdom. They even employed international workers to meet their needs. Overall, they are a sight worth a small visit when on one day trip from Bangalore to Kolar. Also, they are situated quiet close to the Kotilingeshwara temple. So, after visiting the temple, one can conveniently visit them.
There are a few other places to visit around Kolar that we didn't go to. If you have more time at hand, you can visit Kurudumale Temple, Bethamalngala Lake and Bangaru Tirupati as well.
Tips on planning a day trip from Bangalore to Kolar
Visit the temples early in the morning as shoes are not allowed inside and the stone floors tend to get hot as the day advances.
Cloudy days and monsoon times will be preferable for the same reasons as above.
Most of the temples are open all through the day so you can plan your visit accordingly.
Network connectivity is good all through the district of Kolar. We heavily relied on google maps to show us the way from one spot to another.
There are plenty of food outlets around Hoskote and then on the highway between Kolar town and Avani. You can time your trip accordingly to plan your breakfast and lunch stops in some of these outlets.
If you start early in the morning you can avoid the city traffic in Bangalore. Thus, you will reach Kolar early on and can get back to Bangalore by 6-7pm.
Wear comfortable cotton cloths, although light ones. As it's mostly hot or moderately pleasant weather here. Never cold.
If I were to do this trip again, I will visit Kotilingeshwara temple first and then proceed to the others. As this temple will get crowded as the day proceeds.
There are restrooms and shops selling drinking water near almost all the temples. So, you will not a problem with either of the needs.
If feeling lost, ask locals for direction. Since the district is small, almost everyone knows the major landmarks in their region and can guide you easily.
Finally, have a wonderful trip!!