Hello! This is a story of a crazy shopping in Rajasthan. I am Neha (Abhishek insists that I declare it explicitly that he has nothing to do with all that I am describing in this post, and if it were possible for him, he would prevent me from doing anything either 🙂 )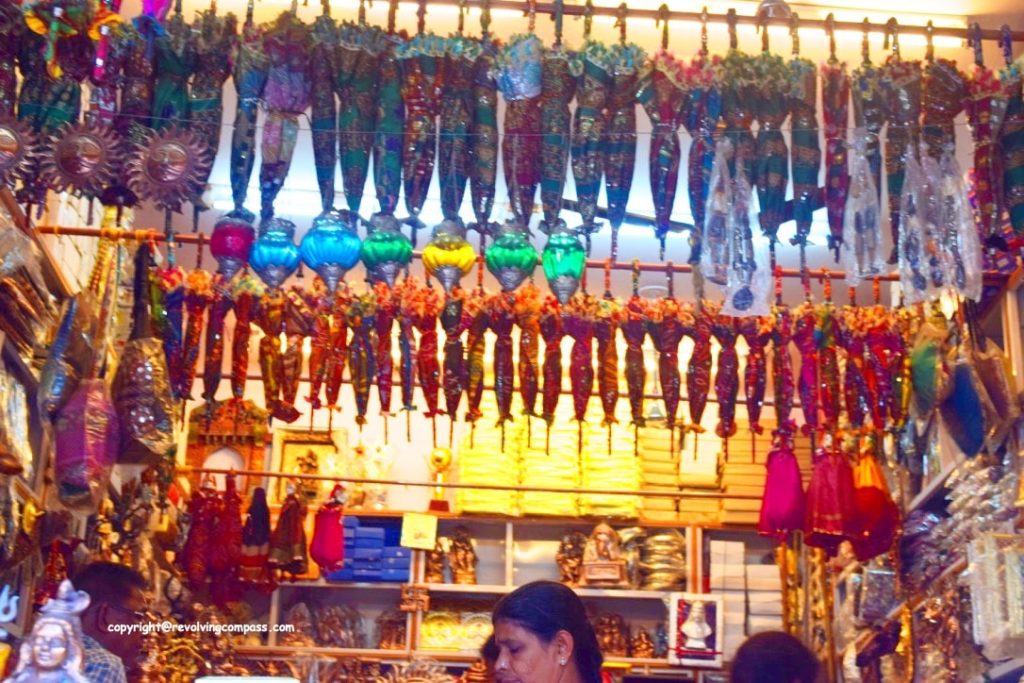 Having said that, let me start my story. But before that, this disclaimer: no, I am not a shopaholic, I am quiet frugal when it comes to shopping. And, I feel I am minimalist in the making. However, when on my recent trip to Rajasthan, I couldn't help splurge in shopping. (Actually, tell you a secret, I knew before hand about all the nice things we get here. Actually, myself and the friend who accompanied me in this trip, had secretly planned our shopping affairs much before the trip materialized!! However, don't tell Abhishek, Ok?).
So, it was not an indulgence at a spree. But rather calculated and researched shopping. As we checked our options and searched online before heading for the trip, to have a good idea about the deals to expect and the kind of bargain to do. So, you see..it was intelligent shopping. And, I decided to pen it down to help fellow frugal shoppers to benefit from my experience.
I love everything about Rajasthan
However, I have an inherent love for everything about Rajasthan. Be it the romantic forts and palaces, the splash of colors that we see everywhere, the music, the bangles, the fabrics, the sweets and namkeen snacks, the vegetarian thali, the cuisines, the paintings and …… Well, I can go non-stop. So, let me take a pause here. Before heading to Rajasthan, me and my friend had made a rough list of what all we wanted to buy. And this list was to indulge as well as restrict myself at the same time.
This is what we planned for Shopping in Rajasthan
Famous Lac Bangles of Rajasthan
Dress materials & dresses, sarees
Rajasthani print bedsheets
Handmade Paintings
Silver jewelry
Mojri for the little one
Hand Painted photo frames
Some small wooden art pieces (as gift for the loved ones)
Jaipuri Rug
Jaipuri Razai (Blanket)
How did we go about the shopping in Rajasthan?
Our Shopping spree in Jaipur while shopping in Rajasthan
Actually, we wanted to start right away as we landed in Jaipur. But, we were forced to hold ourselves as we arrived here on Saturday night. And then we learnt that most of the shops are closed here on Sunday. So, we didn't do any shopping for the first two days.
Government emporium at Amer fort for shopping in Rajasthan
Finally, on the third day of our stay, while on our way back from Amer fort, we stopped at a government established shopping emporium. Since, the prices here are reasonable for Jaipur Razai (Special quilt made with cotton-wool , very lightweight and washable). So, we bought a double and a single Jaipur razai here. Also, we bought 3 unstiched salwar kurta (ethenic Indian wear) dress materials amongst us. But the prices are steep for these. However, material looked good. Oh..forgot to metion..In the premises of Amer fort, we had bought some oxidized silver earrning from a vendor sitting near the exit, they were priced at ~INR 30 each.
Government emporium at Jaigarh fort for shopping in Rajasthan
Then, in the evening, we went to Jaigarh fort. And just at the entrance of the fort is another government emporium which has all kind of souvenirs that one can think of buying from Rajasthan. Here, my parents liked couple of sarees. And I bought some small gift items for friend and family. While my friend bought some lac bangles with intricate work on them.
However, beware, the people here are great salesmen. As you start heading out of the shop, they would politely request you to come back and have a look at the section you haven't seen. As you step back in, you are sure to like something more and you end up buying more than you intended 🙂 . And the same happened with me. For instance, when I was about to head out of the shop, I was pulled back in to look at some paintings and how these paintings are done. And eventually, I couldn't resist buying one!
Rajasthali and Local Markets for shopping in Rajasthan
Finally, on our last day in Jaipur, myself and friend decided to head out and explore the markets while our family chose to stay back and take rest while we shopped. So, we did our homework before heading out, looking at online resources and reviews. Finally, our conclusion was to first head to Rajasthali and then explore the street markets at Nehru and Bapu bazar which were at walking distance from Rajasthali. We liked the collection at Rajasthali and bought some handlooms and textiles before hitting the street market. However, we were warned by the sales people at Rajasthali, of the kind of scams that we might end up in, while shopping in these markets.
The same warnings were repeated at the first shop at the entrance of the bazars. So, we decided to be more careful, and on the shopkeeper's recommendation, headed to one of the shops in Nehru bazar. However, we bought only a few dress material here. And, we rather decided to enjoy our street shopping through some inexpensive purchases like Bandhej and Lahariya dupattas from road side vendors, a few cushion covers etc. but nothing expensive. Finally, by the time we headed back, we had a good big bag full of things we shopped for. You should have seen the expression at the face of our family as we reached back with our bundles of bags 🙂 (Little did they knew it was just the beginning)
Key take away from our shopping in Jaipur
90% of the shops are closed on Sunday, so, plan accordingly.
There is only one authentic (government backed) Rajasthali Store which is on MI road. It has a nice and authentic collection of quality products.
Bapu Bazar and other major local markets are full of cheats, be careful.
Razai shops are abundant, and quality good is available
Udaipur is better for textile shopping.
Head to government backed shopping emporiums for authentic products, however, the prices here would be more than the regular shops.
If you have a local friend, I would recommend to take them along, or, at least talk to them and get an idea of how to proceed and where to shop.
Bargaining skills are a must at the local markets.
Our Shopping spree in Udaipur
We were next heading to Udaipur, and then heading back to Jaipur to catch our return flight. In lieu of keeping our luggage light, we decided to leave our shopping packed in a bag at our relative's place.
Shilpgram for shopping in Rajasthan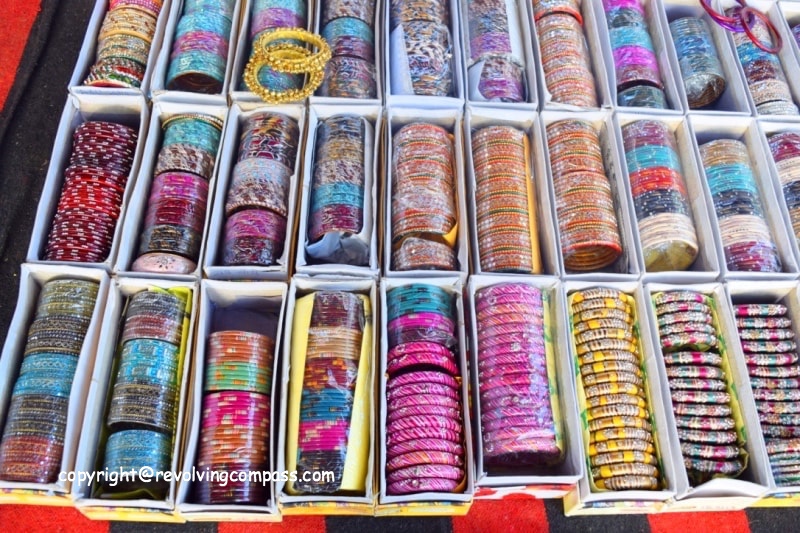 Now, the first day we landed in Udaipur we visited Shilpgram. It is a place where artisans setup their own markets. As a result, the items you get here are all hand made (in fact, most of them like lac bangles, woven cloths and pottery you can see being made right there in the shop). And, the prices are also reasonable because here you buy directly from the artisans (when the same products reach stores, the prices add up). As we interacted with the artists, we found each one of them highly talented in what they were doing. And we were impressed by their work. So, just as an encouragement to them, we couldn't resist from picking something from almost all the shops 😀
So, this way, we finally bought a beautiful bed cover, some bedsheets, some beautifully made and very reasonably priced lac bangles, mojri shoes for our little one, leheria saree for my friend, a dress material for my mom and shirts for my brother and Abhishek. Again our bags were full post this shopping. (To be noted : it was the full family shopping this time, not just the two of us). There was no more shopping for the next couple of days.
City Palace emporium for shopping in Rajasthan
On the last day of our stay in Udaipur, we headed to City palace, Jagadish temple, lake Pichola etc. Our guide advised us to just have a look at the items in the government emporium in city palace complex, before we exited. We took his advice and headed to the shop. We saw some interesting sarees here – those made organically with fabric driven from bamboo and custard apple trees. The prints are beautiful and the pieces look unique. My mom bought one and my friend bought a couple for her mom. Note: these sarees are purely organic, completely recyclable. As a result, the shop has an offer wherein you can return them after however long duration of use, in whatever condition they are, and you get 50-75% of the purchase price refunded.
Hathipol for shopping in Rajasthan
Once out of the city palace, we did some street shopping buying a pair of trousers and some kurta at dirt cheap prices. Post this, we headed to hathipol market as my friend wanted to buy some specific crepe bandhej saree. We were awestuck by the textile shops in Hathipol. We headed to a Bandhani emporium, a small shop, full of colorful bandhej. My friend got exactly what she was looking for and we ended up buying a few more unstiched dress materials. We realized now, we had shopped way too much to be able to accommodate it all in our trolleys. We then headed to a nearby shop and bought 2 jute bags that were being stitched there by the shopkeeper. We dumped our shopping in these bags and headed back happily.
Key take away from our shopping in Udaipur
Shilpgram is a good shopping option, the contribution goes directly to artisans.
Hathipol market is great for textile shopping.
Save the bandhej marketing for Udaipur, in case you are heading to Jaipur first and Udaipur afterwards.
Overall Udaipur markets are cheaper than Jaipur for the same quality of good.
In Udaipur, we got to buy some pure organic sarees made of thread driven from bamboo and custard apple trees.
At the end of our Shopping in Rajasthan
Overall, this is what we ended up with at the end of our shopping in Rajasthan
(Putting the price ranges for your reference)
Unstitched dress materials (Price range: INR 500-5500, decent ones came at INR 500-650, few better ones at INR 1200-1400 and one super special piece that my friend took at the higher end of the price range)
Block printed bedsheets made from vegetable dyes (INR 600-1200)
Crepe Bandhej Sarees (INR 1400-3500)
Organic Sarees (INR 2200-2500)
Mojri for the little one (INR 100-200)
Dupattas, pyjamas, kurtas from street shops (INR 100-250)
Lehenga choli for little one and my niece (INR 200-400)
Bed covers for single and double bed done with Katha stitch (INR 1400-2000)
Cushion covers and divan sets in block print and Katha stitch (INR 100-500)
 Pitchwai and miniature paintings on cloth and canvas (starting INR 250 )
Lac bangles (Starting INR 150 for a set)
Jaipur Razai / quilt (Starting INR 650)
Oxidized silver earrings (3 for INR 100)
Final Packing
We accommodated it all in the trolleys that we had carried from home as a part of our luggage, plus two additional bags that we ended up buying in Udaipur. After our final packing , we were feeling so satisfied . The evening before heading back home, we were talking about our happy and healthy shopping indulgence. This is where I realized that my friend had no idea how much she had spent so far. I made her count her shopping expenses and immediately felt guilty for doing it, looking at the grim expression at her face.
Nevertheless, the guilt that we felt lasted only for a while. Soon, it was taken over by the anticipation of the additional weight of our newly added luggage. We were wondering whether we would exceed the luggage weightage limit at our domestic flight (which is 15kg per person at the time of writing this). If we exceed the limit, we end up paying way too much extra in fine, which is going to more than nullify the motive of our cost effective shopping in Rajasthan 😀 .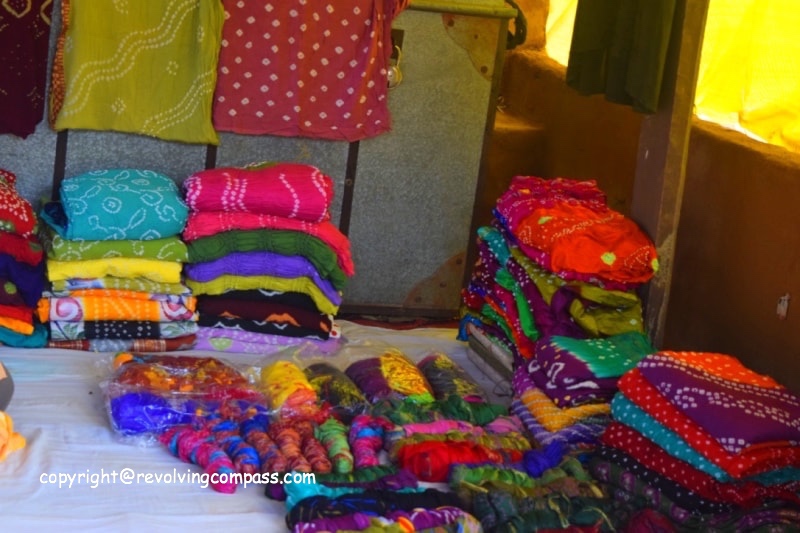 And finally at the baggage counter
We were holding our breathe at the baggage check-in counter as our luggage were loaded one by one at the belt. Unlike Bangalore, where we are able to see the weight of our luggage as we load them on the belt, we were not seeing anything here, which made the situation even more mysterious. However, at the end, the pretty woman behind the counters turned to us with a smile, and remarked "that's it. Or you have any more luggage" .
We thought for a couple of moments it was a sarcastic remark at the volume of our luggage. But, to our surprise, one by one the baggage moved on the belt and disappeared behind the counter, without us having to pay anything extra. 😀 We were thrilled with joy (and secretly thinking, if only we knew, we would have shopped little more 😛 ) However, the weight of our luggage will remain a mistry to us for the rest of our life…
If you see the list of things that we wanted to buy and that we ended up buying, there is some difference. We are planning to make up for this on our next trip to Rajasthan, whenever it happens. And, we will then buy the things that we couldn't due to lack of time and space and definitely write about the experience once more. But, it's got to be authentic Rajasthani souvenirs that I am bent upon collecting.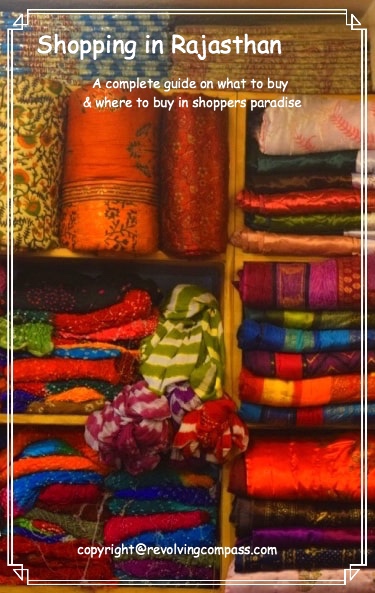 You might as well be interested in
Beautiful Wedding depiction at Bagore Ki Haveli Museum
Shilpgram: Must visit in Udaipur
A day trip to Chittorgarh fort from Udaipur
A day trip to Kumbhalgarh fort from Udaipur
The magnificent Jain Temple of Ranakpur
How best to spend 4 days in Udaipur – itinerary 
An evening at Chokhi Dhani, Jaipur
The unconquored fort of Nahargarh, Jaipur
One day trip to Amer fort, Jaipur
Hotel Ram Pratap Palace, Udaipur
Bagore ki Haveli Museum, Udaipur