Once upon a time zoo used to be last on our list of places to visit anywhere. After all, what's in a zoo, 90% of the same old animals in the same colors. But now, where ever we go, zoo always is on top of our list. In conclusion, having a toddler really changes things !! As she gets so super excited when it comes to animals, be it street dogs or the colorful animals on her bed sheet or her animal stuff toys. So, this time on her birthday, we decided to take her on a trip to a zoo.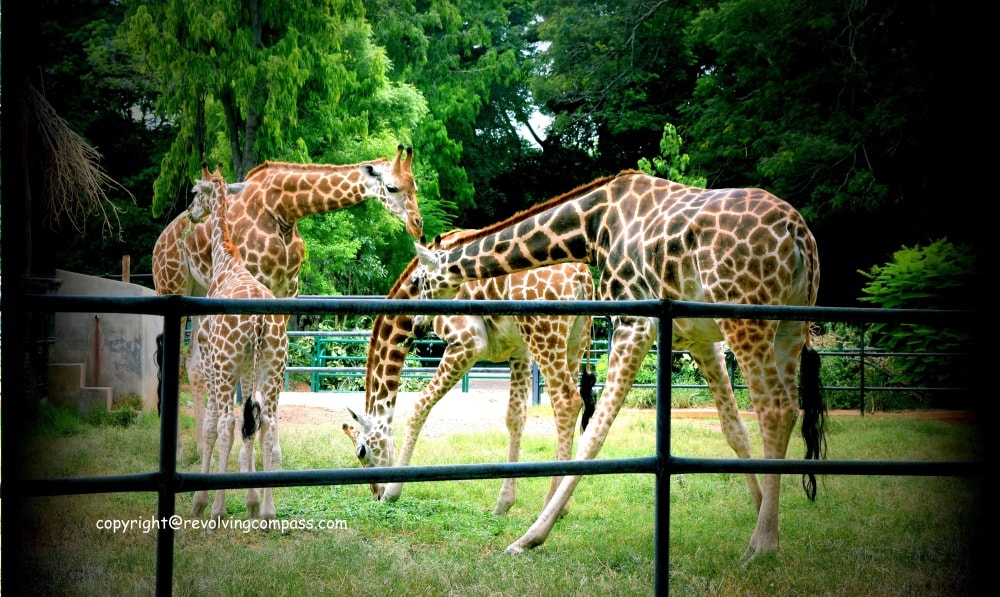 But weather was not supportive so far, with harsh sunshine and heat waves starting right by 8:00am or 9:00 am in the morning. Finally, afater much awaiting, the pre monsoon showers started. With this, the temperature also dropped. And soon the days started to be cloudy with pleasant wind blowing. Now looks like an idle time for a nice couple of hours drive. The destination we choose is Mysore Zoo.
Some background of Mysore Zoo
Mysore zoo is one of the 10 most popular zoos in India. Is is oficially known as Sri Chamarajendra Zoological Gardens . And, it is located right in front of the Mysore palace in Mysore, India. So much so that the entrance is almost opposite to the Mysore Palace entrance. It sprawls over a huge area of 157-acres. This makes is one of the oldest and most popular zoos in south India.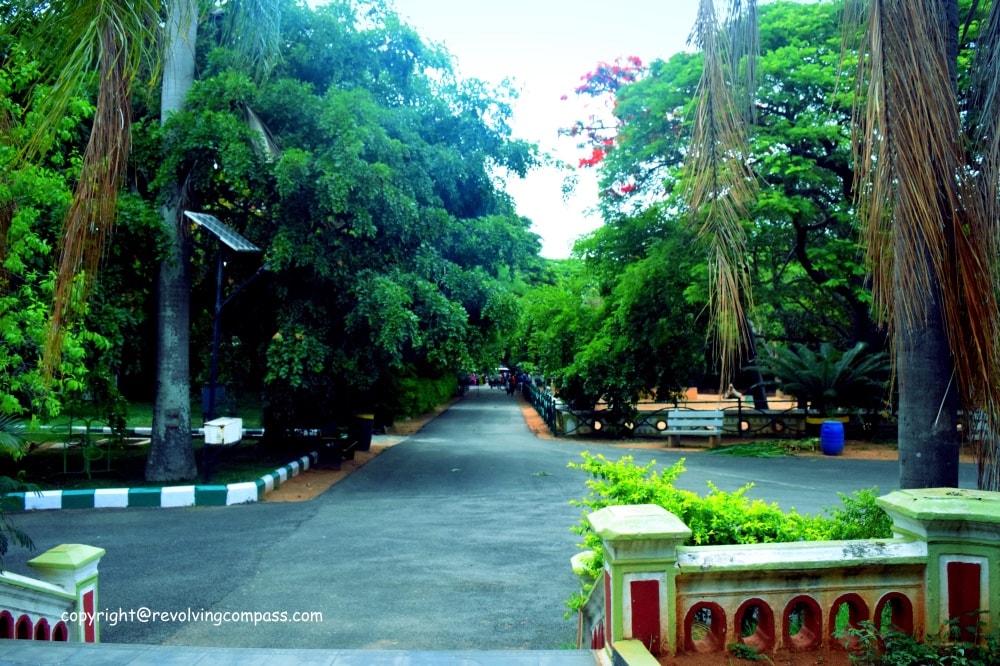 This zoo was established by Maharaja Chamaraja Wodeyar in 1892. However, not just in India, but in the whole world it is renowned as one of the oldest zoos. Mysore zoo is home to largest number of elephants compared to any other zoo in India. Currently it houses around 10 elephants. Apart from elephants, some of the other exotic fauna includes striped Hyena, Jungle cat, Asiatic black bears, African Elephant. It is also the only zoo in South Asia to host a Gorilla. Apart from this, the zoo is home to bengal tiger, Indian wolves, giraffe, leopard, hippopotamus, rhyno, crane, swan, zebra and many other animals and reptiles.
Lake Karajni
The nearby lake, karanji lake is also a part of Mysore zoo now. This lake is situated amidst the vast greenery of the zoological garden with a backdrop of Chamundi hills. Boating facilities are provided on the lake. Also, the animals stationed at Mysore zoo are provided large, specious enclosures to give them the feeling of being at their natural habitat. The zoo is open all year round from 8:00am to 5:30pm, except for Tuesdays. But it is advised to visit early in the morning before 11am or late in the evening after 3:00pm since in between, the animals tend to be inactive due to mostly hot weather and hence may not be spotted.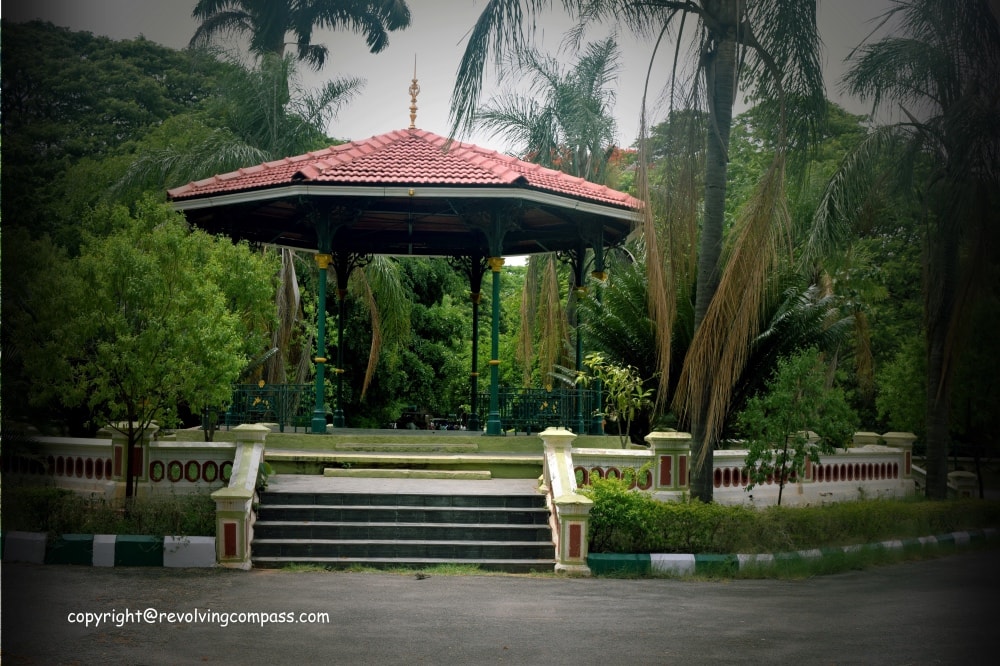 Our experience
We booked our entrance tickets online from the official zoo website to avoid the queue at the entrance. Since the weather was cloudy, we started little late from our home in Bangalore. Finally, we reached the zoo by 10:30 am. However, we were able to site most of the animals. While some were enjoying an afternoon nap. It takes considerable amount of time to cover the whole area and see all the animals, if you choose to walk by foot. So, there is an electrically operated vehicle also available inside the campus at an extra charge, which would take you around the zoo if you don't prefer to walk.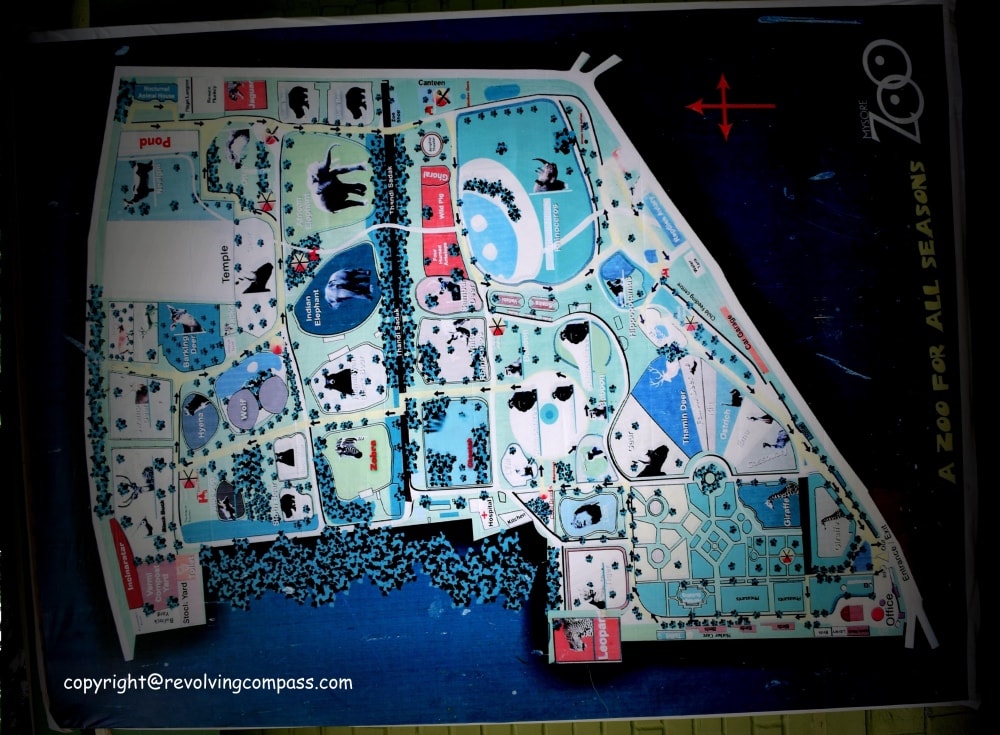 However, the area inside is lush green. And thus, you will not feel heat or tiredness at all as long as you walk within shades.  Most of the path has ample shade all through the day. Overall, the whole zoo is very well landscaped. There is facility of washrooms, child care rooms and drinking water at every few steps. There are benches all around to take rest intermittently.
Entrance
We entered from the main gate of the zoo. Right in front of the entrance is a pathway from where the zoo starts. Both the sides of this pathway are lined with birds of different types that include parrots, parakeets, peacocks, white peacocks, swan, crane. We walked down this path, our daughter thoroughly enjoying the scene. Some of the birds were being fed by the zoo assistances. My daughter excitedly watched the birds being fed. Next came the monkeys of different breeds. These animals are caged.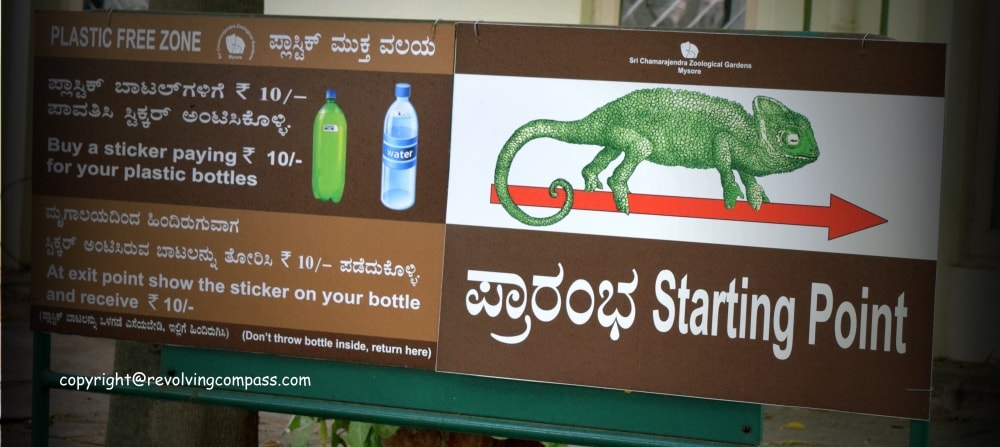 Wild animals
After watching the monkeys, next we headed further into the zoo. The next section was where leopard resides. There are 7-8 leopards. They are kept inside a big enclosure. Since the animals need to feel at home. So, plants and trees are placed inside the enclosure. Some of the leopards were sleeping while others were roaming around leisurely. At the other end was the Tiger's enclosure. A tiger and a tigress live here. One of them was taking rest while the other was walking around leisurely. I can't put my daughter's excitement into words as she saw these animals. (The only drawback is that ask her now where a tiger lives and she says zoo :D). Then we crossed several other animals including lion, bengal tiger (white tiger), zebra, wolves etc.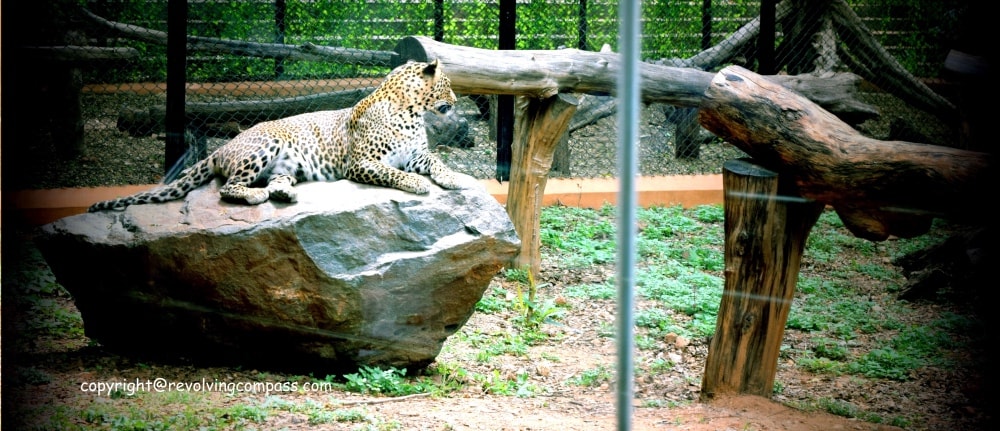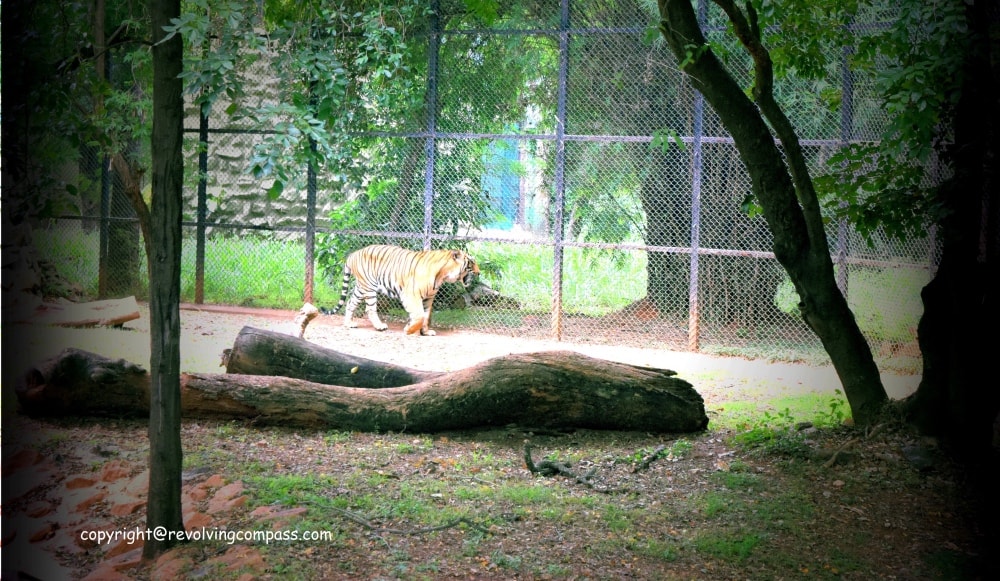 Not so wild animals
We took short breaks in between to feed our daughter. During these breaks, we rested at the benches on the way. Then we arrived in another section of the zoo that consisted of not so wild animals. We saw a huge field dedicated to bisons. Then came another section where there were herds of deer. Crossing this, we arrived at herds of buffaloes. We also spotted a peacock freely roaming around in the campus. Then we met the gorilla. After this, we arrived at the enclosure where the elephants are kept. Then we came face to face with Giraffe. There were some 5-6 giraffe quietly eating the grass, least bothered about the surroundings and the people who were circling them. My daughter was super excited here as well.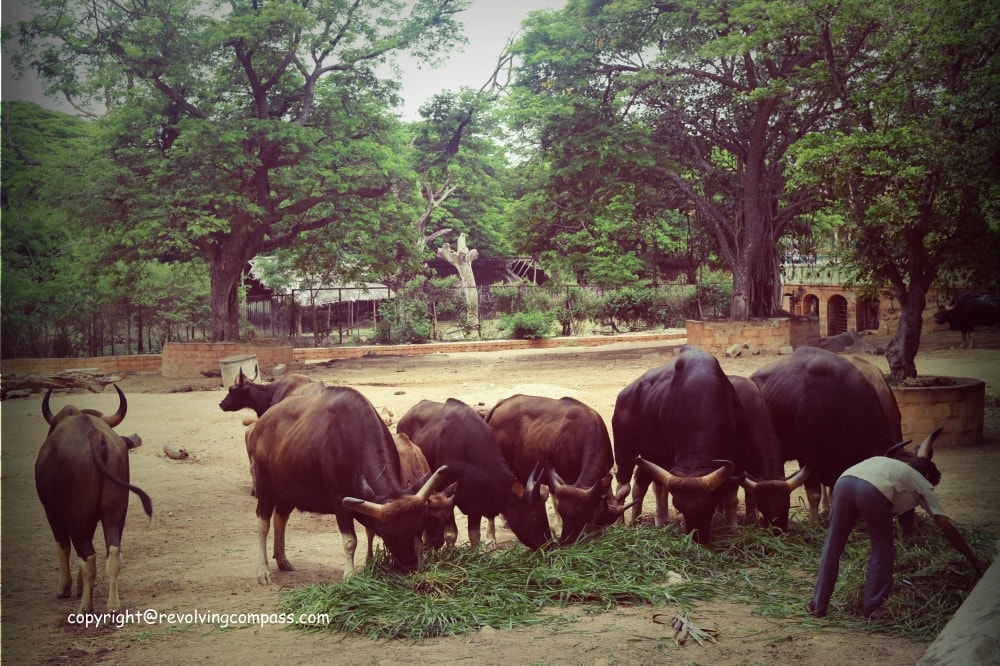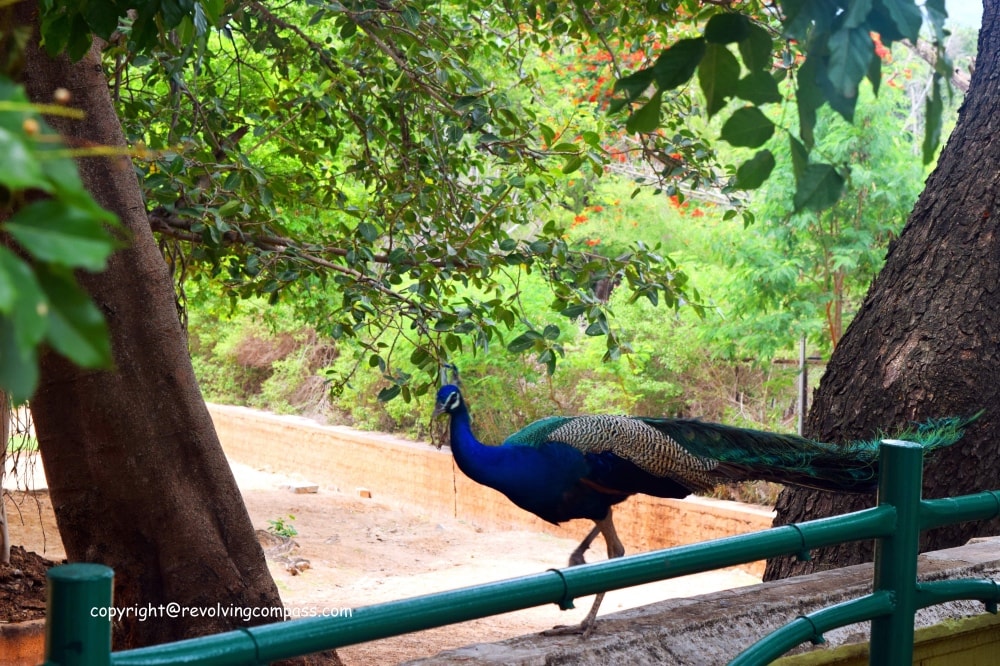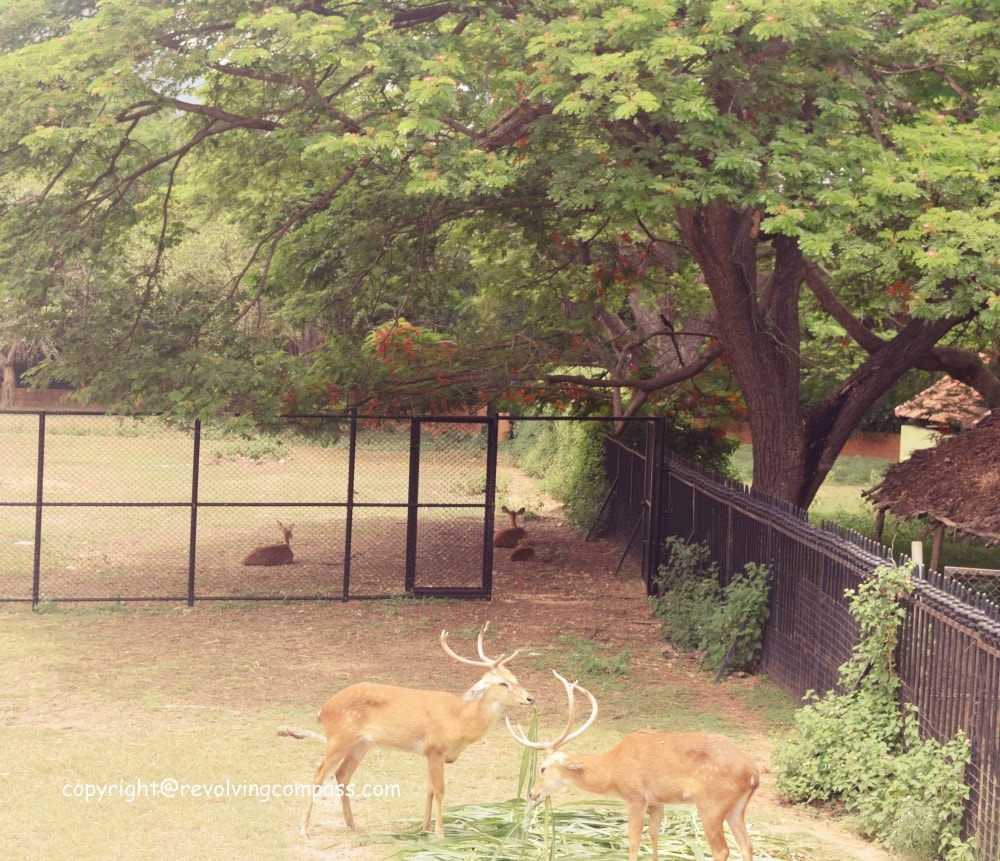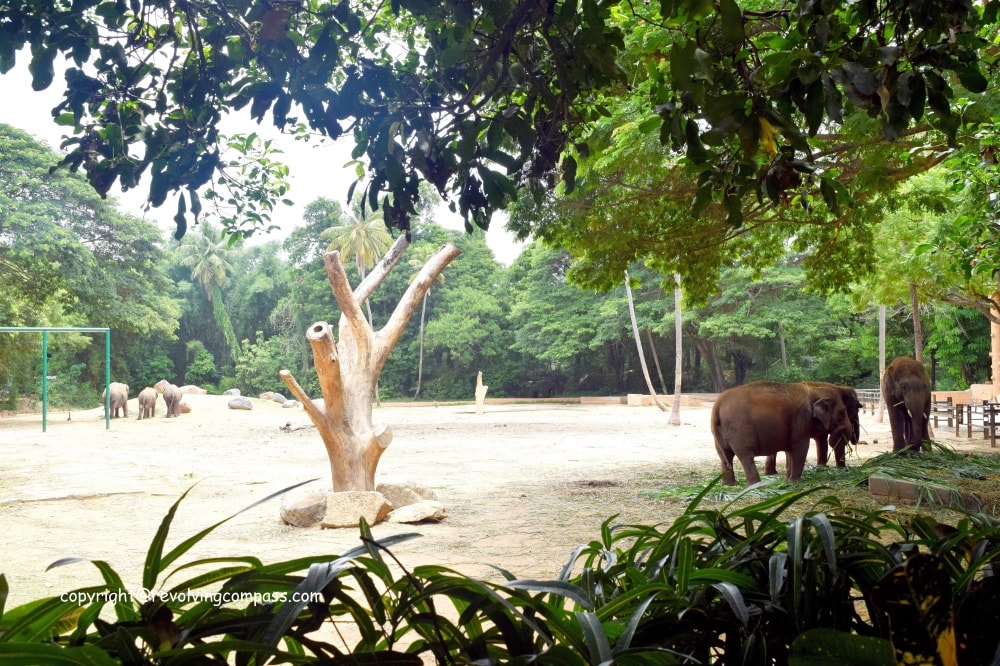 The water birds & animals
Crossing the Giraffe, you reach at a small section where there are numerous ponds. In these ponds reside different species of crocodiles, gharial, tortoise, turtles, water birds , ducks etc. The section is a little artistically done. There are small footbridges constructed across the water bodies that provide a better view of the birds and animals.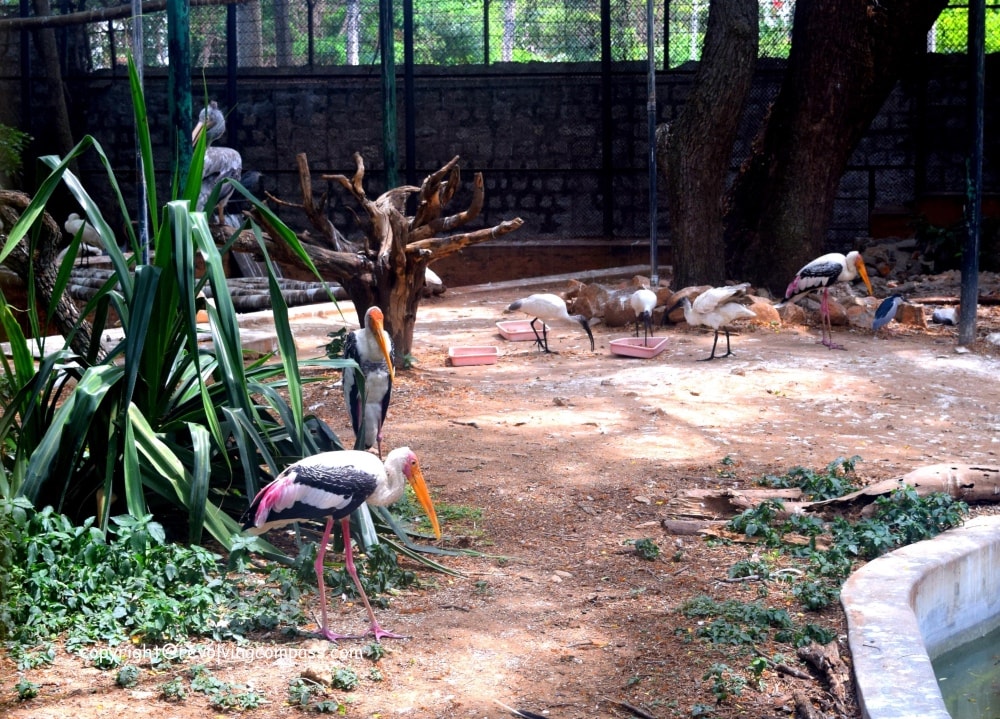 The reptiles
As you move further on, you will enter a shade where there are numerous glass enclosures on either side. Each of these enclosure contains a variety of the reptile family. These include a huge ratsnake, kobra, some non-poisenous varieties, small and big.. numerous snakes. Some chameleon varieties can also be seen
Refreshment
Finally, almost 1km before the entrance, there is a nice eatery where there are numerous options to get rid of tiredness and have your meal. The ice creams seemed to be highly popular given the moderately hot weather. However, the good news is that the whole area is plastic free zone. Hence, the zoo authority have put a smart initiative to maintain the area plastic free – if you buy a plastic water bottle , you will be charged INR 10 extra. And when you hand it over near the zoo exit, your extra bucks will be returned to you. This way, majority of people take care of carrying their plastic bottles all the way to the zoo exit rather than throwing them here and there. Although, ample number of dustbins are also planted all through the zoo.
When you buy an icecream with a cover, you can return the cover at the counter then and there and they will take care of it's disposal. I really liked these little initiatives towards keeping the area clean and eco friendly. And I hope all the tourists understand it's importance and adhere to the rules. Apart from this, there are restrooms and drinking water facilities at every few hundred meters. These kind of refreshment facilities are really important given it's mostly children who visit the zoo and hence will require such facilities.
The meal options here comprise of north Indian, south Indian, noodles, thalis, sweets and ready to eat snacks. The prices are reasonable and taste decent. We will recommend you have food here before exiting the zoo. This will give you a chance to relax your tired feet and also save time hunting for a restaurant outside. After you exit the zoo, you can proceed to the next site seeing spot or you can just get back home.
Animal adoption
Mysore zoo also runs an animal adoption program which has been a great success. It provides you the facility to adopt an animal right from your home. You can check the details on the official zoo website. Those who adopt, their name is displayed in the zoo near the adopted animal's habitat.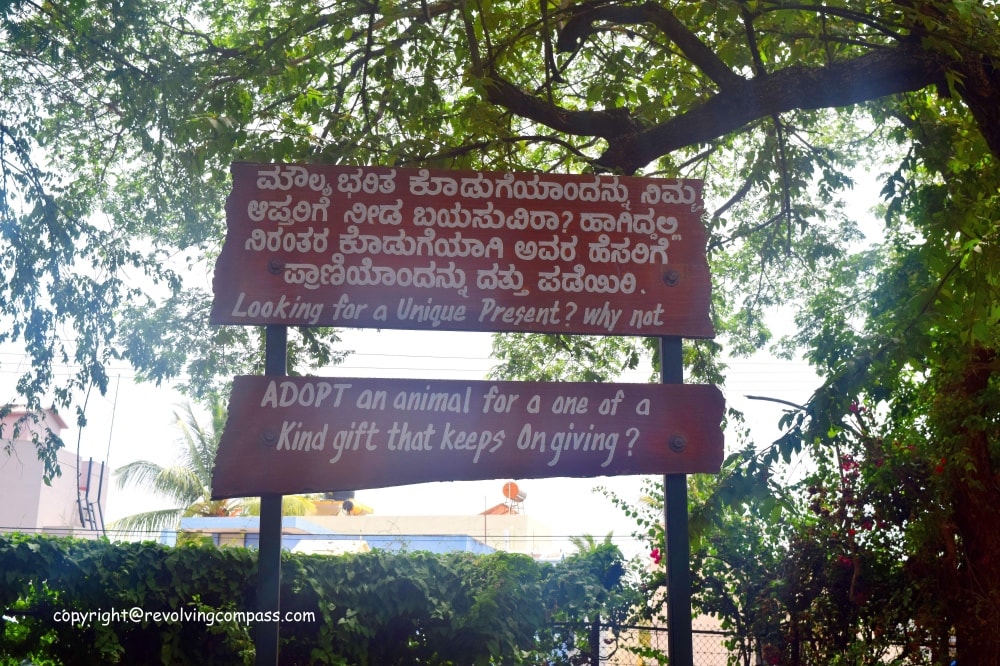 Overall the day was very well spent. The little one enjoyed it to the fullest. It gave us the feeling of fulfillment and made the trip a success. To all the animal lovers and parents, if you visit South India or you happen to live somewhere near Mysore / Bangalore we would recommend you visit here once. It will be a day well spent.
Tips on visiting Mysore zoo
The best time to visit is early morning till 11:30. Or then in the afternoon after 4pm. Since in the afternoon most animals fall asleep  deep inside their enclosures and hence may not be seen.
If you have toddler with you, you may want to carry their essentials along.
But for grown ups and kids, there is no need to carry anything. As, there are sufficient drinking water sources and restrooms inside the campus.
Don't forget your sunglasses and hat or umbrella to combat the hot weather in case you are planning to visit on a sunny day.
Wear comfortable cotton cloths
Wear comfortable walking shoes as you will walk more than 5 kilometers inside the zoo campus itself
Keep at least 4-5 hours aside for visit to the zoo. If you rush through, it will not be worth it.
Many a times we do day trips from Bangalore to Mysore. I would suggest, don't accommodate the zoo in your day itinerary with other sites of Mysore. It will be too much. Just visit the zoo on one day. At max, club one more site with it.
It had got a little tiring for our toddler end of the day since we did one day trip , visiting the zoo and brindavan gardens. If you are planning to visit the zoo with your toddler, just go to the zoo and return back by 5 pm. Else, stay overnight in Mysore and cover the other sites the second day.
The pre monsoon time and winter time seems to be best for visit. But the place gets crowded any day, particularly weekend. Weekdays might not be as crowded.
Book your tickets in advance from the Mysore zoo website.