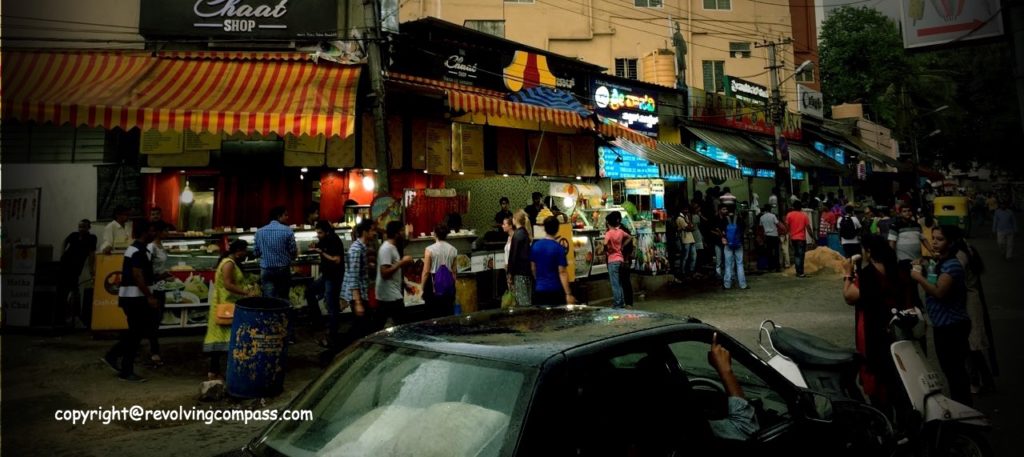 An introduction to food street
Bangalore's famous "food street" aka "chaat street" is located in V V Puram, near Sajjanrao Circle. It is well known for its numerous food stalls and shops, bringing mouthwatering street foods of India under one lane. The old charm of the place seems to be well preserved. We had heard about this place long back when we came to Bangalore. We thought to visit here several times, but somehow, we never landed here. Recently, after reading this post by Anuradha Goyal at her blog, the desire to go to food street reignited. We discussed it with couple of friends and found them to be equally eager to go. So, we decided Saturday evening it will be!!
Our first impression
We stay far, so, we started early and we reached the V V Puram circle by 5:00pm. We came out of the cab and asked at a shop for direction to the food street. He pointed towards a quaint street, about 300 meters long. Not all joints were open then and there was no crowd. Shops were opening up and the initial preparation for the evening ahead was in full swing. Still, for a while, I wondered, really, it is food street. About which food lovers talk with so much fervor. What is so special about this place after all ? It looks like any other old narrow street in Bangalore.
Nevertheless, we took a stroll across the small street, accessing the options available to us. We noticed that the street thrives with shops of authentic Rajasthani & South Indian street food, fresh fruit juice junctions, icecream and kulfi (an Indian icecream) shops and some street vendors with mobile carts selling fruit bowls, faludas, pani puri and other street food. However, at this point vendors were busy arranging their stalls to welcome the visitors. We saw a vendor arranging fresh jackfruit pulp and some other varieties on his stall at the other end of the street.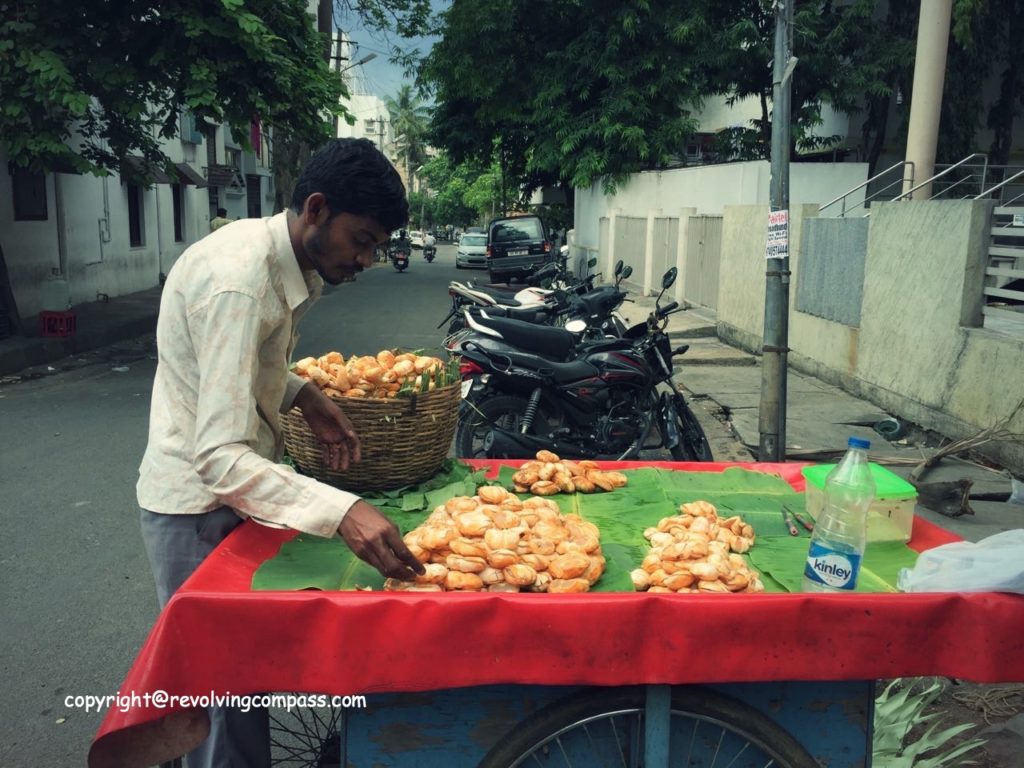 Endeavor with the food
Rajasthani chat corner
And, by the time we reached the other end of the street, soaking into the aroma of mouth watering street food being prepared, we could not hold ourselves anymore. Now I realized why the quaint looking street is so famous. As we turned around the corner, our first stop was Rajasthani Chat corner selling different types of chats, bhel puri, bhel papadi, cold chats, samosas, some special Gujarati and Rajasthani dishes, sweets, milk shakes, badam milk and numerous other items. We thought to break the traditions and start with sweet – so we had Jalebi. After that we settled for 3 different kind of chats here – mix chat, tokri chat and aaloo batata chat. There was a special cold chat – rasgulla chat.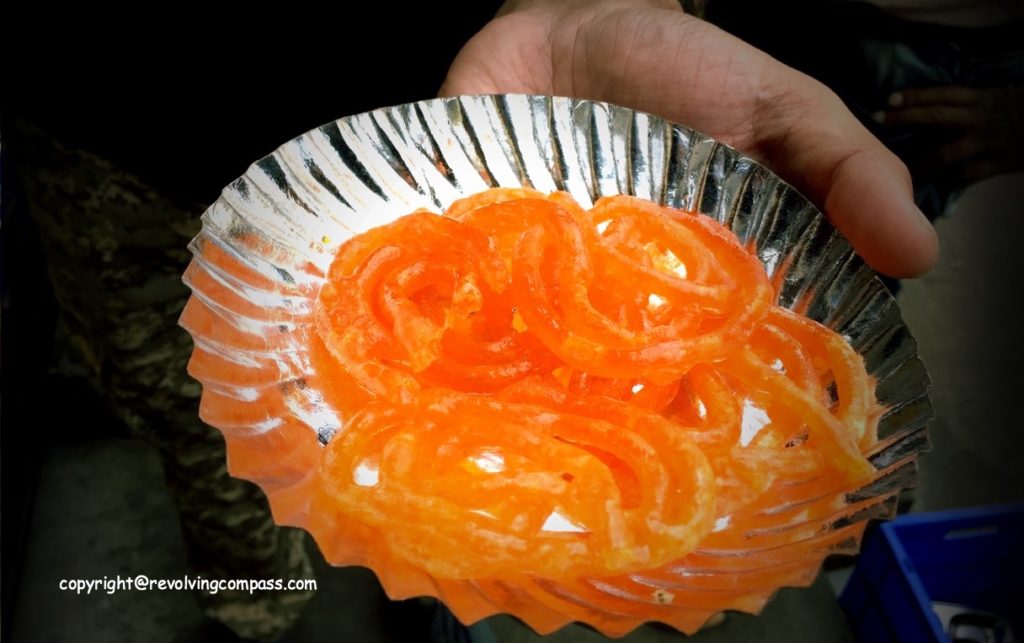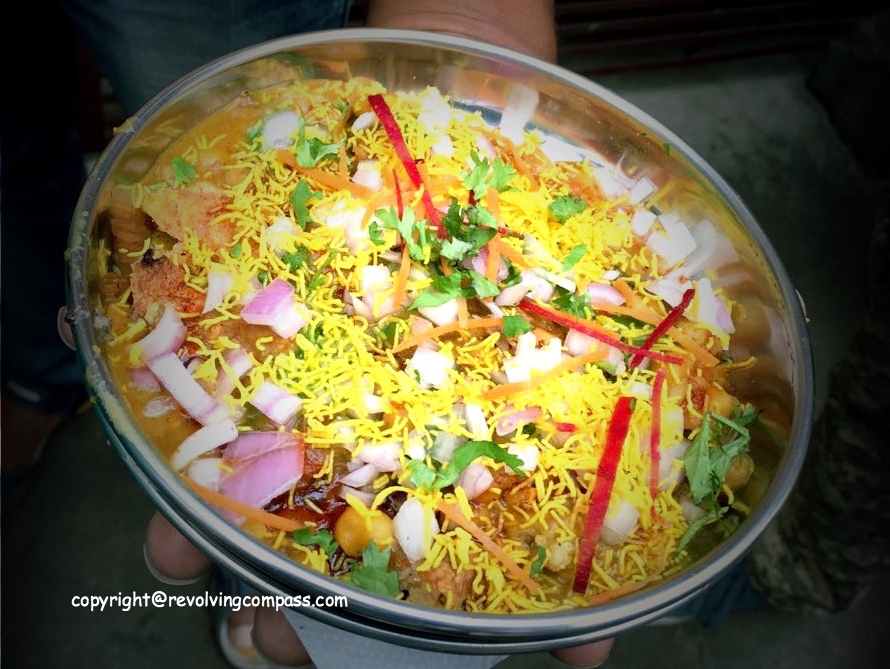 South Indian delicacies of food street
From here, we headed to the south Indian stall across the street that had paddu, dosas of numerous varieties, idli wada and numerous other South Indian delicacies to offer. We shared a plate of paddu and then a paper dosa (more than a feet long). At this point, it started to drizzle a little. I took my attention back to the street and surveyed it quickly. To my pleasant surprise, while we had been busy at the Rajasthani shop, the street had got quiet populated and abuzz. There were crowds of people – school and collage students, professionals, house wives, families – all through the street. And now, owing to the rain, many were trying to take shelter in front of the shops.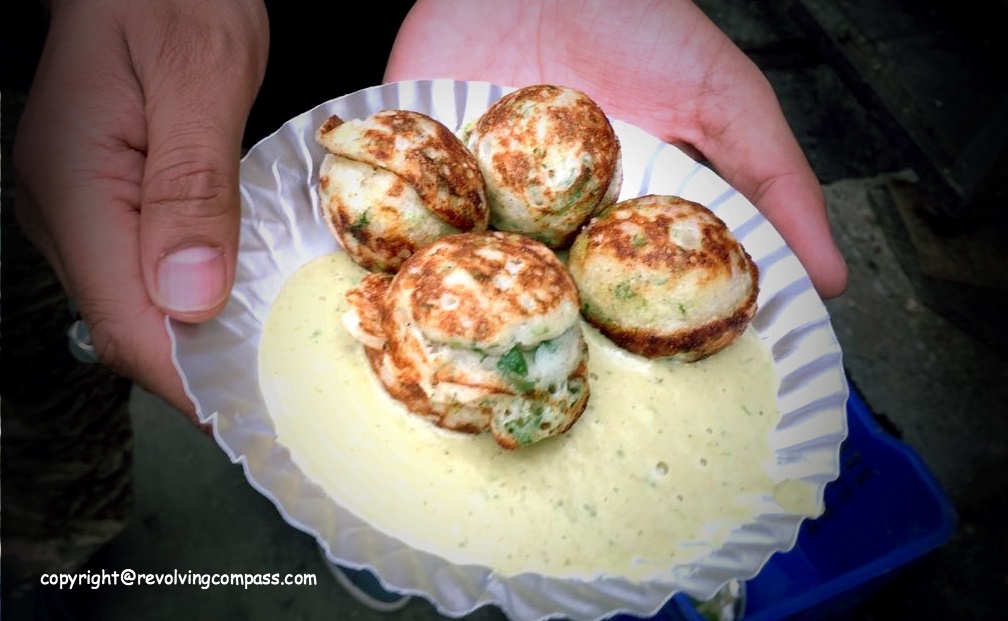 We also decided to sit inside a shop and have the dosa while we patiently waited for the rains to stop. And the rains listened to us. Soon the drizzling became almost negligible and we decided to again venture out to the next shop.
Desert treat
Then we headed to the juice and ice cream center. While two of us had badam kulfi, the other two had masala coke. By this time, the street had got quiet abuzz with visitors once more and was getting crowded with every passing moment. People had started hovering around their favorite joints and orders were flooding in at every single joint. By the division of the crowd, it was impossible to tell which food joint was better than the other, as each one had a huge crowd to cater. Now, I could clearly see the importance of food street and it's food.
The potato cheese stick
Finally, after finishing our deserts, we were thinking what to try next when we discovered this unique hot potato preparation. A single potato was peeled into connected circles, fried, spices sprinkled on it and then was put on a kebab stick. We couldn't contain ourselves from trying it. It was served to us with mayo sauce poured on it. Abhishek held it like a warrior's sword 🙂 . It had both spicy and non spicy versions available.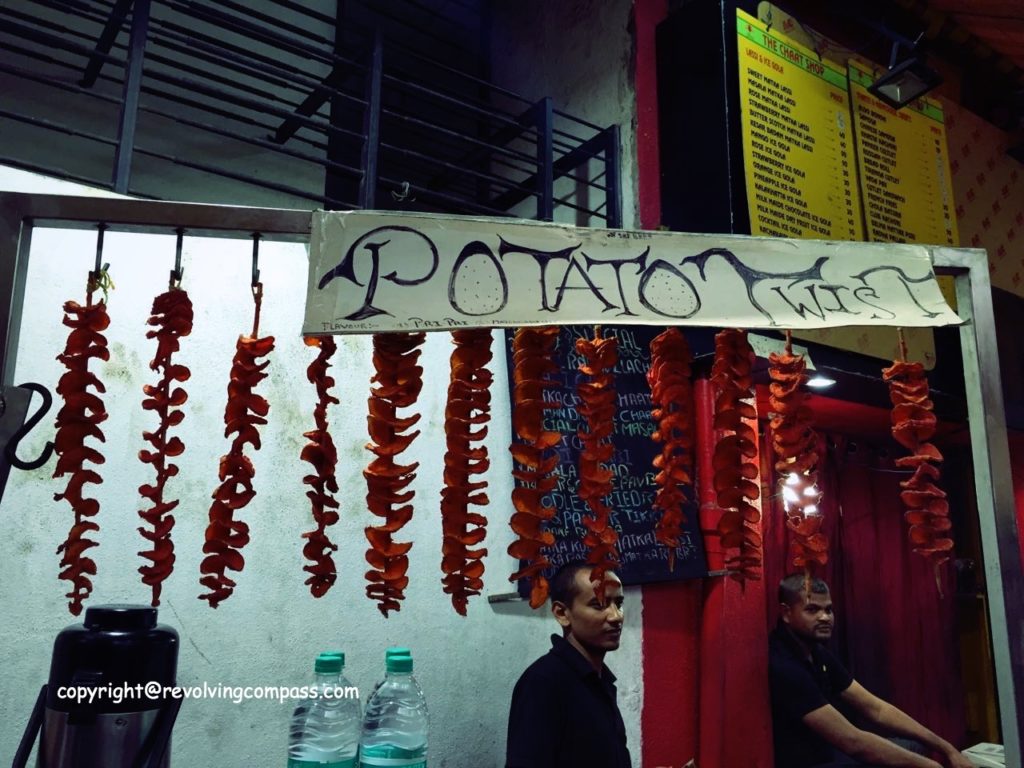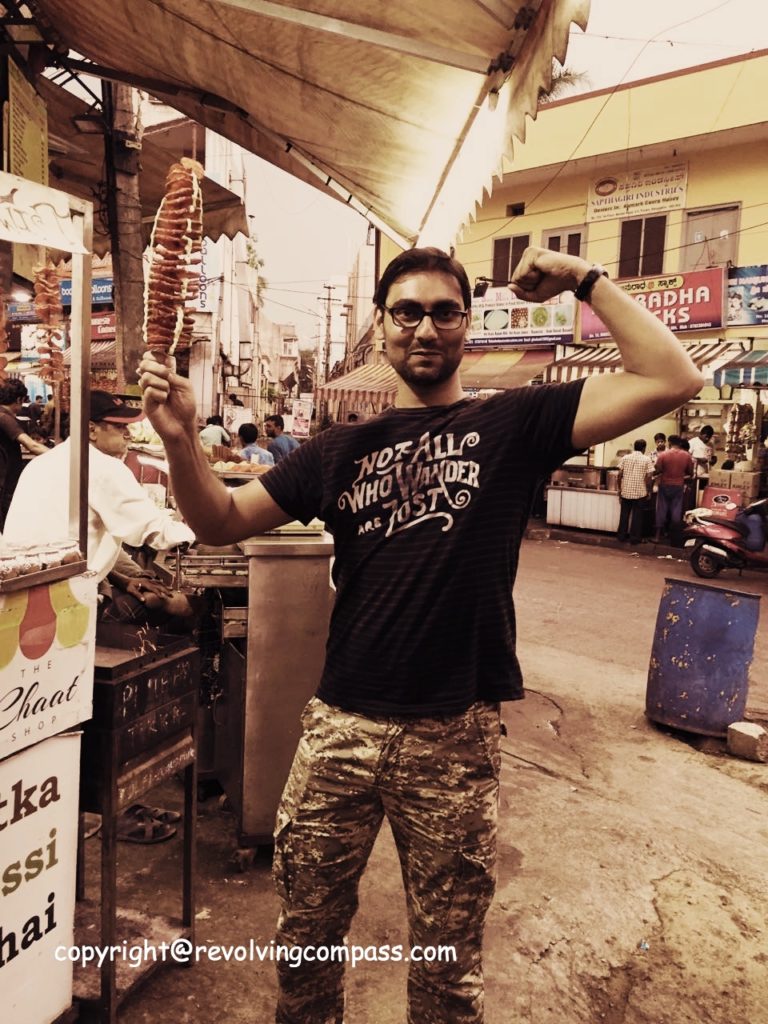 We were almost full by this time. So, we settled for some ice golas and called it a day. Although our stomach were full but definitely not our appetite. We wish we had a second stomach to try more street food options like the chowmein, some parathas at Rajasthani paratha house, different kind of rolls (veg, paneer, potato and numerous others), faludas, hot gajar halwa, badam milk, chilli pakodas, phirni, kachori, pav bhaji, sweets, manchurian, bhel  and so many other items 🙂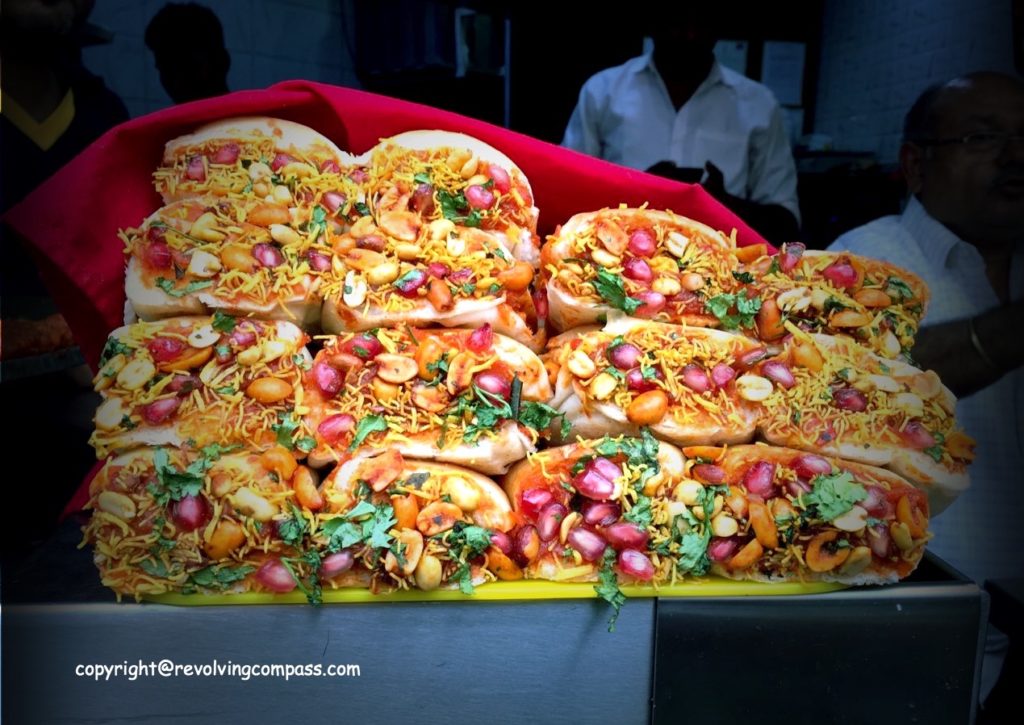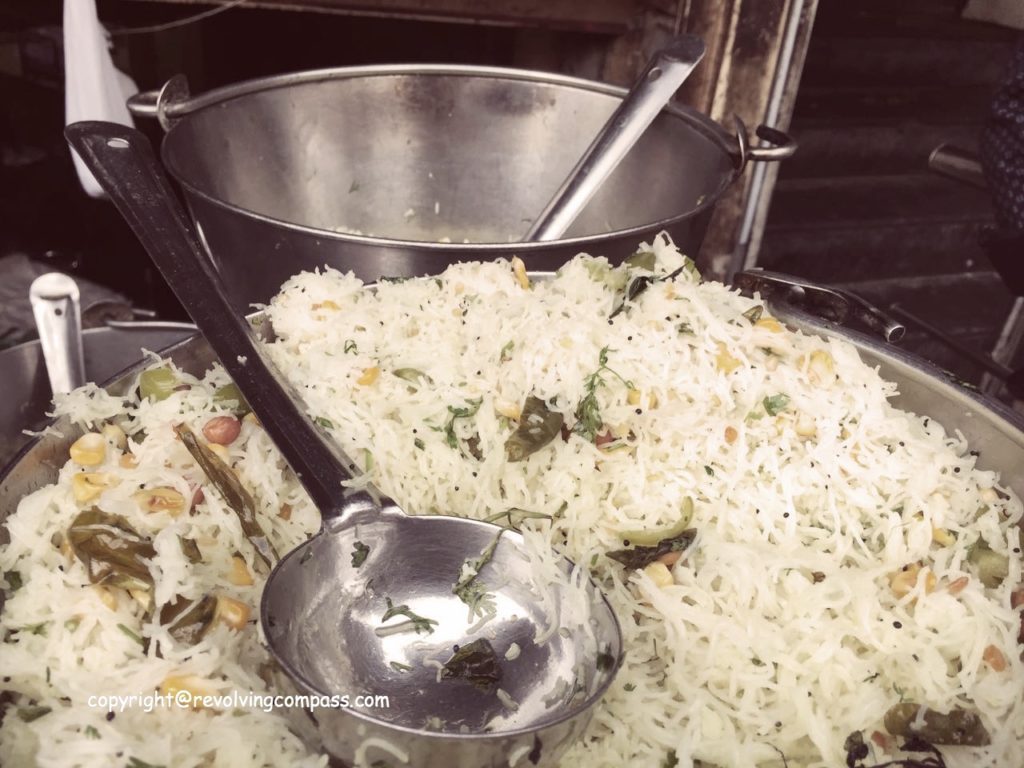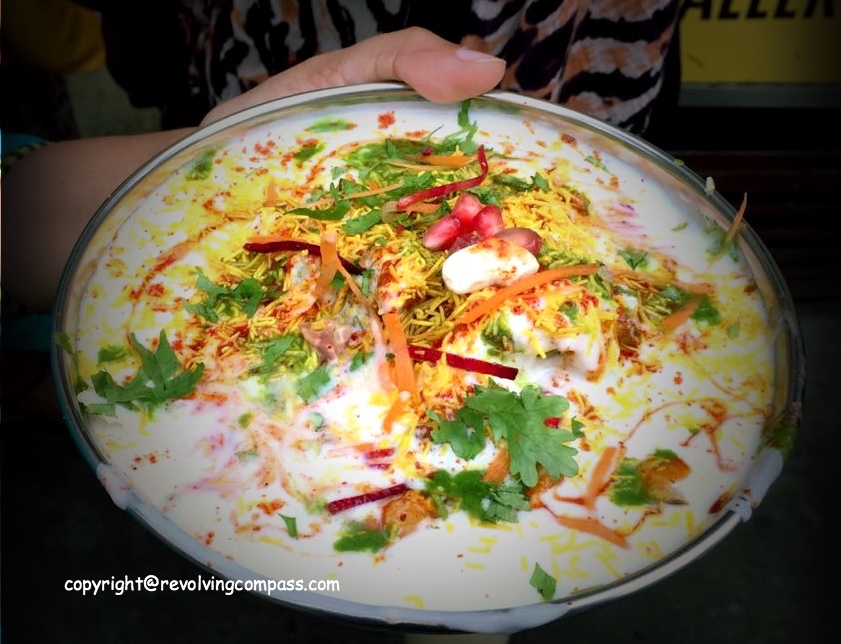 V B Bakery
Meanwhile, dark clouds had started covering the sky. Most of the food street shops don't have much option to shelter the customers, so, we thought it would be better to head back now. But the visit couldn't have been complete without stopping at the infamous V B Bakery, which is a landmark at food street. It is a very old shop . And, it seems to be quiet famous for it's baked delicacies including cookies and cakes of different varieties. We had heard a lot about different bakery items available here. The place was smelling of freshly baked cakes and cookies. We bought 3-4 kind of cookies. One can buy them in kgs. We took half kg of some and 250gm of some others. The prices were quiet reasonable. We also got a couple of pieces of their honey cake for our toddler.
Good bye food street
By this time, it had started raining, in fact pouring cats and dogs. When it rains in Bangalore, the traffic gets even worse. So, we decided to hurry back as soon as possible. We were lucky enough to get a cab and direct it to V B Bakery. With this, we started our journey back home, cherishing the everlasting memories that were born in an evening well spent at food street, longing for more of the mouth watering delicacies it offered 🙂 We will definitely go again.
If you happen to be in Bangalore and you are Indian street food enthusiast then you must give this street a try. Secretly, I was feeling jealous of the people whose houses are just around the corner to food street. But I am also glad I don't live here , otherwise I would have ended up having the street food like my staple food every single day.
PS: India is a land of street foods. If you are in India, no matter which part of India, you have got to try some tasty mouth watering street food delicacy. Here's a comprehensive post on street foods of Lucknow that you might want to look into if you are around here.
Tips for visiting food street , Bangalore
The place thrives in the evening, so, you have got to go by 6 pm. Plan accordingly.
Visit on a weekend to avoid too much of traffic if you stay far.
The place is very famous. You can easily take a public transport to majestic or K R Market from anywhere in Bangalore and then take an auto or another bus to V V Puram Circle. From here, food street is just a couple of feet away.
If you happen to visit Lal bagh, or Tipu Sultan's palace, you can easily club it with food street since they are quiet close by.
Although if you are a real food enthusiast it will be fun to head here alone. I will recommend going in with a group of friends , colleagues or family members. Since that adds to the fun at this kind of a place.
Don't head here in a rainy season since there is not much option for shelter
Try a little of as many things as you would like, because there are so many things to try out, you will definitely get exhausted and not able to even taste them out 🙂
The good thing is there are all kind of street food available – north Indian, south Indian, Gujarati, Marathi, Punjabi and chinese too. So, even if you head here in a group that has people with different taste buds , no one is going to be disappointed.
Finally, the sweetest secret revealed – the place is pure veg – a vegetarian's paradise