There are many haunted places in different parts of India, places where spirits are believed to be residing and roaming freely. And many of the prominent ones are in Rajasthan itself. Including Bhangarh, Bullet Baba Temple and Kuldhara to name a few. These places always intrigue us all. Last year, when we visited Jaipur and Udaipur, we wanted to go to Bhangarh. But somehow, that didn't happen. So, this time around, when we made plans to visit Jaisalmer, we couldn't help but put Kuldhara on the top of our itinerary.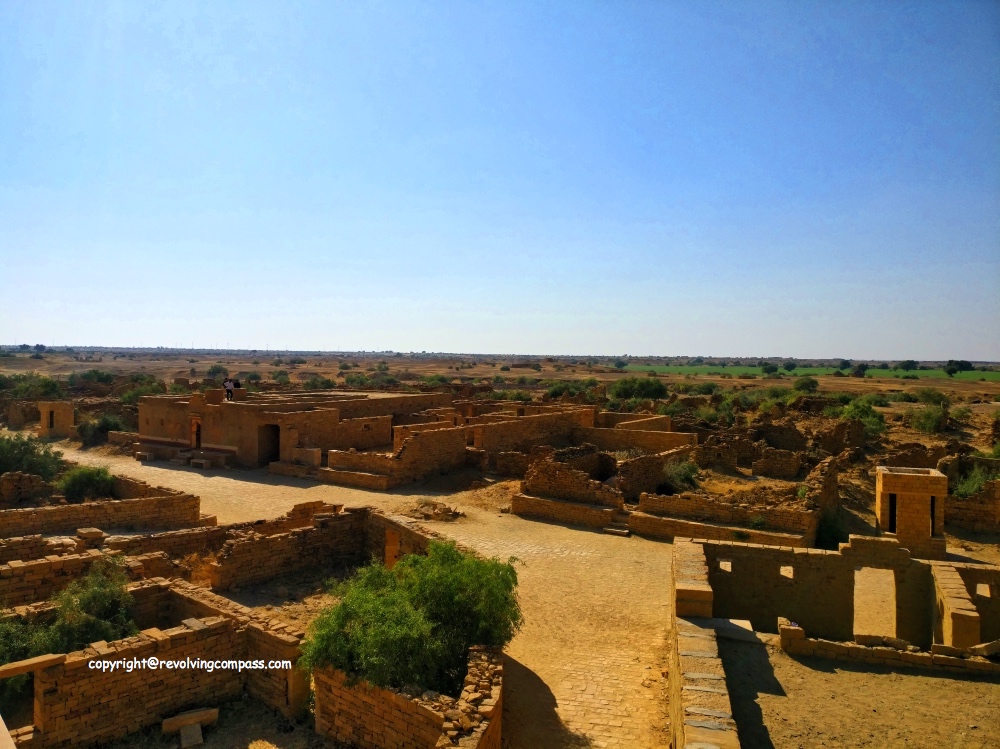 Jaisalmer to the haunted village Kuldhara
Kuldhara is around 20km from the main city of Jaisalmer. And it takes around 45 minutes by taxi to reach here. It is located at a slight diversion from the Jaisalmer – Sam – Dhanana Road which leads to the deserts. We anyways had plans to stay in a desert camp during the first day of our visit to Jaisalmer (PS: Things to do in Thar Desert Rajasthan). So, upon reaching Jaisalmer in the morning, we headed straight to the desert. And, on our way to the desert camp, we decided to visit the haunted village of Kuldhara. The highway is in a very good condition. And the narrow road stretch that leads to Kuldhara is also well maintained for most part of it. There are signboards for guidance. In short, you can conveniently reach Kuldhara even if you are driving on your own.
The legend of the haunted village Kuldhara
The proposal of Salim Singh
As per history, Kuldhara was once upon a time a very prosperous and happy settlement of Paliwal Brahmins. But one day it so happened that a Dewan of the king of Jaisalmer, whose name was Salim Singh, set his eye on one of the girls in the village. He immediately got adamant about marrying the girl, even if it meant use of force. The Paliwal Bhramin community was not so found of him. But they didn't have the armours nor the capacity to fight him, if he tried to force them to accept the marriage proposal. So, basically, they were left with no choice. Thus, they abandoned the village overnight, with bitter hearts. And left a curse behind as per which no one will be able to settle here ever. Since that day the village lies abandoned. And over the years it has slowly turned into ruins.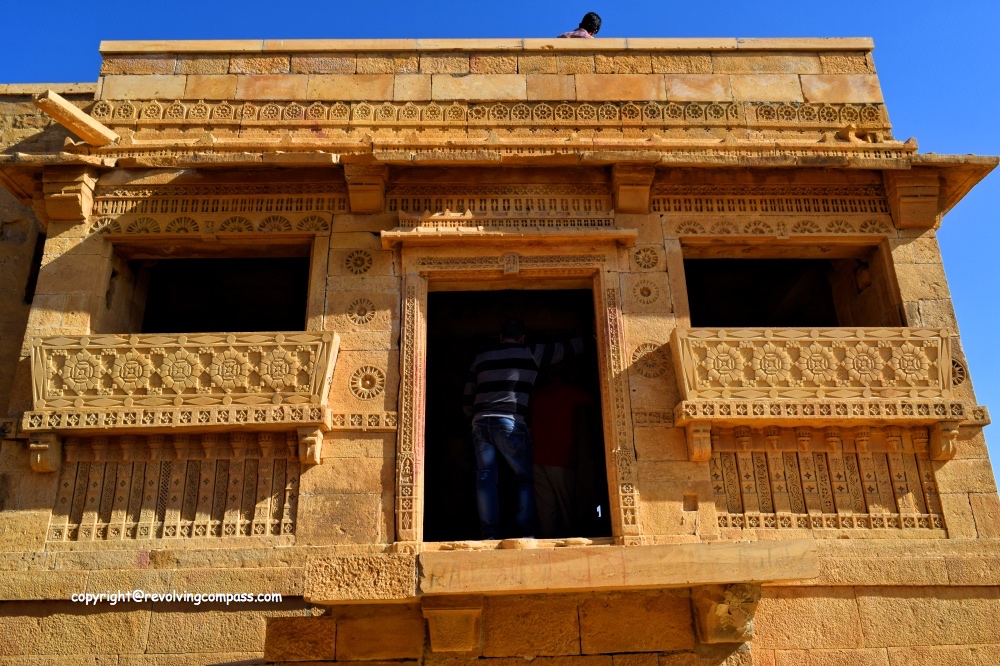 Also, it is strongly believed that no one is able to spend one whole night in this haunted village Kuldhara. Be it the fear of the ghosts coming live at night. Or really an encounter with them. For some reason or the other, no one is able to stay here for the whole night.
Wealth Protection
Although the story of Salim Singh and the Paliwal Brahmins is highly famous . Yet, there are other legends around how the village of Kuldhara was abandoned and it became haunted. Another popular legend says that the king extracted a hefty tax from the Paliwal Brahmins. And fearing for their wealth, they decided to flee overnight one fine night. But they buried their wealth in the village, planning to return some day and take the money with them. However, they never could return, for some reason or the other. And slowly, after having lived their lives as nomads, they passed away, far from their home and their wealth. So, in their afterlife, their spirits returned to their home, sweet home. This way, they are living in their home which they loved, but couldn't live in while they were alive. And they are also protecting their wealth as no one could ever settle in that village and no one dares to try to find their wealth.
Other theories behind the haunted village Kuldhara
Scarcity of water
Although the above legends are very popular with the locals, some historians believe that it was the increasing scarcity of water that led to the abandonment of the village. And it actually happened slowly, not overnight. As per the logic they put forward, in ancient times, all villages were located near some source of water. So was Kuldhara. There was a river that flowed from near the village. But over the due course of years, it slowly started drying up. And the ground water levels also receded significantly. This forced the inhabitants to look for alternate establishment for themselves. Since it was not possible for them to survive without a proper source of water near their home. Thus, the haunted village Kuldhara is not really haunted, rather a place that slowly turned into an abandoned village due to lack of water.
Earthquake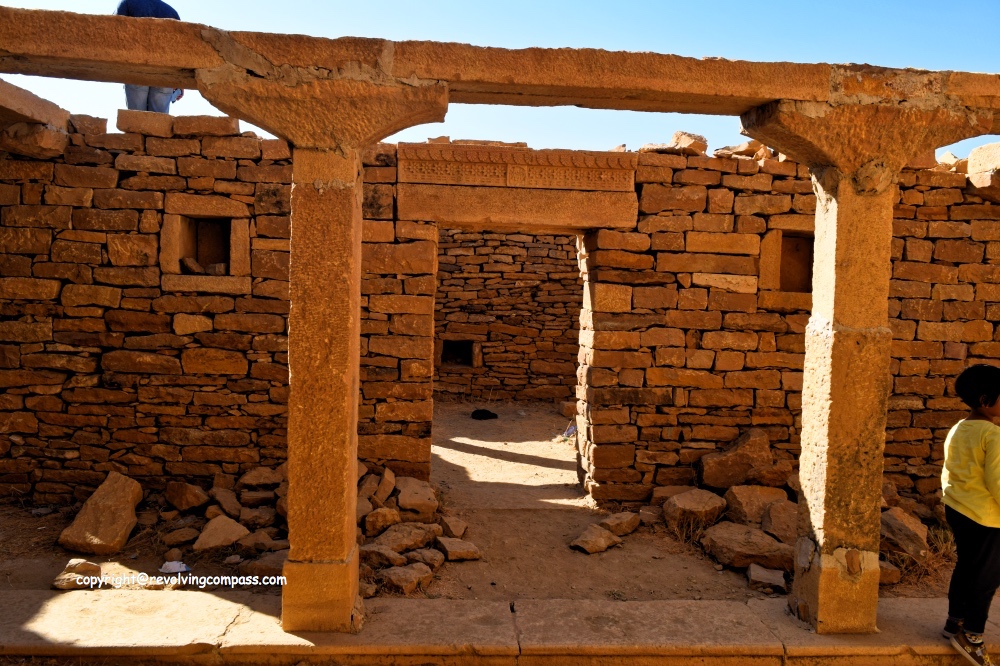 Some scientists who did some research on the haunted village of Kuldhara put forward a theory. According to them it was a massive earthquake that forced the villagers to move elsewhere. They say that the way the houses collapsed and the roofs went off all the homes strongly suggest that it was the act of a massive earthquake and nothing else. The destruction caused by the earthquake was heavy and hence it was easier for the villagers to take shelter elsewhere and start a new life than to reconstruct everything from the scratch.The rational minds who don't believe in the stories of ghosts or supernatural forces can better relate to the theories put forward by scientists and historians.
Our experience at the haunted village Kuldhara
We arrived at the haunted village Kuldhara around 2:00pm. There were many other tourists around at this point of time. And it seems like a lot of renovation work is going on in the village which is really interesting. A major portion of the old temple from the time of the Paliwal Brahmins has been renovated. A nice set of stairs lead to the temple premises. And from inside the temple, one can see far and wide across the ruins of the once prosperous village of Kuldhara. Did we feel anything out of the place, any supernatural vibes? Not really. If anything, I felt sad looking at the ruins of so many houses all around.
I couldn't help but think how once life must have thrived here, children were born and they played around, laughed and ran in those courtyards. And people went through their usual daily chores, happy and contained. And all this also reminded me that how time keeps changing. How, once a prosperous thriving village comes to this state of ruins and how again from the ruins something else is reconstructed. Anyways, on the lighter side, there are a lot of Instagram worthy spots in Kuldhara that we loved to capture.
There are literally queues of people at some of these spots to get that perfect profile picture. Before we could realize, we had spent a good one hour here. This is definitely a good historical spot for a one time visit when you are headed to Jaisalmer. Whether haunted or not, it is a beautiful place with many stories from the past buried inside it. Now, it is a protected heritage under ASI (Archeological Survey of India).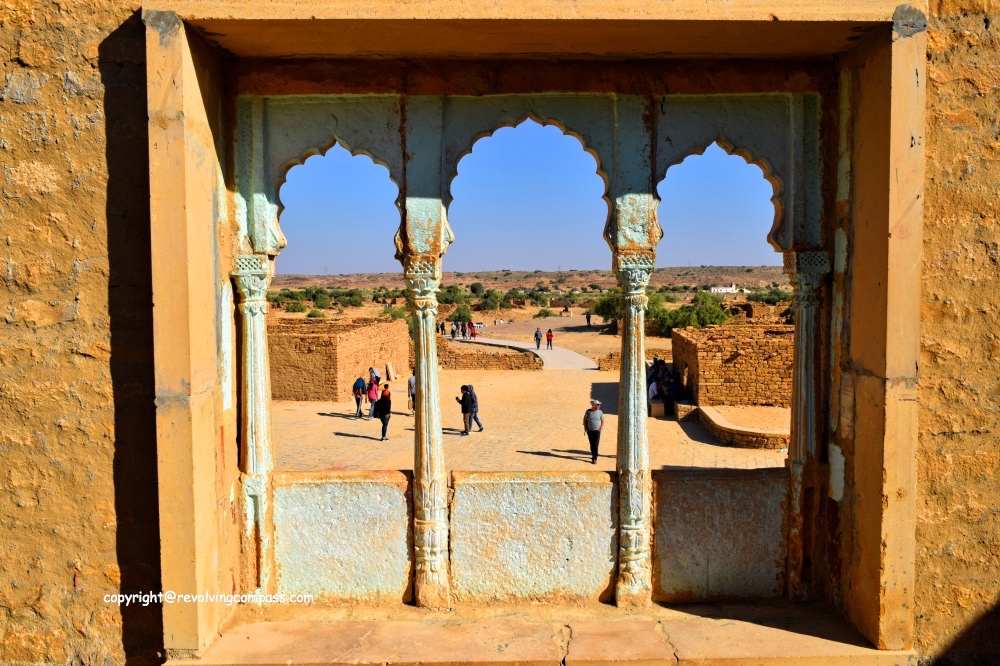 Things to know for visiting the haunted village Kuldhara
The village of Kuldhara is located around 15-20km from the main city of Jaisalmer.
It can be visited either on a day trip from Jaisalmer town along with Khaba fort, Amar Sagar Jain Temple and Bada Bagh. Alternatively, it can also be visited while on way to the sand dunes or desert camps.
The village is in complete ruins, with none of the houses having a roof. So, be prepared for a hot encounter with the sun.
Carry plenty of drinking water bottles with you as there is no shop around selling water bottles. Same applies for snacks and food as well.There are some mobile carts around, but they run out of supply if the crowd is more.
Wear comfortable shoes. There is lot of walking involved. And the terrains are not all smooth, particularly when you walk amongst the ruins.
The stairs in the temple are pretty high. It might be difficult for someone with knee pain or old age to climb.
Around 2 hours will be enough to go to Kuldhara and explore around.
You will see guides with tourist groups in Kuldhara, showing the visitors around, you can hire one on the spot as per your liking.
Be careful when on the terrace of the temple. One portion of the terrace is collapsed. You can see through it to the room below. So, don't walk around this portion.
You can self-drive or hire a taxi from Jaisalmer for visiting the haunted village of Kuldhara.
If you decided to drive yourself, keep an eye for the sign board that indicated a left turn from the main road towards Kuldhara and another one inside which is near the main gates.
There is an entry ticket applicable per person which can be purchased at the main entrance door.