During our trip to Switzerland, we based ourselves out of Lucerne. And then we went on day trips from here to Bern, Grindelwald, Interlaken, Mount Titlis and Engelberg. While we wrote about all these experiences in our previous posts, let us introduce you here to the place that was our home for these four days in Lucerne. We stayed in Hotel Drei Konige Lucerne during our trip to Switzerland. And it was a very nice and cozy budget friendly hotel. We had a wonderful and comfortable family stay here for the 4 days of our time in Lucerne.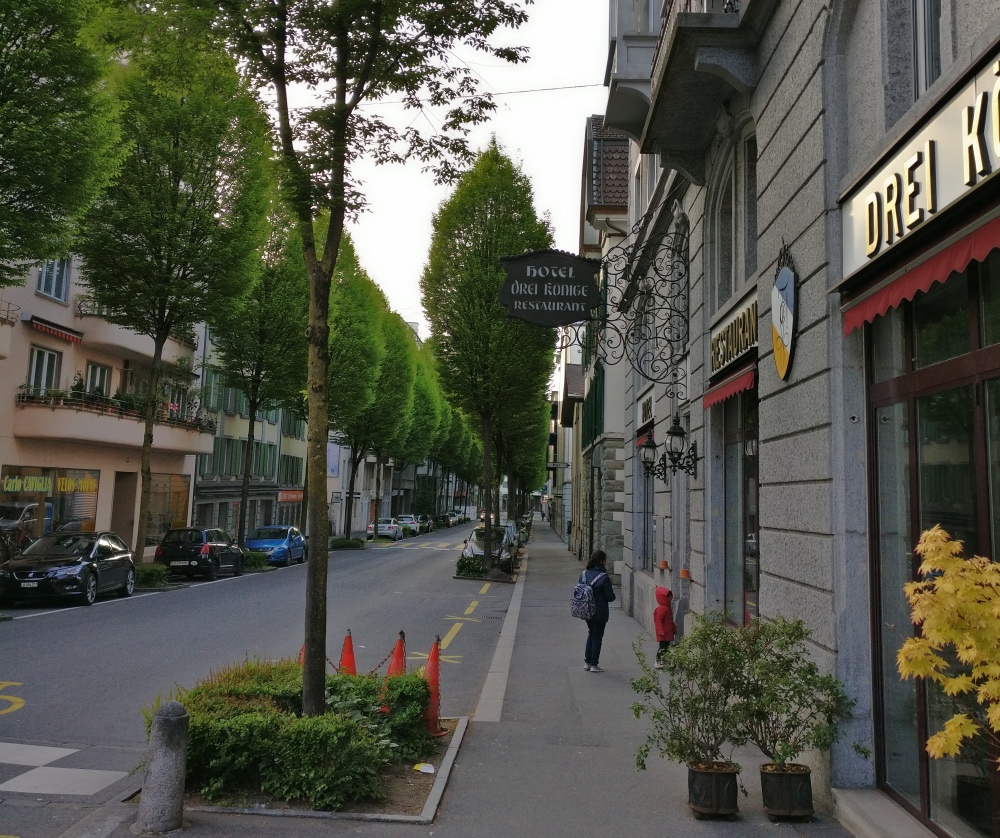 Location of Hotel Drei Konige Lucerne
Hotel Drei Konige is located at Bruchstrasse 35, 6003 in Lucerne. The hotel has a very central location from the train station of Lucerne as well as the places worth visiting in the old town and around lake Lucerne. A 10 minutes walk from the hotel will take you to the train station. Which means, when you arrive in Lucerne on your Euro rail, you can conveniently walk to the Hotel. While the lake Lucerne was located at a mere 5 minutes walk from the back streets of the hotel.  Besides, there is a small park near the hotel. And there are numerous restaurants including the hotel's own boutique restaurant. Then there are a few grocery shops and supermarkets as well just round the block, a few buildings from the hotel. So, basically, everything from hotel Drei Konige is walkable and approachable.
The rooms at Hotel Drei Konige Lucerne
There are different kind of rooms available at Hotel Drei Konige Lucerne. We opted for a family room which we shared with our 3 years old. The family rooms are pretty specious. With a double bed and a separate day bed for the kid. And an attached bathroom. Also there is a desk for your reading and writing needs which was a nice plus for me. There was some basic stationary also provided on the desk, and I made good use of it noting down my travel details, making plans for the day or be it anything else.  Also, couple of chairs are there in the room to enjoy your coffee and snacks. And a two seater sofa is also put up. So in short, the room is quite rich in furnitures.
Family room (Triple Occupancy)
Apart from the room being well equipped with furnitures what I liked in particular was the ventilation. The room has big windows on two walls, one facing east. And as a result, the morning sun used to tap our window on the cold mornings and wake us up. Besides, the room has all the basic amenities like  wardrobe, coffee and tea sachets, cups and glasses for daily use. A coffee maker or hot water kettle was not there in the room. But near the reception on the ground floor, hot water was available all the time. And jars were also available to fill in the hot water and carry to the room. You can also carry multiple jugs at one time. Tap water is also directly drinkable and you can always use the hot water from the bathroom for any other needs.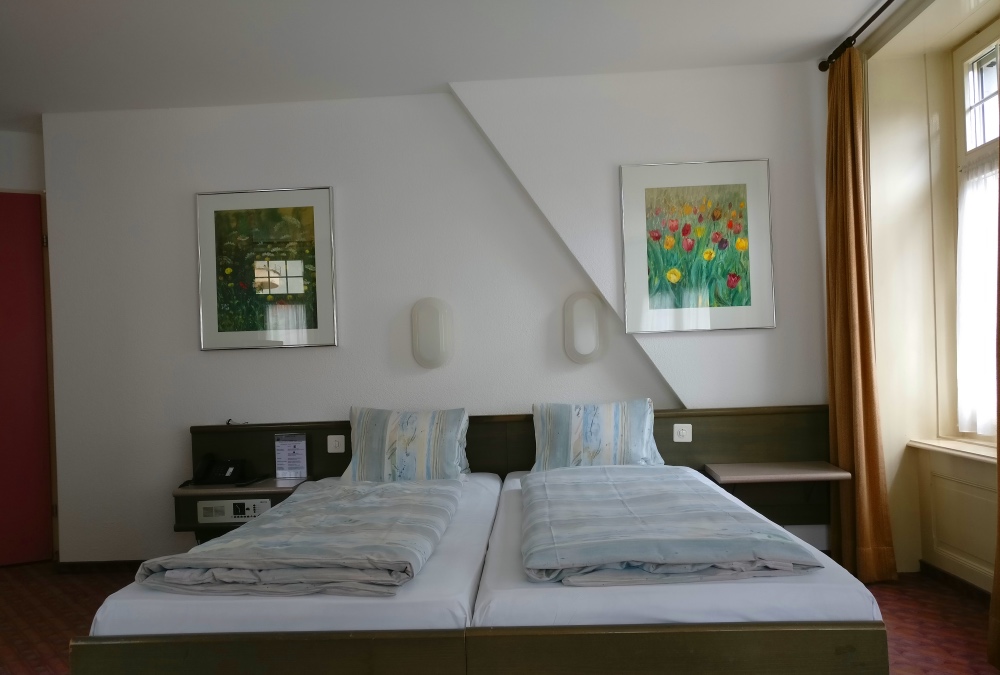 Our friends stayed in a normal double room. That room was not as specious as the family room that we had. But it was decent and well maintained as well.
The hospitality at Hotel Drei Konige Lucerne
As we have said in our other accommodation reviews as well that hospitality always plays a prime role in making and breaking your experience when you stay somewhere. And with Hotel Drei Konige we were really happy with the hospitality provided. As soon as we stepped inside the hotel, we met a cheerful receptionist. As she took us through the check in formalities, she also told us about the facilities at the premises. And she handed us complimentary bus passes for using the Lucerne bus service during our stay in Lucerne. In addition, she also explained to us how to get around, what all was readily available in the locality etc. And finally gave us a map of Lucerne, marking some of the spots to help us navigate on our Lucerne walking tour that we intended to take next. Moreover, the room service was prompt. And the rooms were cleaned on a daily basis. That included the cleaning of the bathrooms as well.
The food at Hotel Drei Konige Lucerne
Breakfast
Complimentary breakfast was included in our stay. And the breakfast options were pretty good. It looks like Hotel Drei Konige is a favorite amongst Asians, particularly Indians and Chinese. Since we could see a lot of them during breakfast. I guess it is due to this reason that Hotel Drei Konige had steamed rice and clear veg noodle soup everyday in their breakfast menu apart from the regular buns, breads, fruits, fruit juices, cheese, croissants, muffins, coffee, packaged curd and other standard breakfast options for both vegetarians and non vegetarians in most of Europe.
So, no need to mention, it was such a delight to get steamed rice everyday for breakfast. Particularly with the little one. Since she could easily have curd and rice along with some sweet delicacies like bread with chocolate spread or croissants. And she was pretty good with that to start her day. That kept me relieved from half of her food worries.
Other food options
Apart from breakfast, there are pretty decent lunch and dinner options as well. We did check the menu but we didn't have time to try one. Since, we were out of the town on our day trips all the days while we were in Lucerne. The hotel does have a boutique restaurant as well at the ground floor which is outside the main hotel building and is accessible not just to guests but outside visitors as well. We could see it pretty busy, particularly as the friday evening arrived. So, restaurant Drei Konige is an independent entity, managed by a different enterprise but with the same name as Hotel Drei Konige.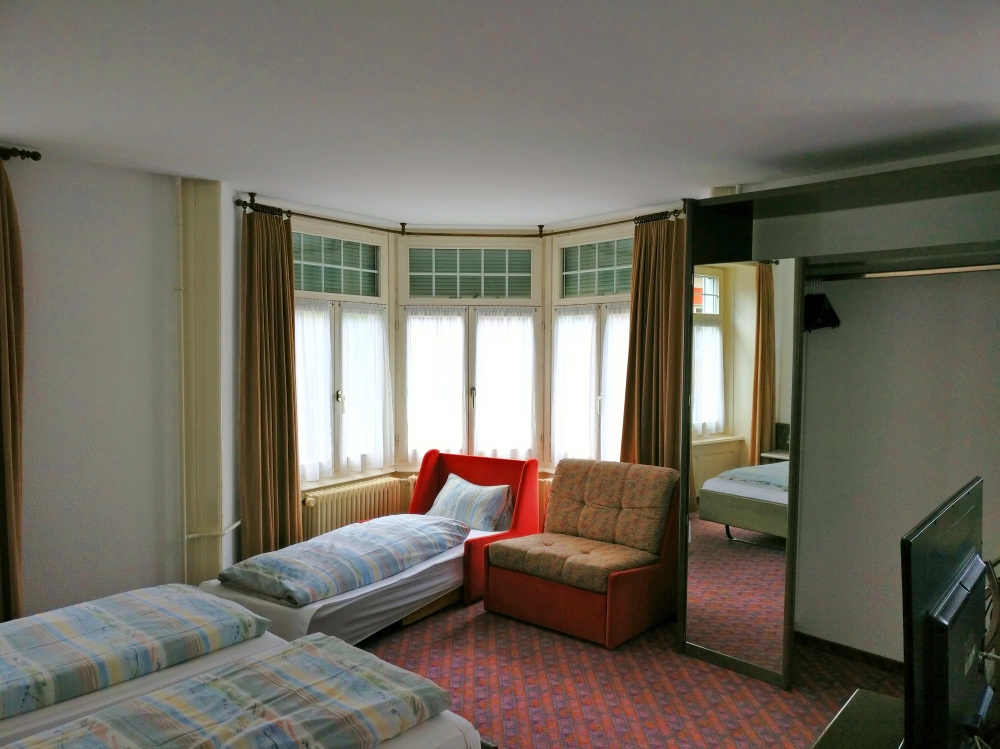 Overall our experience with Hotel Drei Konige
Overall, we had a wonderful time staying at Hotel Drei Konige. We liked the locality, the fact that it was walkable from most of the major areas that we were interested to check. And the food was good. So was the hospitality. Will we like to return back and stay here again? Definitely we will. We do want to return back to Lucerne some day and spend more time in this amazing city. And when we do, we will definitely like to stay with Hotel Drei Konige.
Head here for the official website of the hotel.