Keukenhof tulip gardens don't need an introduction. They are world famous. So, how could they not be on our list when we planned our first Europe trip spanning over April – May. Since, this is the season when the tulips in Holland are in their full bloom, there was no way we could miss this one. So, we planned our trip accordingly. First spending 6 days in Italy, a couple each in Rome, Florence and Venice. Then we headed to Switzerland where we spent 4 beautiful days staying in Lucerne, and taking trips to Engleberg and Mount Titlis, Bern, Interlaken, Grindelwald, visiting cookie store and cheese factory etc. Finally, we went to Paris and Disneyland. And then we landed into Amsterdam, right on King's day. And then did a self guided walking tour of Amsterdam City.
The next day, and almost the last day of our trip in Europe, we visited the Keukenhof Tulip Gardens. And we must say, it was the best end to the trip that we ever could have.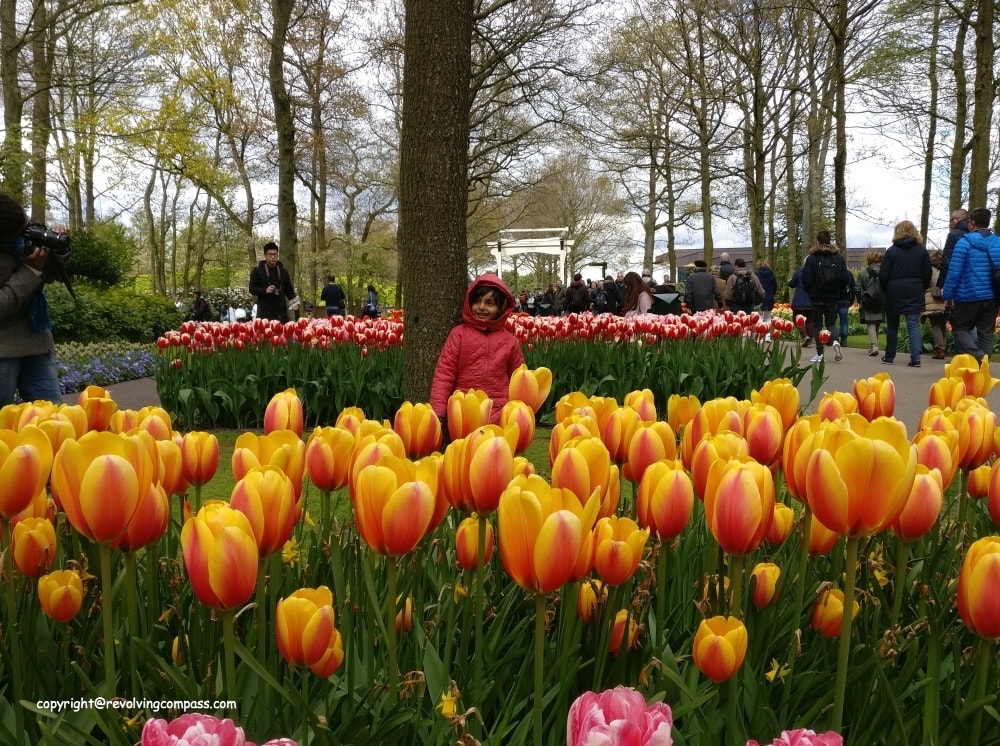 When to visit Keukenhof Tulip Gardens
Holland is known around the world for it's tulip cultivation. Mid April to early May is the time every year when the tulips are in their full bloom. Not just the Keukenhof tulip gardens, which are a landscaped exhibition of the best of tulips, but the whole Holland seems to be covered in tulips during this time of the year. And you will realize the same as you reach the Keukenhof Tulip Gardens. Since, you pass through vast stretches of tulip farms with amazing view of multiple rows of tulips in different vivid colors in full swing, before reaching the gardens. So, the journey is a treat in itself. In short, mid April to the first week of May will make for the best time to visit the tulips.
How to reach the Keukenhof Tulip Gardens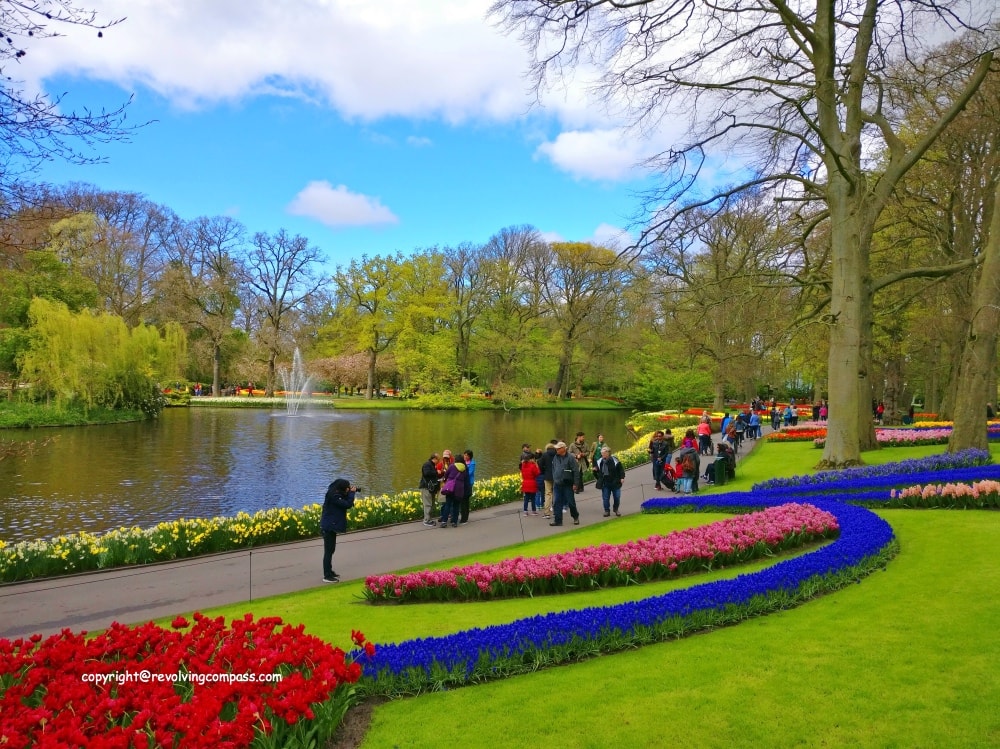 There are multiple commute options for traveling to the Keukenhof Tulip Gardens from Amsterdam:
#1 Hire a self-driven rental car
Hire a self driven rental car and just drive off, taking the help of google map. There is a dedicated area for parking of self-driven vehicles outside the Keukenhof Tulip Gardens. It remains open till one hour past the park itself is closed. But you are not allowed to leave your vehicle here overnight. Also, there is a minimal parking fee, which was 6 euros at the time of this writing. You can check for the exact price on the spot.
#2 Public transport
Unfortunately there are no direct buses or trains to Keukenhof from Amsterdam Central. But the good news is that one can conveniently travel from Amsterdam Central to Shiphol Terminal. There are trains every 10 minutes between the two stations. From Shiphol, one can take the Keukenhof Express (bus 858) that operates especially during the peak tulip season. (The timings for 2018 are from 22nd March to 13th May).
#3 Organized tours
There are numerous organized tours that operate to the Keukenhof Tulip Gardens from Amsterdam. Some of them also give half day city tour along with the Tulip Gardens tour. You can book one through Viator or any other reliable tour operator. They will pick you up from a designated pickup point and drop you at the tulip gardens. Some of them also pre-book your tickets so you don't have to stand in the queue. Once at the gardens, you can explore on your own. And then return back to the bus at a fixed time before it leaves. We went for this option. We were happy with getting pre-booked tickets, skipping the queue and getting our own free time in the Keukenhof Tulip Gardens to explore for almost four hours.
If you are traveling from somewhere other than Amsterdam, then you might get a direct train to Keukenhof. Moreover, just outside the Keukenhof Tulip Gardens is a taxi stand from where you can hire a taxi end of the trip to drop you back to your accommodation.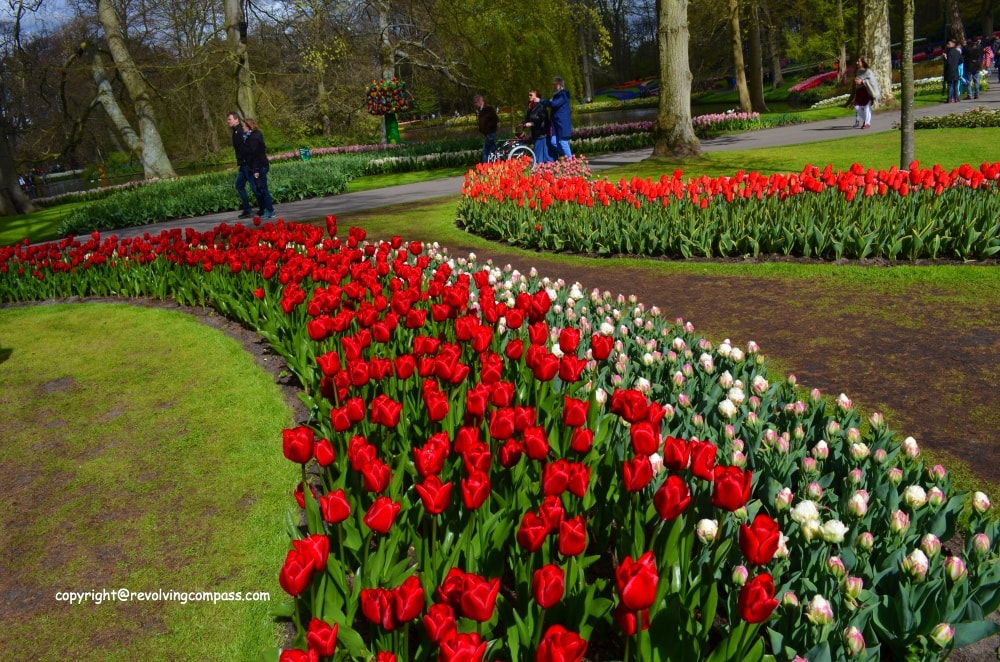 How to book the tickets for Keukenhof Tulip Gardens
#1 Via tour operators
As mentioned above, tour operators will not just book your tickets and save you from standing in the queue for the same. They will also mostly provide a package with transport to and from the gardens included. You can go for operators like Viator whose package you can book online. They have both half day and full day packages.
#2 Buy from Keukenhof website
You can buy the tickets directly from the Keukenhof official website. The tickets can be mailed to you or sent to you as a mobile ticket as per the preference that you make at the time of booking. The cost definitely will be lesser than an organized tour, however, you will need to arrange your own transport. The tickets are valid during the pre-defined tulip season when the garden is open to visitors and the information for each year is updated on their website Keukenhof official website 
#3 Buy on the spot
You can buy the tickets directly at the entrance of the Keukenhof Tulip Gardens as well. Definitely there will be a small queue during the season. But if you are visiting on a week day then the chances of the queue being huge is smaller. Please note that the queues are pretty long on holiday weekends like the easter weekend which tends to fall in the same time period when the Keukenhof Tulip Gardens are open for public. So, if possible, try to avoid visiting on this weekend.
The best option would be to book your tickets online, or, to book an organized tour in case you don't want to deal with the hassle of arranging your own transport.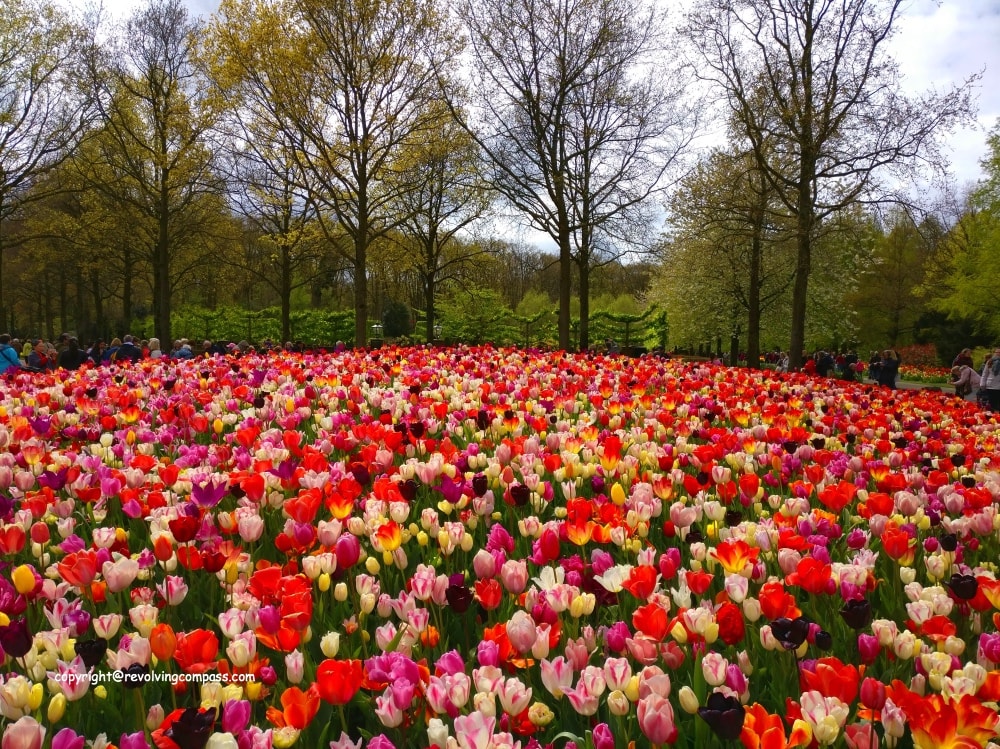 Roaming around the Keukenhof Tulip Gardens
The Keukenhof Tulip Gardens are huge, spread around 32 hectares of flower beds. And then there is more landscaping that includes water streams, refreshment centers, nursery, souvenir shops, instagram spots, windmill, activity areas for kids and much more. So, it is important to plan your time and form a strategy as to how exactly you are going to go around the gardens. So, as soon as you are inside the gardens, don't forget to pickup a map of the gardens from the information center on either side of the gates. Thereafter, make a rough plan on how you are going to go about the garden. Now, you will be ready to start exploring the place. If you have a kid like ours, then better take the stroller with you. And mark some of the restrooms and refreshment centers on your map so that you will not miss them when you want to stop by them.
Things to do in Keukenhof Tulip Gardens
Did you know that there are multiple things that you can do in Keukenhof Tulip Gardens apart from looking at the flowers? Although I must admit that the flowers and the landscaping of the gardens are so mesmerizing, as soon as I stepped inside the garden, it was really difficult for me to take my eyes off the flowers and look at anything else, for a long time. Read on to know what all you can do in Keukenhof Tulip Gardens.
Get lost amongst the flowers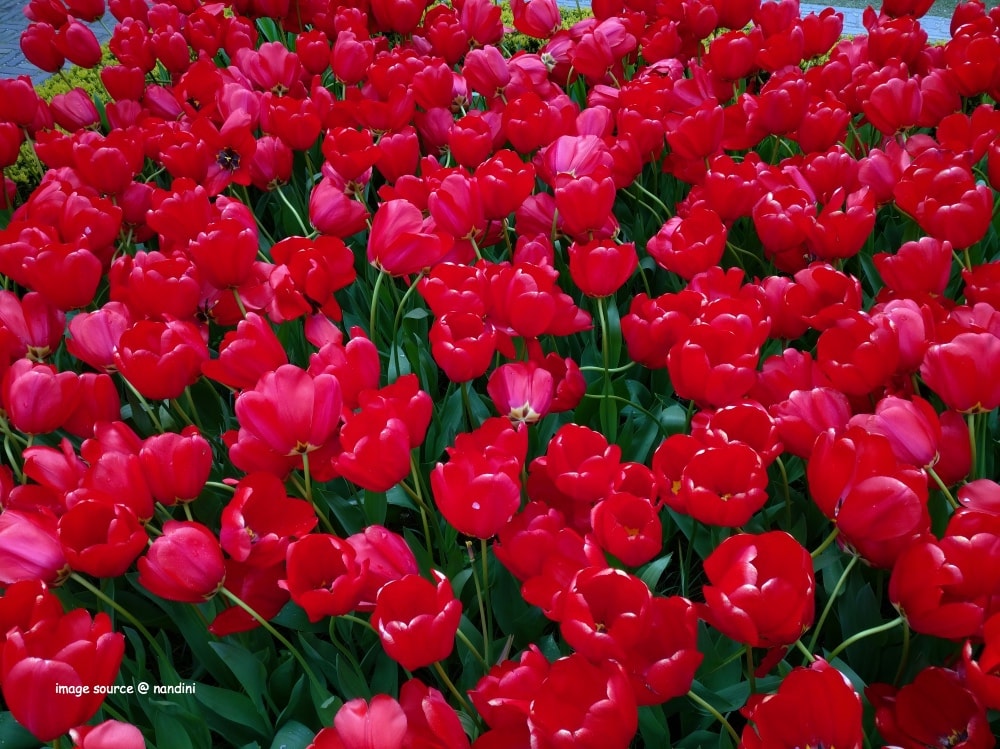 Stare at them infinitely, allow yourself to get mesmerized by their freshness, beauty and color splash. Seriously, that is what we came here for, right? I was literally mesmerized by the tulips for quiet some time after entering into the gardens. In fact, I couldn't notice anything else but the blooming tulips all around and it took me a while to start observing other details of my surrounding.
Boost your Insta account
There are many instagram worthy spots in the Keukenhof Tulip Gardens. Don't forget to take some memorable snaps near some. Like the flower bed right across the entrance, the beautiful heart of roses in the nursery cum exhibition shade, the boat near the windmill, the beautiful cobblestoned pathways and artificial waterfalls near them and the list goes on.
Try your hands on photography
Even if you are complete novice, this is the place where you will definitely get some amazing snaps. Capture those beautiful tulips and other flowers from closeup as well as wide-angle. They will be your memories forever.
PS: In case you are planning to buy a new camera, checkout : different types of digital camera and their comparison.
Picnic in the gardens
Sit in the garden or relax by the benches on the side of the park, from time to time, since there is so much ground to cover.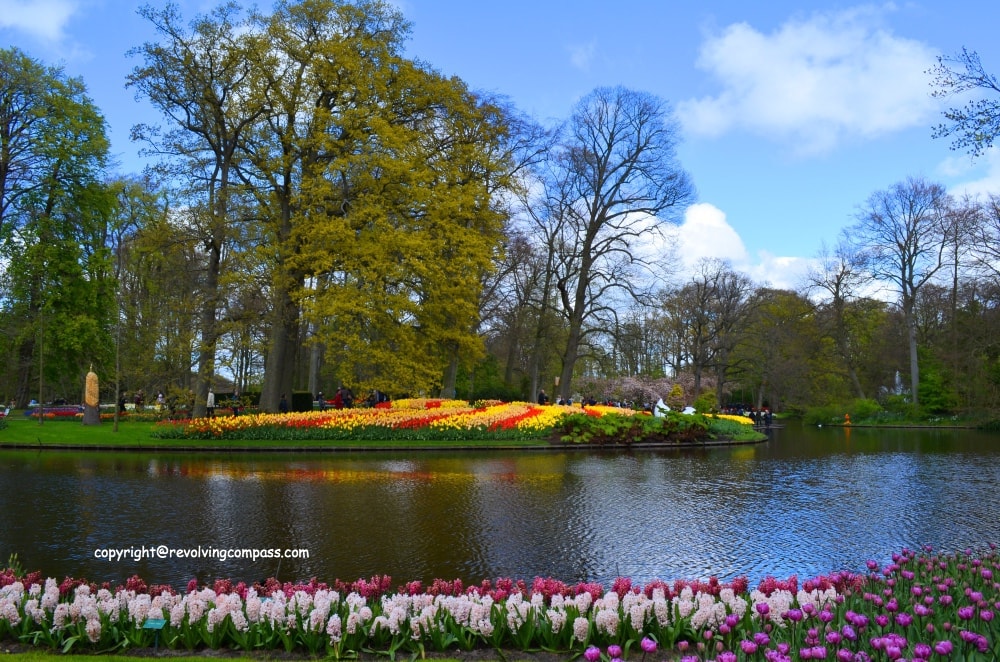 Climb the windmill
It is on the left side of the entrance to the park. And the views of the garden itself from atop the windmill are just mesmerizing.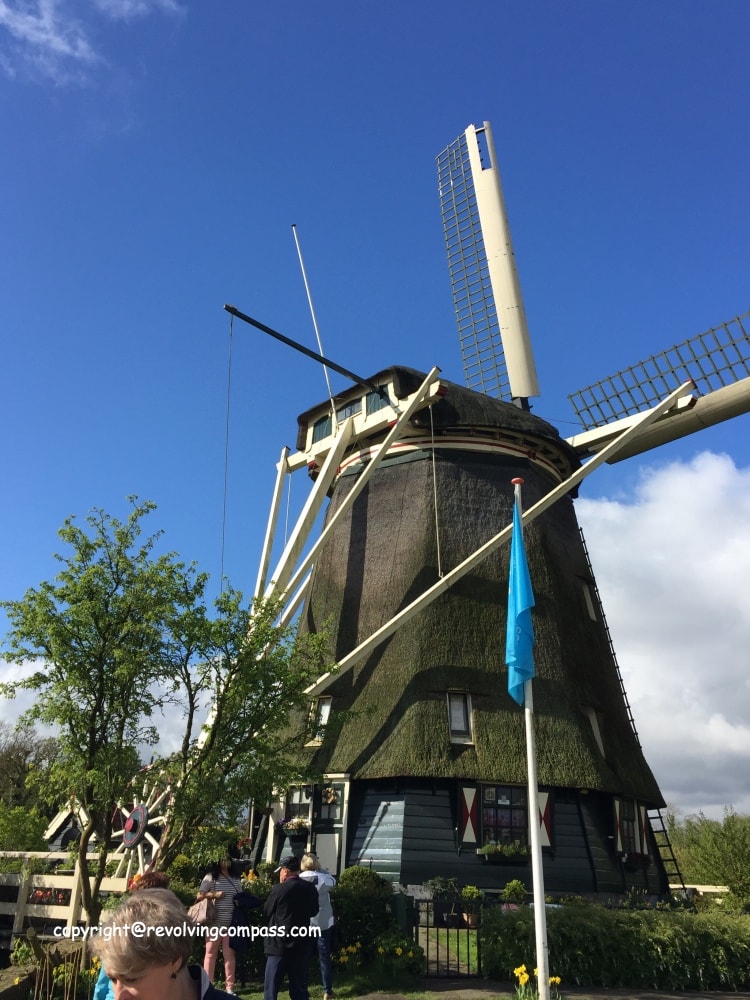 Visit the farmhouse
There is a small farmhouse in the middle of the garden. With some friendly animals like goats, kids, peacocks and others. Also, there is an artificial hand up in there, completing the look of the farmhouse. Our kid had a gala time here running with some of these animals and patting some others.
Collect souvenirs
Take some souvenirs home. What else will be a better souvenir than a plant right from the Keukenhof Tulip Gardens? And if you can't take the actual plants with you, there are many artificial versions of the same for you to take along.
Refreshment options in Keukenhof Tulip Gardens
The Keukenhof Tulip Gardens are very well landscaped. There are multiple refreshment options , fresh water taps as well as restrooms. And these are spread across different corners of the garden so that where ever you are, you will find one near you. Keep a refill water bottle ready with you so you can refill it at one of the taps whenever required. Take breaks while roaming in the garden to rest your feet. And at the same time you can enjoy some nice snacks in one of the refreshment outlets. You can carry your own snacks, fruits or picnic basket with you to the Keukenhof Tulip Gardens.
Summary of tips to visit the Keukenhof Tulip Gardens
Wear comfortable walking shoes.
Carry refill water bottle with you. For kids, prefer a flask like this milton thermosteel flask wherein you can keep the water little warm. Since it will be very open and airy in the fields, constant sipping of warm water helped my kid keep warm from inside and combat the cold.
The weather is still quiet cold around this time of the year. So, wear warm cloths and take a proper winter jacket along like this winter jacket.
If you are traveling with smaller kids then carry a stroller with you. It will be easier to push them in stroller and they can also take their naps. Umbrella strollers like this lightweight umbrella stroller are the best if you are have flights to take on your journey. Otherwise, if you intend for the kid to sleep comfortably in the afternoon, take a bigger stroller like this LuvLap Gallaxy Stroller.
You can carry snacks also with you.
Buy your tickets in advance from their website or, book an organized tour with one of the tour operators.
The gardens are open from mid March to first week of May. The exact dates vary year on year. So check the exact dates on the official website of Keukenhof Tulip Gardens.
Around 4 to 5 hours (half a day) is sufficient to roam around the Keukenhof Tulip Gardens. However, if you have more time, you can plan a whole day here.
There are lots of other options for things to do than to see the tulips, so, check them out before you head here.
Don't forget to carry a map of the gardens, you will get one from the information center near entrance.
Avoid weekends and particularly long holidays like easter holiday since the garden might be overly crowded at such times.
Visit mid April to see not only the garden but the tulip fields around as well in full bloom. By end of April, the flowers from the fields are mostly cultivated. So, you might not be able to capture as mesmerizing a view.