On our recent visit to Mahabalipuram, we visited the Maritime Heritage Museum. We visited here along with Lighthouse Heritage Museum and other top places to see in Mahabalipuram. Maritime Heritage Museum is a small and cute museum. In fact, it is just like Lighthouse Heritage Museum. And it also stands adjacent to the later, within the same campus. You can even buy combined ticket to both of these museums at the entrance to the campus.
As the name suggests, the Maritime Heritage Museum houses models of different marine heritages. These include ancient ships and the first ships that ever reached the coast of Mamallapuram. And these also include the models of routes that they took.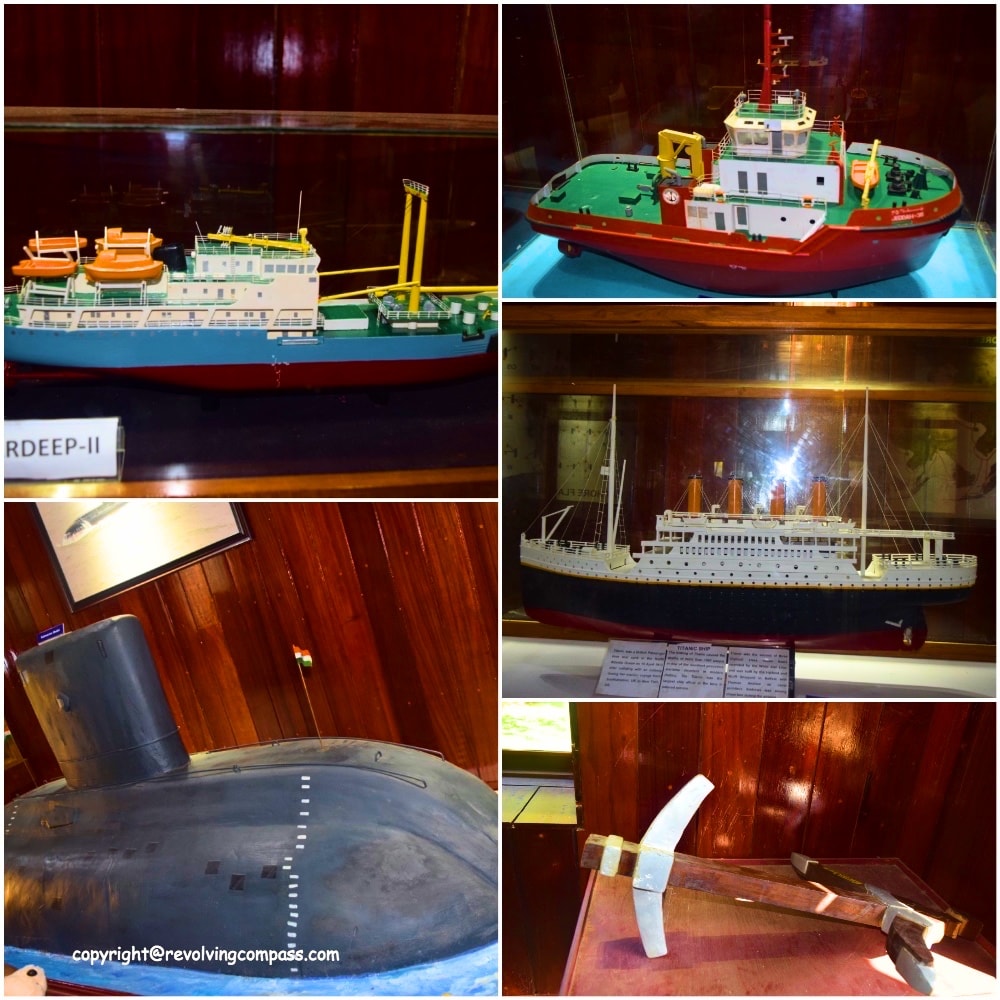 History of Maritime Heritage Museum
The Maritime Heritage Museum is actually a very recent addition to the tourist attractions of Mahabalipuram. As it's construction was started in the year 2013. And it took approximately two years for the whole museum to be completed. Thus, the construction got completed sometimes in 2015 . And thereafter the museum opened for tourists and viewers. Initially, the submarine ex – Vagli was towed from Vishakhapatnam to the coast of Mamallapuram. The intention was to convert it into the Maritime Heritage Museum. But that part of work was still not accomplished at the time of our visit.
The vision of the Tamil Nadu Tourism Development Corporation along with the Government of Tamil Nadu, is to develop a full fledged museum. And to include in this museum facilities like audio-visuals, food court, souvenir shops and aquarium. Overall, there are two major purposes to this museum. 1) To attract tourists. 2) To get the youth population interested in marine and naval technologies. ( By arousing their interest to join the navy 🙂 )
Our visit to Maritime Heritage Museum
We took a combined ticket to Maritime Heritage Museum and Lighthouse Heritage Museum. As we reached here after visiting many other sites of Mahabalipuram (Mamallapuram). Thus, the shade inside the museum was a welcome relief from the sun outside. Although it is a small museum, it exhibits many interesting pieces. These pieces involve marine and naval technologies. Let us take you through some of these.
Models of ships
As we entered inside, we took a left. Subsequently, we crossed some beautiful models of ships. These include the titanic, the first ships to arrive at the coast of India for trade purpose and some very ancient ships which rather looked like a big boat. Walking through these models we realized how much advancement mankind has achieved in terms of the naval technologies. The models are very intricately made so that they resemble the actual ships very closely. And each one is displayed in a glass case, along with it's name. These include wooden ships, steam operated ships and diesel operated ships.
Submarine Simulator
After crossing some models of ships, we arrived at a small room that has a full dummy control panel of a submarine. All the gears and switches are neatly arranged here , in front of a dummy screen. And each one is properly explained , along with it's name. One can actually touch, feel, read them and get the full knowledge of how the ships are actually operated. For a while, we really felt like captains standing in front of our own ship's control panel and ready to take the control. And we have to agree, it really aroused our interest in the navy and marine world.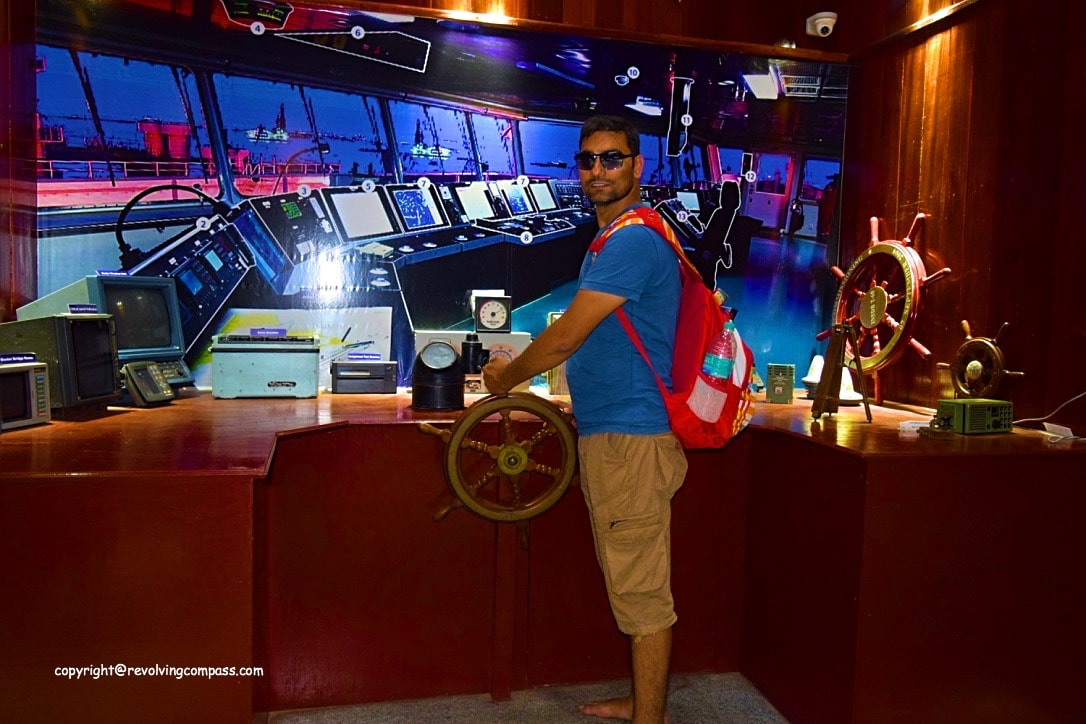 The silk route
After spending some time in front of the dummy control Panel, next we proceeded out of it to the next section. Here, the famous trading silk route is on display in a frame. The silk route was an ancient network of trade routes that connected the ancient Asian countries from China in the east to the Mediterranean sea in the west. The name of the route is derived from the trade of Chinese silk that was done on this route. The route opened space for not just trade but long distance cultural interaction between different civilizations on the route.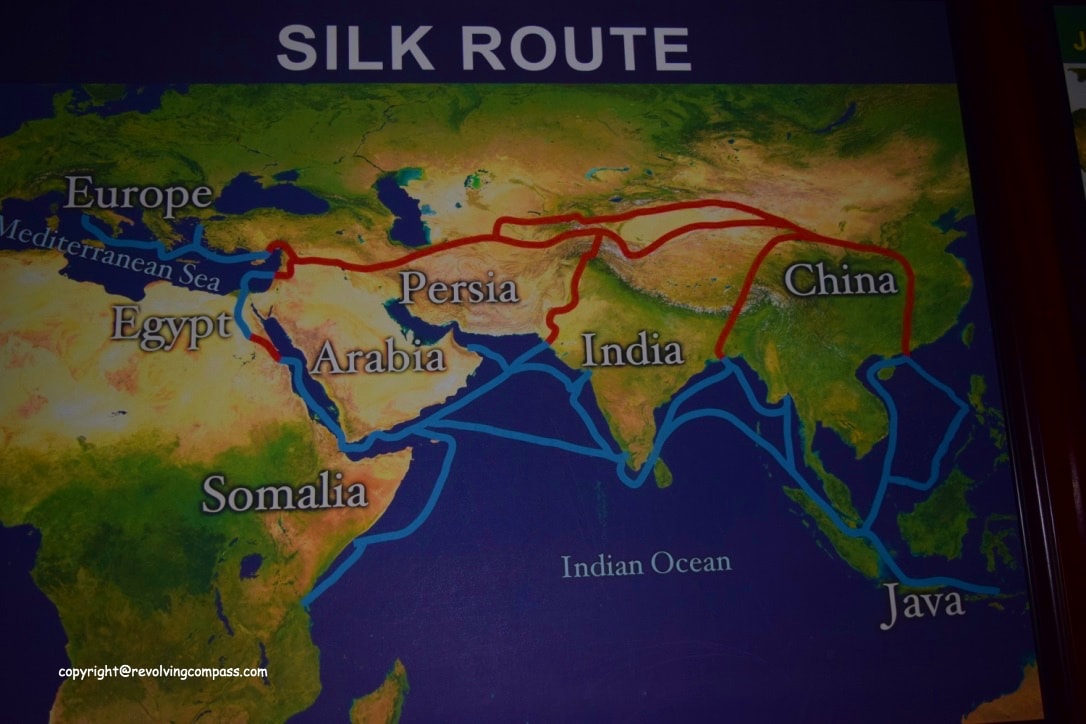 Other items on display
Apart from the above, the museum has certain other items on display. These include very old boats. Including some of the first ones invented by mankind. And then some ancient anchors used in ships and boats. Also, there are some models of airplanes included. These are also the ancient ones, displayed from inside glass cabinets.
Our Verdict after visiting Maritime Heritage Museum
We spent some half and our to forty minutes inside this museum. And we found it pretty interesting. Since, it was the first museum of this type that we have ever visited. So, we didn't have any prior expectations built up. And we guess, that was one of the reasons we fairly enjoyed our visit. Although it is a very small museum, yet it has some very interesting models from the naval and air world. And we felt it serves it's purpose of arousing the common men's interest in the naval world.
Apart from that, the museum really holds on display some very interesting model and some beautiful simulators. So, we strongly recommend to visit it. Since, the fee is also very reasonable. And it gives us an excuse to beat the afternoon heat of Mahabalipuram. So, there is no reason why we can't visit or shouldn't visit here.
The Maritime Heritage Museum and Lighthouse museum are both very recent additions to the heritage museums of Mahabalipuram. And thus many don't know about these. Those who went to Mahabalipuram before these museums were open to public. And also those who went recently but were not acquainted with these. Thus, we will like to recommend a visit to this small and informative museum, when you happen to be in Mahabalipuram.
General Tips on Visiting the Maritime Heritage Museum
The Maritime Heritage Museum shares the same campus with Lighthouse Heritage Museum. And there is a combined ticket available at the counter near the entrance. Thus, you can take that ticket and visit both the museums together.
You have to leave your shoes outside while entering the museum. We guess it helps keep the insides clean. Although there is no proper shoe counter. But, we didn't have any issues with leaving our shoes on the entrance stairs and visiting inside.
We recommend visiting here in the afternoon. When it gets more hot outside. Since, the whole campus is very green with lots of trees. And it is cool inside the museum, it gives a respite from the heat.
The museum is open from morning 9:30 am to evening 5:30 pm.
The museum stands right besides the ancient light house of Mahabalipuram. And it is also located at walk-able distance from the cave temples and krishna's butterball. You can ask any local for the directions.
The best time to visit Mahabalipuram in general is winter season from November to February.
You can get to Krishna's butterball from anywhere using an auto or bus or a hired taxi. And then from there, you can walk down to almost all the heritages, museums and temples that you want to visit. This includes the Maritime Heritage Museum as well.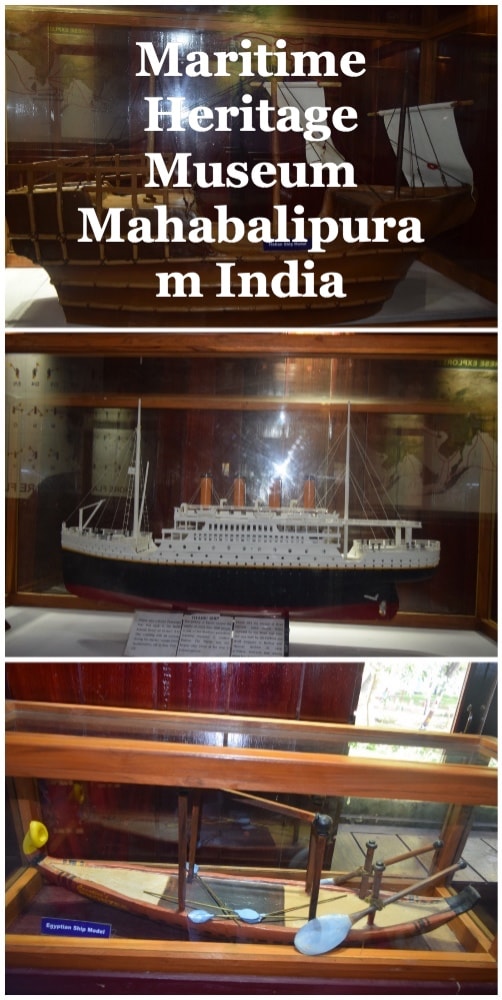 You might as well be interested in
11 Top Things to do in Mahabalipuram.
The Lighthouse Heritage Museum Mahabalipuram.
India Seashell Museum Mahabalipuram.