We stayed in Resort Terra Paraiso Goa on our first trip to Goa, India. And what a memorable stay it was!! This was the first time we went to Goa. And we didn't know what to expect. All we knew was it was another beach destination, a favorite in India as well as amongst foreign tourists. But what was the big deal about Goa, we didn't have any idea. Since we returned from this trip, we have been almost every year yearning to go back to Goa. And I must say, Resort Terra Paraiso Goa played an important role in turning our vacation in such a charming and memorable one.  Because, you know, the first impression is very lasting.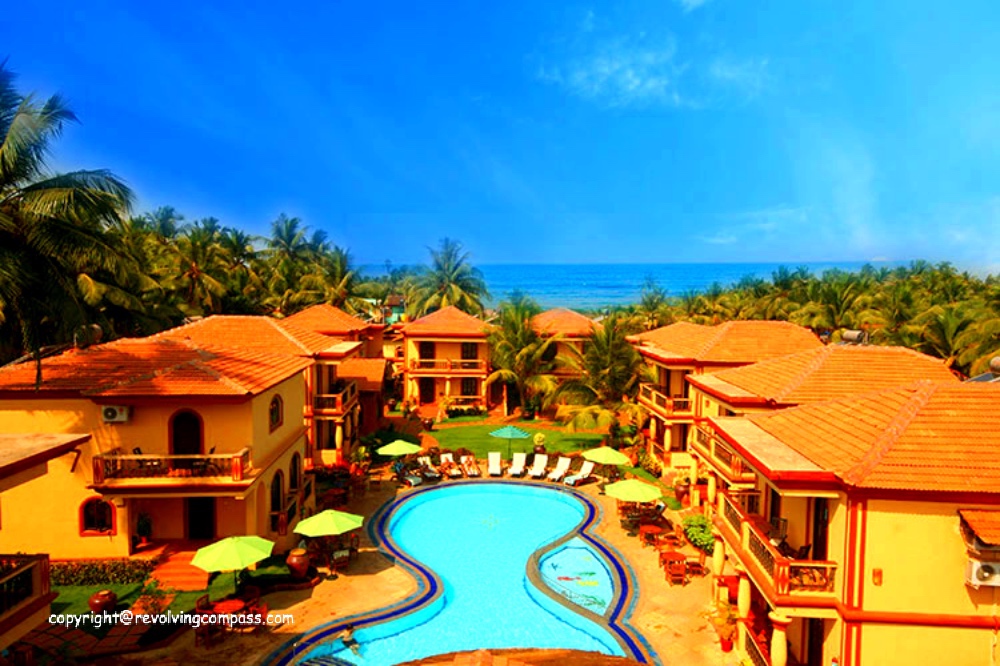 USP of Resort Terra Paraiso Goa
Did you know that Resort Terra Paraiso Goa is a family only resort? Yes, you heard it right.  This resort allows only family reservations. So if you are going with family and you want to have an exclusive family environment set for the vacation, this is an excellent place. Even if you are on that special honeymoon, you will love some exclusivity, cut off from the bachelor groups, this is still a great place for you.
Location of Resort Terra Paraiso Goa
Resort Terra Paraiso is located at almost 300-400 meters to the Calangute beach. And hence is pretty much located in the heart of Goa. The resort is not located right on the beach, which definitely would have been an extra point. But nevertheless, the beach is so approachable, it's almost like being on the beach itself. It is a stone's throw away from the beach. And at the same time, it is quiet close to the markets of Calangute, Baga and Arpora.
Ambiance of resort Terra Paraiso Goa
I must say, Resort Terra Paraiso is very artistically done. And it's ambiance goes very well with the Goa atmosphere. There's a big swimming pool in the middle of the resort, with a separate kid's pool. There are independent units of rooms standing all around the pool. Each unit had two rooms, one at the ground floor and the other on the first floor. This ensures no common walls between rooms. There are some family suites as well. At one end of the swimming pool is a pool bar and the open restaurant.
Rooms
We stayed into the ground floor room. The room had a verandah opening towards vast stretch of green fields in the backyard, outside of the resort property. The room is very spacious, with an attached bath. The bath was also quiet spacious , fitted with a bathtub. There was a mini bar, electric kettle and tea and coffee sachets provided in the rooms. The mini bar contained drinks and cold drinks which were chargeable as per use. The room was also quiet artistically decorated with dimmer lights and beautiful paintings.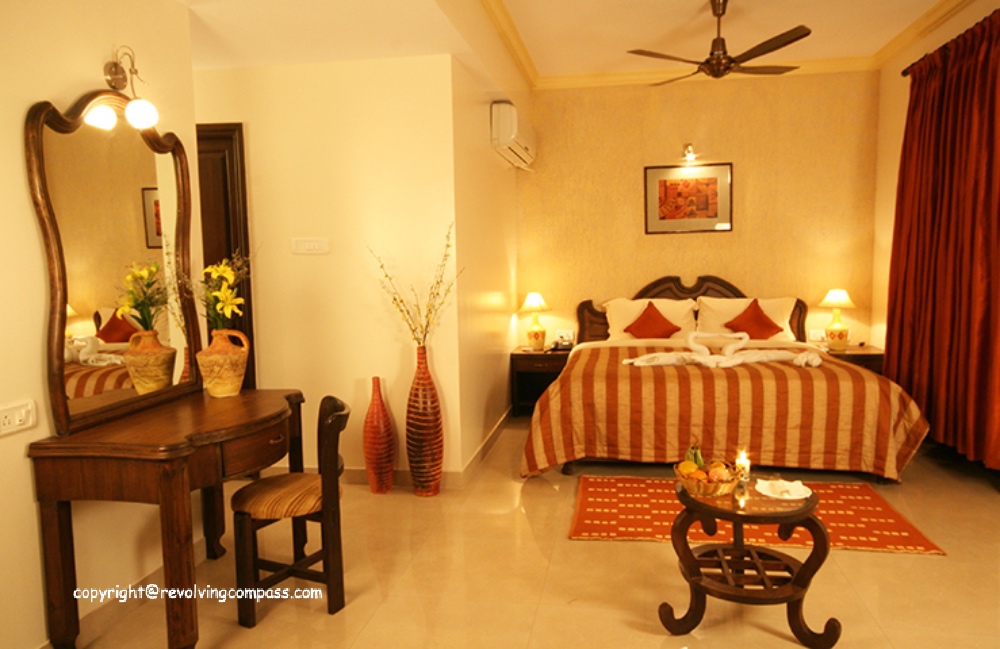 Food
I guess food was one of the reason we particularly liked our stay at Resort Terra Paraiso Goa. The food options were very nice. Particularly for someone like myself, who is a vegetarian. I have found that the veg menu is often very limited in Goa, and that is true of any other coastal region that specializes in sea food. But I found Resort Terra Paraiso Goa to be an exception here. Not only the breakfast and dinner spread were exhaustive with different kind of cuisines. But, there was a widespread choice for a vegetarian like us to satisfy their tastebud.
During the morning breakfast, there were a couple of live counters providing toast, omelette and tasty dosas. And at dinner time, a band performance was organized. So, you can enjoy a slice of Goa culture and charged up atmosphere that Goa is well known for, along with enjoying your dinner itself. The resort also arranges for poolside lunches and candle light dinners on special requests and occasions. Some people liked to enjoy their drinks, sitting on the bar stools, submerged in the pool, while others had dinner. And the children ran and played around happily.
Hospitality
The rooms were well appointed and cleaned daily on time. And the staff was courteous and ready to help out wherever needed. We had a very comfortable stay at the resort. And we enjoyed every moment of it.
Other activities
Apart from the general stay, food and ambiance, Resort Terra Paraiso Goa goes one step ahead and arranges several activities for it's guests. For instance, it includes day trips around Goa, vehicle on request for site seeing and venturing out, to name a few. We did take a day long tour of Goa arranged by the resort arranges. And this site seeing neatly covered all the major attractions of Goa, spanning across both north and south Goa. You can get the details of the sites covered in
this post here
. Since, I personally found this site seeing trip to be very useful for someone with limited time who still wants to explore Goa, at least the highlights.
PS: This review is totally my personal opinion. And, it is NOT a sponsored review, I was not asked by the hotel or the staff for the review. I put it solely for the benefit of fellow readers and travelers.
Tips on staying in Resort Terra Paraiso Goa
Book a little in advance as the prices shoot up and the resort also gets booked at the last moment.
The resort is a little far from the airport. But they do provide pickup and drop. If you want to avail of their service, it will be a good idea to inform them a little in advance.
If you don't want to avail of the resort's pickup and drop facility, as it will be charged additional, you can as well take a taxi to and from the Goa airport or railway station. Since Resort Terra Paraiso is located right in the heart of Goa, there won't be any problem finding a vehicle.
Also, if you are interested to take a site seeing package from the resort, do let them know beforehand.
The resort is green, with lots of plantations. So, be careful of mosquitoes, at night in particular. Take a repellant with you. And request for an electric repellant if not already provided in the room.
The beach is quiet near to the resort. So, you can walk off there in the morning, come back conveniently and do another trip in the evening. Also, you can walk all the way from Baga beach from the Calangute beach near Resort Terra Paraiso.