We are super duper excited to announce that Revolving Compass has been nominated for the Liebster Award 2016!!! Yeppieee!!!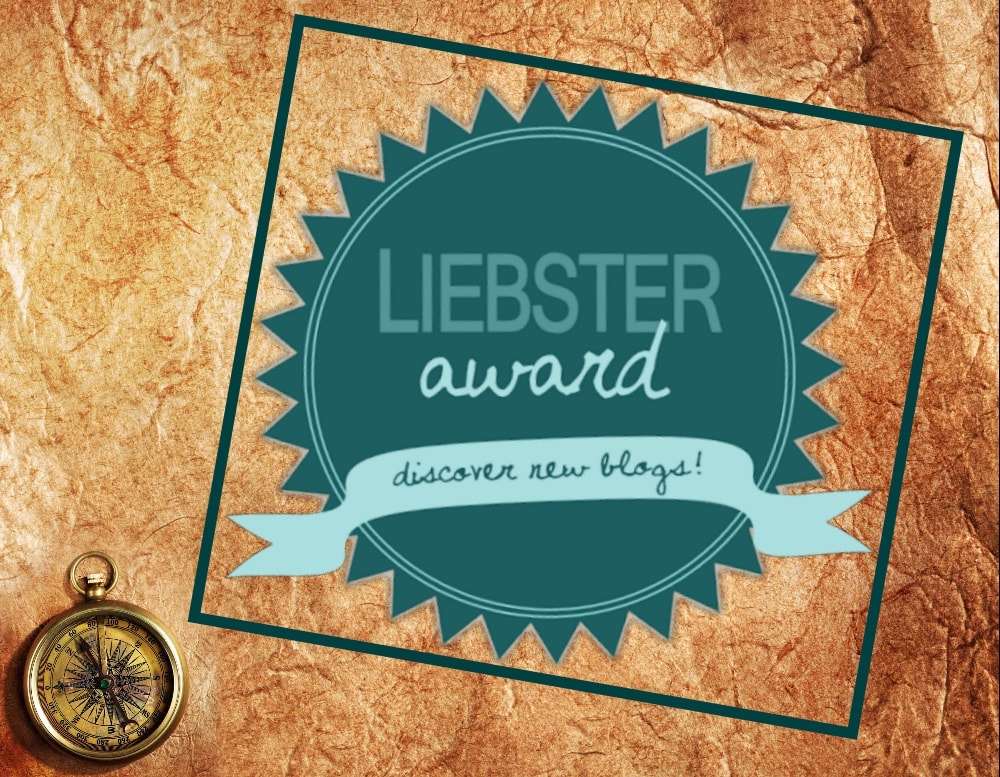 Thank you Steven & Hayley
We would like to start with a big thanks to Steven & Hayley of Four Dirty Feet for nominating us for the Liebster Award. Thank you guys. We feel really honored to have received this nomination.
Let us introduce you a little with Steven & Hayley. They both hail from South Africa. There is a wonderful and lovely story of how this couple were destined to come together. Hear it out from them at their blog about page. Between them, they share lots of love for both teaching and travel. They are bringing beautiful stories from around the world to their readers with every passing day. We wish them all the very best in their journey.
Liebster Award
As we started travel blogging, we spotted Liebster Award through the nominees. Although we didn't know much about it. So, when we got nominated ourselves, we thought to let others around know a little about this wonderful award. Liebster Award is an online award, by the bloggers, for the bloggers (Doesn't that sound wonderful?). The word "Liebster" has German origins. It means dearest, endearing or kindest. The nomination for Liebster Award itself presents to the nominee a great way to connect to fellow newbies in the blogging industry, get exposure and get recognized.
Those of you who are nominated for Liebster Award, are supposed to do the following:
Thank the person who nominated them and link their blog in your post
Write about the Liebster Award itself, spreading the awareness
Answer their questions about your blog
Nominate 5-10 other people for the Liebster Award and inform them via social media
Create an interesting set of questions for the nominees
Describe yourself in 3 words
Neha: Diligent, ambitious & conscientious
Abhishek: Ambitious, easy going & methodical
How did you come up with the name of your blog?
Revolving Compass…aha. One fine day, we happened to get this idea of giving our old blogspot blog a rebirth. We wanted the new blog name to be concise, easy to remember, generic enough to let us expand our venture in multiple dimensions in the future, of course fancy & somehow related to the travel niche because that's what our expertise rolled into. We sat with a pen and paper and started scrabbling the names we could think of. We also played with permutations of multiple words, suffixing and prefixing one with the other. But whatever one of us found interesting, was on some grounds rejected by the other. After a couple of hours, 'revolving compass' evolved and resonated with both of us simultaneously (and we jumped with joy!!!)
What do you want to accomplish with your blog?
Multiple things. In the first place, it remains as our prime memorabilia of all the wonderful travel that we did and are going to do. Next, we want to share across these travel stories with the world and inspire everyone by showing them how beautiful is the world around us. As a part of this journey, we hope to also increase awareness in people about budget travel & eco friendly travel. We want to show the world that it is still possible to travel and do it a lot, without leaving the day job or in spite of having a baby. Finally, slow and steady, we want this passion of ours to turn into a full time profession.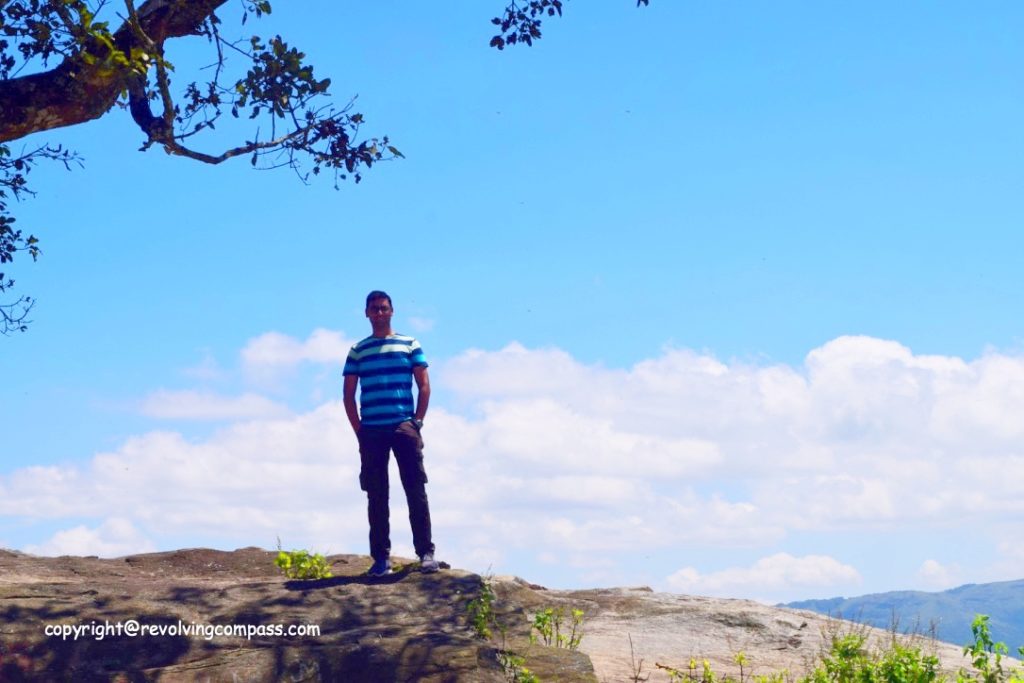 What keeps you motivated and drives you to keep writing blog posts?
When readers leave beautiful comments telling us how our posts are inspiring them to plan their next travel, that is the best motivation that we get. Next comes the memories that are getting captured in the form of posts. Going through them gives us super energy to keep going further. Furthermore, being newbies in the travel world , we are taking one step at a time, connecting with fellow bloggers, collaborating, opening new doors for ourselves, improving our stats. Every small milestone, every small recognition proves to be a motivation for the next.
What is the weirdest thing you have eaten while traveling and where did you eat it?
To be honest, we are not very experimental with food. We are vegetarian non-alcoholic weirdos 🙂 That itself limits our food exposure a lot, isn't it? So our experience, mostly, is being surrounded by weird dishes and not being able to decide if we can have any of those!! But yes, we once had a cute cheese potato steek in food street, Bangalore, which was not exactly weird but a one of a kind experience.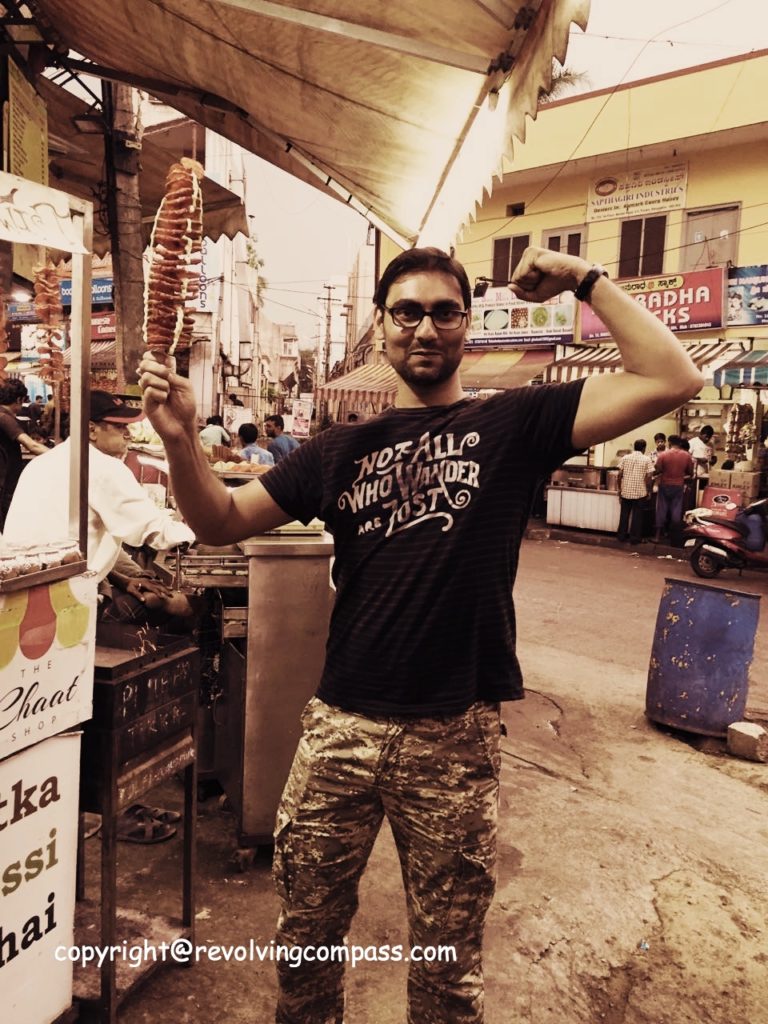 What country or experience is at the top of your travel bucket list?
(ie. If you were offered a free trip anywhere right now where or what would you choose?)
Europe is high on our travel bucket list next. We have been reading a lot of blog posts around Europe and they have inspired us so much. We are eagerly planning out our trip. However, we have our full time jobs, so, we cannot go backpacking in Europe which seems to be the most favorite thing to do in travel world. Nevertheless, we are planning to do multiple trips over a few years to cover it all. It will be a new experience for us because we have so far only traveled to places where English is well spoken, you drink filter water and easily get vegetarian food. We are gearing ourselves for the cultural shift 🙂
What is the most rewarding thing you have ever done?
Inception of revolving compass. It took us quiet sometime to figure out what was our common passion. Once we took to travel, it took us some more time to realize, we wanted to narrate out travel as well. Now, when we look at it, we feel like it is a baby growing day by day, step by step. In spite of the hectic lifestyle, working on revolving compass feels ever rewarding and gives us so much energy to drive even other chores of life. Now we understand why it is always said to follow your passion and rest of the pieces eventually start falling into place.

What is something people would be surprised to know about you?
Guess many don't know how our travel stories started. We have dedicated a post to it. Read it out here. It seems like a bed of roses, but most of the time it isn't. And so was the case with us too. Apart from this, the fact that we both hold on to our day jobs, have a baby and a family and still we travel and blog, does surprise many.
Is there anywhere in the world that you don't want to visit?
No. We avoid places with war zones and political instability due to obvious security reasons. But our bucket list literally covers all the major places in the world. However, one lifetime is not enough to do it all and see it all. So, we are just trying to experience as much as possible. So far, we have mostly covered parts of the Indian subcontinent including : Ooty, Kodaikanal, Pondicherry, Jaipur, Udaipur, Kumbhalgarh, Ranakpur, Shimla & Manali, Goa, Kerala, Mysore, Lepakshi & Hampi. So, there is so very much more grounds to cover.
What are your top 3 travel gadgets that you can't live without?
Our camera – what would we do without it, and without the gorgeous pictures it clicks for us that we happily put on the posts and which in turn make our readers happy!!
Our ipad – our lightweight partner that connects us to the outside world, fellow bloggers and readers, friends and family – on the go. Also keeps the baby busy with toddler apps .. thats a plus!! And clicks some snaps where camera is too much to carry
Our Kindle – (This is more from Neha) What would we do without it! Whether you are at a beach or a lush green mountain top, a book in hand is an integral part of the slow and steady indulgence. And we carry 100s of books in our Kindle where ever we go.
What do you miss the most while traveling and being away from home?
The comfort of a predictable, settled life, surrounded by the loved ones. Some might call it boring. But we know , even the seasoned travelers get bitten by that home sickness at times. After long travel, even our little one starts demanding of her home 🙂 , friends and relatives.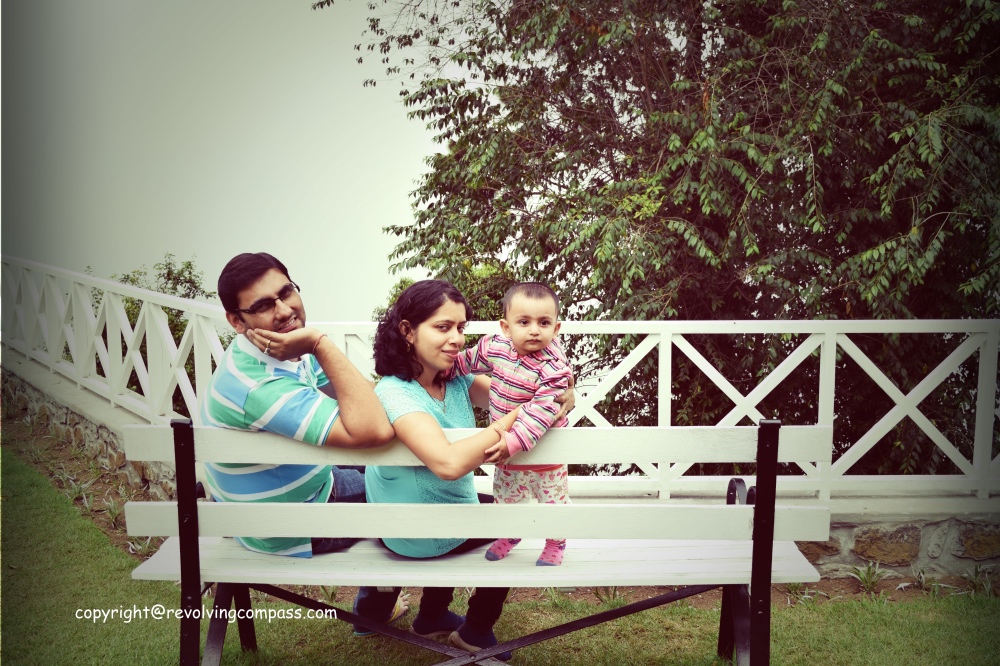 Our nominees for the Liebster Award 2016
Alana and her family took to deal with the daily stress of life through their travel. They travel with their kids. They teach their kids to be socially responsible, environmentally protective and culturally aware through their travel. What a nobel way to teach your children the right things, isn't it?
Meet Valentina, who works as a waitress all across the world and satisfies her travel lust while earning her bucks all at the same time. We really love her thought that as time passes, you would miss not doing things that mattered to you, rather than remembering things that you did.
Shrutakirti Gupta's blog, beyond our horizon, shares the travel stories and experiences like many other travelogues. However, for each destination, it features special details on the transit options. That makes it really very interesting and helpful for others who plan their logistics where ever they go.
A dentist by profession and a traveler by passion, Suruchi Mittal shares her travel stories through her blog "All things good". She wants to live for travel and she wants to travel the whole world.
Eva is a Phd student in Germany who was bitten by the bug of wanderlust in her first collage trip. Since then, she has been unstoppable. Her blog is the testimony of the never ending journey of travel that she has embarked upon.
11 Questions to our nominees
What inspired you to start traveling?
Which travel destination is the closest to your heart and why?
What fuels the motivation behind your travel blog?
Where do you envision your blog a couple of years down the line?
How do you combat home sickness after days of travel?
What is the most important thing you have learnt during your travel journey?
What was your toughest travel experience so far?
Do you have a bucket list that you are ticking off slowly?
What was the most heart touching experience you had during your travel ?
Given a chance to travel day in and day out, would you grab it?
What would be your one liner for someone who wants to start travel blogging?