This time around in Shimla, we happened to visit the Sankat Mochan temple. Actually, as much Shimla is known for it's british architectural buildings, beautiful hill station weather and natural beauty, so much it's also known for it's temples. There are many ancient temples in and around Shimla. If you are religious, or like to visit temples with ancient architectures, or you have a family (and particularly elderly) with you who would be interested in visiting some religious spots, Shimla will have ample opportunities for you.
This time around on our trip to Shimla, we visited with our parents. So, we decided to take them around to different ancient temples. As a part of this quest, on our second day of the trip, we headed to  Sankat Mochan Temple from our homestay post breakfast in the morning.The temple is located little off the main town, at the Kalka-Shimla highway (National highway 22). Being away from the hustle and bustle of the town gives it the advantage of a serene environment. It took us almost a little over half an hour to reach here from our homestay using four wheelers.
To Sankat Mochan Temple
The day was cloudy with chilly winds rattling through the trees. Temperature had dropped the night before owing to the cloudy weather. Amidst this weather, Santak Mochan proved to be a perfect place to relax, calm and collect one's thoughts. Sankat Mochan is the temple of Lord Hanuman primarily. The main entrance is made of wood and has beautiful intrinsic carving on it.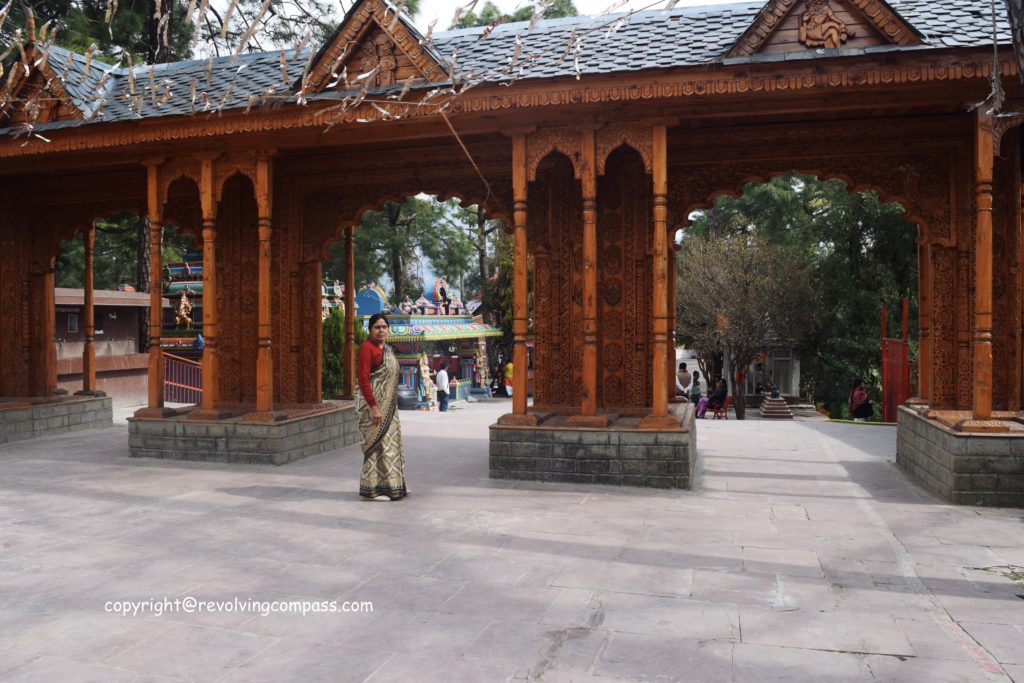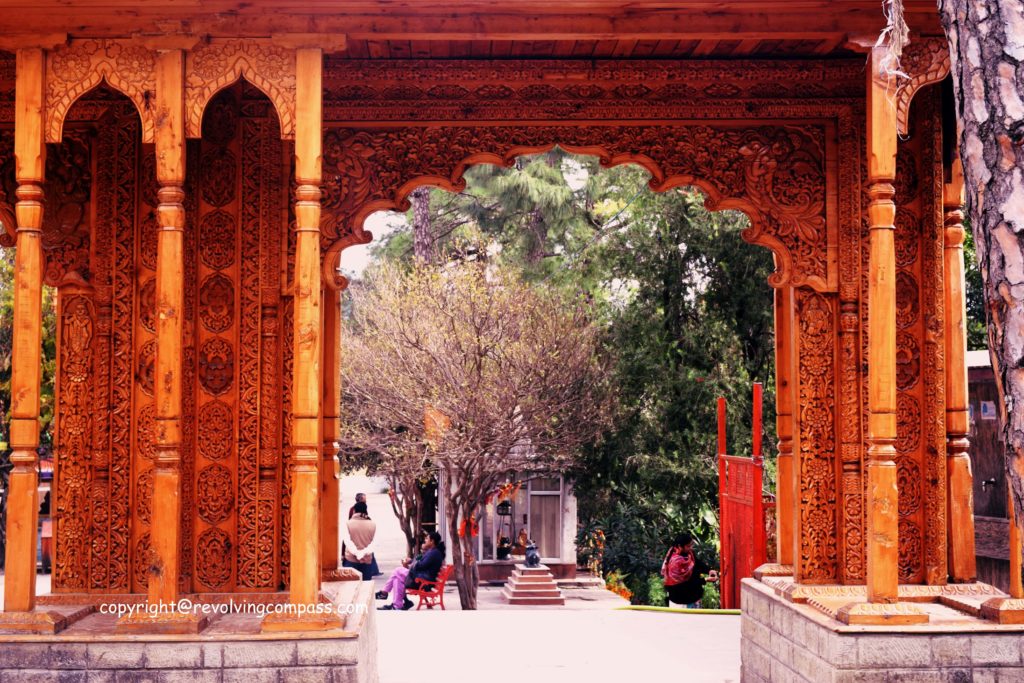 As soon as we stepped out of our vehicles, we were greeted by rattling cold winds. We pulled our jackets and wrapped ourselves up to keep us warm. Then, we headed towards the main entrance of the temple.
Ganesha Temple inside Sankat Mochan
There is a separate Ganesha Temple in the premises of Sankat Mochan Temple. The architecture of this temple strongly resembles South Indian temple architecture. Although it is located in Shimla, one of the northern most states of India. It  has a huge carved and painted entrance gate to the temple premises. Further, you can see idols of different deities carved on the entrance gate. The entrance is painted in multiple colors. Beautiful flower patterns are drawn between the idols. Before the gate, benches are put on either side to relax. You can as well  take down your shoes before entering the temple premises.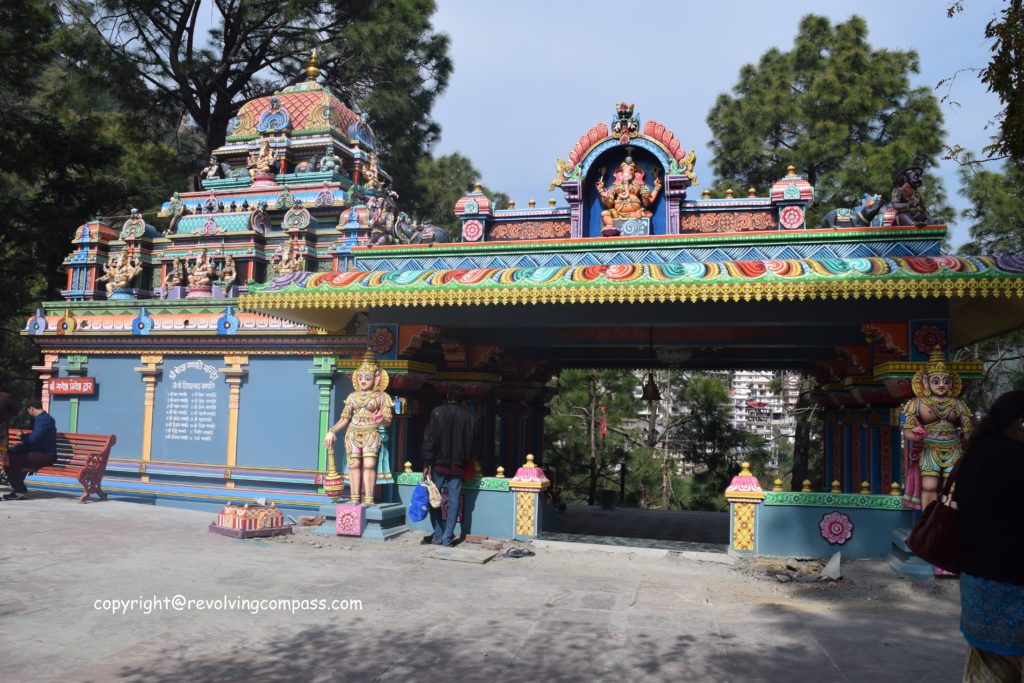 Apart from Lord hanuman, there are idols of Lord Ram, Sita, Lakshmana, Nav Grah (the nine planets), Ganesha and other deities. Each idol is established in a separate small temple like structure, so one can offer prayers separately to each deity. There is a temple dedicated to the devotee Baba Neeb Karoriji Maharaj. It was a surprise as well as a delight to discover a temple with South Indian Architecture in the northermost parts of India. It gave us a strong feeling of the unity in diversity that India stands for.
Inside Sankat Mochan Temple
Stairs inside the temple lead to the main idol through a huge courtyard. The view of the valley and the mountains behind it, as seen from this courtyard, is simply breathtaking. You can see far and wide on a clear day. On the other side of the valley, you can see the whole town of Shimla on the valley slopes. There are spaces made on the sides of the courtyard to rest your feet. By the time we reached here, we had already warmed up in our ample woolen cloths and shawls. So, we thoroughly enjoyed our time on this courtyard.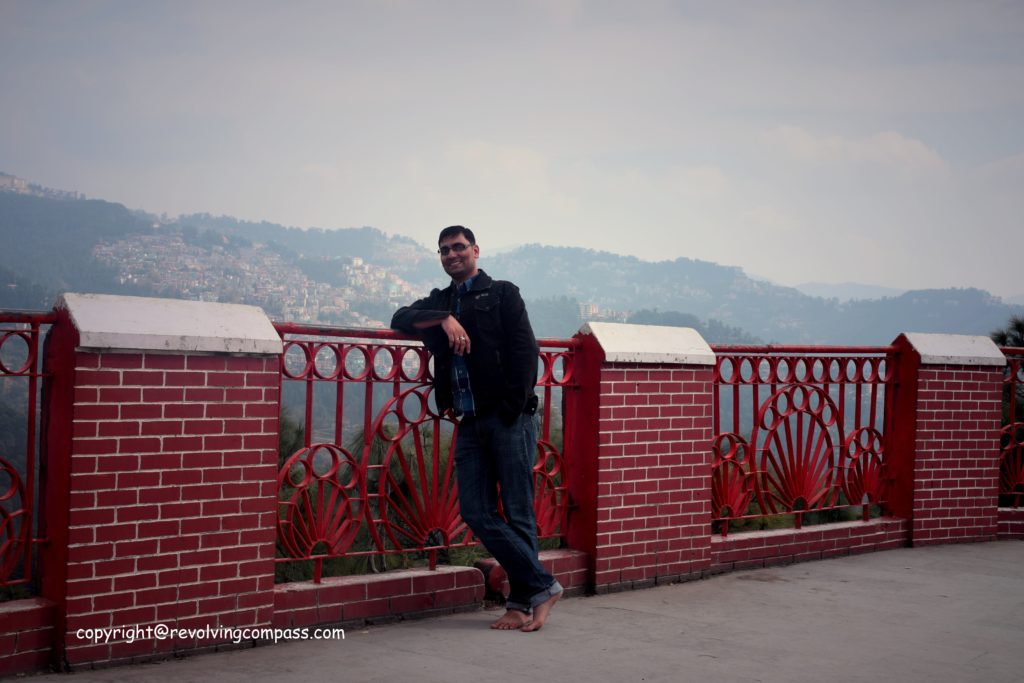 After offering our prayers, we relaxed here for a good amount of time. The temple's environment is very peaceful and calming.  Since, it is quiet huge also, you won't feel the rush of tourists and devotees. Unlike other tourist destinations and more famous temples in Shimla, this one seems to be less frequented by tourists. Being not so crowded is a welcome advantage for those who choose to visit here. We really liked relaxing in the temple courtyard. While our little one got enough space to explore the temple premises. If you can, stay here to watch the sunset and the view of the town post sunset across the valley, which is said to be quiet stunning.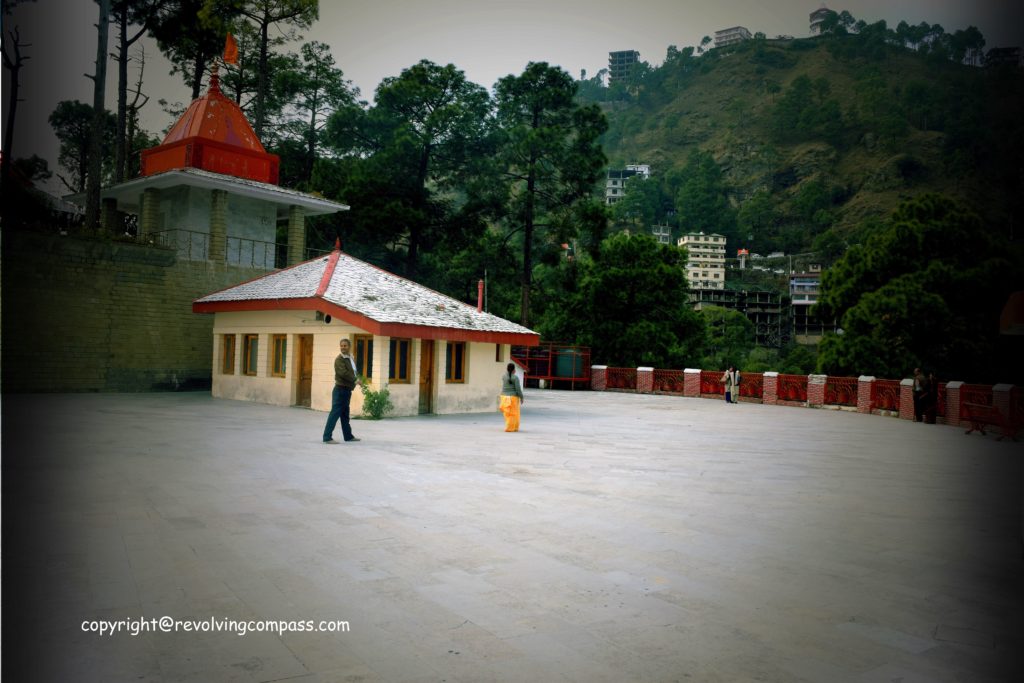 History of Sankat Mochan
The temple is not very old. In 1950s, Baba Neeb Karoriji Maharaj had come to this place. He was deeply touched by the tranquil  environment around. As a result, he felt it was a perfect place for meditation and soul introspection. Then, he stayed here for 10 days, doing meditations. Then he desired to build a temple of lord Hanuman in the same spot. Since, he had several followers, including the then governor of Himachal Pradesh. The followers, including the governor, along with one more renowned personality, decided to get the temple built. Thus the temple was setup in dedication to their Guru. Finally on 21.6.1966 the temple was sanctified. Initially, the temple premises were not so big. Slowly, as tourists started visiting this place, the premises were further expanded.
Interesting facts about Sankat Mochan
The temple has a huge hall where langars (prasad food distribution) are conducted every Sunday. The taste of the Langar food is believed to be devine. The hall of the temple is also used for conducting marriage ceremonies and many other auspicious rituals. There are several priests that live on the premise. And, a part of the temple is used as permanent residence for them.This part of the temple contains rooms and quarters where they can get permanent residency if they choose to serve the temple. Even if they want to stay short term, provisions are available in the temple premises.
This temple also has an ayurvedic clinic where one can consult and get ayurvedic medicines for various ailments. There is an ayurvedic shop that sells various oils, ointments and other natuarally healing ayurvedic medicines. Anyone can buy things from this shop. Also, the temple complex houses 30 well maintained washrooms – something rare to temples in India and delightful for visitors 🙂
Tips on visiting here
To me , it looked like an offbeat destination, which you don't always hear about. So, provision for it in your itinerary.
Being situated little away from the main town, you will need a means of communication here – either a private/hired vehicle or a bus plying to Kalka-Shimla highway can take you here.
Wear ample woolens as weather in Shimla takes its turn suddenly.
Temples close from 12pm-4pm . So, plan your visit either before or after this time.
You will need to take off your shoes before entring the main temple premises. Better wear socks so that you don't feel cold on the ground.
You can easily spend some half an hour to an hour here.
There is no entrance fee.
Attire covering your shoulders and legs are appreciated in line with the custom of the temples and religious places.
You may as well be interested in