The name 'Shilpgram' means 'village of art'. Shilpgram is exactly a village of art. It is a setup by government of India towards preserving and promoting traditional art and culture of Rajasthan and adjoining states. Shilpgram is located in Udaipur, almost 3km from Fateh Sagar Lake area. Our stay in Udaipur was quiet near Fateh Sagar Lake. Due to the proximity, we decided to visit Shilpgram on the fist day of our arrival in Udaipur. The plan was to go to Shilpgram and spend around an hour and then head to the next site – Sahelion ki Bari and finally have a boat ride on the lake before calling it a day. However, Little did we know that once we reach Shilpgram, time would just fly, without our realization.
We started our journey from our hotel post lunch and around 3pm arrived at Shilpgram. The ticket counters are located just near the entrance gate.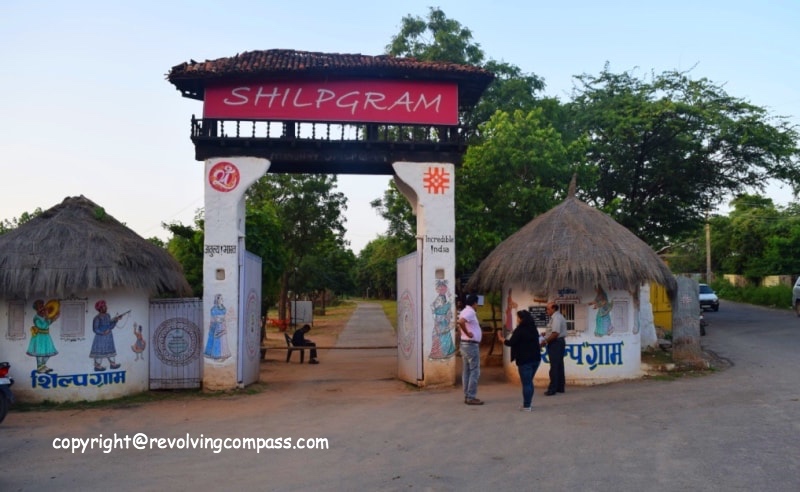 You are supposed to buy the tickets and then head inside. The whole place is setup to give the visitors true feel of an Indian village. There is a government appointed guide who takes visitors around and helps them understand the significance of each and everything that they encounter in Shilpgram. The guide would decide based on the timings whether to first take the visitors to culture show or the shops, and thus would lead the way.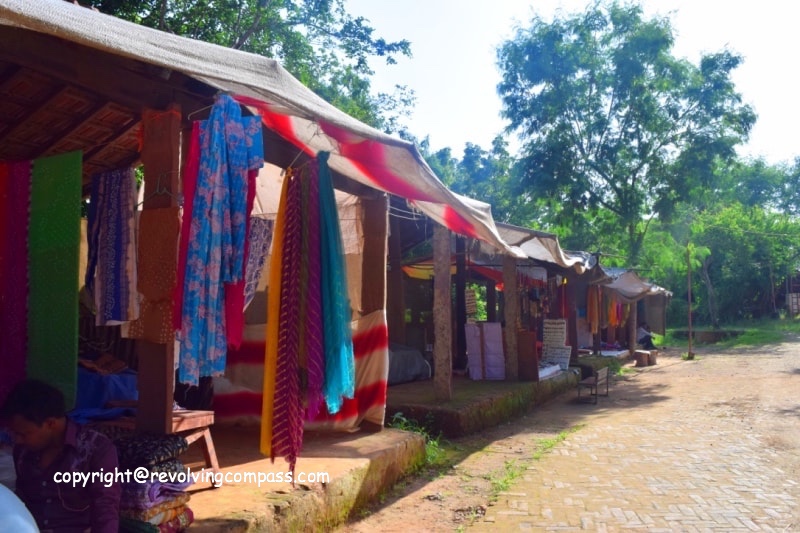 Cultural shows in Shilpgram
Following the guide, we started off to the cultural show program. The program is performed on an elevated stage. The path to the stage is lined by several shops. These shops have artisans selling various products. Although the artisans were eager to welcome us to their shops and exhibit their work of art, we decided to first head straight to the stage and then come back to the shops later.
There is an amphitheater across the stage. Nothing fancy but another elevated platform with shade overhead and a few stairs leading to it. The guests are supposed to sit here and enjoy the show.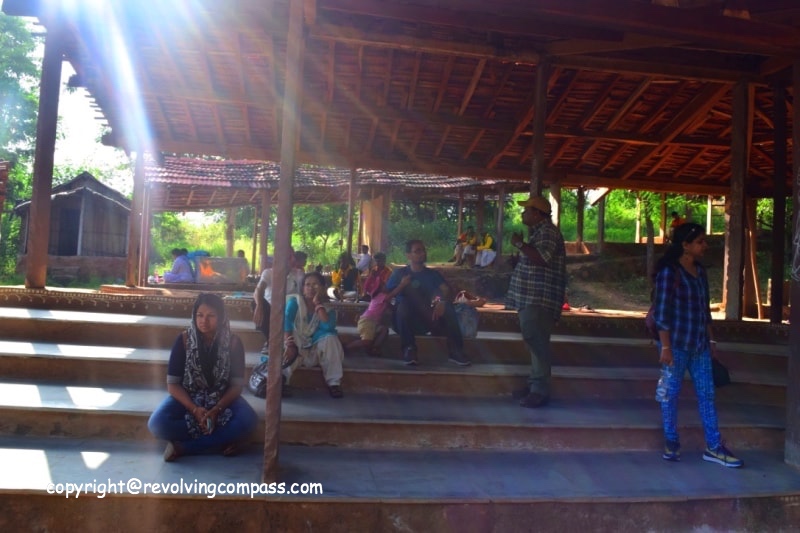 Each show runs for around an hour. Throughout the day, these performances happen every couple of hours. Artists and artist groups from Rajasthan and neighboring states come here to showcase their talent. Government provides each group accommodation and other basic amenities to stay in Shilpgram for fifteen consecutive days. They are also paid a minimum wage of INR 500 per person while they stay. Then other artist groups come. Probably, due to this provision, each gets equal opportunity (equal time interval) to perform here. Different groups and individuals keep coming on rotational basis. Finally, the idea is that an artist or group that performs good at Shilpgram might get sighted by better platforms and land some noteworthy business proposal.
During the one hour performance  we enjoyed different cultural dances by artists, each lasting 10-15 minutes.
Ghoomer
First of all, a group of ladies performed the famous Rajasthani Ghoomer dance. It is a folk dance. It was originated by Bhil tribe. Later it was adopted by other communities of Rajasthan. Although, It's not just the steps of the dance that adds to the charm. Even the attires of the performer go totally in sync with the dance steps, producing magical effect as they go dancing around.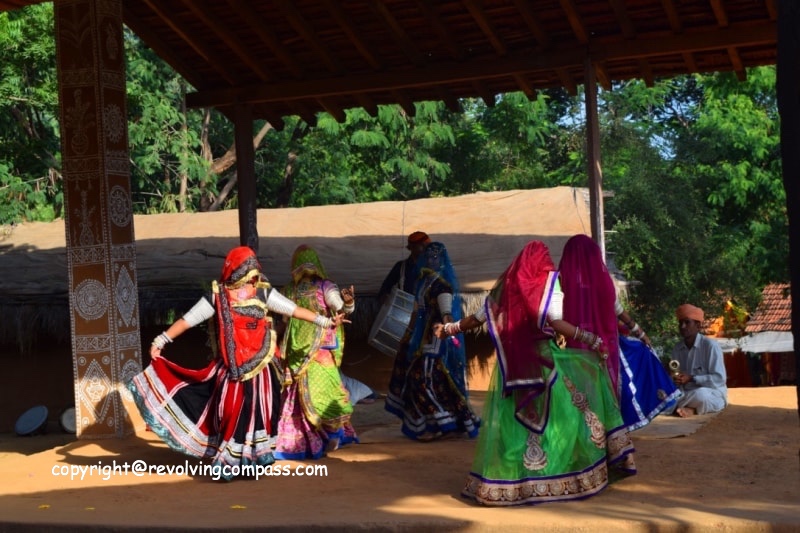 Bhavai Dance
Next, Bhavai Dance was performed by a skilled artist. She balanced a huge set of pots on her head. During the dance, she sat and stood up several times, without letting the pots get misbalanced. Then she climbed over a set of steel tumblers balancing herself while she performed her dance with super balance. Parts of the performance included balancing a knife in the artist's mouth while dancing and stepping on broken glass to perform some steps.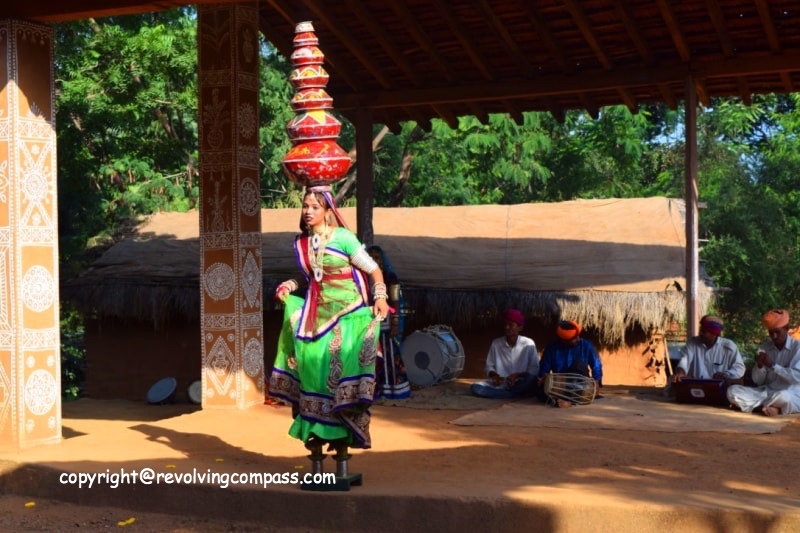 Gujarati tribal dance
There was a group of men and women from Gujarat that performed next. This was a tribal dance, with awesome balancing and synchronization acts between the men and women.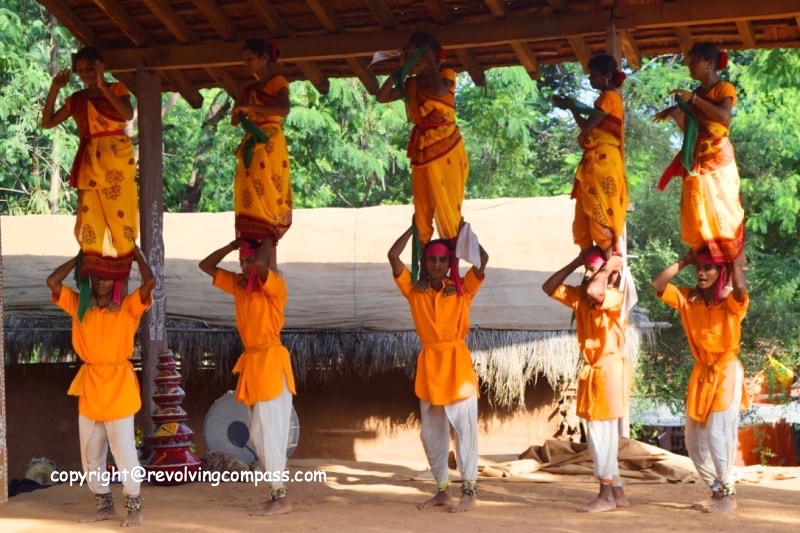 These were followed by some more traditional dances. We were all stuck bound by the talent of these artists. We thoroughly enjoyed each and every performance. So much so that, we didn't even realize when one hour passed. This was the first live performance that our little girl got to watch in her life. She was completely mesmerized. At the end of each performance she applauded profusely!!!
Shops in Shilpgram
The same holds for artisans when it comes to the facilities provided by government. Each one is given a shop to showcase their products, along with stay and food options inside Shilpgram premises.
Infamous Lah Bangles
After the performances were over, our guide took us around the shops. First of all, we went to a lady who was selling Lah bangles. She was actually making the bangles there only! I found the bangles to be rather lightweight compared to the Lah bangles that I have seen in other parts of India. Also, the work on the bangles was quiet noteworthy. Overall, they were thin, light and beautifully patterned. Although, I wanted to pick one, it turned out to be a really tough decision to take. Finally, I picked a set of beautiful black bangles with little golden strips on them.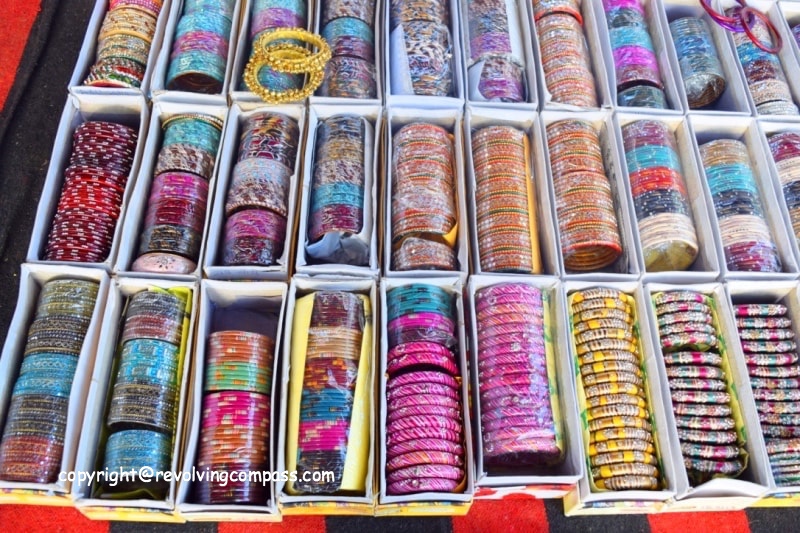 Katha work
Next we headed to the shop of a Katha worker. Katha is a special stitch done with threads. It's practiced in Rajasthan and Gujarat. Bedsheets, Bed covers, quilts, table covers, wall hangings are often made with colorful fabric combinations and then Katha stitch is done on them. It is considered very strong and long lasting. The artist who was exhibiting the Katha was also telling us how much time it took for him to complete the pieces. Since Katha stitch is done with hand, as a result, it takes quiet some time to finish the work. Nevertheless, the result is one of the most noteworthy pieces of handwork. The artist showed us some bed covers for which it had taken him 2 months to complete the work.
Paintings
Next, we headed to a shop exhibiting beautiful paintings. The artist was making paintings, and that also, using natural colors. These colors are extracted from flowers, vegetables, stones and spices. His paintings were on silk, canvas and paper. These were the Pitchwai paintings which are famous the world over. The intricacies of the paintings simply won my heart. There was something for everyone in this shop. There were bookmarks and greeting cards with paintings, starting at INR 30/-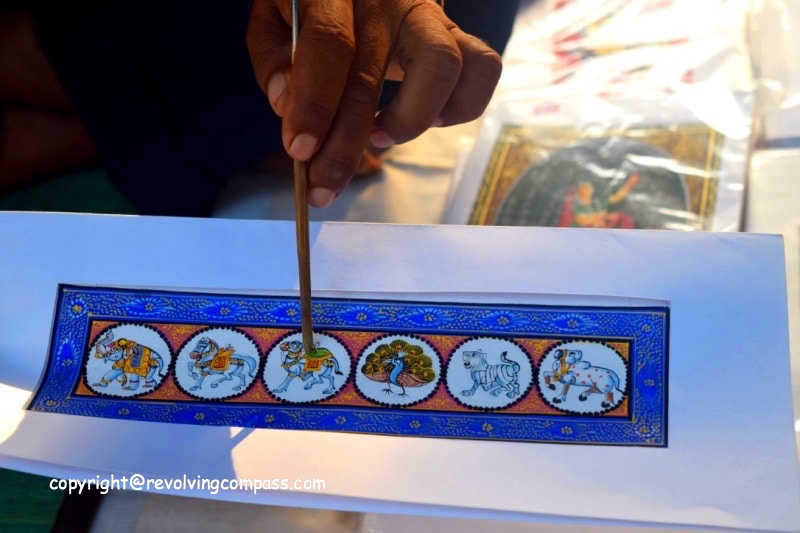 Eco friendly kitchenware and earthenware
The next shop was selling eco friendly kitchenware and earthenware that were being made there itself at a small potters wheel! There were some toys, kitchenware, candle stands , lamps etc.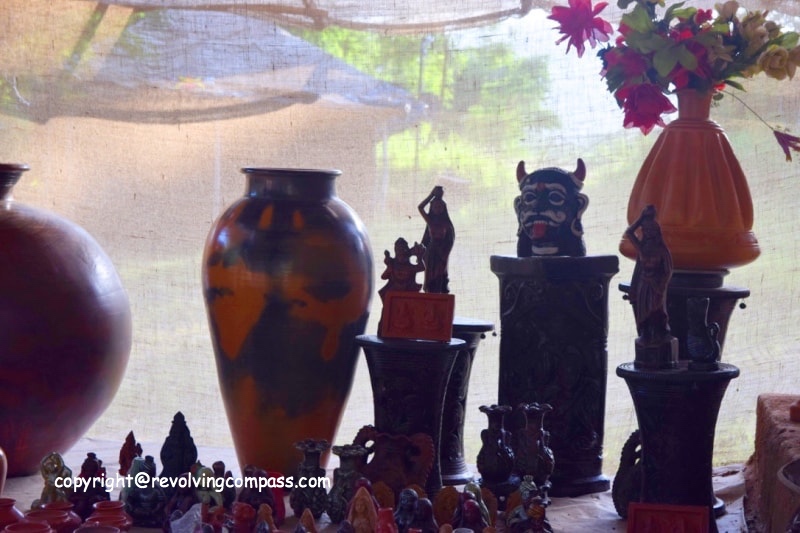 Mojri shoes
The mojri shoes shop was setup by an artist whose name is registered in the world records for making the smallest shoe of the world. He showed us a tiny shoe with intricate work on it, although this was not the one which held the world records (that one was much smaller than even this) . Have a look: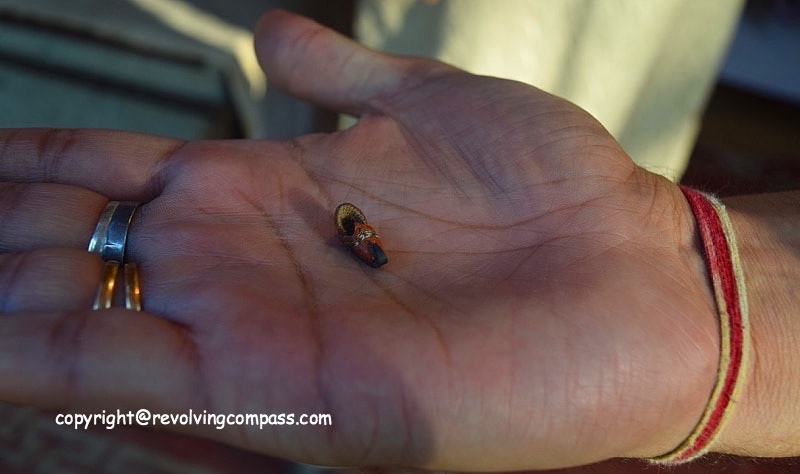 The shop had a range of mojris for all foot sizes for men, women and children. We bought a beautiful pair for our little one.
Apart from these there were several other shops , exhibiting Kurtas, ready to wear dress materials, mirror work, wood work, other handicrafts, nail art, tie-die fabrics, hand block printed bedsheets and fashion jewelry. We couldn't stop at all the shops, as we were constrained by time. Although we would have loved to. Not necessarily for buying something, but rather for understanding the techniques that go behind these work of art. Even praise matters a lot to these artists. Some of them have established their business. They regularly supply to government emporiums and retain chains like fabindia. While others are still looking for more exposure.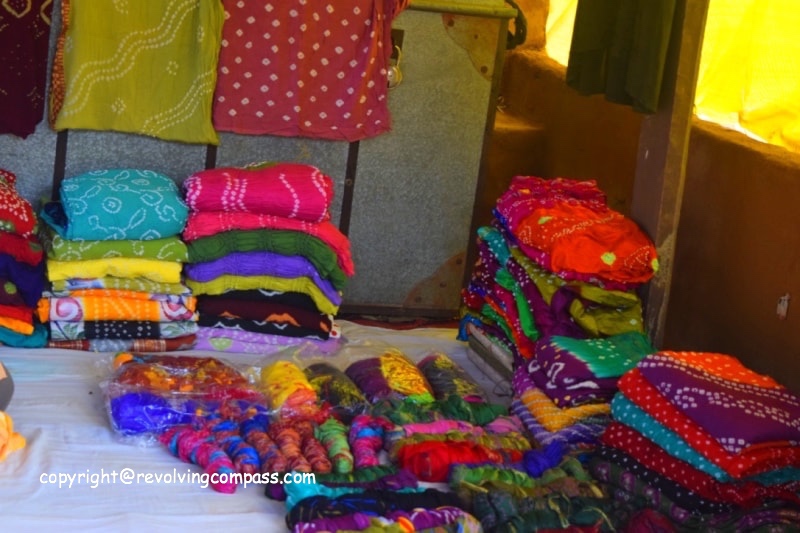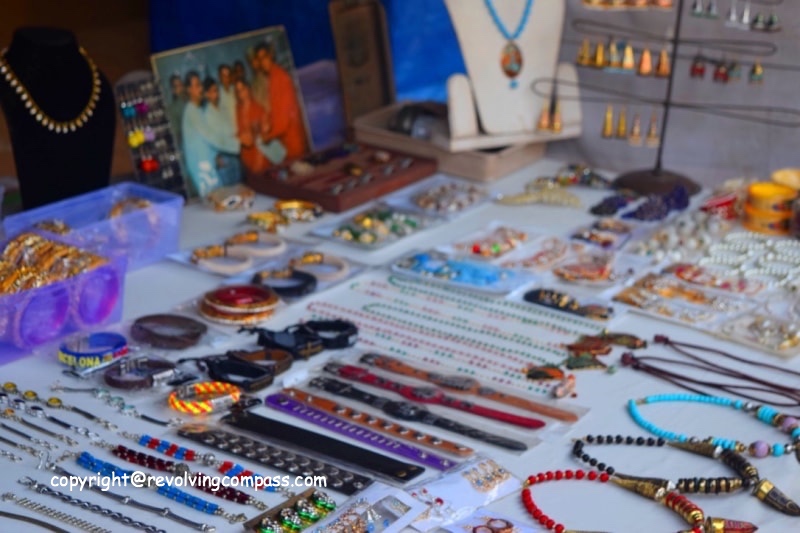 Shilpgram dhaba
By the time we went through the shops and moved towards the entrance cum exit of Shilpgram, our daughter was hungry. That's when we spotted this small dhaba setup inside the premises of Shilpgram. (In India, dhaba stands for a road side restaurant, with very down to earth setup but delicious food). The food here was almost home made in taste. Our daughter had an aaloo paratha (potato stuffed bread). While the rest of us enjoyed tea / coffee and took some rest after our long walk around Shilpgram.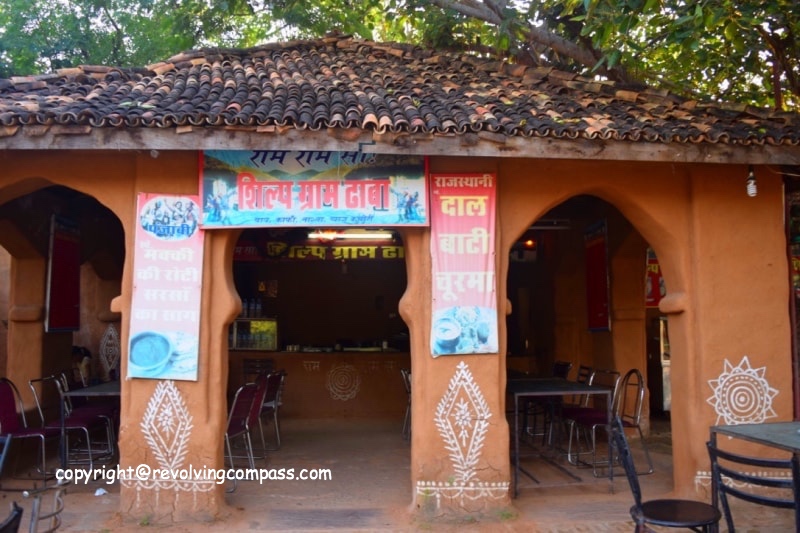 Finally, it was time to say goodbye to Shilpgram. Although, it was already 5:30 pm. We had spent quiet more time here than we had initially planned for. While this meant we had to hurry off to the next site and maybe miss today's boat ride, but we felt completely happy and contented after the beautiful cultural performances and our interaction with the artists. Our conclusion : This is one place we would highly recommend to visit when in Udaipur.
Some tips on traveling to Shilpgram
Shilpgram official website is here.
Although shilpgram is open all through the year for tourists, December is when a huge number of artists arrive and the place is found to be at it' charming best.
Restaurant and restroom facilities are available at the premises.
Since it's quiet green inside, and we visited towards the evening, we didn't feel much heat. Although, carry a bottle of water with you.
Although, the timings are 6am – 7pm. But, we would recommend you reach here no later than 4pm to be able to enjoy thoroughly.
Also, Shilpgram is quiet a landmark in itself, so, there would be no problem reaching here. You can book an uber cab, or take a taxi from your hotel.
Comfortable cotton dress are recommended since the weather is mostly hot in Udaipur.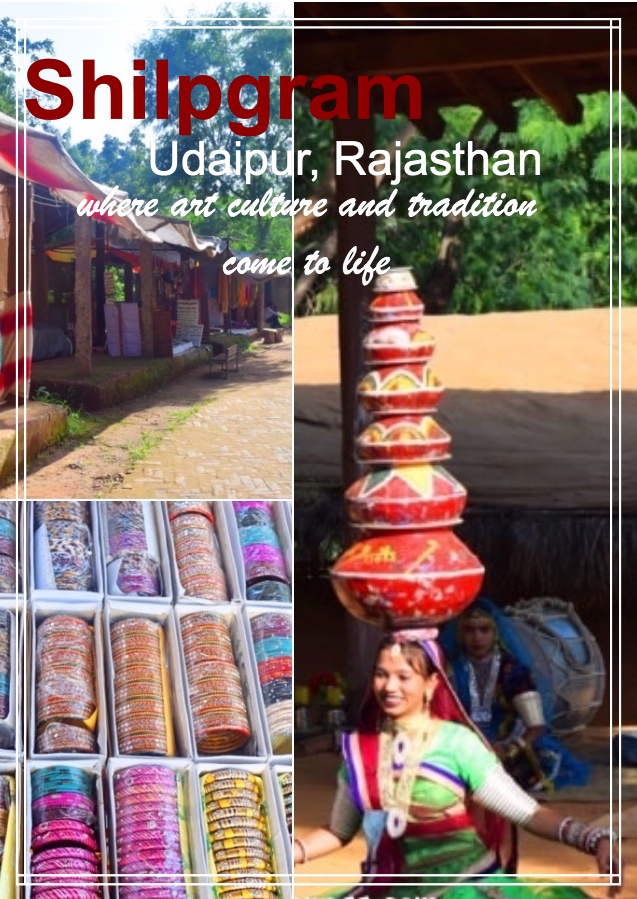 You might as well be interested in
Beautiful Wedding depiction at Bagore Ki Haveli Museum
A day trip to Chittorgarh fort from Udaipur
A day trip to Kumbhalgarh fort from Udaipur
The magnificent Jain Temple of Ranakpur
How best to spend 4 days in Udaipur – itinerary 
An evening at Chokhi Dhani, Jaipur
The unconquored fort of Nahargarh, Jaipur
One day trip to Amer fort, Jaipur
Hotel Ram Pratap Palace, Udaipur
Bagore ki Haveli Museum, Udaipur