After our recent trip to Europe, a lot of friends enquired about the expenses incurred. And there was one reaction which was common to all – Oh! You did it at a really low budget!! We travelled to Rome, Florence, Venice & Pisa in Italy, then Lucerne, Bern, Grindelwald, Interlaken and Mount Titlis in Switzerland, Paris, Disneyland Paris, Amsterdam and finally the Tulip Gardens of Amsterdam. It was a 20 days long trip. Indeed we feel proud of doing it in a low budget. And what's more, we didn't compromise on anything, yet we had a great trip in an equally great budget. But it didn't happen overnight.
We had done a lot of research before heading to Europe. Research primarily on how to manage a Europe trip on a budget. And it did help. Here, we will like to transfer the top tips that we learnt and applied during our travel, to our fellow travelers and readers. Actually, it started right at the first step when we decided to plan our trip on our own. And if you want to do it, here's a link to our ebook on how to plan your own trip to Europe. Now, without further delay, let us share with you the tips to save a lot on your trip to Europe, right from the moment you start planning your trip.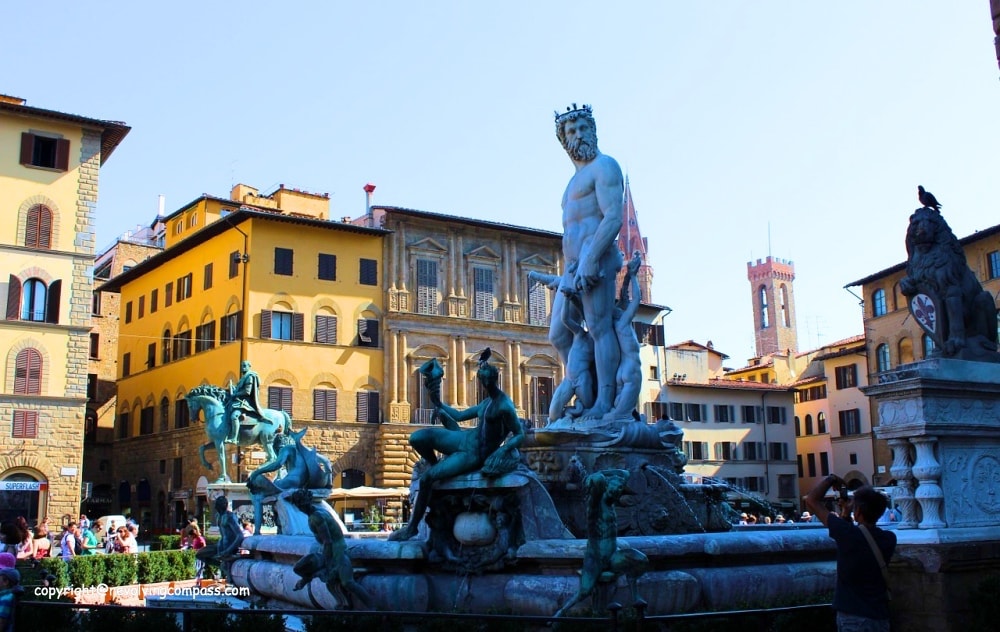 Set your budget
"Budget" is a widely used word. It doesn't mean the "lowest possible cost" or any fixed amount. For us, it simply means, setting apart a fund for the travel that we can afford. So, this means, if you want to travel to Europe on a certain budget, you have to first fix your budget. We did the same. For fixing a budget, you need to see where all you want to go, which all places you want to see. Research a bit on what is average expense per day in those places and do a rough calculation for yourself. Add a margin of 15-20% unseen expenses to it. Now, see if you are comfortable with this budget for your trip. If not, do more iterations, see what you can cut down on and what you can include instead.
For instance, when we planned our trip, we setup a maximum budget that we were not going to exceed and then set out to seek what all we could see and do in that budget. We had to revisit our itinerary a few times to fit into this budget.
Research accommodation options to travel Europe on a budget
Europe has a lot of accommodation options that suite everyone. Budget hostels are the favorite among solo travelers, group travelers and sometimes families too. But we don't have experience with one. Although based on what I have read about them, they are very economical. Next comes the flats that you can book on airbnb. And then there are hotels, again, ranging from the very basic to the luxury ones. We mostly stayed in a combination of flats and hotels at different destinations during our own trip. Both had their own advantages. In hotels you get frequent room service, lavish breakfast spread and a lot of other facilities. In flat you get a lot of flexibility and space. Overall, we enjoyed the time we spent in flat much more than hotels. And flats were comparatively more economical also. Particularly the time we spent in our apartment in Florence, Palazzo Dei Ciompi
Although we would like to put a word of caution here. That being, just remember to book from a reliable source and check the reviews on travel websites before choosing a flat. Because, a bad accommodation will ruin half of your holiday. But I guess more than 90% accommodations in Europe are very professional. And you will normally not run into any issues. (Issues like last minute cancellation etc.)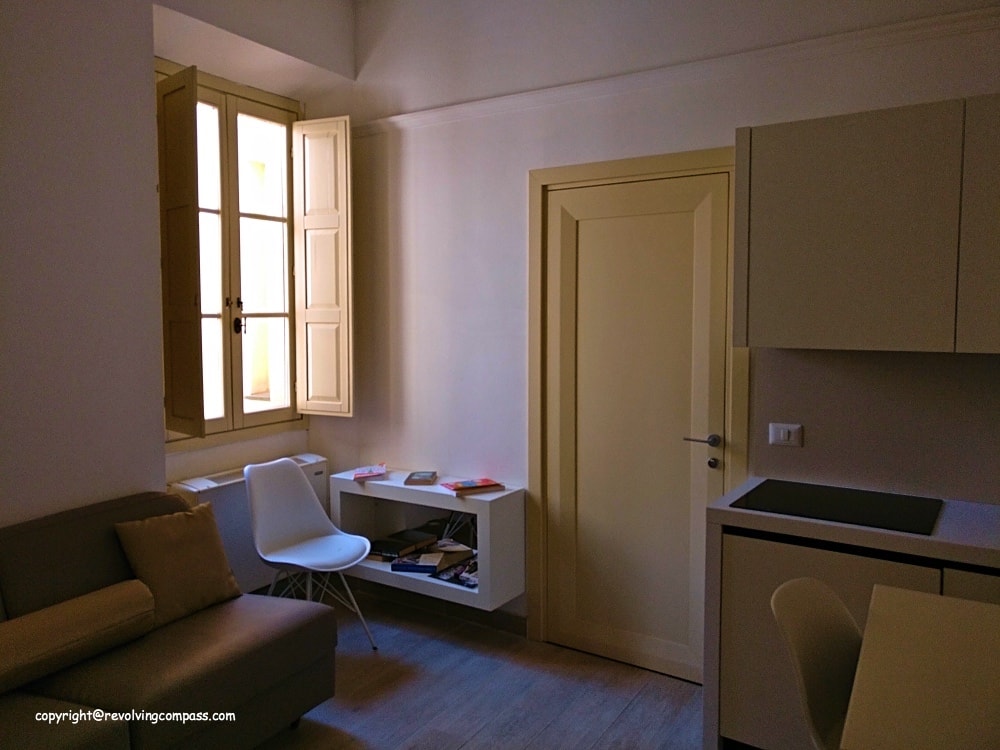 Choose your food wisely when you travel Europe on a budget
Food in Europe will consist of one of things on which you will be spending daily. The food choices are varied. There are lavish restaurants and there are street side cute & small cafes, and also take away shops. Also, mobile food carts are available in tourist spots and busy streets. And last but not the least, most of the grocery shops have ready to heat & eat packed food as well as cold salads and sandwiches. Depending upon the choice of food that you make, your food budget is going to vary a lot. And thus it plays an important role in helping you travel Europe on a budget.
The restaurants are, well, of course, the most expensive ones. A three course meal for one can vary from 30 euros to 80 euros. And I am talking about the mid range restaurants here. The cafes and smaller restaurants are less costly, but still a meal for one can range from 10-15 euros. Also, if you sit and eat, there can be extra service charges. If your budget is tight, or you intend to save on food, the best option for you are take away from the cafes and smaller restaurant, or grocery shops. If you are staying somewhere where you have option to cook or at least heat your food, you can buy some ready to eat things from grocery shops. Sometimes, even fresh bread, cheese, salad and fries etc. can make a full meal at much lower cost of less than 8 euros.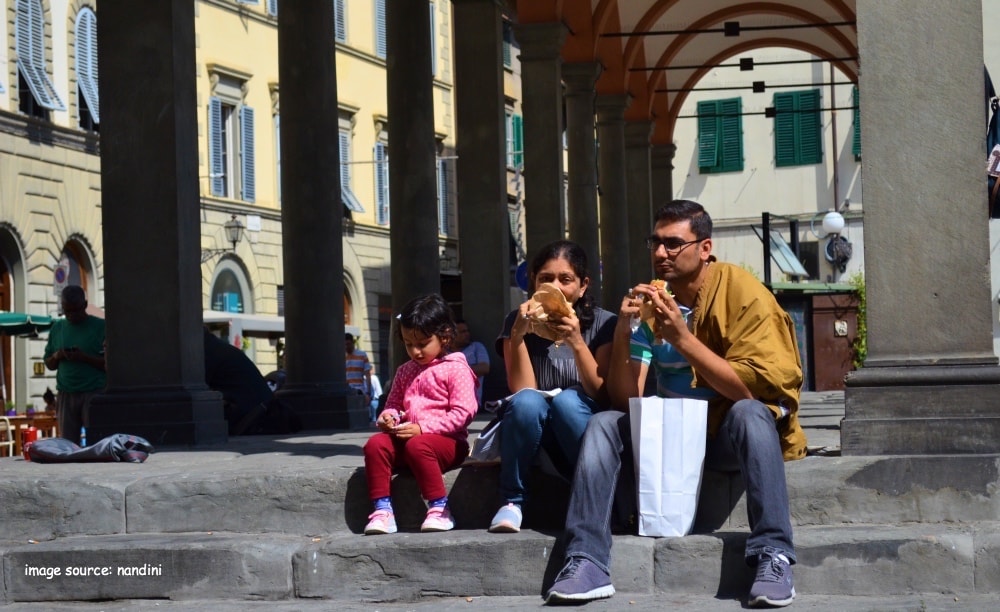 Travel like the locals when you travel to Europe on a budget
Commute is another part of your travel that will incur you a daily cost. You will be heading out to places, exploring new destinations and going around all the time. You must choose your commute options wisely otherwise your budget in Europe will shoot up even before you realize. Best is to travel like the locals do, when you intend to travel to Europe on a budget. Use buses, metros and trams when in the cities. And use train when commuting between towns and cities. Taxi is costly, basically, it will cost you four to five times what a metro or bus ride would cost.
When exploring places, walk as much as possible. Particularly the beauty of smaller towns and country side is best experienced while having a walking tour, and what's more is that it's absolutely free!! Before heading to Europe, we researched and designed our own walking tours in several towns and cities with the help of google maps. And we really enjoyed these walks thoroughly. You will be surprised how much you are able to cover in Europe on a budget this way. And believe us, the experience will be of a lifetime. And last but not the least, we saved a lot using the metro in Paris.
You might want to check out the following resources related to commute in Europe:
Complete guide to making use of the Paris Metro like locals
Self planned free walking tour of Florence part -1
Self planned free walking tour of Florence part – 2
Free self planned walking tour of Lucerne
A free walking tour randomly exploring Venice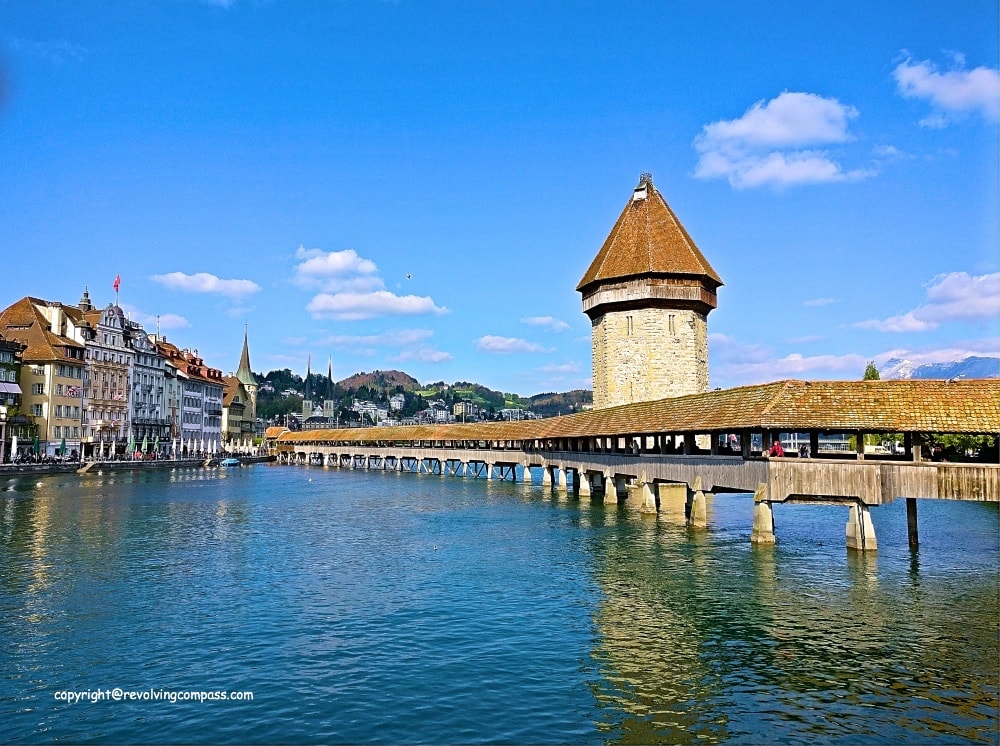 Carry your essentials with you
You will find all the essentials that you want in Europe. But most likely, they are going to be costlier than most of the other places on earth. So, better to carry most of your essentials with you, particularly when you intend to travel to Europe on a budget. This way, you will not only have the convenience to use the things and brands that you are used to. But also, you won't need to do unnecessary shopping in Europe, thus saving on your budget. And helping you travel Europe on a budget. For instance, we carried most of the toiletries and healthcare products that we use, also general medication, from our home to Europe. But indeed, we didn't carry big packets. Rather smaller, reusable travel bottles so nothing really added to our luggage. This way, we had the comfort of using known products, and no need to incur unnecessary expense on lifestyle needs while traveling in Europe.
Be aware of scams and thefts when in Europe
Europe is the destination that attracts the maximum number of tourists. And thus, it is also a center for several tourist scams. You might be into one even before you realize. So, be aware of them. All you need to do is read out a bit on the possible scams and keep a watch while in Europe. For instance, we had learnt of a few popular scams in Italy – (1) someone coming and offering you a flower, preferably a rose. Which initially looks like a friendly gesture. But as soon as you accept it, they will demand money. Which can be anywhere between 5-15 euros. (2) Someone offering you a cheap wrist band and again asking for money. (3) Someone offering you some seeds or grains to feed the pigeons, especially in Venice. And then asking for a huge sum in turn for a palm full of grains, like 5-10 euros. We did see all these scams happening. But since we were conversed about them, we didn't fall for them.
Similarly, pickpocketing seems to be a very usual thing. Particularly in Italy, Paris and Amsterdam. I myself read several blog posts on how people got pick pocketed as soon they landed in a town in Italy or in Paris. Although not really a scam, but rather a theft, it's good to equip yourself well to combat the pick pockets. Swear by your money belt and your money and travel documents are most likely to be safe. More serious crimes against the tourists are very rare, almost not there. But if you are visiting some specific locality, or remote places, better to be informed about what areas to avoid post dark. We found Switzerland better off. As, we didn't hear much of pick pocketing issues there.
Although it is important for everyone to guide themselves against these things. It becomes all the more important for those who intend to travel to Europe on a budget. Since, such scams can rip you off your money unnecessarily.
Book combined tickets to attractions to travel Europe on a budget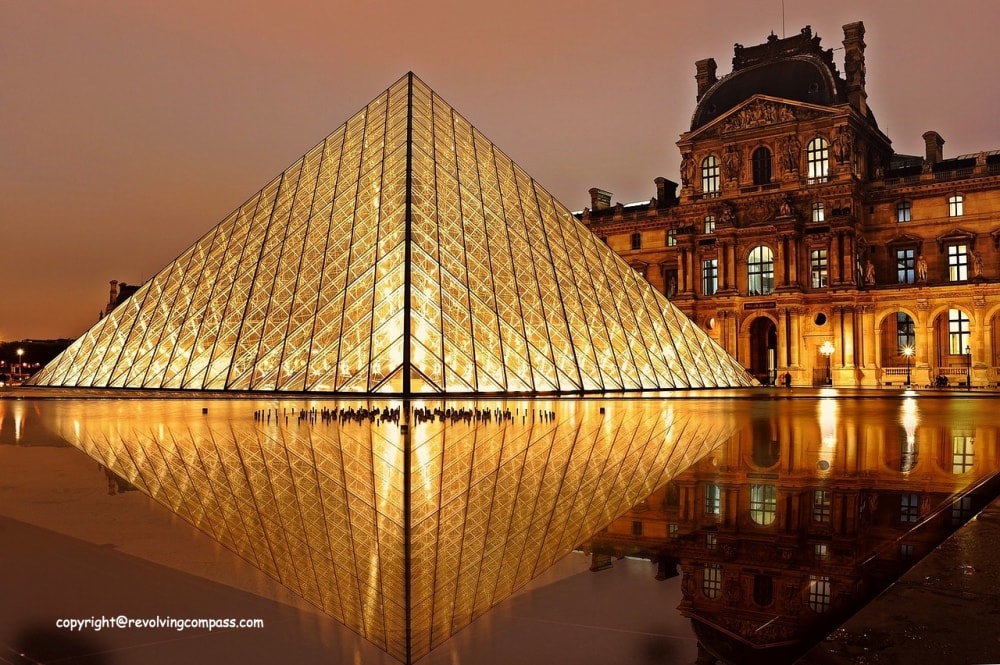 There are many free attractions to enjoy in Europe on a budget. Particularly, the natural beauty is all yours to enjoy freely as much as possible 🙂 Apart from this, there are a lot of places of historical and cultural importance, UNESCO world heritage centers, heritage sites and museums. Some have free entries every day of the week. While some have free entries on particular days of week or month. Then others have tickets. The sites and centers that you chose to visit and the days when you want to visit them will have an impact on your budget. In order to travel Europe on a budget we will suggest you have a mix of places to see in your list. The free ones like parks, walking tours etc. , some with tickets and others you can try to plan on days when they have free entries. This way, you will have a balance and you can easily travel Europe on a budget. Let me give you a few examples from our trip:
The Louvre Museum in

Paris

is open till late at night on Fridays and Wednesdays. And the tickets are discounted when you visit after 6:30pm. While on the first Sunday of every month, it has free entry.
The Luxembourg Garden in Paris is a beautiful lush green oasis in the center of the city , without any entry fee.
We did walking tours around Florence, Venice, Amsterdam and Lucerne which were absolutely free.
Most of the museums in Paris have free entry at least once a month, you can find out the exact day based on the museum that you want to visit.
In conclusion, it is very much possible to trip Europe on a budget. All you need to do is plan for it wisely and pick your suitable options. Do you know of further ways to save on your trip to Europe? Do let us know, we are all ears. And we will use your tips in our next trip 🙂