When we planned our four days trip to Switzerland, we immediately had Bern on our charter. Bern is one of the most beautiful capital towns in Europe. Thus, a visit to Switzerland will be almost incomplete without being here. So, while we were based in Lucerne. And we decided to do several day trips from there. Including those to Engelberg & Mount Titlis, Interlaken, Grindelwald, Kambly cookie store and a cheese tasting tour. The one to Bern was one of the most beautiful ones.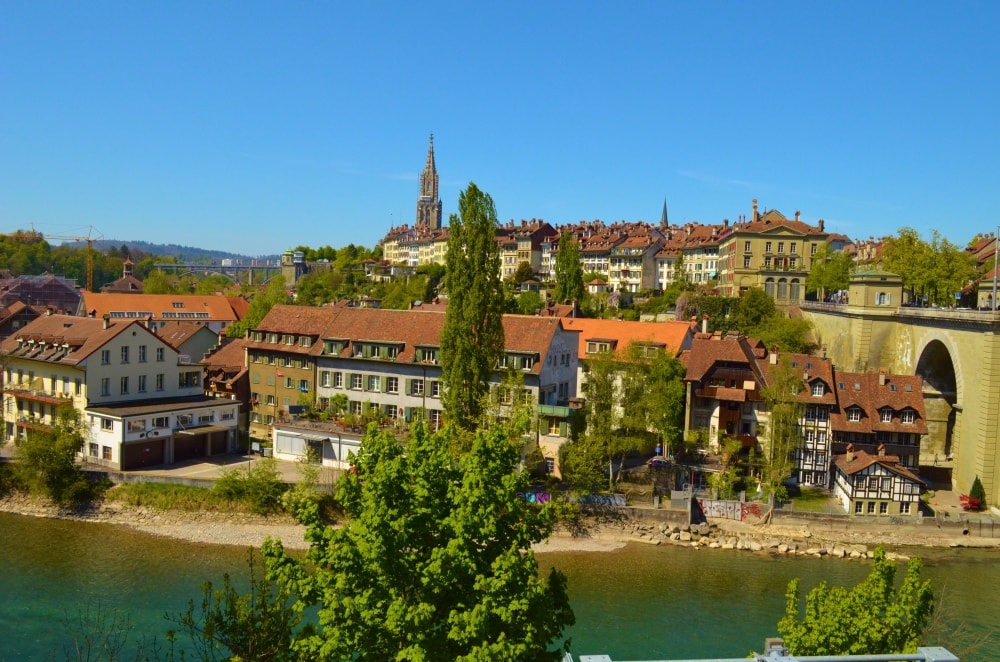 As an exception to out general rule of exploring places on our own, we chose to do a guided tour to Bern. And we are really happy of our decision. Because Bern has some really important historical spots that are best visited with a guide at hand – be it a person or an app. From our own experience, we bring to you the top 10 things to do in Bern that you will thoroughly enjoy.
Walk on the Nydeggbrücke bridge
As you enter the beautiful town of Bern, Nydeggbrucke bridge is the first thing you step foot at. A plaza at one end of the bridge has some government offices and tourism offices. There is a neat and clean, free public washroom also available here. From here, as you step on to the bridge, there is a nice pedestrian walkway along the sides. Walk along it and stop right in the middle of the bridge. The scene on both the sides of the bridge that you see from here are stunning.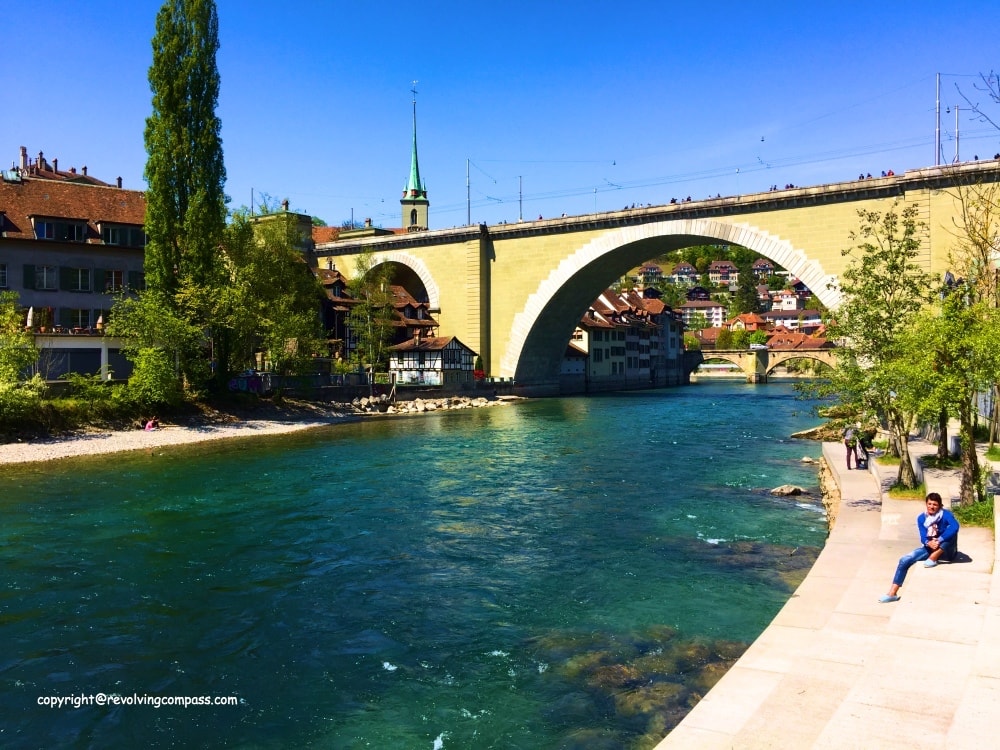 On one side, you will see the spread of the modern town of Bern. While on the other side, you can see the beautiful river Aare. On one bank of the river lies the much sought after Barengraben (more on it later in the article). While the other side is marked with beautiful European houses. On a nice sunny day, you will see people having a sunbath on their roof, enjoying the scenic beauty around the river. The river takes a turn here and disappears into the forests. The scene is so beautiful, I can say with confidence that you won't be tired of looking at it for a long long time. Overall, the stunning beauty across the bridge makes a visit here one of the most important things to do in Bern.
Explore the main market of Bern
Let's come to the next beautiful thing in our list of things to do in Bern. As you walk further down the Nydeggbrucke bridge, in another 5 minutes, you will enter the main market of Bern. These are the parts of the old town. The main street is marked with bus lanes and tram lines. Be careful of a tram or a bus coming from behind. As the pedestrian walkways here are crowded. And often encroached by street side shops. So, you might be forced to step onto the main road once in a while. Don't worry, the whole area is still very pedestrian friendly.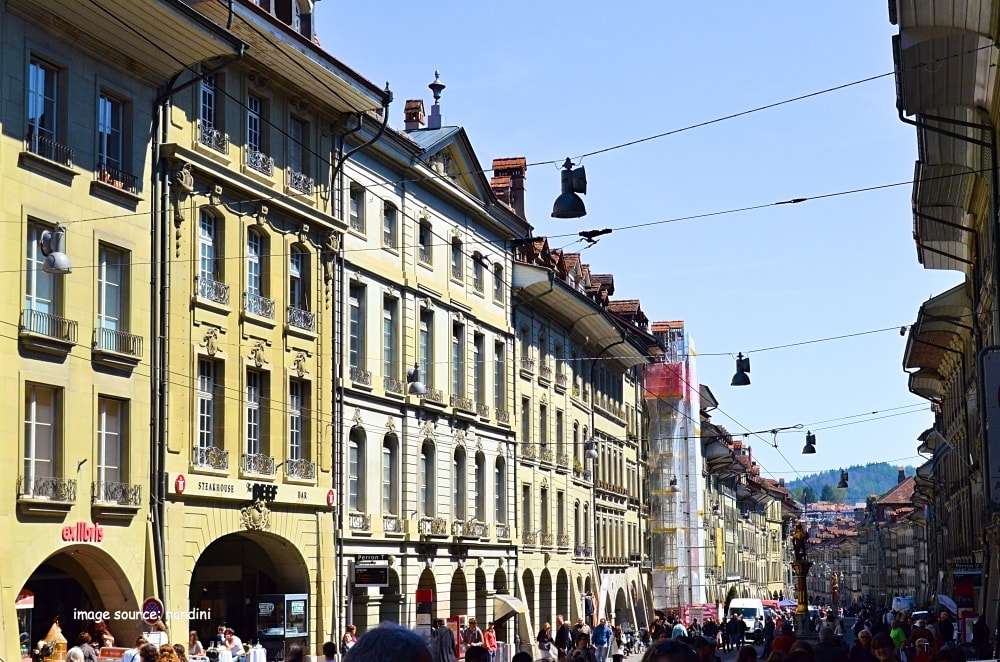 Coming to the shops, all the possible varieties are present. From expensive and branded dresses, bags, purses, watches, swiss knives etc. to leather and craft products. You will find everything of daily use as well as anything that can attract a tourist's attention. Intermittently, there are food outlets, fast food restaurants and grocery stores as well on this street. The buildings on both the sides have the characteristic European charm. And in between, you can also see beautiful fountains of water, yet another characteristic of beautiful European cities.
Pay a visit to Einstein House
As you walk along the main road, you will soon come to the building where Einstein resided once upon a time. The second floor flat which Einstein had rented is fondly named as the Einstein House. And is open to tourists for visit. All you need to do is purchase the entry ticket. The exact address is the flat on the second floor of Kramgasse No. 49. Einstein lived here from 1903 to 1905. But the place still has the imprint of the great scientist. It has been restored in the same decor elements that were used in that era. And it also contains some reminiscence, furnitures and other pieces that he used in day to day life while he resided here. Thus, it comes as the next in our list of things to do in Bern.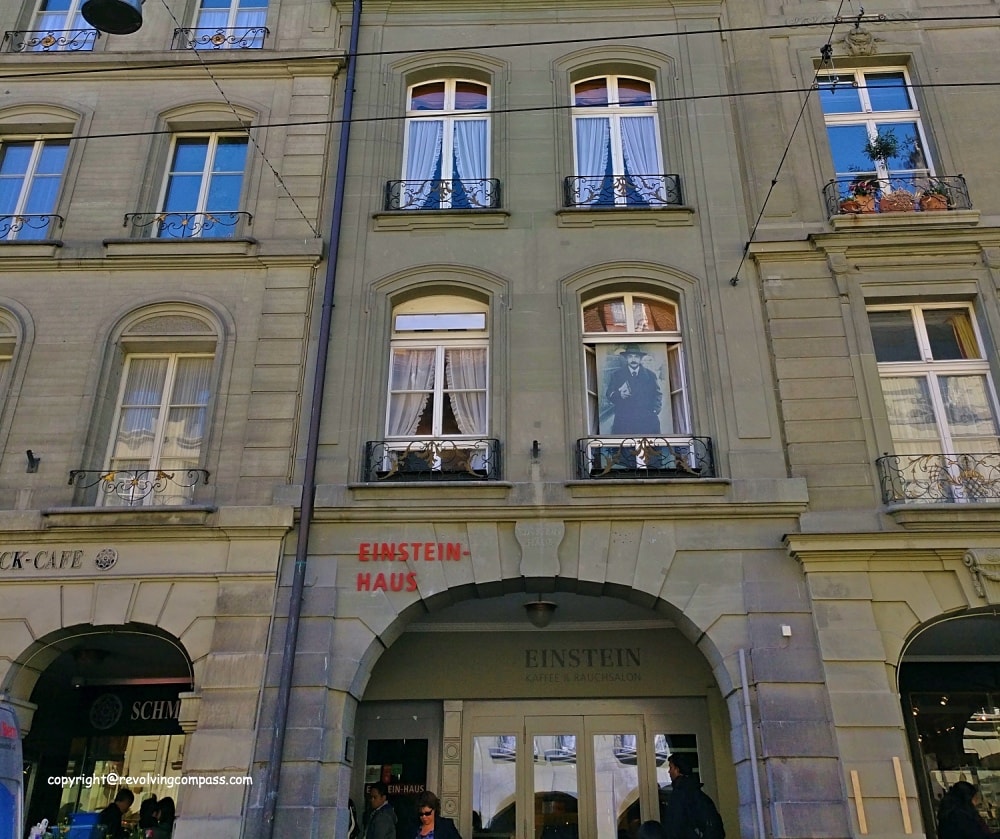 Visit Bern Minster
Bern Minster is a Swiss reformed cathedral which is built in the Gothic style. Why does it come in our list of must see places in Bern? Well, it is one of a kind. For instance, it's tower is 330feet plus high.. one of the highest in Europe. And do you know, it took more than four centuries for the Bern Minster to complete? Located on the southern side of the peninsula along the banks of river Aare, it also has a very beautiful architecture. You can read in details about the magical and massive architecture of Bern Minster here.  And I am sure, after having read about it, you will be surely including it in your own list of must see places in Bern.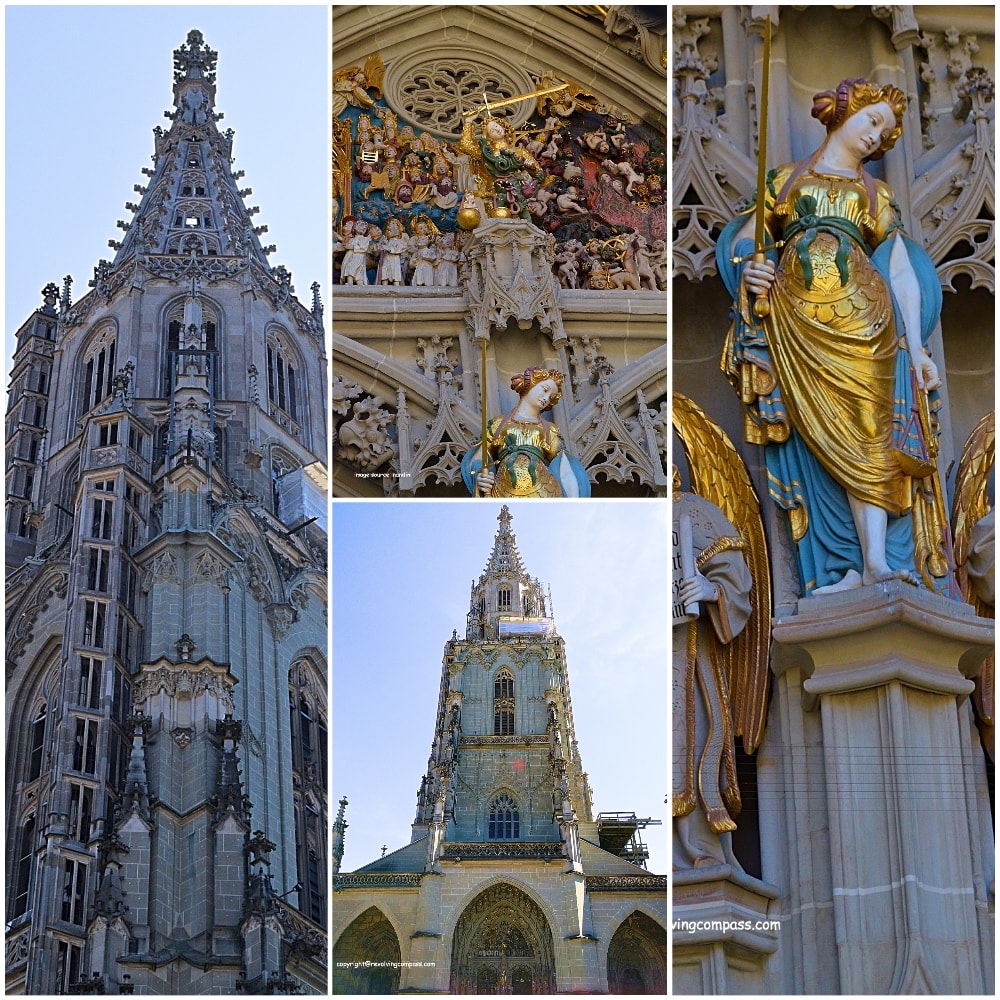 A very interesting fact to note is the three entrance doors of Bern Minster in the front. While the central door and the area above it has a very intricate and decorated artwork. The other two are totally plane. As per our guide's narration once upon a time, all the three doors were beautifully done. But then during the world war, the church was attacked. To protect it from the rage of the attackers, a false wall was put up in front of the central door. So, when they saw it, they didn't even realize there is a door behind. While they destroyed both the side ones, this central one remained intact. And I am so glad it did. It is just so beautiful!! I wish the other two could as well be restored.
Hear the Zytglogge strike
Another topper on the list of things to do in Bern, Zytglogge is a medieval tower of Bern which is a working clock tower till date. It has a 15th centuary astronomical clock. While it has undergone restorations several times over the past 800 years. However, it is still intact. In fact, it has become like the next symbol of Bern for the tourists. As you walk through the main street of Bern, you will eventually arrive at this marvellous tower. It is a UNESCO world cultural heritage site. As you stand in front of the tower, wait patiently for it to strike the hour. And then you can see the little creatures built on it's sides come out and dance.
Did you know that the Zytglogge tower was almost completely destroyed in a fire in 1405 AD? It suffered so much of damage that several rounds of restoration were required. And finally, it was up and working completely restored in 1983 AD!! I really applaud the zeal of the Swiss people and government to restore and maintain their cultural heritage.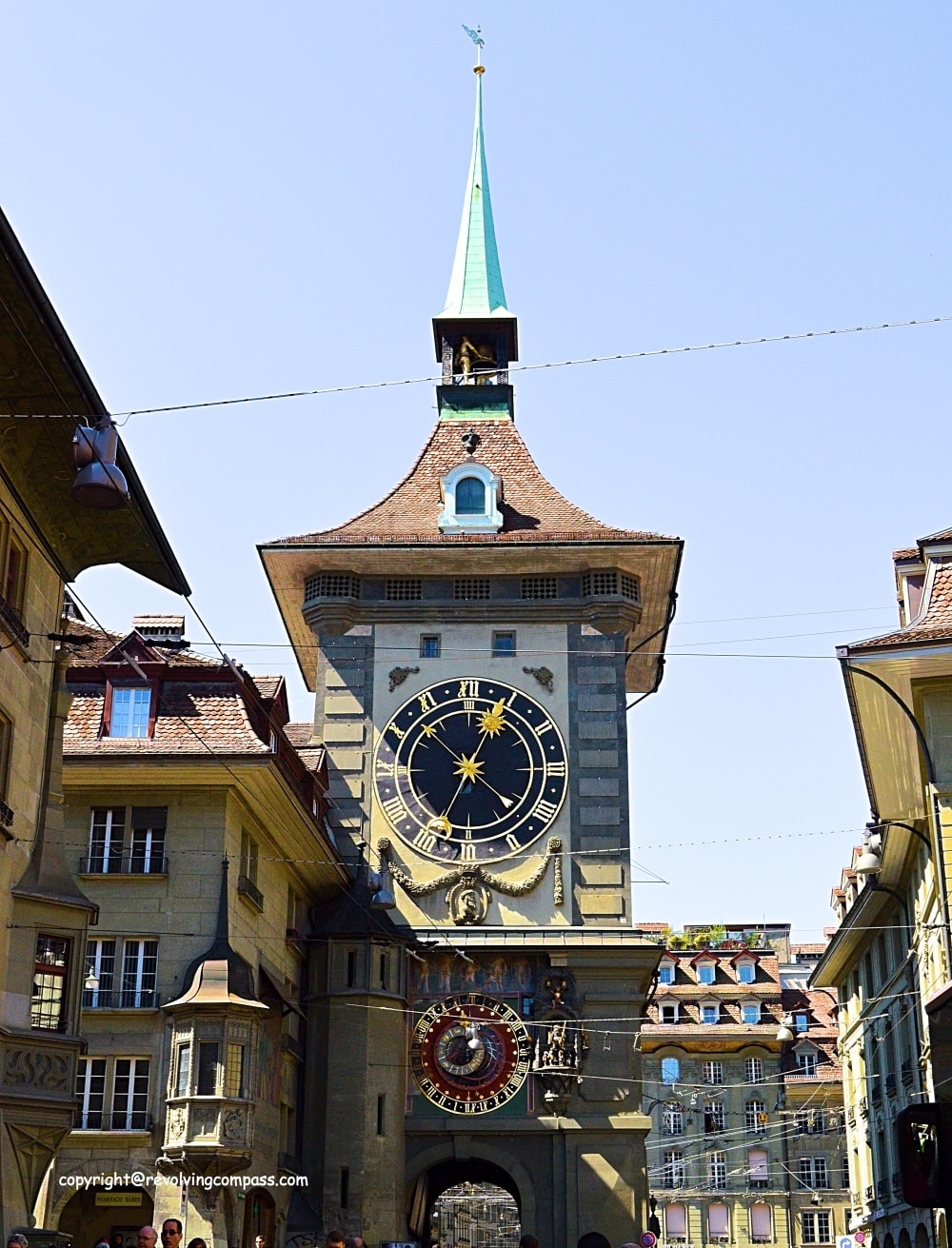 See the Federal Palace
Yet another of the things to do when in Bern will be a quick visit to the Federal Palace of Switzerland. This building houses the Swiss legislature. But what interests us tourists is yet another example of marvellous architecture that it displays. The central assembly building of the Federal Palace is used to hold the assemblies. While the eastern and western wings house a library and some government departments. The main characteristic of the building is it's massive dome which has an external height of 64 meters. It's definitely nothing sort of a palace. And the internals are marked by beautiful carvings and intricate designs.
Meet a bear at Barengraben
Barebgraben is a bear pit or enclosure situated at the eastern edge of Bern. It is located besides the bank of the river Aare. And the enclosure houses several bears. Add a visit to this place, in your list of top things to do in Bern. Particularly, if you are traveling with kids and toddlers. i am sure they will be super excited to meet the bears. In fact, there are several bear enclosures around Bern. And some natives even have bear as their pets! This is because bear is the symbol of the city of Bern. And there is an interesting story behind it.
Bear – the symbol of Bern
While the city of Bern was being built, it's founder was pondering over what name to give it. And he came up with a very strange idea. He decided to go hunting. And the idea was that the name of the city would be based on the first animal that he would be able to kill. And no prizes to guess which animal became the victim of his endeavor. Yes, a bear!! And thus, bear became a symbol of Bern. To be honest, it seemed to me like a rather gruesome way to name a city. Why hunt, why not bring that animal home and pet it?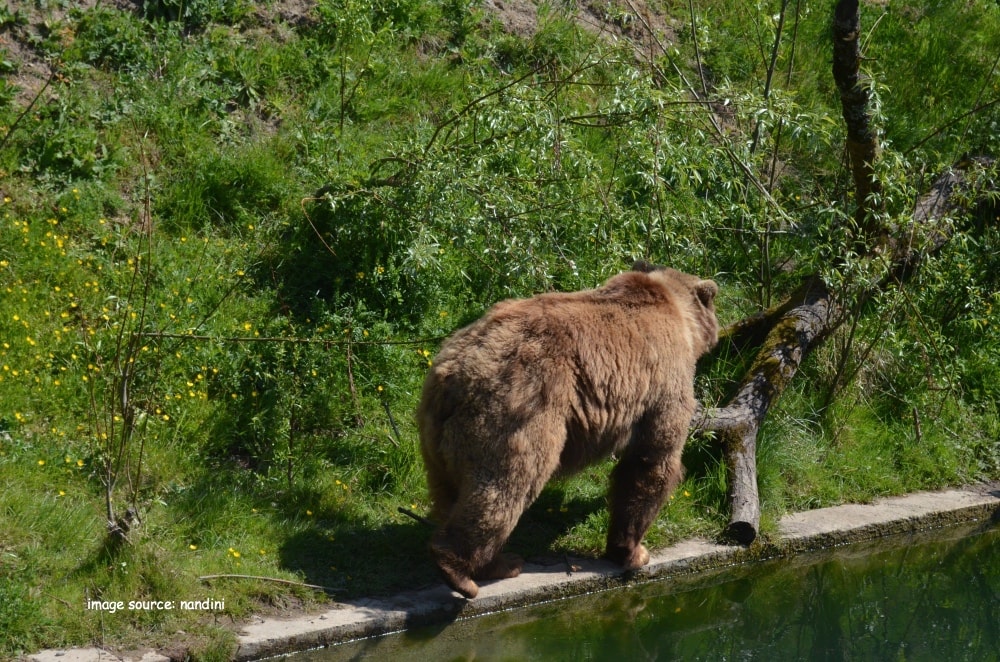 Anyways, at least the bears at Barengarben are free to roam into a habitat that looks closer to their natural home. One can go down all the way till the bank of the river Aare and then take a walk on the pathway besides the garden. There is a glass barrier that prevents the bears from coming onto the road. And the visitors can enjoy the site of the bears, without, of course, disturbing them. Not needed to mention, the little one hardly wanted to leave the spot and go anywhere else, once she saw her 'teddy bear'!
Picnic at the banks of Aare
One of my favorite things to do in Bern will definitely be a picnic at the banks of Aare river. In the spot near the Bear Garden. There are stairs that lead to the bank of the river. As well as a lift to take those who can't or won't take the stairs. Then there is a neat pathway all the way along the bear garden. There are stairs on the other side, that lead right to the river banks. The place is beautiful, romantic, scenic and a perfect spot to just relax around. Actually when we were here, we saw some families having picnic and enjoying themselves thoroughly on the banks of the river.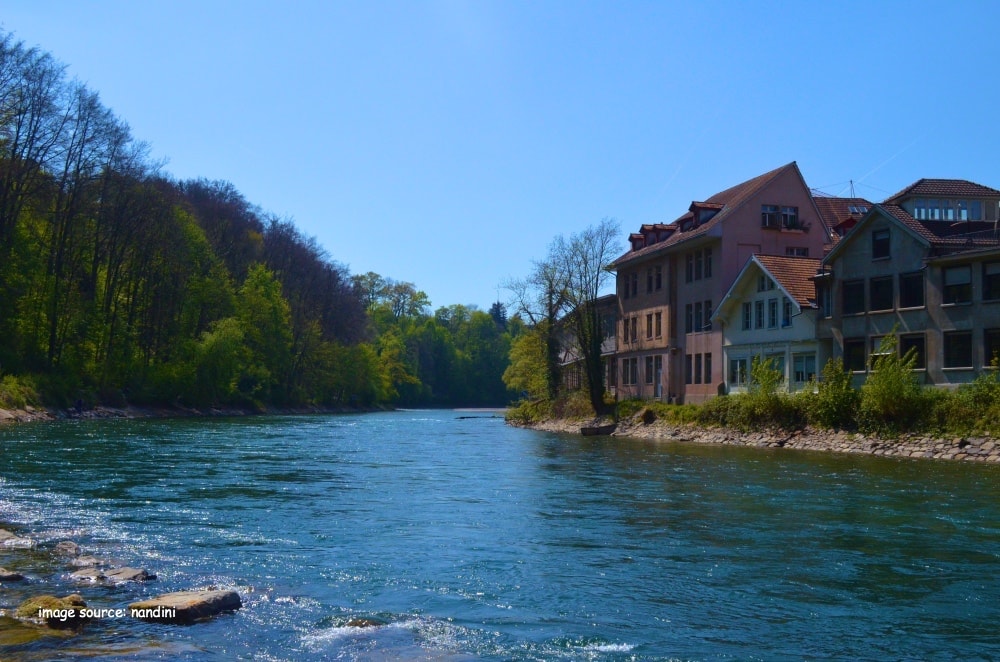 Other things to do in Bern
Some other popular things to do in Bern that we didn't get time for. But, you might enjoy:
Visit the museums of Bern
If you are a lover of history, then one of the must do amongst the things to do in Bern for you should definitely be visiting the museums. Bern is not just a natural beauty but a historical hub. It has museums of all sort, that will interest people with all kind of interest. There is a museum of natural history, an Einstein Museum that has a vast collection of archaeology and ethnography subjects, amounting to a whooping 50,000 plus pieces ranging from stone age to current era. Bern also has a museum of fine arts. In fact there is a Museum of Communication that focuses solely on communication!! And there are many more. So, when in Bern, and if you have got enough time, one of the top things to do can be the exploration of these museums.
Explore the gardens and parks of Bern
Although scenic and naturally beautiful that Bern is, still, the people and government have left no stone unturned to enhance it's beauty. And that is done through numerous beautiful landscaped gardens that you can find across Bern. Many of these are free to enter and enjoy. So, in your list of things to do in Bern, you can include some of these beautiful gardens. Particularly if you are with a kid, (s)he would definitely enjoy in these gardens. To start with , there is a Rose garden. Which, as the name suggests, houses different breeds of roses. Then there is a botanical garden that has plant species from across the world. Then there is the Bear Pit that we talked about, and several others.
Map of things to do in Bern
Last but not the least, here's a map of the things to do in Bern, that will help you go in an ordered way, starting from the Nydeggbrucke bridge.
Tips on visiting Bern
No doubt Bern is one of the most beautiful capital towns in the world!! Here's some tips to make your visit to Bern smooth and all the way more beautiful:
You can conveniently reach here from Lucerne or Interlaken or any other parts of Switzerland via a train.
You can as well take a guided tour, particularly if you are interested in understanding the history behind the beautiful architectures in Bern.
When we visited in April, Bern had moderate climate. It was cold, but not chilly. It has higher temperature than Lucerne and other nearby resort towns. So, you can dress accordingly. A light sweater did for us.
Carry a water bottle along as you walk across Bern. Just like most of the other towns of Europe, there are ample fountains to fill your bottle.
Wear comfortable walking shoes.
We visited here for a day. But as you can see from our list of things to do in Bern, there is so much to explore. And we couldn't cover some of these. So, you can as well plan a stay over for a night. And two days will be definitely enough to cover everything at your own slow pace.
The main street has several eateries. You can have your meals at one of these. Takeaways are better, as it saves both time and money.
Again, as we have said in our other articles on Europe, if you have a small kid, you can carry a stroller with you. It will be way too easy to manage.