Thinking about traveling to Europe with a baby or kid? We recently did a 20 days trip to Europe from India with our little daughter. Actually her 3rd birthday happened to be on the first day of our arrival in Rome. As a part of this trip, we covered a lot of grounds spending 6 days in Italy, covering Rome, Florence and Venice. Then 4 days in Switzerland covering Lucerne, Bern, Interlaken, Grindelwald, Mount Titlis and Engelberg. From there we went to Paris and spent couple of days there. We also went to Disneyland, and she had a blast there. Thereafter, we traveled to Amsterdam and visited the Tulip Gardens on the last stretch of our journey.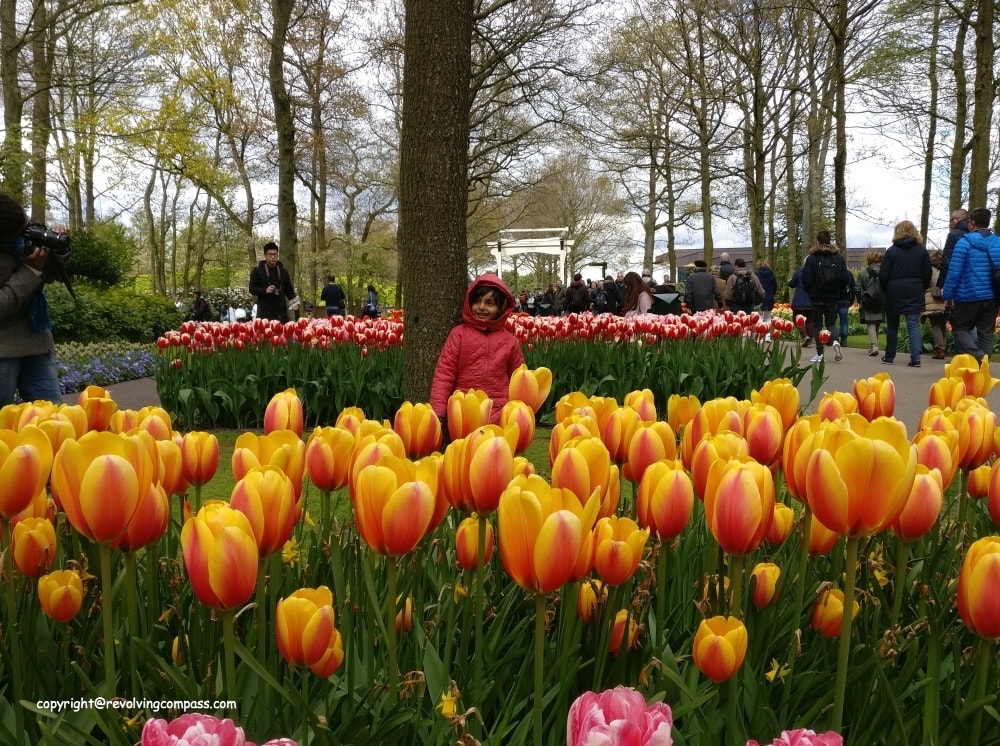 When we look back at it, feels like we covered a lot of ground in a very small span of time. And that also traveling to Europe with a kid. All the way from India. All this while, we got a lot of queries on our posts and media updates from family, friends and readers about how we managed to pull this trip with the little one. So, we decided to write about it. Although, to be honest, it was our longest trip with her so far. And also farthest from home. With totally different culture, food, environment. So, we were ourselves terrified. But we decided to take the plunge. And as the days went by, we settled more and more. At the end of the trip, it felt like the most smooth and convenient trip that we had so far with her.
So, here we retrospect what worked for us traveling to Europe with a baby or kid. With the hope that it will help fellow readers and travelers who have been putting their trip off because they are skeptical traveling to Europe with a baby or kid. But before that, remember, we have a list of travel friendly products for kids and toddlers that helps us travel smoothly with ours anywhere. And we did carry all these to the Europe trip.
Food considerations when traveling to Europe with a baby or kid
Food is a major concern when traveling to Europe with a baby or kid. More so for those who travel from a different geography so the food choices vary too much. If the baby is so small that they are still breast feeding, thats the best. At a later stage, but when they are not yet introduced to the different food options in the world, you can carry packaged food for them. And also prepare finger food. Let us list here what worked for us.
Hotel breakfast
We all relied heavily on the hotel breakfast during our trip. A major reason was being vegetarian. We got ample of options to fill ourselves up during the breakfast. So was the case with our little one. I had options like bread with butter or jam, fruits, croissants with chocolate spread, fruit juice, boiled or scrambled eggs, cheese slices, muffins, packs of curd and cakes to offer to the little one. Although she is a slow eater. And many a times, we had tight schedule to catch on a day trip or start the site seeing early on to avoid rush. So, I often made her eat some portions of breakfast at the table itself. And then requested the hotel to pack a few things for her like some whole fruits, curd packets, packed crackers and jam or chocolate spread etc.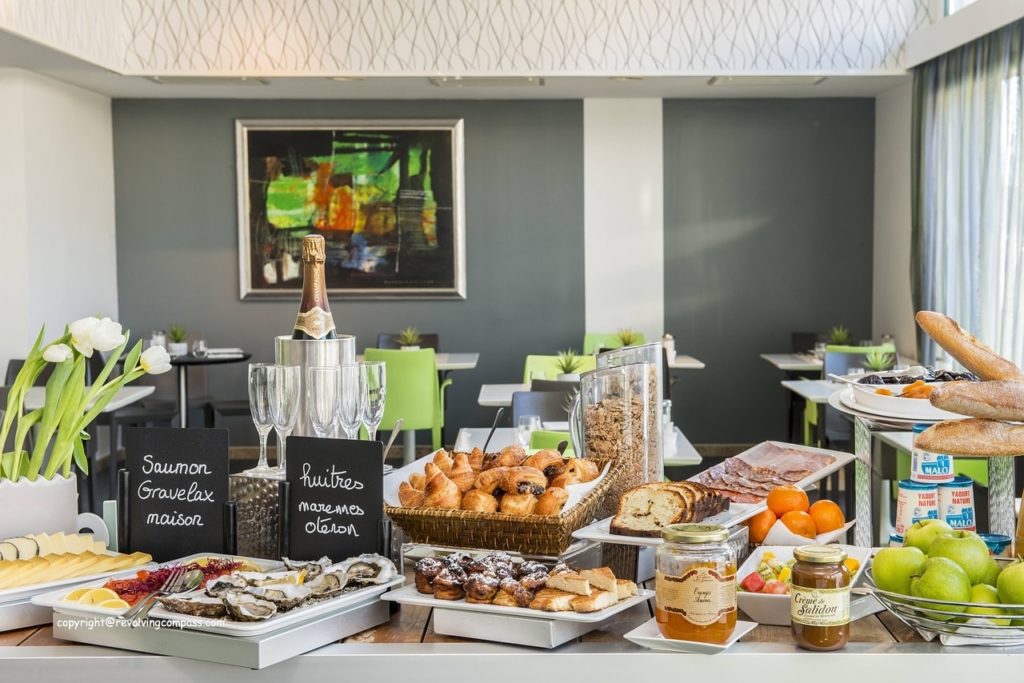 Then I tried to feed her the rest of the breakfast on the go. She also liked it that way. She could take her time and eat from the multiple options offered. This worked out beautifully all through the trip. A couple of days, I even wrapped a croissant in tissue. And then she ate it while on our way during the day trip. So, basically make the most of your breakfast when traveling to Europe with a baby or kid.
Fruits to the rescue
Being vegetarians, we also relied on fruits heavily during all our meals. And so did the little one. She is used to eating one to two fruits a day at home as well. And that includes a banana. Luckily, I could get bananas everywhere we went. And they were of really good size. Half a banana was sufficient to fill her in between the meals. I fed her bananas while we were roaming in gardens, along the river bank in Florence, waiting at the bus stop or train station, in the garden of the leaning tower of Pisa, sitting along the stairs in Lucerne and Bern and where not!! We have a lot of snaps as the testimony wherein I have a banana in my hand 😀 . Sometimes, if she didn't have the breakfast, I tried feeding her more fruits. Apart from banana, she ate apple and pears frequently.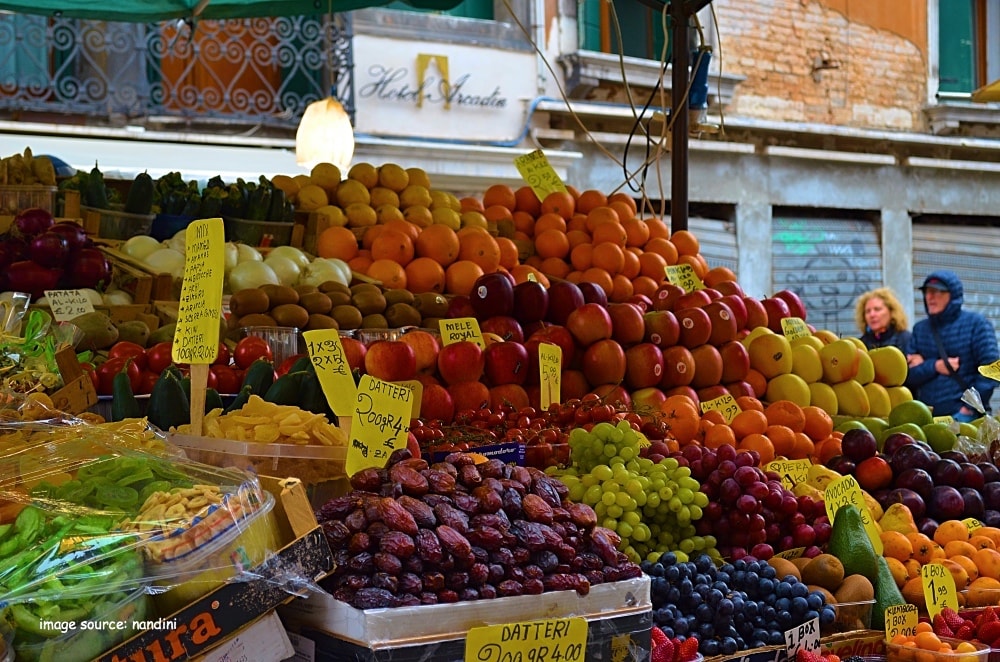 Ready to eat items
I always had some chocolates, energy bars, protein and nutrition bars and some of her favorite biscuits in my day pack. Because we did a lot of walking, and she did a lot of running around as well, I gave her something or the other to munch on now and then. Again, on the way. Sometimes, these also acted as fillers when we were transitioning between places, late on schedule or she was just not in mood for the regular meal. We also carried a few packs of khakhra, an organic cheese based dip and some multigrain crackers with us. She liked eating the khakhras or crackers with the dip.
Food on the way – Lunch and dinner options
Luckily, our little one loves to try different kind of food. And pasta is one of her favorites. Something that we got so easily everywhere in Italy, France, Netherlands as well as Switzerland. Although the cost varied at these places. We often took a take away pack of pasta. And I made her eat it while we were on our feet, or maybe resting for a while. I remember our pasta lunches in the Luxembourg garden in Paris, Abu Dhabi airport during layover, in Amsterdam by the road side, and in Florence while walking around.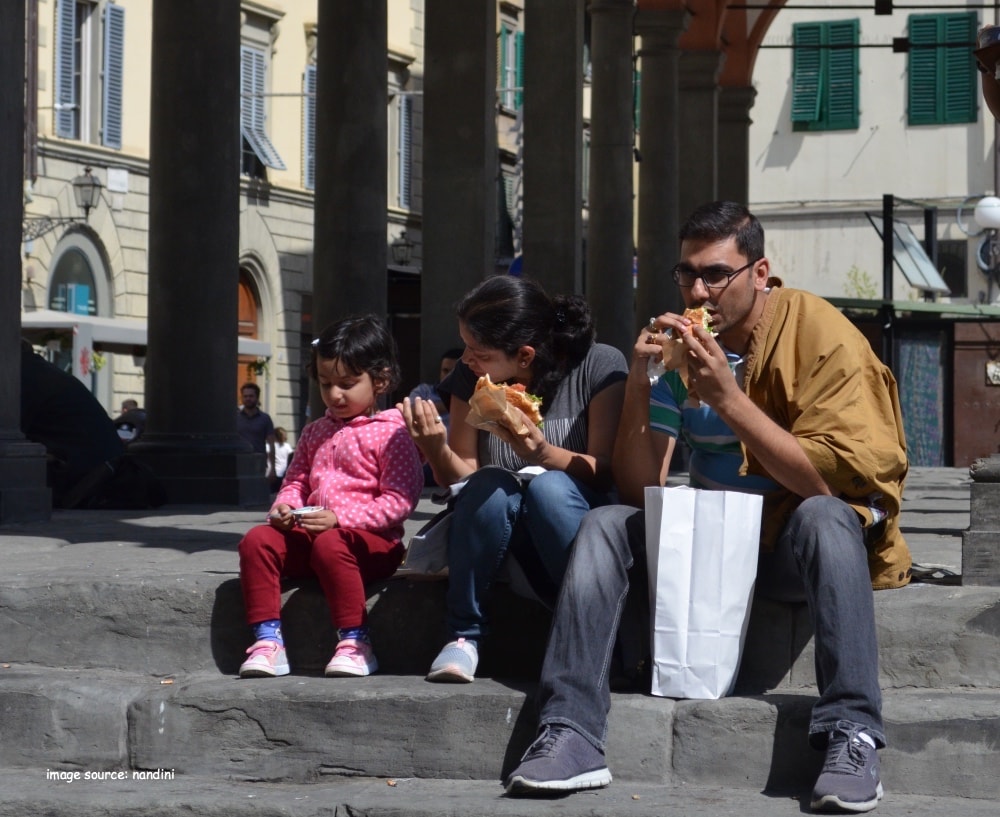 Next, we had a lot of pizzas, particularly when in Italy. She doesn't love pizza that much back home. But she liked the bland tomato and cheese version in Italy. It was also a very economical option as well. Mostly we had pizza slices from the road side in Rome, Florence, and Venice. The day we arrived in Venice, she had a lovely time sharing her lunch pizza slices with the pigeons. Basically, it was most convenient to engage her in some activity or let her free to explore and then feed her slowly in the meanwhile.
The other option that we heavily relied on was fries. We often had fries in Switzerland, Paris and Amsterdam. She liked the fries with tomato sauce. And the portions were enough to fill her completely. Next came ice creams. She indeed had plenty of ice cream all through the trip. Although it was still winter there, she never had any cold or cough issue all through. She enjoyed her ice creams almost everywhere. Starting from outside the Vatican, then in Florence, and Venice, sitting on the train station in Grindelwald and on her way roaming around in Amsterdam.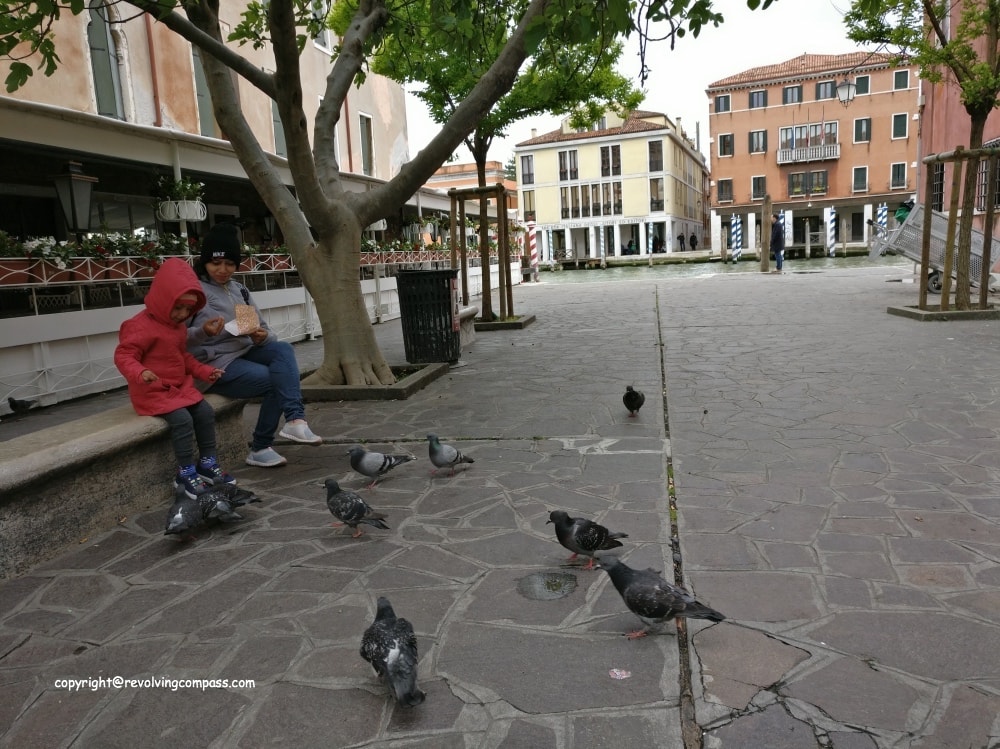 Dry fruits
Just like the nutrition bars, I carried a pack of dry fruits in my day bag always handy for her to munch on. I made sure to offer her some everyday in between meals. Since I felt they would be a good way to makeup on all the nutrition that she was missing having fries or pizzas for her lunch. I used a mix pack of dry fruits including cashews, almonds, pistachios, and raisins. I carried these from back home. And everyday morning, before starting on the trip, I would refill a small box with enough supply for the day.
A little cooking now and then
Although I didn't do much cooking on this trip, this is something I will advice fellow travelers. And I myself want to give it a try the next time. I carried some packs of masala oat and one pack of bland oats with me. We did prepare some with hot water for dinner now and then. And sometimes, even prepared oatmeals for her with milk. But there can be more cooking that can be conveniently done. Like, if you carry a small rice cooker with you, you can make many other meals like poha, rice, idlis, daal or even finger food.
A rice cooker that we could give a  try:
You can carry small portions of some raw material with you and buy others in the grocery store there. And you will have much more freedom preparing the meals. I want to experiment with this next time. And you should definitely give it a try when traveling to Europe with a baby or kid.
Milk
My ultimate filler was milk. Between meals, in evening and in midnight also I gave her milk. We got packets of pasturized milk which didn't need any boiling and kept it in the hotel freeze. And before giving her, I used to heat the milk by putting the milk cup in a bowl of hot water. And it was like my lifeline on the days when she didn't have her meals that properly.
Commute considerations when traveling to Europe with a baby or kid
Carry a stroller or not?
Europe is all about walking. We did tremendous amount of walking all across Europe all through the days we were there. And that can easily become a challenge when traveling to Europe with a baby or kid. So, the one question that pops is whether we should carry a stroller with us when traveling to Europe with a baby or kid. And that also, all the way from home. I would say a strong YES to that.
We didn't carry a stroller with us, although we planned to. But then we had to drop it at the end moment because we had enough of luggage to manage. So, we ended up renting stroller where we needed. Renting is easy all across the major cities. But if you are going to rent one almost every day, the cost is going to add up soon. So, it's better to carry one.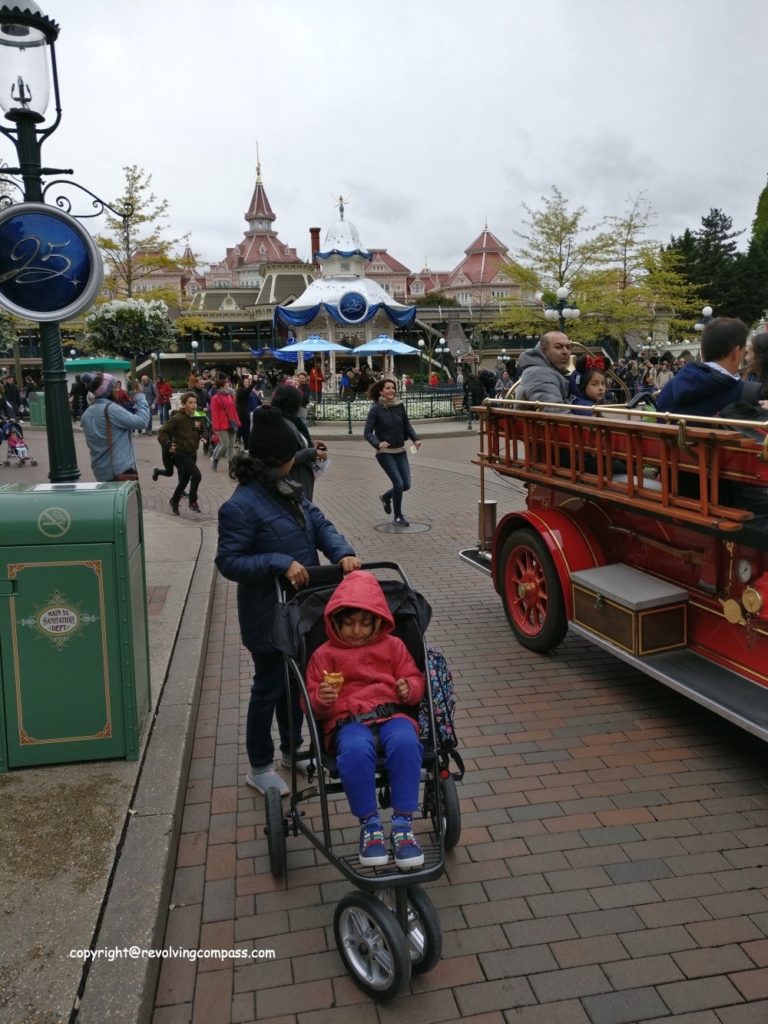 Are the places stroller friendly? Well, some are. Some are not. So, you have to take a call to take your stroller along when planning your day. Citing some examples from our own experience. On our day one in Rome when we visited Vatican and Colosseum, it won't have been convenient to carry a stroller. Since you have to take stairs many a times. And waiting for lifts kills too much time. So basically if visiting museums, Vatican, and other such places where you are likely to take stairs, I would say no to strollers. Also, on the day of our trip to Engelberg and mount titlis, we didn't need a stroller.
But then, when we planned a walking tour around florence, and another one the next day, a walking tour in Venice, or one in Lucerne. Or, when we went to Bern or Interlaken, those were the trips to take a stroller along. Also, can't imagine the full day in Disneyland without one. When it comes to some of the tours like our Venice hop on hop off tour, you have to make a call again. It might be little inconvenient to carry the stroller up and down the boat or bus multiple times. But then it will be super convenient to carry the kid in it when you hit the land and start exploring the site.
Bottomline : do carry a stroller when traveling to Europe with a baby or kid. Take a call on whether to take it along based on your plan for the day. Having said that, I will like to add, people here are super friendly and helping. As you try to push the stroller along rough terrains, or board it onto a train or a bus, almost always you will get a helping hand.
Train or bus or taxi to commute between places
Taxi will be super convenient but ridiculously pricy. We found train to be most comfortable way of commuting between cities. Our little one could even sleep comfortably during the train journeys. Then came metros and finally buses. We started traveling with her since she was almost 8 months old (check: our first trip with our toddler). So, she is used to taking her day naps comfortably in our laps. These naps reenergize her for the day. And she doesn't get cranky. So, I will suggest, use a way of commute wherein your little one can take a nap conveniently when required.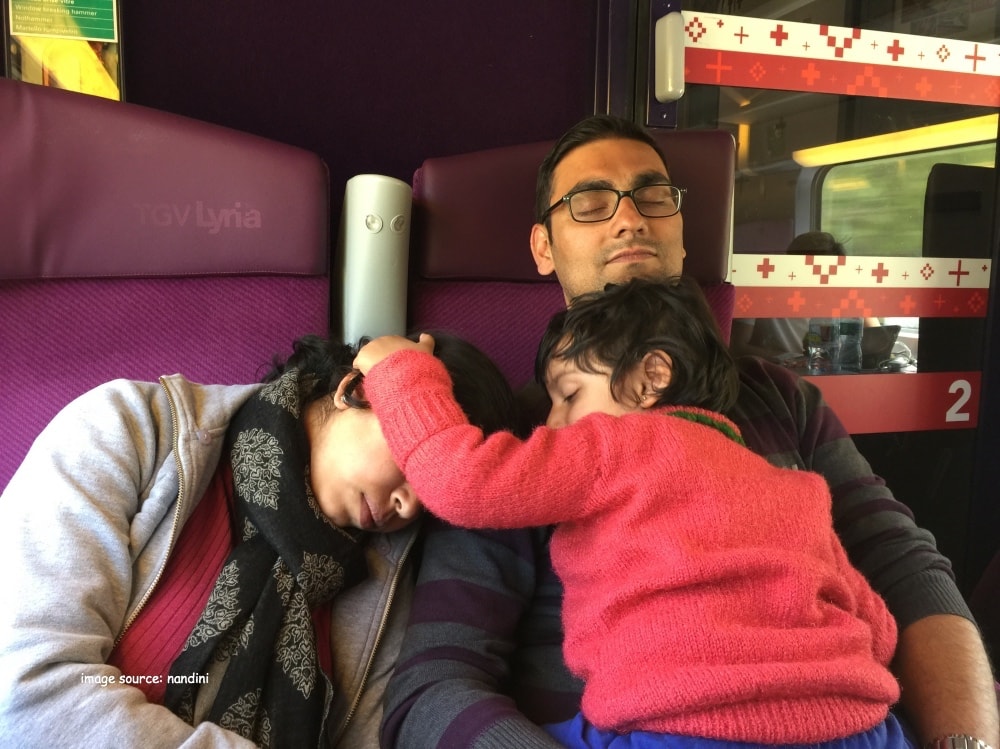 Weather considerations when traveling to Europe with a baby or kid
We traveled to Europe in April end. And it was still very chilly and cold in most of the places that we visited. The smaller the kid, the more you have got to prepare for the kind of weather that they are going to face. Because, we are going to travel all through the day and we are mostly outside during the day. Exposed to the cold waves and sudden change of weather. So, how did we prepare for it? Well, to start with we carried all kind of woolen dresses for our daughter. That included a water proof winter jacket, woolen sweaters, sweatshirts, socks, woolen socks, cap, scarf, full t-shirts, thermal inners and gloves.
Next, I had to dress her in layers as per the weather. And keep some extras in my day pack to combat sudden weather changes, or her spoiling the dress with food etc. In Rome and Florence, it was not that cold. So, a sweater and a full sleeve t-shirt under it did. But as we reached Venice, it was raining and there was a drop in temperature. That afternoon she needed her gloves, double caps and heavy winter jacket. At the highest degree of cold, like when we visited Mount Titlis, I had her covered in multi layers of clothing. It included thermal inners, one t-shirt over it, one sweater over that and finally the winter jacket. She had her gloves on. And she had a woolen cap to protect her ears then the jacket cap on top of it. She also had double layer of socks that day.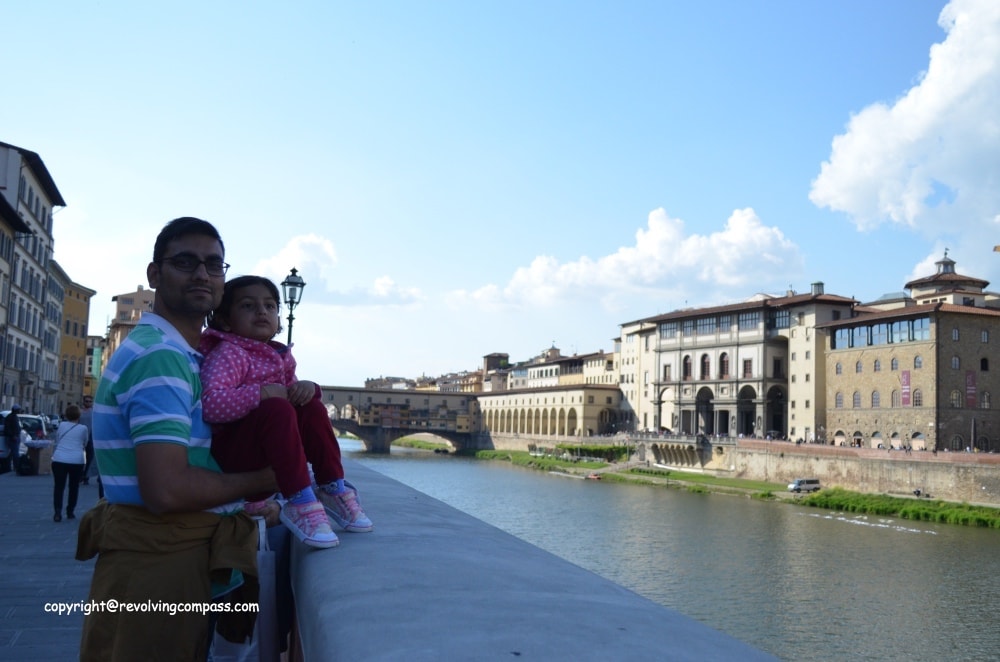 Later, when we came back to the town, I had one extra sock, and the winter jacket removed. So, basically, you have to be watchful and prepared and adjust their layers of clothing accordingly. Also, my mom had given a tip of making her drink a lot of warm fluid all the time so that would keep her warm from inside. So, I offered her warm milk, hot chocolate and warm water now and then. Never cold water.
What to pack when traveling to Europe with a baby or kid
You can't compromise on the packing list when it comes to kids and babies. Particularly if you are traveling to Europe from a far off region, better to think twice and then pack wisely. Apart from the basics and the winter cloths, I made sure I carried my kid's latest prescription from her doctor and her doctor's mobile number as well. I had informed her doctor beforehand of the trip and also got a prescription of general medicines from her for stomach issues, cough and cold, fever etc. Then, I carried all her medicines along just in case if I won't get the same brand there. And I never forget to pack a thermometer with me. Next I had her packaged foods, dry fruits, extra pair of shoes, hot water thermos and other basic necessities.
Long distance flight consideration
This was also the first long distance flight that we took with our little one. When traveling to Europe with a kid or baby, from a different part of the world, you have to consider how to engage the kid on the long flight. Luckily for us, the onwards journey was through the night. And she mostly slept through. While on the return trip, the airlines gifted her a crayons and book set . She was mostly busy with it and with the videos in the flight. But one lesson that we learnt was to keep the kid light on stomach while on the flight. Because otherwise, she might end up with motion sickness and throwing up. Which will then be inconvenient.
Also, keep the first day light enough for them to recover from the jet lag when traveling to Europe with a baby or kid from across the globe. It's ok if all they want to do is just sleep because of the jet lag. What I ended up doing on the first day of our trip in Rome was feeding her milk while she was in deep sleep, through a bottle. I kept giving her small amount at regular interval all through the night. And she was all good to start the trip the next day and there on it all went totally fine.
In Conclusion
You have to think through, you have to be decisive. Intelligently decide on food, packing, commute and take your call. Balance your itinerary with days that involve lots of travel alternating with days that are light and the kid can catch up with some rest. And you will have a super easy and beautiful time traveling to Europe with a baby or kid. Your kid is going to be just fine making memories with you.