The novel concept of utmost harmony at Auroville
Literally, Auroville means a "city of dawn". Auroville is an experimental township near Pondicherry in Tamil Nadu, India. It's motto is to be a universal, self sustaining township. Hence, men and women live in utmost peace with each other inside this township. However it doesn't matter from which part of the world they come from. Or, which religion they follow or what are their traditions. Ultimately, the purpose of this township is to realize human unity. Actually there is no concept of "belonging" in this township. Therefore, it belongs to it's community and humanity as a whole. And, this is what the experimentation is about. In conclusion, people of various nationality live here in harmony. As of now, there are Indian, French, Germans, Italians, Dutch, Americans, Russians and almost 40 other nationalities. And, all  are living together in this township in harmony.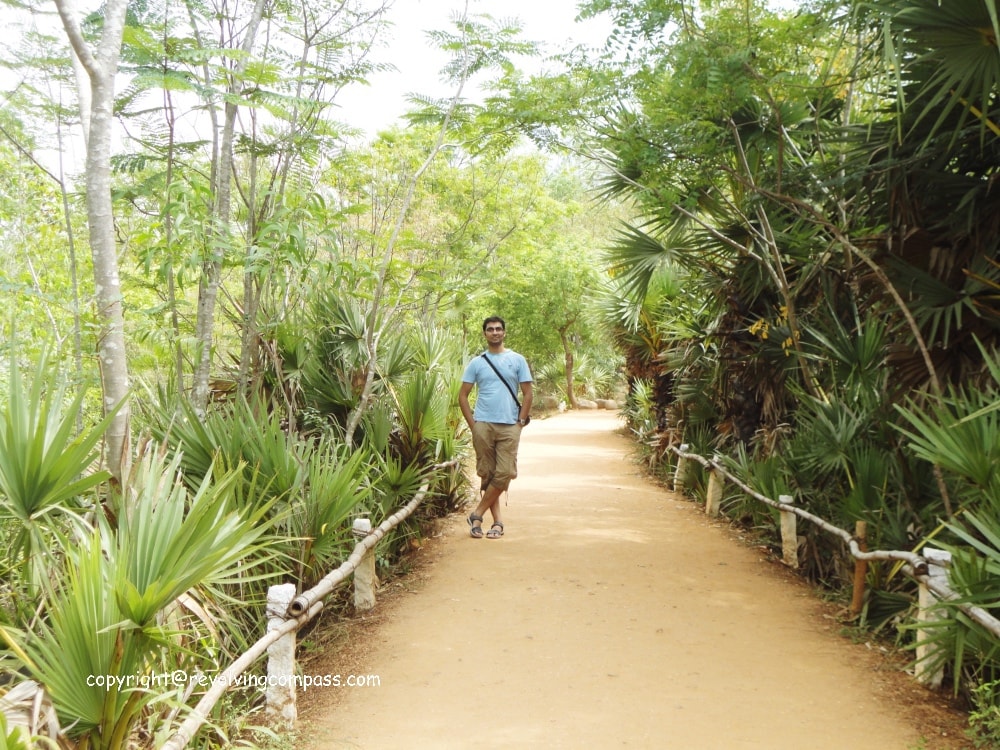 History of Auroville
In 1964, Sri Aurobindo Society in Pondicherry passed a resolution in it's annual conference for the construction of a society called Auroville.  It was conceived as a city as per the vision of Sri Aurobindo who was a preacher of world peace and harmony. Auroville was founded in 1968 by
Mirra Alfassa
. She was fondly called "The Mother". The society was designed by architect Roger Anger. It was thus setup with the belief that this experimental township would contribute significantly towards the growth of humanity , owing to it's universal nature. Till 1980, the whole township , the area of the city and all the assets were solely owned by Sri Aurobindo society.
Actually Mirra passed away in 1973. And post her death, some discrepancies crept in between the residents of Auroville and the management committee of the society. The residents then appealed to the government for intervention. As a result in 1988 the government of India took over the management of the society. Since then, auroville has been managed by the government of India.
Our visit to Auroville
We visited this township of Auroville in April, 2012. Although, it is quiet hot in the month of April in Pondicherry. Nevertheless, our spirits were on a high once we learnt the concept of this township.As, we were more than eager to experience it. So, we took an autorickshaw from near our hotel and arrived at Auroville entrance by 10 in the morning. As you can see in the picture below, the entrance way is flocked by greenery all over.
Model of the township of Auroville
Crossing the entrance, one reaches the hall that describes the whole concept of Auroville. In our opinion, it's a great idea to introduce the tourists to the whole concept before they start their exploration of the township. This hall features a "model" of the whole township. Below is a picture of the 3D model of township that is on display in the hall. Also, the hall contains information on history of Auroville. In additiona, statistics related to the demography of the township are also displayed here.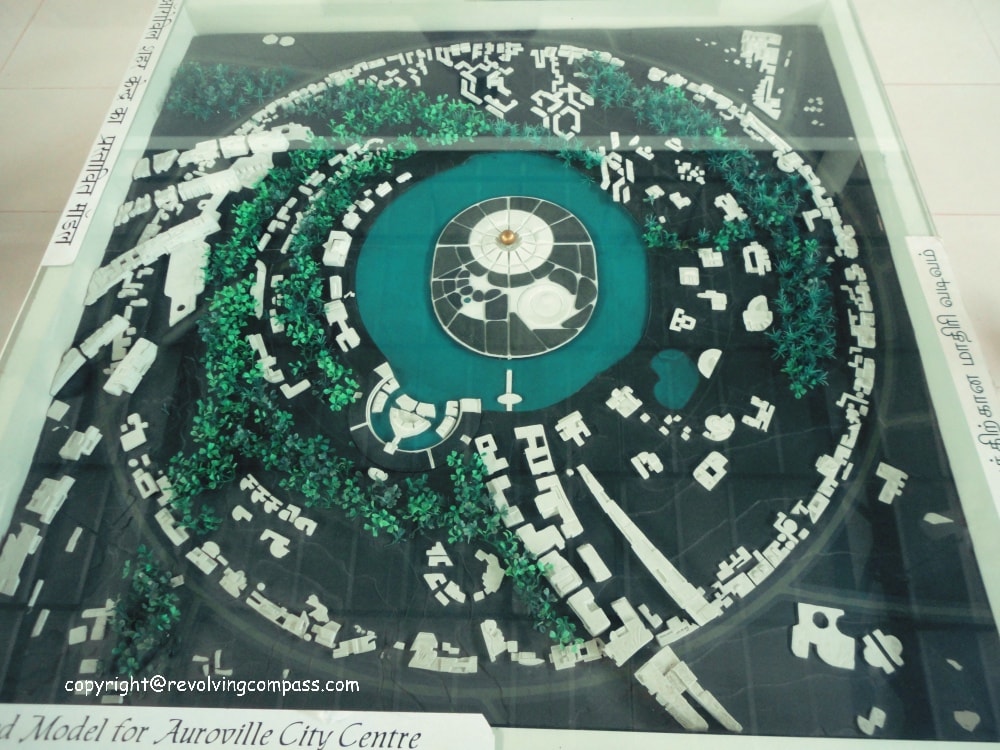 The meditation center of Matrimandir
Henceforth, we started our journey across the massive green fields of the township. However, due to the hot weather, we kept stopping in between in the artistically designed shades to rest for a while. (Pondicherry is a coastal town. Hence, it boasts of hot and humid temperature almost all through the year)
There's a bus service running inside the township. It takes the visitors to the Matrimandir. Matrimandir is a meditation center in the middle of the township. The area inside Matrimandir is called "peace area". And, true to the name, utmost silence is maintained inside this center for realization of peace and tranquility. Also, Matrimandir has a solar power plant equipped with it. And It is surrounded by manicured gardens. However, to get an entry to Matrimandir for practicing meditation, you need to take an appointment well in advance, else , the seats get filled. Not to forget, there is often a waiting queue for a week for admission to the interiors of Matrimandir!! Although, that is only a little sum to achieve peace, isn't it?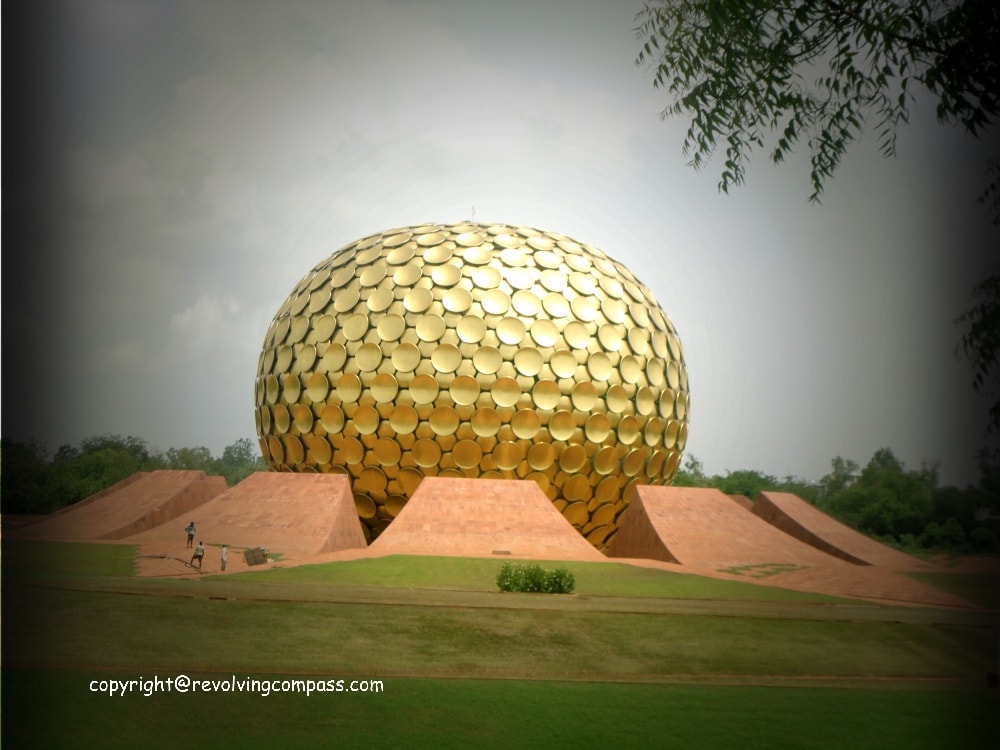 Zones of Auroville
On the four sides of Matrimandir are four zones into which Auroville is broadly divided. These are:
"Residential zone" where the residents of the aashram live.
"Industrial Zone" where the self-sustaining industrial business of Auroville thrive.
"Cultural and Educational Zone" with recreational units, schools etc.
"International Zone".
The self sustaining model of Auroville
The residents of Auroville and staff from nearby villages conduct farming and botanical gardening on the stretch of green belt that surrounds the region. And, this farming makes Auroville self-sustaining for it's agricultural needs. Also, it generates employment for nearby villagers. Auroville community also runs schools where the children of employees get education.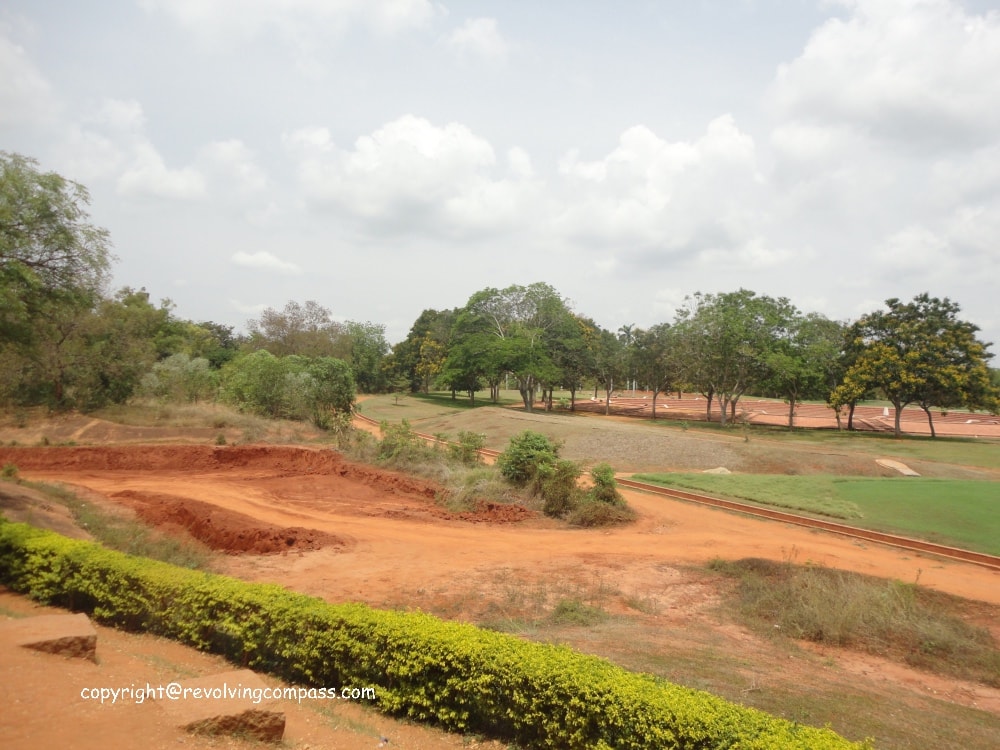 After paying a visit to Matrimandir, we went to the center of tourist spot. Here, there were refreshment shops for tea, coffee and snacks. And, each shop is run by people of different nationality. Actually, in some shops, we could even see people of different nationality and race working together!! We had not witnessed this kind of an example of harmony anywhere else. It is heartwarming to see people from different cultures and societies not just settled here but working hand-in-hand. We had coffee at a refreshment center run by a french couple who reside here.
This is where we understood the concept of self sustained model of Auroville. From farms to schools, shops, refreshment centers, hospital every possible establishment that one needs to interact with is present within the premises of the township itself. Also, all of these are run by the people residing here. Isn't it awesome!!
The shopping center
Also, there is a huge shopping center at the commercial hub nearby the refreshment centers. And, it is ladened with locally made handicrafts made with bio-friendly raw materials like recyclable paper, cloth etc. The shop have hanging paper lanterns, night lamps, cloths for men,women, children, handmade soaps, perfume, jewelry, art and various other products. Basically, everyone can find a perfect souvenir for himself/herself or family to take back home.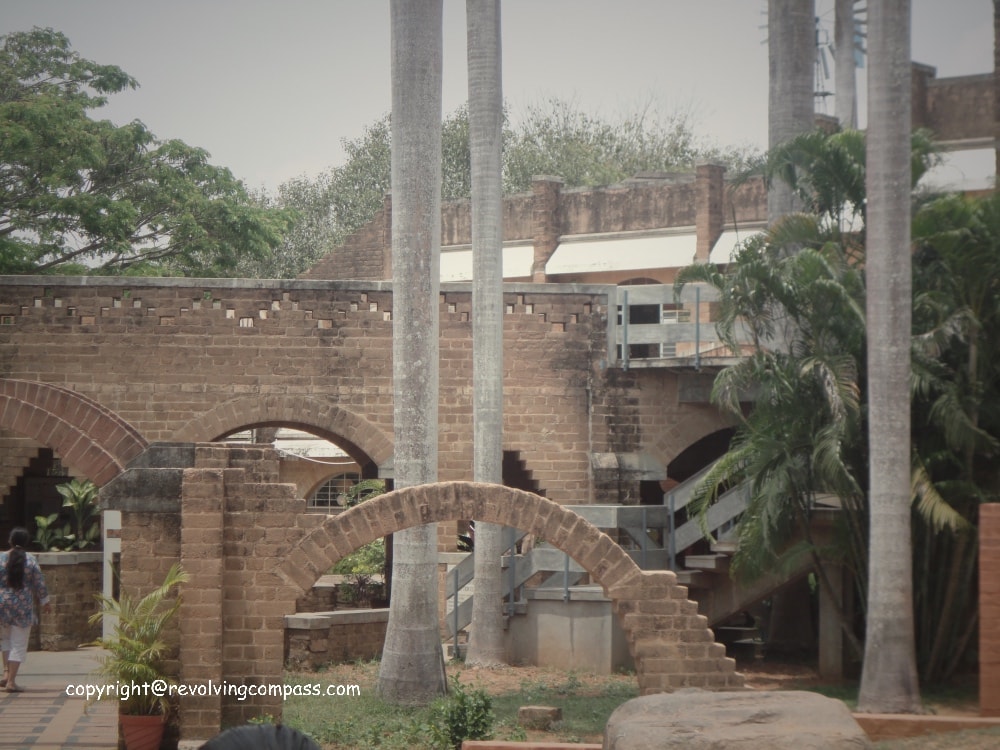 Although, when we visited here first, we were unaware of the concept. Nevertheless,  we came back and read about it . And, the more we read, the more impressed we felt. In conclusion, we would love to visit there again and to contribute in some way possible . This township is open to people volunteering in different ways. For more information, you can visit the
official website
. Below I am providing a brief summary of the available options at Auroville
Accommodation at Auroville
Auroville has several guest houses available for accommodation in case you want to stay at the premises itself. These vary from economical to luxury. The details of the guest houses, how to book and all other information can be found on their official website for guest houses
here
. Non Indians will require tourist visa which is issued for 6 months stay. Entry visa is required in case you need to stay for longer period. Again, the details can be checked from their website. Although, being a very popular place, you must ensure to book your stay in advance, particularly in the peak season period of November – February . And, also otherwise, in other seasons. The rush at Auroville never stops.
Note: There is a special caution message at Auroville that conveys this – "Along the way to Auroville you will see several guest houses and hotels that bear the name "Auro" or similar names. They are not a part of Auroville. So, you should understand this in case you are intending to stay at Auroville"
Auroville for visitors & contributors
Although Auroville is open to public all through the year. And thus you can visit here any day. Still, there are many of us who would like to take a step further and contribute to this society in different forms. Here's a crips summary of what all you can do for the same:
You can stay at the Auroville premises. The contribution from your stay will be going in for self sustaining the township.
There are 22 different eateries at Auroville at the time of this writing. Some are open to general public while others are in the township where you can go in case you are staying on the premises and contributing in some form. They are all run by people from diverse culture and different parts of the world, so, definitely, this makes the township a true multi cuisine.
If you intend to join the community, you will be required to go through some formalities and then follow some rules and regulations. You can see the details for the same here. Also, every resident is supposed to make a monthly contribution for the period of their stay in Auroville.
Volunteering : There are multiple volunteering options in Auroville. Actually, every single person living in the township is a volunteer in some way. As, people step forward to help each other all the time with different things. However, there are also dedicated volunteer opportunities for those seeking it from outside. These include:

Lending a helping hand in alternative medicine practice done in Auroville
Working at the Auroville farms
Building maintenance
Teaching, assisting with the primary and secondary education in the township
Organic farming
Experimenting with (and contributing towards) renewable sources of energy
Village outreach , providing education and heath care and other basic requirements to nearby villages