Kerala is one of the southeast state of India. For nature enthusiast it's a paradise. It can be perceived as a pleasant landscape full of greenery and forests, adorned by sea shores and backwater and covered with widely spread green hills. In short, it is one single state in India that is crafted by God with all the natural beauty. No wonder, it is called God's own country.
Although Kerala has many places of interest, on this trip of ours, we settled for three must visits :
Munnar
, Thekkady and Alleppey. We took this trip in November 2010. Munnar is a hill station, a very very beautiful one. Thekkady boasts of the famous wildlife sanctuary over the banks of river Periyar. While, Alleppey is fondly called the venice of the east. Since, it has the unique backwater canals and houseboats providing a unique experience. (These backwater canals are formed by water trapped just before the sea). Kerala also has a nice coastline along the sea. And, Alleppey, being just on the coast, has one of the most beautiful beaches of Kerala as well. So, overall we planned for a trip that ranged from the lush green mountains all the way to the tropical beach and backwater.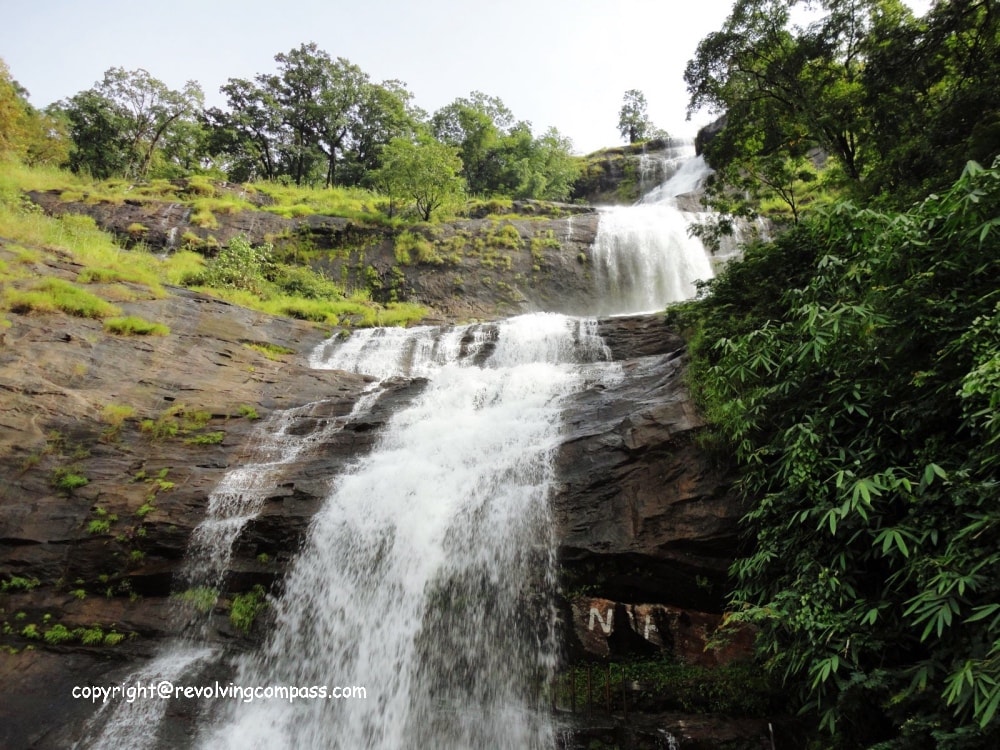 In short,this was a 5 day trip that gave us everything from the picturesque hill station to the river cruise and wildlife sanctuary to the sea beach and backwaters plus houseboat experience. Everything packed into one trip. This is what the magical state of Kerala has to offer !!
Day 1 : Bangalore -> Cochin -> Munnar
On the day 1 of our journey, we took a flight from Bangalore, Karnataka to Cochin, Kerala. It was an early morning flight. We arrived at Cochin by 10am. We had booked a cab for the whole trip duration in Kerala. The cab driver was awaiting our arrival. After the initial meeting and greeting with him, we started straight to Munnar.
Cochin to Munnar
is a stunningly scenic drive of 3 hrs. I would say, it is a must take road trip, one of the best in India that we have taken so far. En route, we stopped at a waterfall and then at a spice garden. Finally, after passing through lush green coffee plantations, we arrived in Munnar by afternoon. After checking into our hotel, we had lunch. And then we decided to rest for the day. In the evening, we stepped out in the hotel premises to sync in the beautiful view outside.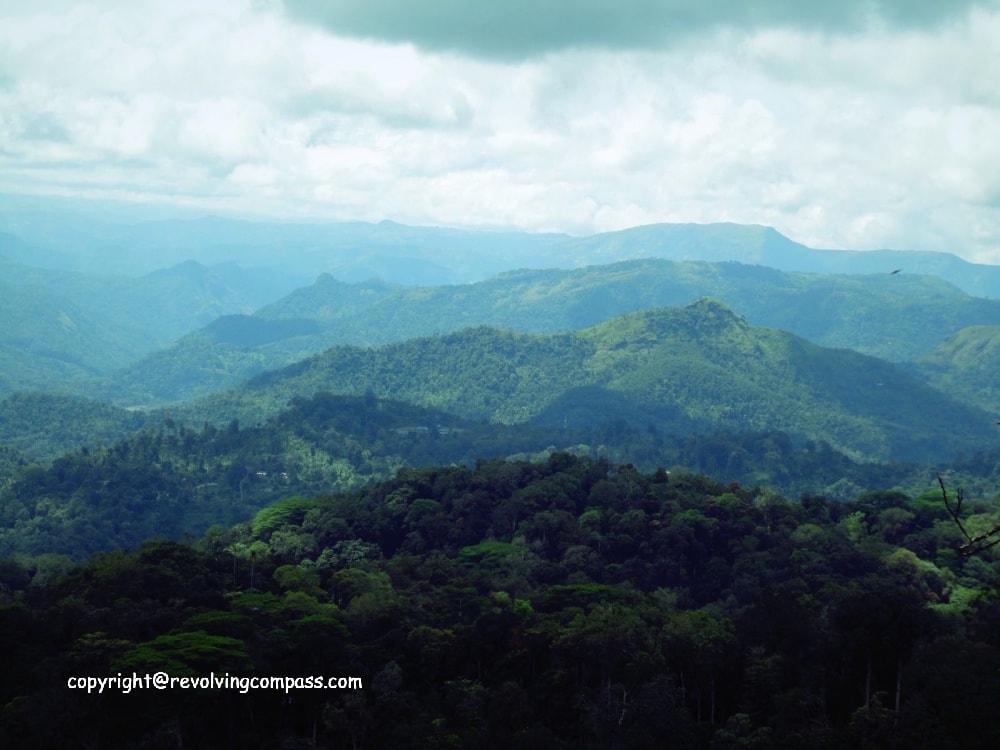 Day2 : Munnar
We had stayed in Munnar for 2 nights. On the second day of our journey, after a nice breakfast in the hotel, we started off for a day trip to Munnar. First thing, we stopped in a coffee garden to take a few snaps. Thereafter , we reached the Metupatty dam. The scenarie that greeted us across the dam was picture perfect. (Look at the below snap). As if God himself had painted these mountains and the river on a canvas with different shades of green and blue. We spent quiet some time on the bridge across the dam, taking snaps. Actually, if I remember correctly, I simply watched the scene that stretched in front of me, without blinking my eyes for minutes at a stretch.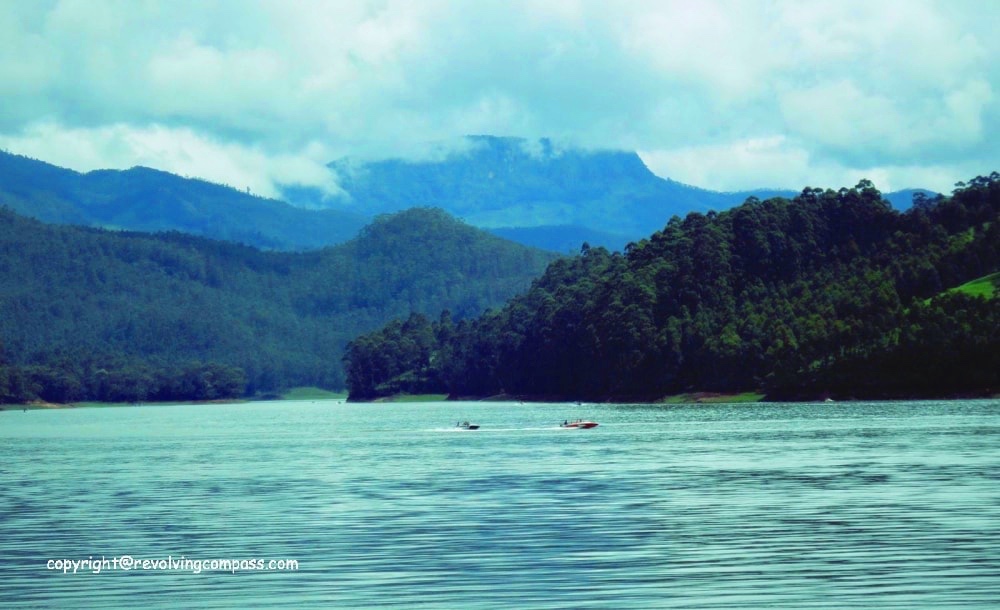 We then visited a beautiful nursery that was blooming with flowers of different colors and varieties. It was then followed by an elephant trail, and a coffee plantation and several other beautiful spots. We also visited a meadow and a picnic spot near the river bank. There were several small stalls just near the bank of the river selling wooden artifacts and other small homemade soveniers. There were some horses also available for a ride at this spot. Boating on the river was available as well at this spot. However, we opted to walk around leisurely and explore the area.
Soon, it started drizzling. We then took center in the shades of the stalls. We bought a pair of beautiful wooden candle stands from here as a gift for family. Once the rain stopped, we started from here on a backward journey to our resort. However, there was more and more of nature to take in before we could complete the backward journey.
One of the memories that got implanted in my mind forever is that of a meadow. I named it the dream meadow. I spotted it when we were returning from our day trip. There was a beautiful mountain backdrop with mist hanging atop it. In the foothill were a few small cottages. A vast meadow stretched in the front. And then a stream of water flowed at it's end, separating it from the road. A herd of cattle was grazing in the meadow. Picture perfect, isn't it?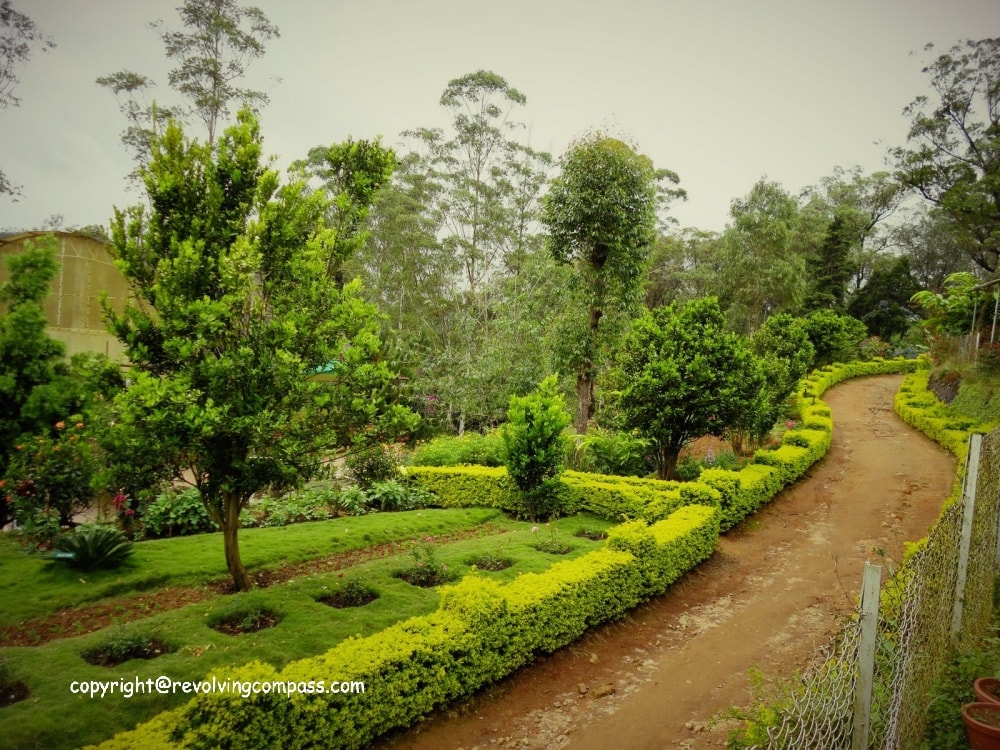 Day 3 : Munnar
The next day in Munnar, we had a trip to Ernakulam wildlife sanctuary. More than a wildlife sanctuary, it was a hiking trip on the beautiful mountain top. We reached till the point which said, this is the last accessible point 🙂 and on our way back, all we could spot is a small mountain goat. Nevertheless, the beautiful scenerie and the amazing weather more than made up for the lack of wildlife encounter for us. This trip itself took more than half the day. Post this, we came back to our hotel.Then we packed our bags for the next day, wherein, we had to start our onwards journey to Thekkady.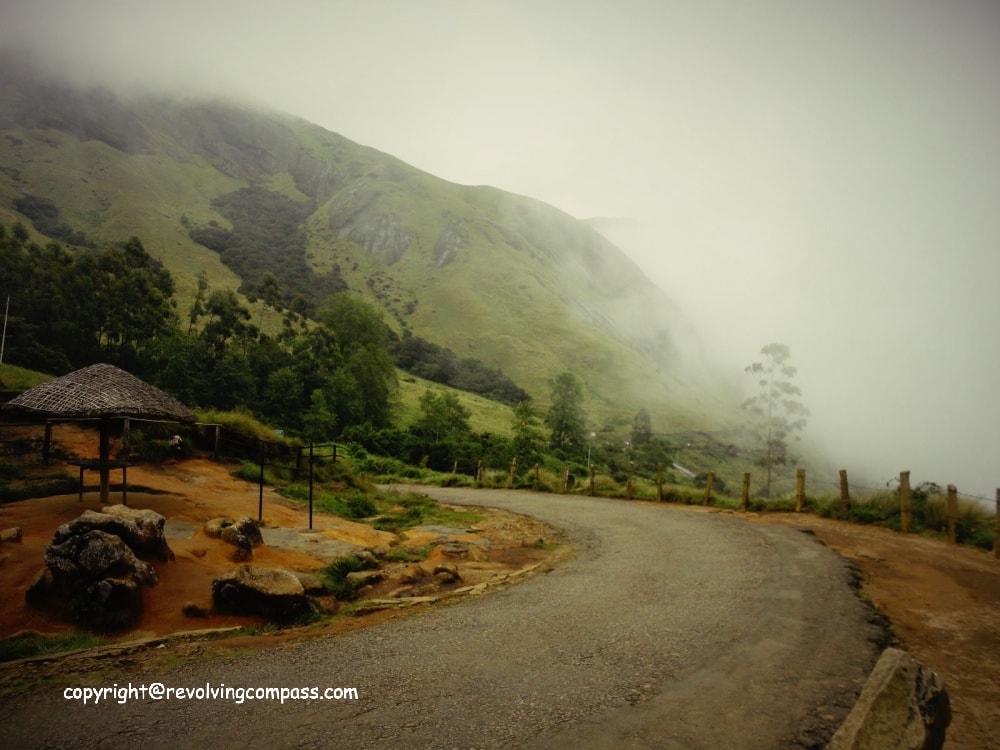 Day 4 : Munnar – > Thekkady
Today we headed to Thekkady. It was around a 2.5 hrs drive from Munnar to Thekkady. This was also a very scenic drive. During this drive, we mounted several hills and covered several valleys. It was a continous journey followed by sequence of uphill and downhill drive. We reached Thekkady by 12pm. After checking-in and getting fresh we headed for our river cruise over the river Periyar. It was a wonderful cruise. On the bank of the river, across the wildlife sanctuary, we could see herds of deers and elephants grazing peacefully. I felt it was a wonderful way to spot the animals across the river, without disturbing them.
By the time we completed our river cruise, it was evening. We returned back to the hotel and retired for the night. Next day morning, we were supposed to head for our next and final spot – Alleppey.
Day 5 : Alleppey
Next day morning, we headed to Alleppey post breakfast. It was a 2 hr drive from Thekkady to Alleppey. The memories are still afresh in my mind. As we reached near Alleppey, the road went in an absolutely staight line for several kilometers. With nothing but stretches of paddy fields on both sides, soaked in water, and tiny houses across the fields. It took us sometime to reach to our houseboat.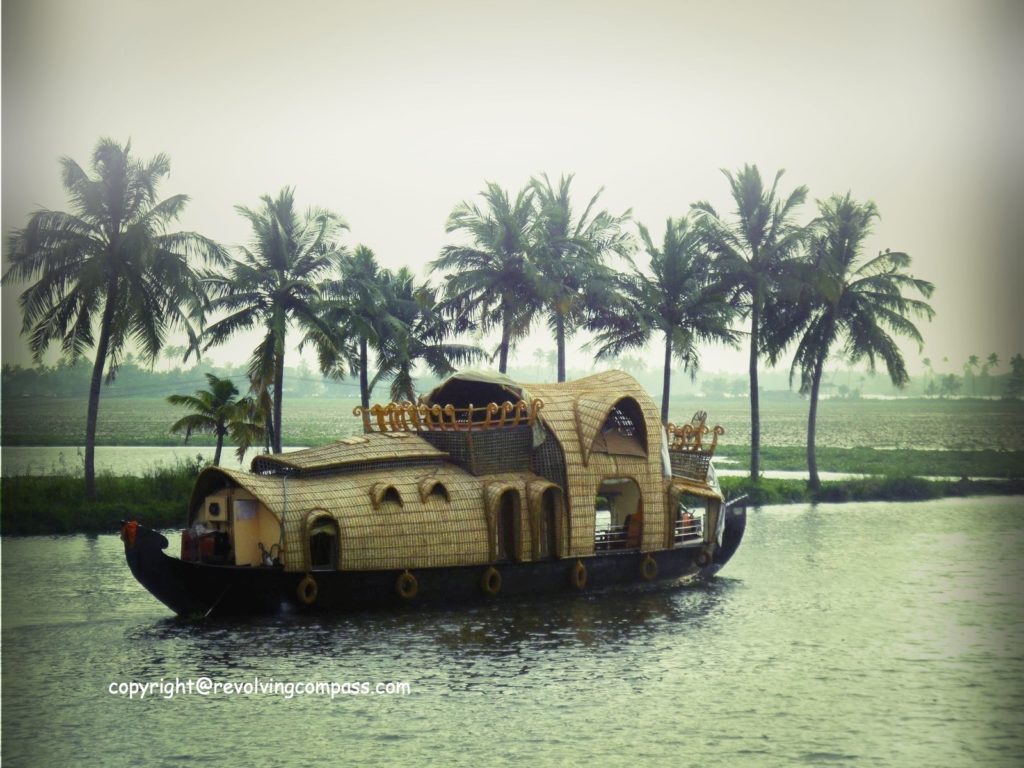 However, we were on the houseboat by 10am. We had booked an overnight stay on the houseboat. We had one of the most wonderful days on the houseboat while it took us around on a trip of the backwaters. It was a small two room boat, with no other guest, so we had all the exclusivity that we wanted. Soon we were sailing across huge backwater canals, waving to the passing by boats. Our cook prepared a delicous meal for us onboard the hosueboat and the driver acted as our guide. However, all I could remember was – "water water everywhere…." .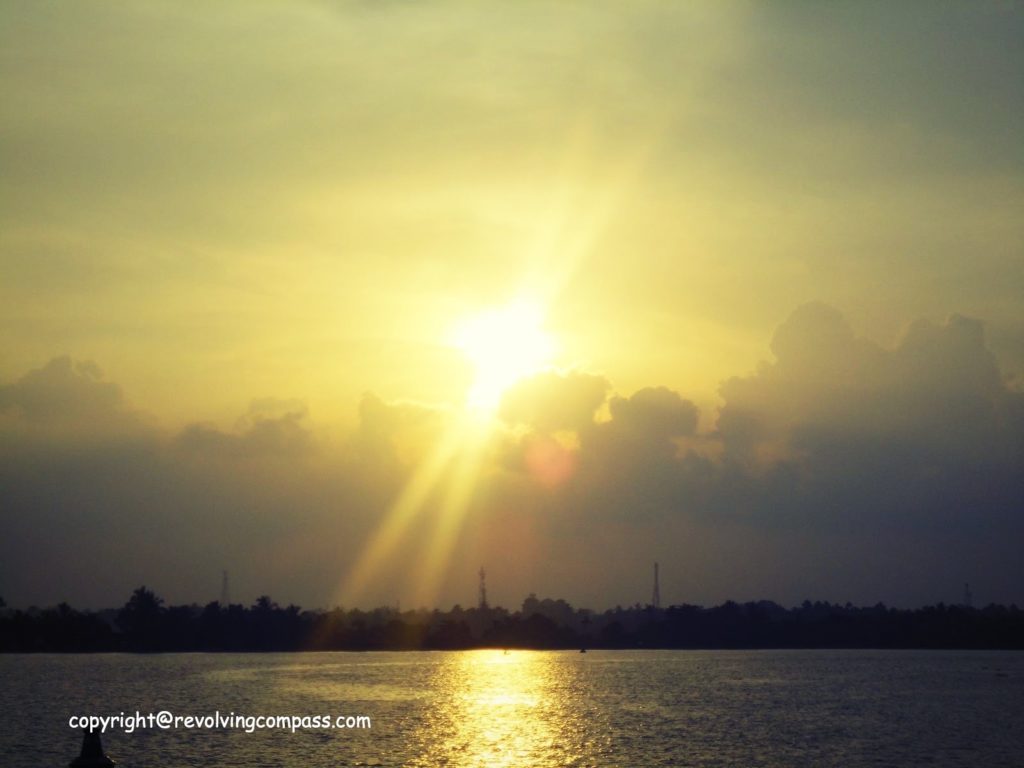 We spent the evening at the top deck of the boat. And we had dinner in candlelight on the open deck of the houseboat. As the night arrived, we headed back to the shore where the boat was rested for the night. And we had a wonderful night in a room floating over the backwater waves. The next day morning, we again had a trip across the backwaters before we headed back to the shore to start our onwards journey back to Cochin.
Day 6 : Back to Cochin and Bangalore
Next day morning, we started our journey back to Cochin. But not before we stopped at the Applauzha beach. It was drizzling in the morning. And we were super excited to spend just a few minutes on the beach, our first together on a beach in fact, before we said good bye to this place. Our driver not only drove us happily to the beach, he even lended us his umbrella to combat the rain and enjoy ourselves. After spending some pristine moments on the beach, we headed back to our cab.
Thereafter started our journey back home. We reached cochin (the capital of Kerala) by afternoon and had lunch at a local spot.Then we explored the town a little. We explored a few malls and then reserved a spot to sit and watch the ships sailing across the dockyard on the sea shore. Afterwards, we got to the Ernakulam railway station. From here, we boarded our train back to bangalore at around 4pm. Thus, bidding a goodbye to our great Kerala trip and taking with us lifelong memories of God's own country, we started our train journey back home.
PS: Kerala is full of beautiful places and hidden gems. It's not for nothing that it is called God's own country. Head here to see even more places to explore in Kerala.
Tips on planning your trip to Kerala
You can plan a trip together for the trio of Munnar, Thekkady and Alleppey like we did.
Spend a little more time in Alleppey though. Maybe 2 days on the houseboat instead of one that we did.
October – March is the perfect time to visit, as, it is neither too hot nor too cold at this time.
Try reaching Cochin in the morning, so that, you can enjoy the scenic drive to Munnar.
There are house boats of different categories from economy to luxury. Most can be booked online just like hotels. Do your due diligence before booking one.
Keep mosquito repellants with you, particularly with the backwater trip.
In the mountains you will need light woolens or a jacket. It will be winter like weather.
On the beach and on the houseboat you will need light cotton cloths. It will be summer like weather.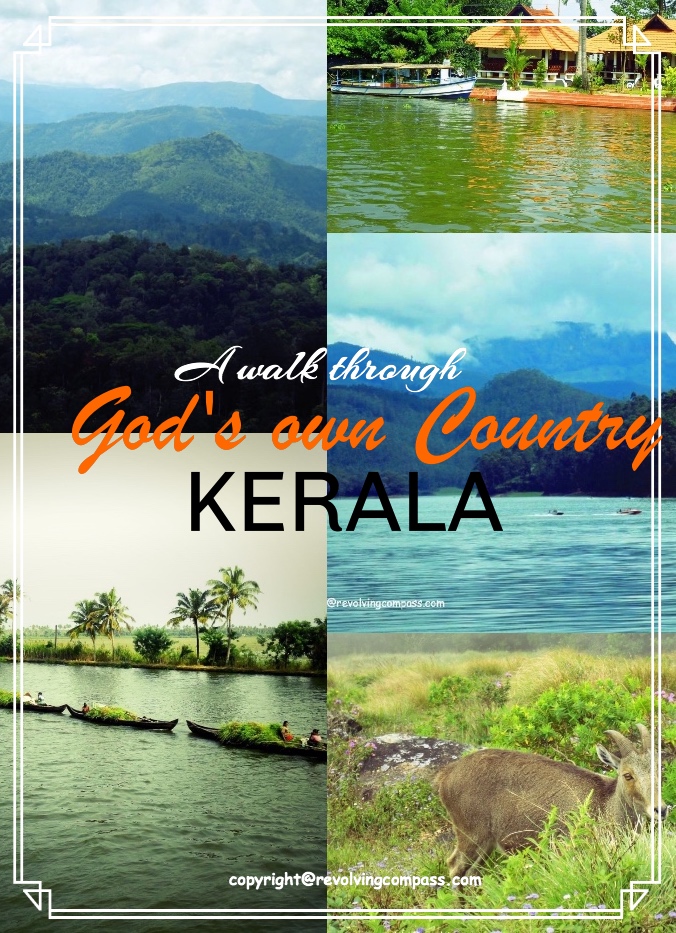 You can check any of these for further details of our memorable journey: