B R Hills or Biligiriranga Hills is one of the many beautiful hill ranges near Bangalore. It makes for a perfect weekend getaway from the metropolitan city of Bangalore. Although, we had heard a lot about it, we were yet to visit here. So, ultimately, one weekend, tired of the boring corporate life, we decided to rejuvenate our souls here.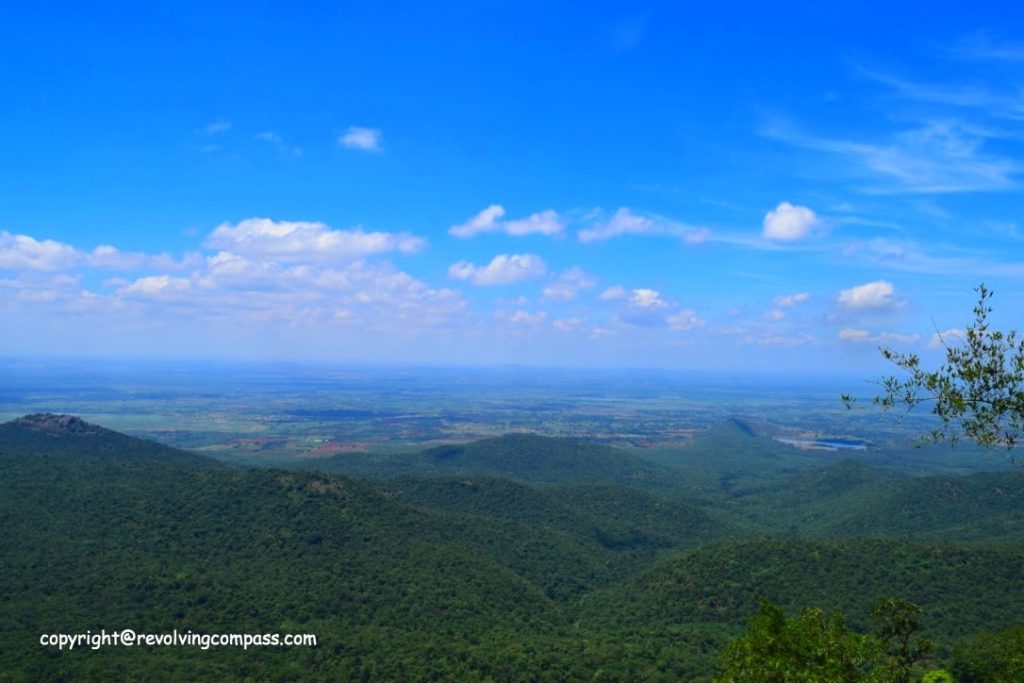 Little did we know that our plans will be twisted by the Karnataka Bandh (A strike) called out the very same weekend. As a result, at the end moment we had to cancel our plans.
But we were not the ones to give up so easily. Since it didn't seem feasible to go this weekend, we decided to shift our booking. So, we called up our resort, Gorukana and asked them to shift our booking dates to October 1&2. Not only did they move our bookings, they actually didn't charge us anything extra for it! (Although, their policies mentioned some shifting charges). So, delightfully, we started waiting for the day of the trip to arrive.
In between, we had our awesome trip to Rajasthan. After coming back from the Rajasthan trip, we started eagerly counting the days to this weekend getaway. Soon, arrived October 1. As usual, to avoid city traffic and get a lead, we started around 6 in the morning. It's always refreshing to feel the morning air once in a while, for us the city dwellers. Soon we were zooming out of Bangalore city premises.
Off to B R Hills
We took the NICE road to Kanakura and further. Although, this road is a little longer. But it is traffic free. And, it is also in an excellent condition. As a testimony to the road condition,  by 8 am, we had already reached near Shivsamudra. We were now carving for breakfast. Alas, there are not many breakfast options in this route. And those which are there, were not yet open. The options that are there are mostly small bakery shops and and ready to eat snacks outlets or general grocery shops. Finally, after much hassle on what to have for breakfast, we decided to stop near a bakery. And from here we bought some bananas and chips. Then we had these in our car itself while we drove further. It was actually good to have a light breakfast while we were still on the winding roads. And, it also saved the time that we would otherwise waste sitting in a food outlet. So, eventually, we made good use of the tough condition we were put in with respect to food.
The road on this route is mostly 2 lanes. Hence, you cannot speed too much. But, this route is not at all crowded compared to the other route. (That one being the Bangalore – Mysore highway). The distance to BR Hills is almost 180km when going via this Kanakpura route, which is the shortest compared to other routes. And the scenery is good. As the road mostly passes through villages with green farms and very scattered population.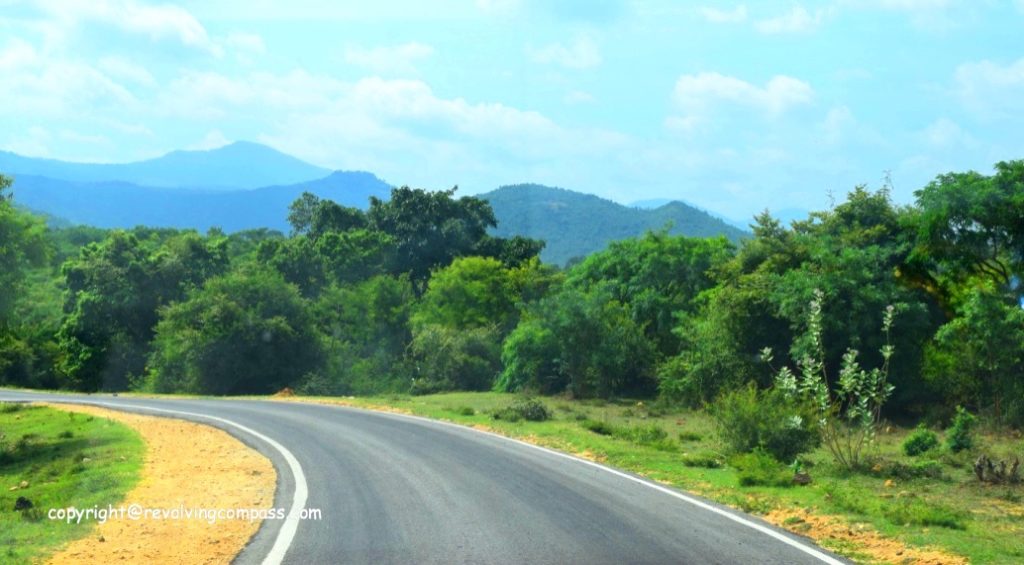 Beautiful meadows
Almost 30km from Shivsamudra, the road takes a diversion from the main highway towards B R Hills. Somehow, I had cultivated this notion that the resort had to be on top of the hills. We were still driving through the meadows and plane lands. So, I started feeling little disappointed. I even started getting a little restless. However, soon we entered into an expanse which has beautiful green meadows and pasture lands. This meadow is lined by the B R Hills at the other end. And in between, farm animals can be spotted grazing. I found myself immediately re-glued to my car window. And, I completely forgot about climbing on the hill top. I rather felt like stopping the car and running into the utterly green fields that stretched till eternity.
There is only one word that comes to my mind to describe the kind of feeling you feel upon seeing fields lush green and full of healthy crops. And that also in a country that is primarily agricultural. And that word is "happiness". That was exactly what I felt while passing through this patch of land. I spotted farmers, men and women, working in the field. Their colorful cloths made scattered spots of vibrant color in the overall green meadows. Some were ploughing their land with the help of their farm animals while others were harvesting their crops.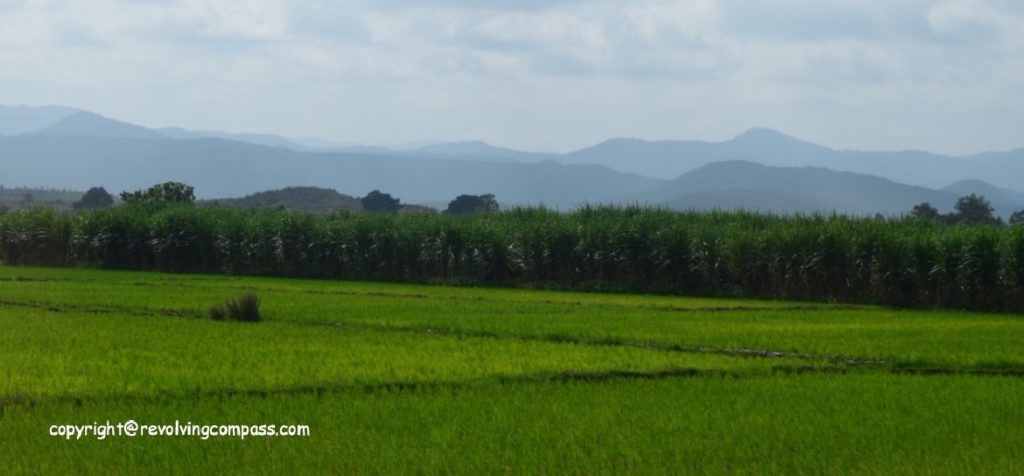 Into the thick forest
The roads start winding a little into the mountain ranges at this point. Soon, we arrived at the entrance of BR Hills. The entrance is marked by the forest check post. We have to make entries of our vehicles before entering. As one enters inside, there is a beautiful narrow road leading inside the forest. This road is marked by super dense forests on both sides. The forest department advices not to blow horn loudly and avoid stepping out of the vehicle on this stretch.
Rendezvous with wildlife
People often spot herds of elephants crossing the road inside this forest stretch. The forest department again advices to turn off your vehicle ignition and wait at a distance if you spot a herd of elephants. Basically, leave them at peace and so will they. However, we were not lucky enough to spot elephants or tigers. We did spot some beautiful deers though! The whole stretch of drive inside the forest is very beautiful. While driving through you will get the rich moist aroma of rainforest. The constant melodious chirping of birds will add to it. It's like getting transported into another world.
Out of the forest
However, like all good things, this road has to eventually come to an end. Upon crossing the forest road, we again started spotting some habitation. Our mobile phones started catching signals back. Immediately, we put on the GPS and looked for directions to our resort. Almost 1 km down this stretch, google commanded us to take a kaccha rasta (untarred path) down the main road. This road leads to Gorukana in almost half a kilometer.
Do note that you have to be a little careful here. In case you don't get a gps connection, you have to keep a watch for the board of Gorukana soon after you are out of the forest area. Otherwise you might miss the turn. And the road downhill that leads to the resort is really a very narrow one, so, it might take a little bit of effort to spot it from a vehicle moving with high speed.
Our resort : Gorukana
Soon we arrived at our resort, by 10:30am. We were given a warm welcome with fresh grape juices. Then, we spent rest of the day peacefully, enjoying thoroughly at Gorukana. Read our full experience of stay at Gorukana. In short, we loved every bit of our stay at the resort. Cut off from the world, amidst thick forests, enjoying our chats and interacting with the flora and fauna of the forest !! It turned out to be the best of what we had expected from B R Hills and our resort. There were lots of things to do at Gorukana including bird watching, forest safari, camp fire, traditional tribal performance and visit to their NGO, to name a few. Must mention, our little one had a wonderful time as well.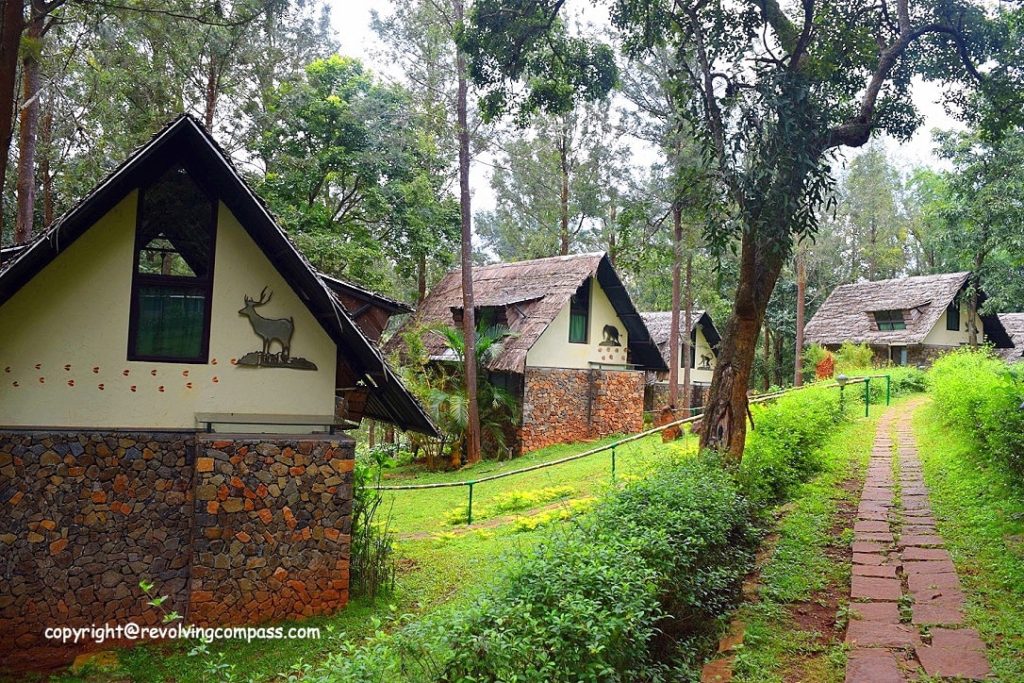 Next day, we started from our resort post breakfast. Gorukana is maintained by an NGO. They are doing many good things in this area. We visited the schools and education center maintained by the NGO. The tribal kids are educated in these schools. Along with education, they are also provided lodging and food. Volunteer teachers are welcome at the school. So, if you are looking to do some good volunteer work in teaching, don't hesitate to contact them. We also visited a honey processing plant. Basically, raw honey extracted from the honey bees are processed here organically. The organic honey is then packaged and supplied to the towns.
All the money earned from the ventures is in turn again invested in the welfare of the tribal community in BR Hills. We really loved the way the NGO is working day in and day night for the tribal welfare.
B R Temple
But, no visit to BR Hills would complete without paying homage to BR Temple. Next, we decided to visit the temple, before starting on our journey back home. BR Temple is perched atop a beautiful hill. The hill provides breathtaking panoramic view of the whole valley. Behind the valley, enormous green hills stay guard. The air is crisp and fresh as ever.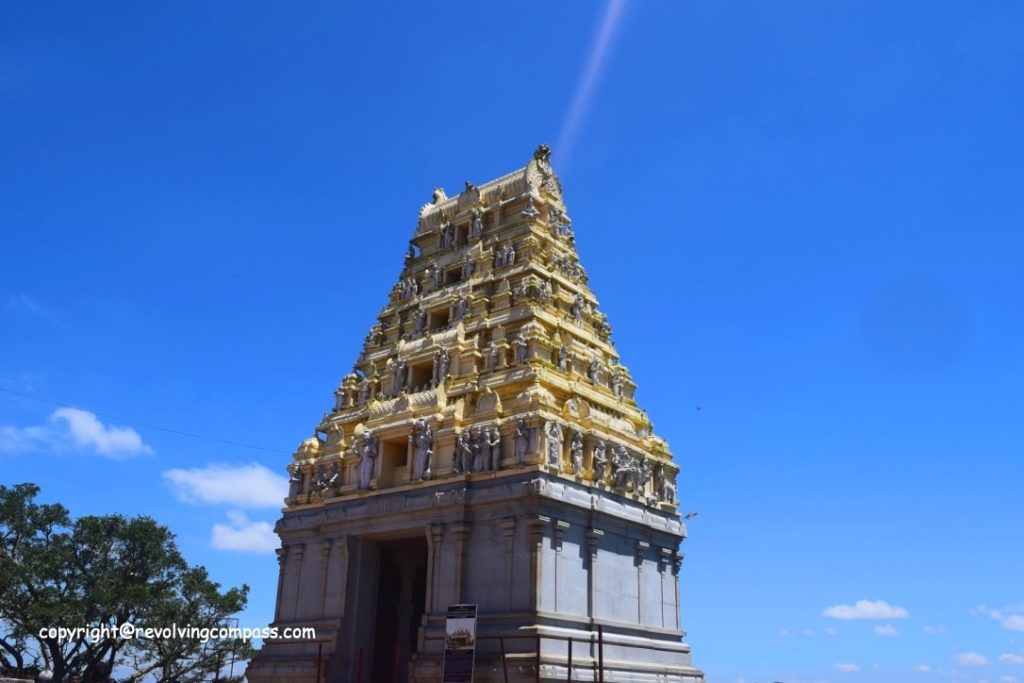 After offering our prayers in the temple, we decided to trek a little along the roadside, to soak into the panoramic view around us. I am simply falling short of words to describe the view in front of us. So, I would let the pictures do the talk.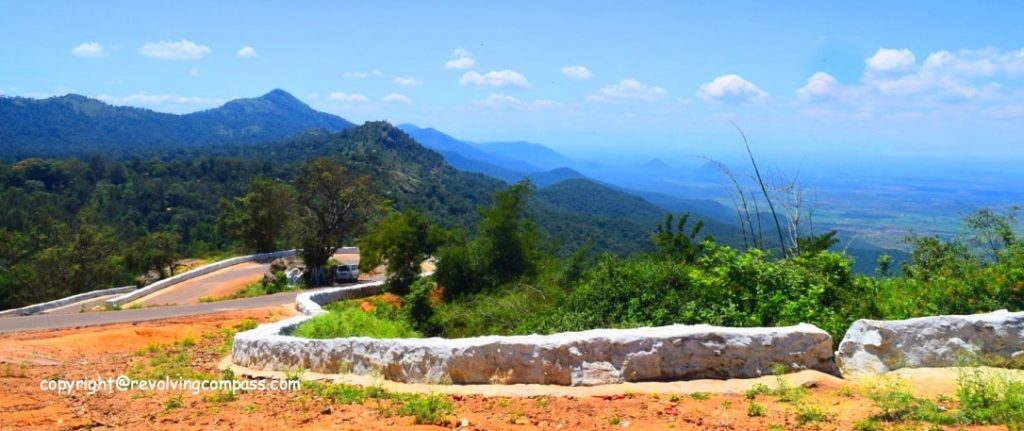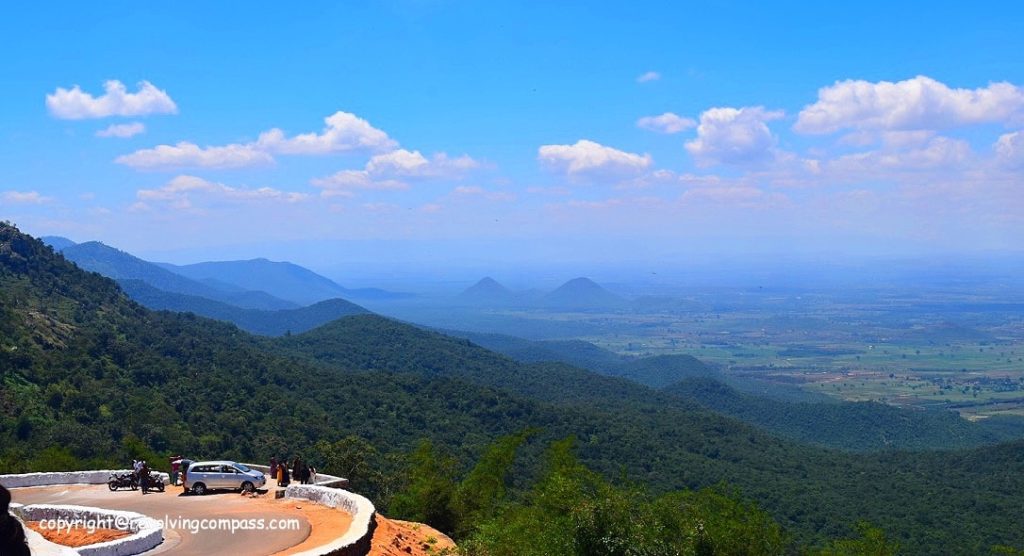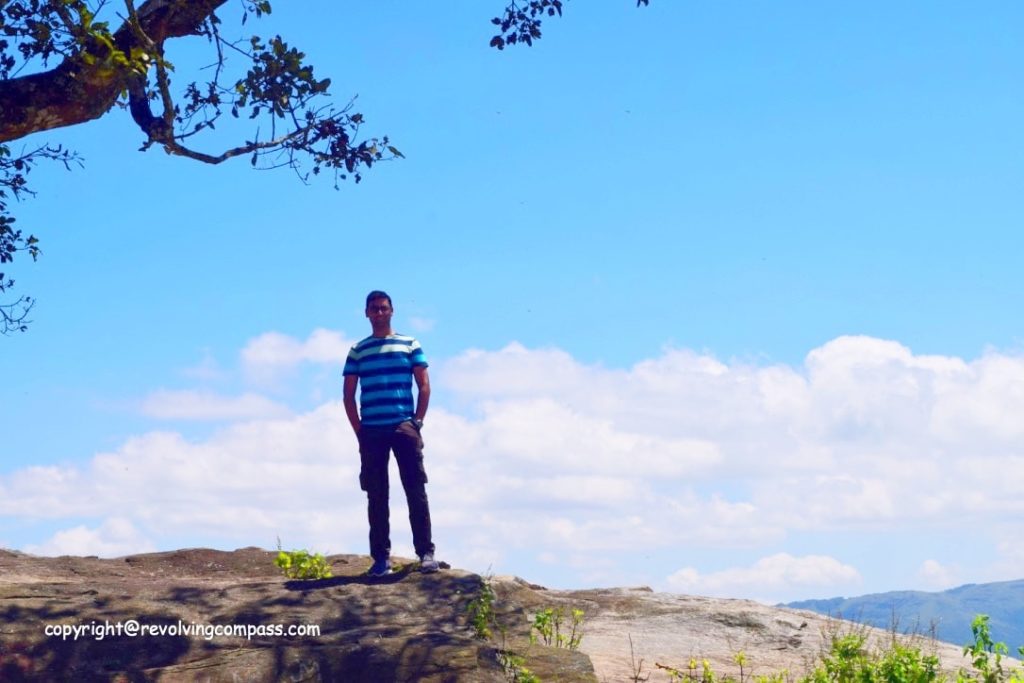 Shivsamudra
From here, we embarked on our return trip, refreshed, rejuvenated, full of energy. We reached Shivsamudra by 12:30pm. We decided to visit the waterfalls on our way. Before taking the diversion towards the waterfalls, we decided to have lunch. However, we were again disappointed by the options present. Nevertheless, we satisfied our hunger with a few plates of idli. Then we started on our journey further to the waterfalls. Though, the falls were not on their peak charm in this month. Already, water volume had reduced. Nevertheless, it was refreshing to stop midway and have a look at one of the most majestic waterfalls of South India. The area near Shivsamudra waterfalls has recently been developed a little. There is a nice restaurant. Refreshment options are also abundant. We had an icecream each.
And, back to home
From here, we started on our trip back to Bangalore, by 2:30pm. And we were home by 5pm. Overall, this turned out to be an awesome two days weekend getaway from Bangalore. However, like all awesome things, it has left me yearning for more. This got me thinking why we are not doing more two days journeys from Bangalore. I was simply amazed by how much we could do and enjoy in just two days!! Definitely, I am going to soon embark on more such journeys and bring to you more amazing stories!!
So, what is your favorite two days weekend getaway from Bangalore? I would love to know. (And, visit next!!).
Tips for visiting B R Hills
There are two routes that you can take to B R Hills : Bangalore – Mysore highway and Bangalore – Kanakpura main road.
The Bangalore – Mysore highway is multi lane and have lots of food and refreshment options. But this route is little longer. You will take 5 hours to reach B R Hills from here. Assuming you will stop in between for food etc. Traffic is also higher on this route.
The Kanakpura road is two lanes only, but has almost nil traffic. It is shorter. It took us just 4 hours to reach B R Hills inspite of taking breaks in between.
If you decide to take the Kanakpura road, carry some food with you for the way. Since, there are not good refreshment options on this route. You can have the food while driving. This way, you also save time.
Start early from Bangalore, no matter whichever route you decide on. You will be able to avoid the city traffic and take a lead.
Weather is mostly pleasant at B R Hills all through the year. Light jacket or sweatshirt would do in the morning and evening. For daytime, light cloths are fine.
Wear comfortable cloths as you will most likely do lots of trekking on hilly terrain. Even inside the resort it's hilly pathways.
If you have kids with you, carry one warm jacket for them. They will need it during morning and evening hours. In the day, they should be fine.
It must be charming to visit here in winter. November – February. You might require little warmer cloths at this time.