This weekend, we took time to explore our neighborhood – Whitefield. Those bitten by wanderlust are always looking to venture out somewhere nice. To explore new grounds, new ways and places of travel. However, it might not always be possible for everyone to venture out of the city. Or, go to distant places and spend time out of home for long weekends. But that doesn't mean those who can't do it, they don't get to satisfy their wanderlust. This is something we discovered when we set out on this exploration of Whitefield. It was a hectic, crazy, work packed weekend where there was no room to travel somewhere far. Finally, come Sunday afternoon. And even the little one started feeling bored in the confines of the home. That is when we decided to take a small ride in our neighborhood.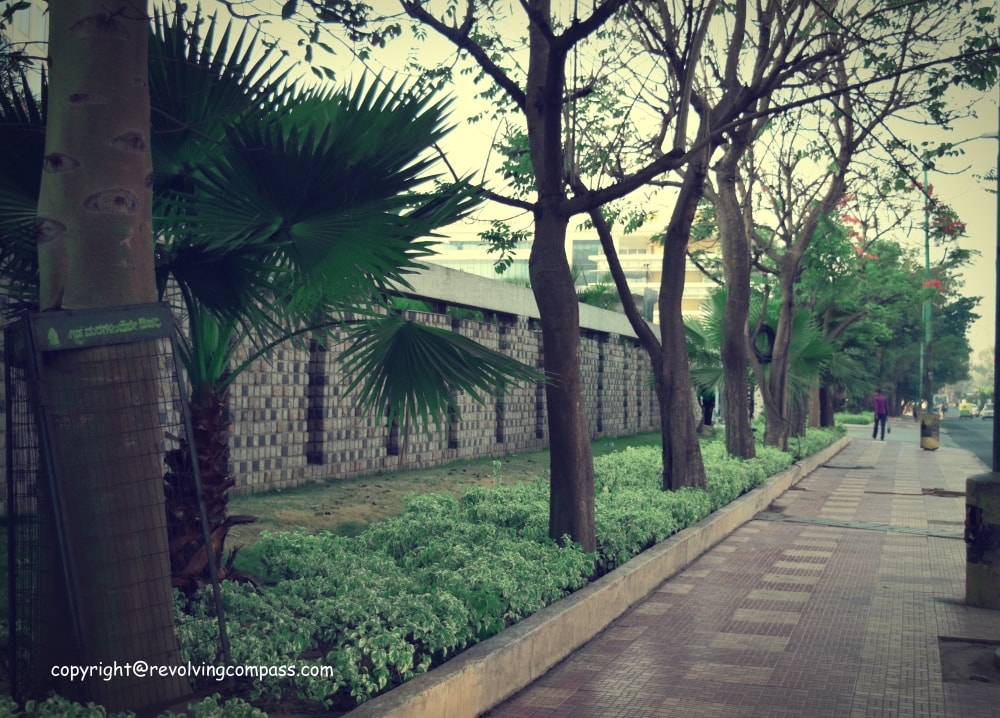 Whitefield from our eyes
Let me give you some background here. We shifted to whitefield area in Bangalore when we booked a house some three years back. And since then, we have constantly commuted through the locality that I am walking you through in this post. However, we never really stepped out in particular to explore the locality. We did go to malls, shops, restaurants, banks and other places to pursue some objective. Be it the weekend lunch or the grocery shopping. But never in particular to just explore the area. So, it was fun doing it this time.
Whitefield, Bangalore, is normally jam packed with office commuters in the weekdays. So much so that a drive of 2 km stretch on the weekdays will take more than half an hour!! But on weekends, it is quiet different, it's a new Whitefield 🙂 . As, the roads are mostly deserted and clean and the restaurants empty. As we started driving through the lanes of EPIP Zone, we could look at our Whitefield neighborhood in an altogether different perspective.
Nature is blooming in Whitefield
The trees along side the road have grown quiet dense. And those within the divider are also thriving. It is the season of Gulmohars – the bunches of red flowers on high trees that give an astonishing beauty to the whole area. The pre-monsoon showers are in full swing and the evenings are mostly cloudy. As we drove through the neat and clean roads, besides the pavements and amidst the greenery with silent IT buildings and parks on either side. And then crossing a few restaurants intermittently, we completely forgot we were still in the city. And in particular, in whitefield – the area of the city, that struggles everyday with it's civic amenities, traffic and cleanliness.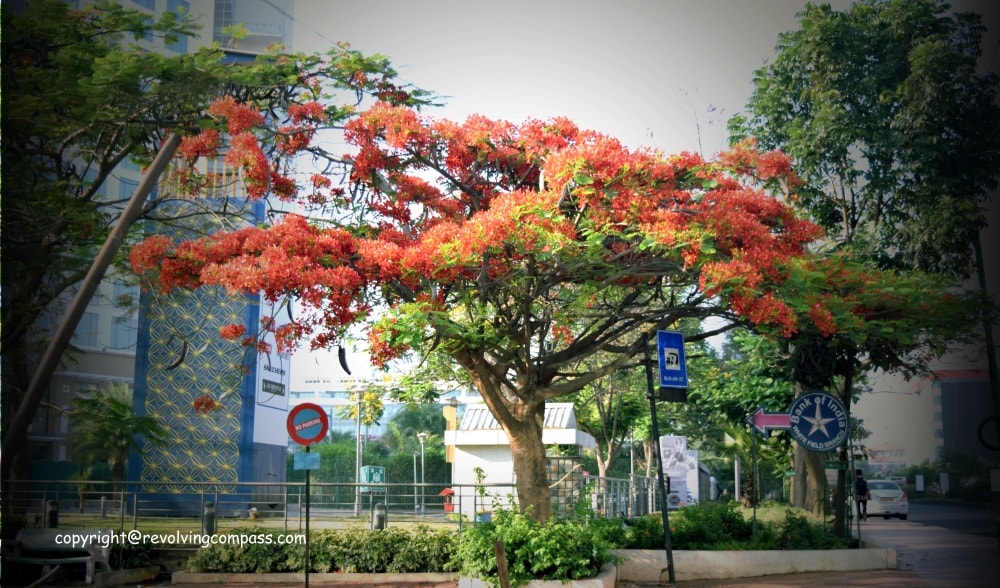 The pavements have been recently repaired. There are new set of restaurants, ice cream parlors and other small utilitarian kind of shops coming up here and there. Fresh set of saplings have also been planted on the sides of the road where they were missing. Good job by Municipal corporation there!
Within a few months time, the Gulmohar season will be over. The red flowers will disappear. But you know what, the beauty won't. Just besides these trees stand another species of trees. These will bear the pink flowers (I don't know the name of this flower), when the read ones from the adjacent trees are gone. The pink flowers will bloom in full swing, covering the whole tree, so much so that the leaves will be hardly visible. No wonder that Bangalore is called the Garden City.
A stop for some sweets
Out of the several new outlets is G Pulla Reddy, which we were yet to try. A simple and nice restaurant for breakfasts, snacks and sweets. It has come up near the Vydehi Hospital circle. We stopped at G Pulla Reddy and the little one satisfied her sweet tooth with a jalebi. We packed some sweet and some salty snacks for rest of the family. And then decided to head on.
A round of the EPIP Zone
From here, we headed towards the Graphite India Signal, thinking to take a U turn and then head back to home. But the adventurous us had a little different plans. As we crossed the Cafe Coffee Day and Ginger Hotel, we took a left just near it. That took us right into the heart of the EPIP area. Crossing the companies there and taking another left turn, and then one more, we almost circled the area. And in no time, we were back on the same road where we had stopped for snacks just some time back.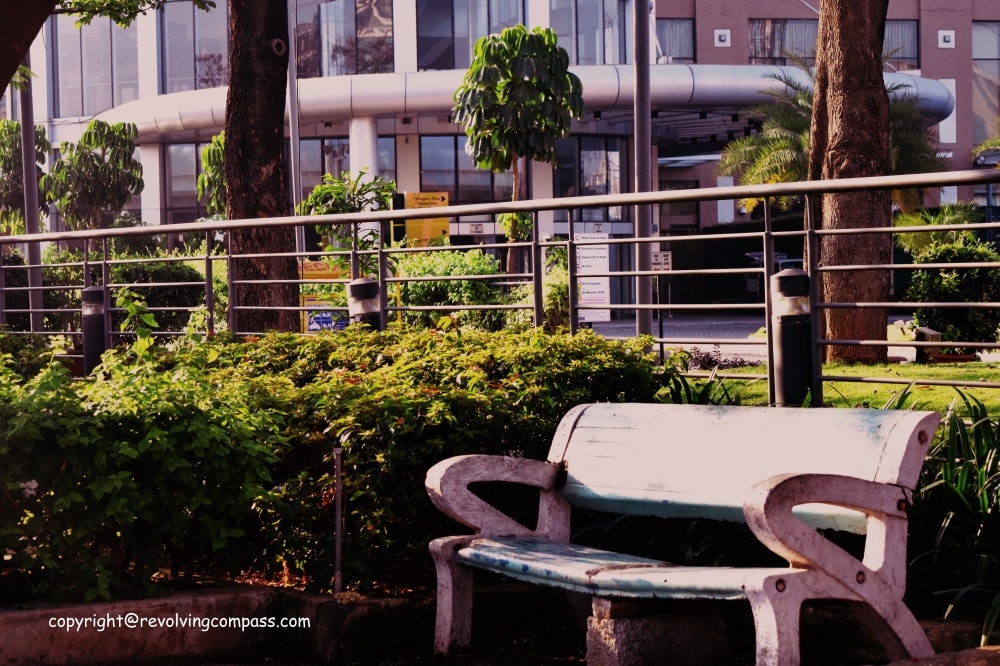 After this, we started on our journey back home, chasing the black clouds that had started hovering over the region, putting the window seals down and letting the wind gush through our hair as we drove through the empty lanes of Whitefield (of our dreams) back home.
And what a coincidence
The ride was more refreshing than we ever could have imagined. After reaching home, I was wandering through my favorite travel posts when I stumbled upon this narration at Inditales.com , and it just reconfirmed what we had just experienced – you need not always travel miles to satisfy your wanderlust! Sometimes, you just need to take a couple of steps into your neighborhood and you might get to know it from a completely different perspective. You might find the beauty that you had never stumbled upon before while traveling countless times through those same lanes because you were too busy in the hustle and bustle of life. As we did today!
And to our delight, even the little one seemed to have enjoyed the ride thoroughly. Her boredom evaporated. And she liked to step out and explore the neighborhood like this. We did the whole trip in around an hours time. And we were back home, before we knew. As we stepped inside, it started drizzling outside. Next we made a cup of tea for ourselves and feeling refreshed, we sat in our balcony. Savoring the beautiful weather and the freshness of the day. It was amazing how, a weekend that was looking so dull and boring, all of a sudden became so sweet and interesting.
Our key takeaways from the trip
You need not always travel too far, pack your bags and stay somewhere away from your home to be able to satisfy your travel lust.
Any kind of travel is rewarding, even if it is exploring your own neighborhood from a different perspective.
Don't wait for special occasion, take a little step further and turn any day into a special one with little thought.
Explore your own locality, with a different perspective, and you will surely stumble upon things that you had not observed before.
Little ones also get bored in the confine of the home. So, you must take them out and it need not be somewhere far or expensive.
Everyone loves a change.
A small change can drastically shift your mood, set in new perspectives and bring in positive energy.
So, what has your neighborhood got in store for you to explore? Go ahead, take a step in your neighborhood and let us know what's new that you discovered this time. We will be awaiting to hear back from you.