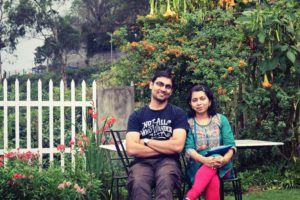 We are a techie couple and travel enthusiast. After much soul searching & lots of travel, we found that travel is one thing we are both passionate about. We love traveling, and that also with our family. We decided to start sharing our travel experience to benefit our fellow travelers.
We meticulously plan our travels , tailor make them to fit into our budget and then shoot for it. Neha does most of the pen and paper work(of course on her electronic device) and Abhishek then sets off to execute the plan. Together, we are capable of providing tailored travel plans to suite your needs and answer your queries. We have many exciting journeys planned for the future. Stay tuned to live our travel stories through this blog. We love to share with you family travel tips, destination reviews, perfect itineraries, accommodation reviews, travel product reviews and much more.
Interested to know the story behind our travel stories? Head here.
We are open to writing travel reviews, articles, affiliate programs and sponsorships. You can contact us via email ([email protected] OR [email protected] OR [email protected]) or you can leave a comment at the post to which your query relates. Do checkout our contact us page for further details.
A few testimonials from our past collaborations
"It was a pleasure hosting you at Norwood Green, Palampur to our villa resort. You gave us a market reach, more people know about us now. Would definitely host you again."

– Norwood Greens
"Neha and family stayed with us for a couple of days. It was a pleasure hosting such a cultured couple. We had long conversations on their travel experiences. Abhishek took some beautiful photographs of our property and surrounding areas. Overall, a very lovely experience for us to meet some truly well-travelled folks."

–Casa Coorg
"It was so lovely hosting Neha and her family. They were great guests who treating our home like their own and were appreciative and careful because they understood instantly the passion and work that goes into making our Lodge a home. They were open to trying the regional cuisines and enjoying the outdoors, which is so important when travelling through small places like ours!"

– Wah Tea Estate
---