Wales is arguably the UK's most beautiful country, with an abundance of national parks, a coastline dotted with over 40 blue flag beaches, mountains, valleys lakes, reservoirs and waterfalls that simply take your breath away, here we highlight a few reasons to take a road trip around this beautiful part of the UK, and one of the must visit destinations in UK as well as Europe as a whole.
Most trips to Wales will start with a cheap flight into Cardiff's international airport in the capital city, and only 11 miles from the city centre itself. Which makes it all the more exciting to visit here.
#1: Cardiff Castle
Cardiff Castle is smack bang in the middle of the city. And it provides a great backdrop for any visitors to the Welsh capital. Steeped in history, the medieval castle has witnessed many a battle throughout its time. And These days it really only witnesses rival sports teams. These teams play in the Principality Stadium just across the road. Nevertheless, for history lovers, Cardiff Castle remains the #1 of the spots to visit on a road trip in Wales.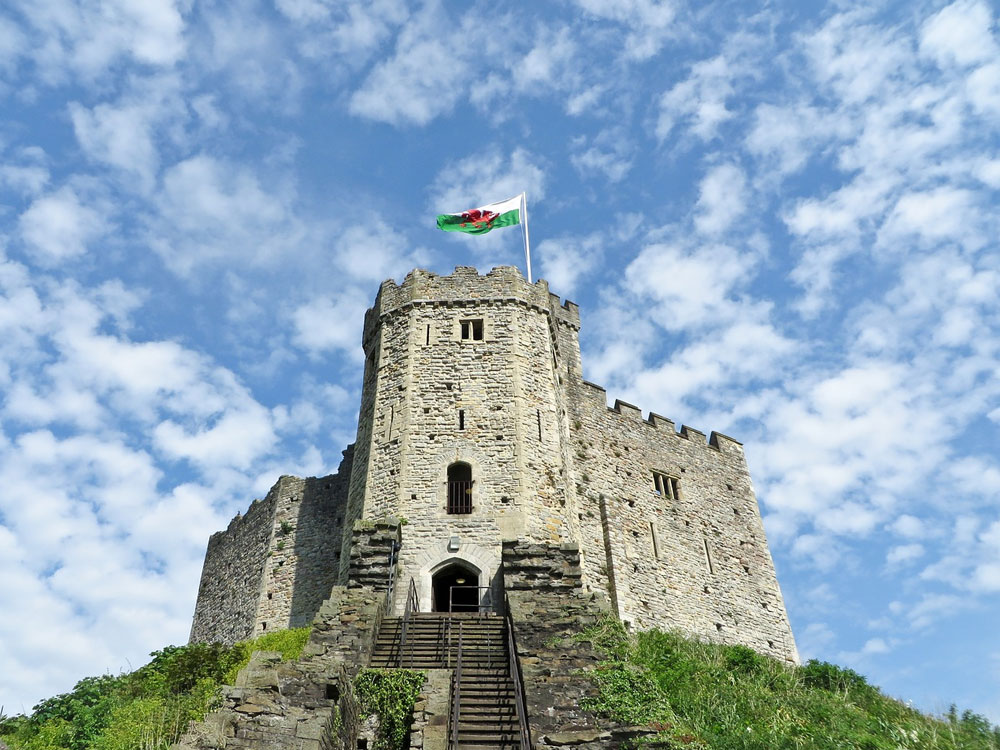 The current beauty of the castle can be attributed to works and reworks across 11th to 16th century, commissioned by different governments. But even before the castle was built, this ground had historical importance. As it was used by Romans as a strategic and defensive location for many years from 1st to 4th century AD !! The castle has really stood the taste of time. Having withstood many wars for over 10 centuries.
#2: The Taff Trail

The Taff Trail is a disused railway line.  It served Cardiff from the valleys during the industrial revolution. From Cardiff it is possible to follow The Taff Trail all the way to Brecon some 55 or so miles. Further following the River Taff. In its heyday the railway line was used to transport coal and iron from the many mines and ironworks in the valleys. And it is mostly responsible for building the city of Cardiff to the size it is today. And that is why this railway route gets a spot amongst those to visit during a road trip in Wales.
#3: The Brecon Beacons
The Brecon Beacons National Park is situated some 30 miles north of the capital. Cardiff has over 500 square miles of mountains, valleys, rivers, reservoirs, and marshland. And it is an area of outstanding natural beauty. The beauty of the place will impress any bobble hat wearing rambler. And It is also the training area for the British army and the more specialist SAS (Special Air Service). So, another must visit spot while on a road trip in Wales.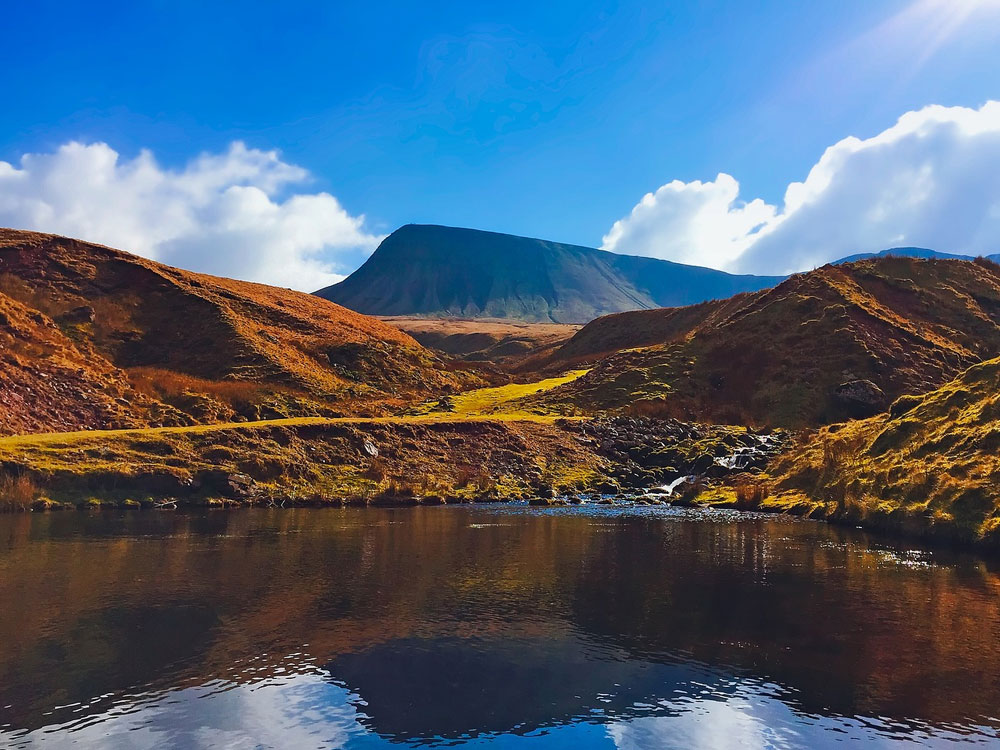 #4: Pen-y-Fan
Pen-Y-Fan is the highest peak in the Brecon Beacons National Park. Standing tall at 886m. Tourists flock to the area to climb the mountain. And take that all important selfie with the Ordnance Survey Trig in the background. Also, this mountain range is used in the final selection training exercise for the SAS (Special Air Service). Which is a grueling fitness exercise in full kit. It sees the prospective soldiers do what they call "The Fan Dance". In fact, some soldiers have lost their lives during this exercise. So if you are considering attempting it make sure you are well prepared. This is one must visit spot on a road trip in Wales, particularly for the adventure lovers.
#5: Hay on Wye
The sleepy little town of Hay on Wye lies to the north of the Brecon Beacons. And it is known fondly as "The Town of Books". Bibliophiles will be in their element here. With over 20 book stores that offer second hand and specialist literature. And the town is also home to two Norman castles (one of which is a book store) . Moreover, this small market town is simply idyllic. And a "must visit for coffee and a read" if you are in the area. The charm of a small town and the beauty of the place makes us put it in our list of must visit spots when on a road trip in Wales.
#6: Snowdonia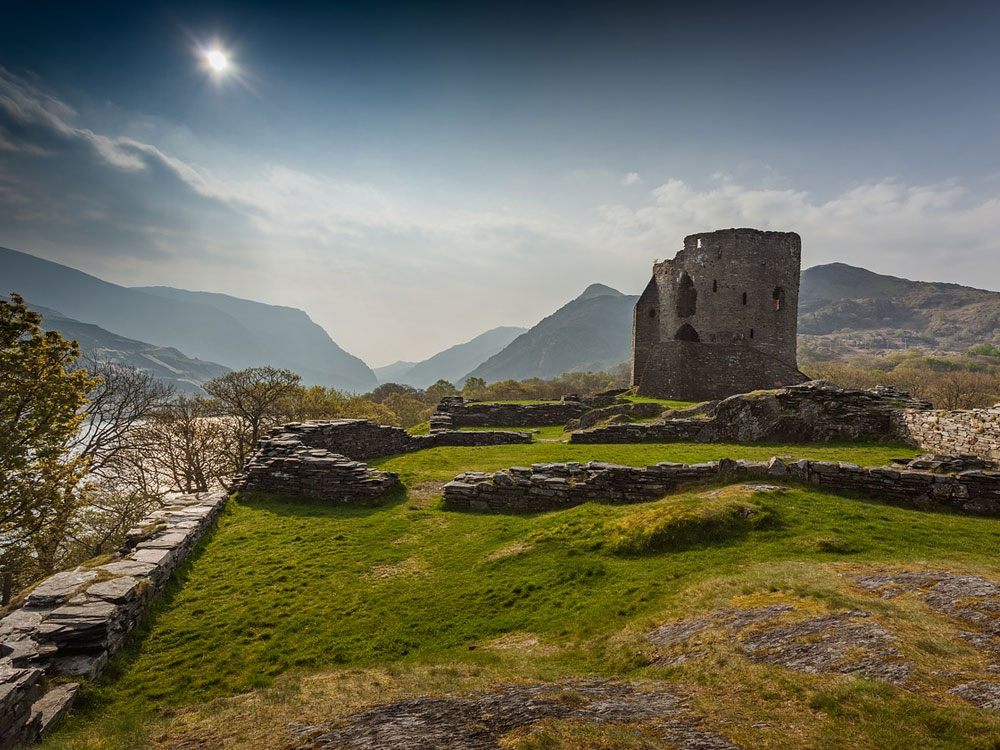 Snowdonia national park is the largest national park in Wales. And it is also home to Wales' highest mountain Mt Snowdon. This mountain's claim to fame is it's over 800 square miles of outstanding natural beauty. Add to that over 100 lakes. And then top it up with a mountain railway that will take you to the top of Mt Snowdon. From here, on a clear day you can see right across the channel to Ireland. Thus, for nature lovers, this is a spot that must be visited when on a road trip in Wales.
#7: Penrhyn Quarry
Just outside of Snowdonia National park is the small town of Bethesda. It is home to the disused Penrhyn Quarry. Which is now home to the fastest zip line in the world and the longest in Europe. Strap yourself on and let rip reaching speeds of up to 100mph while seemingly inches from the rock face. It is thus, definitely not for the feint hearted! And that makes it another must visit on a road trip in Wales, more so for the adventure lovers.
#8: The Blue Lagoon, Abereiddi
Whilst on the topic of adrenaline fuelled pursuits The Blue Lagoon in Abereiddi is worth a mention, on the south west coast lies another disused quarry this time one that has been flooded by the sea, the lagoon is some 25m deep and its walls stand at some 27m high making it a perfect spot for coasteering and diving, and recently appeared as the UK leg of the Red Bull International Cliff Diving Competition. Thus, you can add this one of the best diving spots as one of the spots to visit on your road trip in Wales.
#9: Rhossili Bay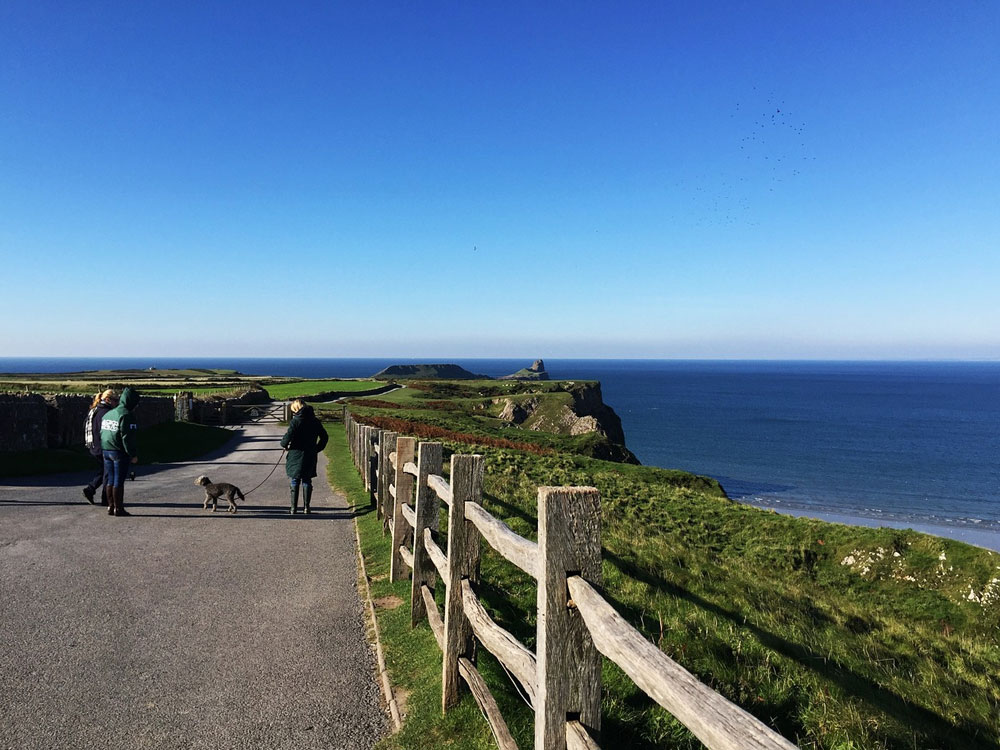 If you were taken blindfolded and dropped on to Rhossili bay on a hot summers day you could be forgiven if you thought you were in the Seychelles or the Maldives. As far as beaches go you don't get much better than this, voted the UK's best beach for a number of years in succession and in some polls even voted as best beach in Europe! It's a surfer's paradise and also has its own shipwreck dating back to the 1800's. The beach can only be reached by a narrow footpath that winds down the cliff face, and if that was not romantic enough there is an old rectory in the middle of the 3-mile beach that you can rent for a real peaceful getaway.
Adding diversity to our list of spots to visit when on a road trip in Wales, this is one of our favorite spots. While the adventure lovers can enjoy surfing here, the families can relax by the beach.
#10: Barafundle Bay
Just across the bay from Rhossili is another secret beach which again has won a number of awards including "best place in the UK for a picnic" the bay is set between two cliff faces and around a mile walk from the nearest car park. Its difficult access is possibly the reason it is so unspoilt. The beach featured in the film Third Star where a young wheelchair bound man is taken by his friends for one last adventure, staring Benedict Cumberbatch.
For nature lovers, ramblers and general outdoorsy type people Wales has so much to offer. However it is best at any time of year to pack your waterproofs as the weather in this part of the UK is often wet! Getting to Wales is easy from most major cities with KLM offering flights via Amsterdam on their vast network. Visit compareandfly.com to search for cheap flights worldwide on all airlines.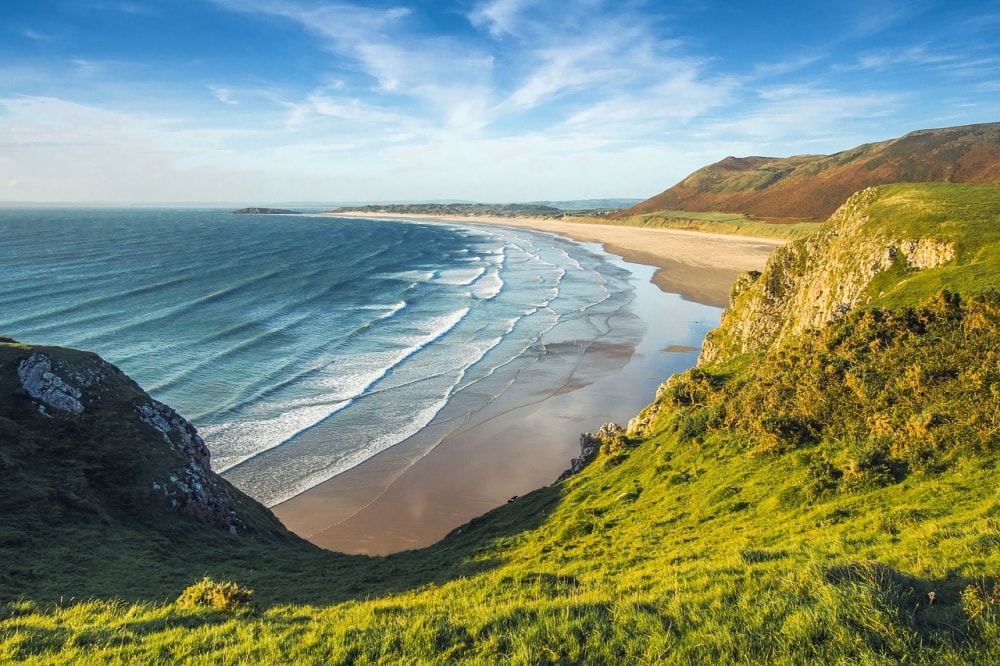 Tips on planning a road trip in Wales
As said earlier, pack your waterproofs and rain gears as this part of UK is often wet.
Book a flight to one of the major cities, particularly London. From there, you can take a fast link train to Paddington and finally, a train to Wales from here.
There are several car hire companies that are operational in Wales. Many of them are also online. So, you can compare the prices and book one online in advance as well.
Keep your necessary documents like passport and Visa (if applicable) with you all the time during your road trip in Wales.
You drive on the left lane and the driver sites on the right side, which is different from what people in many other countries are used to. So, give yourself time to adjust before hitting the highways.
Here is a great DVD guide by Rick Steves for Wales It can tremendously help you get acquainted with the culture as well as geography of the place as you prepare to travel through Wales.
PS: This is a guest post written by Justin Mungo from compareandfly.com.