Alleppey (Alappuzha) is a planned city in Kerala that abounds in picturesque canals, backwaters, beaches and lagoons.It's fondly called "venice of the east". We travelled here in November, 2010 as a part of
our kerala tour
covering
Munnar
, Alleppey (Alappuzha) and Thekkady. There are houseboats of different sizes and types available in Alleppey (Alappuzha), that range in price (and facilites) from economy to luxury. You can book as per your requirements. And mostly the booking can be done overnight. We travelled as a couple and had booked a mini houseboat with two bedrooms. No one turned up in the other bedroom during our stay and to our delight it became more of an exclusive stay.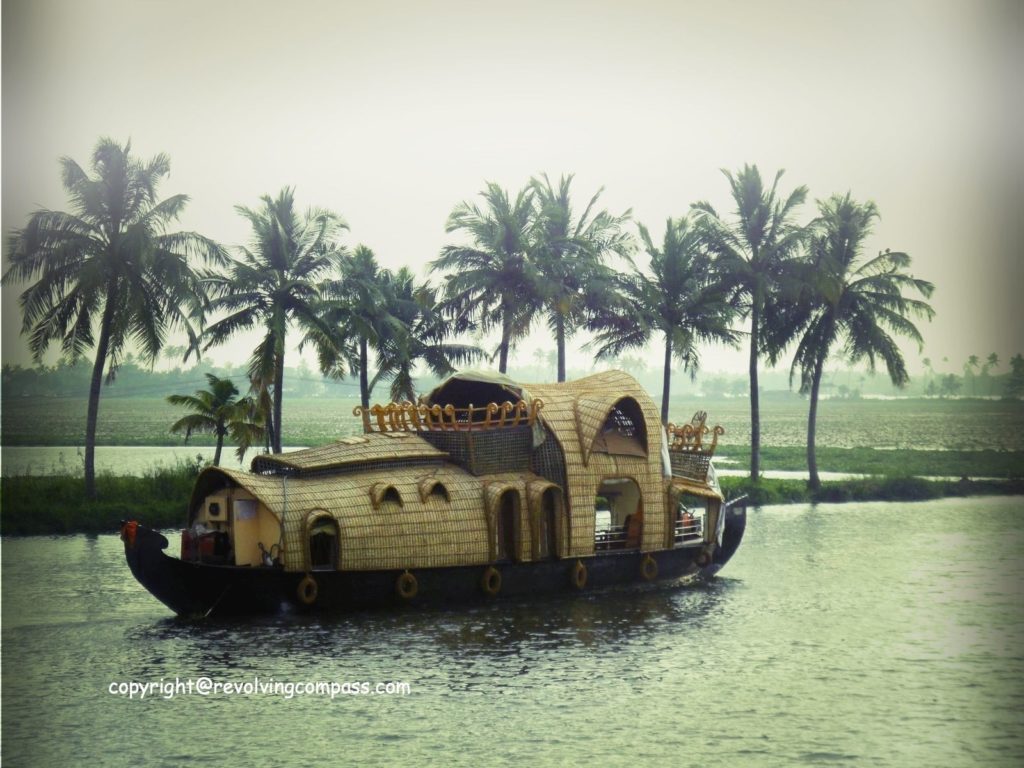 It had a small and well appointed bedroom, a neat bathroom and a open deck cum living cum dining room in the front. We checked-in around 10 in the morning. There was a driver and a cook available on the boat throughout our stay. Post checking-in, we were taken for a scenic cruise through the interwinding backwater canals, all across to the point where the backwater widespread its arms to become a huge lake leading into the sea.
You might wonder what is there to do on a houseboat other than just relaxing and, well, being stay put on the boat. Actually, there is so much more to do. Here goes my list of things to do when on a houseboat on the backwaters of Alleppey (Alappuzha).
1) Have a ride on the canals
Alleppey (Alappuzha) consists of a unique set of interlinked canals across the backwaters. While some are narrow , others are wider. And at some points, they get as wide as a big lake. You will almost feel like you are cruising over the sea. Make sure to ask your houseboat driver to take you across as many canals as possible. As we boarded our houseboat, we started cruising the canals right away and then, we halted only when it came to lunchtime. And, we passed several scenic spots on the shore while cruising through the backwaters.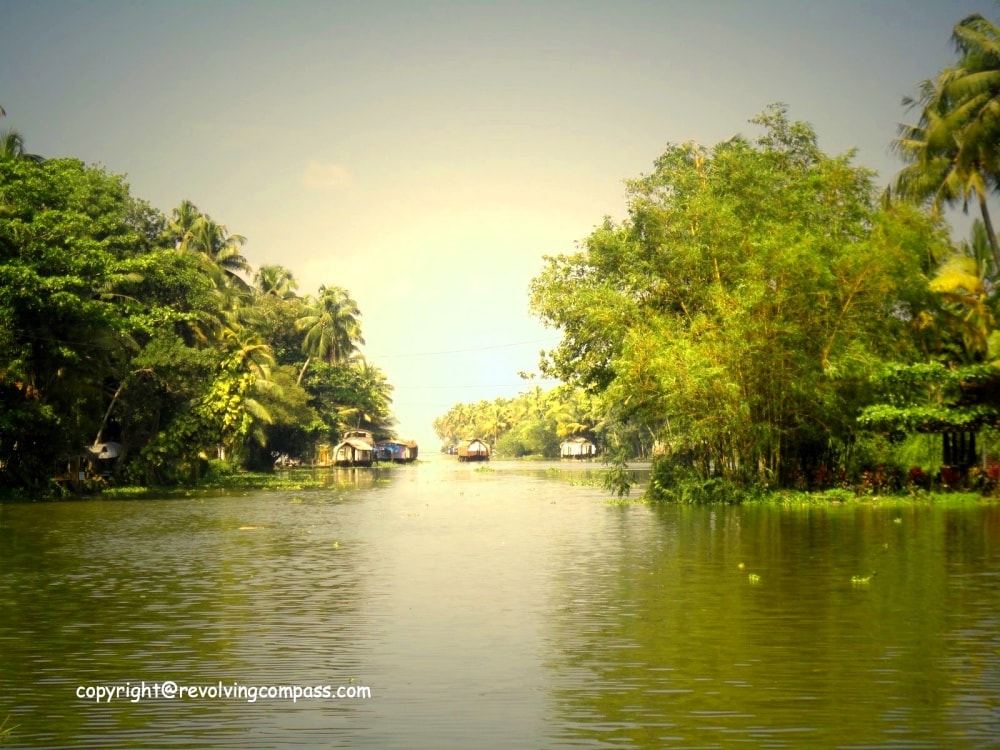 2) Halt in the middle of nowhere
Once you are in the middle of the biggest canal, which is actually more of a lake, halt. And relax. It is quiet an experience in itself to stand still atop an equally still waterbody in the middle of nowhere 🙂 You will feel the mild breeze across the backwaters and might occasionally spot other houseboats passing by. But overall, it is so calm and relaxing. Actually, a perfect spot in case you would like to meditate. We would suggest, halt at lunchtime and have your lunch in the middle of nowhere. Although, I bet, you must have had quiet some pool side and river side dinners and lunches. But, this one, right in the middle of the water, is definitely going to be unique.
3) Eat fresh sea food right on the houseboats
Well, one of the best advantages of being on the houseboat on the backwaters of Alleppey (Alappuzha) is that you get fresh sea food in your platter. While we were cruising through the backwater, our cook was busy with his hands on some fresh catch. Although I am a vegetarian, Abhishek had a wonderful meal of his life on the boat with freshly caught and cooked fish. However, I must add, even the vegetarian dishes prepared for me were quiet yummy. And having them right in the middle of the backwaters was quiet an experience. So much so that it became our lunch to remember forever.
4) Hop on and off a resort or cafe
While on the houseboat, you will cross through several canals. There are different establishments on the banks including hotels, resorts, cafes etc. It will be really nice if you can get off the boat, to a resort or cafe on the banks. Have a coffee or a quick byte. And then hop back onto your houseboat for your forward journey. We did spot some very lovely resort on the banks. But alas, we couldn't stop there. However, we would totally love to (on our next trip to Alleppey whenever it happens)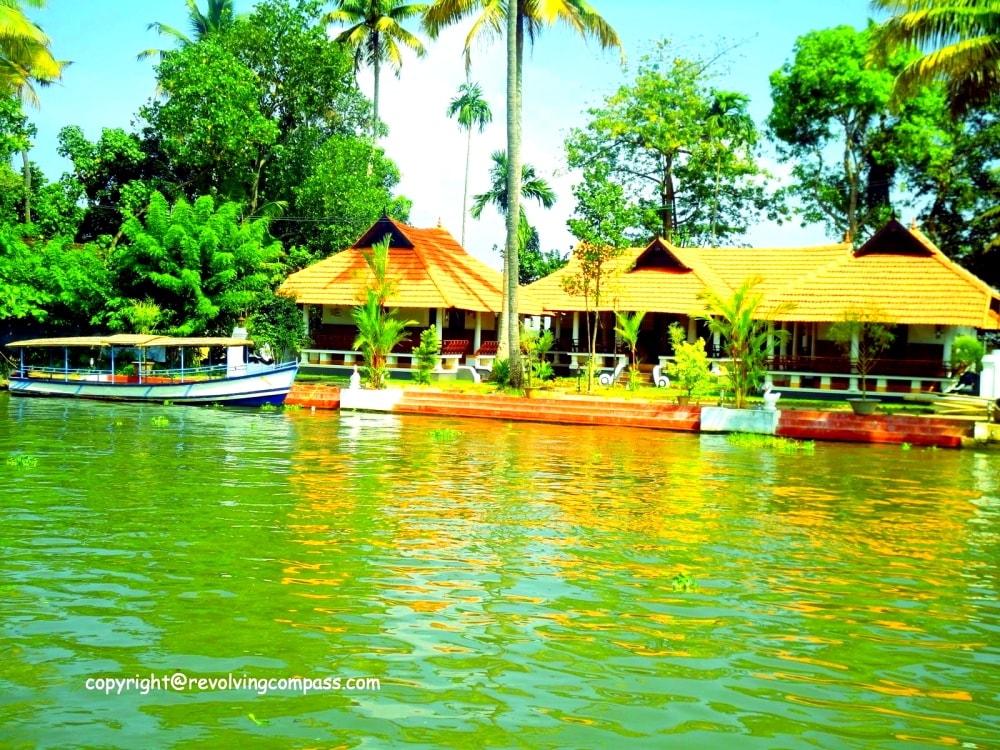 5) Wave to others across the houseboats
Although, you will feel quiet isolated from the rest of the world, while on your houseboat. Still, there are some constant companions. The major one being other houseboats that will be passing by. The canals are frequently cruised by numerous houseboats. In the day time they all splatter across but during the evening hours, they all start cruising back to the banks for the night. And that is when you get to see a whole lot of them. Each houseboat has a little different kind of aesthetics and it is a pleasure to watch them go by. You will see fellow tourists like yourself relaxing and enjoying on the other houseboats as they pass by. Not a bad idea to wave across to them in greeting once in a while 🙂
6) Visit along the paddy fields
Many a times, the canals that you take over the backwaters of Alleppey (Alappuzha) pass right in between paddy fields. You can also spot narrow stretches of land being cultivated amidst the surrounding backwaters. We were lucky enough to come across a beautiful harvest site. Post harvest, the locals were carrying the crops off in boats. But the mini boats were all tied in a line one after the other, creating such a beautiful sequence. This made one of our most favorite snaps of the day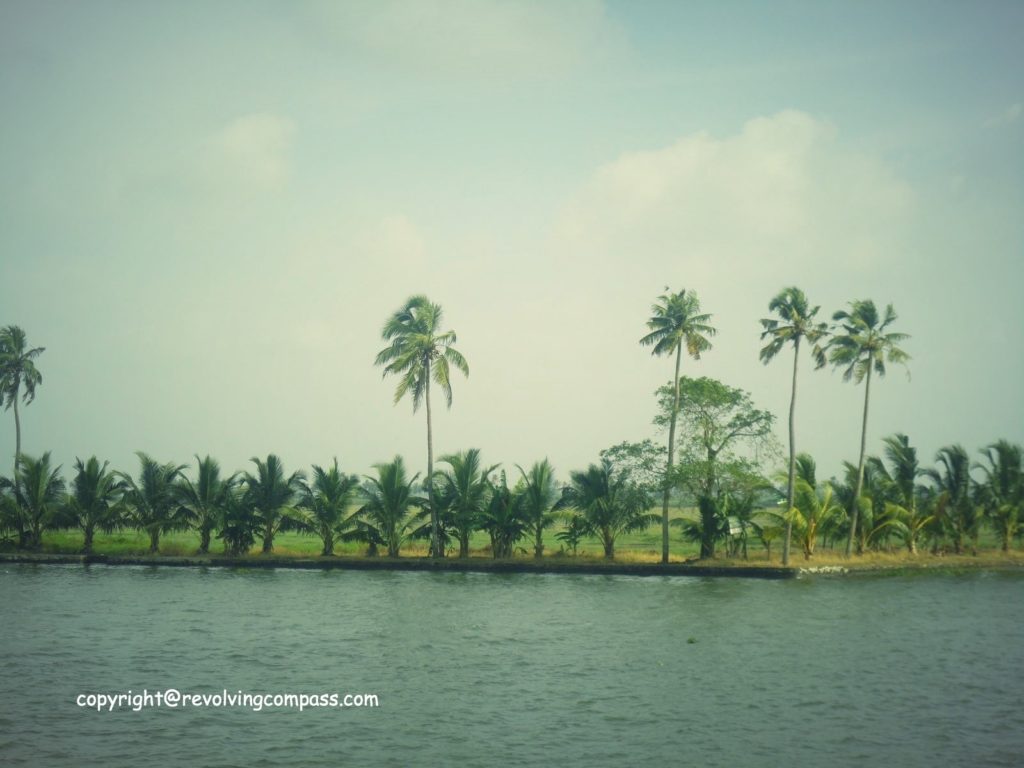 7) Observe the life of the locals
Well, for us, it might be a one to two day stint with the backwaters. But the life of the locals go on these canals every single day. Of course it cannot be same as the one we lead in the towns, cities, or, for the matter of fact, even in general villages where you walk on land, stay on land rather than surrounded by water all the time. It is really interesting to watch how the locals have developed a system wherein they are able to get around the water so easily with their daily chores.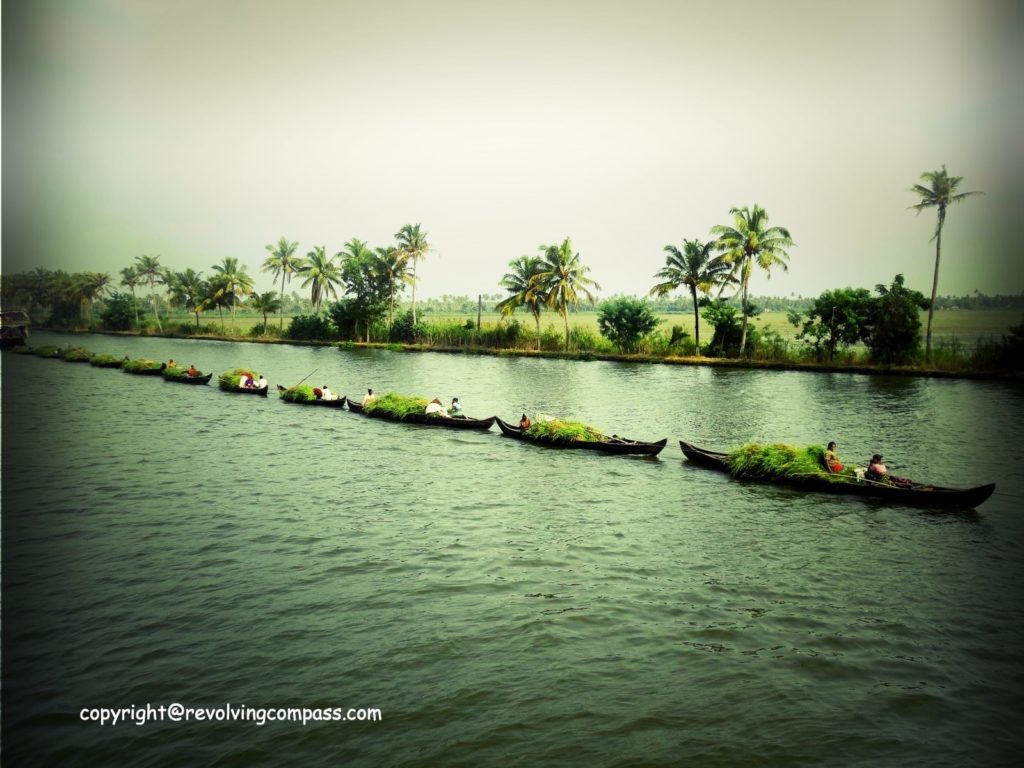 For instance, they use boats for ride instead of bikes and cars and buses. There are private boats and public boats that you can share with others like buses. Children go to school on boats, adults go to work on boats. And of course, like bus stops, there are boat stops at regular interval. Based on the capacity of an individual , he may own anything from a small hand rowed boat to a steamer. Even farmers cruise to their fields and bring back harvest on boats.
8) Capture the beautiful sunset and sunrise over the backwaters
Sunsets and sunrises are one of the most beautiful phenomenon on the backwaters that you will come across. I don't have enough words to describe, you got to experience it to understand it. As the evening approaches, the sky changes color several times. And finally you can see the sun setting over the horizon, and it's beautiful reflections in the water, waving a little now and then as a boat passes by. Equally mesmerizing is the sunrise phenomena. These were one of the best sunsets and sunrises of our lifetime that we got to watch over the backwaters of Alleppey (Alappuzha)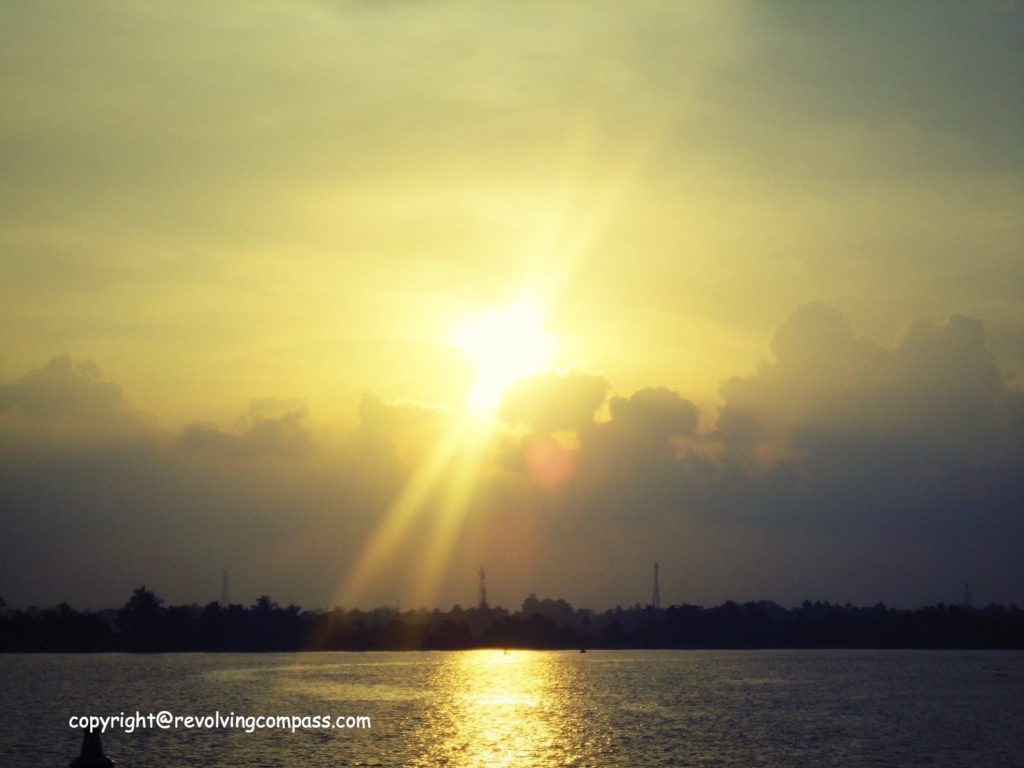 9) Spend a night in the houseboat over the waves of the backwater
There are both day trip options and overnight stay options available for the backwaters stay in Alleppey (Alappuzha). I would strongly recommend go for an overnight stay. As the night approaches, the houseboat will row back to the banks of the backwater. You can have your dinner on the houseboat before it reaches back the banks. Yes, we had ours on the deck. Amidst numerous candles, their reflections casting in the dark water. One of the most romantic dinners that we had – beats any luxury hotel dinners 🙂 And then , the boat had halted by the bank for the night. We retired to our room for the night. I don't remember ever being cradled after growing up except for this one night – where the waves slowly cradled our boat now and then and we had a wonderful sleep.
10) Step out on the shore
And as a bonus, go to the beach before you leave Alleppey (Alappuzha). For us, It was a cruise to remember, one of a lifetime. We will go there again, and again, as soon as we get a chance. When we finally said good bye to the houseboat, we could not leave the town without saying a hi to the beach of Alleppey (Alappuzha). Thus, we requested our driver to take us to the beach for a small span. It was drizzling a little but it was overall a great experience on the beach – our first together. From here, we boarded back into our cab and started on the backward journey to Cochin.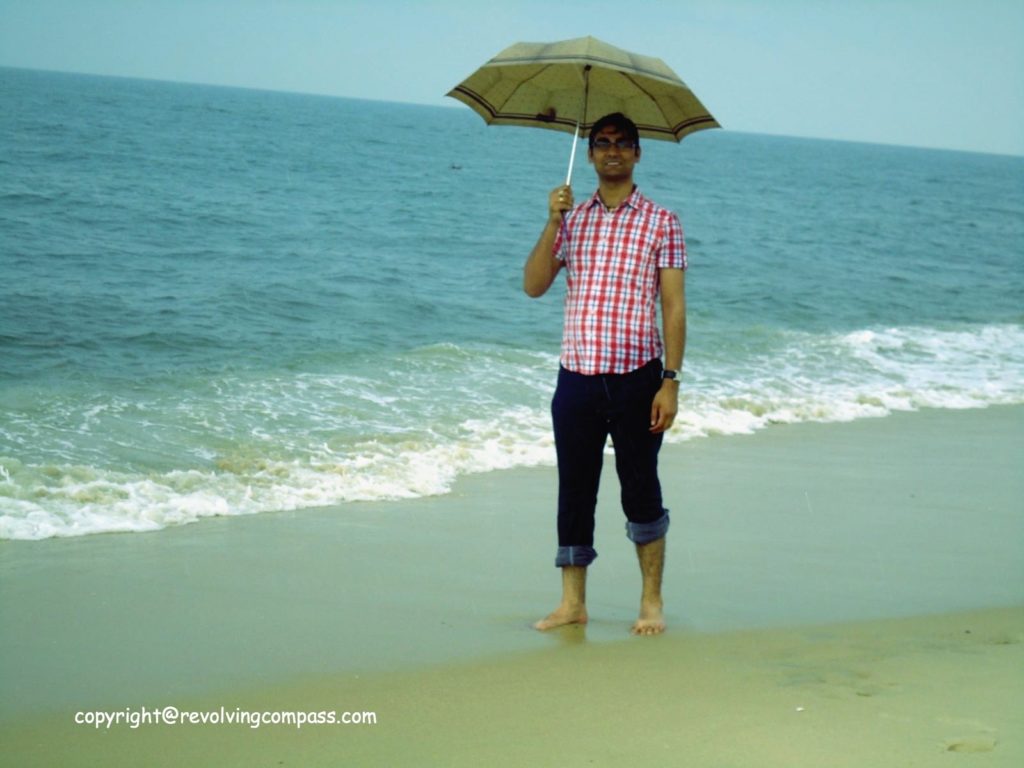 Tips on planning a trip to the backwaters of Kerala
Winter months are best for a visit
Wear comfortable cloths as the climate will be mostly humid and hot
Don't forget a mosquito repellant as the open deck of the houseboat invites mosquitos particularly during the night
Opt for a clean boat, survey quickly before you settle down and ask for anything you think might be missing. Our boat was closed for a while before we booked it. So, the room was little damp in the beginning. We asked them to clean it and kept the windows open through the day to ensure fresh air fills in.
You can keep some snacks with you. Although the cook on board will provide you with plenty of food and yummy too. Just in case you carve for some, you can keep a small stock. Since, you will be on land only the next day.
Avoid the peak season. The houseboats have become quiet popular off late. And looks like the place gets pretty crowded in the peak season. We had visited in the first week of November. It was the starting of the peak season. So, we faced moderate crowd.
Book the whole houseboat to yourself if you can. Then you will have real good time all to yourself.
The boats vary in the number of rooms that they have. You can book one with the number of rooms as per your requirement. There are some double decker boats as well. With more number of rooms, more space in dining room etc.
You can reach Alleppey easily from Cochin or Thekkady. Even other parts of Kerala are well connected. You can hire a cab like we did or you can also take public buses that ply regularly between these towns.
Try to reach early in the morning so that you can enjoy your full day there.