Disneyland Paris doesn't need any introduction. It's one of the most favorite, most sought after destinations in Paris. And equally so for both adults and kids. Also, we all know it's huge. So, it's always challenging to cover it in a single day. On our recent trip to Paris, we went to Disneyland also. And pressed by time, we went for a one day two parks pass. To start with, let's accept, it indeed is a challenge to cover both the Disneyland park and the Disney Studio World in a single day. Thus, if you have time, do give at least two days to your Disneyland Paris visit.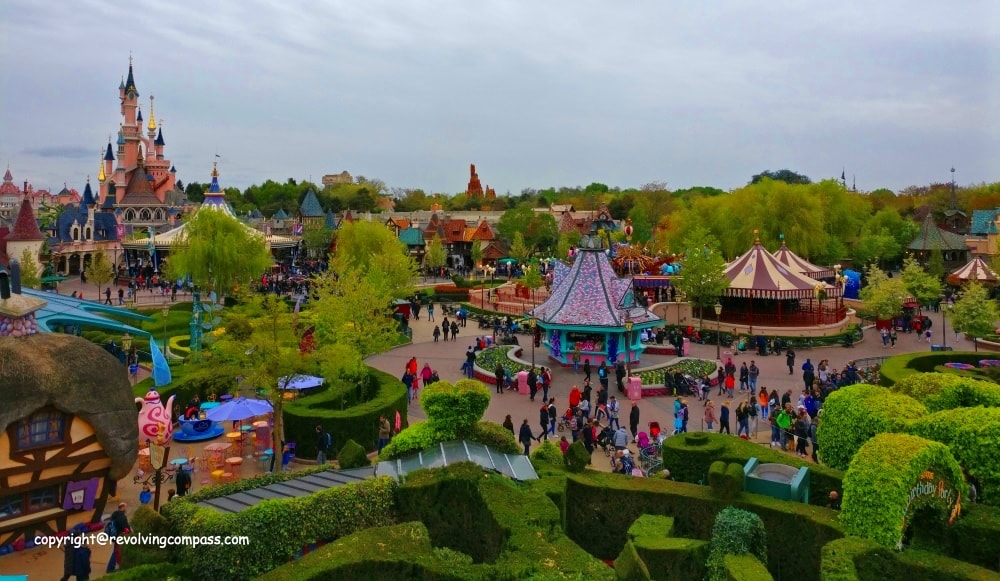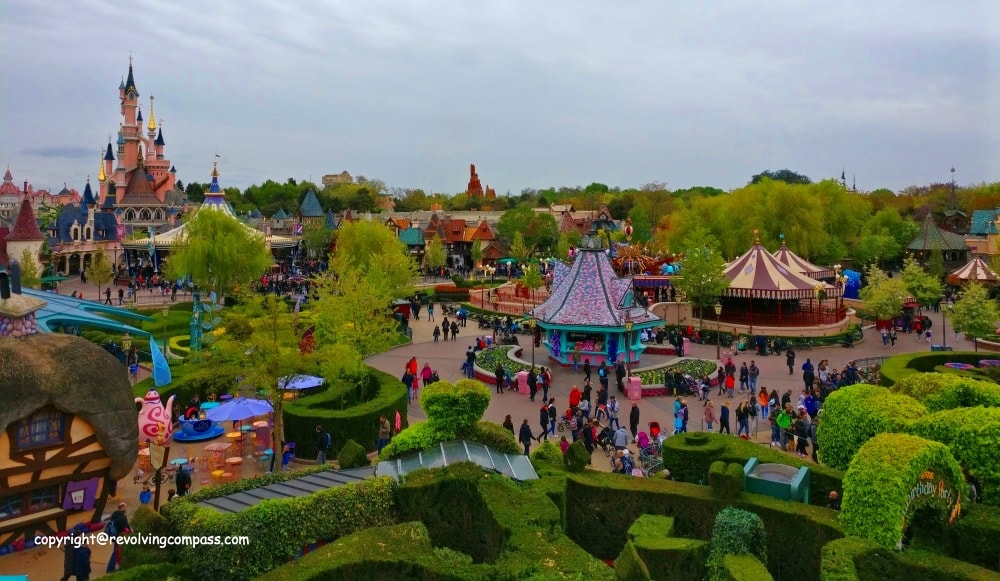 But then, many of us are pressed by time, like we were. And that is where we have to make the most of the time we have at hand. Basically what I am saying is, there can be cases where you have no other option than to do a Disneyland Paris one day two parks trip. And this post is all about how to make the most of it. Although I must admit we could have done it more efficiently. Had we learnt a few things before going there. Thus, we ought to make our readers aware so they can make the most of their time doing the Disneyland Paris one day two parks trip.
An introduction to Disneyland Paris
Broadly, Disneyland Paris consists of two major parks – The Disneyland park and The Disney Studio World. The Disney Studio World closes before the Disneyland Park. The Disneyland park is further divided into 4 sub-parks: Frontierland, Adventureland, Fantasyland and Discoveryland. As the name suggests, the Frontierland and Adventureland have more adventurous games and rides that elders will be interested in. While the Fantasyland appeals to really small kids. It has homes to many cartoon characters and easier rides. While, Discoveryland is also having attractions for kids, but mostly kids above 4-5 years who can relate better to the fantasy characters.
It takes around an hours time to reach here from the city of Paris. And there are various means of communication to reach here. Head to their official site here and see what suites you best. And let us jump to the tips that helped us make the most of our time doing the Disneyland Paris one day two parks trip.
Making the most of your Disneyland Paris one day two parks
Get your Disneyland Paris one day two parks tickets in advance
You can book your Disneyland Paris one day two parks tickets online. And it will be a good thing to do. Since, it is one of the most crowded and attractive places in Paris, the tickets get even sold out at times. So, better book yours in advance. Instead of wasting your time buying one on the spot. This will help save a lot of your precious time.
Install the Disneyland Paris app
The app can be installed from Android play store or Apple app center. And it is indeed helpful. If you have data enabled, it will show you the rides. And also the rush or queue at each of the rides. This way, when you are in a particular part of the Disneyland Park, you can decide which ride to go for next. Depending on which one has the least rush. This will reduce your wait time drastically and help make the most of your time doing the Disneyland Paris one day two parks trip.
Take a map of Disneyland along with you
You can collect the map from the information center inside the premises of Disneyland Paris once you reach there. The map helps you remain on the right path as the park is huge. And without directions it can be little overwhelming. Besides, the Map also helps locate refreshment centers, hotels and restaurants and restrooms across the park. So, when you are in need for one, all you need to do is look into the map and approach the nearest one. These are located all across the park, just that you need to know which one is nearest to you at the moment. And that will help you save more time that you might otherwise waste looking for these places.
Create a rough itinerary of your day, aligning parks in order
When you have got limited time, and that is always the case with Disneyland Paris one day two parks, it's important to make the most of it. And keeping yourself sorted and ready with an itinerary helps save a lot of hassle pondering over where to head next. This will help you make the most of your Disneyland Paris one day two parks time. To start with, long before the trip, decide the order in which you will be visiting the parks. For instance, we had decided on our trip that till lunch time, we will be in Disneyland Park. Then we will head to Disney studio world for couple of hours. And when it's closing time there, we will get back to the Disneyland Park.
In the Disneyland park itself, we decided on visiting Fantasyland first of all. So that kiddo could enjoy some kid friendly rides. And meet some of her favorite characters like Alice, Mickey Mouse etc. And then next head to Discovery land. We planned to be here till lunch time before heading to Disney World Studio. And when back to Disneyland Park, we headed to Frontierland and Adventureland and enjoyed some rides ourselves. It did work out well. Since, first of all the kid got to enjoy herself since the beginning. Next, as we headed back from the Disney Studio World, the crowd had thinned pertaining to a cold evening. And thus, in Frontierland and Adventureland we found the queue at the rides much smaller.
Catch the parade at least once
The parades are an integral part of life at Disneyland Park Paris. There are designated times when the parades come out through the main street of the Disneyland park. And you must catch one of these. Luckily we caught not one, but two parades. The one in the afternoon, before heading to the Disneyland Studio world and then the one in the evening, right after returning from the Disneyland Studio world. The parade is where all the characters come together, march, dance around and greet the audience. The music and activity alongside charges up the whole atmosphere.
If it were up to our daughter, she would make the characters dance and let the parade go on all through the day.  But here's an insider tip for you. During the parade, the rush at the rides really decreases as many go ahead to watch the parade. So, this is a wonderful time to go on some of the rides that are otherwise having lots of rush. We did try it at the end of the second parade. We dispersed a little before the rest of the crowd did. And we found some of our favorite rides not at all crowded.
Decide on your rides beforehand
Just like you decided on your park itinerary, also decide on your rides. Let these be the rides that you don't want to miss on your Disneyland Paris one day two parks trip. There are literally 100s of rides to take here. And you must make a priority list in case you are going on Disneyland Paris one day two parks trip. Since, it's literally impossible to cover all the rides in a day. You must give some a miss in order to enjoy those you want the most. And for that, you will need to make a list beforehand. If you are with family, like we were, you should make a list of activities that include all of these : (1) ride for kids (2) ride for adults (3) rides and games that both can be involved in together.
In our case, we chose for our kid Alice's curious Labyrinth, Disneyland railroad, Dumbo the flying elephant, Le Carrousel De Lancelot, Flying Carpets, Mad Hatter's Tea Cups, Sleeping beauty castle and meeting Mickey Mouse. While for ourselves, we chose Pirates of the Caribbean, Big thunder mountain, Indiana Jones and a few other rides. On some of these rides, she could enjoy along side us. And when we found the next ride on our list over crowded, we switched to some other ride, and came back to it later. End of the day, we did more than these rides. And we had the satisfaction of not missing out on one we badly wanted to take.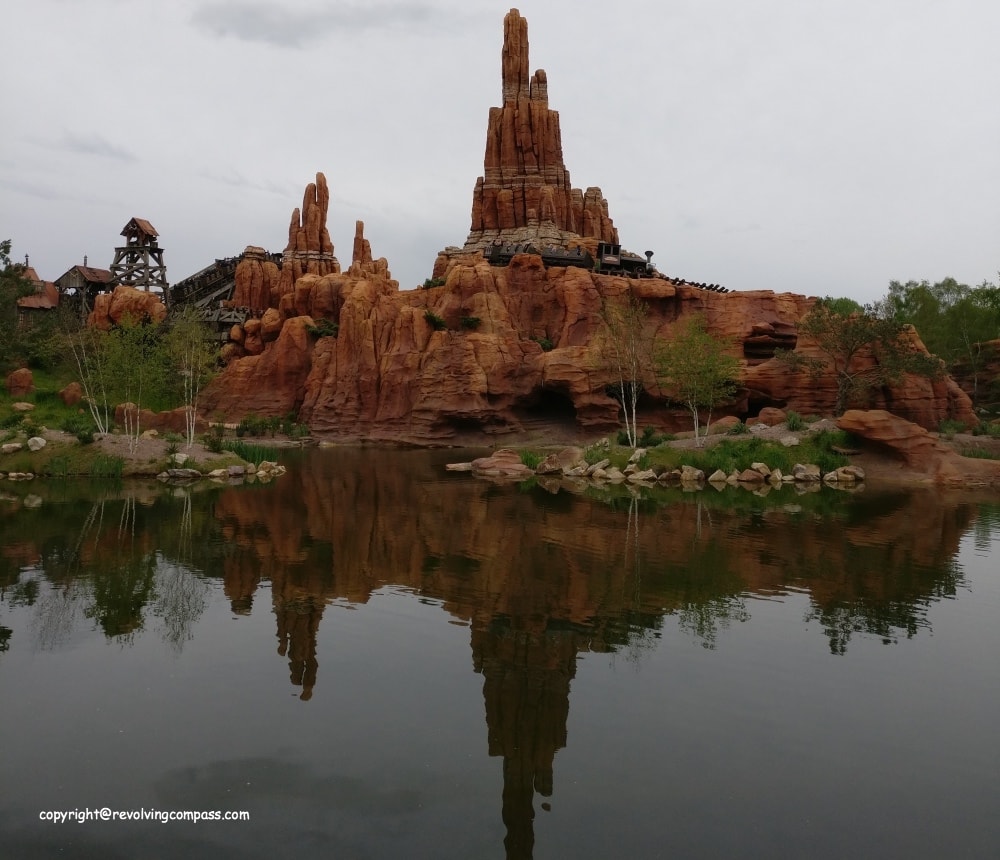 Make use of fast pass
Many of the attractions at Disneyland Paris support fastpass. It is a concept that works like those tokens you get at banks and restaurants. Just instead of a token number, there is a pre-designated time printed on your fastpass. You ensure to return back to the attraction at that time, and you can have an entry into it without waiting in the queue!
So, this helps in two ways – (1) You secure your time on the rides that you love and don't want to miss. And you won't have to wait in queue when you arrive at those rides at the predesignated time as per your fast pass. (2) You can utilize the time that you would have otherwise wasted in queue, in taking some other ride in the meanwhile. All you need is to insert your disneyland ticket into the fastpass machine near the attraction and get the time printed. So, particularly when on a Disneyland Paris one day two parks trip, the fastpass is like a trump card you can use to save time.
Stay at Disneyland Paris itself?
Well, this is something that we didn't do. And we won't recommend to the economical travelers. The Disneyland Paris hotels on the premises are really costly. The advantage is that you save travel hours. And you get those magical hours – the time before the park opens to the public and after the park closes to the public. You will have those extra hours for the rides and adventures around the park without much rush around. But then it all comes at a cost. So, if you are comfortable with your budget, you should definitely stay on the premises and take advantage of these hours and save travel time.
Eat while you walk
Well, when we all do a lot of ride and walking around on our Disneyland Paris one day two parks trip, we are bound to feel hungry and thirsty. But, did you know that if you are not eating the right thing and the right way, it's going to work against you during the trip. And will also not help you make the most of your time here? So, the trick is to eat right. And by right I mean light food at regular interval. Since you will be taking rides that will be spinning and going in rounds it is good to eat light, easily digestible food.
Next comes saving time and making the most of your time at Disneyland Paris one day two parks trip. And that is where again eating right is going to help. Eat what can be packed and carried with you while you walk or are waiting in queues. Avoid sitting in a restaurant and eating. We did that once during lunch time and we wasted close to an hour there. The ordering, finding a place, eating and relaxing all takes time, without us realizing. So, do take rest if you are tired. But if not, then eating while walking or waiting in queues will be better.
Last but not the least, carry your food right from Paris if possible. The food at Disneyland Paris is pricy. Why to pay for it when you can get the same thing outside at much lesser cost. Carrying food is allowed (Of course within a limit like a few sandwiches in a bag) . Apart from the meals, some power food like chocolate bars, energy bars, dry fruits and others help keep the energy level up between the meals. And satisfy your hunger spans.
Be prepared when traveling with kids
When traveling with kids, it becomes all the more important to be prepared so you can make the most of your time during your Disneyland Paris one day two parks trip. The number one tip is to carry the kid's essentials with you including extra pair of dress, water, some fruits and dry fruits etc. And the second one is carrying or renting a stroller. We could have done everywhere else in Europe without a stroller but not in Disneyland. There is a hell lot of walking to be done. So much so that for the first time during our Europe trip, we felt totally exhausted end of the day. So, it's impossible to expect small kids to do this tremendous amount of walking.
If you are carrying a stroller with you, then it's the best. But if you are not, we highly recommend renting one from the shop just after the entrance to Disneyland park. When you move from Disneyland Park to the Disney Studio, you will need to submit the stroller back. But then in the Disneyland Studio, you can again rent one out with the same receipt. You need not pay twice. The best part is that the kid is also able to take a nap in the stroller during the day, getting all refreshed once they wake up.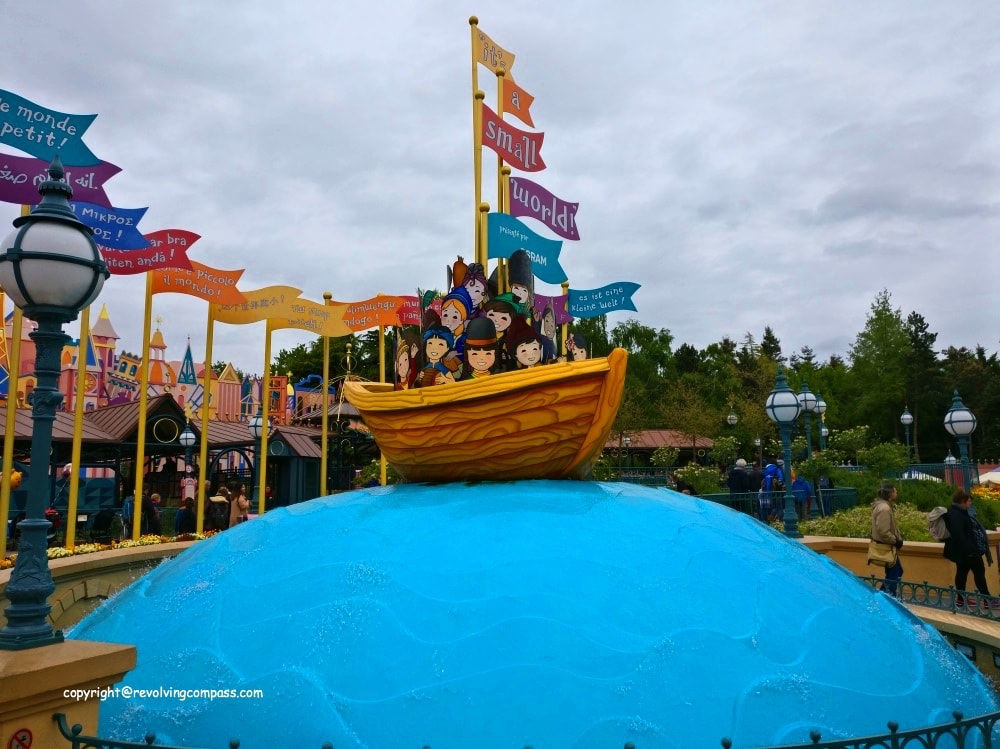 Additional tips on doing Disneyland Paris one day two park trip
For latest information on the opening and closing times, operational rides, commute and stay, visit the official disneyland website.
Wear comfortable walking shoes as there will be a lot of walking to be done.
Carry refill water bottle with you. There are ample places where you can fill your bottle as well as drink from a tap directly.
Enter through the main street of Disneyland Park and head towards the Fantasyland straight if you have kids with you.
Catch the parade on the main street. It's better and bigger after the renovation of Disneyland Paris this year.
It's much more chilly here compared to Paris unless you are visiting in the summer months. When we visited in April, it was cold and chilly. And the wind seemed to hit us right in the face. Since the area around is quiet open and there is no cover. So, prepare accordingly. Carry enough woolen and dress your kid in layers.
Near the stroller shop, there are several souvenir shops. The prices across the shops in Disneyland are the same. But they are higher than the city. But in case you want to pick a souvenir from here, you can go to one of these shops. After all, it is a wonderful day in your life so why not make it all the more memorable 🙂
If you are planning to return to Paris by train, don't forget the return time of the last train from Disneyland. And make plans accordingly so you catch it in time. Else, it will be difficult (and way too expensive) to reach back to the city using a cab hire kind of medium of commute.
You can as well stay near to Disneyland Paris, on the outskirts of the city but not inside one of the hotels in the Disneyland campus. Although, it will save time traveling. But, it won't give you access to the magic hours. Still works better if your main purpose in Paris is to visit Disneyland.
Hop on and off between the parks efficiently on a pre-planned route and you are sure to make the most of your day.
Summary of our Disneyland Paris one day two parks trip
| | |
| --- | --- |
| Time | Activity |
| 9:30am | Arrival, entry, renting a stroller |
| 10:00am-12:00pm | Fantasyland rides & Exploration |
| 12:00pm-1:00pm | Met Mickey Mouse @ his house |
| 1:00pm-2:00pm | Lunch @ Discoveryland alongside some shows |
| 2:00pm-3:00pm | Discoveryland rides & Exploration |
| 3:00pm-5:00pm | Disney World Studio rides & Exploration |
| 5:00pm-6:00pm | Adventureland rides & adventures |
| 6:00pm-6:30pm | Parade @ Main Street |
| 6:30pm-7:30pm | Frontierland rides & adventures |