Jaipur keeps bemusing me. As a destination, it has so much to offer. However planned an itinerary we create, at the end we feel short of time. However, this time around, we did a trip to Jaipur wherein we spent 3 days in the City. What we feel is 3 days are good enough to cover most of the places in the city. However, a little planning is required for the same. Moreover, once we started writing about places in Jaipur, we got queries from readers about the planning / itinerary part. So, here , we are going to list out for you a three days itinerary of Jaipur. If you want to visit many places around Jaipur, that can be done in day trips with your base in Jaipur. There are several places of historical as well as natural interest around the city. And to cover all of them will require at least 15 days to a month. So, here we cover places only inside the city for which you need not travel far and wide.
This is not the exact itinerary we followed. But, this is the itinerary we wish to have followed. Though we covered most the places in this list, at the end we felt if we had a week or so extra, we could have covered lots of places around Jaipur. Nevertheless, here goes the list of what to do and where to go in Jaipur given you have three days at Hand.
First Day in Jaipur
In our opinion, it is good to keep the first day light. You might be tired from your journey. You will need some time to get fresh and settle down. So, here's what we recommend for your first day in Jaipur. Visit the historical places in the center of the city. So that you will not need to venture far. These places can be covered in half a day. Here's the list of places (in order) to be visited:
Hawa Mahal (Duration: 1 hour)
Jantar Mantar (Duration : 1 hour)
City Palace (Duration: 1 hour)
Albert Hall Museum (Duration : 1.5 hours)
Moti Doongri Fortress (Duration : 0.5 hours)
Birla Mandir Temple (Duration : 1 hour)
You can start your day trip with a visit to Hawa Mahal. Next, go to Jantar Mantar, which is located at walkable distance from Hawa Mahal. From here, head to City Palace whose entrance gate is located just across from Jantar Mantar. Once you are done visiting City Palace, head to Albert Hall Museum which is 3.5km from City Palace. You can take an autorichshaw or a bus. From here, head to Moti Doongri Palace and Birla Mandir which are just besides each other.
Call it an early day since the next day is going to be a long one.
Our first day
I had to observe a fast (as a part of my religious custom) on the first day of the trip. So, I decided to keep it really light. And the above itinerary helped me achieve my goal. It would have been really sad to waste one wonderful day. And it was not possible for me to venture far and wide with the "no food all through the day" limitation. So, we decided to explore the heart of the city and that included these sites that were quiet close by. I felt quiet energetic enen at the end of the day. Moreover, I was able to get back in time to complete some rituals that I had to observe as a part of the ceremony. It was like a win-win. Having been able to keep the fast and also complete the day at a wonderful note.
Second Day in Jaipur
Reserve day two for an endeavor with forts and palaces of Jaipur. Today you can visit:
Amber fort or Amer fort

(Duration : 3 hours)
Anokhi Museum (Duration : 1 hour)

Nahargarh fort

(Duration : 2 hours)
Jaigarh fort (Duration: 2 hours)
Jal Mahal and boat ride (Duration : 1 hour)
We would recommend you to start early on. Have an early breakfast and head to Amer fort. Reach here by the time it opens (8:30am). Near Amber fort, there is a hand printing museum called Anokhi. We were very interested to visit here. But alas, it is closed on that day of the week (Monday), so we couldn't.
Next, visit Nahargarh fort which is quiet near, almost 20 minutes drive from Amer fort. Many will suggest you to visit Jaigarh fort before Nahargarh. But the reason we tell you to go to Nahargarh fort before is reasonable lunch option available here. Such facility is not available at Amer or Jaigarh forts.
After completing a visit to Nahargarh fort, head to Jaigarh fort. Next, visit Jal Mahal. As the sun sets, have a nice boat ride on the beautiful lake surrounding this palace. This will bring us to the end of day two of our Jaipur trip. Actually, we bet you will be very tired at the end of this trip. Since there is a lot of walking done through the premises and stairs of three massive forts. So, have a nice dinner at your hotel and take rest.
Our Experience on day 2
We had an awesome trip to the trio of the forts but we ended up missing a boat ride to Jal Mahal. Since, we started little late in the morning. Since the little one took her own time to get ready. We still could have made it. But, we were not in favor of hopping from one destination to another. Instead, we decided, whichever places we are able to cover, we will spend sufficient time there. So, we ended up visiting the three forts. By the time we reached Jaigarh fort, it's doors were almost getting closed. The security guard was humble enough to not only show us around. But he even extended his duty time to show us all over. And only after we left, he secured the gates of the fort and called it a day. However, we do wish to have been able to take one boat ride around Jal Mahal.
Third Day in Jaipur
Today, head back to the locations within the city. Visit these places :
Monkey Temple (Duration : 0.5 hours)
Taj Rambagh palace (Duration : 1 hour)
Sishodri Rani Garden (Duration: 1.5 hours)
Jaipur Zoo (if you have kids with you, they will get a break from the historical endeavors you so far had) (Duration : 1.5 hours)
Chokhi Dhani or the likes of it (3-4 hours)
This is going to be another long day ! Start your day with a temple visit. Next, head to Taj Rambagh Palace. From here, go to Sishodri Rani Garden. You can visit the Jaipur zoo if you have kids with you. They will enjoy a break from the usual historical sightseeing that we have been doing so far. From here, head to Chokhi Dhani or similar ethnic village setup in Jaipur.
Our experience
We went to Chokhi Dhani on our last day of stay at Jaipur. Again, we reached here by 8 in the evening. By this time the place had got quiet crowded. May have been because it was a Sunday evening also. Nevertheless, we were left carving for more. Our experience at Chokhi Dhani was really great. And, we can't think of a better way that our vacation in Jaipur could have ended. But, we wanted to experience more at Chokhi Dhani, which we couldn't because of crunch of time. So, we recommend you reach here by 6:30pm and then you can stay all the way till 11pm (when the place finally shuts down) if you wish. The experience will surely be worth it.
Apart from the places to visit, there are a lot of other things to do in Jaipur like trying the local cuisines, or experiencing a cultural folk dance or puppet show. Here's another comprehensive list of things to do in Jaipur. There are many trips also that you can take from Jaipur. Like one to Ajmer and Pushkar.
Hope you enjoy this itinerary. If you have any suggestions or feedback, we will love to hear back from you.
Where to stay in Jaipur
Jaipur is famous for it's heritage havelis and palaces. Many of them have been converted into hotels. And some of these hotels are run by renowned hotel chains in India. The most authentic stay experience in Jaipur will be to stay in one such place and get a real feel of the royalty that Rajasthan stands for. To check out some beautiful such properties, head here. Apart from these beautiful properties, the city abounds in other stay options as well – something to suite all budget types and tastes. Isn't that wonderful?
General tips
Start your day as early as possible.
Club the places that are nearby together in one day. So that you can visit them all without wasting too much time in travel.
Visit temples in the morning. They open as early as 6am in the morning.
Some sights close by 5pm while there are few that open till 6:30-8pm. Line them up accordingly in your itinerary.
You can buy combined tickets that cover multiple destinations. Some of these tickets are valid for multiple days. This way you will save money.
Don't rush. Jaipur mostly comprises of historical places. If you rush through the places, you are not going to get their essence. The journey through a fort or museum doesn't become interesting until you know the story or the history that lies behind it. So, take your time.
Go for a guided tour. Guided tours are useful in places of significant historical importance.
Wear comfortable cotton cloths, preferably full sleeves as Jaipur mostly has a hot weather in the daytime.
Carry plenty of drinking water with you all the time and keep yourself well hydrated.
Carry your sunglasses and hats with you.
There are plenty of means of communication inside the city including autorickshaws and buses. You can take make use of these while transiting from one spot to another.
Spare some time for shopping. Rajasthan is one place full of beautiful traditional crafts and garments. You should explore the market here.
Take direction from locals when required. They are very friendly and helping.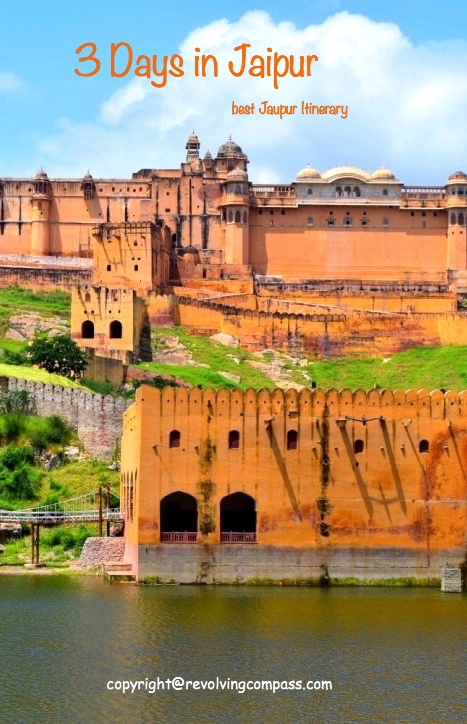 You might as well be interested in
Beautiful Wedding depiction at Bagore Ki Haveli Museum
Shilpgram: Must visit in Udaipur
A day trip to Chittorgarh fort from Udaipur
A day trip to Kumbhalgarh fort from Udaipur
The magnificent Jain Temple of Ranakpur
How best to spend 4 days in Udaipur – itinerary 
An evening at Chokhi Dhani, Jaipur
The unconquored fort of Nahargarh, Jaipur
One day trip to Amer fort, Jaipur
Hotel Ram Pratap Palace, Udaipur
Bagore ki Haveli Museum, Udaipur