On our recent Europe trip, we covered a lot of ground, and went to many cities and towns but for limited time. Overall in a trip of around 20 days, we covered Rome, Florence, Pisa and Venice in Italy. And then spent 4 beautiful days in Switzerland covering Lucerne, Grindelwald, Interlaken, Bern and Engleberg & Mount Titlis. There after, our next halt was at Paris. We had a couple of days to spend in Paris. And just like all other places that we visited in our Europe trip, we were challenged to make the most of our time in Paris. We spent close to 3 days in Paris. And out of that, one day we went to Disneyland Paris. Thereby spending the other two days in the city itself.
By the way, before we embark on the tour, here's a list of must visit places in Paris. In case you see some of these missing in our itinerary, that's because we were so sort of time. If you have more time, do include them in yours.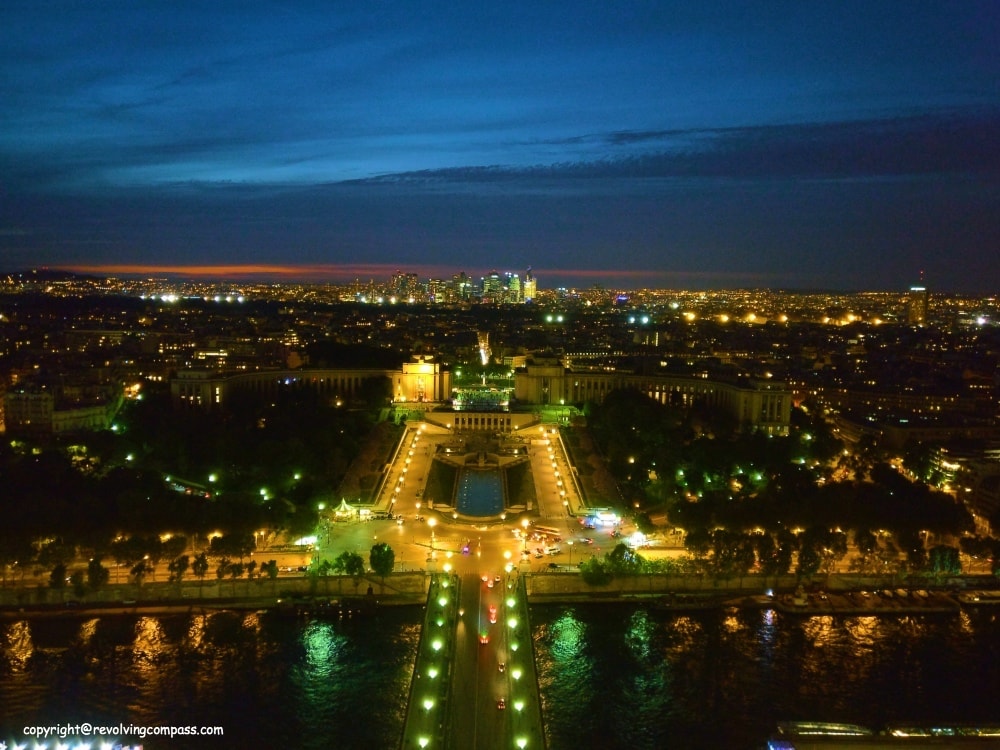 Day1 of 3 days in Paris
An evening cruise & bus tour
On the first day of our 3 days in Paris, we arrived by noon. And then went to our hotel. From there, after checking in and getting refreshed, we set out for our tour across Paris. As the first part of this tour, on the banks of river Siene, we had our pre-booked boat waiting to get us on-board. And thereafter started our evening cruise through the river. Along the cruise, we saw some iconic buildings like the Norte Dame, the Louvre,The Conciergerie, Institute-de-France etc. We also crossed several iconic bridges like Pont Neuf during this cruise. By the time the cruise was over, it had started getting dark and a few lights were popping up here and there. We saw people doing their evening jog as well along the bank of the river. And it was really a refreshing tour.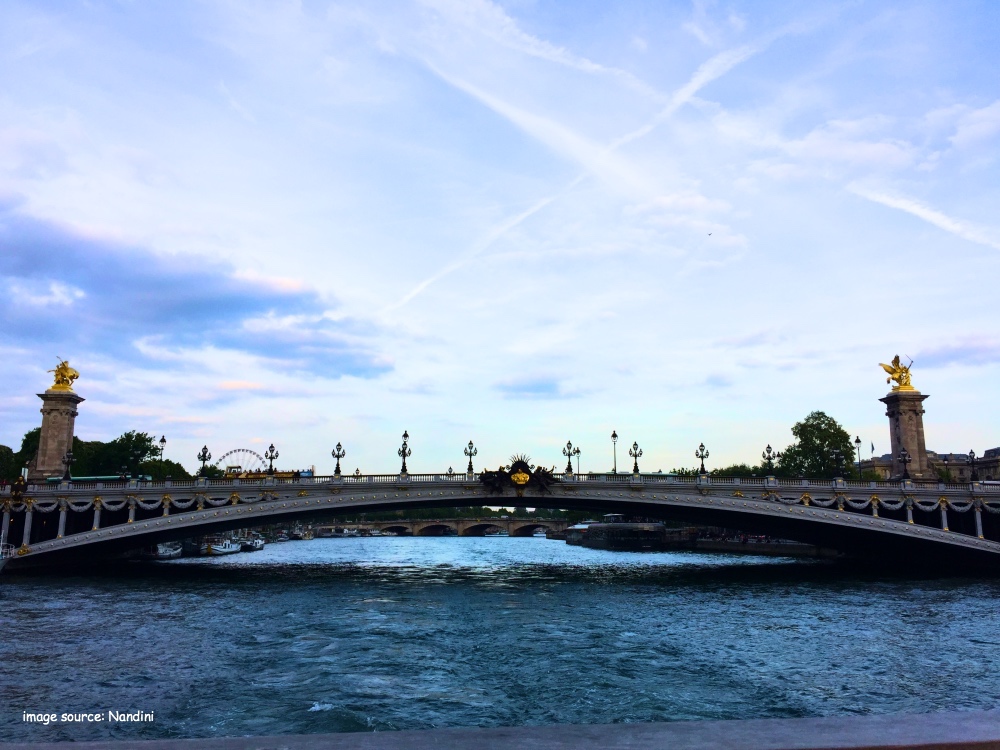 Thereafter, we went on to a short duration bus tour. The bus took us through some iconic streets of Paris, covering the old parts of the city. And the guide on-board introduced us to the important buildings on either side of the streets. We also crossed from near the Eiffel Tower and then entered into the campus of the Louvre Museum. Crossing the campus, we went along the bank of the river Siene. The tour continued for around an hour, after which we got down on the banks of river Siene to proceed to the next stage of our trip.
On to the Eiffel Tower
After the boat tour and the cruise, on the last leg our trip, we went atop the Eiffel tower. It was really a great experience being atop the Eiffel tower and seeing the lights play miracle from there. Thereafter we called it a day, but not without having some really extreme adventure. You can read about the full account of our evening in Paris and our uncalled for adventures here. In short, after all the adventures that we had, we were pretty exhausted by the end of the first day itself out of our 3 days in Paris.
Day2 of 3 days in Paris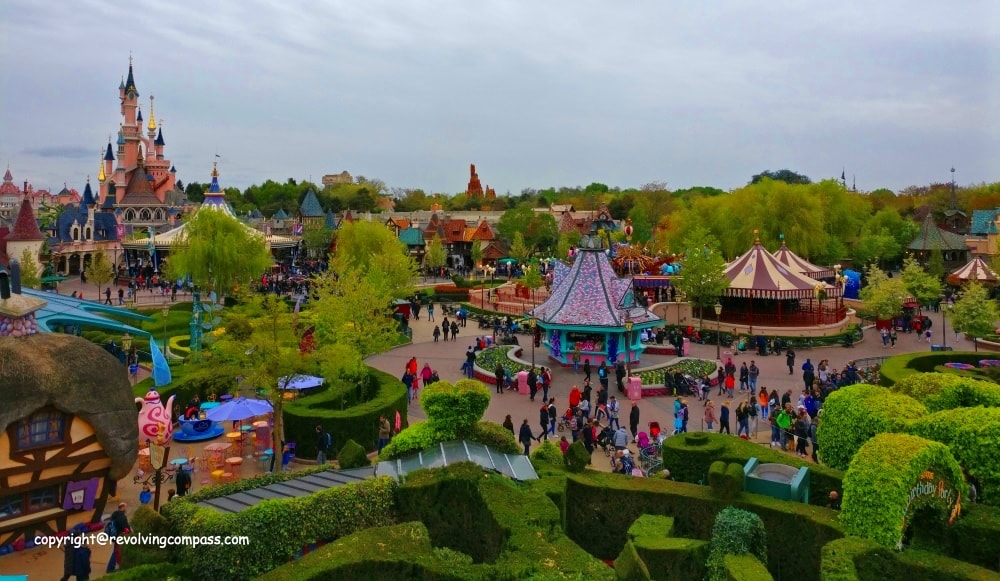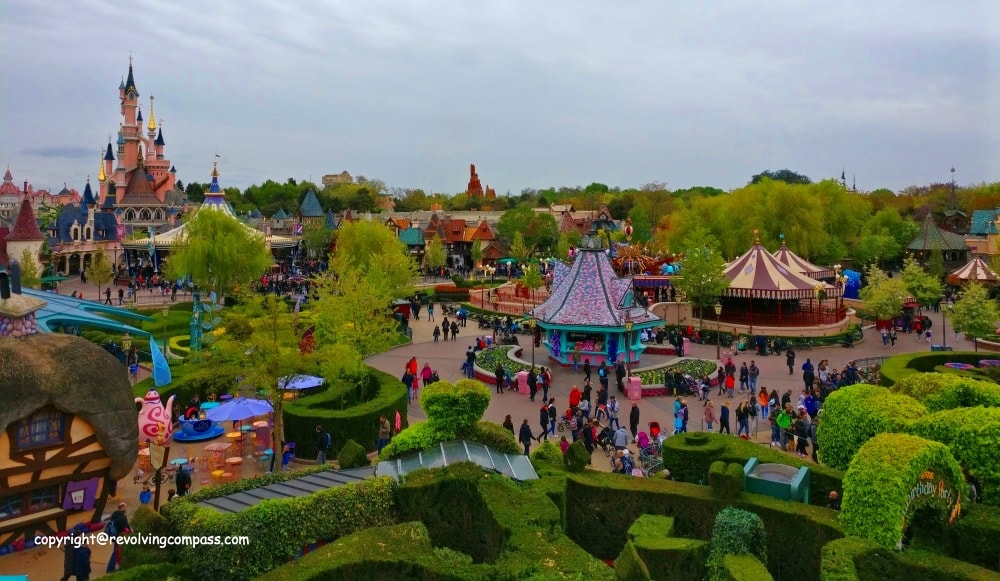 After reaching hotel, we caught on a few hours of decent sleep. Thereafter, on the second day of our 3 days in Paris, we were to head to the Disneyland. It was a pretty exciting day. We did all our homework beforehand and were fully prepared to go ahead and enjoy Disneyland. To travel to Disneyland, we had to board our bus from a certain point. And to reach there, we decided to take a taxi instead of metro or any other public means of transport that required us to figure out the way. Since, time was short. And we did reach dot on time to catch our bus! It was a one hour journey to Disneyland Paris.
Then the whole day we spent there. Hopping between through both the Disneyland Park and the Disney World Studio. As, we had to make the most of our one day two parks trip to Disneyland. End of the day, we were happy the way our Disneyland trip turned out. Thereafter, we returned back to the hotel. And tonight, we decided to take a good sleep. Our plan was to relax and take the next day of our 3 days in Paris in a slow and steady fashion. And so did we.
Day3 of 3 days in Paris
On the third day of our 3 days in Paris, we woke up after a good amount of sleep. There after, we had our breakfast. Then we discussed how best to make use of this last of our 3 days in Paris. And we decided on two things – (1) Instead of rushing between places, we will pick just a few places to visit and enjoy them thoroughly. (2) We will make use of the Paris metro today. Because it seems to be an economical and speedy way of transportation between the places. With this thought in mind, we decided to head to just 3 places – (1) Notre Dame (2) Luxembourg Garden (3) Louvre Museum.
Notre Dame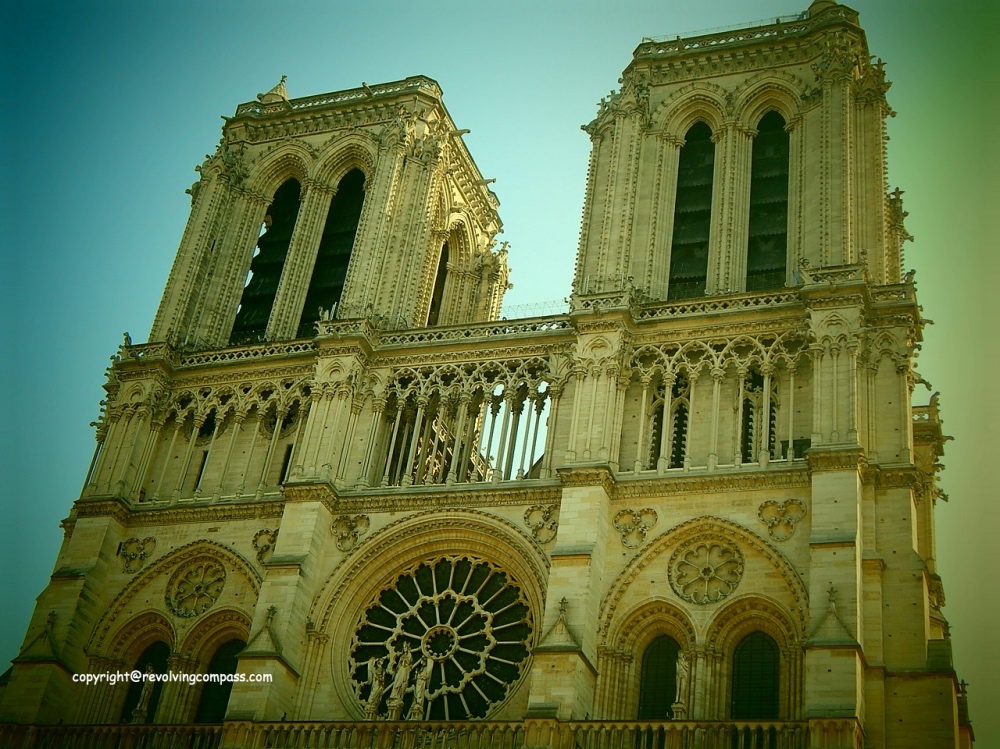 We took the metro to the Saint Michel Notre Dame station right from the Metro at our hotel. And from there, we walked to Notre Dame. It was a short walk. Like many other iconic places in Paris, the Notre Dame doesn't need any introduction. It is a medieval cathedral, best known for it's fine French Gothic architecture. It is also one amongst the largest and the most famous churches in the world. Although the interiors of Notre Dame look stunning any time, from outside, the church appears particularly pretty at night. Once the lightings are all on.
Luxembourg Garden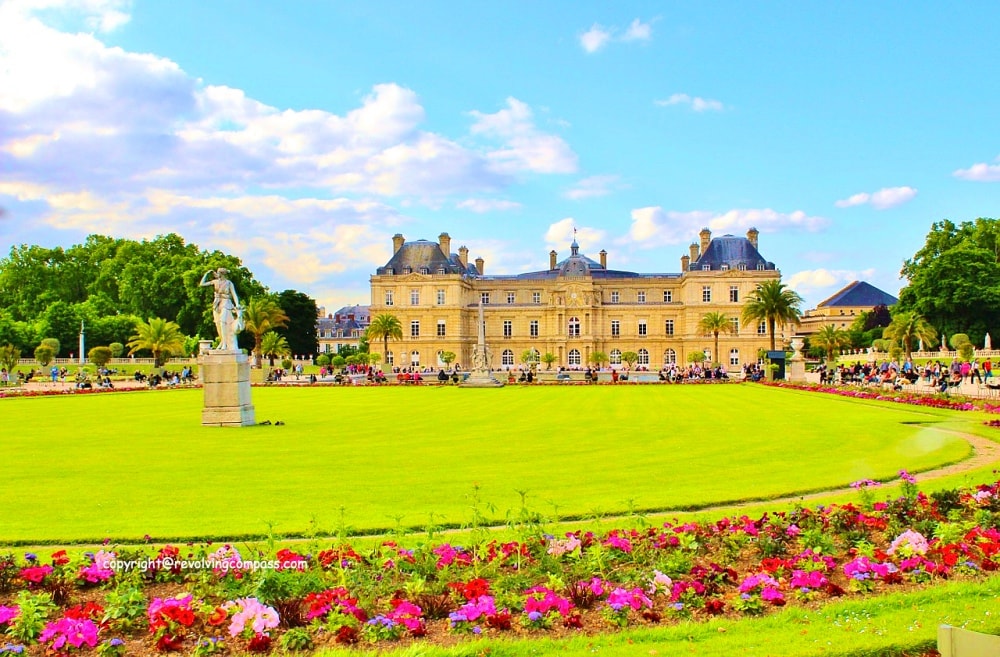 Next, we headed to Luxembourg Garden, again, through the metro The Garden is really beautiful – a vast stretch of green to get some real breathing space in the center of the city. The day was cloudy and quiet cold. And the air felt crisp and fresh. While two of our friends went out to get some lunch packed for us, the rest of us strolled lazily through the garden, pacing slowly. And observing the people go by. Looking at the people I realized, many do use Luxembourg Garden as a short-cut road to walk quickly from the part on one side of the garden to the other. There was constant footfall happening in the garden, even though the weather didn't look very favorable.
And from not very favorable, the weather slowly started turning towards nasty. The clouds slowly turned darker, as we were strolling around the central fountain, contemplating to sit near it and enjoy the calmness. Soon it started drizzling. And with that, we also experienced a sudden drop in temperature. We thought it better to take shelter. So, we went inside one shade near the farther entrance to the gardens. There, a couple of chairs were placed here and there inside the shade. We occupied some, huddling closer together to protect ourselves from the cold. And we continued waiting for our friends who had gone out for brining lunch.
Soon our friends arrived with some fresh packets of warm burger, packed pasta and noddles. We were delighted to have some warm meal in the middle of the freezing climate. Soon we were done with our lunch. And looking at the weather, we decided it would be better to go to our next destination – none other than the grand Louvre Museum – which was a must visit on our list anyways. And now looked like the perfect time to get ourselves indoors since outdoor the weather didn't look good and it seemed like it might rain heavily.
PS: If you have a few days at hand, you might not want to miss on any of the Paris Arrondissements. Checkout the link to see how you can plan a trip around the same.
Louvre Museum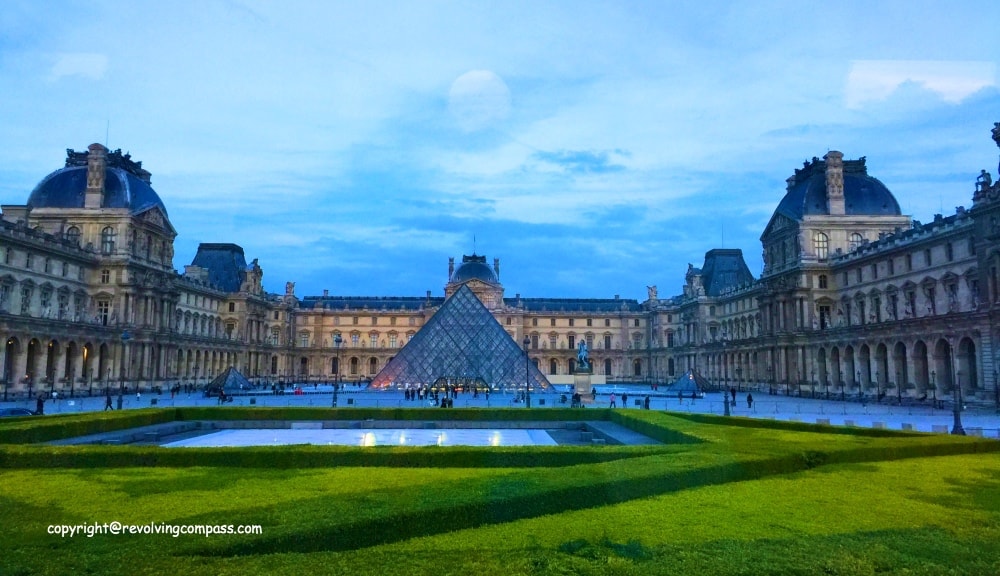 There is a metro station right at the entrance to the Luxembourg Garden. We ducked inside the underground metro station for shelter from the chill and the cold. And from there, we went ahead to the Louvre. We traveled through the metro and got down right inside the campus of the Louvre Museum. This was a strategy that worked really well. This way, we beat both the bad weather as well as the outside traffic. Also, today being a Wednesday, the Louvre was supposed to stay open for longer time – till 9:45 pm in the evening. So, we had enough time to explore the place.
And we did make the most of this time. After getting the tickets, we went to Mona Lisa first, visiting different sections on the way. And thereafter, we covered various other sections of the museum until 8:30 pm at night. It was particularly nice post evening when the crowd had dispersed. And we enjoyed our trip around the Louvre thoroughly. When we peeked from one of the windows, into the courtyard of Louvre, we realized it had rained heavily in the meanwhile. This made us even more proud of our decision to head to the Louvre from the Luxembourg garden. And that also, via the metro. Coming to Louvre itself, we feel we saw all that we were interested in. But definitely using some strategy, some tips and tricks once again, to make the full use of our time there.
Read the full account of our visit to the Louvre and learn our tips to effectively visit Louvre in a day here.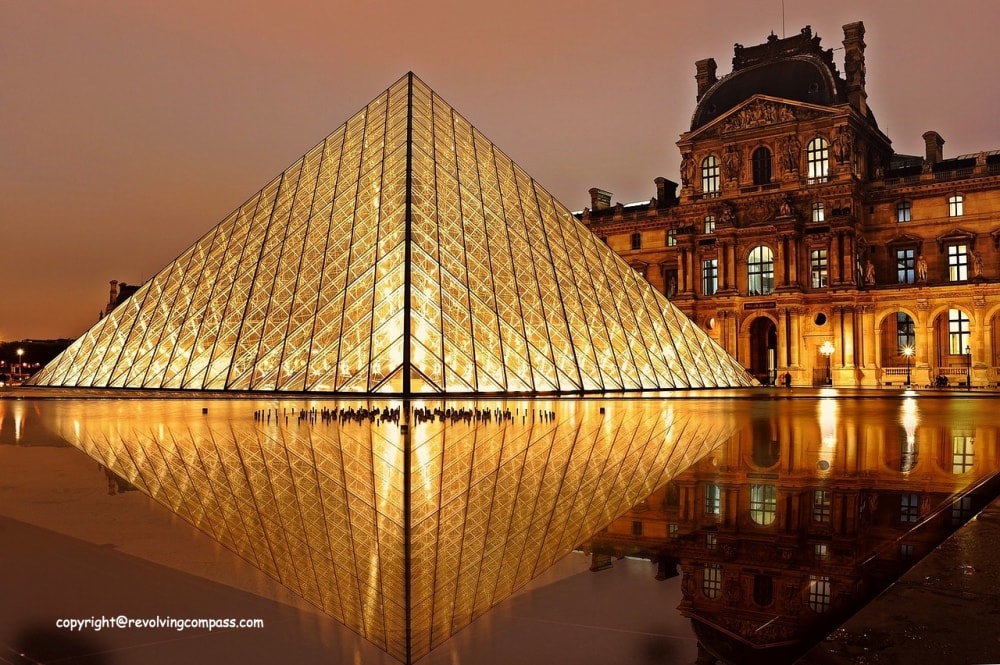 Back to our hotel
By the time we were done with our exploration through the museum of Louvre, it was time to return back to our hotel to catchup on some sleep. Since the last night we had got very less sleep and the next day we were supposed to embark on our onwards journey of Amsterdam. So, from Louvre Museum, we caught another metro line and headed straight to our hotel. We got some dinner packed from near the hotel, and then after having our dinner we called it a day.
In Conclusion
Paris is vast. It has so much of history, so much of culture. That actually for 3 days in Paris, all one can do is just scratch the surface of the iceberg. We do intend to return here for a much longer stay the next time so that we can explore much more of Paris as well as around it. I am sure that there is so much more to the city. And there are some hidden gem of places around. Which we do want to explore on our next trip there.  I guess the bus tour and the Siene river cruise were really interesting parts of the journey. They gave us a feeling of having seen a lot and done a lot in a lesser span of time.
General tips on visiting Paris
If you see, we actually didn't explore Paris much. Our purpose to include Paris in our list was to visit Disneyland mainly. Although we did visit a few of the iconic places like the Eiffel Tower, Notre Dame, Luxembourg Garden and Louvre Museum. But if you really want to explore this city, you should stay here itself for at least a week.  We intend to do the same on our next trip to Europe.
When you visit Paris, we highly recommend take the metro which is an efficient means of public transport in the city with very complex and vast network reaching to all corners. And on this one you can transit like local.
While exploring the city, we recommend you take the three days bus hop-on-hop-off pass. That way, you can explore the different icons and sites in the city at your own place.
As you pass through the streets of Paris, do pay attention to the shops and show rooms. And you will immediately realize why it is counted amongst the fashion capitals of the world.
Do keep aside some time to try the different culinary of the place. There are very attractive cooking classes available in Paris. I personally wanted to give a hands-on to some, but was short on time during our 3 days in Paris. But I will definitely do it the next time I go there.
Further places to visit in Paris include Arc de Triomphe, Sacré-Cœur, Paris, Champs-Élysées, Tuileries Garden, Musée d'Orsay, Place de la Concorde, Montmartre, Champ de Mars, Panthéon, Les Invalides, Musée Rodin, Conciergerie, Bois de Boulogne, Luxembourg Palace, Place Charles de Gaulle to name a few. There are several other museums, parks and interesting places to visit there. So, do plan your time here accordingly.