We spent 4 days in Udaipur during our Rajasthan trip. These were 4 beautiful days of our travel. Although, we still felt sort of days to do and experience everything that we planned for. Still, these 4 days were absolutely beautiful. The memories that we collected here are one of our fondest. So, here we dedicate a post on how we spent 4 days in Udaipur. Hope it will help you plan an effective itinerary in Udaipur for yourselves.
Udaipur – the first impression
We had taken an overnight train to Udaipur after spending 3 beautiful days in Jaipur. This saved us a lot of time. Early morning as we stepped out of the train, we instantly fell in love with the small, tidy and beautifully painted train station. Soon we hopped onto a prepaid taxi and started towards our place of stay : Hotel Ram Pratap Palace. We were greeted by the empty streets and fresh morning air while we drove smoothly to our destination.
Highlight of our four day trip to Udaipur
Day1: City tour covering places around Fateh Sagar Lake
Day2: Day trip to Kumbhalgarh and Ranakpur
Day3: Day trip to Chittorgarh
Day4: City tour covering the places in the old city around lake pichola
By the way, did you know that Udaipur is one of most sought after destinations in India. Both from solo as well as family travelers. In fact, it is one of the best Solo Female Travel Destinations in India .
Day1
We did an early check-in into the hotel and then headed for breakfast. Post breakfast we decided to take some rest, mostly considering we were traveling with our parents and toddler. So, we slept for a couple of hours, till lunch time. We had lunch in our hotel. Now we were all freshened up to start exploring the beautiful town and all that it had to offer.
Places around Fateh Sagar Lake
Hotel Ram Pratap Palace is located on the bank of Fateh Sagar Lake. So, on day 1 , we decided to stick to the areas near to Fateh Sagar Lake.
We started with a trip to Shilpgram. It is an artist village located almost 4 km from Fateh Sagar Lake. Altough we had aimed to spend some 1-1.5 hours here, we ended up spending quiet some time here. We enjoyed the place thoroughly. It has lots to offer. Artists perform folk dances of Rajasthan which are mesmerizing. Others come from far and near to setup shops of their authentic traditional products. We interacted with several artists and bought quiet some handmade products.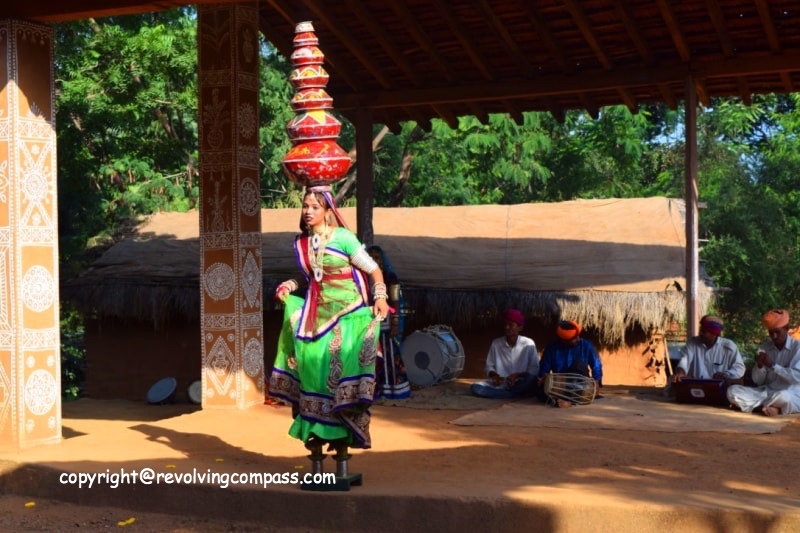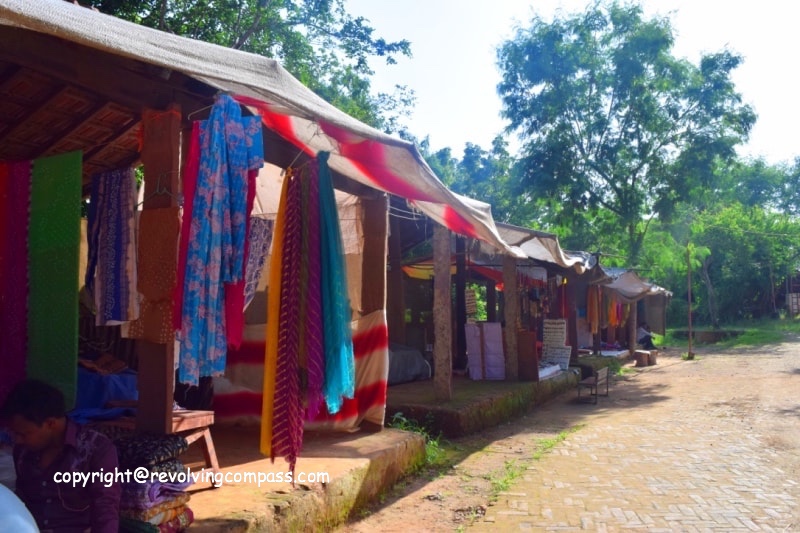 Fateh Sagar Lake
From Shilpgram we decided to go to Sahelion ki Bari. While en-route, we happened to circumvent the periphery of Fateh Sagar Lake. The lake has a huge circumference of 10km. On one end, where it opens towards the main road, there is a plethora of small shops. These include some craft shops and mostly road side eateries. There is a boating house also nearby. From here, one can hire boats to take a ride into the lake. Separate boats run for the lake and for Nehru Garden which is a small garden on a small island in the middle of the lake. We didn't stop at the lake for boating. Although I very much wanted to explore the roadside eateries and the boating option.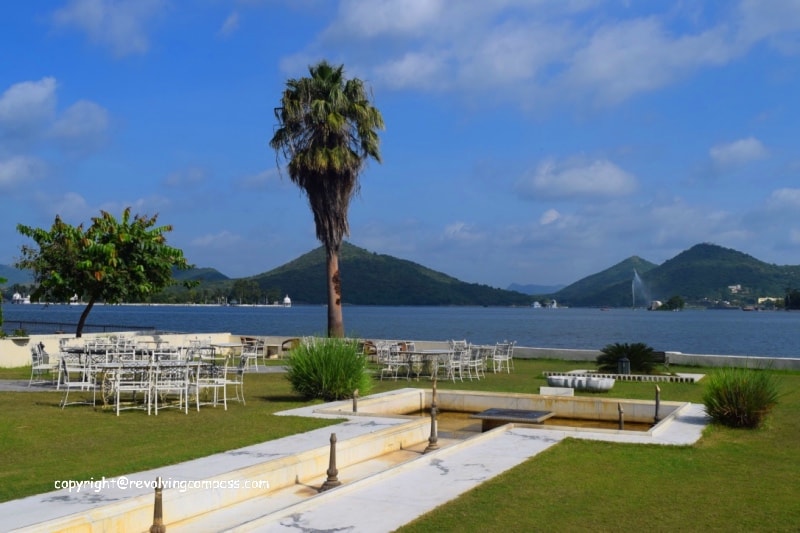 Sahelion ki Bari
We reached Sahelion ki Bari by 5 in the evening. The word "Sahelion ki Bari" means "Female friends garden". This is one of the most prominent sites in Udaipur city. The garden contains many different water bodies like fountains, swimming pool, artificial rain etc. These are surrounded by immense greenery. The garden was developed by the king of Udaipur for his daughter. Apparenntly, the little princess loved rain and water. Since she couldn't get the natural one in all the seasons, her father created this place for her to enjoy the rain as often as she wanted. She would come here with her female friends and enjoy the water bodies.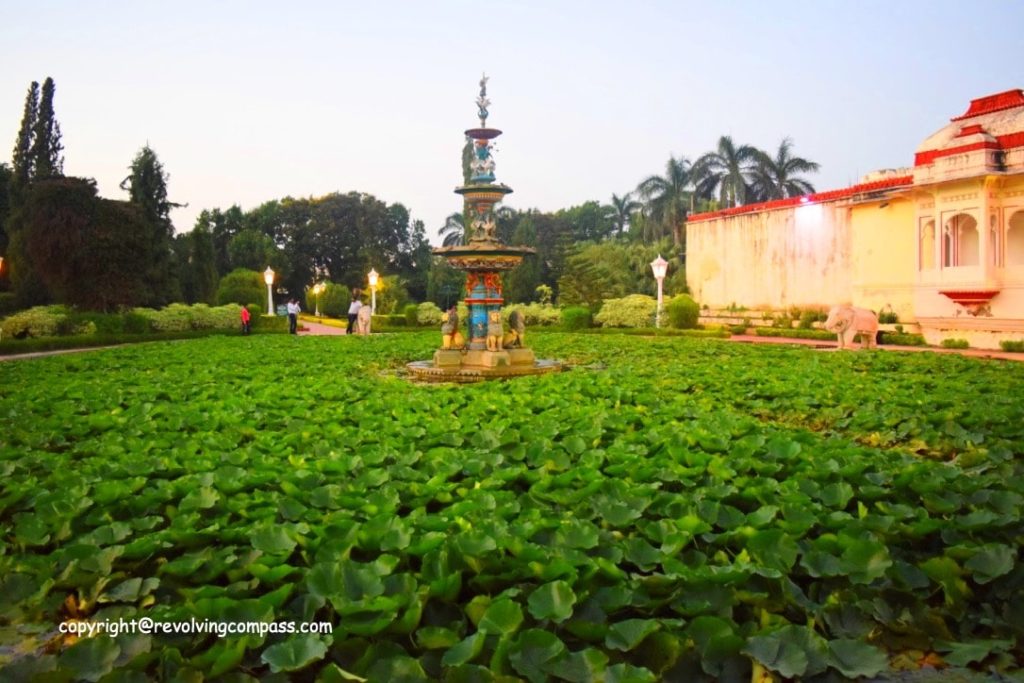 By the time we were out of Sahelion ki Bari it was almost 8pm. We decided to call it a day. On our way back to the hotel, we stopped for dinner at a nice and cozy restaurant.
Day2
Udaipur-Kumbhalgarn-Rankapur
Since we were in Udaipur for four days, we thought to take some day trips around Udaipur. We had heard a lot about the kumbhalgarh fort and the Jain temple at Ranakpur. Since these two places are quiet close to each other. We decided to cover both together.
Udaipur-Kumbhalgarh
Post our breakfast in the hotel, we started for Kubhalgarh. The road from Udaipur to Kumbhalgarh is one of the most scenic. Although it is a single lane road. Actually it has only one lane. Vehicles coming from both the sides have to use this same lane. Sometimes one has to stop on the sides to let the other pass. This makes the duration of travel little longer. Nevertheless, we thoroughly enjoyed the drive. It deserves a separate post of its own and I will be soon be writing one.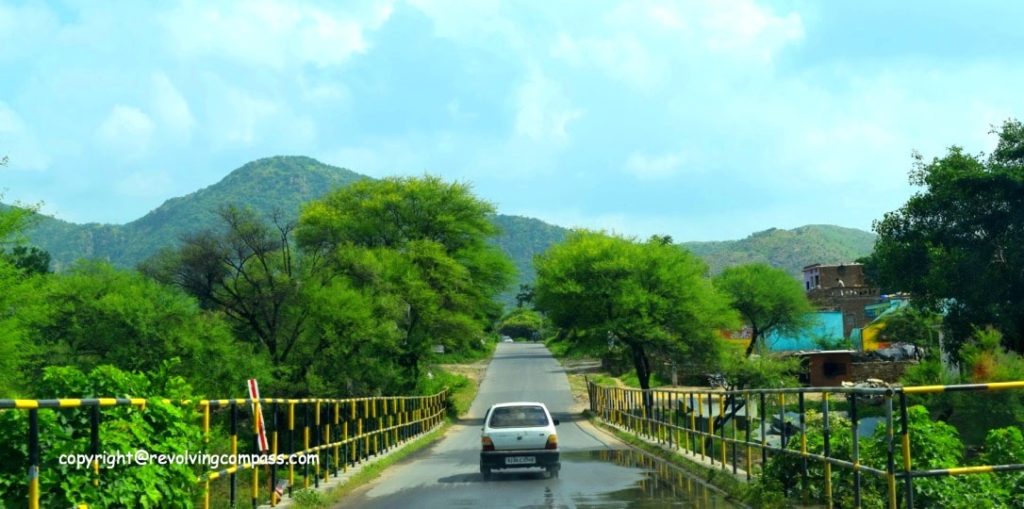 Kumbhalgarh fort
We arrived at Kumbhalgarh fort by noon. We had some juice and snacks before we started on our exploration. The fort is quiet huge and its protective walls are immensely majestic. No doubt they are called the great walls of India. We took our time to walk around the fort at our own pace. We didn't take a guided tour here. Most of the places are marked with written information on boards near the entrance which pretty much summarises about the fort. (Read : the full account of our journey through Kumbhalgarh fort)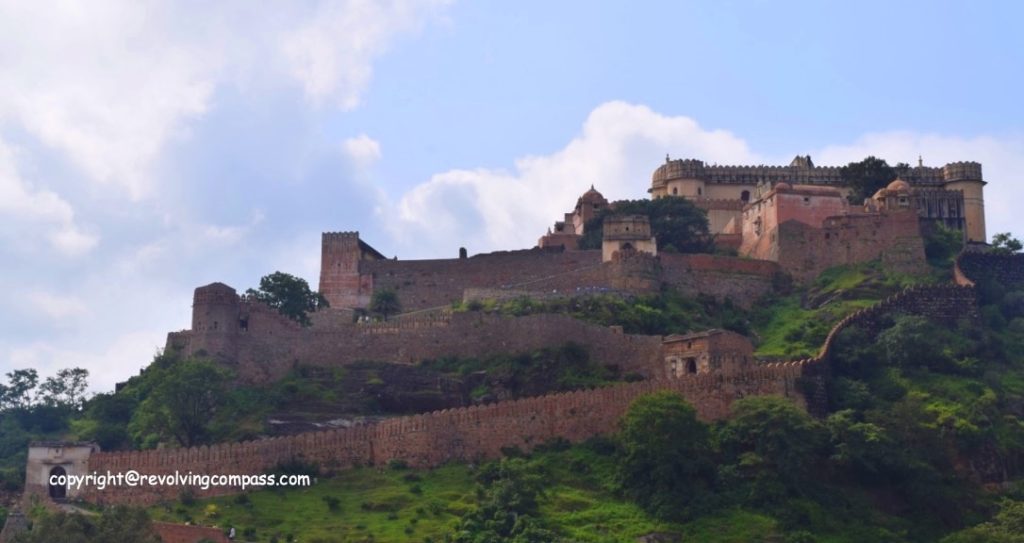 Kumbhalgarh-Ranakpur
From Kumbhalgarh, we started around 3:30 in the afternoon for Rakapur. We reached Ranakpur in another one hour. Even this route was quiet beautiful. In Ranakpur, we had a great time at the marvellous Jain temple. It was around 6 in the evening when we started our journey back from here. We reached back our hotel by 8 in the evening.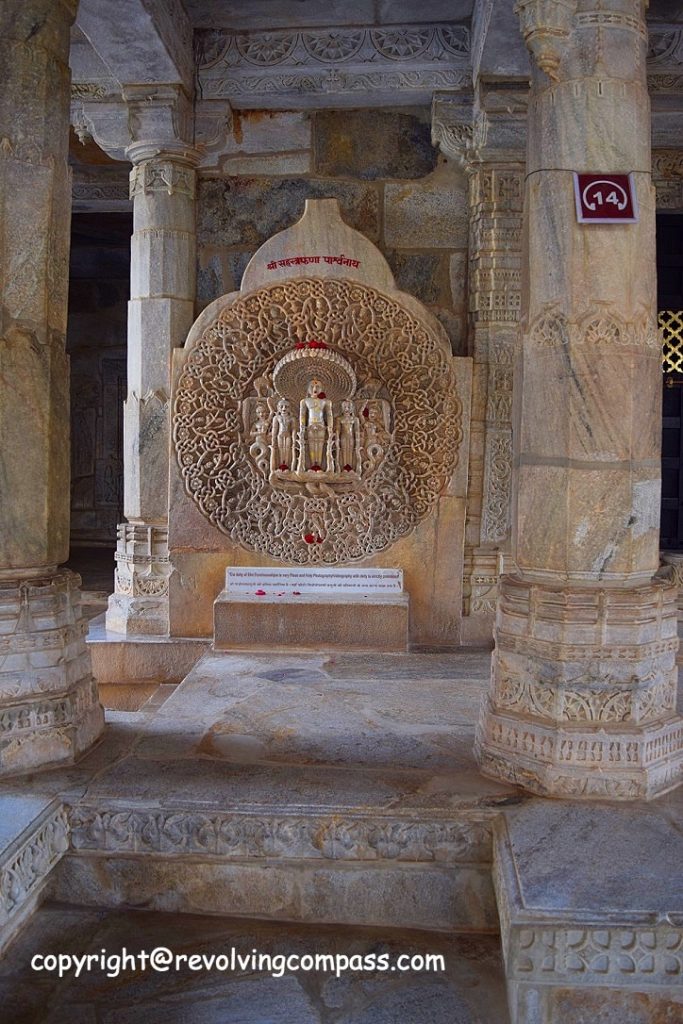 Since we were tired after the day trip, we decided to have dinner at our hotel. Afterwards, we enjoyed the dinner so much that we decided to dine here for the rest of our stay in Udaipur!!
Day3
Udaipur-Chittorgarh-Udaipur
Today, we had a day trip to one of the most robust forts of Rajasthan – Chittorgarh fort. We started from Udaipur post breakfast. Since the highway connecting Udaipur – Chittorgarh is in a very good state, the journey was very smooth. Actually, we reached Chittorgarh by 12. The Chittorgarh fort is the most huge of all the forts we have visited so far. So much so that to hop from one site to another inside the fort, you can actually use your vehicle. (Read: 10 facts that make Chittorgarh fort a must visit which covers our day trip to Chittorgarh)
Chittorgarh fort
Today it was hotter than all the other days we had spent so far in Udaipur, and in our Rajasthan trip in general. We sweated profusely. And we got tired early on. After visiting the different temples, palaces and important pillars in Chittorgarh fort, we decided to call it a day and head back to our hotel. We reached back by 5:30 in the evening and then decided to rest for the day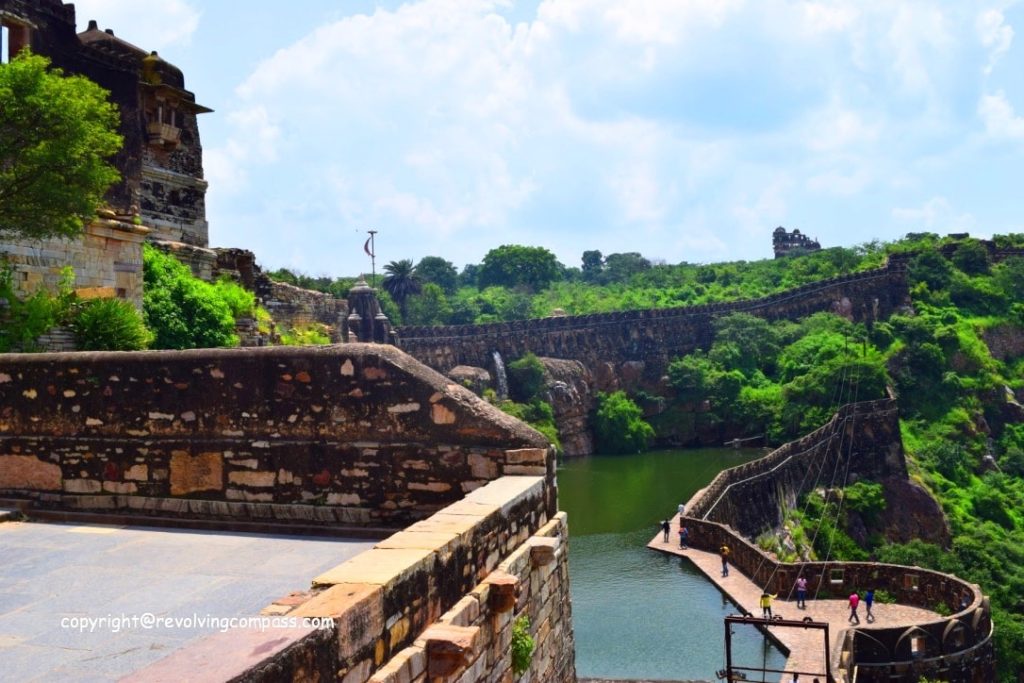 Day4
Around Lake Pichola
Somehow in this itinerary, we had saved the most famous parts of Udaipur for our last day in the city. We had an overnight train to Jaipur today. This was the day we decided to explore the heart of the city. And we were not at all disappointed by our decision end of the day.
Udaipur city palace
We started our day with a visit to the Udaipur city palace. We arrived at the palace by 10 in the morning. This is one of the most expansive palaces in India as of today. Only part of it is open to the public and that also is quiet huge. It took us almost 2.5 hours to do a complete tour of the Udaipur Palace.
Bagore ki Haveli
After visiting the palace, we had lunch outside, in a small roadside café. From here, we used our google maps and started walking down to Bagore ki Haveli (which was just 7 mins walk from the palace). We immensely enjoyed our visit at Bagore ki Haveli. It is a haveli or a mansion turned into a museum. The museum had four major sections. One devoted to depiction of the old items that were used at a point when the Haveli thrived with the life of its owners. Another one displaying different puppets of Rajasthan. Yet another one was a small section dedicated to arms and armory of the ancient times. The final, and the cutest, was the one where 3D model depicted the stages of a royal hindu wedding. We spent almost 1-1.5 hours here.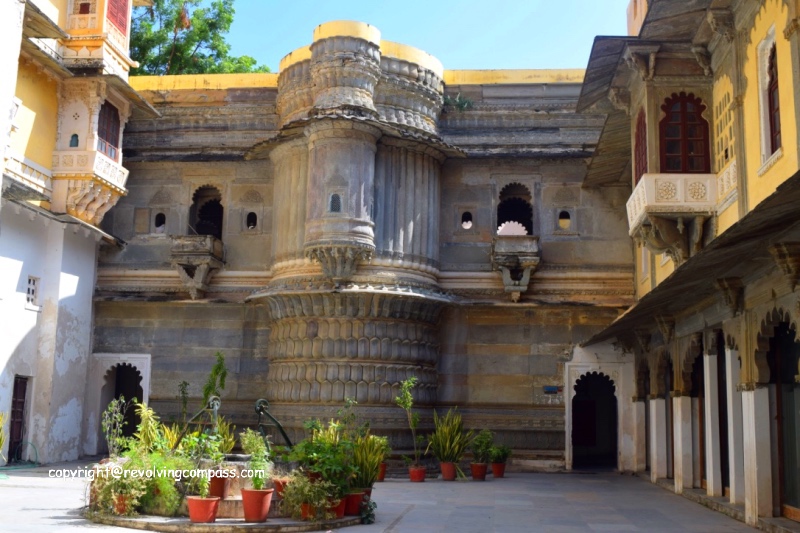 Jagdish temple
From Bagore ki Haveli we went back towards the palace to visit Jagdish Temple. Since the temple premises open for visitors by 4 in evening. Hence, we couldn't visit here earlier. It is one of the oldest temples in Udaipur.
Shopping
After offering our prayers at the temple, we decided to go for some authentic bandhej shopping. We walked down to the main market of Udaipur, Bapu Bazar. On our way, we crossed some smaller markets with beautiful handicrafts on display. At the entrance itself, we found a small shop with a huge collection of colorful bandhej dress materials. We did quiet some shopping here before we headed back to the hotel.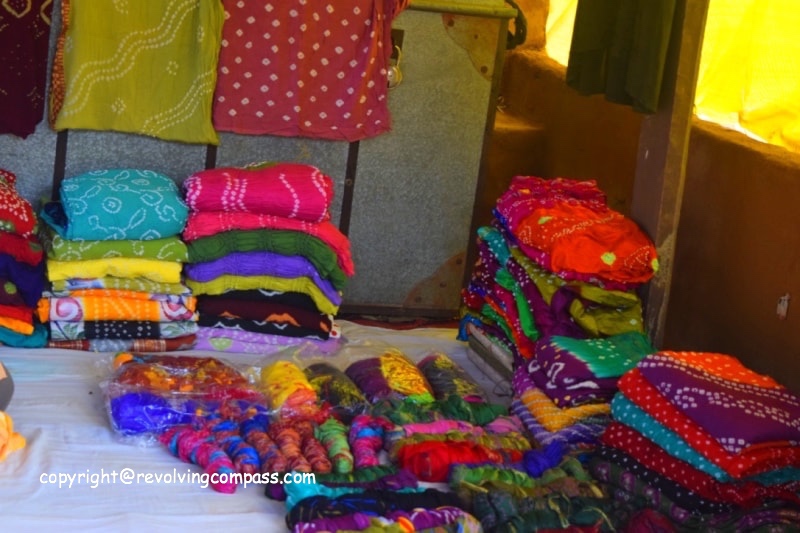 Upon reaching hotel, we had an early dinner. Post this, we checked-out and headed for the railway station to onboard our train.
Although we spent 4 memorable days in Udaipur. Still we left the lovely town carving for more. Here is a list of things we wish we had accommodated in our trip but we couldn't. There are so many places to visit in Udaipur, that you must have adequate time in hand in case you want to visit most of them.
Things we wish we had done
1. Mount Abu is a famous and beautiful hill station at just 2 hours drive from Udaipur. We very much wanted to go here, but due to time crunch, we couldn't. We wish we had 2 more days in our vacation plan to accommodate it.
2. We mostly went around the lakes. But being in the city of lakes, we couldn't spend as much time inside the water bodies as we wished. Yes, we couldn't go for a boat ride on lake pichola 🙁
3. We stayed at Fateh Sagar Lake, in a fabulous hotel. But this part of Udaipur is quiet different from the main town. We got only one day to visit the main town. We wish we had spent at least one more day exploring the old Udaipur.
4. We wish to have more of the local cuisines.
Actually, sometimes it's best to talk to locals and figure out the details on what to see, how to see etc. Like we did during our shopping and sightseeing in Udaipur. With that, let us introduce you to 'Your Local Cousin',  an organization that is doing a wonderful job of connecting you with authentic locals when you head somewhere. In case you would like to try and want to connect to an authentic local in Udaipur, just head here and ask him all the questions that you have for your trip in Udaipur.
Tips for planning a trip to Udaipur
1. A week long itinerary will be idle to cover Udaipur and adjoining placesx
2. However, if pressed by time, you can cover main areas of Udaipur even in two days. Checkout our post on how to spend 48 hours in Udaipur to make the most of it.
3. Stay in old Udaipur city for a feel of the old town. The areas near lake Pichola are abundant in homestays and hotels. There are numerous food options also available
4. Mostly if you are coming by flight, you will be landing in Jaipur or Ahmedabad. We will recommend you book an overnight train AC coach ticket from there to Udaipur. The city is well connected with most of the other places in India through trains. Also, overnight train journey is quiet comfortable and saves time.
5. Udaipur experiences extreme climate. Its hot in summer and cold in winter. Pack your cloths accordingly.
6. For shopping take the advice of some locals whom you trust. You can also enquire at your hotel or homestay for best areas to shop for.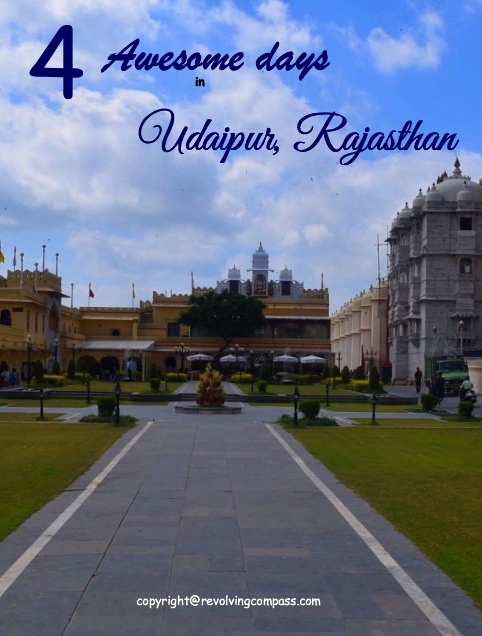 You might as well be interested in
Beautiful Wedding depiction at Bagore Ki Haveli Museum
Shilpgram: Must visit in Udaipur
A day trip to Chittorgarh fort from Udaipur
A day trip to Kumbhalgarh fort from Udaipur
The magnificent Jain Temple of Ranakpur
An evening at Chokhi Dhani, Jaipur
The unconquored fort of Nahargarh, Jaipur
One day trip to Amer fort, Jaipur
Hotel Ram Pratap Palace, Udaipur
Bagore ki Haveli Museum, Udaipur