Italy was our first destination on our recent trip to Europe. We spent 6 days in Italy. And by all means these were very beautiful and enchanting days. They comprised of couple of days each in Rome, Florence and Venice. While we did feel, a couple of days is not enough to explore all that each of these places are to offer. Yet we tried to make the most of our 6 days in Italy. And here we bring the story of our 6 days in Italy, along with some more recommendations as per our research. We hope it will help you plan your own best 6 days in Italy. And, we would also like to hear what you would do with your 6 days in Italy, if anything, different from what we did. So, here goes the details of our trip in Italy.
Day1 : Arrival in Rome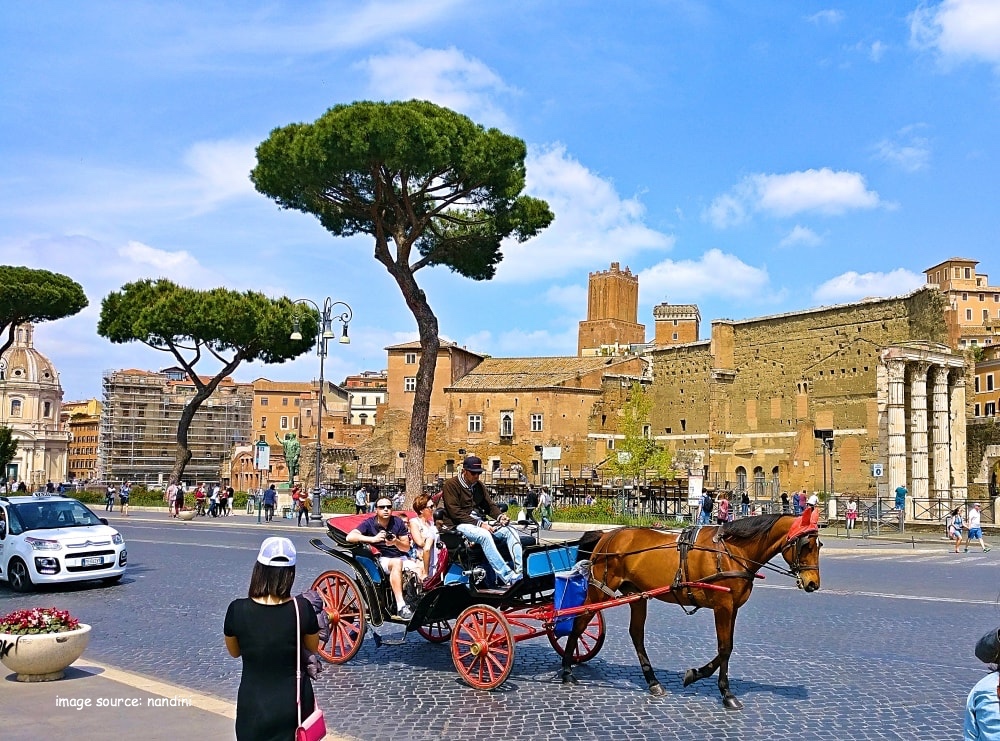 Our enchanting 6 days in Italy began with an arrival in Rome. As our flight landed on the Rome airport early in the morning around 7:00 am. However, it was the easter weekend. And looks like lots of tourists were interested to visit Rome, the Vatican in particular. So, it took a lot of time to get through the long queue at the immigration counter. There after, we started for our hotel, Best Western Blu Hotel. And by noon we checked-in into the hotel and settled down. But we decided to take rest since we had our little daughter with us. And she definitely had the jet lag. So, did we.
So, basically we didn't do much on this day, except going on a stroll in the surroundings of our hotel in the evening. Having said that, if you can combat the jet lag or you don't have kids with you, you can take a hop-on-hop-off trip of Rome on the day of your arrival. Since, you can take it on your own pace and you can start anytime in the day when you feel ready for it. As we initially had planned for the same. But, couldn't. So, otherwise, keep your day light. Also, take plenty of rest and prepare yourself for the rest of the days amongst your 6 days in Italy. Because there will be a lot of sightseeing, walking, picnic and fun things to follow on rest of the days.
We did step out in the evening though. And the streets were all inviting. With a soft cold breeze and beautiful lights all around. We strolled around the streets for a while. Finally, we went to a grocery shop nearby and did our first grocery shopping in Rome. And after that, we took takeaway meals from a nearby pizzeria.
Day2: Roaming around in Rome
On the second of our 6 days in Italy, we woke up fresh. We had recovered from the jet lag. And we were ready to start our day, exploring Rome. It began with a tour to the Vatican city. We first explored the Vatican Museums & Sistine Chapel followed by the Saint Peters Basilica. It was the day before the Easter. And Vatican was busy with the preparations for the Pope to address the city. Although it was crowded. But, we didn't mind. To see the Easter celebrations in Rome is an experience in itself. Post lunch, we proceeded to the Colosseum , the Roman Forum, the Pantheon, Trevi fountains and some more places worth visiting in Rome. Finally, we came to the Piazza Navona and sat here along the fountain to enjoy our evening. You can read the details of our one day of roaming in Rome here.
For the exact itinerary with timings and the tips on making your day more effective and efficient, read our post on Rome in a day. Upon looking at the itinerary, you might feel, we did a lot for a day. But believe me, the day we are talking about was really long. It extended from 6:00am in the morning to 9:00pm in the evening, before the sunset finally happened. And we took plenty of rest while walking around and exploring places. So, the base line is that, it is comfortably possible to cover all these places within a day in Rome.
Day3 : Rome -> Florence
On the third day of our 6 days in Italy, we started in the morning for Florence. After checking out from our hotel, we headed to the train station in Rome. From here, we boarded our train for Florence at 10:30am. And we enjoyed every bit of our first train ride in Europe while traveling from Rome to Florence today. Especially the Tuscany countryside that just stole our heart. We arrived in Florence by 12:15pm. And by noon we had checked-in into our apartment, Palazzo Dei Ciompi .
After getting fresh, we stepped out. And to our delight, found a vegan café just besides our apartment. Upon seeing this vegan cafe, our hunger instantly became stronger. Thus, after having lunch here, we headed on our self-planned, self-guided free walking tour of Florence. And we covered a lot of sight along the banks of river Arno as a part of this trip and finally returned back to our apartment by 9:30pm at night. Thereafter, we prepared our dinner and called it a day.
Day 4: More of Florence & Pisa
Today being the fourth of our 6 days in Italy, as we woke up early in the morning, we got the feeling that our vacation in Italy was more than half way through. And this gave us an extra boost to make the most of the remaining of our 6 days in Italy. Thus, post breakfast, we started our day with an early morning self-planned and self-guided walking tour of Florence that covered places around the Duomo, Academia Gallery and other important places in the center of Florence. And in noon, we took a trip to Pisa and visited the Leaning tower of Pisa. Finally, we returned from there by night.
Although we could have returned earlier. But we had taken a bus trip to Pisa. And it turned out to be a busy road pertaining to the long weekend. But, we were glad as we arrived back in Florence by 9:00pm. Since, we got to view Florence by the night. Wherein all the beautiful structures including the Duomo were glittering in the night light. Finally, we reached our apartment. Although we were suspecting if the main gates would be closed by now. Since, we had forgot our keys. But, luckily they were not. Thereafter we retired to our beds. But not before enjoying a self prepared hearty meals. Where, each one of us provided some contribution in the meal preparation. Thus making it all the more tasty and enjoyable.
Day 5: Florence -> Venice
On the fifth of our 6 days in Italy, we said goodbye to Florence and took our next train journey to Venice. We enjoyed the previous two days in Florence too much. Particularly because we stayed in the heart of the town with all the beautiful places worth visiting nearby. Also, we took our self walking tours. And we stayed in an apartment. You can read here our recommendation on how best to spend 48 hours in Florence.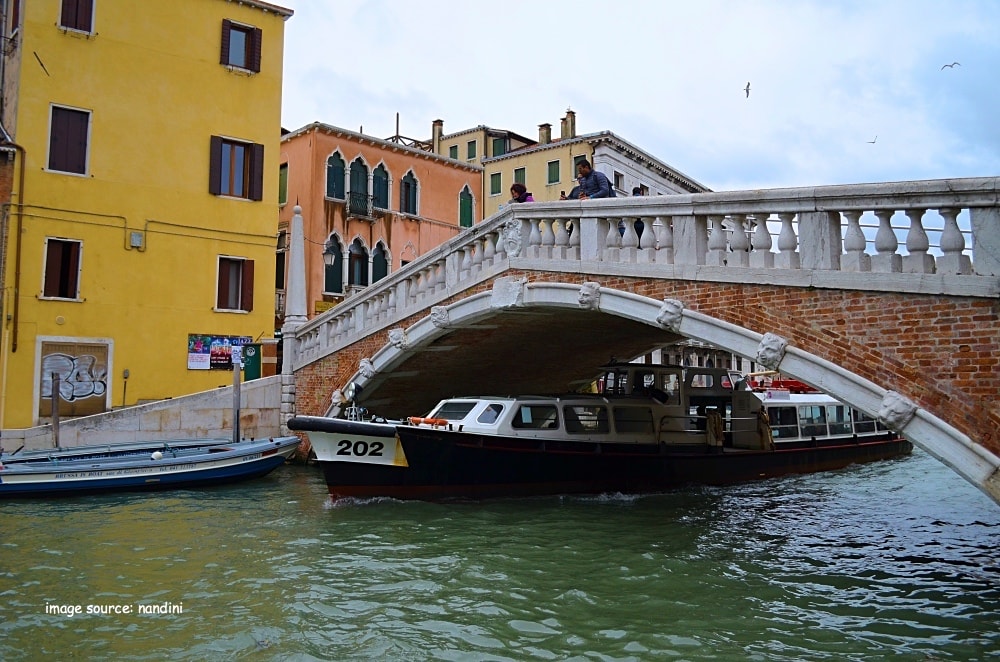 We arrived in Venice by noon from Florence via Milan. Actually, if you have a couple of more days at hand, we highly recommend you stop in Milan. Here's a list of top free things to do in Milan. Here, our hotel, Hotel Continental, was located just 300 meters from the train station. So, we just grabbed our luggage and walked to our hotel. And after checking into the hotel, we soon headed our for lunch. We bought some slices of Pizza from the nearby pizzeria and settled near the Grand Canal, just in the backyard of our hotel, for lunch. And our little one shared her lunch with the pigeons here. She was super excited chasing them and trying to make friends with them. Thereafter, we embarked on yet another of our signature self designed walking tours, to explore Venice.
Day 6: Venice hop on hop off
Finally arrived the last day of our 6 days in Italy. Since, today was the day to explore Venice, via the means of communication that Venice is renowned for – the canals and lakes. So, we took a hop-on-hop-off tour through Venice today. And as a part of this tour, we explored Murano, Lido, the Saint Marks Square and several other lovely stops across Venice. We also had lunch and snacks sitting in one of the open air restaurants by the water. Finally, it turned out to be one of the most memorable days for us during our stay in Italy. And we enjoyed every bit of it. You can read the details of our Venice hop on hop off trip in details here in this post.
After the spectacular day in Venice, all we can say is that any amount of time spent in Venice will not be enough. The place is just magical. While we walked it's cobbled streets. And also sailed through it's waters. Plus we spent time exploring most of the beautiful places in and around Venice. Still, we left from Venice carving for more. And we are sure, we will be returning here once more. That will be an even slower travel than the current one. All we wish to do is sit by the beautiful canals or hover over a bridge for hours. Just seeing the lives in Venice go around as usual!
Onwards Journey : Switzerland
After having spent 6 days in Italy, that felt like 6 very beautiful days, finally arrived the time when we had to say goodbye to Italy and embark on our further journey. Although we must admit 6 days looked very less to spend in Italy. If you intend to spend more time in Italy, (And you definitely should!), check this week long Italy vacation plan. There are many more beautiful locations in Tuscany and the beautiful coast of Italy like Siena, Lucca, Amalfi and Cinque Terre to name a few. So, you can plan a longer vacation here, exploring more grounds. Also don't forget to try the best Italian cuisines, wine, mouthwatering gelato and Italian coffee while in Italy.
There are many more interesting things to do in Italy. You could go wine tasting in Tuscany, use this Naples Pizza Guide to have some of the best Italian pizza or take a cooking lesson. We left Venice the next day morning and boarded a train to Lucerne. Thus, began another chapter in our Europe journey. We spent 4 mesmerizing days in the Swiss Alps region, staying in Lucerne as the base. As a part of this trip, we did a self designed walking tour across Lucerne. We also went to Engelberg and Mount Titlis to play in snow. And further we did a beautiful day trip each to Bern, Grindelwald and Interlaken, visiting Kambly cookie store and a cheese factory in transit. The stories will soon follow..stay tuned!!
Summary of our 6 days in Italy
Although we spent 6 beautiful days in Italy, we do intend to come back here once more. Since, we feel there is a lot more to explore here. Including a lot of interesting things to do in Bologna and Sienna, taking some instagram perfect pictures in Cinque Terre. Roaming around the ancient wonders in Naples and Pompeii. And driving through the beautiful Amalfi coast. For now, here's a recap of our 6 beautiful days in Italy:
Day

Things done

Timing

Day1

Arrival in Rome

Exploration around the hotel in evening

Day2

The Vatican City

8:00am-12:00pm

Lunch outside of Vatican City while on way to Colosseum

12:00pm

Roman Colosseum

1:00pm-3:00pm

Roman Forum & Palatine Hills

3:00pm-4:30pm

Pantheon, Trevi fountains, Piazza Navona

4:30pm-8:00pm

Day3

Train from Rome to Florence

10:00am-12:15pm

Florence walking tour along the river Arno

3:00pm-9:00pm

Day4

Florence walking tour covering Duomo etc.

8:30am-11:30am

Half day tour to Pisa

12:30pm-9:00pm

Day5

Florence -> Venice train

7:30am-12:00pm

Venice walking tour

3:00pm-9:00pm

Day6

Venice hop-on hop-off tour

8:30am-7:30pm
Tips on spending 6 days in Italy
Comfortable walking shoes is a must. There was not a single day out of our 6 days in Italy when we didn't walk. And mostly we walked for 6-8 kilometers daily.
Another must is a bottle of drinking water. Packaged drinking water is way too expensive. You will easily get fountains and public taps all over Italy to refill your water bottle. Keep yourself hydrated.
Carry an umbrella when visiting in April-May. We did encounter the rain a few times but luckily it was not heavy.
Book your accommodation near most of the sightseeing places in the old part of the cities. That way, you will save a lot on commute.
If at all you have to commute, try other means like buses, trams etc. instead of taxi which is costly.
Except for Rome, we always could do with walking around in Florence and Venice since our accommodation was very close to the train station and so were most of the places of our interest.
Always prefer takeaway food. Slices of pizza or portions of pasta that you can get packed and eat while you explore the city. Saves time as well as money.
 We would recommend apartment stay over hotel stay as it gives you much more flexibility in terms of cooking and staying as a bigger group when traveling with friends and family.
Check the entrance tickets to the places of your interest and if possible book online. Otherwise, you will waste a lot of time in queue.
If traveling with toddler, carry a stroller with you. Florence and Venice are particularly very stroller friendly. In Rome, the Vatican was an exception where we had to take stairs quiet a few times and it was difficult to carry the stroller along the stairs.
Here's some links to the official sites in most of these places where you can find details of guided tours, tickets, timings, etc.

Beware of tourist scams. We witnessed some like someone giving a rose to a tourist which seemed like a gift initially but then they started pestering them for a good amount of money like 5-10 euros. We plan write in details about the scams we saw in Europe.
Last but very important, be aware of pickpockets. They are dominant in the crowded tourist destinations like the Colosseum, Roman Forum, Trevi Fountain in Rome, Piazzo Vecchio, Duomo, Uffizi gallery in Florence, The leaning tower of Pisa, Metros and train stations, bridges, squares and basillicas of Venice etc.