Yes, I know, you might already be thinking, "just 48 hours in Florence" !! How will you be able to do justice to a place that has perhaps the greatest collection of renaissance art & architecture and so much of natural beauty, in just around 2 days. Well, perhaps you are right. You can't do full justice to it. If that means visiting each and every museum, cathedral or palace that the city has got to offer. But if you have got just 48 hours, well, you have got to make the most of these. And that is what we did. We spent close to 48 hours in Florence and we tried our best to make the most of these days. How did we do it? Here's our itinerary on how best to spend 48 hours in Florence.
A refreshing self guided walking tour of Florence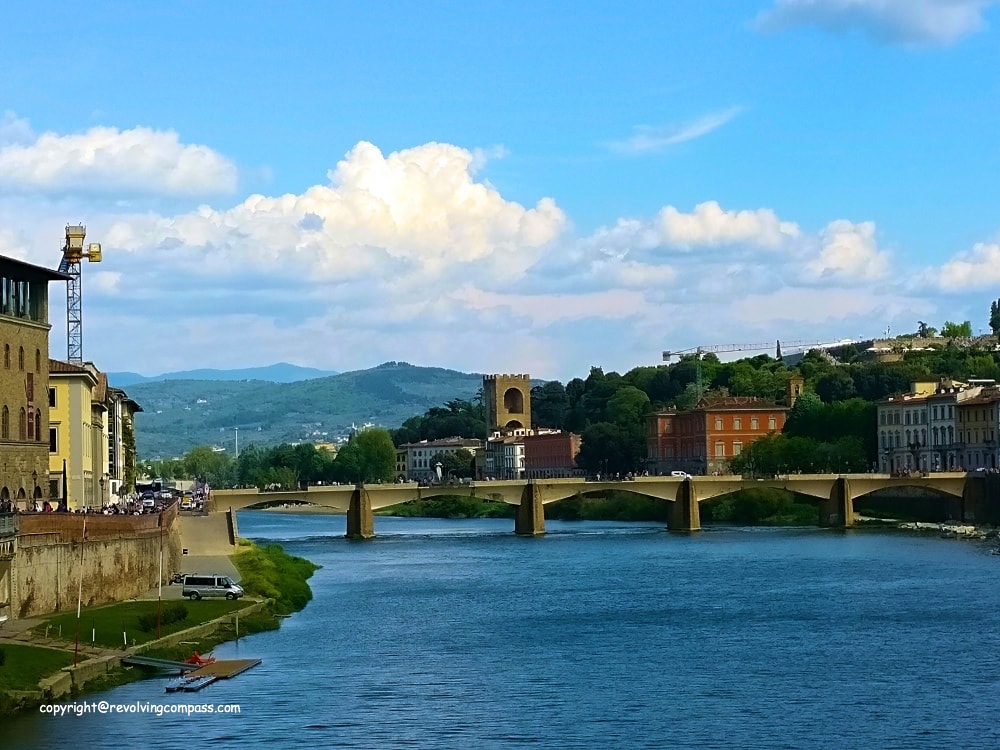 To be in the renaissance capital of Europe and not to walk will be a sin. Most of the buildings of historical significance are located at walkable distance from each other. So, to make the most of our time in Florence, we decided to self design our walking tour of Florence. This seemed to be one of the best ways to spend our 48 hours in Florence. Since, we wanted to still take it leisurely. And also be able to grasp as much vibe of this wonderful place as possible. So, on our first day, after arriving at our accommodation and getting fresh, we headed on a walking tour around the river Arno.
As a part of this tour, we visited several spots like Uffizi gallery, Pitti Palace, Boboli Garden, Ponte Vecchio, Giardino Bardini and Piazzale Michelangelo etc. to name a few. You can find the details of our walking tour on our first day in Florence along with the google map that we created and followed here in this post. All you need to do is replace your accommodation as the starting point instead of ours. And you can start experiencing the beauty of your 48 hours in Florence, with this walking tour. We not only visited the different buildings of historical importance. But we also experienced the beautiful weather, the natural beauty along the river Arno, the gardens, the random sculptures and the food of Florence while walking around.
Our self planned walking tour of Florence – part 1
One more self guided walking tour of Florence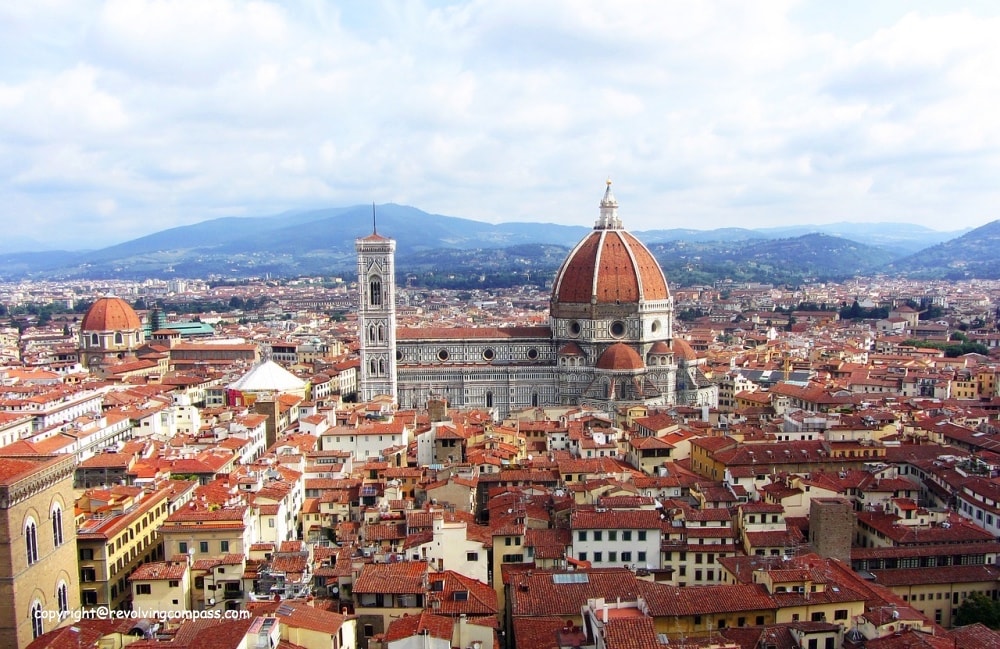 We started our second day in Florence with yet another self-guided and self-planned walking tour of Florence. You can find the details of this tour here in this post. Again, along with the corresponding google map and other details. However, on the 2nd day in Florence, we actually had our day trip to Pisa planned. So, we did this walking tour early in the morning. If you have got more time, you can actually get inside some of the historical buildings, museums, and cathedrals which we had to just visit from outside and then move on. Nevertheless, an early morning walking tour in Florence is one to remember. As you see the beautiful sun rising through the river Arno and in some time, shining on the domes of the beautiful cathedrals that are trademarks of Florence.
As a part of this trip, we covered some remarkable places like the duomo, the Accademia Gallery, the Saint Mark's Square to name a few. We also explored some streets on this side of Florence randomly. And enjoyed seeing the businesses come into full swing in the early morning hours. You can as well including shopping into these lanes, if you are planning for the same.
Our self planned walking tour of Florence – part 2
A visit to Pisa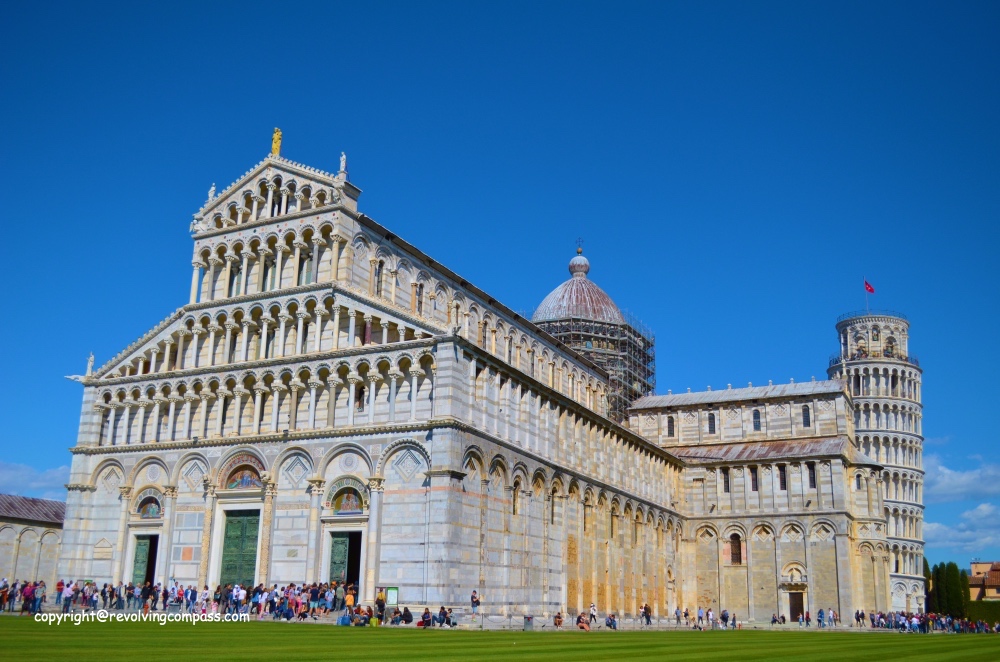 On the second day of our stay in Florence, we went on to a half day tour of Pisa as well. We embarked on this tour in the noon, post our second walking tour of Florence. For this, we took a bus to Pisa and back. But we will advice you against it. Better take a train to Pisa. As the journey is not long. However, roads do get clogged with traffic at times. Like when we went to Pisa, it was a long weekend and as a result, there was a huge traffic on our way back. The journey took us 4 hours, which should have been otherwise over in 1.5 hours. However, the experience at Pisa was one of a lifetime.
When you are in Florence, you must not miss a visit to Pisa. Who won't want to have a look at the leaning tower of Pisa and go through it's history of how it came to be leaning in the first place. The added advantage is that the ride from Florence to Pisa is one of the most beautiful ones that you will do in Europe. The beautiful Tuscany countryside seems like a fairytale world that you pass by to head to the white world of the leaning tower.  So, when you have 48 hours in Florence, plan a half day tour to Pisa. And it will be totally worth it.
If you take a morning train to arrive at the Leaning tower of Pisa just when it opens up to public, you can spend a leisurely 3-4 hours at the spot. And then catch another train back to Florence. You will have additional half a day at Florence this way. And for that, we will recommend you can do a walking tour like we did in the morning before heading to Pisa.
Our half day tour from Florence to Pisa
Tips on experiencing Florence the most in these 48 hours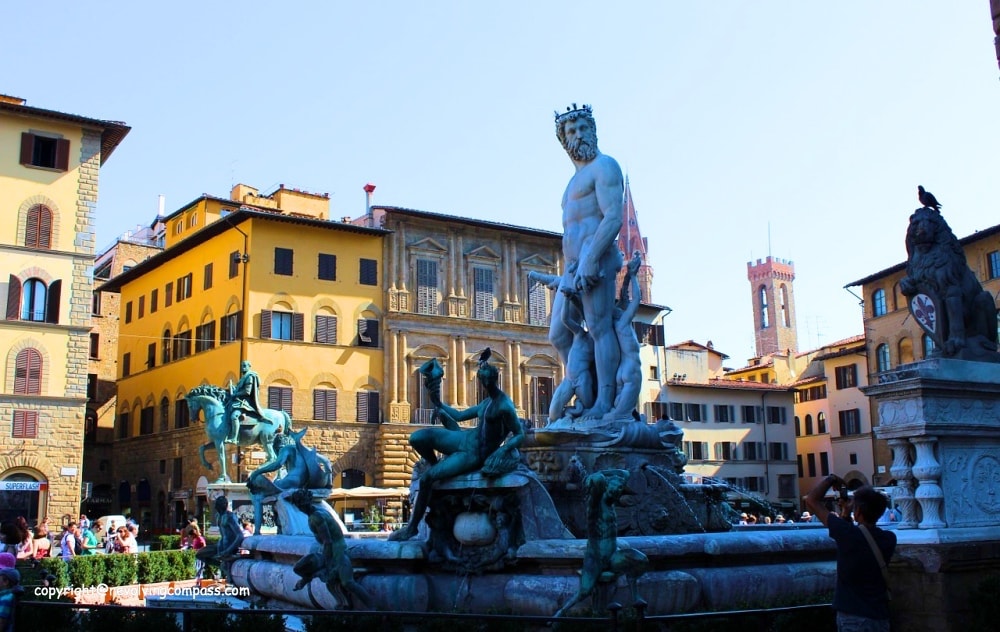 Apart from seeing places, buildings and gardens, there are many other ways in which we can soak ourselves in the beauty of Florence and experience the most of it. I guess these were the small things that made our 48 hours in Florence one of the most remembered part of our whole trip of Europe. I will like to share some of these tips with you.
Try the local cuisines as you go through your tours. No need to buy anything expensive. It can be a slice of pizza from a nearby pizzeria or an ice cream from a parlor. We had a takeaway meal on our first day in Florence from a nearby vegan shop while our friends had ice cream from the parlor opposite it. We sat on the steps near our apartment to finish this meal, sharing bytes of it with the pigeons that were dominating the area. And it remains as one of the most beautiful meals that we had during our trip.
Grocery shop and cook some meals like we did, just as the locals would do. On our way back from our self guided walking tours, we grocery shopped from the stores on the way. And then used the stuff to invent new meals for ourselves everyday. We also bought some wholesome milk for the little one.
Rent an apartment, and cook your meals. No stay could perhaps be better than this one. We had a wonderful time sharing an apartment with our friends. And also preparing our meals. And having wonderful breakfast in nearby cafe. More on it on our post on our apartment, Palazzo Dei Ciompi.
Interact with locals. We did interact with locals where ever we got a chance. Like with the cafe owner where we had our breakfast. Or some of the people who passed by while we had our breakfast in the open sitting. And also while seeking for directions. Or, while looking for particular items in the grocery store. And each of these conversations brought us a bit closer to the culture of Florence.
What else to do during your 48 hours in Florence
Here we have something more for you. Some insider tips to make the most of your 48 hours in Florence:
Take away or pack your food and have it on your way during your walking tours. That will save a lot of time for you.
Start your day early. However, take rest at regular intervals. So, you will remain energized through a day to make the most of it.
Wear comfortable shoes as there is a lot of walking around to be done.
Stay closer to the heart of Florence, so that will save you considerable travel time to the city center or to the river Arno and places around it.
Don't be in a rush to hop from one place to another. It's ok if you are not able to step foot inside all the possible buildings that florence has to offer. You will still enjoy your walks, getting lost in the streets of Florence, interacting with people or having an ice cream by the side of river Arno. Making memories is more important.
If you have a small kid with you like we had with us, do carry a stroller on your walking tours.
In Summary, for us, it was more important to get a hang of the place and soak into the beauty around, than to be able to see every single master piece in every single museum or gallery. If you are of a similar opinion, don't worry, you will be able to experience the magic of the city, during your 48 hours in Florence, like we discovered our magic. It still remains with us, and it is going to remain with us for our lifetime.
Summary of our 48 hours in Florence
Day1
12:30pm : Arrival into Florence
1:30pm : Checkin into our accommodation
2:30pm : Lunch just besides our accommodation, from a vegan cafe
3:30pm – 8:30pm : Self planned and self guided walking tour of Florence along the banks of Arno covering Uffizi Gallery, Ponte Viccho, Pitti Palace, Boboli Garden and several other spots before returning back to our accommodation in Florence. Grocery shopping on our way back to the apartment.
Day2
7:30am – 10:30am : Another self planned and self guided walking tour of Florence around the duomo. Today, we had our second walking tour of Florence, this time in the morning hours.
12:30pm – 9:00pm : A tour to the leaning tour of Pisa through mesmerizing Tuscany countryside.  At the end of the tour, we walked back to our accommodation, again, doing some grocery shopping on the way.
Day3
We had our train back to Venice, so, we didn't do much today except for a hearty breakfast. However, you could squeeze in another walking tour. I will highly recommend walking up to the river Arno well before sunrise and then watching the sun rise over the city. It will be an experience to behold forever.