Things like a cheese factory tour in Switzerland, a chocolate factory tour or a cookie factory tour seem to be quiet the trend. So, on our recent trip of Switzerland we did some of these. On one of the days while in Lucerne, we started with a tour of the Kambly factory store for cookies. The store is full of delicious cookies that you can taste and then decide which one to buy! Having tasted a lot of cookies and bought quiet many varieties, we embarked further on our journey. Next we did a tour of Bern, the beautiful capital city of Switzerland. And on the final foot of our journey, we stopped for a cheese factory tour in Switzerland countryside on our way back to Lucerne.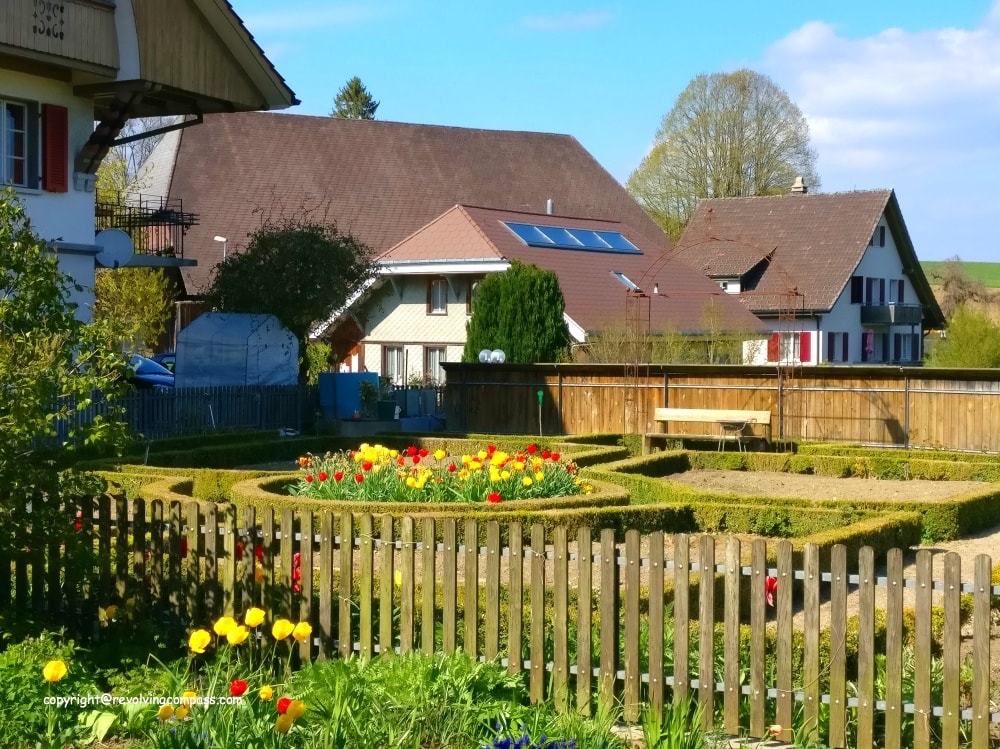 Things to do on a cheese factory tour in Switzerland
Get acquainted with the process of cheese manufacturing
When you are on a cheese factory tour in Switzerland, learn about how to manufacture cheese. All the cheese factory tours in Switzerland will take you through a guided journey through the various steps of processing through which cheese are formed. Some of them have glass windows or balconies through which you can take a peek into the cheese processing and manufacturing units. While here, learn a bit about how the temperature is controlled, right amount of churning is done and the correct time is given for cheese manufacturing. Basically, learn the secrets of the trade. And remember, these are the secrets that make the cheese of Switzerland world famous.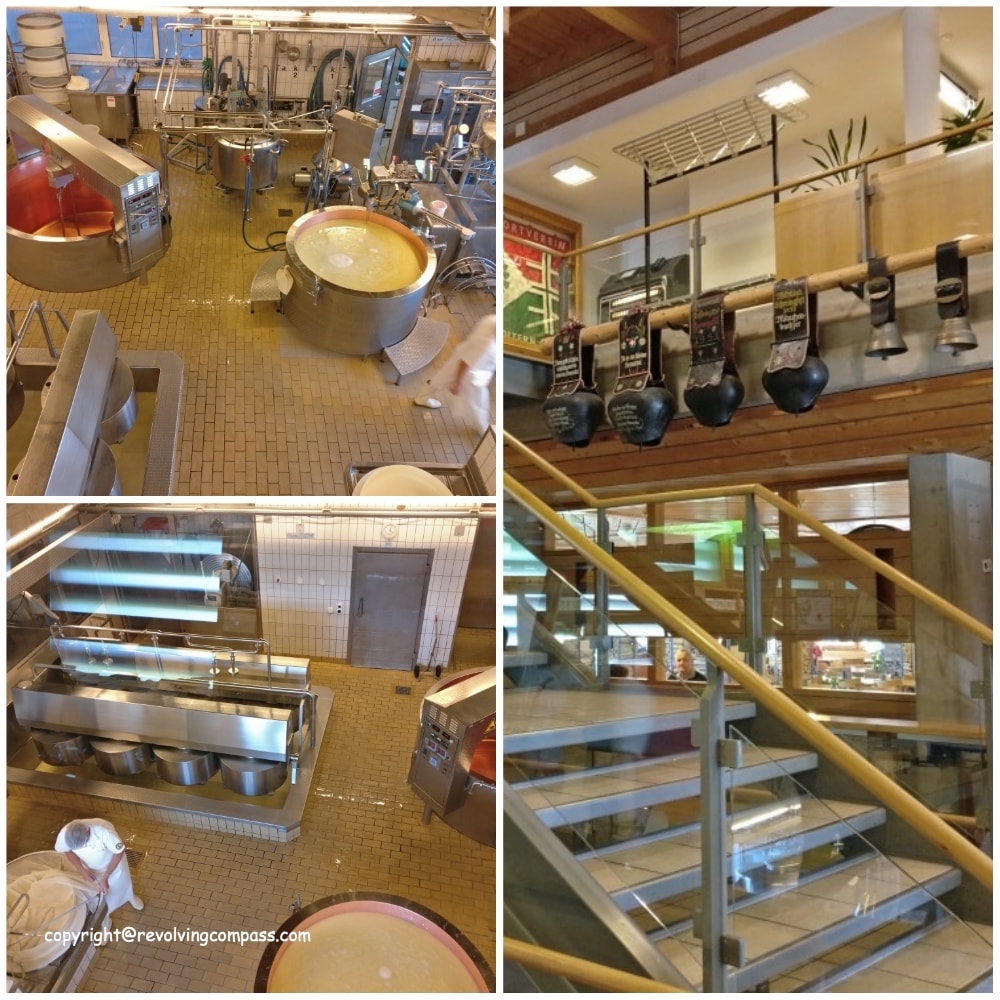 Step back into history of cheese manufacturing
Some of the cheese factories, like the one we visited, are located at very old lands. These are the lands where cheese manufacturing was done hundreds of years back through manual process. While the factory was more like a home – based industry. So, the family involved in the cheese manufacturing lived on the premises. And a room or two was dedicated to manufacturing cheese. Many of these homes have been preserved for visitors to take a tour through. By paying a visit here, we get to admire the way hard work was put into manufacturing delicious cheese in the past.
The Cheese factory tour in Switzerland that we took also had such a house on it's premises. The living room, bedroom and other important parts of this house have been preserved. Some old wooden furnitures like the dining table in the dining room are still kept intact. In the same setup as they were years back. While in the front most room, some churning and other activities are still done by hand. Both to show the visitors the manual cheese manufacturing process. And also to come up with some delicious hand made cheese. Keeping the room dark is an essential part of the cheese manufacturing process.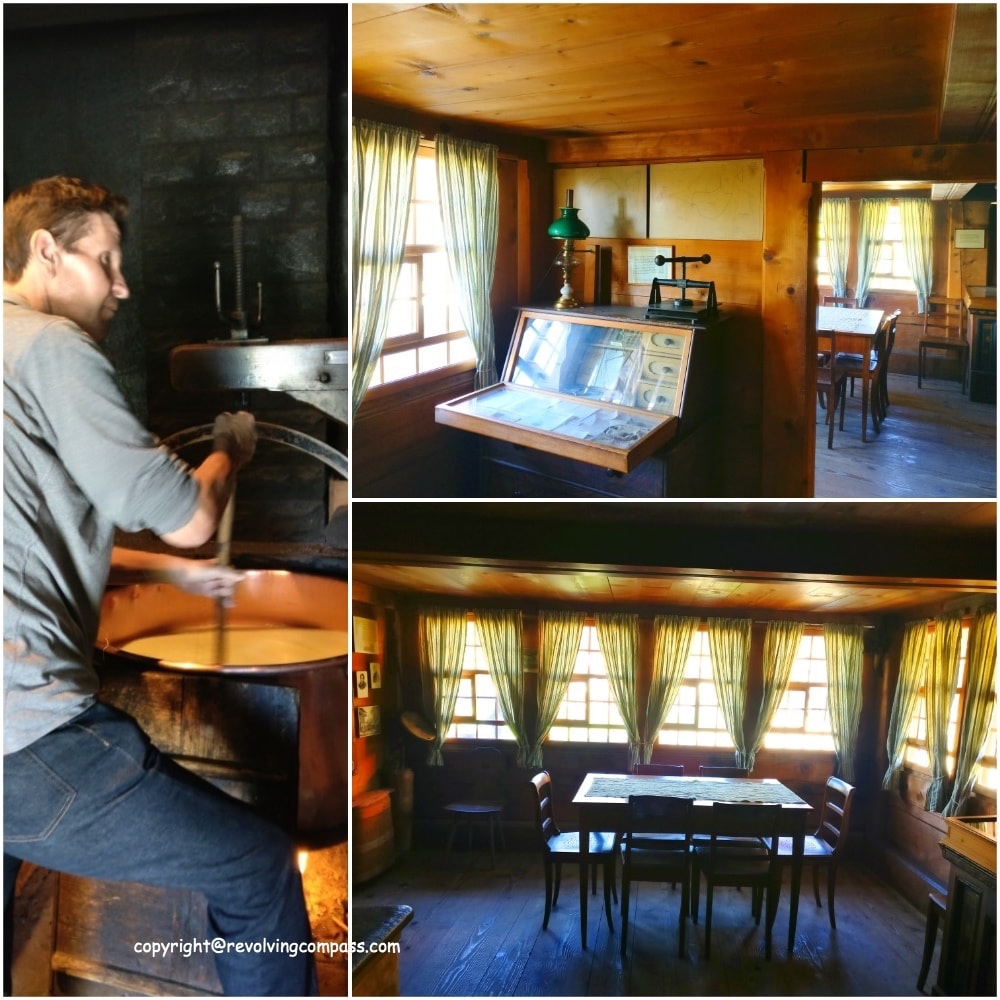 Taste a lot of cheese
Of course there are perks of embarking on a cheese factory tour in Switzerland. And the foremost one being that you get to taste a lot of cheese. The factories often have stores alongside. Like on the cheese factory tour in Switzerland that we took. Here, the main store has a cheese manufacturing unit in the basement. And a store on the first floor where different kind of cheese are available to taste and buy. These range from fresh cheese to the ones which are more than an year and two years old. It's really interesting to see how the taste of the cheese varies along with their age. And who knows, you might discover here a new flavor which you had never tasted before.
There are all different kind of cheese available here. You can take your time and make your selection to buy some if you want. On the cheese factory tour that we took, the center of the first floor opened to the basement below. From here, one could also take a look at how the cheese is being manufactured, while having the cheese. We had our own fare share of cheese tasting and buying while here. Apart from cheese, these stores also have cow milks, organic milks, curd and other dairy products.
Visit the store
Along with cheese, there are many other dairy products on offer. And since, these cheese factories are a hub for visitors. Thus, they also have some other stores on their premises. Here you can as well find some local handicrafts, non-dairy delicacies and other items big and small which you might be interested to buy as a visitor. The one that we visited, did have a small and cute shop besides the main store and factory unit. We went inside, and I must say, the collection was cute.
Rest your feet and treat yourself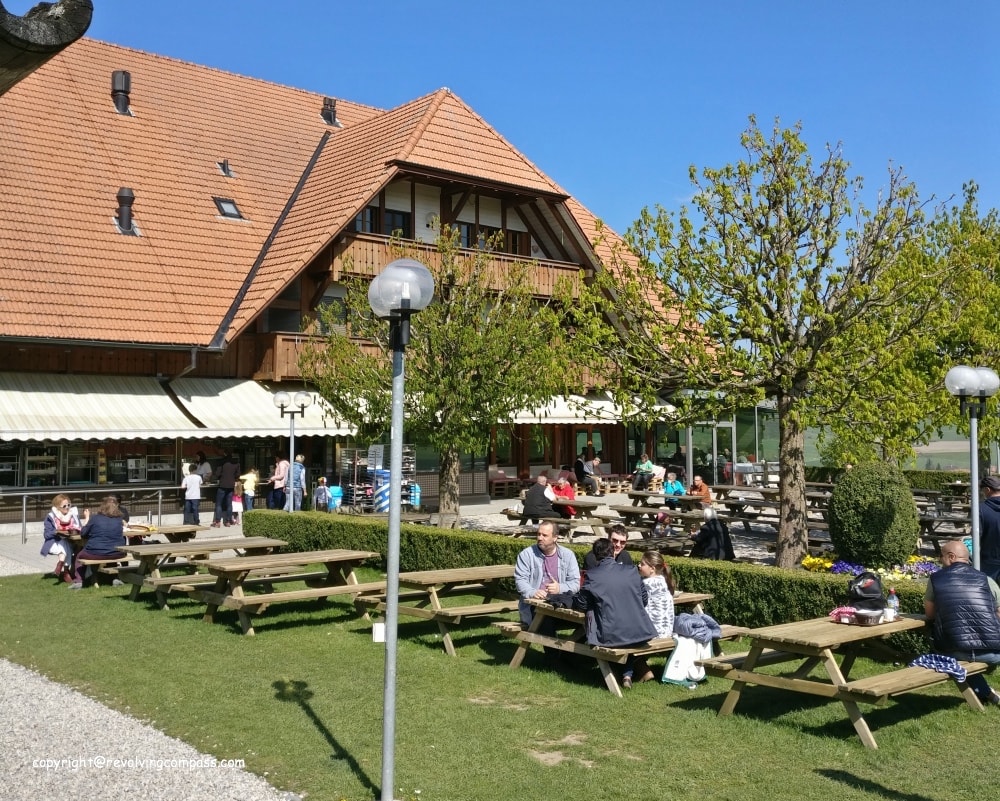 Since visitors from far and wide visit the cheese factory. Often, they are also equipped with cafes or small restaurants on the premises. The one we stopped at had both outdoor and indoor sitting available. It was almost evening, around 4pm, when we visited here. The sun was slowly receding. And it was not yet chilling cold. The winds were also subtle. So, overall, it was a perfect time to sit outside in the lovely garden alongside the store and drink some warm coffee. The restaurant cum bar had many other drinks and delicacies like cakes, cookies, cheese sandwich (of course!) and several other snacks items on offer.
Besides the sitting area, there was a small children't play area as well. An added advantage for us. As we sat on the benches and chairs around a table to enjoy some delicacies, our kiddo ran over to the play area. After days of roaming around in Europe and being constantly on move, this was the first time she encountered her favorite place once more. So, she thoroughly enjoyed here until it was time for us to move. She played on the swing and the slide while we watched her, and the rest of the world around.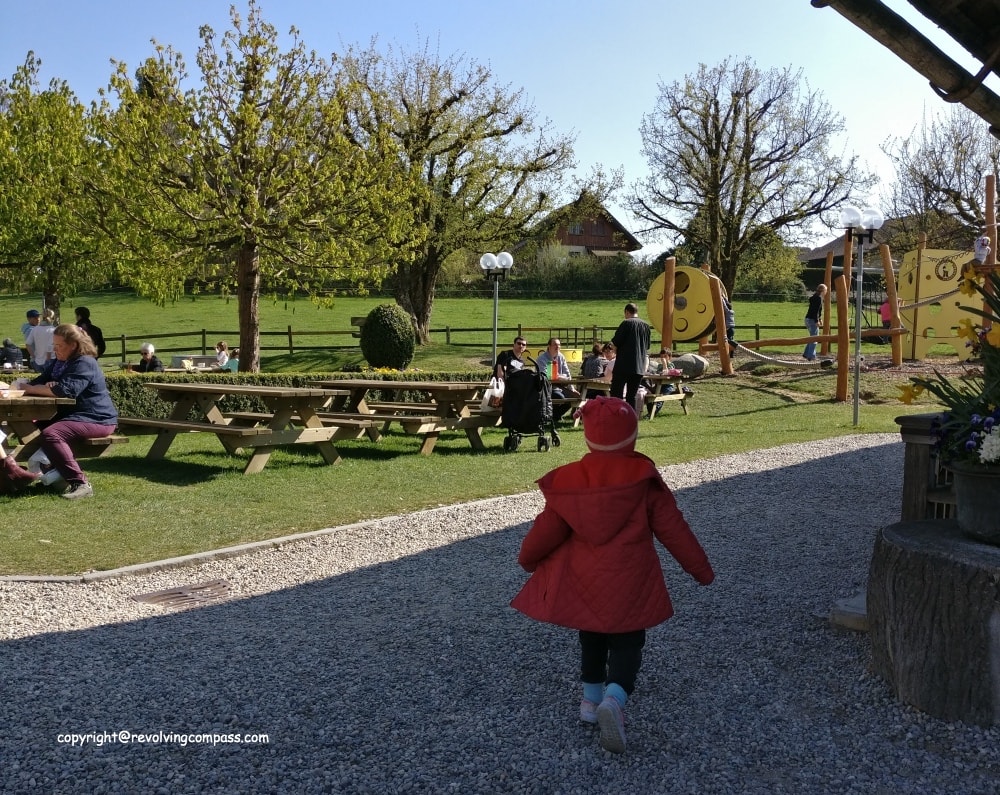 Sync in some swiss beauty
Last , but not the least, most of the cheese factories and other factories are located in the swiss countryside. This means, they have vast expanse of beautiful swiss countryside all around them. This is an added bonus to visiting one. Even if you are not planning to buy any cheese or interested in going through the cheese manufacturing process, you can still soak into the beauty of the surroundings here. While your friends and acquaintances go ahead and enjoy the tour of the cheese factory.
I did the same after a point. Not that I was not interested. But the little one obviously wasn't. And beyond a point she was not letting me  be inside the factory. Particularly after she spotted the play area. So, while rest of my family and friends continued with the tour, tasting more cheese. I pulled out along with my daughter. While she started playing in the children section, I looked around at the vast and mesmerizing Swiss countryside. There were vast stretch of green pasturelands. And as the evening set in, I could see herds of cattle returning back to their home slowly through these lands.
In conclusion, overall, it was a beautiful trip. We got something new to learn (how the cheese is manufactured), tasted some great delicacies including some old cheese and also got to look into the beautiful surrounding countryside. I would recommend it to fellow travelers.
Tips on taking a cheese factory tour in Switzerland
You can take a train from Lucerne to one of the neighboring villages where you plan to visit the factory.
Bus connectivity is also there. And guided tours are also available. You can enquire at a tour office on the railway station in Lucerne.
Keep some appetite for tasting some delicious cheese.
Visit towards the evening. You can rest for a while and enjoy some delicacies on the premises.
Refreshment options are mostly available.
Apart from cheese, other dairy products like milk, chocolate, curd etc. are also available to buy, in case you want to take some back home.
Keep adequate woolen with you since the countryside will be colder than the town or city in which you are based, no matter in whichever month of the year you are planning to visit.
When with kid, plan to visit a cheese factory in Switzerland that also has some kid's entertainment option at the premises. Because they might tend to get bored after some time. And won't allow you to remain involved in the tour either 🙂