Chokhi Dhani is an ethnic village style resort in Jaipur. When we planned our Jaipur Trip, one thing that all our acquaintances from Jaipur suggested was to visit Chokhi Dhani. So, we decided to include it in our itinerary. However, we somehow couldn't head here until our last day in Jaipur. So, we decided to head here on our last evening out of the 3 days we spent in Jaipur.
We were staying in Jaipur with our relatives. Since it was a Sunday evening and everyone was at home. So, we decided to take everyone for a treat. We called for a cab to accommodate the 9 of us and take us on the much awaited visit to Chokhi Dhani. As luck would have it, the cab got little late.
The fun-filled journey to Chokhi Dhani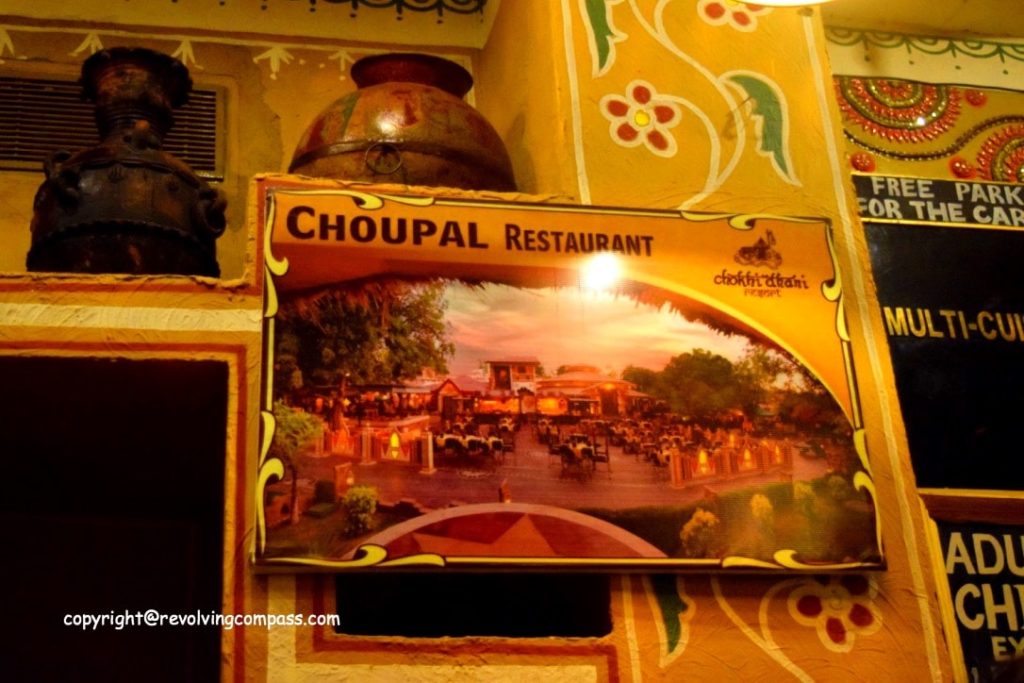 As we started for the journey, we realized none of us, including the cab driver knew the route to Chokhi Dhani. Again, luck by chance, one of us got the GPS working and we started following it in anticipation. Abhishek was sitting in the front seat with the driver. He was promptly handed over the navigation device cum phone 🙂 Thereafter, we kept pestering him with 'how much time to the destination', 'are you sure we are on the right path' and several such questions.
Finally, we reached Chokhi Dhani. The resort is quiet big with several entrances. We got down near the entrance which leads to rooms for overnight stay. Then, on the direction of the guard there, we proceeded towards the entrance to the ethnic village.
Entrance and Reception of Chokhi Dhani
By this time, it was already 8:00pm. Immediately, we could see the disadvantage of reaching late on a Sunday evening. The reception of Chokhi Dhani was getting more crowded with every passing moments. Nevertheless, the reception area is quiet big. Plus, it has seating arrangements on all sides and in the center so that others can wait while one person gets into the queue for tickets. There are 2 different types of menu
a basic traditional Rajasthani thali / buffet platter
continental thali / buffet platter
As you can clearly understand, the continental thali is to attract the people who will like to visit the place but may not be interested in Rajasthani cuisine. We were very much interested to try out the Rajasthani cuisine of Chokhi Dhani as we had already heard a lot about it. So, we opted for this one.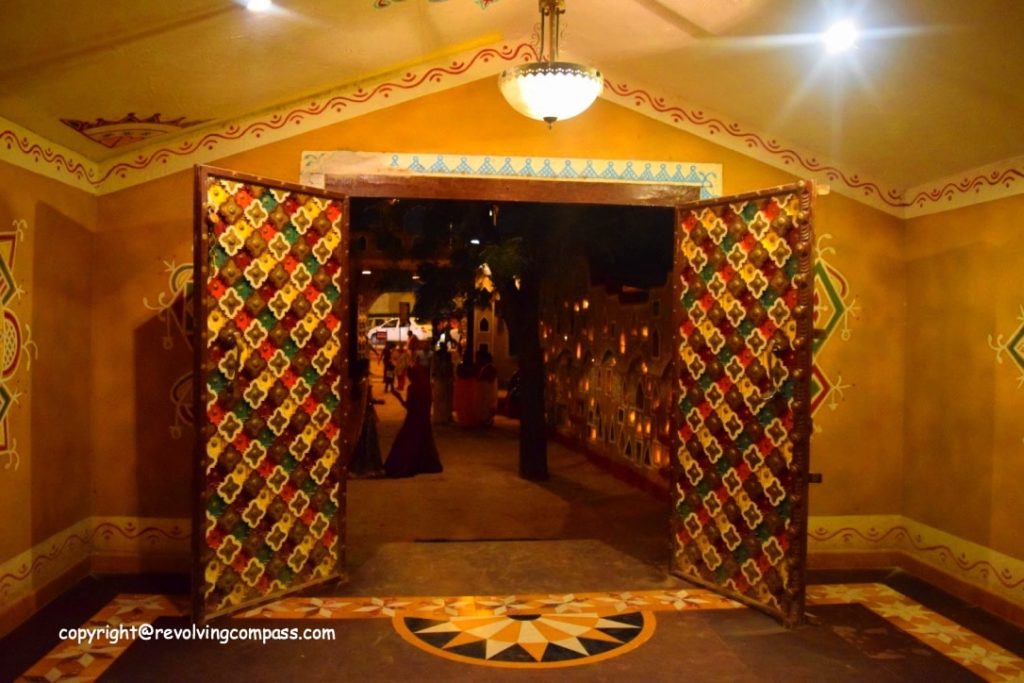 Into Chokhi Dhani
After waiting a while in the queue, we got our coupons. It had a timing of 9:30pm mentioned as our approximate timing for food service. With our coupons in our hands, eager to explore Chokhi Dhani we happily entered inside. We decided to spend the one and half hour at hand exploring different options and then head for food around 9:30pm.
Once you enter Chokhi Dhani, at a fist glance, it really feels like you are in a traditional Rajasthani village. A lot of effort must have gone into creating the genuine ethnic feel. The whole ground is covered with thin layer of sand and hard soil. It consists of numerous stalls, entertainment centers, game centers and shopping centers , randomly scattered all through. Hence, the whole area has a feel of village fare to it. This is how a typical Indian village celebrate occasions by setting up fares where one can eat, shop, play and enjoy all through the day and night, till the fare lasts.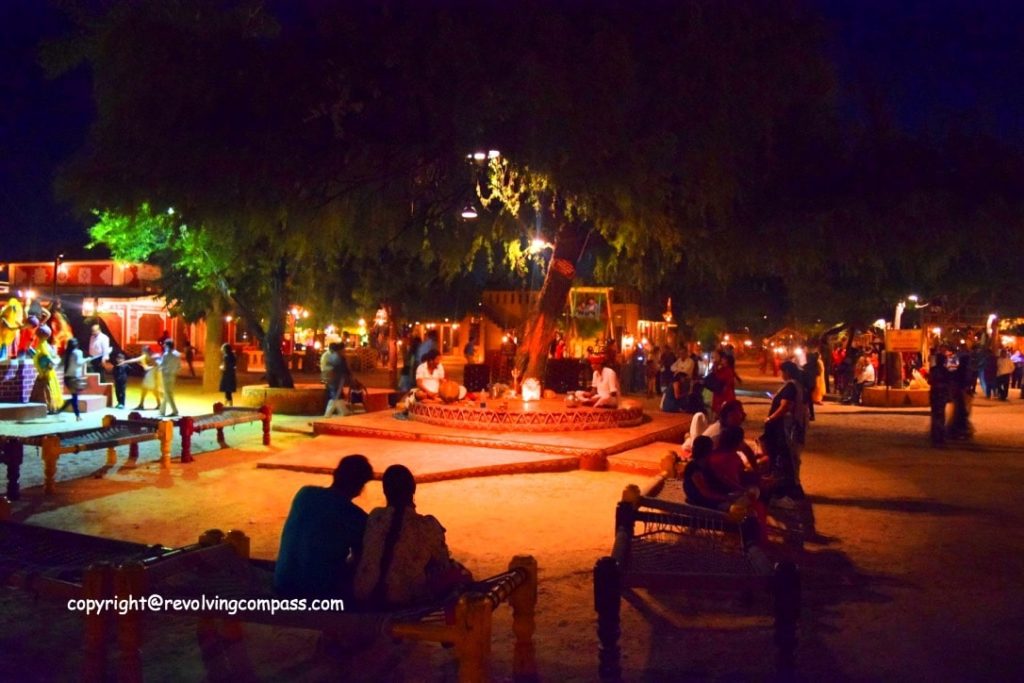 All the attractions are mixed up, as you walk through Chokhi Dhani, you will encounter one or the other unexpectedly. Guess that adds to the fervor. Here's the major attractions that we found interesting inside Chokhi Dhani:
Food Stalls
As soon as you enter Chokhi Dhani, you will see numerous food stalls. These are setup in the form of small huts. There are stalls of sweets, ice cream, bhutta (charcoal baked corn), jalebi (an Indian sweet), street foods like pani puri, bhel puri, samosa, and beverages like pani puri, bhel puri. Mineral water bottles can also be found on these stalls . The food or beverage at these stalls need to be additionally purchased. Their cost is not included in the coupon. But they are nominally charged. Our little daughter particularly enjoyed malai kulfi (an Indian icecream). As we entered, we all took our malai Kulfi and then we proceeded to watch some ethnic performance going on in the vicinity.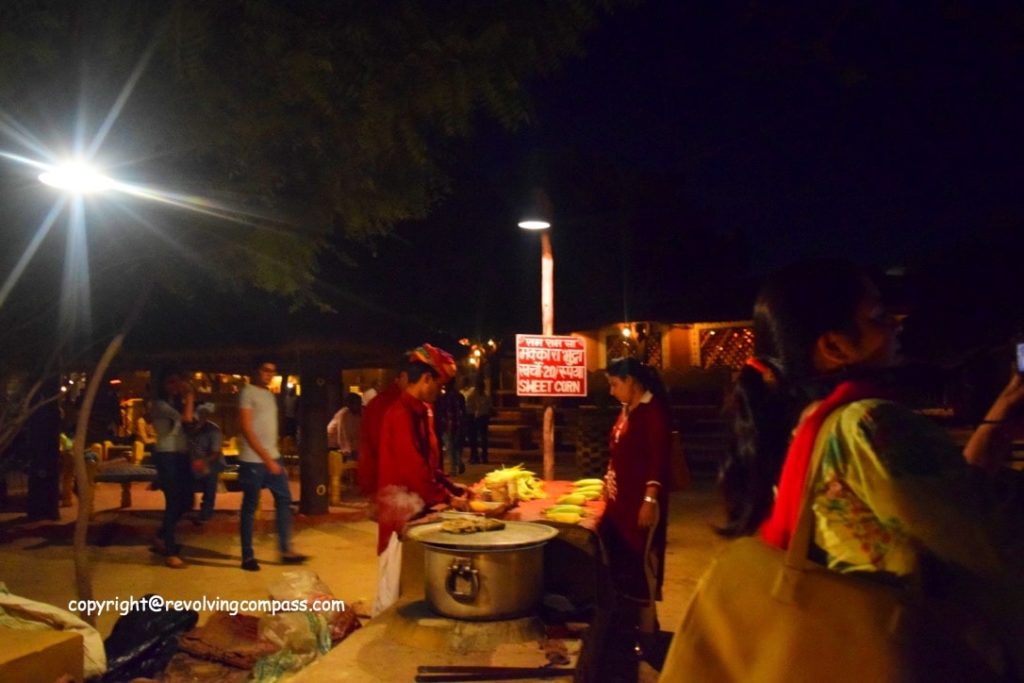 Ethnic Performance
There are stages setup randomly at different locations inside Chokhi Dhani ground. These stages are also setup in the form of huts. While savouring our Kulfis we headed to an ethnic dance performance going on at one of the stages nearby. It was a traditional ghoomer dance being performed by a small group of artist. The best part is, to watch the performance, you can either sit on the ground or on the khatiya ( A woven bed) . You can even lie down and enjoy the performance!! Later on, we came across several other ethnic dance and stage performances being done in various other parts of Chokhi Dhani.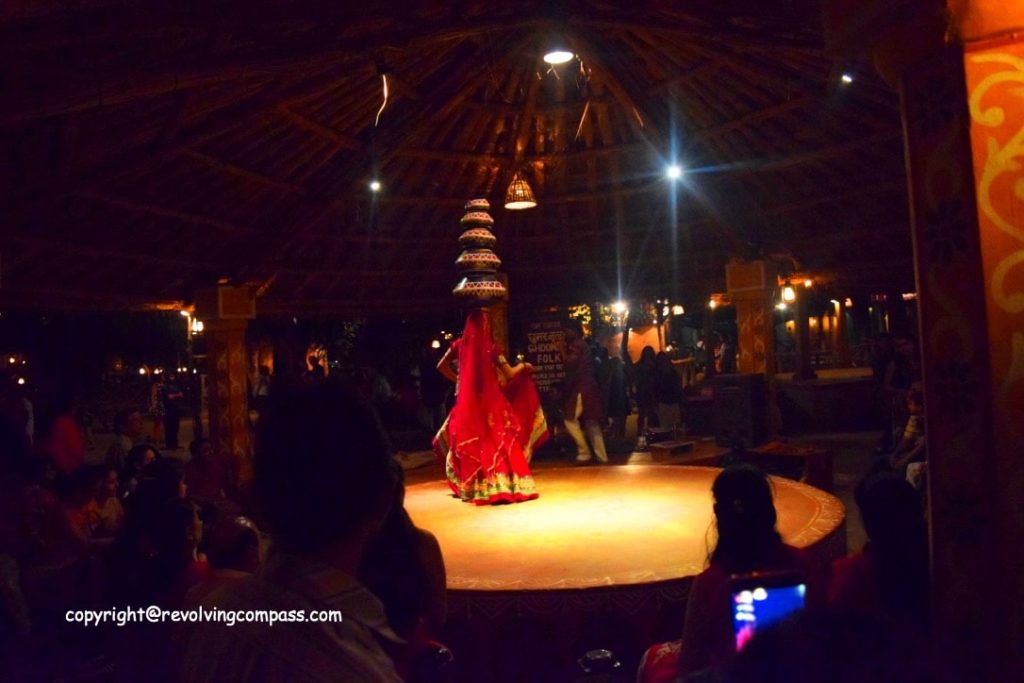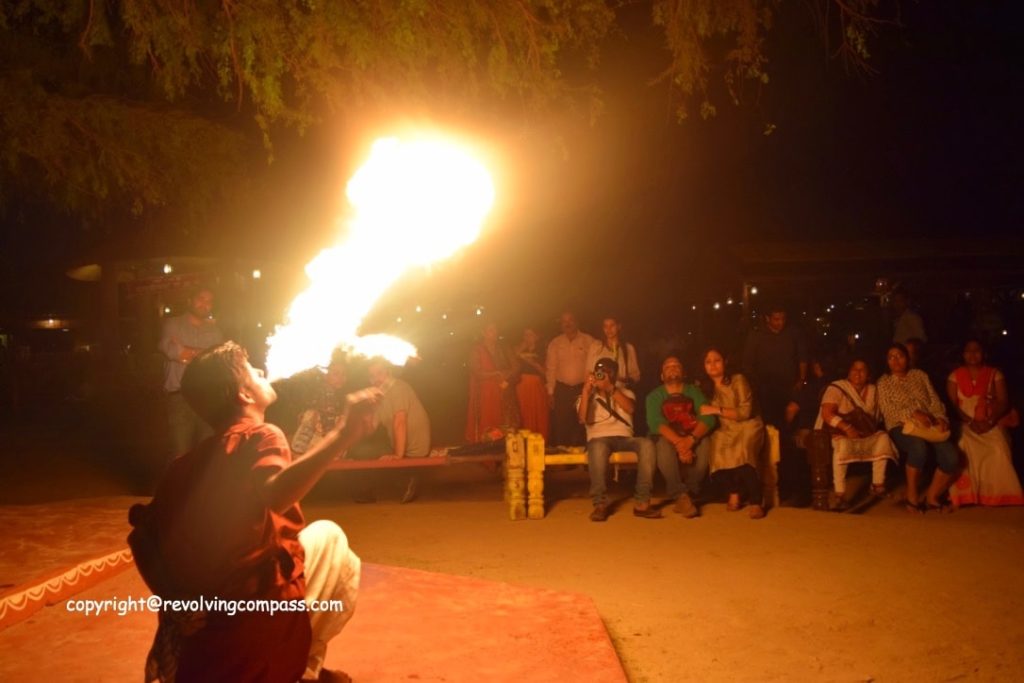 Dance stage
After watching the dance performance, we headed further. Next we came across an open dance stage. A traditional song with full beats was being played. All the guests were welcome to dance to the tunes. People were truly enjoying their dance, forgetting all their worries, living in the moment.
Magic shows
Next, we witnessed a magic show. An old illusionist, dressed like a village tantrik was performing magic tricks. The magic show stage is more like an arena where there is a slightly elevated stage in the center for the illusionist. Chairs are put in the area around the stage . Next there is a circular boundary wall surrounding the arena. We thoroughly enjoyed the performance here.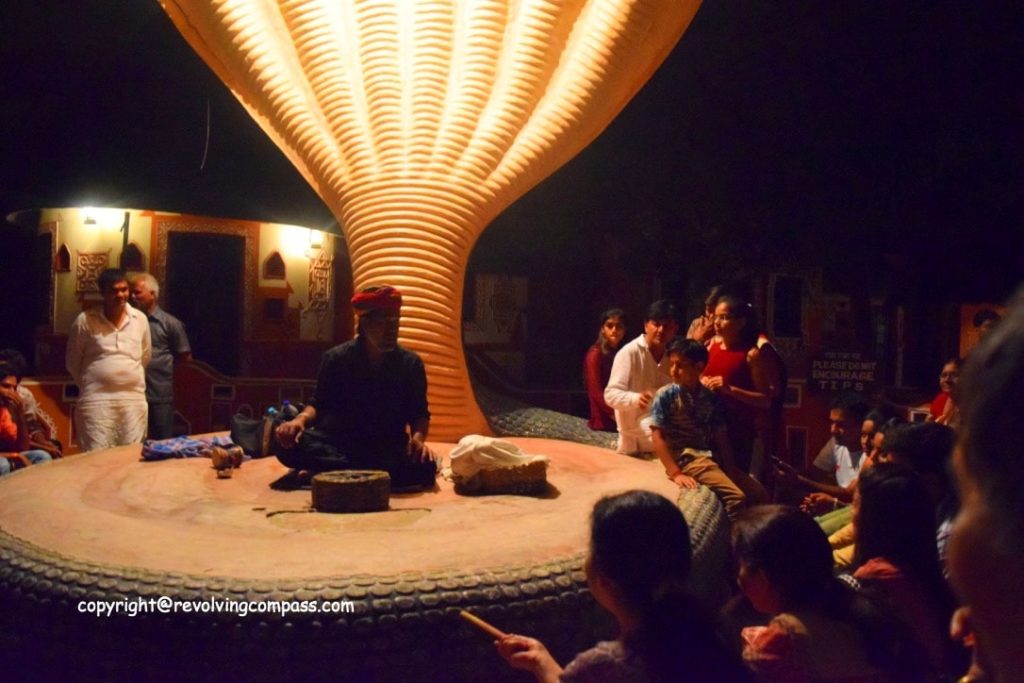 Fortune teller
From the magic show, we next proceeded to game center. Near there, on a small table, there was a fortune teller sitting. She had a parrot with her. On her request, the parrot will pick one of the cards and the fortune teller will then forecast your fortune reading from the card. Nevertheless, we decided to keep the future a surprise to ourselves and skip this part 🙂
Game center
The game center is nothing but an alley of small rooms setup at one end. Each of the room hosts a different game. These are the traditional games mostly played in villages and small towns. The games included a traditional style bowling arena with small bowling game setup, a balloons screen to shoot at the balloons, a ring game, an archery game and several others. We suppose this was the part that really got the guys in our group excited. They tried their hands on almost all the games.
Shopping complex
While the guys enjoyed the archery and shooting, the girls & ladies spotted a shopping complex just besides. Without a moments hesitation, they decided this was the place to head next. Thus, all of us next headed to the Shopping complex. It had shops all around selling ethnic handicrafts , showpieces, home décor items, lightings and fabrics. Our friends wanted to pick few souvenirs for their relatives. While they shopped, we roamed around.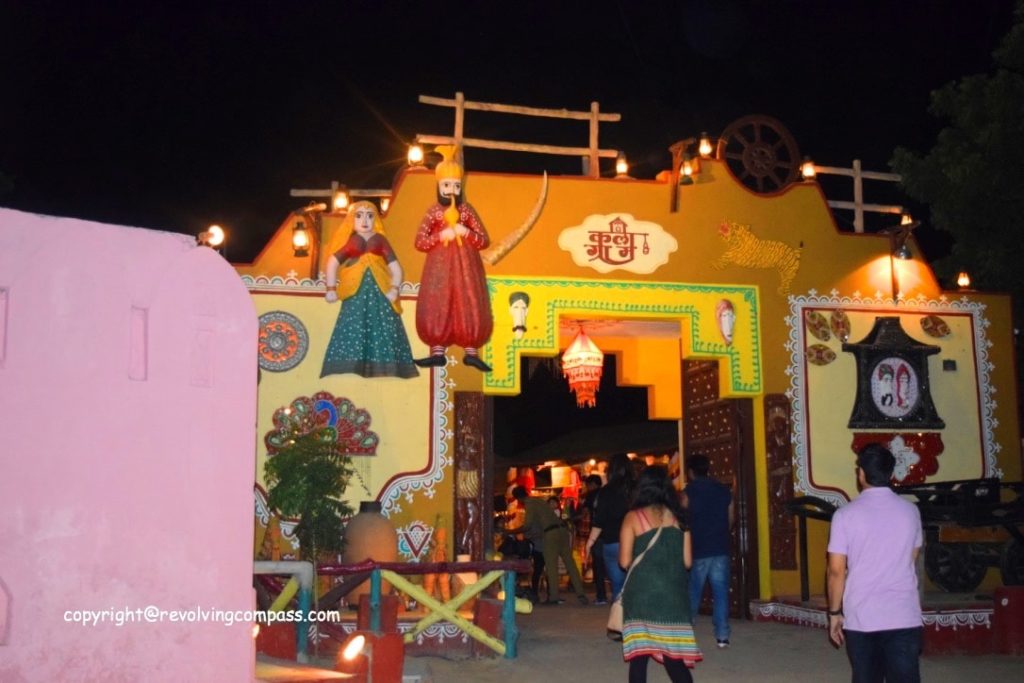 Pottery
At one place, there was a small pottery setup. A guy was shaping beautiful miniature pots out of the spinning pottery wheel. If interested, you can try your hands on pottery here. You can create a miniature pot with the help of this guy and carry it back home with you as a certificate of your work !!
Puppet show
Which ethnic Rajasthani setup can be complete without a puppet show. Thus, there is a puppet show also arranged at the premises of Chokhi Dhani.
Village setup
Overall, minute details have been taken into consideration while decorating Chokhi Dhani to give it a real village setup. In between the different elements that we describe above, you will stumble upon various cute elements that are true to a village setup. Like, a well or a hand pump. Or, a tree house. Some people will be roaming around in traditional dresses with a couple of cattle, just like you will see on a village road or in a crop field.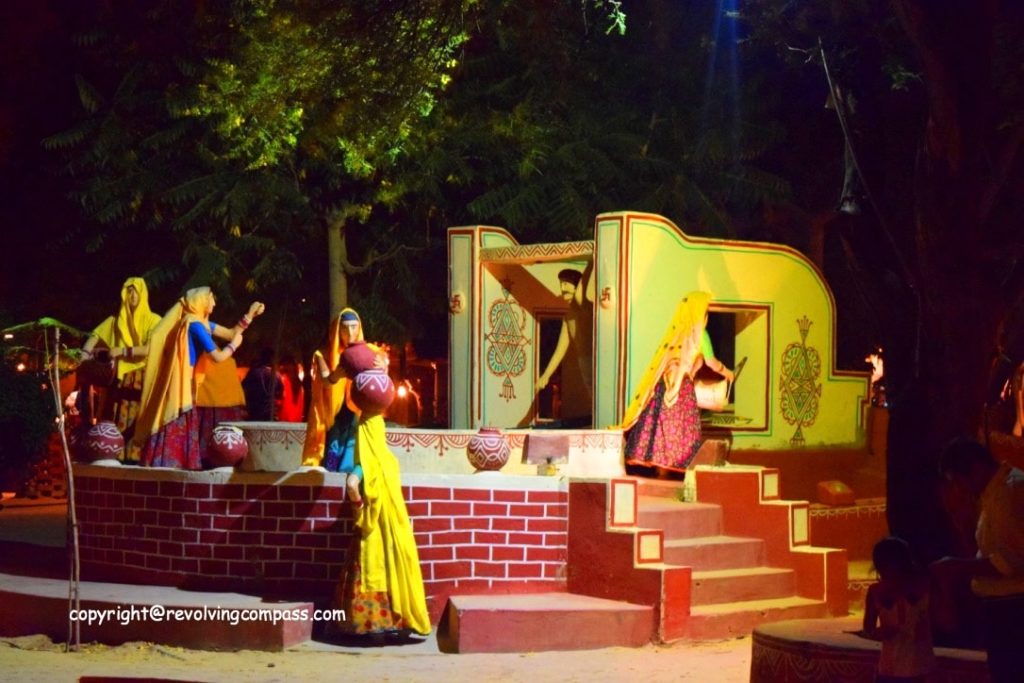 And then, we stumbled upon a bullock cart…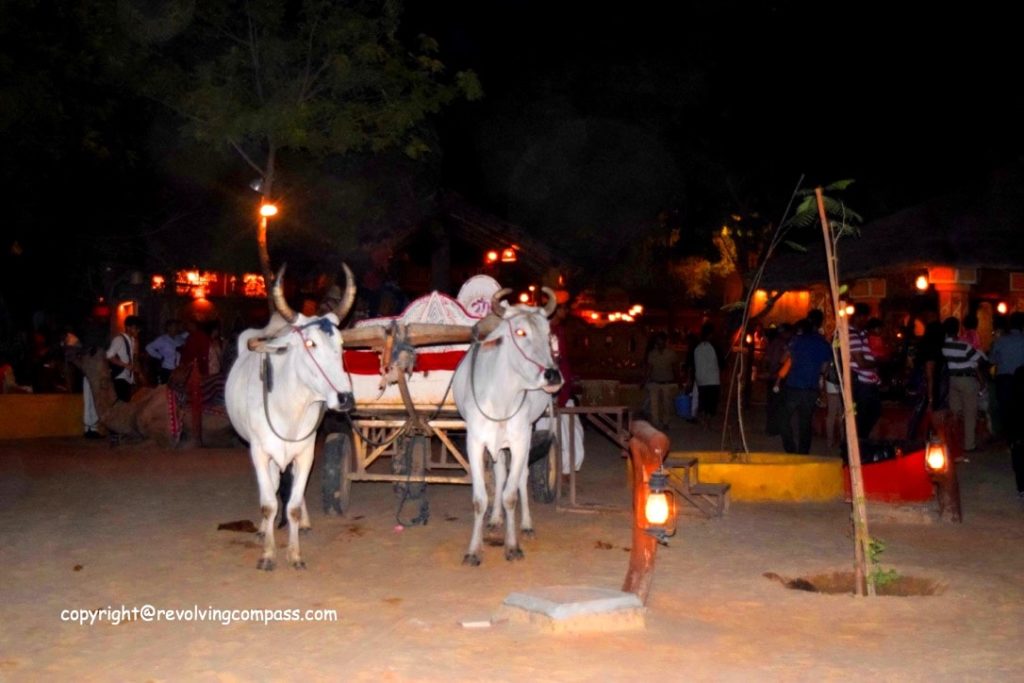 Finally, we had food
Overall, we had a wonderful time. Without even realizing, it was already time for dinner. We proceeded for the traditional buffet dinner. However, we found the buffet dinner arrangement quiet confusing. There were different areas where sitting was arranged. At one place, there was a floor sitting arrangement. At another, there were tables and chairs setup. It was not at all clear which one was for continental buffet spread and which one was for traditional one.
We finally proceeded to the entrance of one zone and showed our coupon. Upon enquiry, we came to know that there were two setups for the traditional buffet thali itself. One where the people were being served. And, there was already a waiting queue. However, the other one was self – service zone. We didn't have anymore patience to wait as the children in our group were hungry by now. And obviously the time mentioned on the coupan was not being honoured. So, we proceeded to the self service counter.
However, the temporary irritation produced by the chaos soon vanished. As we proceeded in the self service queue through the food counters. One by one, our plates were loaded with Rajasthani cuisines. Including some 20 varieties of dishes that included traditional daal-baati-choorma, gatte ki sabji, panchrangi daal, phulka, baajre ki roti, rice, pakoda, dahi and imarti amongst many. In short, just a spoon each from the items, and your stomach will be full.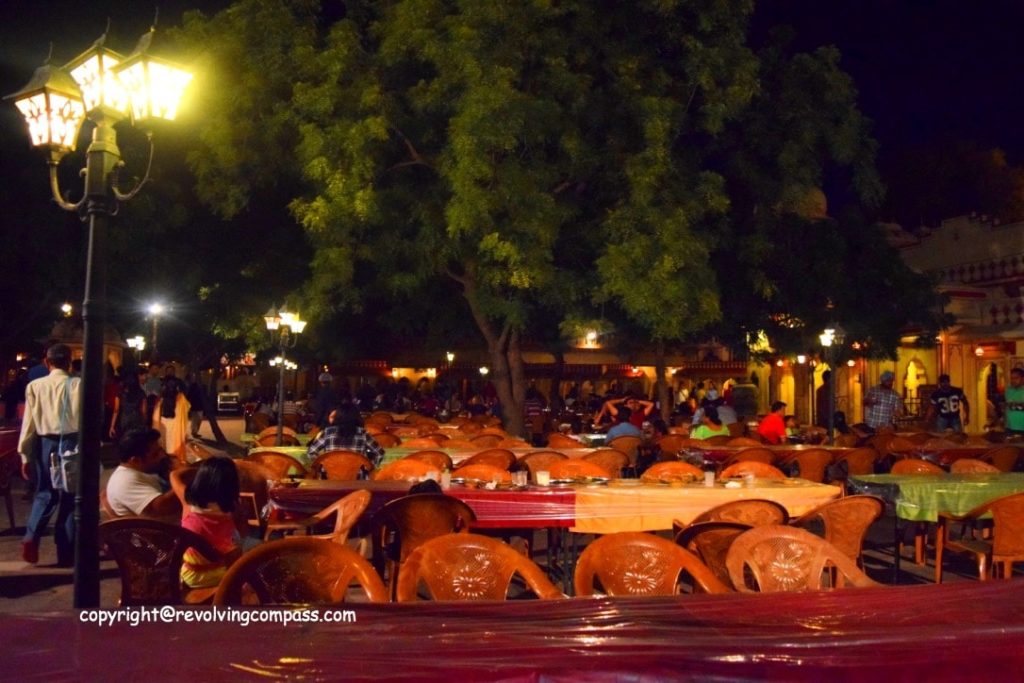 And then we departed..
Finally, post a content dinner, we decided to leave from Chokhi Dhani as it was almost 11 at night. Almost the closing time of the restaurant. However, we longed to stay further. As, we had to skip some of the activities and shows in lieu of time. We made a promise to ourselves to return here if we happen to visit Jaipur again and to come on time 🙂 Nevertheless, there could not have been a better ending to our Rajasthan vacation!!
Tips for visiting:
1) Arrive early to avoid the rush
2) Try some of the street food and dessert counters before visiting for main dinner
3) Enjoy the various shows and participate in activities to get the real feel
4) Wear comfortable cloths and shoes as you will be walking a lot. Weather will be pleasant at night.
5) You will get food and water in abundance, so, no need to carry them
6) Make sure you carry your camera for photos and recording some performances
7) Sort out and identify where is the place you are going to settle for dinner to avoid the kind of confusion that we went through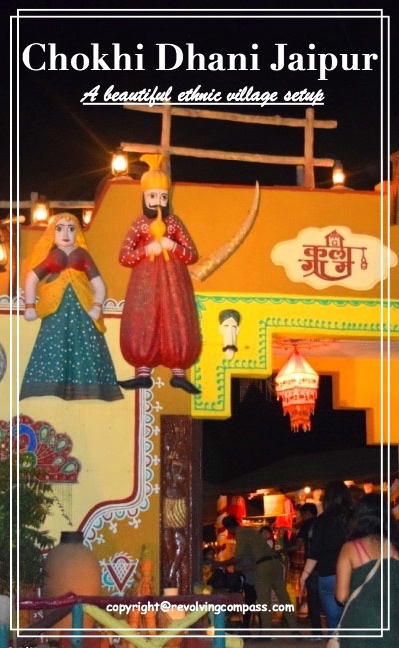 You might as well be interested in
Beautiful Wedding depiction at Bagore Ki Haveli Museum
Shilpgram: Must visit in Udaipur
A day trip to Chittorgarh fort from Udaipur
A day trip to Kumbhalgarh fort from Udaipur
The magnificent Jain Temple of Ranakpur
How best to spend 4 days in Udaipur – itinerary 
An evening at Chokhi Dhani, Jaipur
The unconquored fort of Nahargarh, Jaipur
One day trip to Amer fort, Jaipur
Hotel Ram Pratap Palace, Udaipur
Bagore ki Haveli Museum, Udaipur