When we planned our first trip to Europe, the dreamy Switzerland had to be a part of it. After spending 6 enchanting days in Italy, comprising of couple of days in Rome, Florence and Venice each, we headed to Switzerland. We decided to be based out of Lucerne in Switzerland, and spend four days here. On day one of our four days in Switzerland, the train journey from Venice to Lucerne was nothing sort of a fairytale ride. As you get closer to Lucerne, the more you get spellbound by the beauty of the Swiss Countryside. (We will soon write about our journey from Venice to Lucerne).
Day1: Into the fairytale town of Lucerne
Check-in into out hotel
We arrived into Lucerne by afternoon. As we dragged our luggage out of the train station, we met our chauffer waiting with a placard at the entrance to the train station. The town of Lucerne is not so big. So, soon, we arrived at our hotel, Drei konige. After checking into the hotel, we decided to settle down a bit. It was a pretty cold noon as it snowed the day before in Lucerne. Good that we had my heavy duty winter jacket, my daughter's winter jacket, cap, gloves and all other winter gear with us. Don't forget to carry them with you if you are visiting in the same season.
Out for Lunch
Two of us headed out to hunt for lunch while the others got fresh. After almost a week of travel through Rome, Florence and Venice, we were yearning to try a different cuisine this time. But alas, somehow, every cafe or restaurant that we headed to in the nearby streets seemed to be closed for business. I am still not sure if this is the way in Switzerland, that shops close during lunch hours.  Finally, we arrived at an Indian restaurant which seemed to be open. Delighted, we entered inside and ordered take away platters for each one of us. After returning back, as we announced the menu to our companions, they seemed to be equally happy to have an Indian meal after a long time.
A walking tour of Lucerne
Now were in front of us four days in Switzerland – the land of natural beauty. And in the pursuit to make the best out of it, we decided to embark on our walking tour of the city of Lucerne. We had already defined a rough self planned walking tour of Lucerne . And we were looking forward to it after having done two equally exciting walking tours in Florence. You can find the details of our self planned walking tours of Florence here in this post and here as well. So, soon we embarked on our journey to explore the lucrative town of Lucerne.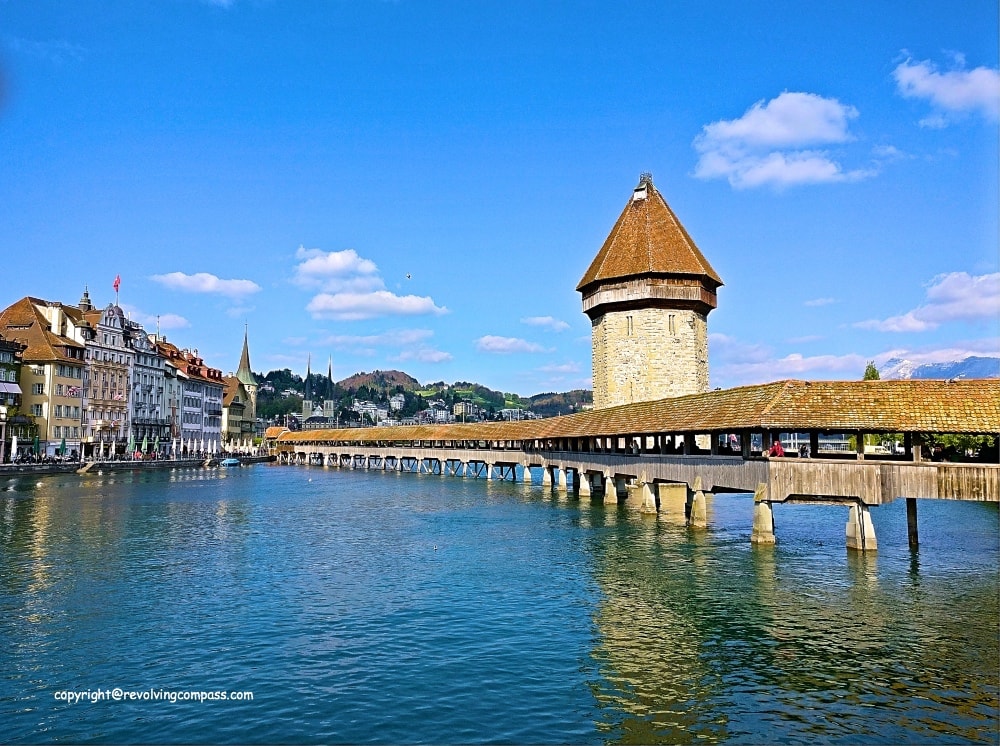 From our hotel, we headed to the old Church. Next, we spent some time sitting by the bank of lake Lucerne, seeing the swans and ducks swim happily. Thereafter, we crossed the old bridge to enter into the old town parts. Here, we did some grocery shopping. And then went up to the old town walls and the clock tower. We climbed the walls to get a mesmerizing view of the town of Lucerne and lake Lucerne, with snow covered mountain peaks in the background. From here, we went further to the Lion monument of Lucerne. The details of this walking tour, along with a google map are captured in our post on walking tour of Lucerne. On our way back, we packed some dinner and came back to our hotel.
Note: the weather was pleasant when we embarked on this walking tour of Lucerne . But as the evening progressed it went from cool to freezing cold. With the chilly breeze blowing right into our faces. And this is April mid that we are talking about. So, do be prepared with your woolens and warm jackets as you head to Lucerne in this season.
Our self planned walking tour of Lucerne 
Day 2: Off to the capital city of Bern
On day two of our four days in Switzerland, after having a nice breakfast at our hotel, we headed on a day tour of the capital city of Switzerland, Bern. We walked till near the Lucerne railway station where we met our group tour guide at a pre designated place. Thereafter, in a small bus, we began our tour to Bern, passing through the picturesque countryside of Switzerland, the vast green meadows and beautiful village houses. We could site farm animals happily grazing and the local people merrily going about their life. It seemed right out of the happy story books that we read as children.
On our way to Bern, we visited a cookies store – Kambly. The store has a beautiful story behind it's origin, and is more than 100 years old now. And has lots of free cookies for tasting. After having stuffed ourselves with the cookies and buying quiet a few packs of cookies here, we headed to our destination – Bern. Here, we got down by the river. And then had a nice walking tour of the small but beautiful town along with our guide. Even more beautiful part was the close to 3 hours time after the tour that we got to explore Bern on our own. Read our post on our day in Bern to know how we made the most of it.
From here, we started back around 3:30pm in the evening, stopping on the way on a cheese factory. That took us through a journey of cheese manufacturing. Apart from that, there is a store here to taste and buy cheese, a restaurant to relax along with outdoor sitting and a play area for kids. The views around are mind blowing. Overall, we had a wonderful time exploring Bern, Kambly and the Cheese tasting tour in a cheese factory. We returned back to our hotel in the evening quiet satisfied with the tour.
A day in Bern – the Swiss capital
Kambly experience – delicious cookies tasting tour
Cheese factory tour in Swizerland
Day3 : Endeavor with snow at Mount Titlis and Engleberg
Today was day 3 of our four days in Switzerland. A day we had been eagerly looking forward to. Because today was the day to play in the snow, conquer the heights and enjoy to fullest. But before embarking on this trip, we did have a beautiful morning walk, just randomly wandering through the blocks in the neighborhood of our hotel. And finally settling down on a bench in front of our hotel, basking in the mild morning sun for a while.
We started the day with a trip to Engleberg – the picturesque valley in the lap of mount Titlis. From here, we started on a cable car ride to the top of mount Titlis. Half way through we stopped for a glacier walk. And thereafter, we played a lot in the snow. By 5:00pm, we were supposed to return back to our bus for the return journey. Till then, we had the whole day to play as much as we wanted. It was one of the days that the little one enjoyed the most and still remembers afresh. Head here to know in details about our trip to Engleberg and mount titlis from Lucerne.
Also, today, upon returning from the trip, we headed out to get a view of the town of Lucerne after dark. We went on a walking trip from our hotel all the way up to the old  bridge, braving the cold waves. And we were not the least disappointed when we beheld the view of the bridge and the shores of the lake all lighted up beautifully. And their lights twinkling into lake Lucerne, creating a wonderful reflection. Today, we did get a feeling that our four days in Switzerland were close to over. Perhaps that inspired us to make the most of the time available now. So far, we had enjoyed the beautiful towns of Lucerne and Bern, the endeavor with snow at mount Titlis. But what we were still urging for was more romance with the Swiss countryside.
Endevour with snow at Engleberg and Mount Titlis
Day 4: Grindelwald & Interlaken
Finally arrived the last day of our four days in Switzerland. Today, we had a trip to Interlaken & Grindelwald scheduled. I had heard a lot about the natural beauty of the town of Interlaken but had not explored much on what to expect in Grindelwald. Neverthless, like the other days of our four days in Switzerland, today again, we had our breakfast and then we headed to our group tour meeting point. From here, we boarded a bus to Interlaken. The journey was again a beautiful one, with mesmerizing views of the Swiss countryside and the fairy tale houses lining the ever green farms.
Upon arrival in Interlaken, we spent close to 1 hour here. Before heading to Grindelwald. In Grindelwald, we were left to explore the town on our own. And we are so greatful to our guide for doing it, instead of ushering us from one place to another. Here is where our wish to have more interaction with the Swiss countryside got fulfilled. We had a picnic on a farm, roamed randomly through the streets of the village of Grindelwald, had a few interactions with the locals and finally, caught a train back to Interlaken from the pretty train station at Grindelwald.
This was such a lovely day, one of the most beautiful ones that we spent in Switzerland, and also in our Europe trip. And that left us wanting to explore more of Switzerland. You can read here our full account of our time exploring Grindelwald. And we will be soon writing about our day spent in Interlaken. We will definitely want to return back to Switzerland to experience more of this beauty. I guess I can never get enough of this place, however many times we return here.
Memorable half a day spent at Grindelwald
Summary of our four days in Switzerland
So, this is how we spent four days in Switzerland – four most beautiful days of our trip. I am greatful that the days were really long at the time we planned our trip. The sun set only post 9:00pm. And that gave us a psychological boost to keep moving on our feet easily from morning 6:00am to evening 8:0pm. Moreover, we didn't feel the least tired.
On our group tours to Bern, Titlis and Interlaken, there were people who also joined us from Zurich. They traveled extra 2-3 hours than we did. So, we were really glad of our decision to have based ourselves out of Lucerne. Also, Lucerne being a small town, it was easy to get around and explore it on our feet. Although, our hotel had given us complementary bus passes to explore the city, we never got to use a bus. All the time, we were up on our feet, soaking into the beauty of nature that laid in front of us. Another advantage of being based out of a smaller town. Had we got more time in Switzerland, we would have loved to explore some more locations around Lucerne. We will soon write about our suggestion for day trips from Lucerne that you should try when heading to Switzerland.
Travel tips
Do carry comfortable walking shoes with you. As with Europe, there will be a lot of walking around to be done.
Carry a bottle of water like this milton water bottle that we prefer something like  this milton thermosteel flask for your kid to be able to ship warm water while you stroll outside.. Switzerland is just pristine. You will find fountains of water all over, and you can easily refill your bottle at these spots. Save money, go nature friendly and keep yourself hydrated all the time.
If your purpose is romancing the ever beautiful paradise that consists of the swiss countryside, better live in a smaller town, like we decided to be located in Lucerne instead of Zurich.
Prefer walking tours, particularly self-guided ones where in you can explore the place at your own pace.
There is a great train connectivity between places. And if you decide to head out of Lucerne on your own, you can conveniently get a two ways train ticket and then head off to where ever you desire.
Four days in Switzerland are definitely not enough to explore and soak completely in the beauty that it is world famous for. However, you can make the most of your trip by defining your itinerary the way we did. If I were to return here, I would spend close to 10 days doing all that which I didn't get time for.
Buses are available in all towns for transport in case you want to ditch walking.
German is the primary language. Italian is also understood in many parts. Most of the tourist locations however, have people speaking english. So, you are most likely not going to have any trouble.
Shops close quiet early, by 6-6:30 pm. So, do remember to plan accordingly if you wish to do any shopping here. We did buy some sweet souvenirs from here – swiss chocolates and cookies that the place is world famous for. But during the day time. There was a cute little cupcake cafe near my hotel where I badly wanted to take my daughter. But it was operational 10:00am to 5:00pm and I was never in Lucerne during this time. So, had to give it a miss.
The time of year when we traveled, April end, seemed to be just perfect. It was neither too cold nor hot in Lucerne. The temperature was close to 10 degrees most of the time. Although cold winds did blow in morning and evening hours. We wore proper winter jackets and woolens. But we also got to enjoy mild sunshine in the mornings. Sometimes, it got cloudy but didn't rain. However, temperature can change course suddenly in this area. Like the day before we arrived, hail and snow happened in Lucerne. So be prepared with winter gear.
Smaller children can't go at some places, particularly on top of the mountains. So gather sufficient information before heading off to a tour of Mount Titlis or Jungafraugh if you are with a toddler.
Do carry a stroller if you are going with a kid. At least all the towns are very stroller friendly. And it will save your stamina as well as not exhaust your kid while you roam around exploring Switzerland. Prefer Umbrella Stroller if your kid is older enough. However, if the kid is likely to take a snap in the afternoon, prefer a comfortable stroller like this LuvLap Sunshine Stroller.