The city of Jaisalmer, Rajasthan doesn't need any introduction. It is famous for many things. And amongst these the top ranking are – the Thar Desert where one finds fine sand dunes just 50km from the main city and the Jaisalmer Fort. Also, the Jaisalmer Fort is one of the select few in India where still more than 4000 people live. And the best part is, guests can also stay right inside the fort. Since there are many homestays, guesthouses and hotels inside the fort campus. So, if you are looking for a royal experience in Rajasthan, we would highly recommend staying inside the Jaisalmer fort. We, on our recent trip, had a chance to enjoy the hospitality of Hotel Raj Mandir Jaisalmer. As, it is located right inside the fort campus. Thanks to Ambuj Saxena of bnbnation for introducing us to the hotel, we had a very nice time here.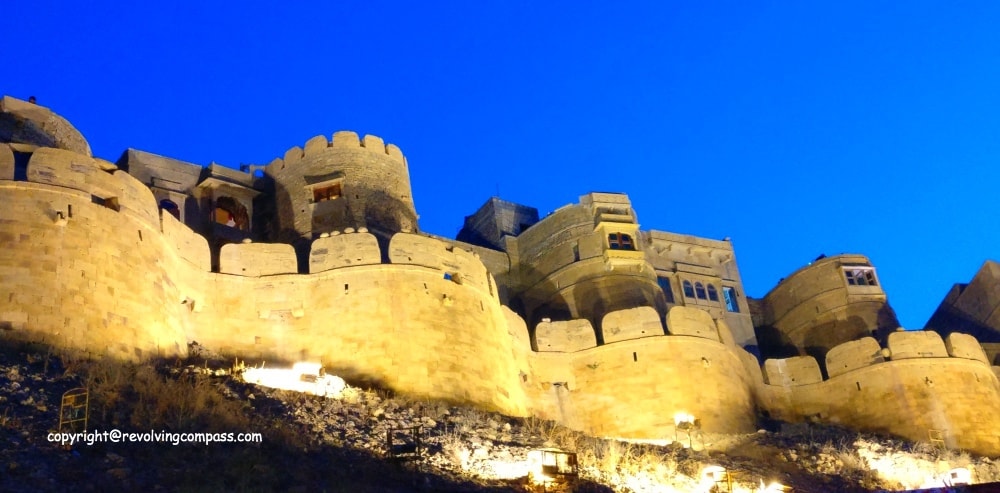 Although we have been to several other forts and palaces in Rajasthan in the past including Amer Fort, Nahargarh Fort and Jaigarh Fort in Jaipur. Also the massive Chittorgarh fort and Kumbhalgarh Fort. But, this was the first time we were getting a chance to stay right inside the premises of a fort, so, there was no doubt grabbing this chance.
About the Hotel Raj Mandir Jaisalmer
Hotel Raj Mandir Jaisalmer is located right inside the Jaisalmer fort. It is a budget hotel with a very nice hospitality. Although you will find some narrow lanes inside the fort. And small houses, shops etc. all around. Yet, you get some clear advantages of staying right inside the fort. Let me count a few such advantages for you, which we got staying in hotel Raj Mandir Jaisalmer.
View of the city from Hotel Raj Mandir Jaisalmer
First of all, the hotel terrace provides as good a view of the city of Jaisalmer as one gets from the Jaisalmer fort. You can sit on the terrace and enjoy a cup of coffee or tea and have an uninterrupted view of the city of Jaisalmer. Minus all the crowd that you will find inside the Jaisalmer fort itself. We spend morning and evening on this terrace, capturing beautiful sunrise and sunset. And the views of the Golden City Jaisalmer from the terrace are definitely something to boast about. Since, you get an uninterrupted view not just of the city, but beyond.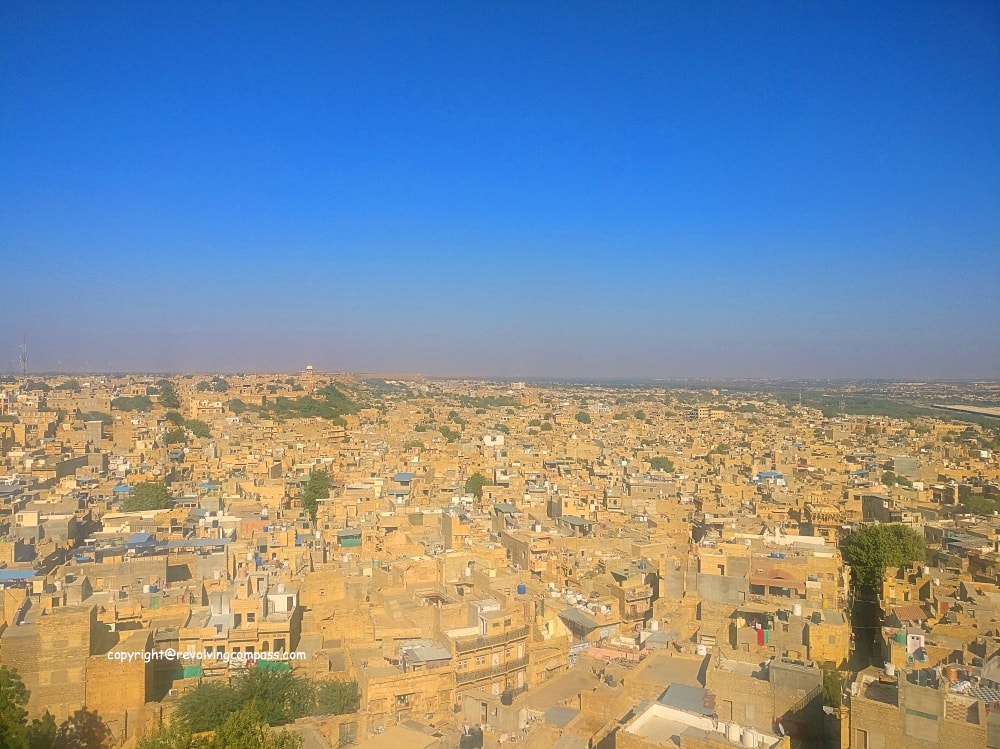 Numerous Eateries around the Hotel Raj Mandir Jaisalmer
Hotel Raj Mandir Jaisalmer is surrounded by numerous eateries, including both cafes and restaurants. Again, many of them have rooftop sitting with beautiful views around. And the views magnify further at night as the beautiful glass blubs in different shapes, sizes and colors start twinkling at night. The food options are also unlimited including Indian, Mexican, Chinese, Italian and other cuisines from around the world to suite everyone's need. We ate twice at hotel Surya just besides Hotel Raj Mandir. And also twice at Jaisal Italy, a multicuisine restaurant with beautiful rooftop sitting, right inside the gates of the Jaisalmer fort.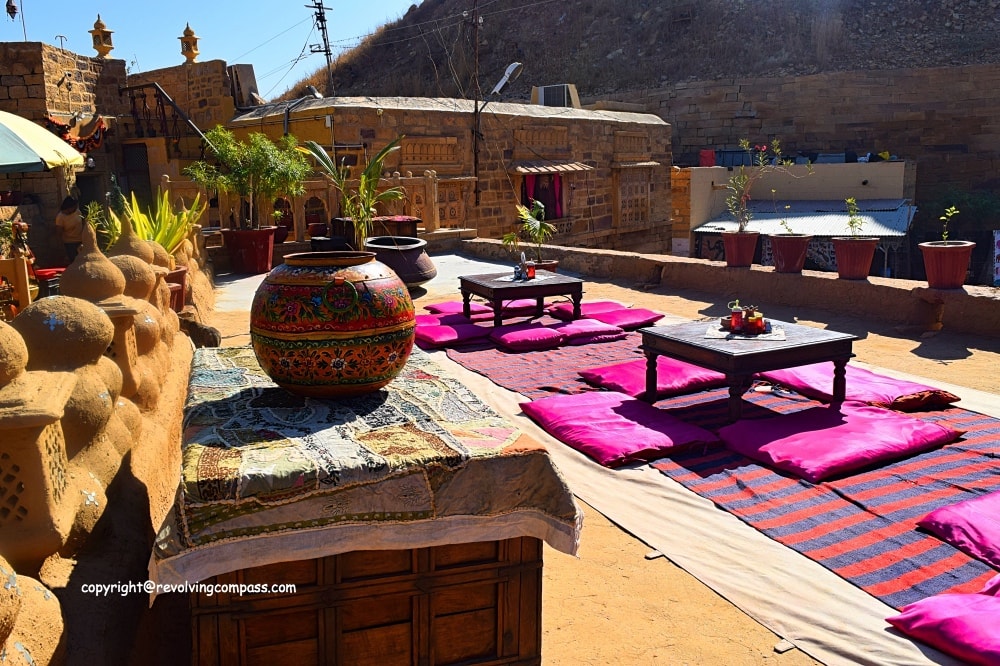 Besides there are numerous other hotels and restaurants to try out. When you visit these restaurants, expect homely food in a beautiful ambiance. Nothing is cooked beforehand at these restaurants. So, when you order, the food will be freshly prepared and served right away for you.
Great accessibility of the fort from Hotel Raj Mandir Jaisalmer
Although, it need not be mentioned separately, the accessibility of the fort areas is much better given the location of Hotel Raj Mandir Jaisalmer. One also gets the advantage of "unofficial" magic hours to visit the fort just like Disneyland Resort guests. What I mean is that, the fort opens at 8:00am and guests start pouring in by 10:00am. And it gets super crowded thereafter. But since we were staying in Hotel Raj Mandir, we could venture out as early as 7:45am and explore some areas of the fort while there was hardly any crowd there. Thus, enriching our overall experience, even when we were visiting in the peak tourist season.
Rooms at Hotel Raj Mandir Jaisalmer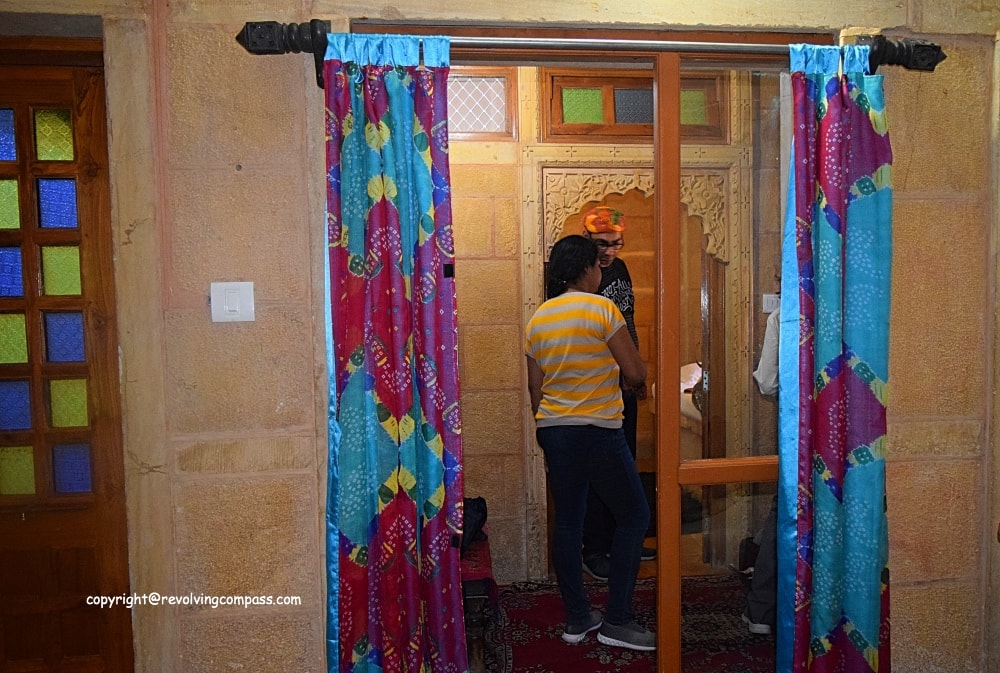 There are five rooms at Hotel Raj Mandir Jaisalmer. The rooms at Hotel Raj Mandir Jaisalmer are basic. They are not very large. But they are neat and clean. If the windows are opened, they get really airy. Hotel Raj Mandir Jaisalmer have double rooms as well as one family suite which comprises of two rooms and a small corridor between the two. Both rooms have attached bathrooms. We stayed in the family suite since we were traveling with our family this time. The rooms are small, but will be really cozy for a family of four. The bathroom is also neat and clean but could do better with little ventilation. They have continuous supply of hot and cold water running all the time, which, I would call a luxury in the city of Jaisalmer. Since, it is located on a desert base.
Food at Hotel Raj Mandir Jaisalmer
The hotel has a small kitchen at the terrace. In the morning, the kitchen opens at 7:00am. Thereafter they start preparation for breakfast. But it is not the usual buffet breakfast that you will encounter at most of the other hotels. Rather, they have a small menu, but guests can make the selection of the items and tell the quantity they want. Thereafter, the cooks prepare the breakfast right away and serve freshly made hot food. Apart from that, tea, coffee and other such things can be ordered all through the day either in the room or one can go and have at the terrace itself. As mentioned, the views from the terrace are amazing. Particularly in the morning and later in the evening when cold weather sets in.
Hospitality at Hotel Raj Mandir Jaisalmer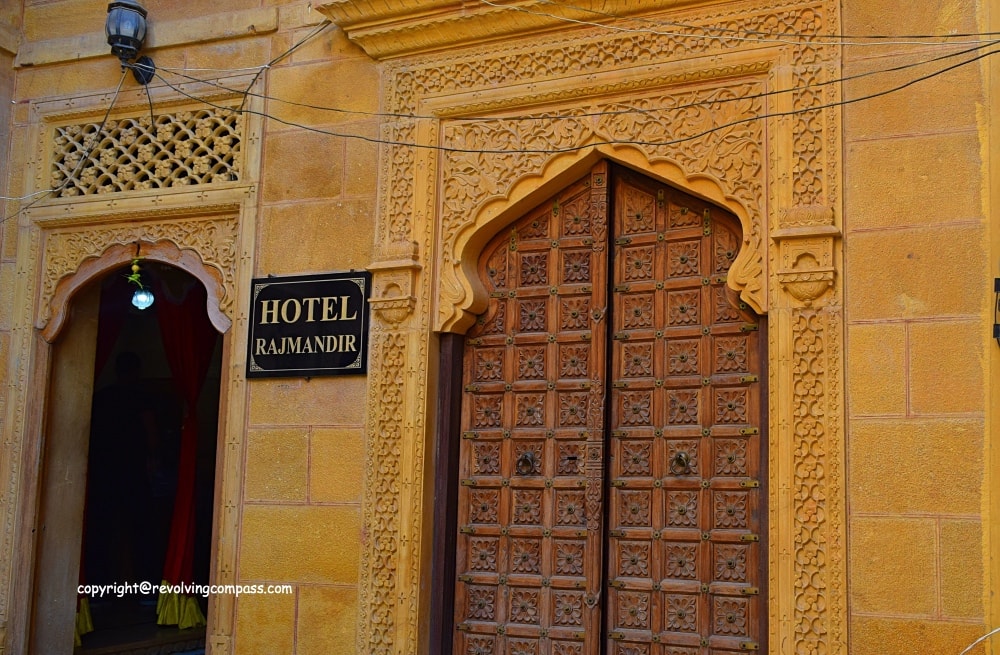 We found the cook and the staff really homely. They interact with you like family and take care of your small needs. We felt it at several occasions. Right from the time we set foot in Jaisalmer and gave them a call to find out their exact location. Since, we had reached at a time when autos or any other four-wheeler were not allowed inside the fort area, we had to walk from the main gate of the fort till the hotel. Sureshji, the host was generous enough to come and receive us at the fort entrance and gave a helping hand with our luggage as well.
So, basically, they give a helping hand to the guests and leave no stone unturned to make sure they reach the hotel without any hassle. Next, if you have a kid like ours, then you will get hot milk from the kitchen for them. Or, you feel like preparing your own oats, they will give you a utensil and hot water. If you don't prefer having sugar in your tea or you want to add it separately, they will give you sugar separately. The staff will meet and greet you with such jolly spirits that they are bound to uplift yours as well.
Other facilities at Hotel Raj Mandir Jaisalmer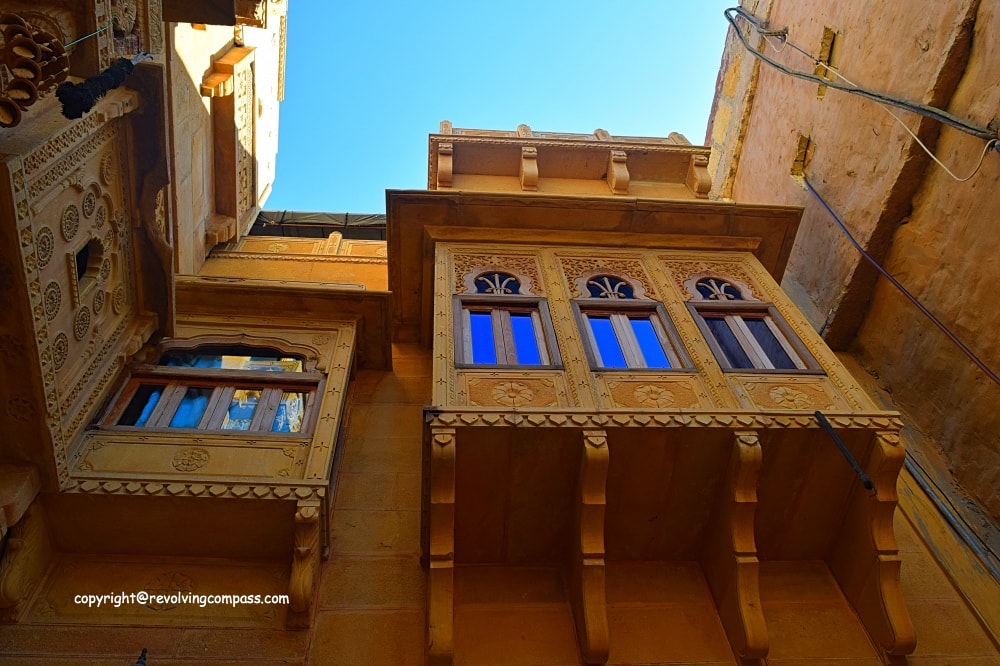 The hotel itself doesn't have a dedicated travel agent. But it being in the center of the Jaisalmer fort, there are numerous other businesses around which arrange for all kind of travel and tour operations like desert safari, desert camp bookings, providing taxis for sightseeing etc. The host is generous enough to help you get a deal for anything you need. Besides, general stores, medicine shops, packaged drinking water shops and everything else is at a stone's throw away. So, you will not feel like there is anything missing. The adjacent buildings also have hotels and guesthouses running and some families which run the business as well reside right there. So, the area is quite lively till late at night and has a very homely feel to it.
In Conclusion
Overall, we had a very nice time at Hotel Raj Mandir Jaisalmer. It is a very good budget option to book in Jaisalmer. If we look at the location of the hotel, it's hospitality, the homely atmosphere and the surrounding facilities, overall, it makes for a great package at the price it offers for the rooms. Jaisalmer gets super crowded in the touristy months of November to February. So, if you plan to book this hotel, we will advise you to book in advance. While we were there towards the end of December, all the rooms were fully booked.
PS: Though we were invited by Hotel Raj Mandir to stay over with them at Jaisalmer, the views and opinions expressed here are solely our own and completely based out of our own experience during our stay here.