"There are so many beautiful shells in the bed of the sea that it is simply impossible to collect them all in a lifetime"
If you are anything like me, India Seashell Museum is just the perfect place for you. I love the beautiful shells that I see whenever I take a stroll on a beach. And I do collect some of them, off each of the different beaches that I visit. But, I have always wondered what are the different possible varieties of seashells out there. We get to see only a few that get washed off to the shore. Is there a much vaster range of seashells available for those who dive deep into the sea and explore further? Well, India Seashell Museum just provided me the answer to many of these questions that I had.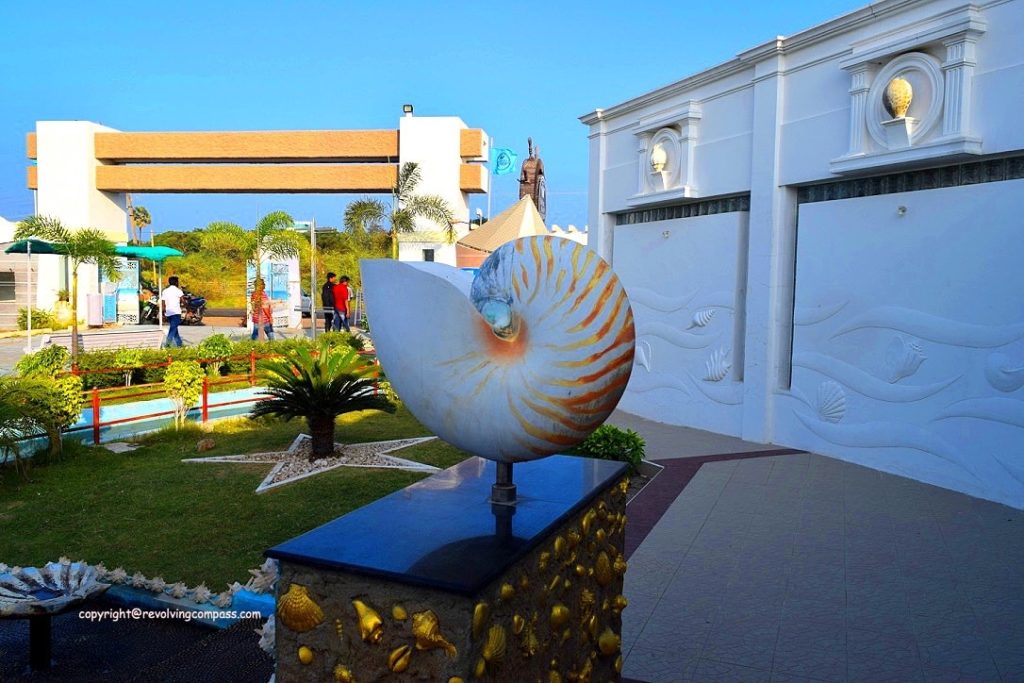 India Seashell Museum, Mahabalipuram
We visited India Seashell Museum on our trip to Mahabalipuram. After seeing some wonderful UNESCO World Heritage sites that comprised of beautiful temples and amazing carvings, we decided to head to India Seashell Museum before calling it a day. Although I had never visited any seashell collection or museum before. So, I didn't know what to expect. All I thought was, there will be some nice collection of seashells to look at. Well, there indeed was. But not just some nice collection. India Seashell Museum houses a huge collection of seashells of all possible varieties. In fact, it is the biggest seashell museum in the whole of Asia!! And there is no second to it in India.
History of India Seashell Museum
A seashell enthusiast and lover, K Raja Mohamed, once upon a time, set across to collect seashells from across all the places that he happened to visit. He had a dream. And it was about creating a museum of his own with amazing varieties of seashells collected from across the world. After 33 years of meticulous effort and wonderful zeal, this person actually went ahead and opened a museum. That's how the India Seashell Museum came into being in the first place. Actually, K Raja Mohamed sold out his family property to build this museum. Finally, the India Seashell Museum was opened to the public in 2013. It all started when K Raja Mohamed made a trip to Sri Lanka in 1980. After that he visited Kenya, Thailand, Vietnam, America and several other destinations, collecting different sea shells on his journey.
In total there are some 6000 different varieties of seashell species. And Mohamed managed to capture some 2300 of these. They are proudly on display at India Seashell Museum. However, his quest was still not over. He knew he can't collect all of them as one lifetime is not enough for it but he just wanted to collect as many more as possible.
Collections in India Seashell Museum
Would you believe it if I were to tell you, that the India Seashell Museum has a collection of over 40000 seashells from across the world? The museum is divided into 4 major sections. Each has a huge gallery that displays a unique collection of shells. I am falling short of words here to describe the amazing collection of seashells that India Seashell Museum has on offer. All I can say is , it took great effort for me to stop staring on one set of collection and move on to the next. And every other shell seemed to be even more beautiful and fascinating than the previous one.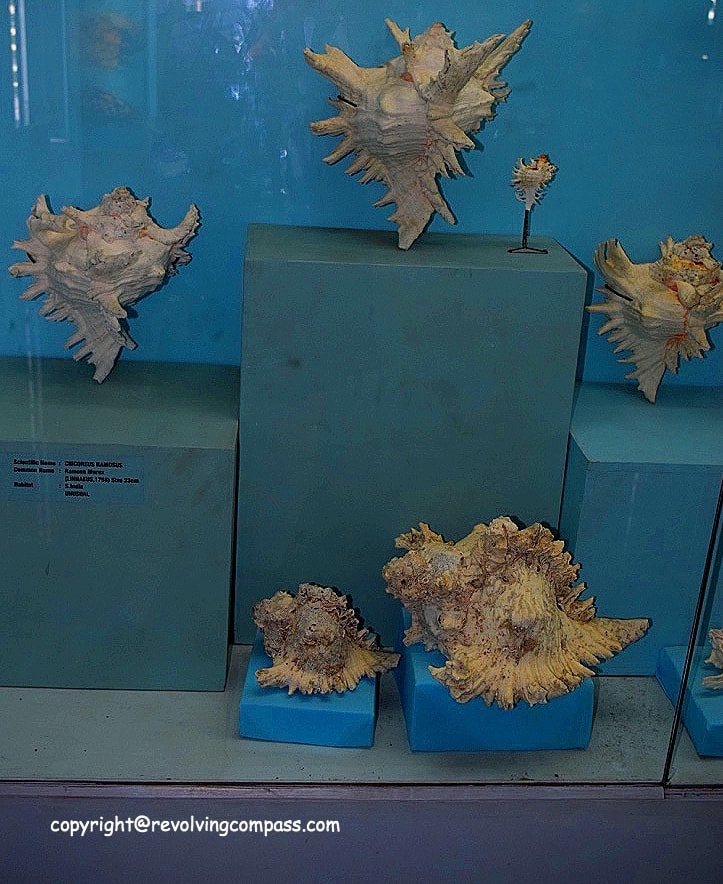 Some look like an elephant's ear, others look like a mermaid's dress. And some others are like octopus and others are like tiny coriander seeds. Some shells have right handed pattern on them, which is believed to be very rare. I will let the pictures do the talking, and take you on a walk through some of the beautiful seashells that we saw here.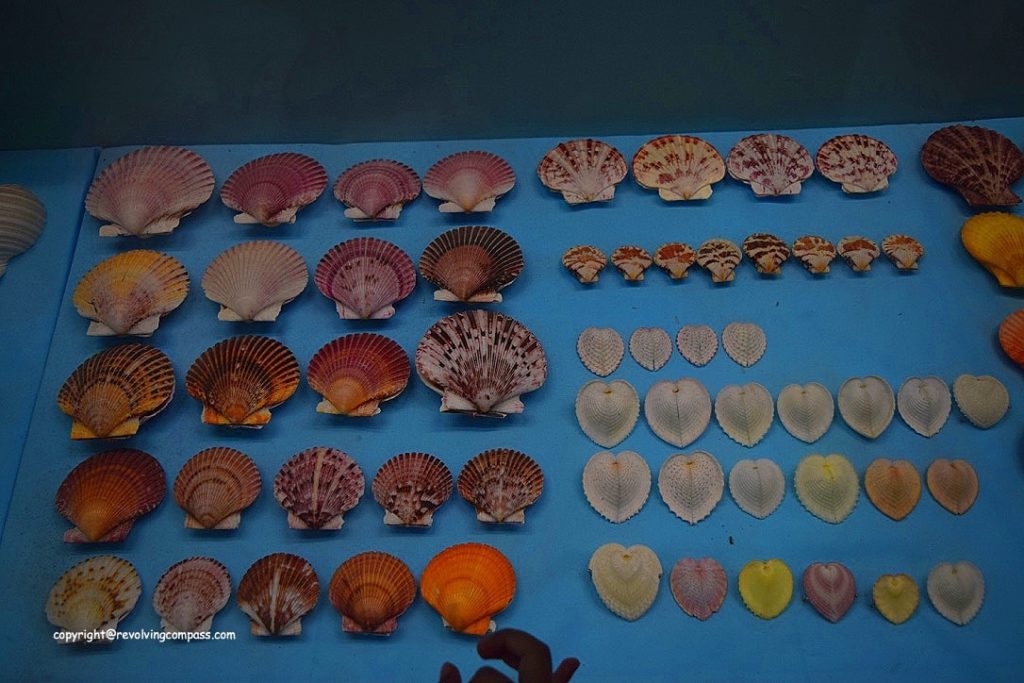 The above ones are one of my personal favorites with beautiful wing like shape and bright colors. And different possible shades.
Actually, some of the shells made me wonder if someone really goes down there and paints them with so much of patience to get these perfect looks. It is so hard to believe they are naturally so perfectly beautiful. I mean, it is totally impossible to believe such perfection. Things like these make me believe in the wonders of nature. You see same shade and pattern with different colors.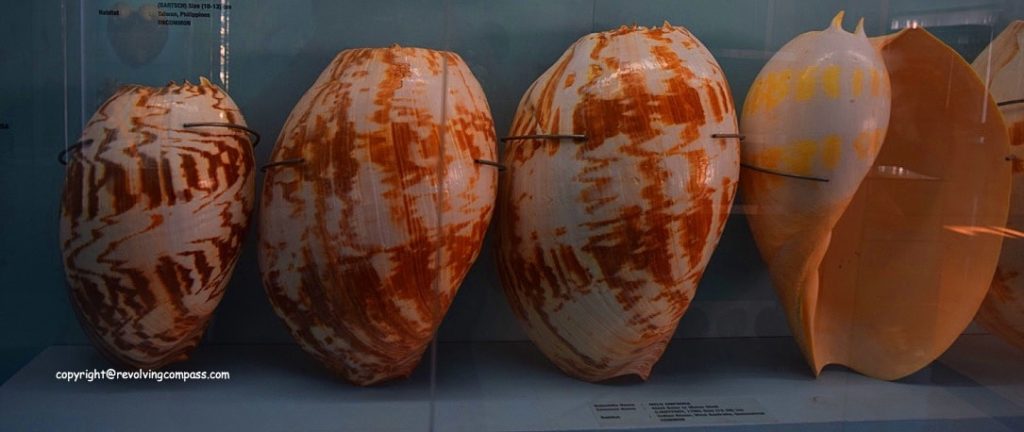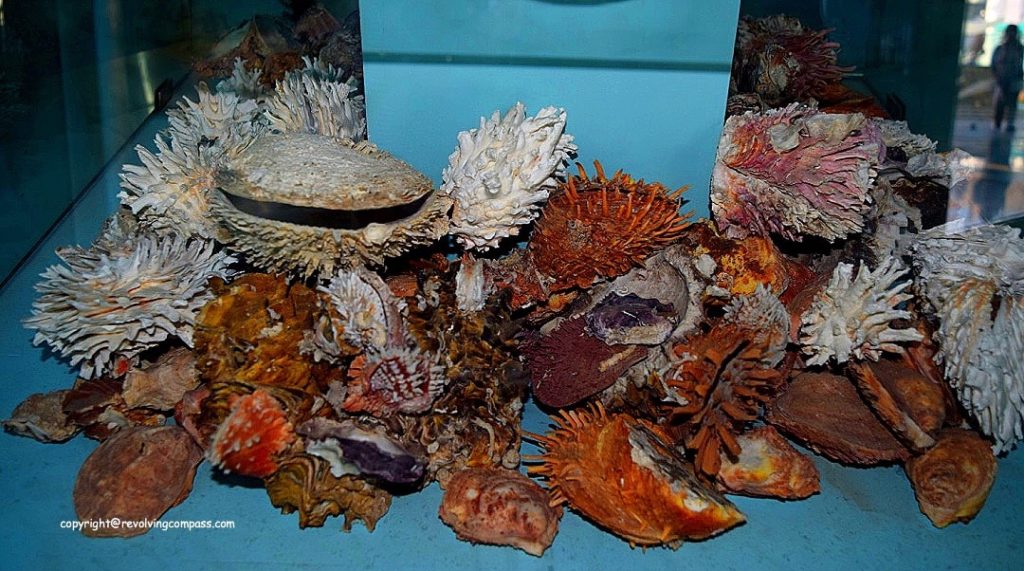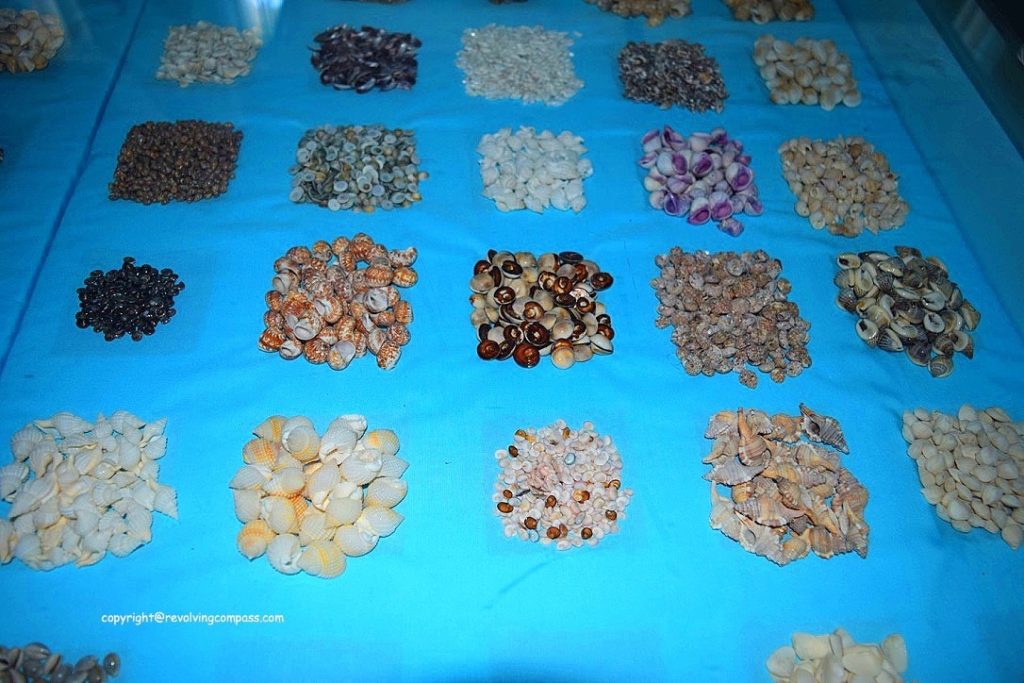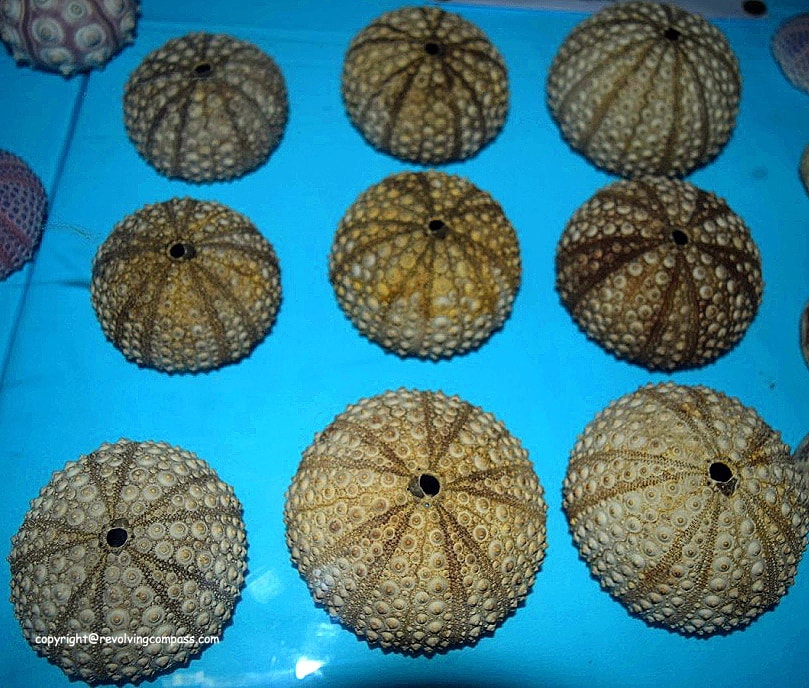 Smallest seashells at India Seashell Museum
We also saw some very huge seashells here. And then we came across the smallest seashell species of the world on display in one of the sections. These looked as small as the coriander seeds.
Story of Pearls
In gallery 3 there is a fascinating section. I must tell you it otherwise looks ordinary, with some pearls on display. But actually, this section displays the story of pearl formation. It explains the three important stages in the formation of a pearl. And you can see some beautiful raw, unpolished pearls on display in this section – real pearls, some inside the shell itself. I had never seen something like this. As we walked past this section, a guide explained to us, a group of enthusiastic tourists, on how the pearls are formed, how they take birth and then take shape inside a shell, and I must admit, it was an interesting story.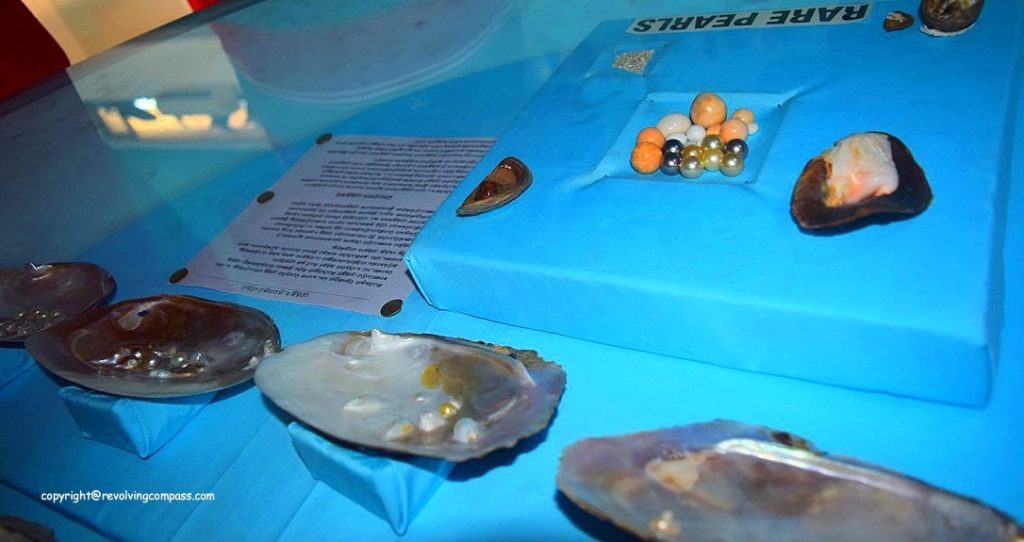 Artistic items created out of oyster shells
The other unique and fascinating items on display are models of train, plane and car, one placed in each of the galleries. These models are made out of oyster shells and thus exhibit extreme artistic skills of the creator.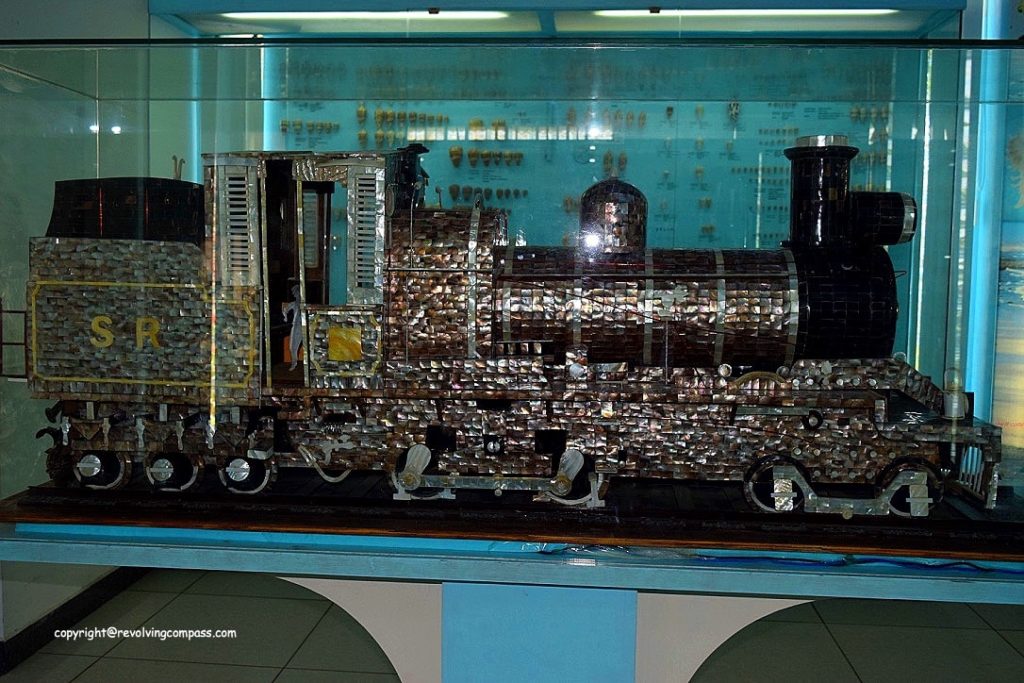 Along with the display, the name, species and type of each seashell is also mentioned. But I must say, it is hard to grasp and sync in so much information in one single tour. So, all I did was to sync in the beauty. Hats off to the efforts of K Raja Mohamed. A person whose sheer dedication and zeal gifted the country with such a unique collection. I personally liked the collection of seashells at India Seashell Museum so much. So, I am definitely going to return here with more time at my hands.
How to get to India Seashell Museum
The India Seashell Museum is located just outside the main town of Mahabalipuram, very near to the highway. It is well connected and right on the main road. You can ask a local for the directions. Or, you can conveniently put on the GPS as well. Actually, we used the GPS service and reached here conveniently , without any hassle. Actually, it is located at just 1.5km from Pancha Rathas, another important UNESCO Heritage site and a must see in Mahabalipuram. So, you can conveniently walk down here from the Pancha Rathas as well.
Other attractions at India Seashell Museum
Aquarium
Recently, the India Seashell Museum is being renovated, for the good. While the seashell collection sections stand tall, other attractions are also being developed within the same campus, in order to attract tourists with varying interest. And I must say, it is thoughtful. The other major section that is operational as of now is an aquarium. This aquarium houses a mix of general and rare fish species. While we enjoyed the collection of seashells thoroughly, our little one was little bored here. But next as we entered into the aquarium, she bounced back with her full traveler spirits. She enjoyed a lot looking at the fishes, interacting with them in her virtual world and getting her pictures clicked with the fishes 🙂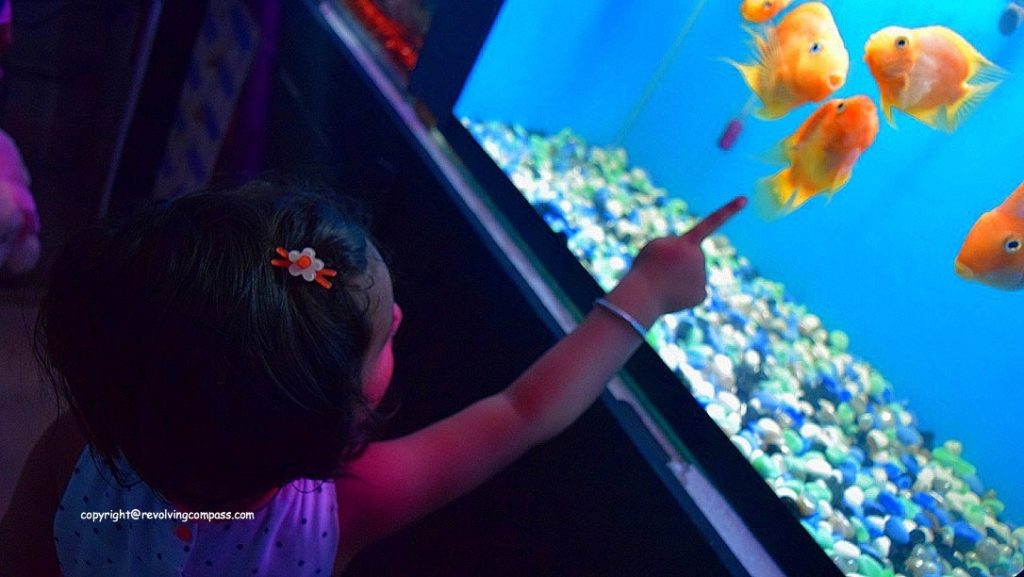 Fish Pedicure
Just outside the aquarium is a provision for fish pedicure. If you are interested, you can go for it. It is a quick 15 minutes session where you get a fish pedicure of your choice from amongst a list of options. And it costs extra, on top of the general entry ticket to the museum. However, I escaped this part. As I didn't like the idea of the fishes eating my foot 😀 ( Don't listen to me this one time, things like these freak me out. However, you might enjoy the pedicure, so give it a try if you want to. )
Seashell & Pearl Shop
There is also a shop inside the India Seashell Museum campus. This shop mostly consists of different type of decor items decorated or made from seashells. For instance, it includes picture frames and mirrors decorated in seashells, some show pieces made out of sea shells, keychains and many other such souvenir kind of items. Also, the shop has real pearls and some jewelry made out of these pearls on offer. Then there are other items made out of stone, wood, and general handicraft. Overall, the shop has a good collection. Although we didn't buy anything, we did take one round of the shop to see the collections on display and we liked what we saw. The prices seem to be reasonable, so, you can buy something from here if you are looking to carry some souvenir with you.
Others
As we talk, there are more and interesting sections being added to the India Seashell Museum. The founder, K Raja Mohamed, has a dream of taking this museum to international standards. He wants to add a projector room to walk the visitors through the fascinating journey and life of these seashells. And there are other interesting sections being added for the kids and children to enjoy the place even better.
Tips on visiting India Seashell Museum
It requires time to absorb the wealth of information at display at the India Seashell Museum. So, I will suggest, do keep apart some time, like, a couple of hours for this place.
The museum is open around the week from 8:00am in the morning till 8:00pm in the evening.
The tickets can be purchased at the entry gate. And the fee is INR 100 per head and INR 100 for still camera for the museum. There are separate entry tickets for the aquarium and the pedicure section. However, if you are interested, you can buy a combined ticket for all the attractions on a nice discounted price.
Most of the attractions are indoor, so, you can visit this place in the afternoon where it is too hot outside and uncomfortable to visit rest of the sites.
There are restrooms available but I don't remember seeing any food outlets so you can carry your own snacks and water.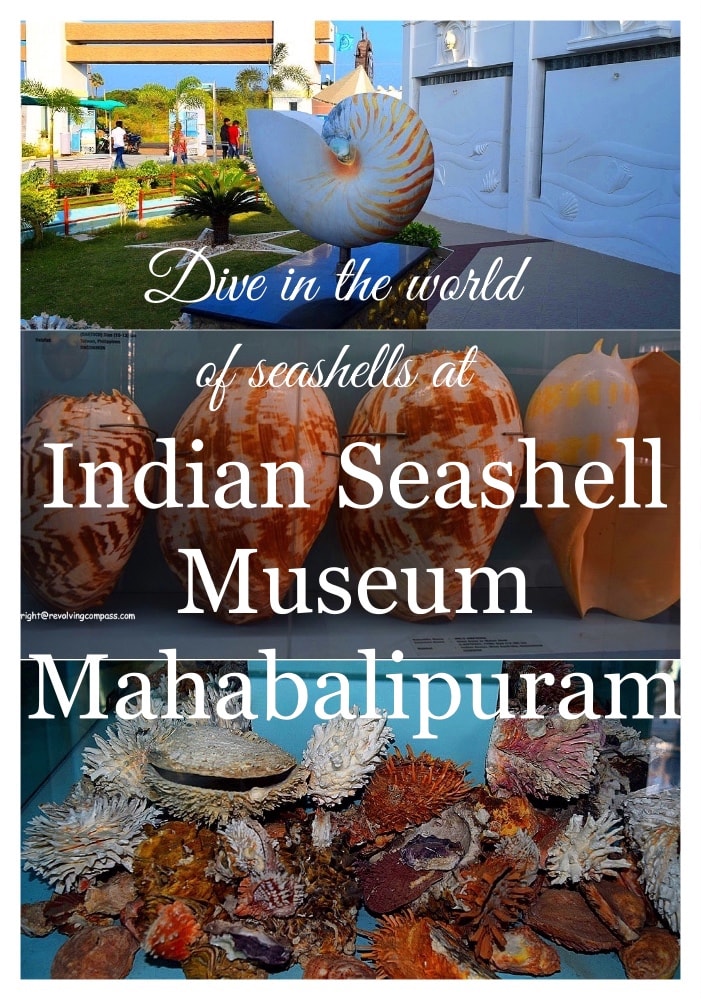 You might as well be interested in
The Lighthouse Heritage Museum Mahabalipuram.
11 Awesome things to do in Mahabalipuram.