Our endeavor with Kambly factory store happened en-route on a day trip to Bern , the enchanting Swiss capital. We stopped at the Kambly factory store of cookies before heading further to Bern. And, there couldn't have been a better start to the day. Although, Switzerland is world famous for it's sweet delicacies, particularly the swiss chocolates and cookies. Kambly factory store stands amongst the top few stores across Switzerland and throughout Europe for it's delicacies. As we pulled our vehicle in front of the store, little did we know what to expect next. The obvious thought was – yet another cookie store, whats different!!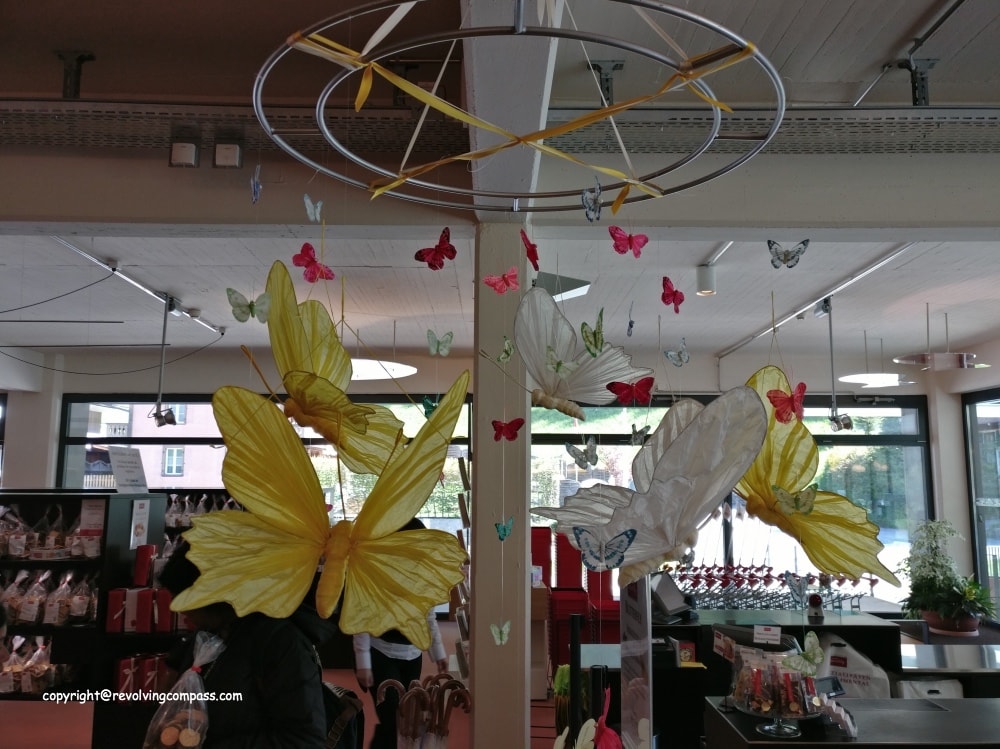 But it turns out, everything about Kambly factory store is different. To start with, you will be amazed by the length and breadth of the store. As you step inside the store, you will be greeted with the sweet enchanting smell of the cookies and chocolates. And then, you can start exploring the neatly stacked racks of the store. Which contain more than 100 varieties of cookies!! Moreover, on each rack, there is a tray with a heap of cookies that are displayed on that shelf – all available for you to try and taste. You can even pick a plate from the in-house cafe and then pile it with as many cookies as you want, for tasting.
A cookie tasting ride at Kambly factory store
As we started tasting the cookies, we soon realized what the magic of Kambly factory store is. It was hard to stop, and it was hard to make a choice. Every single cookie variety tastes great. Some are chocolate coated, some are salty, some are plain like biscuits, some are filled with nuts. But all taste amazing. And even before we realized, we had our stomach full of the delicious cookies. And we knew, we had to skip our lunch today. Not only us, but even the little one had fun choosing her cookies, tasting some and then giving her verdict. Racing through the racks, playing hide and seek, she did taste quiet a few cookies and totally loved the experience.
Burning the calories after cookie tasting
At the end of the store there is a cycle set for you to exercise. Looking at it I thought – what a thoughtful setup. After the guests load their stomach with cookies of different varieties – they can finally even burn these cookies out at this bicycle. With a big LED TV in front which will take them through the amazing swiss countryside as they do the paddling. Now, this is so thoughtful. This means even the health and calorie conscious can try a few cookies without getting into that guilt trap and then later they can burn their calories happily on this bicycle 🙂
Finally, we made our selection by picking a few different varieties from the 100s of cookies. Only if we had more space in our luggage and the international luggage limit were more – we must have bought much more then. It was really really hard to narrow down to select few. Anyways, we had our cookies packed! We saw other people who had come from nearby towns and villages shop here. Their carts were full of cookies of all the different varieties. And we couldn't help but feel a little jealous 🙂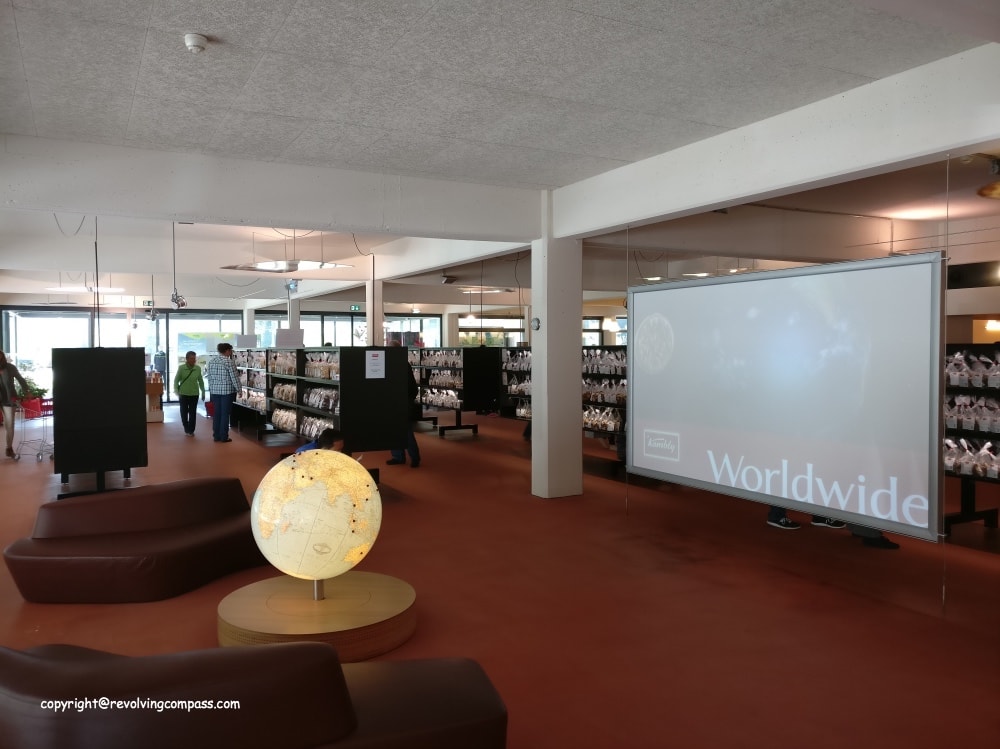 More offerings at the Kambly factory store
The Kambly factory store employee was generous enough to show us around a little more, before we left. Apart from the cookies they also have many different varieties of swiss chocolates. Particularly popular are the dark chocolates. But there are different varieties available, with different percentage of cocoa. And then milk chocolates are also there. Then there are cute gift packs of cookies and chocolates, wrapped in beautiful cardboard boxes and transparent polybags, adorned with ribbons. Completely fell in love with these cuties. They must make for a perfect gift.
The Kambly factory store employee told us that they do supply cookies all over Switzerland and to other European countries as well. And we strongly hope that they soon start to export far and wide – to all the other parts of the world so that we won't have to contain ourselves with just a few packs of the delicious cookies and chocolates.
There is a cafe as well, inside the premises of the store. Where you can get other delicacies like pastries, bread preparations and coffee. In case you want to rest a little after you stuff yourself with the cookies or in case you are just tired after all the walking around, this seems to be the perfect place to rest your feet. And in case you want to energize yourself with a cup of coffee then also it is a perfect place to head to. Although, we gave it a skip since we were too full. And we had to get going for our further journey to Bern.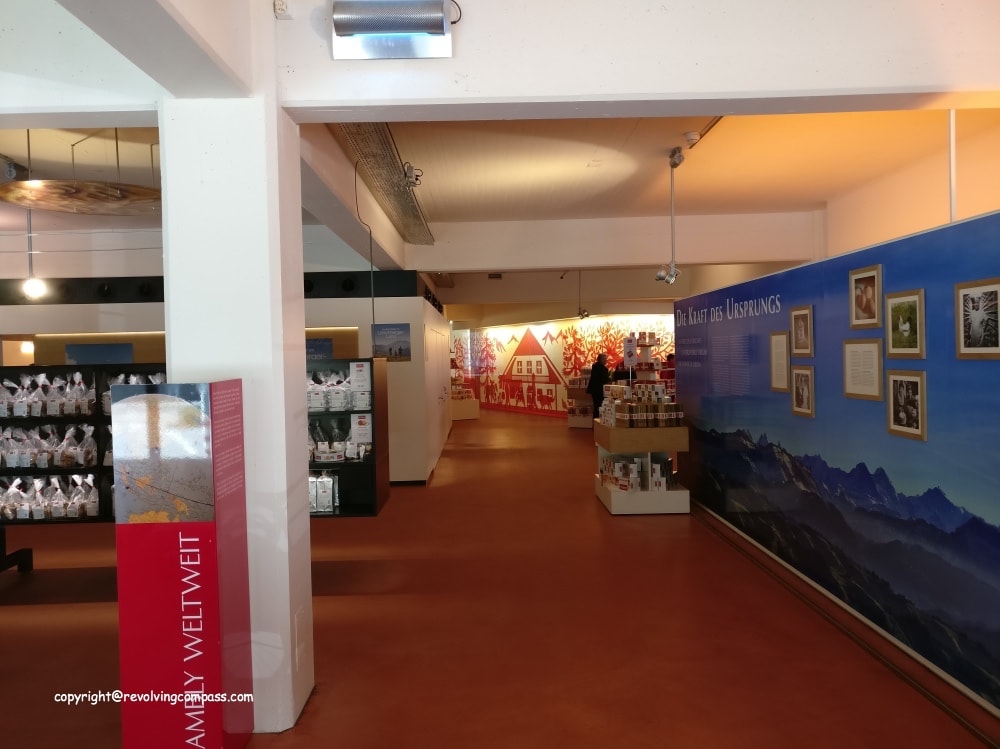 Sweet story of Kambly factory Store
There is a story about how the store came into being. And it is even more beautiful and heart melting than any of the delicacies that it has on offer. The story goes that there was a guy who fell in love with this girl who lived in the beautiful swiss countryside. She as well wanted to spend the rest of her life with him. But, she couldn't make up her mind to leave her beautiful countryside – so much in love she was with her village. So, he agreed to leave his job. And leaving everything behind, he came to live with her.
Over a period of time, he started to think what to do next. And that is when he thought of starting to make cookies and sell cookies to the village. Since he was good at the art, soon their cookies started getting popular. And from the native village, the words spread to nearby villages. Soon, people from far and wide started coming for the cookies. And that is how the Kambly factory store started expanding. So much did it expand that now, almost 100 years into existence, it is one of the oldest, best and largest cookie producing centers in Switzerland!! My takeaway from the story – the man followed his heart, respected his love – and did what he knew best to do – and success followed. The rest is history.
The Kambly experience
Now, the Kambly store has much more to offer beyond the cookies tasting and buying. There is a whole lot of 'Kambly experiences' that you can have at Kambly. These include : (1) special cookie making sessions that you can enjoy with your friends or family including kids or even your office team. (2) You can also celebrate special occasions like your kid's birthday as a part of the Kambly experience. The birthday celebration package includes a freshly baked cake, fresh drinks for the guests and also a special surprise gift for the birthday boy or girl!! (3) You can as well enjoy a  few hours of your weekend at Kambly experience with your friends and family, enjoying a fine aperitif accompanied by regional specialities.
How to get to the Kambly factory store
Getting to Kambly is really easy. You have got multiple options to choose from. Best is to take a train from Bern or Lucerne to Trubschachen. It is called 'Kambly Train'. And it was specially started marking the 100th birthday of the Kambly  factory store in 2010. Besides, you can also rent a car or self drive to Kambly. There are also many guided tours conducted en-route from Lucerne to Bern that stop at Kambly. And then there are some specially for Kambly. So you can also book one of these. Although, exploring on your own would be much more fun.
The Kambly train runs from Tuesday to Sunday. The one that comes from Bern runs twice in the day – at 9:36am and 3:36pm. It arrives in Kambly at 10:11am and 4:11pm respectively. The one from Lucerne departs 07.57am / 11.16am / 1.57pm and arrives at Kambly 08.44am / 12.13pm / 14.44pm. Apart from this, there are hourly direct trains from either of these stations to Trubschachen , whose timetable can be looked up at the eurorail website.
Tips on visiting the Kambly factory store
The most important thing when visiting here is to keep your stomach light. Since there will be a lot cookie tasting to be done.
Carry a water bottle with you. Since, you will need to drink water after so much of cookie tasting. The store also has drinking water provision towards the back side, and you can refill your bottle from here.
There are washrooms available at the premises, towards the back side.
Provision for at least 2 hours when you visit here. Since you will need time exploring all the different varieties of cookies and chocolates available at the store.
If you are booking for one of the Kambly experiences like birthday party celebration or cookie making session, then book in advance by calling them directly and specifying your requirements.
The store is open from Monday to Friday from 8:30 am to 6:30 pm and on the weekends from 8:30am to 5:00pm.