It's always great to coincide your travel plans with the local festivals of the region. Since it gives us a deeper and better perspective of their culture and traditions. Although it's not always possible to plan our travel to coincide with the festivals. As constrains like time of travel and sometimes lack of information restrict us from doing so. For instance, when we planned our recent trip to Europe it coincided with easter holidays. Primarily because there were two consecutive long weekends available for holiday. And we wanted to make the most of these available holidays.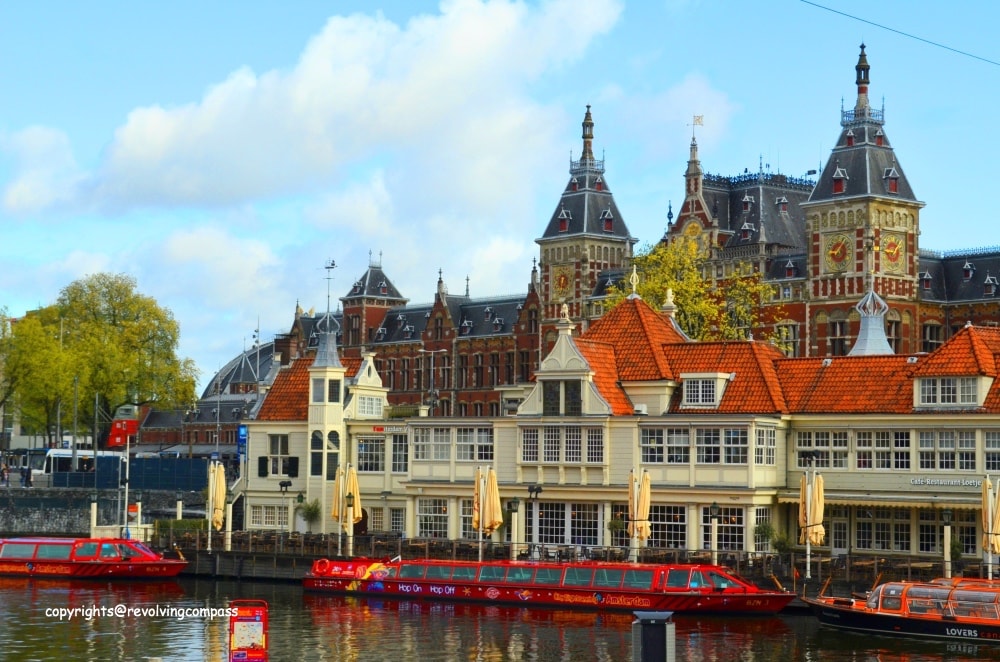 However, as expected, Rome was crowded pertaining to the easter eve. And so was Florence.  But the experience that we had seeing the easter preparations and celebrations in Italy gave us memories of lifetime. Memories that not everyone is able to make. These are exclusive to those who visit Italy during easter.
Surprise package of Kings day in Amsterdam
The same happened when we arrived in Amsterdam. Yet another festival. This was the last leg of our vacation. After having spent considerable time in Switzerland and then couple of days in Paris, we finally arrived at the Shiphol Station from Paris. We had absolutely no idea that the day of our arrival in Amsterdam coincided with Kings day in Amsterdam. Neither did we know what is Kings day and how it's celebrated. So, it was a complete surprise package for us.
The first glimpse of Kings day in Amsterdam
As soon as we stepped out of the train, we could feel a difference in the general atmosphere. Basically, a 'different vibe'. We spotted guys and girls around in orange dresses. And they were also wearing orange garlands made from paper. All of them looked in party mood. But then Amsterdam is known for it's lively atmosphere. So, we thought it's just that Amsterdam is like that only. Thus, we headed to our hotel which was at 15 minutes drive from Shiphol Airport.
After checking in and getting fresh, myself , along with my two girlfriends decided to explore the city. Thus, we took the hotel transport to airport. And from there, we took a train to the Amsterdam Central. We were already prepared with our self – planned, self – guided free walking tour around Amsterdam city. Which was to start right from the Amsterdam Central railway station. But as soon as we stepped out of the Amsterdam central railway station, we could see herds of people. Like sea of orange. All around – in orange dress, wearing orange garlands, holding orange flags and of course beer cans. Now it was evident that it was indeed a special day – a day of celebration. So, we decided to talk to some locals and figure the mystery out.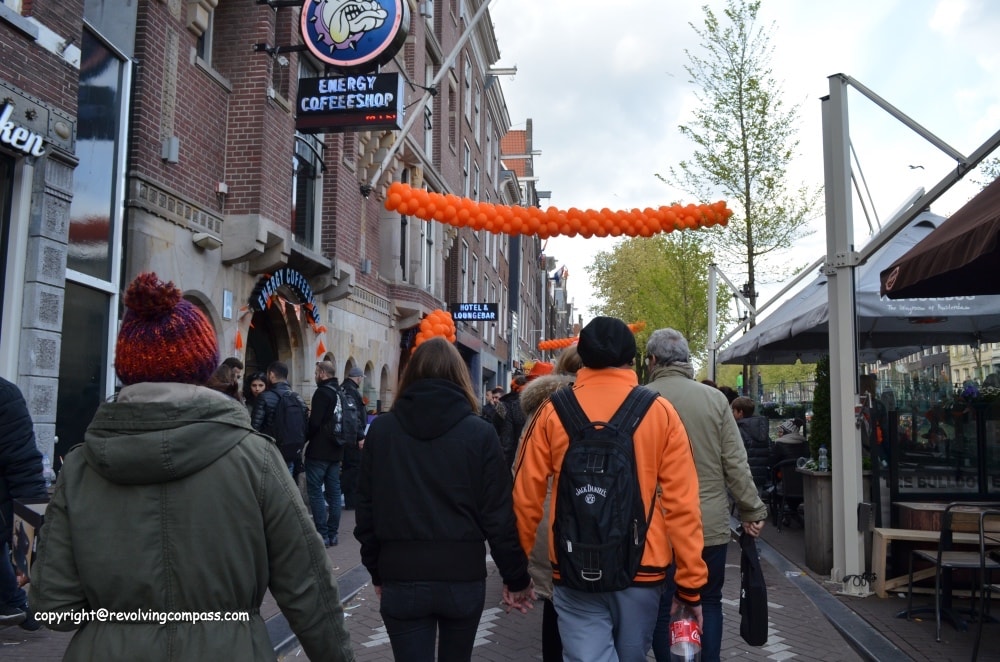 Introduction to Kings day
King's day is celebrated in Netherlands every year on 27th of April. Although, it was earlier called the Queen's day. And it actually marks the birth of King Willem-Alexander. However, prior to that it was celebrated on 30th April to mark the birthday of Queen Beatrix. It is assumed to be the largest birthday party in the world as the whole of Netherlands joins hands and celebrates the day. The Dutch royal family is from the House of Orange-Nassau. And that is the reason orange is wore on this day to pay respect to them.
What to expect on Kings day in Amsterdam
Kings day is a public holiday. Schools, offices etc. are all religiously closed.
Many shops are also closed. As a traveler if you are planning to shop around or collect some souvenirs, this is not the right day to do that.
Vehicles are not allowed in the main roads and near the squares in Amsterdam as there is a lot of gathering of people all around. The exception to that is of course bicycles which are unstoppable in Amsterdam.
Trams are not operational.
Almost everyone will be out of their houses, on the streets, celebrating.
The color of celebration is orange – the color of the Dutch. So, you will easily see it getting flaunted all over.
The main mode of celebration is just being happy, chilling, playing music, dancing to the tunes in public and any other way that you can simply enjoy yourself. In groups, or solo. Doesn't matter.
It is crowded. In fact, very crowded. Be it the banks of the canals, the streets or the squares. Be it the railway station or the restaurants. It is super crowded everywhere in Amsterdam. Everyone is out , celebrating.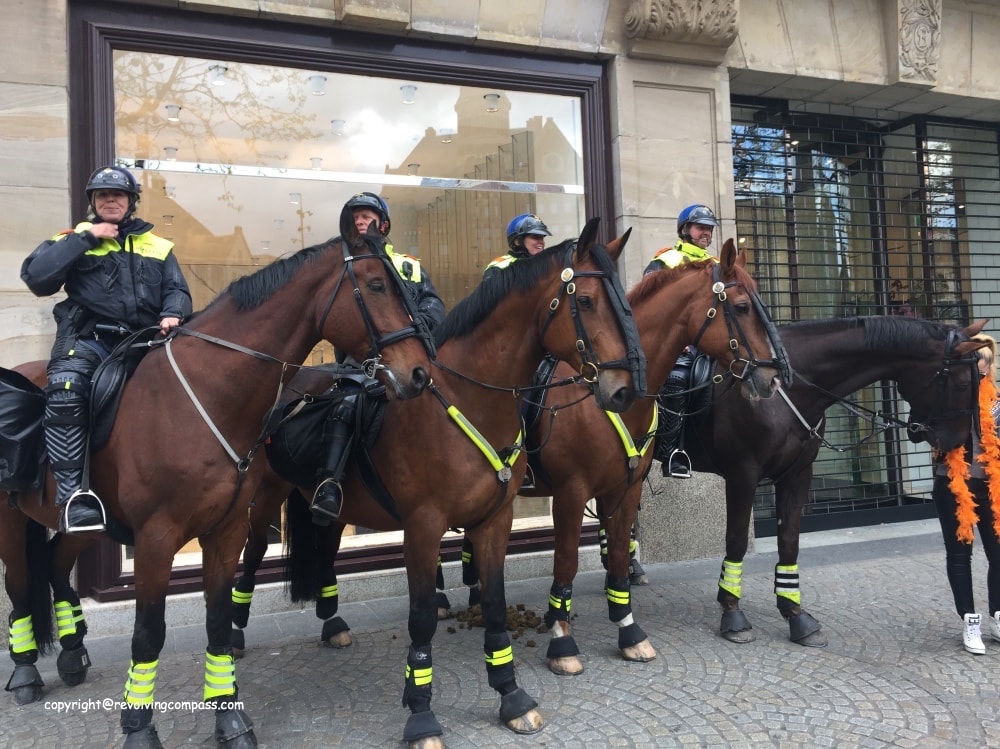 In Conclusion
Overall, we totally loved the charged up atmosphere on Kings day in Amsterdam. It is so charged up, radiant with energy and happiness all over Netherlands on this day. And the best part is, as travelers, you feel most welcome to be a part of the celebration. Like I said, we walked around almost the whole old city, sat on the side of canals and just soaked into the general atmosphere. Talked to locals. Saw the parade near the palace. And had a wonderful time amidst the whole celebration.
A special viewpoint on Kings day in Amsterdam
I couldn't help but add this section to the whole writeup. This comes straight from the hearts of me and my friends. The three of us who had set out on our explorations around Amsterdam amidst the Kings day celebrations. Being women and hailing from India, we have developed this basic instinct of keeping our distance from the crowd – herds of people, group of men, masses. Particularly when these are people out on the road celebrating like crazy. And even more so when there is a lot of beer running down their veins. Be it holi or new year. Because these are the centre stage where violation of personal spaces and even acts like molestation become the trend. And we become the easy victims.
So, not to mention, we had our overload of doubt when we stepped out of the train onto the Amsterdam Central railway station. For once, we hesitated. We gave our plans double and triple thoughts. And we were actually unsure if we should proceed or return back to our hotel. I don't know how and why but we decided to go ahead with our plan. And I am so glad we did. Not only did we explore the city amidst the celebration. We even felt a part of it. And, soon we were comfortable enough to roam around for as long as we wanted.
Our overall experience
The crowd didn't bother us anymore. In fact, it was a different level of euphoria that we felt – to be able to enjoy the atmosphere without having to worry about anything.Not only did we roam around, we felt like a part of the celebration, an integral part of the crowd. I will never forget this feeling in my entire life. And this made the whole kings day experience all the more beautiful and memorable for us.
In conclusion
Soaking into the absolute happiness, the charged up environment, crazy party, dancing on the roads, cracking jokes with friends or just sitting around a corner, listening to distant music and watching others celebrate. If you can relate to any of these, then Kings day in Amsterdam is something you have got to experience.If you are planning a trip to the Netherlands anywhere near to the dates of celebration, we would highly recommend you plan it in a way that you can include Kings day in Amsterdam in your itinerary. I am sure it is going to become a lifelong memory for you like it did for us. PS: if you are headed to Amsterdam, you might want to check: the best places to stay in Amsterdam.