Louvre Museum Paris doesn't need any introduction. Being one of the grandest museums with the finest collection of arts in the world. Whoever comes to Paris, Louvre is a must see in their list. But, is it really possible to cover the Louvre Museum Paris in a day? What if you are an art lover or you want to see it but you have limited time at hand. What would you do then? To be honest, when I first thought about visiting Louvre in a day, I recalled the statement of Robert Langdon from Da-Vinci-Code stating that it would take a minimum of a week to visit the whole of Louvre Museum Paris if one were to just glance every single piece of art there.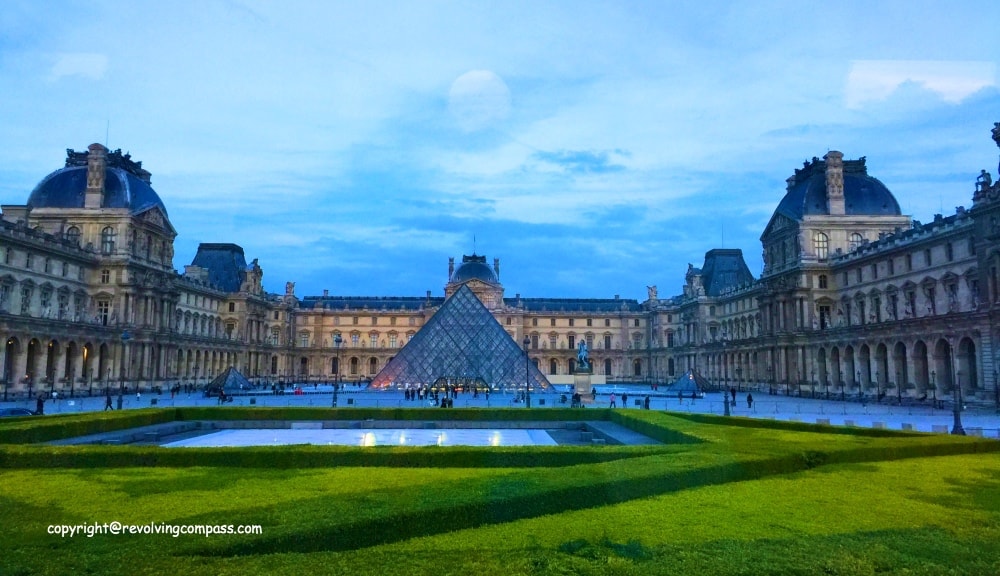 Well, here's some good news. When we recently went to Paris, we were in a similar situation. Although, we had just one complete day to spend in Paris, after having done an adventurous night tour including Eiffel Tower the evening before. Yet, there were quiet a few places on our list, including the Louvre Museum Paris. We definitely didn't want to give it a miss. Luckily, it was a Wednesday. And on Wednesday, Louvre Museum Paris is open till late at night for visitors. Actually, till 9:45 pm. So, we had more time at hand. Thus, we decided to go to the Louvre Museum Paris by noon. And then explore it till later in the evening. So, here goes our first few tips on spending a day in Louvre Museum:
Tip#1 to visit the Louvre Museum Paris in a day
Plan your Louvre Museum Paris visit on a Wednesday or a Friday. Since the museum is open to visitors till 9:45 pm in the night on these two days of the week. Which means you have a longer day to explore the place. Also, the crowd starts thinning towards the evening.
Tip#2 to visit the Louvre Museum Paris in a day
Take a metro from where ever you are in Paris to right inside the campus of Louvre Museum. This way, you will not have to step on the crowded streets or juggle through the traffic of Paris while reaching Louvre Museum Paris. And it will definitely save a lot of time for you. We did exactly the same when we were on our excursion around Paris. We also found the metro as one of the most efficient ways of navigating through Paris.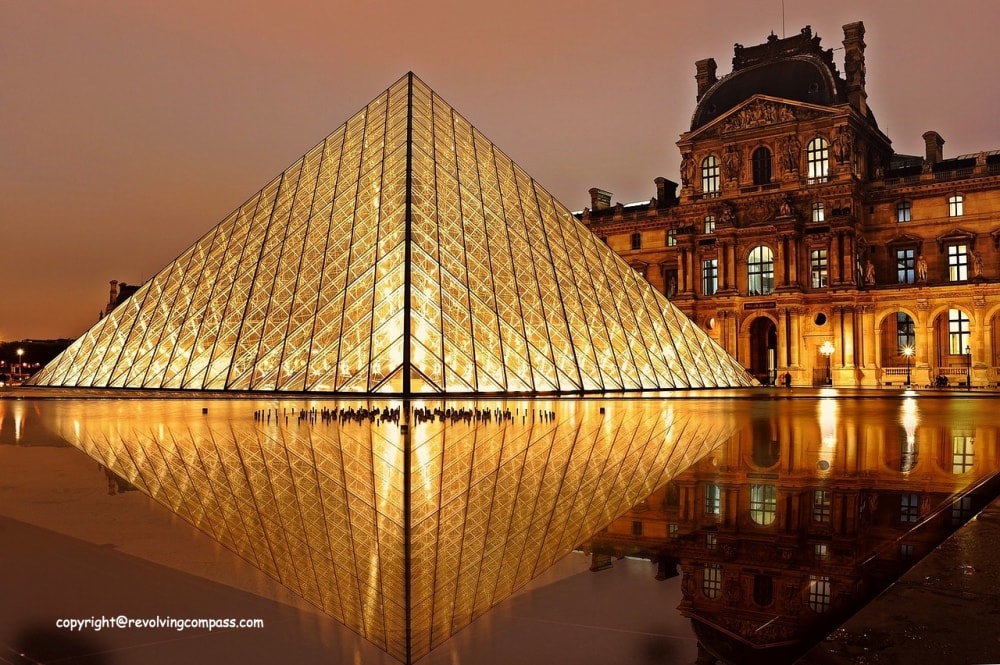 Tip#3 to visit the Louvre Museum Paris in a day
When you are planning your trip to Louvre Museum on a Wednesday or Friday, since it is open till late at night. So, you need not hurry in the morning. In fact, you can reserve your morning for some other beautiful spots around Paris. And then arrive at the Louvre by lunch time. You will find a far smaller queue in the museum at the entrance 🙂
So, as planned, we arrived at Louvre Museum by 2:00pm. And we found the queues at the entrance to be surprisingly small compared to what we had heard from most of the people and had mentally pictured. Although many suggest entering into the Louvre Museum Paris using some alternate route. Rather than the main pyramid entrance. But, we didn't feel the need of it at this hour of the day. Within 15 minutes, we were inside the pyramid. Not bad, right?
Tip#4 to visit the Louvre Museum Paris in a day
You need not always look for alternate routes than the Pyramid to enter into Louvre. If you time your visit right, then the rush at Pyramid entrance itself is negligible. 
Once we entered through the Pyramid entrance, we headed straight to the ticket booths at the lower floor to get our entry tickets. It took us around 10 minutes in the queue there and we had our tickets with us. Along with this we also got a map of the Louvre Museum Paris. The next thing we did was to sit outside the ticket room, and study the map for a while, making a mental strategy of how we were going to navigate through the Louvre Museum Paris. And the few minutes spent here really helped us save a ton of our time later, when we actually started navigating through the Louvre Museum. So, here goes our next tip for you: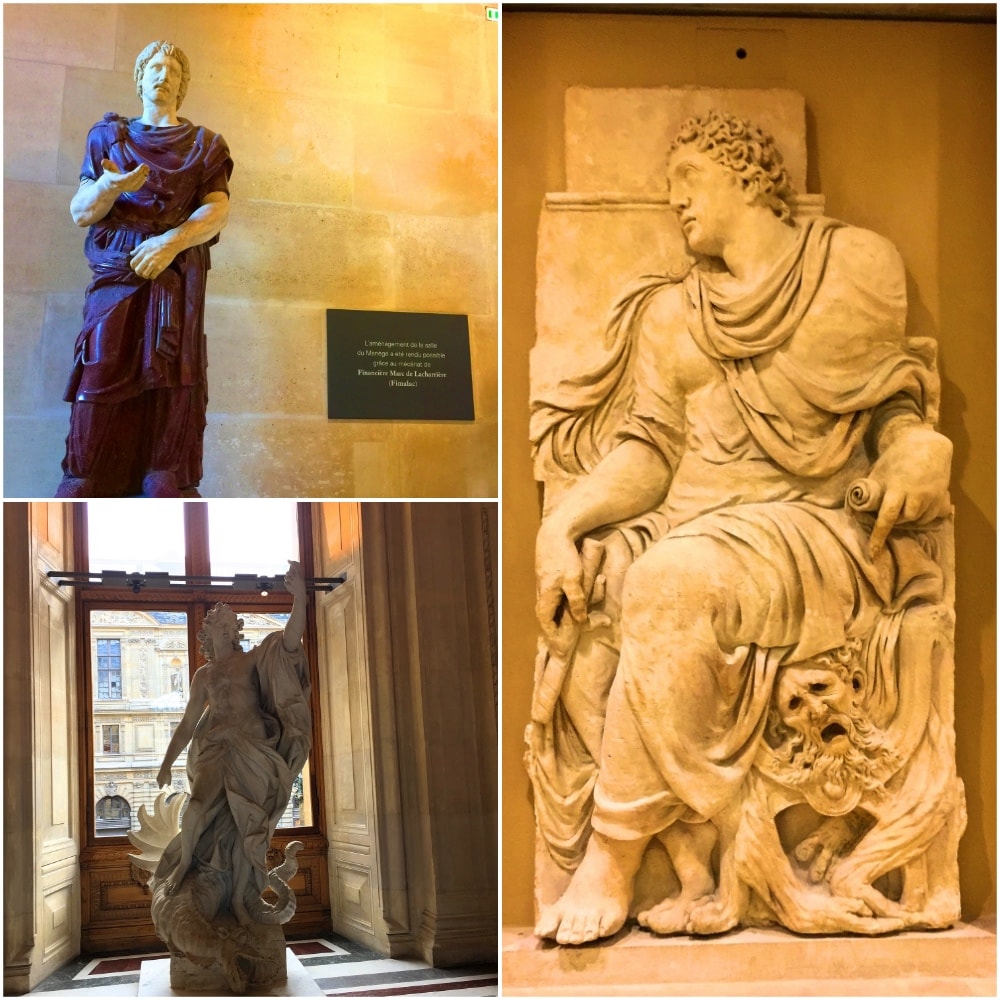 Tip#5 to visit the Louvre Museum Paris in a day
Take a map of the museum with you. And determine where all you want to visit, where to start and in what order you want to navigate. This will help save time when you actually start your trip through the vast treasure house of art that Louvre is.
Tip#6 to visit the Louvre Museum Paris in a day
Along with the ticket and the free map, an audio guide in several different languages also comes. This comes at the extra cost of 5 euros at the time of this writing. And I would highly recommend you take one.
Since, most of the descriptions across the museum are in French. And unless you either have a guide or you are fluent at French, you will miss out on the descriptions. And if you are not connected to the internet (which indeed is weak inside the main premises of the museum), then you will totally not be able to relate to the pieces of art that you see.
The Louvre Museum is divided in these wings – Denon, Sully and Richelieu. And on the first floor of the Pyramid, there is an entrance to each of the wings. Depending on which wing interests you the most, you can enter from there and start a tour of the Louvre Museum Paris. We started our trip from the Denon wing. The simple reason for us was that it is home to Mona Lisa. Obviously, Mona Lisa is one master piece that no one wants to give a miss when visiting the Louvre Museum Paris. Neither did we. And it's also pretty crowded around Mona Lisa, you won't be surprised at that I guess! So, what we did was, to head straight to Mona Lisa.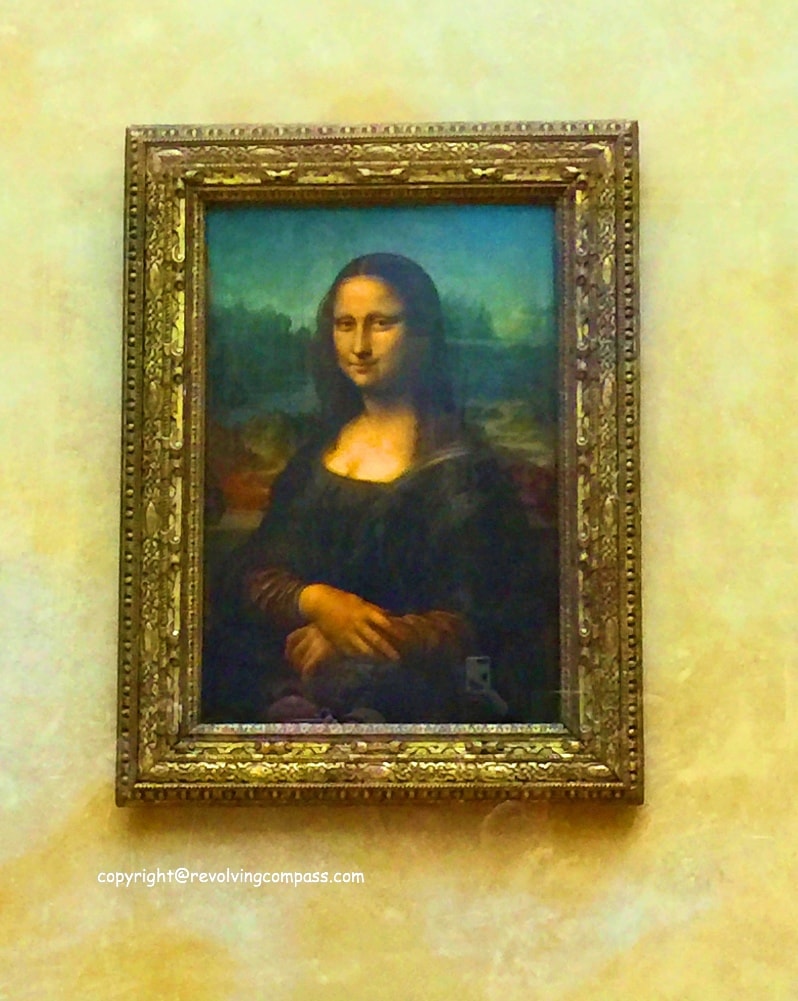 Do you know, the Louvre Museum itself has precise directions marked on every other pillar, and each turns, to Mona Lisa. Guess, they know very well she is super important to the crowd visiting here. But while we navigated towards Mona Lisa, we did visit some sections on the way like the Greek Section, the Renaissance time paintings by many of the renowned artists and some others. This also forms the basis of our next tip for you:
Tip#7 to visit the Louvre Museum Paris in a day
Head first to Mona Lisa. After all you will not want missing a look at the mysterious masterpiece that she is, after you have set foot in Louvre Museum Paris. 
After meeting Mona Lisa, you can take any path of your choice to tour through rest of the museum, in a circle, based on areas of your interest. We went thoroughly through the massive collection of renaissance paintings and the relatively new Egyptian section where the Egyptians artifacts from really long back are on display. But before we did that, we stopped for a while to take a break and rest our feet. I guess it's crucial to take rest as you head from one section of the museum to another. Otherwise you might get exhausted easily. And that is what our next tip for visiting Louvre Museum Paris in a day is all about:
Tip#8 to visit the Louvre Museum Paris in a day
Rest in between visiting the different sections. There are benches to sit and relax for a while in almost every section of the museum. And then there are the stairs. Also, there are ample restrooms in every section of the museum. And near them, there is drinking water facility provided.
We took a couple of minutes rest in the gallery that leads to Mona Lisa, on a bench. And afterwards, we decided to rest for a while on the stairs leading to the next floor. This is when we also noticed the beauty and grandeur of the Louvre Museum Paris itself. It's a palace that is still at it's best. Also, many a times we are so engrossed in the vast collections of art in front of us, that we forget to take a notice of the beautiful architecture of the palace that holds all these art forms – the Louvre Palace itself.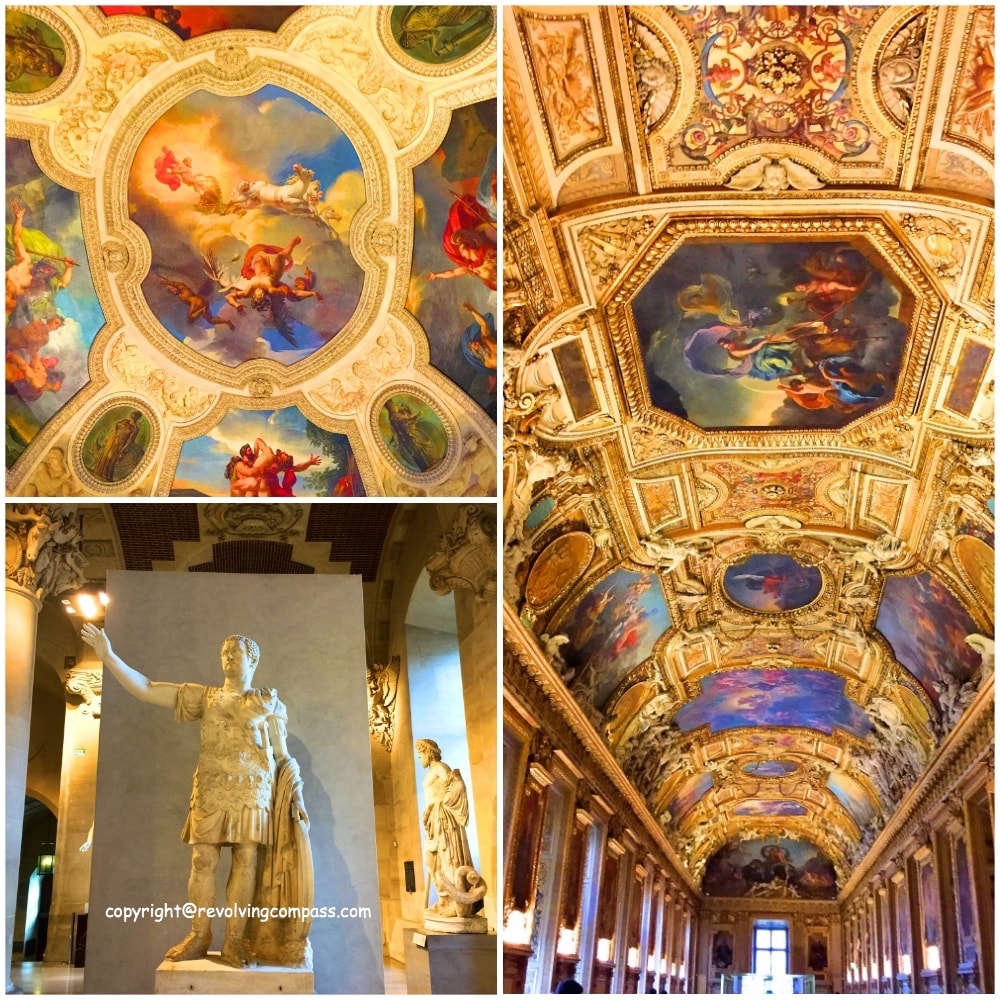 Tip#9 to visit the Louvre Museum Paris in a day
Take a break from the art and masterpieces , and give yourself some moments to admire the grand Louvre that houses them all. Look at the vast ceilings that have intricate works and fine paintings. Observe those beautiful marble stairs that connect the floors. Admire the beautiful windows and the huge, grand doors. 
After taking rest, we continued out journey through rest of the Louvre Museum. Alternating between rest and exploration. There are ample refreshment and souvenir shops setup in each wing of the museum. However, you can also bring packed snacks from outside. Have quick bites and drink sufficient water to keep your energy level high.
By 7:00pm we had almost seen everything of our interest. Thereafter we looked at a few other sections. Then we decided to leave at 8:30pm. By 6:30pm itself, the crowd had dispersed. And it was particularly interesting to explore around post that without much crowd around us.
Tip#10 to visit the Louvre Museum Paris in a day
Carry some quick bites, packed food with you, to keep your energy level up. The museum also has refreshment and food options. But you will find almost all of them pricy compared to outside.
Tip#11 to visit the Louvre Museum Paris in a day
Last, but not the least, don't think about seeing it all. Rather if you really want to have a tour of Louvre in a single day, that is fulfilling, make your wise selection about what all you want to see. And go accordingly. 
In conclusion, with the help of these same tips, we were able to make the most of our time in Louvre Museum Paris. Hope you too will.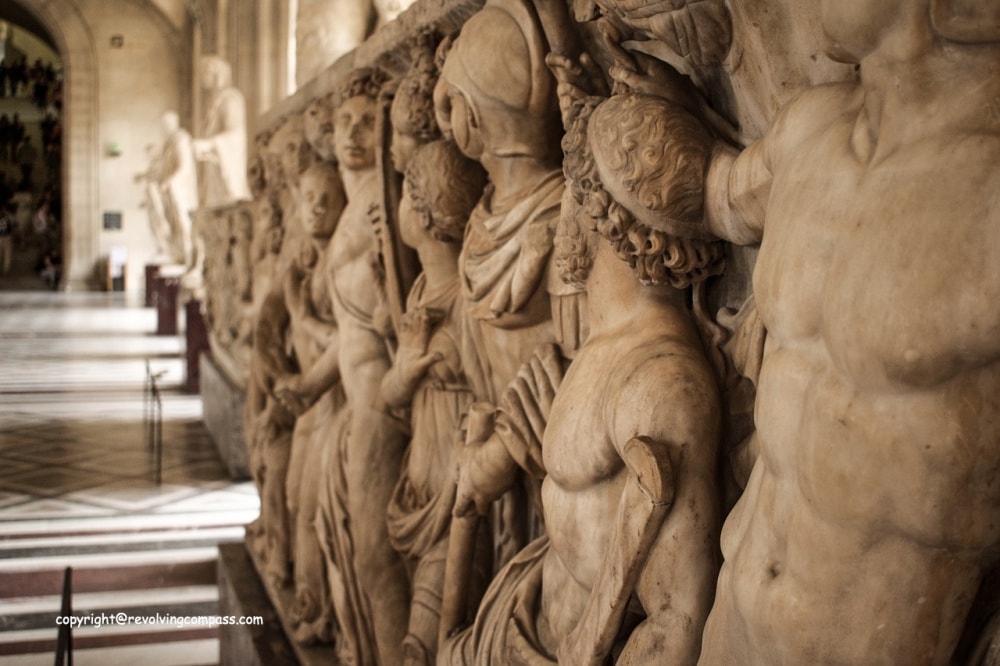 Some general tips on visiting Louvre Museum Paris
If you have a kid with you, then, you can either bring a stroller or rent one at the Pyramid. But without one, the kid is surely going to get exhausted. But then, this does mean, you will need to take the lifts instead of the stairs. So, don't forget to locate them on your map.
The Louvre entry is free on the first Sunday of every month. In case you want to make use of that. But then it is also super crowded on the free entry day. So, do bear that in mind.
The time when we visited the entry tickets were applicable for adults and for kids above 5. Children below 5 years have free entry. Also, the entry ticket prices are reduced, if you enter on a Wednesday or a Friday, after 6:00pm.
As per our experience, metro was the best way to reach here. Since, there are two metro stations that reach right inside the Louvre Museum Paris campus.
You can carry a refill bottle of drinking water which you can refill easily time to time inside the museum.
Once again, just like everywhere else in Europe, wear comfortable walking shoes.
The Museum is all indoors. So, for once, no matter in which weather you visit, you don't need to worry about it insides.
Carry a Louvre guide book or install the app at an additional price of 5 euros.
There is a free guest wifi in the Pyramid. It doesn't work inside the main museum. So, while in Pyramid, before starting your trip, you can download information like guides and books that you might want to use once inside the museum.
Only luggage not exceeding 55 x 35 x 20 cm is allowed inside the museum, pertaining to security reasons.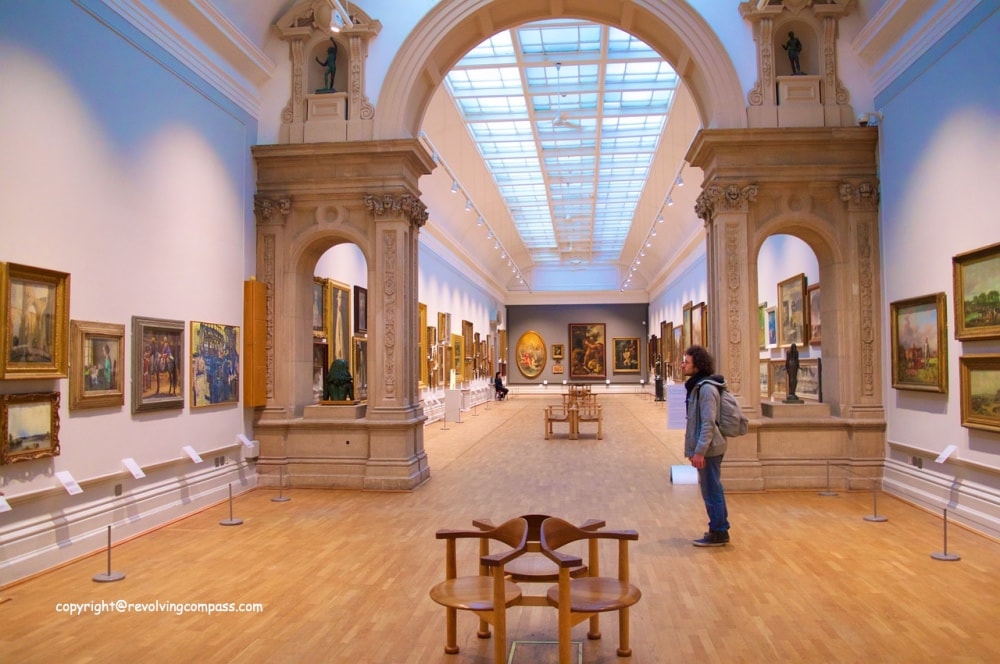 Some interesting facts about the Louvre Museum Paris
It is the biggest museum in the world.
But, it was not always a museum. To start with, it was a fortress built in 1190 and later turned into the Royal Palace, before finally becoming a museum.
Nepoleon had renamed Louvre once to 'Musee Nepolean'.
The Louvre Museum galleries spread across some ~15 acres of space, if brought together.
The Louvre Museum was also used by the Nazis during world war II to store stolen art works and pieces – like a store room.
The glass pyramid of Louvre is made only from glass and metal.
The Louvre Museum is located in the centre of Arc de Triomphe, the Grand Arche of La Defense and the obelisk of the Place de la Concorde.
Over 15000 visitors visit Louvre everyday
There is a mummy inside Louvre Museum which is said to haunt the museum.
Overall there are over 7500 paintings in Louvre.
If you spent 30 seconds seeing each piece of art in the Louvre Museum Paris, in total it would take you 100 days to visit them all.
The total pieces of art in Louvre Museum are over 3,80,000