After having spent three out of four beautiful days in Switzerland exploring Lucerne via a walking tour of the Lucerne city, then touring Bern and Engleberg along with mount Titlis, finally we reached the last day of our stay in Switzerland. Today, we were to explore Interlaken and Grindelwald. We first headed to Interlaken from Lucerne. And then halted there for around an hour. After having spent around an hour in Interlaken, we started our onwards journey to Grindelwald. Passing through some picture perfect villages with beautiful houses and evergreen farmlands, we arrived in Grindelwald in almost an hour's ride.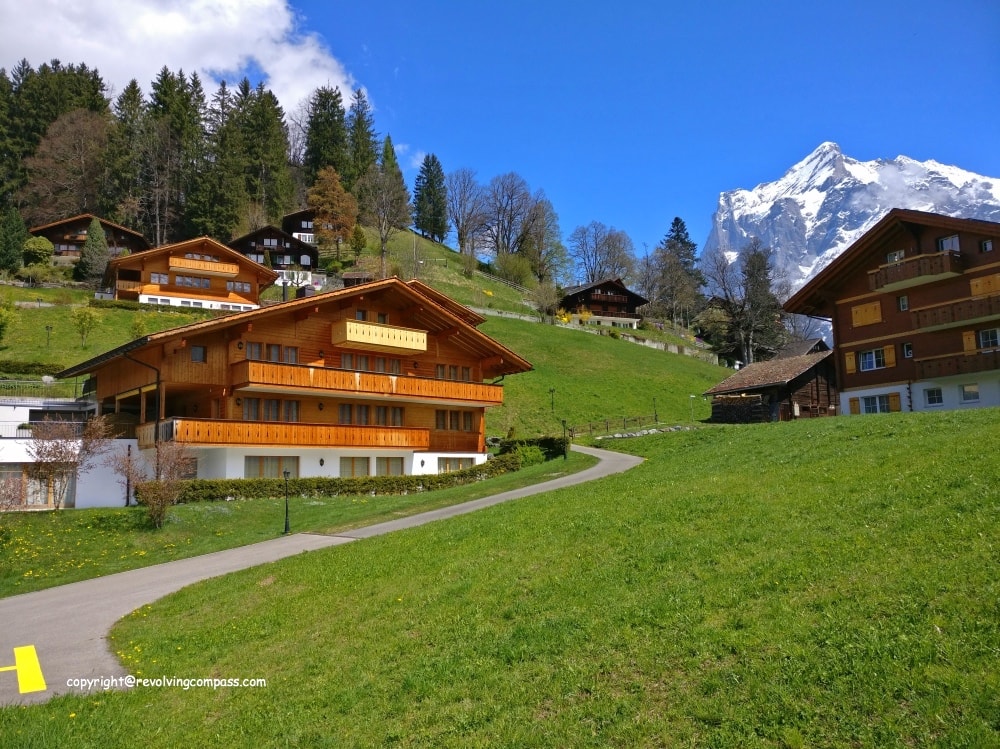 An introduction to Grindelwald
Grindelwald is a small village near Interlaken in Switzerland. The place has been inhabited for a very old time. As is evident from the neolithic era tools and Roman era coins obtained from different places in the village. Having said that, the village is right out of a postcard when it comes to it's natural beauty. Over a period of time, more and more tourists started approaching it. And making it base for their holidays. Tourism particularly picked up in the eighteenth century. And since then, it has been on a steady ride. As a result, tourism forms the main source of income for the economy of Grindelwald. Located at a height of 3000+ feet, the village is surrounded by several mountains including Faulhorn, Schwarzhorn, Wellhorn, Wetterhorn, Schreckhorn, Lauteraarhorn, Agassizhorn, Fiescherhorn, Mönch, Eiger, Lauberhorn and Männlichen.
Located in the mountains of Switzerland, Grindelwald observes a cold climate almost all through the year. Particularly the winters are chilly with lots of snowfall. This, along with favorable skiing trails makes Grindelwald a favorite winter destination. And not only the pro , but even those at the beginning and intermediate level of skiing head here from far and wide. The region also observes a good amount of precipitation almost through half of the year. But luckily, the day we toured here, we were greeted by bright sunshine and a beautiful day.
Grindelwald train station
Our bus driver parked the bus and then we walked with him till the Grindelwald railway station. We had train tickets for our return journey from Grindelwald to Interlaken. So he showed us the train station and pointed out from where to board the train. Although it was very straight forward and convenient.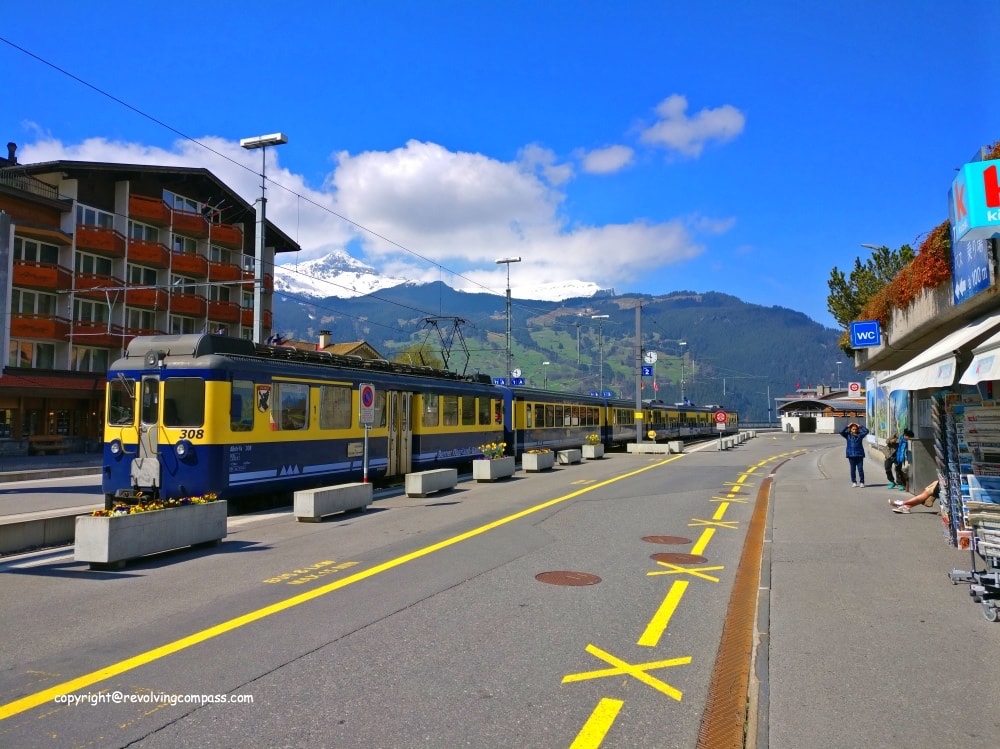 The Grindelwald train station is a small one, with just two platforms. While the local trains to Interlaken and other nearby stations leave from one platform, the trains going onwards to Jungafraugh leave from the other. The platforms are right besides the main road. And on each of the platform, there is a board displaying the next few train timings for the trains scheduled for arrival or departure from that platform. Also, there is a touch driven information screen in front of the platforms where you can check the train details, weather reports and many other information for towns across Switzerland.
Refreshment options in Grindelwald
Near the board, there are benches to sit and wait. While across the platform from the road, the station building is there. The building also houses some restaurants and shops. There is provision of drinking water and washrooms on other side of the main road. So, you can conveniently refill your water bottles here. Also, as you proceed, this side of the road is lined with different shops, some of them providing ready to eat food options like pizza slices, burgers, fries, cold coffees, ice creams and many other ready to go packaged meals. You can get them heated and then proceed on your onwards journey to explore Grindelwald with your packaged food in your hands.
The market of Grindelwald
Crossing the shops, we walked further across to the small market towards our left. Thereafter, arriving at an elevated platform that gave mesmerizing views of the snow covered mountains in front of us as well as the valleys that stretched up to the highway from the foot of the mountains. It is located on the junction of the highways from  either side that lead into Grindelwald. I don't remember if there was an option to sit here. But then you can always use the stairs for sitting. The great part is that the place was not at all crowded. We only spotted a few other tourists and locals here and there.
Our picnic in Grindelwald
After having explored this part of Grindelwald, we headed back near the train station. Here, a stairway just in front of the train station, across the road, led up to some hotels and resorts. We took this way and then entered into the grassland in front. The views of the mountains and valleys in front from this grassland were even more pristine than what we had witnessed from the road.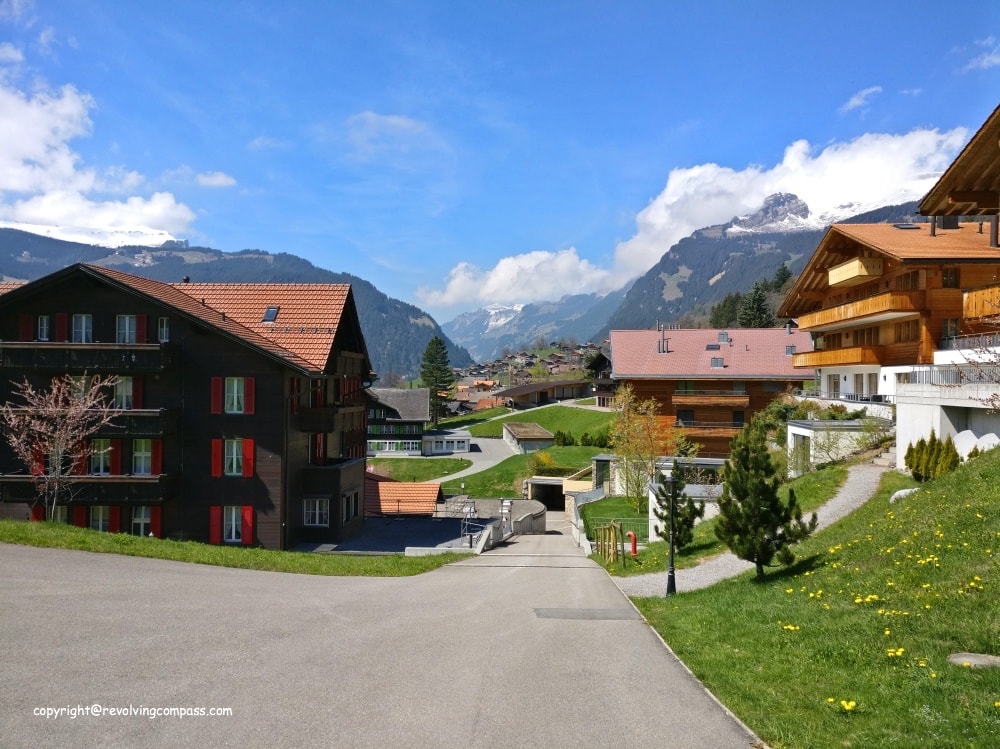 We settled down on this grass and decided to relax our feet. Already, we had carried some food with us at the start of the journey. Now was the perfect time to have a picnic. So, this is how we had our lunch here in Grindelwald. We had all secretly wished to have such a picnic in Swiss countryside. And finally, our wish got granted. After a good lunch, we just laid around the grassland soaking in the beauty of the surroundings.
A walk through the countryside
After some time, myself and Abhishek decided to go further into the village on a walk. While the rest of our friends decided to stay put on the grassland, too lazy to move. One was reading a book while the other was sleepy. Leaving them there, we started a walk up the hill, crossing the resorts and hotels. Finally, we entered into the village layout. It was a well planned layout. With a single lane tarred road running in circles on the slope of the hill. And small, beautiful houses lining the road. With flowers planted on either side of road as well as in the front yard of each and every house. Just the perfect village that one can dream of.
We kept walking slow and steady through the village. When we heard some barking and saw two women coming down the slope with their pet dogs. As they passed by us, they stopped shortly to greet us with a "hello". Ever since I landed in Europe, I have been touched by this gesture of strangers smiling at us and greeting us randomly. It is so heart warming. Moving ahead, we kept taking random turns on the village streets, passing through beautiful houses. Our aim was to keep walking downwards so at some point of time we would reach back to the main road. And so it happened. After about a little over half an hour of random walking, we hit the main road once again, almost in front of the train station.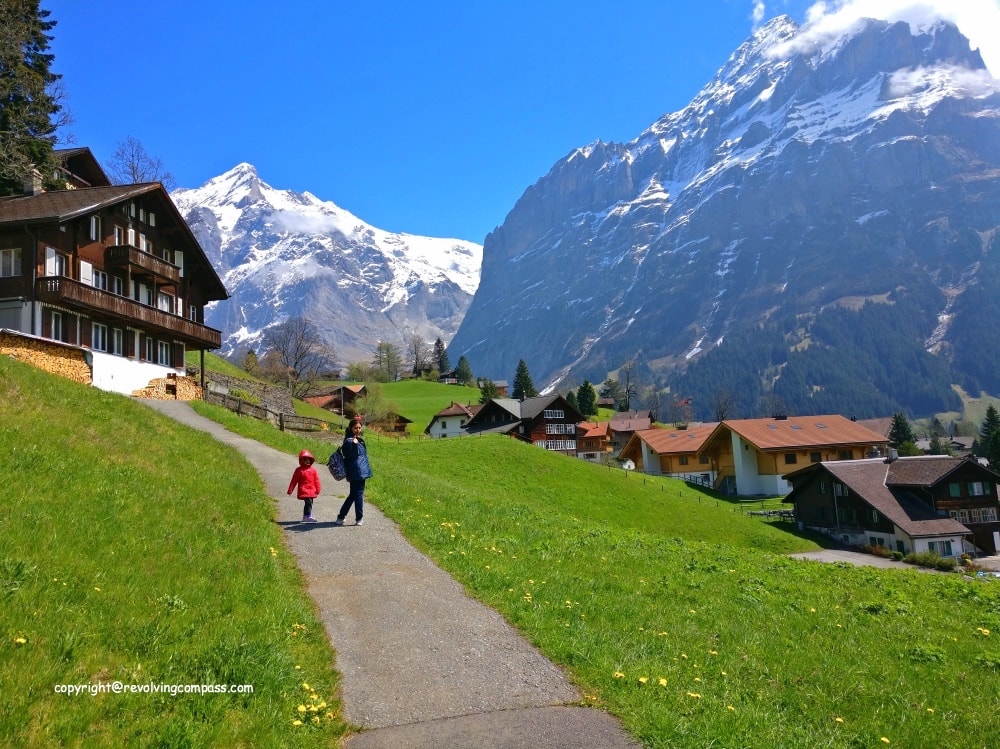 Onwards journey to Interlaken
From here, we traced our steps up the stairs once again, to reach our friends. We again sat here for sometime and then decided to head back to Interlaken. The four of us, along with our daughter, came back to the train station. There is a train from Grindelwald to Interlaken almost every 20 minutes. So, we waited for the next train. And soon, it arrived. We on boarded the train for another picturesque journey through the Swiss railroad.
Of all the places that we visited while on our stay in Switzerland, perhaps it was hardest to abide goodbye to Grindelwald. The place is right out of fairy tale books. Pristine, neat and clean, organized, peaceful and surrounded by snow covered mountain peaks and lush green meadows. What else does one need when surrounded by such pristine natural beauty. I feel jealous thinking of the people who wakeup to these magnificent views and then live through this dreamy life here each and every day of their life.
If you are planning to head to Switzerland, we will strongly recommend visiting Grindelwald and other such small countryside places here. The real beauty of Swiss paradise is hidden in these places only.
Tips on visiting
Use the trains for your commute to Grindelwald. It is well connected with Interlaken. You can change trains in Interlaken from almost anywhere else in Switzerland and then head on to Grindelwald.
Carry your food with you. We didn't see many food options around in Grindelwald, particularly vegetarian. So, it would be better to carry your food from Interlaken or where ever you are coming from.
Carry a bottle of drinking water and you can keep refilling it. There were plenty of sources of drinking water around in the form of public fountains and taps.
Wear comfortable walking shoes
Carry an umbrella with you, as, the weather changes suddenly in these parts. Luckily, the day we visited, it was a nice sunny day.