The Martin Farm is a medium size farm located little off the Sarjapur Road in Bangalore, around 12km from Whitefield. Located near Carmelaram railway station, it's easily reachable, without too many twists and turns. The Martin Farm is spread in around 2 acres. The owner lives on the premises in his farmhouse at The Martin Farm campus. Most of the trees on the farm have been actually planted by him some 25-30 years back and now they are in full bloom. Thus, the farm has become an oasis of green in the otherwise concrete jungle of the city.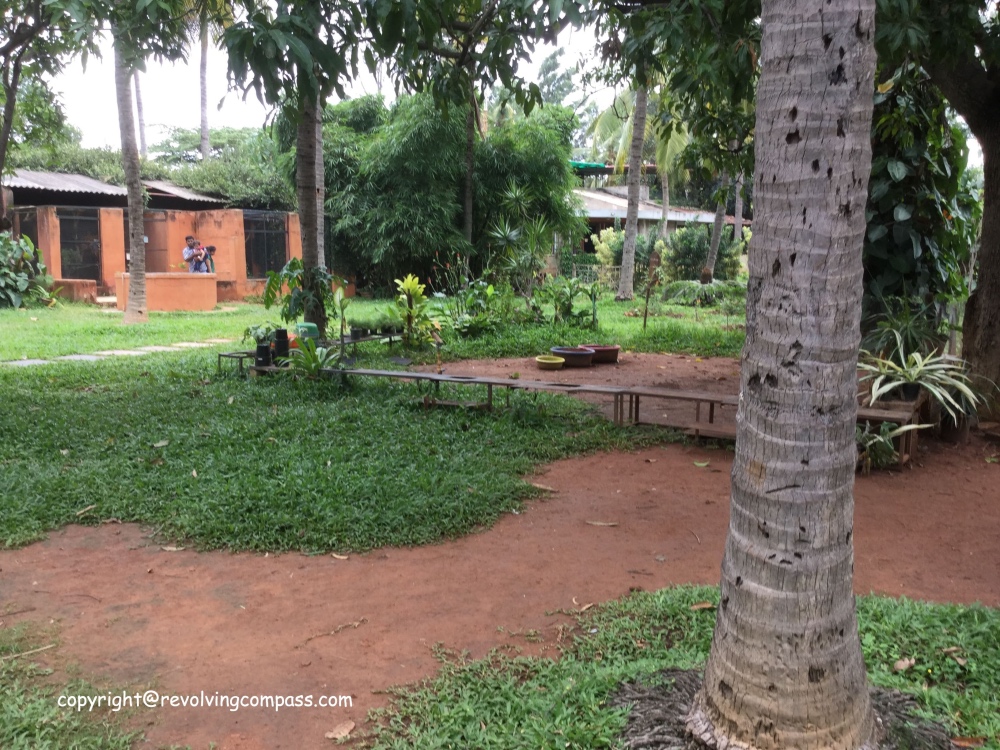 How I stumbled upon The Martin Farm
Now that our toddler is 2+ years old, she acts like a grown up and feels bored in the confines of the home all through the week. So, when we are at home on the weekend, she wants to go out and enjoy. As a result, I am on a spree to search places for her to go. My idea is to find places which can be more meaningful than making rounds of malls and shopping complex. While on the same quest, I stumbled upon a few posts on net that pointed me towards The Martin Farm. The reviews of the place were encouraging. Although, if you hail from a small town or village of India, it will not be a unique place for you. But, otherwise, it is a good place to unwind and give your child an experience close to nature.
Our daughter had gone to Mysore Zoo some 6 months back. And she had fully enjoyed there. So, I wanted to once again take her closer to the farm animals and let her interact with them.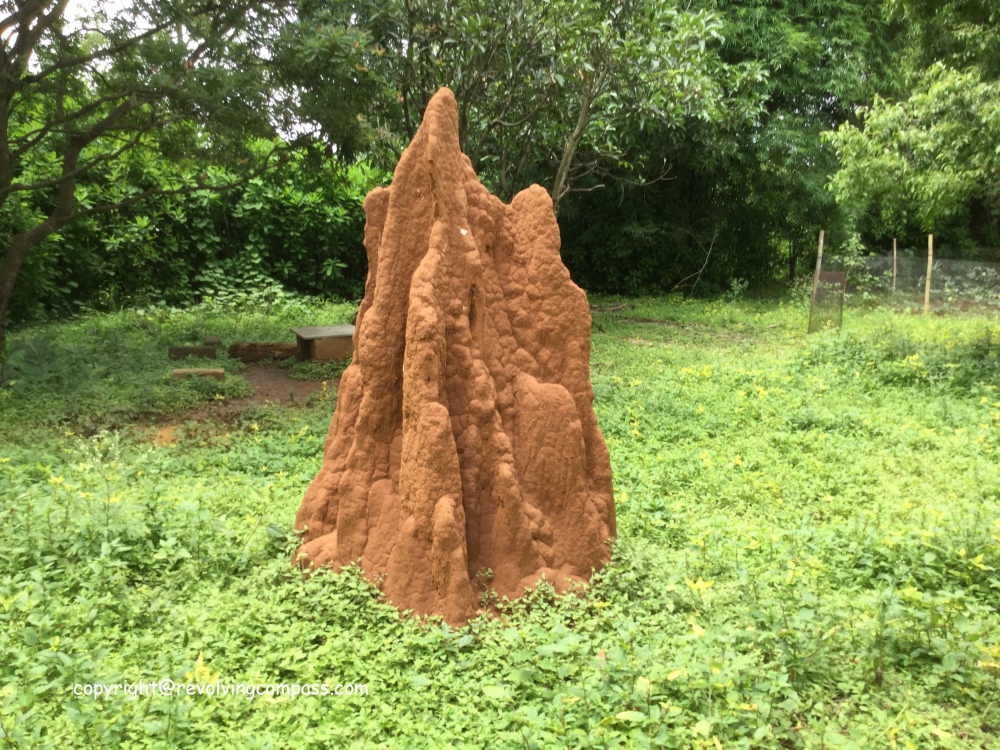 We had an added advantage of location w.r.t The Martin Farm. It was not located too far from our residence (~13km, 35 mins drive as per google map). So, we decided to give it a shot. A like minded friend and her family decided to join us. Since, their toddler is the same age as ours, daughter dear got a company. This is how we headed here this Sunday morning.
To The Martin Farm
We called the owners in the morning and asked if we can come. Since I read on internet that sometimes big groups visit this place for celebrations. And thus it can get pretty crowded at times. But looks like this Sunday was not busy like that. Once they confirmed that we can come, we headed here around 10:40 in the morning. We took the Varthur – Gunjur road to reach here. There is a sunday market setup on the sides of this road which we were unaware of. This market made a stretch of around 500m quiet congested.
But, apart from  this, we hardly found any traffic on rest of the stretch. However, the last 100meters to the farm was through a narrow un tarred road. However, the locals are well aware of the existence of The Martin Farm. In case you feel like you are loosing your direction or not on the direct path, you can check with them. Overall, we didn't face any difficulty in reaching here. We reached here by 11:20
The first glimpse of The Martin Farm
The Martin Farm is a medium size farm maintained by the owners. The place is green and nice – full of plants and trees. There is a fee of INR 150/- per head, including children also. Upon arrival, you will be greeted by Darcy, the pet dog who is quiet friendly. If you personally don't have a pet dog at home, this is one your toddler can immediately befriend and play with. (Mine is crazy about dogs!!). So, as soon as we stepped outside our vehicles, Darcy came running to greet us. And this immediately put my daughter at ease. Some other farm animals and birds like donkey, goat, cow, duck, pony, lamb etc. are housed on the premises.
Some of the birds and animals like ducks and turkey are left to roam freely. They mostly live confined to the area allocated to them, where their food is kept nearby. They roam in groups from here to there. And are a site to bemuse for the small children visiting the farm.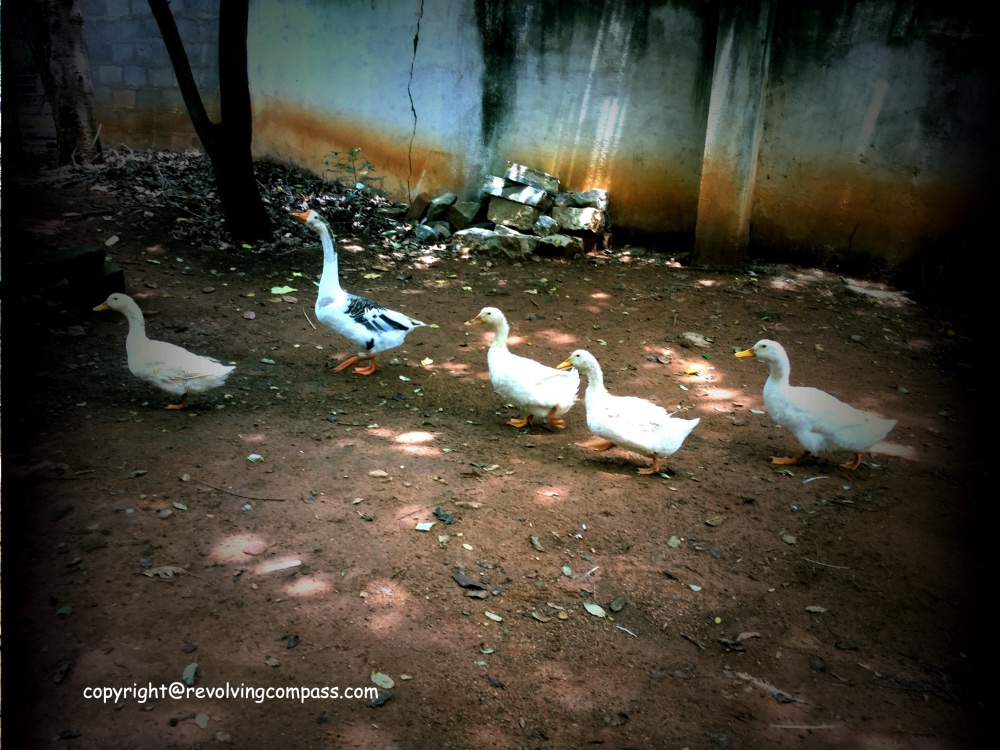 Donkey, lamb and Pony are kept inside barriers for the safety of the visitors.
Cows and goats are tied to trees with ropes and left to graze on the nearby lands.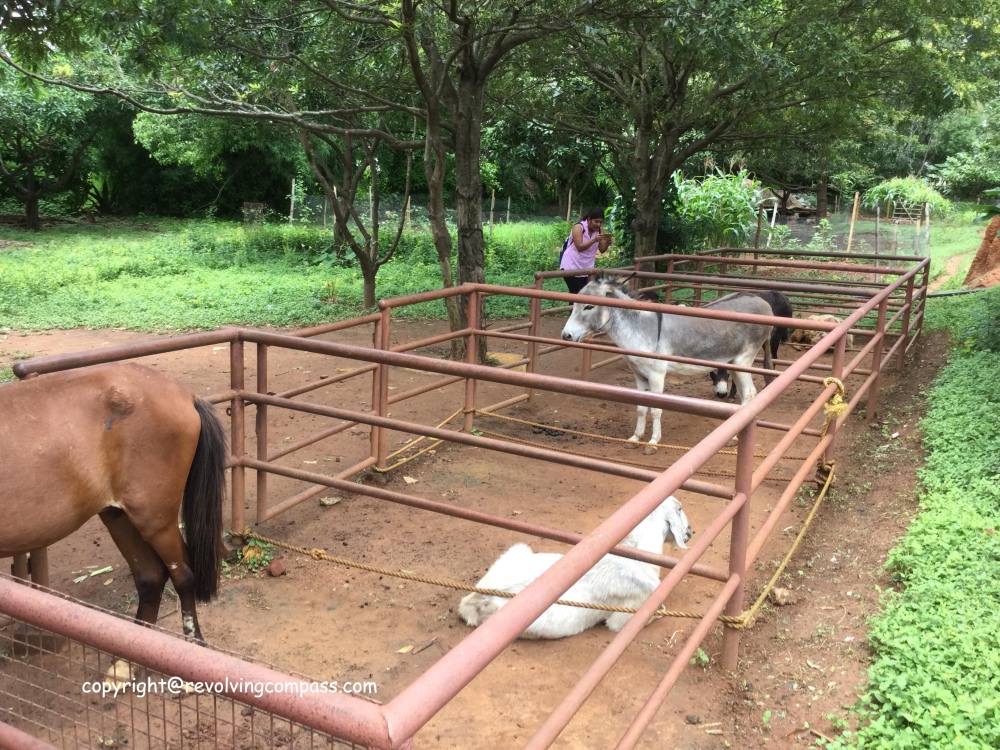 There are other cages which contain rabbits, pigs, rats and some other small animals along with their food. This portion is more like a zoo.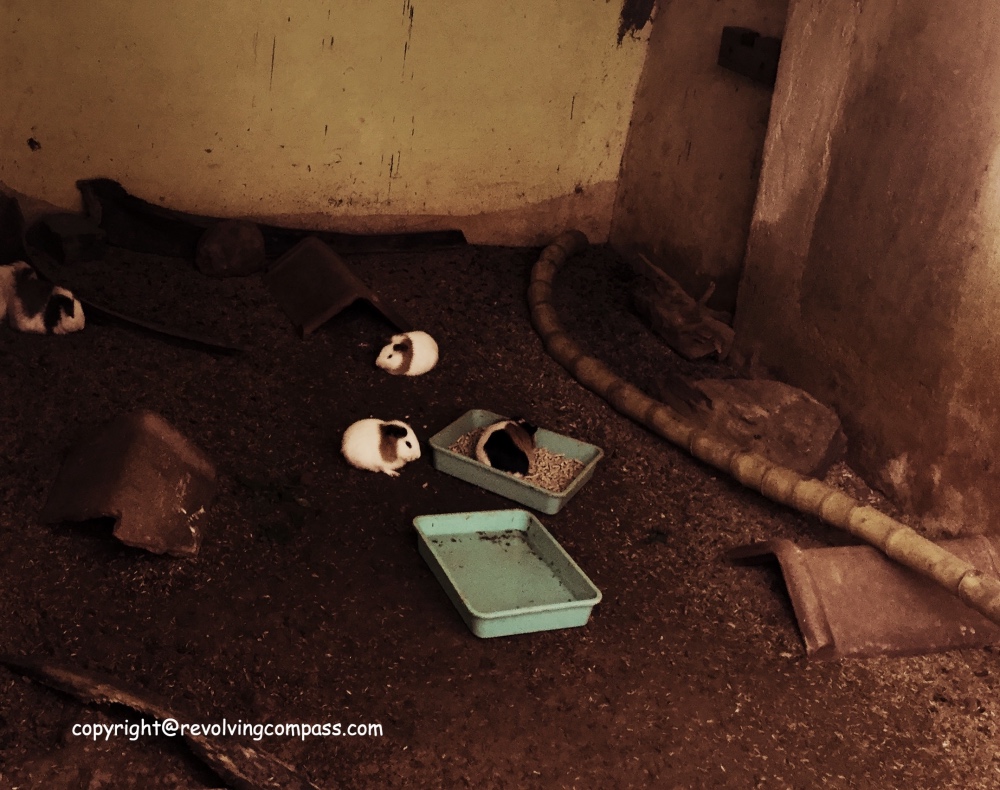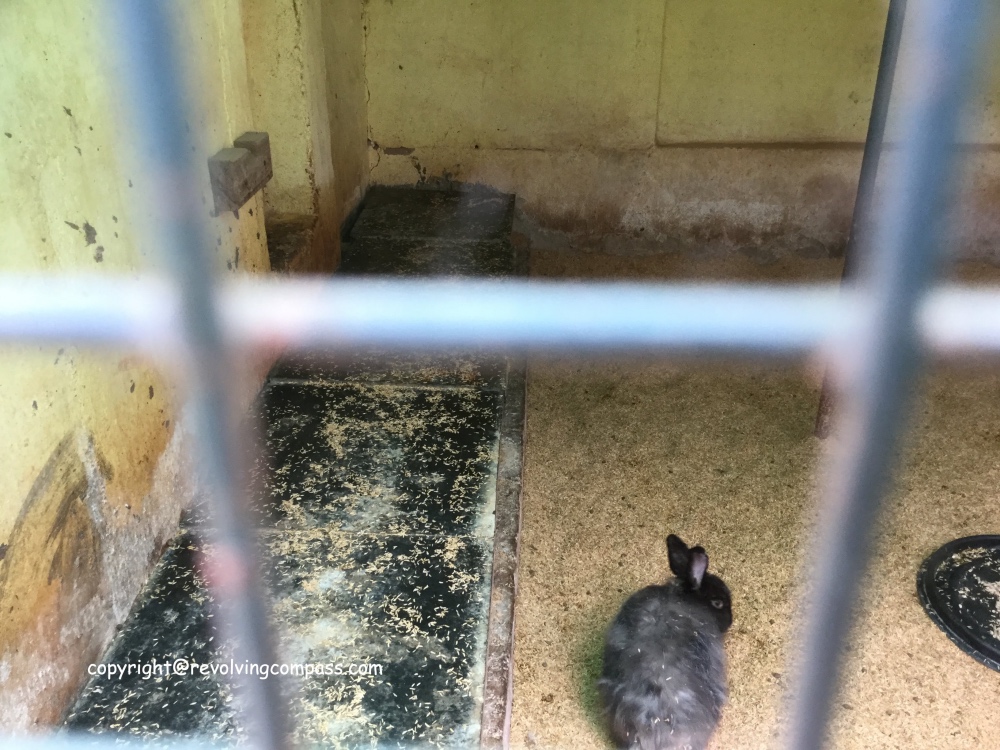 A small water body contained some small tortoise.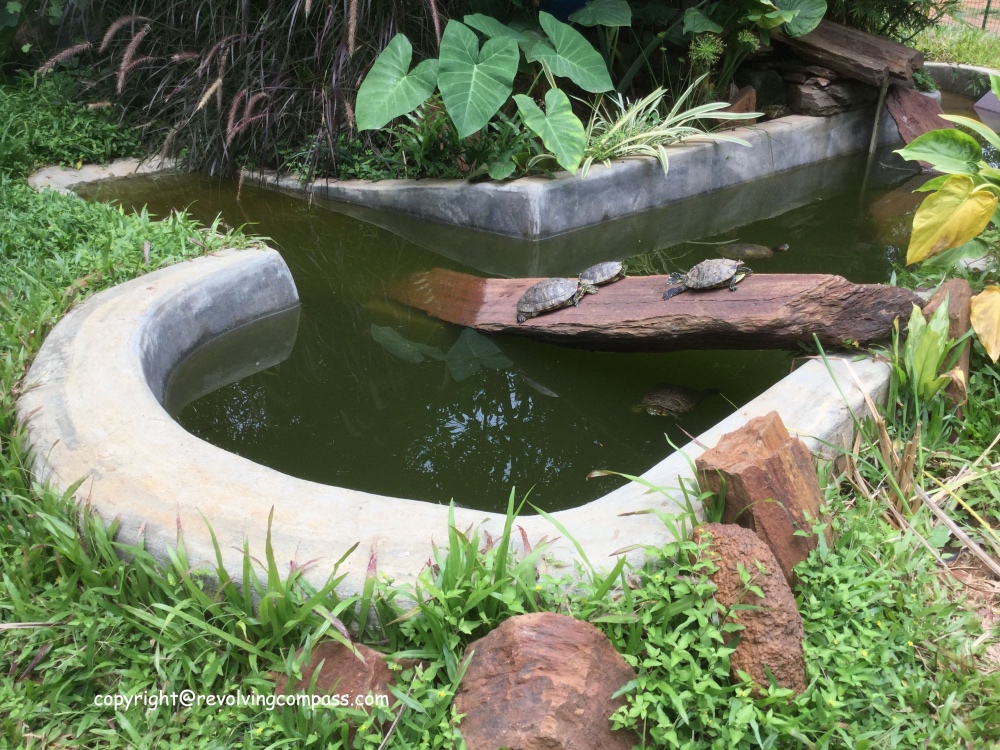 There also is a small play area of children with swing, slider, ropes and some other basic play setup. The place is otherwise neat and clean, I was particularly impressed by the sparkling washrooms 🙂 . There was no garbage around.
The most awaited feeding session
The Martin Farm has a feeding session which is the main highlight of the farm. It goes on for around an hour in the morning around 11am and in the evening around 4pm. During this time, the visitors are allowed to feed the animals. However, the feed is provided by the farm owner, outside food for animals is not allowed. I think that makes sense. So, coming back to the point, children really enjoy this part the most. To the elder children, the farm owner even explains before the session how to safely feed the larger animals. Overall, it's a nice interactive experience for the children.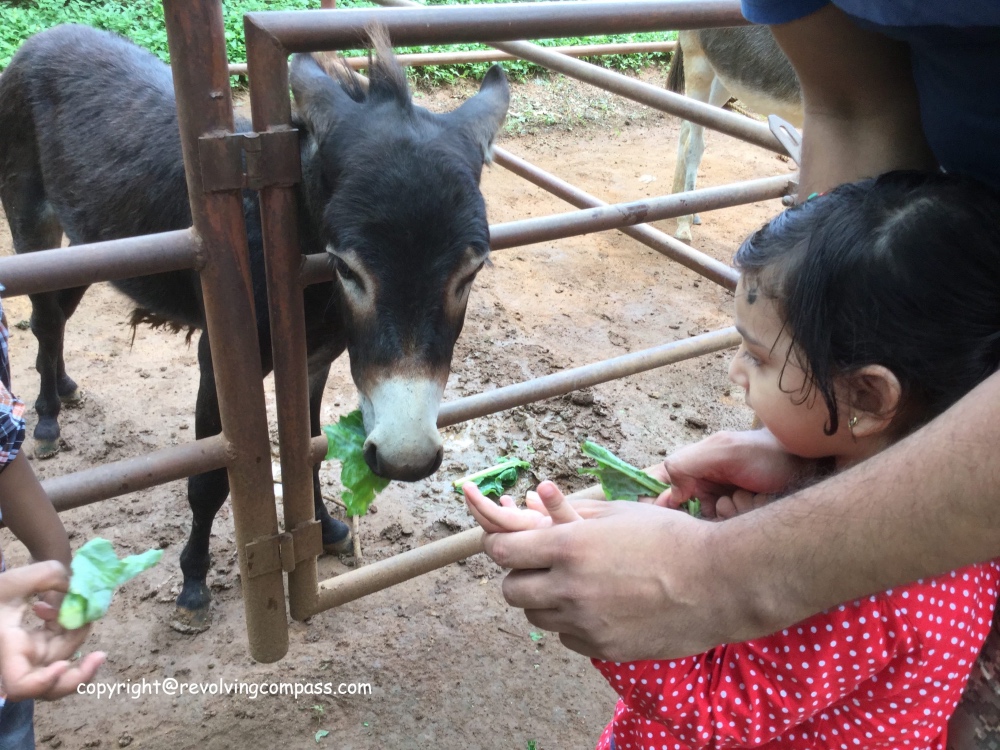 As we arrived at The Martin farm, the farm animals were already been fed. We rushed to the area where the session was going on. Soon , my little one grabbed some fresh leaves and chose to feed a donkey. She was a little terrified, a lot excited and overall very happy with the experience. After the feeding experience was over, we took her on a round of the rest of the farm and showed her around all the animals, explaining their names, their feeding habits, structure etc. to her and her friend.
Facilities on the premises
There is no food facility on the premises of The Martin Farm. However, one can take their own lunch with them. Actually, it will be nice to sit in a spot near this small pond inside the premises. Or, head in the fields and have a nice picnic. I must admit, my daughter ate better than usual while she was busy exploring the grounds here and enjoying chasing the animals and birds.
It's definitely a peaceful location, away from the hustle and bustle of the city even if it is located well within the city premises. The place is also quiet safe for children to explore, with most of the grounds being soil or velvety grass, there is very less chance of them getting hurt while freely running around.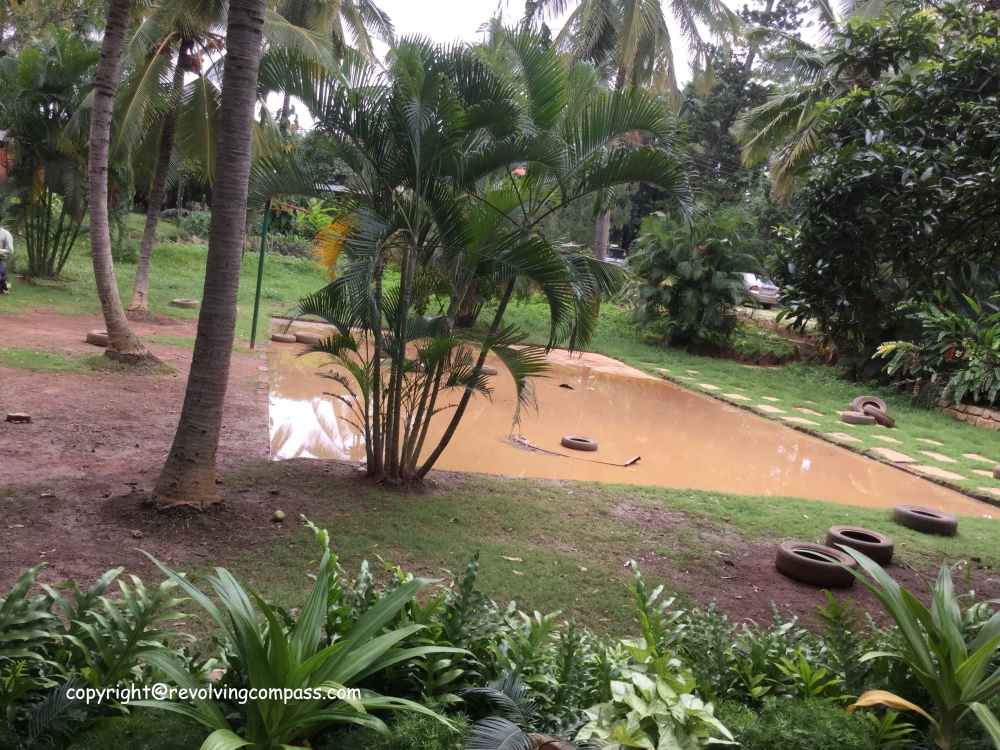 Any improvements required?
What I didn't like is the condition of the animals. The cages were not clean. And, the animals looked weak and unclean. They need to be fed better and taken care of in a better way. Actually, the condition of some of them made me feel sad. Apart from that, it's a nice place for a one time visit, particularly with small kids. But at the same time, the farm is not very big and there are not too many and different farm animals. So, one shouldn't go here with big expectations built. Otherwise one would be destined to end up disappointed.
Also, I wouldn't recommend visiting for someone who lives at distance greater than 15-20km from this place. The drive won't be worth it. Since organic farming is catching on and the concept of being closer to nature is becoming popular, more such farms are coming up in other regions of Bangalore as well. So, do your research before coming in here.
However, visit if you live nearer. Also, if you have small kids, who get a lot of malls and shops but very less of the nature, this place would be worth a one time visit. Depending on your interest, you can spend a couple of hours to a day here. The children would simply love doing nothing and roaming around the farm. The toddlers are able to relate the animals with the ones that they see in their books, and to touch and feed those animals is an enriching experience for them. Overall, our purpose of visiting the farm was fulfilled , when our children got to feed the animals and interact with them.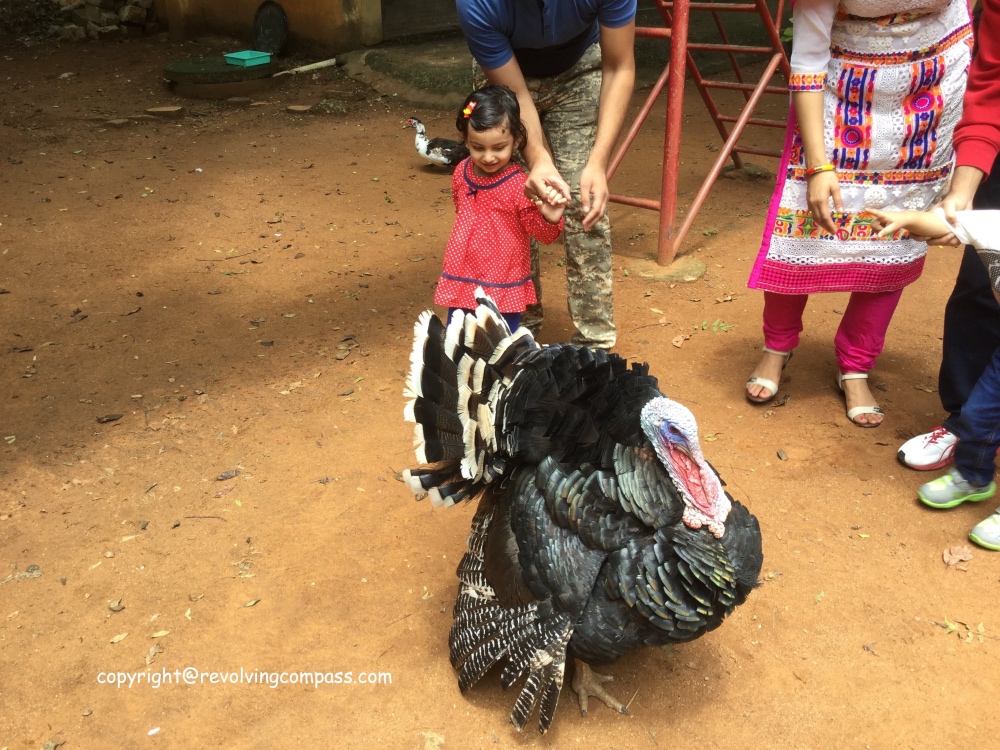 Highlights of the farm
Address : 33, Carmelaram Post, Sarjapur Road, Chikkabelandur, Bengaluru, Karnataka 560035
Opening hours : 10am to 6pm all through the week (Mondays closed)
Phone number of owner: 098457 79666
Blog: http://themartinfarm.blog.com/
Email: [email protected]
Feeding sessions : 11am and 4pm (half an hour to one hour session)
Food not available on the premises, carry your own. (However, there was a tender coconut vendor present in the farm :))
What to do with kids on the farm
Make a list, try to remember how many animals are spotted.
Discuss about these animals, their lives and food with the kids.
Discuss with the kids why some are caged, others are roaming freely etc.
Try to recognize the trees around, name them, learn how to identify them.
Collect fallen flowers & fruits
Collect fallen leaves, or, you can also collect leaves from each plant to later recall your visit and identify the trees.
Have a picnic on the spot.
Participate in tree planting session on the farm.