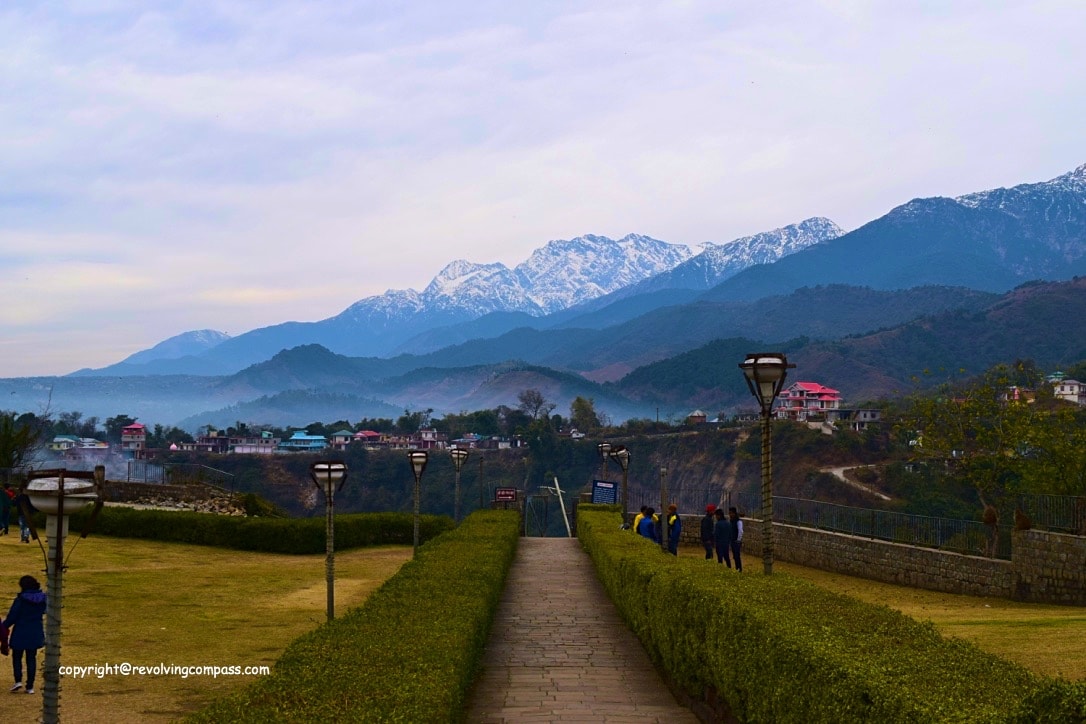 Recently we got a chance to visit Palampur, a less explored but one of the most beautiful hill station which we have visited till now. Most of the time, under the influence of basic human traits, when we look for holiday spots, we tend to go for one about which we have heard more often from many people. Further, we deep dive through various web pages and consume abundance of information which are already floating online about these well-known places. And then we head to that place and get some kind of satisfaction in terms of meeting the expectation which we had perceived based on our research. And this is mostly true for all kind of places whether it is a beach destination or a hill station or a historical place.
But there are many places on this planet which are not talked about or referenced about as much as their famous counterparts. And one such place is Palampur. A beautiful hill station in the lap of majestic Himalayas. And we got a chance to spend few days in this beautiful and adorable hill station. It was like discovering our own personal gem of a place. With not much tourists around, it is like an offbeat destination as of now. And because of the same reason, it's beauty is completely preserved and untouched.
Geography of Palampur
Palampur is a lovely green hill station and a municipal council in the Kangra Valley in the Indian state of Himachal Pradesh. It is surrounded by tea gardens, pine forests and is set in the foothills of the majestic mountains of Dhauladhar range. And also, Palampur is known as the tea capital of north India.
When to visit Palampur
Although located in the hills of Himalayas, Palampur boasts of pleasant weather all through the year. The winters are chilly, but the temperature doesn't drop to freezing level, and the summers are pleasant. So, basically, you can visit anytime all through the year. However, you might want to avoid the rainy months of monsoon since there can be chances of landslide. We visited here in the month of February and we really liked the weather. The temperature was mostly in the range of 5 degrees to 15 degrees celcius.
What makes Palampur so beautiful
The name of Palampur comes from the local word palum, and it means lots of water. Because, there are numerous streams flowing from the mountains to the plains from Palampur. The combination of greenery and water gives Palampur a distinctive look. And also, a large area of Palampur is covered with tea estates. In addition, Palampur is at the convergence of the plains and the hills, which adds great level of contrast: plains on one side and the majestic snow-covered hills on the other side. And, in the backdrop of this beautiful town stands the Dhauladhar mountain range, which remains snow-covered for most parts of the year.
How to reach Palampur
Palampur is well connected to most of the other towns in Himachal Pradesh and Punjab through road route. You can go to Chandigarh or Amritsar in Punjab, and from there you can hire cab to go to Palampur. Both Chandigarh and Amritsar are well connected by air and (or) rail from the rest part of India. Also, there are few bus services which connect Chandigarh to Palampur. Distance of Palampur from Chandigarh is around 260 KM and it takes around 6-7 hours by cab. And, distance between Amritsar and Palampur is around 230 KM. Also, you can reach to Palampur from national Capital Delhi using bus services which runs between Delhi and Dharamshala.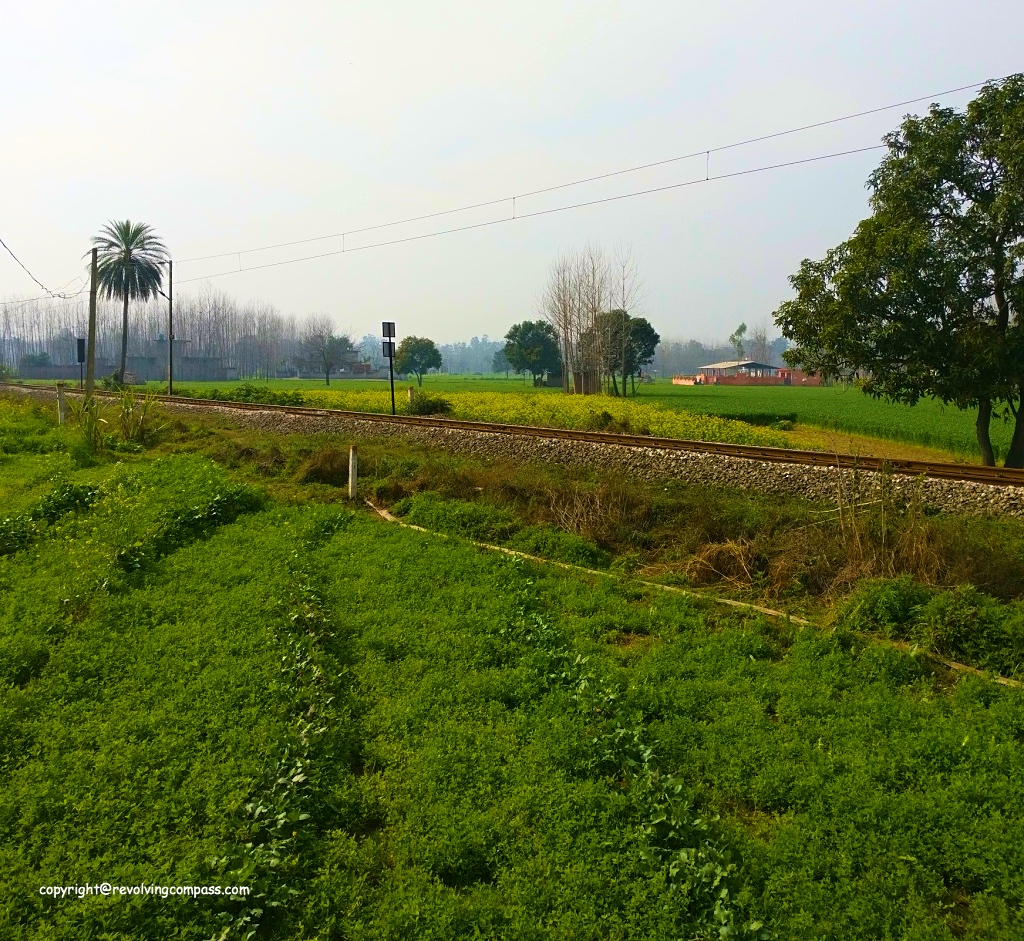 We took a flight to Chandigarh. And from there, we hired a cab for the road trip to Palampur. The cab was with us all through our stay. And it was really convenient getting around to different sight seeing stops. Finally, at the end, we returned back to Chandigarh in the same cab. And from there, took a return flight to our home. The road trip spans half way through the plains of Punjab , with beautiful green fields on both sides. And half way across, it starts spanning through the hills, with breathtaking sceneries around. The whole route is marked by numerous 'Dhabas', the typical roadside restaurants that serve delicious mouthwatering north Indian delicacies.
Things to do in Palampur
Although Palampur is a perfect destination where you can spend a leisurely vacation just retiring in the lap of nature. At the same time, it doesn't disappoint the activity enthusiasts at all. You have various things to do in Palampur, ranging from staring at beautiful snow-covered Dhauladhar mountain range, to taking a tour of tea estates, to sightseeing in and around Palampur, to experiencing the ultimate adventure of paragliding in Bir Billing. So, here goes our list of things to do in Palampur.
Things that we did in Palampur
Offer prayers at Baijnath Temple
One of the top things to do in Palampur. This temple is located in town Baijnath which is at distance of 17KM from Palampur. This is an ancient temple dedicate to Hindu God lord Shiva. Actually, Shiva is also known as Baijnath or Vaidyanath, which means 'the Lord of physicians'. This temple belongs to 13th century and was constructed in 1204 A.D. Further, there are some proof in the current temple premise which indicates that there were already some old temple constructed on the same spot before the current construction. The present temple is a beautiful example of the early medieval north Indian Temple architecture known as Nagara style of temples.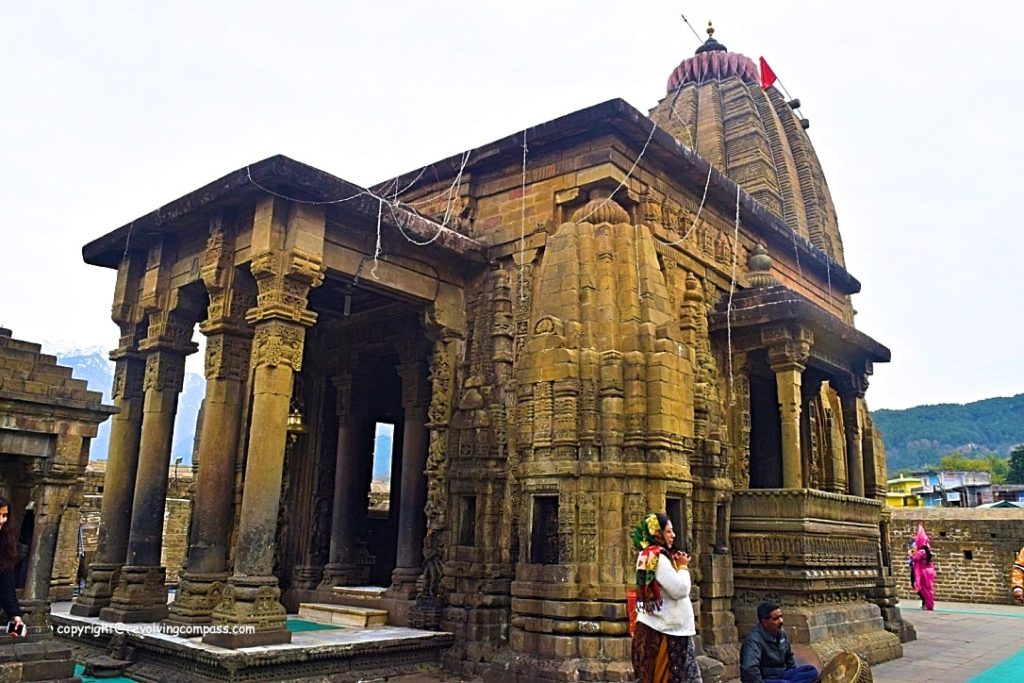 After offering your prayer to lord Shiva you can go in the backyard of this temple. And, there lies a large green grassy lawn. From here one can experience magnificent views of Dhauladhanr mountain range, with peaks covered in snow. A stream of river can be seen flowing in the foothills. And there are stairs that lead all the way from the temple premises to the water. Although we didn't go down, we can imagine how beautiful it would be to embark on the journey towards the stream.
Try Paragliding at Bir and Billing
The best of the things to do in Palampur for adventure enthusiasts. Did you know that Billing is an international paragliding site which is considered as one of the best in the world for paragliding and other aero sports. Billing is at a distance of 35 KM from Palampur. Further, the site has hosted many international events such as the Paragliding Pre-World Cup multiple times and other national and international events.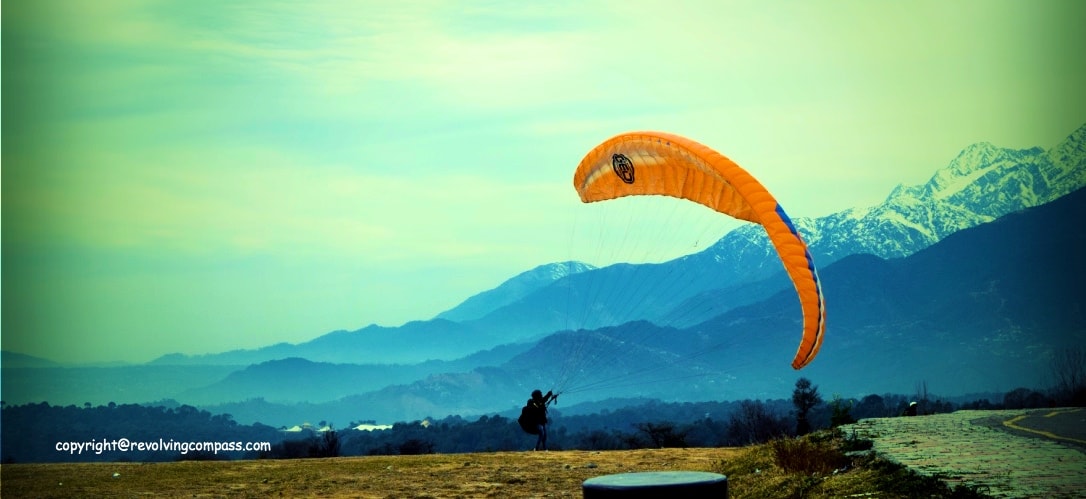 Bir, a village surrounded by greenery of tea gardens and range of mountains, is perfect landing site for paragliders. Bir is at distance of around 15 KM from Billing. Paragliders take a jump from the height of Billing and land on the beautiful landscape of Bir. Also, Bir is famous for many Buddhist monasteries which have presence there. And these are worth to give a visit. We did a visit to Billing and then back to Bir while on our stay in Palampur, and it was one of the best experiences that we had.
Play in the snow
Rare of the things to do in Palampur. Although Palampur itself rarely witnesses snowfall, but you might get fresh snow at higher peaks in the right season. Like when we visited Palampur in February, all the nearby mountain ranges were covered in fresh layer of snow. And when we went to the top of Billing , there was a patch of snow there wherein we enjoyed playing in snow. Particularly our little one was overjoyed while playing in the snow.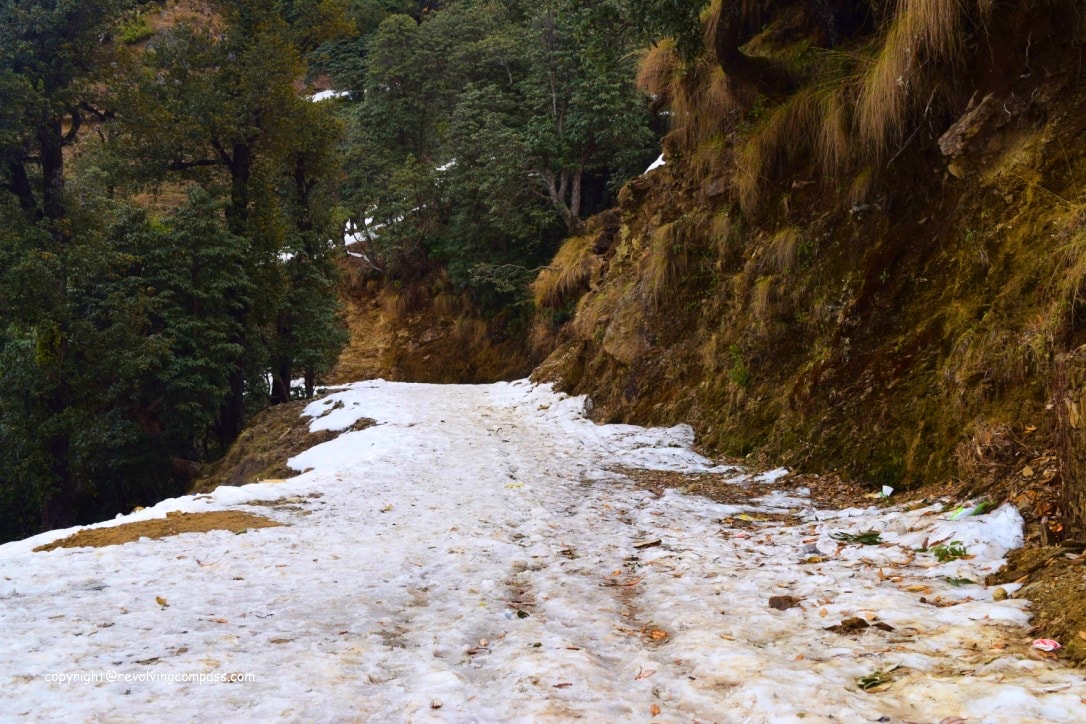 Visit the Palpung Sherabling Monastery
Around 6 KM from Bir in upper Bhattu region there lies a beautiful monastery- Palpung Sherabling. Designed on the concept of the ancient science of geomancy, this monastery is built of modern materials and finished in traditional Tibetan architectural fashion. The monastery has three shrine halls, six shrine rooms, a monastic college, a school, a library, a museum, an exhibition hall and a dispensary. Further, It has 250 monks' quarters, (which accommodate over 500 monks). Also, It has retreat houses for monks and nuns and individual cabins for lay practitioners. Altogether it feels like a different self-sustained compact world in the middle of serene nature where cheerful kids, youth and old seem to be celebrating life.
When we entered in monastery complex we found that the kids and students, divided in small group, were practicing some traditional dance. And, I must say it was a pleasure to be a viewer of their traditional rhythmic dance chorus, which was a completely new experience for us. Moreover, one young monk was gentle enough to accompany us in our visit to the main hall of the monastery where their prayer happen and also the guru and other monks meditate during the prayers. And, he patiently explained each and everything about that place, answering all the questions that we had in our mind and many more.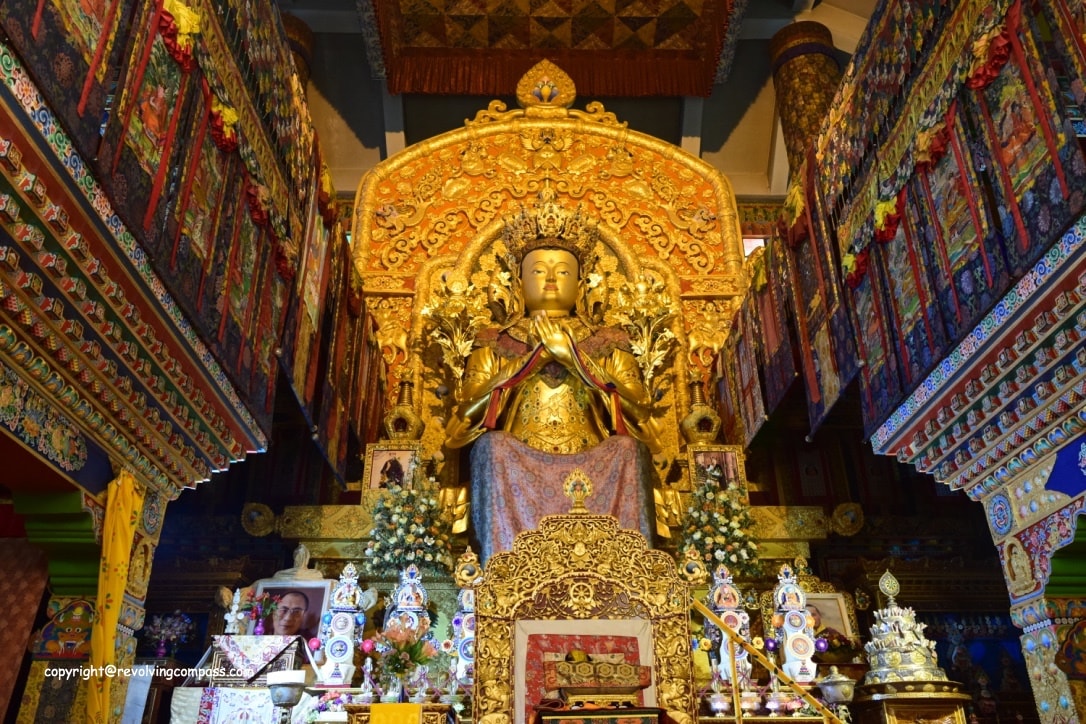 Visit Andretta Village
Around 13KM from Palampur there is village and artist's colony name Andretta. We had come to know about this place from an acquaintance and a very short description was good enough for this to be included in our list of places to cover, considering Neha is a huge fan of arts.
There are 4 major attractions of this village:
Andretta Pottery and Craft Society
Norah Richard's House
Norah Richard's Centre for the Arts
Sir Sobha Singh Art Gallery
Out of this we covered – Andretta Pottery and Craft Society, and Sir Sobha Singh Art Gallery
Try hands on pottery at Andretta Pottery and Craft Society
This is set up by Mansimran "Mini" Singh in 1983. It has a production studio which produces earthen slipware and a terracotta museum. Also, It runs a 3 month residential course where one gets a chance to learn about the art of Pottery – both theoretical and hands-on. Moreover, after the course, if you find yourself fitting in this zone, you can continue working there as an artists, giving the clay shape of beautiful potteries and crafts. Potteries and crafts created by them is well in demand all over the world. Also, as a visitor you have option to try your hand on pottery making in return of a nominal charge. In addition, there is also a showroom where you can buy the pieces created by them. We will be brining you a detailed post on the same.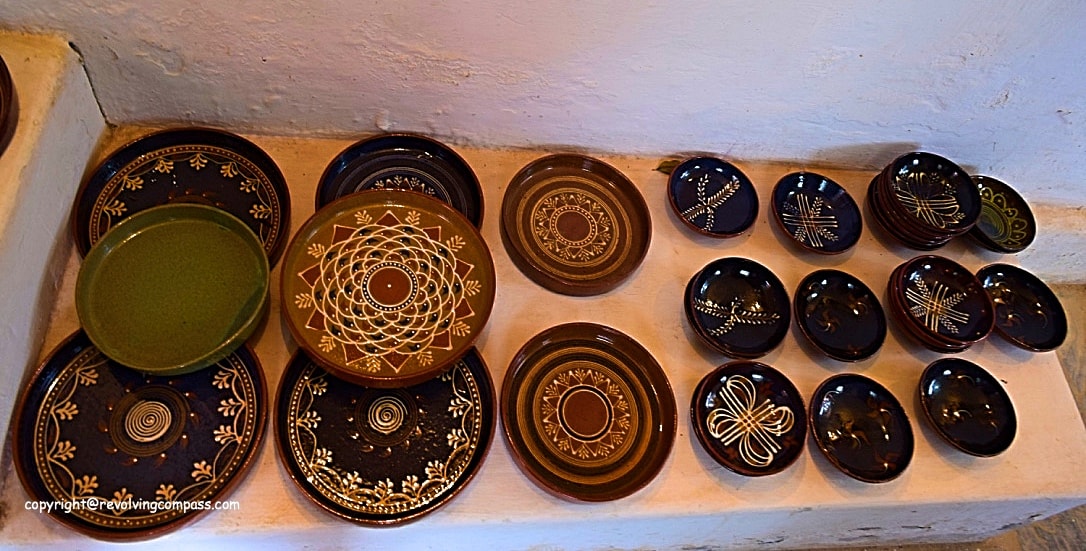 Visit the famous Sir Sobha Singh Art Gallery
This gallery is there at a distance of 1 KM from Andretta Pottery and Craft Society. This contains collection of artworks of renowned contemporary painter Shri Sobha Singh. This place is definitely a must to consider place for art lovers. This place has two sections – one is art gallery and other one is museum. Art gallery has on display all painting works done by Sobha singh and also a model of his studio. Museum has the sculpture work done by Sobha Singh, collection of various old time photographs of Sobha Singh and work done by his wife on display. When we visited here, there was an entry fee of INR 20 per person.
Visit and (or) stay at a tea garden
Being in Palampur and not visiting a tea garden will mean going on an incomplete journey. Some of the tea gardens like the Wah Tea Estates even provide lodging along side. So, you can experience living right amidst or across the tea gardens. They even take you on a trip to their tea factory and there you can embark on a journey of how the tea is manufactured. We were lucky that both the accommodations where we stayed in Palampur were right near tea gardens. You can as well buy some tea from Palampur on your journey back home.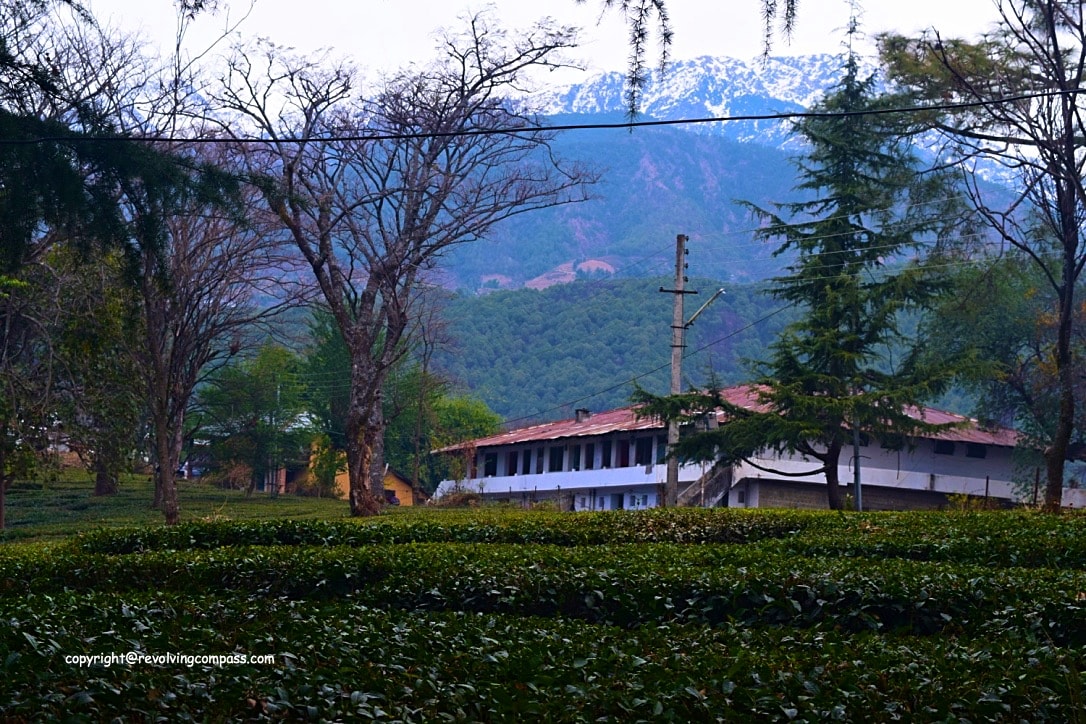 Other things to do in Palampur
In addition, there are many other things to do in and around Palampur which we could not cover due to time constraint, but you can consider, like these.
Chamunda Devi Temple (20 km. from Palampur)
This is a very important Hindu shrine with the temple of Goddess Chamunda. Thousands of devotees from all over India visit the temple and offer prayers.
Neugal Khad (2 km from Palampur)
From this place you will have chance to get magnificent view of the Dhauladhar range.
Birni Devi Temple
Above Gallu Langha village, in the heights of Triund Hill, there is a temple known as Birni Devi Temple. This is a popular shrine in Palampur. We can reach to temple via Lohna, Upper Bundla and Gallu Langha. And from Gallu Langha, there is a moderate trek for Birni Devi Temple, which takes from 3hrs to 5hrs to complete. This is one of the easiest treks which one can do with young children and moderately aged parents. And, local inhabitants on the way can guide your way across the forest to reach the Birni top. This temple faces the majestic Kangra Valley and offers a panoramic view of Dhauladhar range. From here, one can get magnificent view of entire Palampur town.
Jakhni Mata Temple Palampur
Jakhni Mata Temple is at a distance of around 5 KM from Palampur and is dedicated to Devi Latti Jakhni. This temple is located at the topmost point of Chandpur Village in Kangra district and offers magnificent view of the Dhauladhar mountain range.
Saurabh Van Vihar
This park is spread in an area of 13KM and is dedicated to brave soldier Saurabh Kalia. It is at a distance of 4KM from Palampur. Here you can get to spend some relaxed and enjoyable time amongst lush greenery, surrounded by sceneries and mountains. Also, the park has water bodies, Picnic Sheds, Children Park Open Air theatre and more.
Further, you can also plan to visit Dharamshala, a city in the upper portion of Kangra valley. And, Dharamshala is the winter capital of Himachal Pradesh and is located at distance of mere 40 KM from Palampur. Dharamshala has various monasteries, temples, markets and beautiful sights to visit.
Where to stay in Palampur
There are various options in Palampur for stay, ranging from homestays to resorts to hotels. However, to us the homestays seem to be the perfect choice for stay in Palampur. The homestays of Palampur are particularly characterized by beautiful, tastefully done bungalows, very warm hosts and tasty homely food. Unconventional and totally comfortable at the same time. We have two recommendations based on our personal experience: Norwood Greens and The Lodge at Wah. We had great stay at both of these places. And we feel our experience of Palampur would not have been complete without the kind of stay and hospitality that we enjoyed at these places.