Goa is a beach lover's heaven but did you shopping in Goa is an experience in itself.  After having being there twice in last few years, I realized this about Goa. That it is equally a shopaholic's heaven and shopping in Goa is quiet a delight. Actually, before being here I truly wondered what speciality this destination can have to offer in terms of shopping. That also, especially for people like me who come from not very far but the neighboring state of Karnataka. And that how can shopping in Goa be different from anywhere else.
The truth is, there was nothing "new" item on offer for me. But there was a whole "new" and fresh shopping experience on offer in Goa that I thoroughly enjoyed. Thus, I recommend for all the shopping lovers, to go try shopping when you next time visit Goa. Even for those, who don't want to buy anything, just go for the experience of it.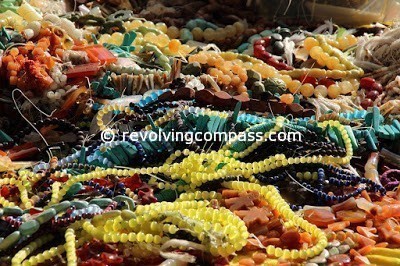 In terms of type of shopping in Goa, it has everything to offer from malls and branded shops to the beach side markets and the weekly flea markets. But I must say the beach side markets and the weekly markets win over the others when it comes to shopping in Goa.
Arpora Flea Market for shopping in Goa
I fell in love with Arpora flea market when I got a chance to visit here this time. There are other flea markets as well as lots of beach side shops flocking the road sides leading to beaches and right on the beaches as well. Where you get good deals in dirt cheap prices with a little bargaining skill. My friend bought some silver jewelry and I bought a backpack cum handbag at half the initial price. In many of these cases, we could easily figure out if we were landing into a good deal post bargain since I had seen the cost of similar items online and also in shops in Bangalore. So shopping in Goa for the same kind of items came as a real delightful deal.
Overall, not just the deals, but rather the whole atmosphere, the small stalls under open sky, music and live performances going on in the vicinity, food stalls lined up with delicious street food to charge you up when you start getting tired of shopping – come together to add to the overall shopping experience that is difficult to find elsewhere. In conclusion, this was one market where you need not go for shopping, but you must visit once for the feel of the energized atmosphere and the bustling night life.
Street stops near Baga & Calangute Beach for shopping in Goa
We bought a pair of slippers for my 2 years old toddler from one of the street side shops and she loved it so much that she is still not letting it go, after having outgrown it! My husband also bought a few pieces of cloth from here. There are food stalls amidst the street shops. On the baga beach, while one side is flaunted by the street market, with small shops selling different kind of good like souvenirs, hats, beach wear, key chains, freeze magnets and so many other items, the other side of the same street flaunts with restaurants providing an amazing view of sunset over the bustling beach in the evening.
Anjuna & Mapusa Market for shopping in Goa
Another flea market to experience in Goa is Anjuna market that comes live near Anjuna beach every saturday from 9 am to 6 pm. These flea markets are worth visiting even if you are not really inclined to buy anything – just for the feel of the atmosphere. While Arpora market is a night market, this one is day affair. During the day, on the beach itself, different stalls are put. These sell different items made by the local. And the primary attractions in this market are the colorful cloth bags and purses, equally colorful skirts, earrings and other fashion jewelry made by the locals, small souvenirs to carry back for your friends and family, beach wear and several others.
Sometimes you might as well spot the fishermen and women selling fresh catch from the sea in portions of the market. So, if you have rented out a property or are staying in a homestay, this is your chance to home cook some delicacies bought right from the fishermen (Gosh, I am a vegetarian, can't believe I am suggesting this!!)
Friday market at mapusa is yet another market to head for. This market also offers fruits and vegetables in addition to the items found at other flea markets, and the prices of the products are quiet reasonable. Thus when looking for fresh fruits and vegetables in Goa for a nice price along with some free flea market shopping experience, head to the friday mapusa market.
Market of Panjim for shopping in Goa
Panjim is the capital city of Goa. Apparently, it hosts some of the best markets of Goa. And for a genuine quality shopping in Goa, you can head to the markets of Panjim. This is our favorite place for shopping in Goa, particularly for cashews and other dry fruits. Both the times that we have been to Goa, we shopped here for famous Goan cashews that are a little yellowish in color and very tasty. Plus the prices are quiet reasonable compared to the rest of the country for these cashews.
What all you get while shopping in Goa
Items that you can purchase in road side markets and flea markets in Goa include :
Tibetean and kashmiri shawls, stoles and woolens
Bags – handbags, wallets , backpacks
Spices of all sorts
Cashews – fried, roasted, salted, plain – in different varieties
Handicrafts from different parts of India
Home decor items – idols, miniatures, statues – in clay and bronze
Fashion jewelry and silver jewelry
Beach wear
T-shirts, shorts, pyjamas
Bed covers and musical instruments
Hats
CDs with Goan trance
Skirts and traditional indian wear
Wall hangings made of bamboo, wood, metal, clay, silver
Leather goods
………. and the list goes own. By the way, did you know that the flea markets are also flocked by fortune tellers and tattoo artists. When I happened to visit Arpora, i was very much excited to meet one. But alas, there were none there. So, I plan to spot one the next time I happen to be in Goa, maybe at Anjuna or Mapusa market. And I will definitely let you know my experience 😀
General tips on shopping in flea markets of Goa
I will personally prefer the evening and night markets since the weather gets really pleasant by this time. And you need not sweat in the harsh sun while you shop.
The night markets are also better in terms of other offerings like food, music, live performance and night life in general. Which might not be available with the day time markets. So, you can enjoy here whether you shop or not.
If you really have plans to shop here, sharpen your bargaining skills a little. At least you will get things at half the initial price quoted.
If you are totally not for bargaining, then visit the flea markets for a feel of the kind of goods on offer. But buy from a government backed shop where the prices are fixed and the quality guaranteed.
Head to the markets of Panjim, the capital city of Goa, if you are looking for shopping experience beyond the flea markets. We particularly enjoy buying spices and cashews from the shops here.