During our stay of four dreamy days in Switzerland, we were based out of Lucerne. And from there we did several day trips, including the ones to Bern, Interlaken and Grindelwald.  One of these days was dedicated to endeavor with snow at Engelberg and Mount Titlis. And to be honest that is the day our little one remembers the most fondly from the whole trip. If you ask her about the vacation she just finished, her prompt reply is "I went to play in snow". Followed by "there was a car which ran without wheels" (of course the cable car). So, when we started penning down our experience at Switzerland and defining some cool walking tours and day trips for you to take here, Engelberg and Mount Titlis topped our list.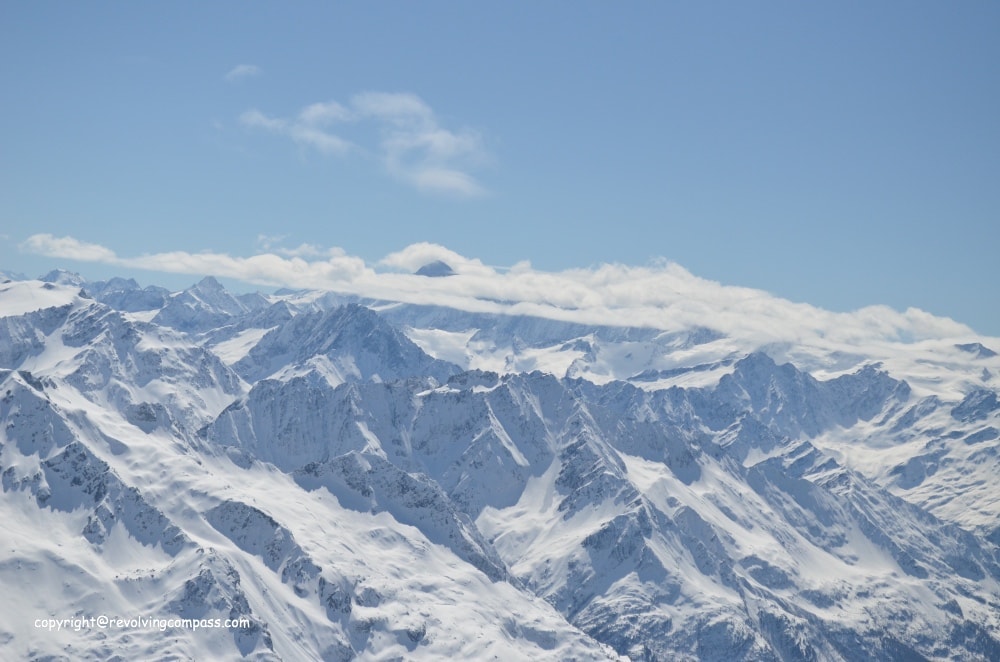 From Lucerne to Engelberg and Mount Titlis
We couldn't have got a better base than Lucerne for our stay during our four days trip to Switzerland. It is centrally located from many of the spots including Interlaken, Engelberg, Mount Titlis, Jungfrau, Bern, Grindelwald and many other scenic towns and beautiful countryside that one wants to explore when in Switzerland. Although, we had to drop Jungfrau mountain from our list, as with a little kid, we were not allowed on such altitude. From Lucerne , we embarked on a bus trip to Engelberg. A bus trip from Lucerne to Engelberg and Mount Titlis takes a little over an hour. Not that Lucerne is any less beautiful a town, as soon as we left it's borders, we were captivated by the beauty of the Swiss Countryside.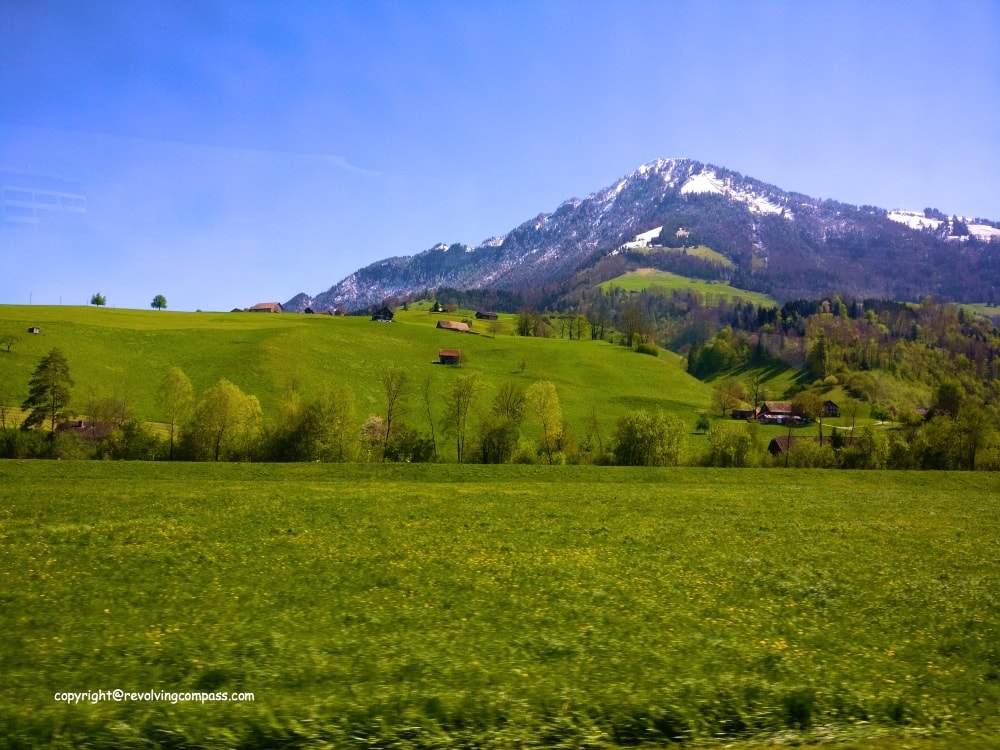 Passing through beautiful farms, we saw lots of herds of cows grazing the green pasture lands. Thereafter we took the mountain road. And started ascending towards Engelberg and Mount Titlis. If you will like to book a train trip from Lucerne to Engelberg, you can do that. Actually, train takes even lesser time. Nevertheless, upon reaching Engelberg, we got down our bus, right at the cable car station. From here , we took our tickets to go up the Mount Titlis using the cable car.
Up the cable car to Mount Titlis
This is where it starts getting really exciting. Unlike any other place that we have been so far, the cable car infrastructure in Switzerland seems to be really robust. The cable runs at greater than 75 degrees. And as you ascend, you get such a panoramic view of the valley below. The day we embarked on our journey to Engelberg and mount Titlis, it snowed fresh. As a result the whole valley below was covered in a fresh blanket of snow.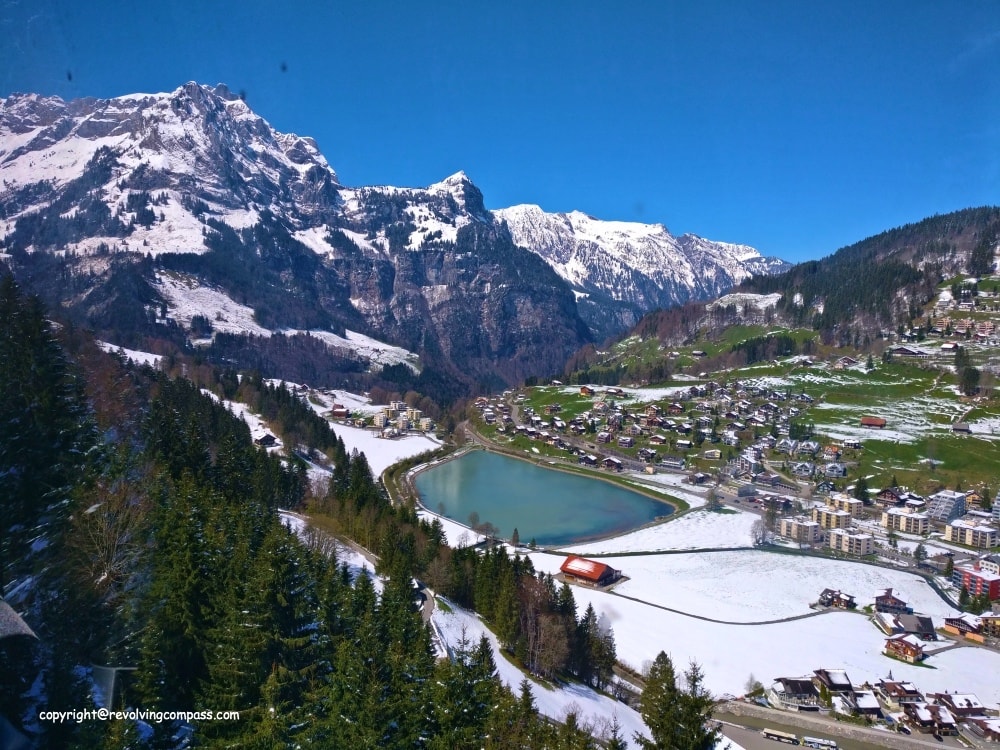 And oh! the views. We fall sort of words to describe them. With snow covering the whole valley and the roofs of a few huts in the valley, a pristine lake in the middle of that snow with crystal clear blue waters. Plus the pine trees at the mountain slopes surrounding the valley, all showered with soft flakes of snow, creating a shade of green and white. The only distraction for us being the movement of those skiing around. Soon we halted at the second cable car station from the ground. We stepped out here.
You will see the national flag of one country on each of the passing cable cars. It's like a beautiful way to show that there is a representation here from across the whole world. And it's fun spotting the national flag of your own country.
The second cable car station at Mount Titlis
There is a open space here on the mountain, where you can enjoy sitting or playing in snow. Rest rooms and refreshment facilities are also available. You can as well start your skiing trip from here. We were here for almost half an hour. Our little one couldn't hold herself from making some balls of snow and throwing on us (And some of those did even hit the people around..our apologies to them!!). We had brought our lunch packed from Lucerne itself. And we had it standing here, enjoying the snow and the scenes beyond.
The top of Mount Titlis
From the second station, we embarked further on the cable car journey to reach the top of Mount Titlis. Here, after getting down the cable car, there are a lot of options for you. The station itself is a 5 floor building. And there is a clear board put up with the name of the attractions on each floor. There are souvenir shops and eateries on the first level. Then there is a cliff walkway. And an ice glacier. Before embarking further into the snow, you can enjoy some of these.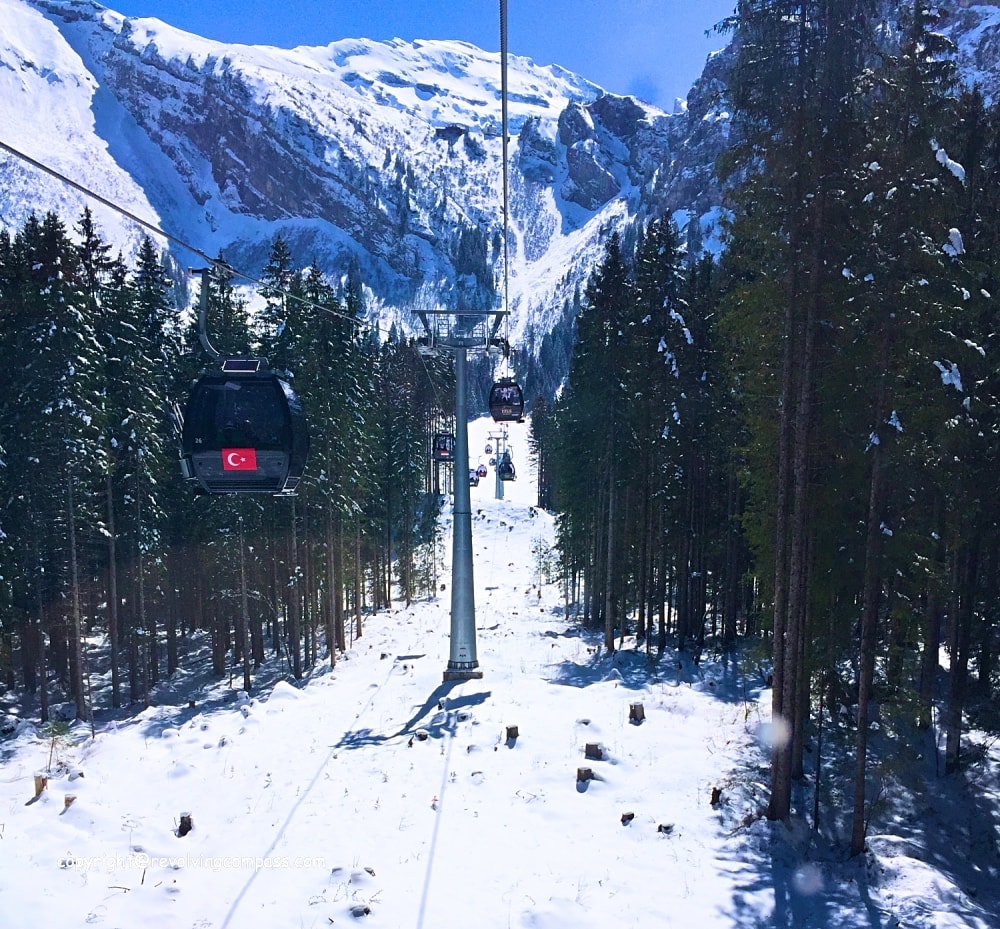 Through the glacier cave
We did enjoy a walk through the glacier cave. It's a cave cut out right into the heart of the glacier. And yes, you can take a walk through it. A walk which promises to be both enthralling and chilling. Enthralling because it's really a challenge walking on the slippery ice. Don't worry there is a railing put on the sides of the glacier all the way from one end to another. And if you are afraid of slipping, you need to hold on to this railing while you walk just like I did :D. And then the temperature inside is in minus degrees, like really chilling. Whatever part of your body is exposed, you will not be able to sense it. Even holding on to that railing for support actually hurts the palm if you are not wearing a glove.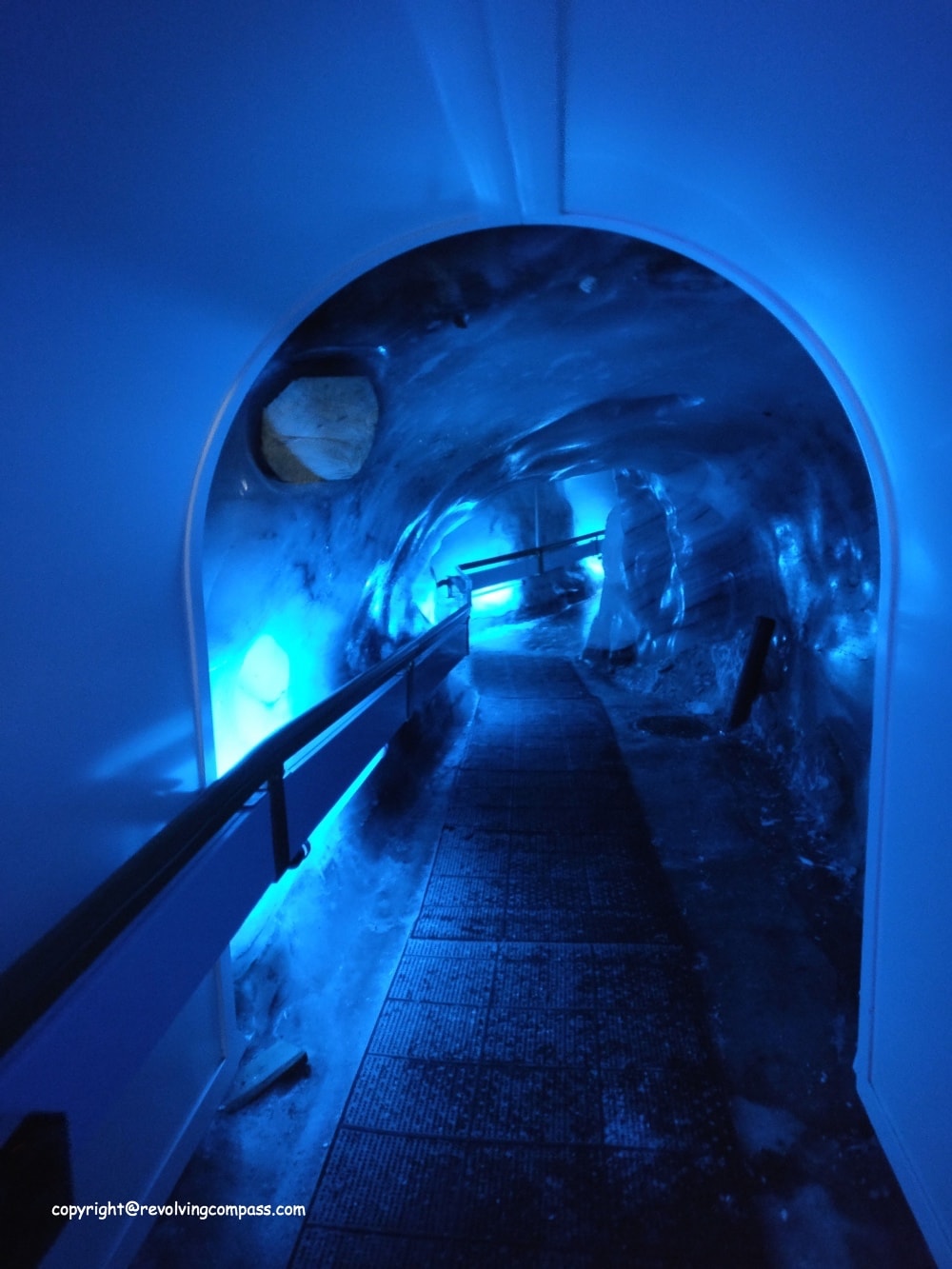 But overall, it was a nice experience. There are some frozen ice carvings inside the glacier. And as I said, it is quiet enthralling to walk from one end to another. After finishing a walk here, we proceeded directly on the snow.
It's a white world
As we stepped out into the open from the cable car station, it was stepping into the white world. Just like that of Snow White. There was snow all around us. And snow covered peaks stretched as far off as we could see. There is a platform built here to enjoy a view. With a cut of Bollywood Film Stars Shahrukh Khan and Kajol from the epic Bollywood movie Dilwale Dulhaniya Le Jayenge. In fact, the legendary movie director Yash Chopra was so much in love with Switzerland, almost all of his movies had to have at least one scene shot here. And for DDLJ, a lot of scenes were shot in Switzerland. This cut out figure is like a tribute for his love of the land.
Braving the cold and the slippery surface, we walked further onto the snow. And started climbing the small trek towards the edge of the mountain. This is the edge of the cliff, and provides a perfect point to look at the snow covered mountain ranges all around. With peaks of the mountains like the peak of several scoops of vanilla ice cream , greeting you from all around. Nothing but cold winds and a harsh sun greets you at this eternal point.
Trace your steps back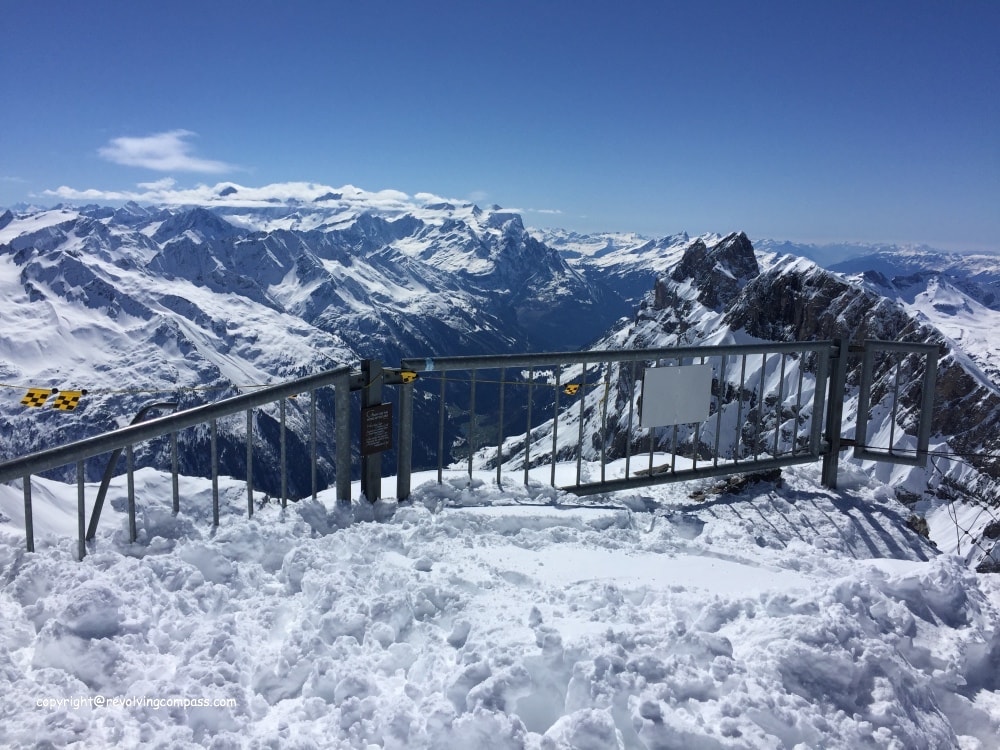 Coming on to the cliff edge and taking the cliff walk almost brought us to the end of our endeavor with snow at Engelberg and Mount Titlis. But little did we know that as we trace our steps back to the cable car station, we will have the weirdest, funniest and also the best part of the day. Myself and my friend couldn't even stand properly in snow by this time. And we were constantly slipping. So, instead of braving the slopes and risking ourselves rolling down it to the cable car station, we decided to try something funny. We sat down hand in hand and then just slid down the path. The surface was so slippery that we hardly needed to give ourselves any push or acceleration. And honestly, it was so much fun – more than the cable car ride or throwing snow balls on each other.
Do let us know if you would like to try it and how your experience was 😀 . Upon reaching the cable car station, we traced our steps back to the ground. It was already around 5pm. We didn't even realize where the day was gone. We had so much fun. And we definitely are going to cherish this day trip to Engelberg and Mount Titlis forever.
Tips on visiting Engelberg and Mount Titlis
Wear comfortable waterproof shoes or boots for walking in snow.
Take sufficient woolen gear with you like your winter jacket, woolen cap, muffler, gloves and woolen socks.
Carry your goggles. The sun is harsh at higher altitudes. Though you will not feel it due to the cold.
Also put on your sunscreen lotion for the same reasons.
It's better to pack your lunch from the ground station or from Lucerne or Engelberg itself, since up the mountain there are not many options.
Also keep a water bottle with you.
If you are prone to altitude sickness then better carry your medicines with you. And halt at each cable car station. Give yourself some time there to settle and adjust to the altitude before moving on to the next station at higher altitude.
You can either book a bus or a train ticket to Engelberg.
From Engelberg to embark on cable car journey to Mount Titlis you can get the tickets. Check the official website for the ticket details. You can get the tickets from the ticket counter at the cable car station. Or, you can as well book a skip the line group ticket through viator or any standard tour operator. They will pretty much hand you the tickets (At a little extra cost of course) and then let you have your day your way.
If you are with a kid, it's important to check before hand if you are eligible to take the ride up the mountain. Since kids below 2 years are not allowed at such high altitudes.
There are some activities that you can do here like bike rental, skiing etc. You can rent skiing gears as well. But you should know skiing. There are no instructors available here. Check the details again on the official website here.
We went in April and it was chilling cold up the mountains. So, I guess winter will get even more harsh. Also if weather is not supportive and heavy snowfall is happening the tours might get cancelled. So, time your vacation accordingly.