Recently we got a chance to travel to Kabini in Karnatak, India. And we got an opportunity to stay at The Peepal Tree Kabini, a beautiful and stunning homestay. This resort is located at the back water of Kabini River. And it provides complete tranquility to its guests.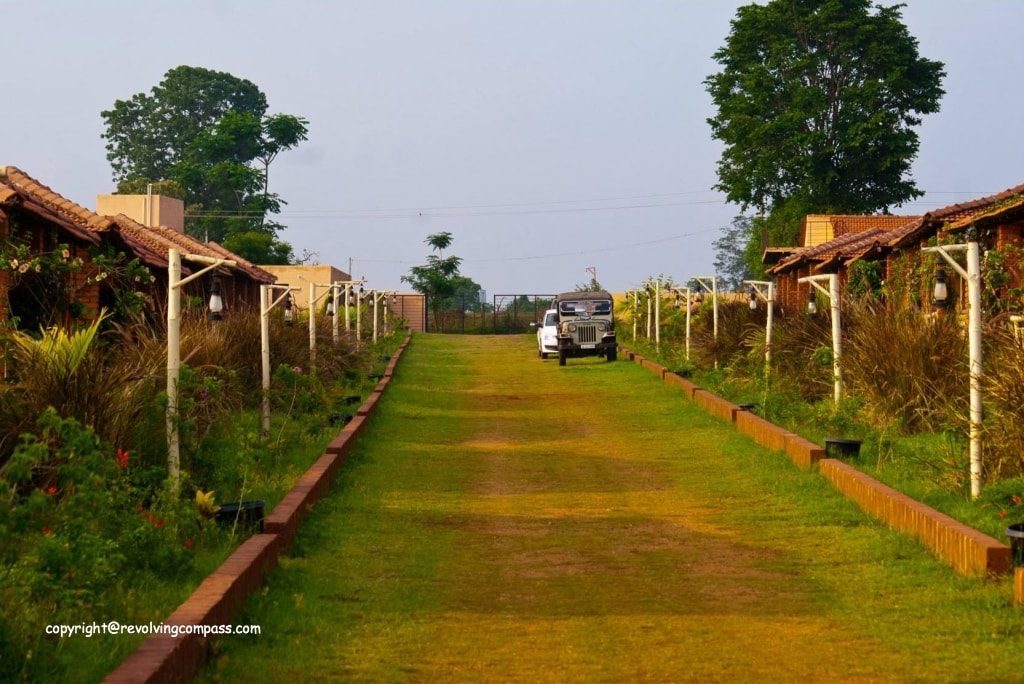 About The Peepal Tree Kabini
The Peepal Tree Kabini is a boutique homestay. It is located at distance of around 245 Km from Bangalore, on the bank of the magnificent Kabini backwaters. Also this homestay is surrounded by verdant landscape, endless greens, undisturbed calm and fishing in the wild. It has 22 aesthetically built cottages and this property is spread over 2 acres of serene land close to the forest and water bodies. Every cottage is owned by a different owner. Some have kept their cottages for private use. While other cottages are managed by the team of The Peepal Tree. You can experience the best of hospitality along with a homely stay during your stay here.
Layout
The layout of this property reflects simplicity with elegance. All cottages are aligned in two rows facing a pathway which runs in middle starting from entrance gate to river backwater bed, where the property's boundary ends. And each row has 11 cottages. Further, the pathway is nicely decorated with various kinds of plants on its sides. And in front of each cottage there is a small lawn which contains various kinds of plants including decorative and flower plants. Towards the end of the property there is a big garden or we can say a plantation area. And this area is full with various kind of trees. Also there are many mango trees. Overall the layout is very aesthetically planned and it feels great to take a walk inside The Peepal Tree Kabini.
Cottages
Each cottage in The Peepal Tree Kabini is independent and self-sufficient units with all modern comforts and amenities. Every cottage consists of two bedrooms, one living room, well equipped bathrooms and a kitchen equipped with basic amenities. The cottages partially reminded us of the homely and warm stay that we enjoyed at the Lodge at Wah in Palampur and the hospitality of the staff reminded us of the "at home" feeling that we experienced while staying in Casa Coorg during our visit to Coorg in recent past. In short, it makes for a beautiful hybrid version of a resort with all the homely charm.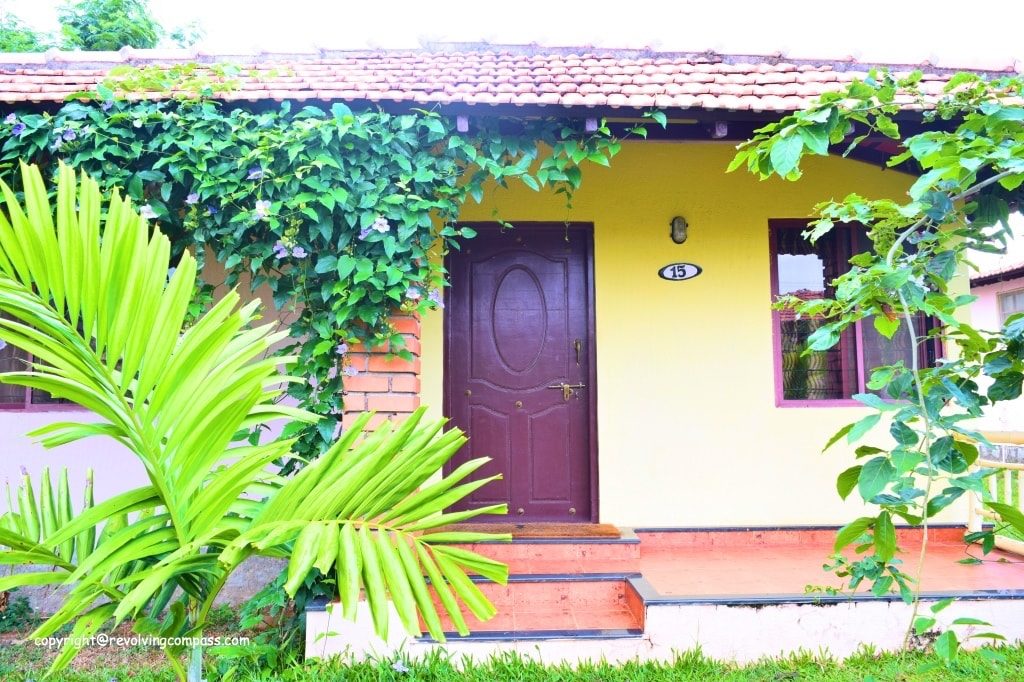 Bedrooms
Both bedrooms are decent in size and feel quite airy and spacious. Each bedroom has one queen size bed complimented with wardrobe to keep your personal stuffs. Out of the two rooms, one is air-conditioned. Also, ceiling fans are provided in both bedrooms. Our bedroom window overlooked the vast stretch of farm and then the river bed beyond them. We could see the animals grazing there and some boats rowing. The window faces east. So, we also got a spectacular view of the sunrise across the farm next day morning.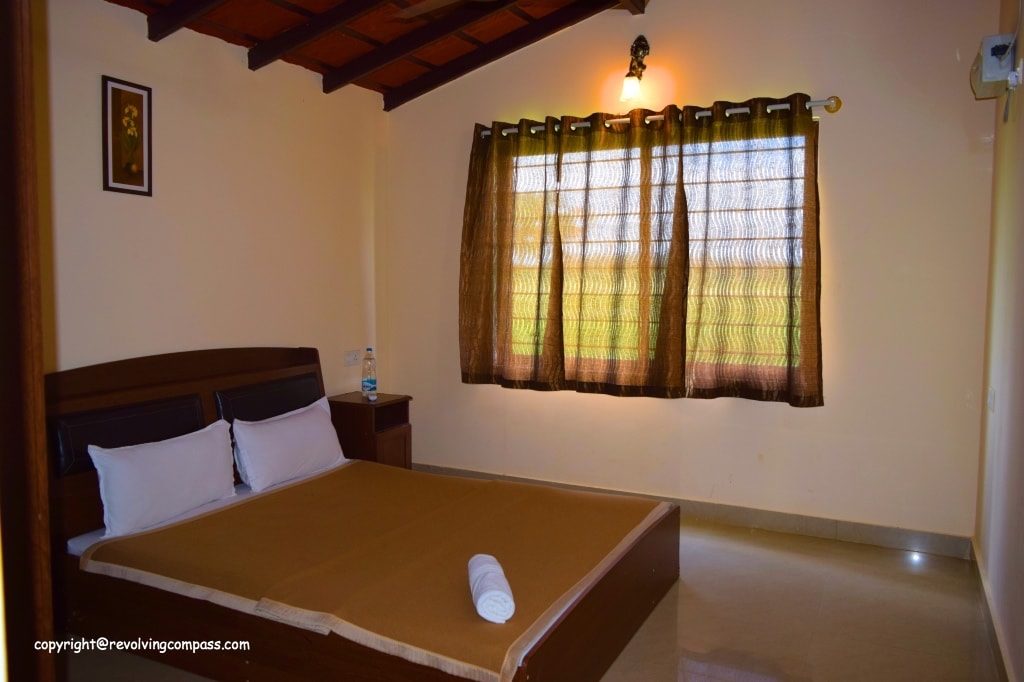 Living rooms
The living room includes a basic Television set with DTH connection. Also it includes a sofa set , one shoe rack and a four seater dining table. Overall, living room is quite decent in size and adds completeness and homely feeling to the cottage.
Kitchen
The Kitchen includes a refrigerator, where you can keep your personal stuff. Also, it contains some complimentary refreshments. The kitchen is further equipped with a microwave oven and an electric kettle to prepare tea,coffee or heat water. So I will say, it has sufficient setup to prepare a quick beverage or snacks. Also, there are complementary snacks , tea, sugar and coffee sachets provided in the kitchen. Complimentary water bottles are also present in the cottage.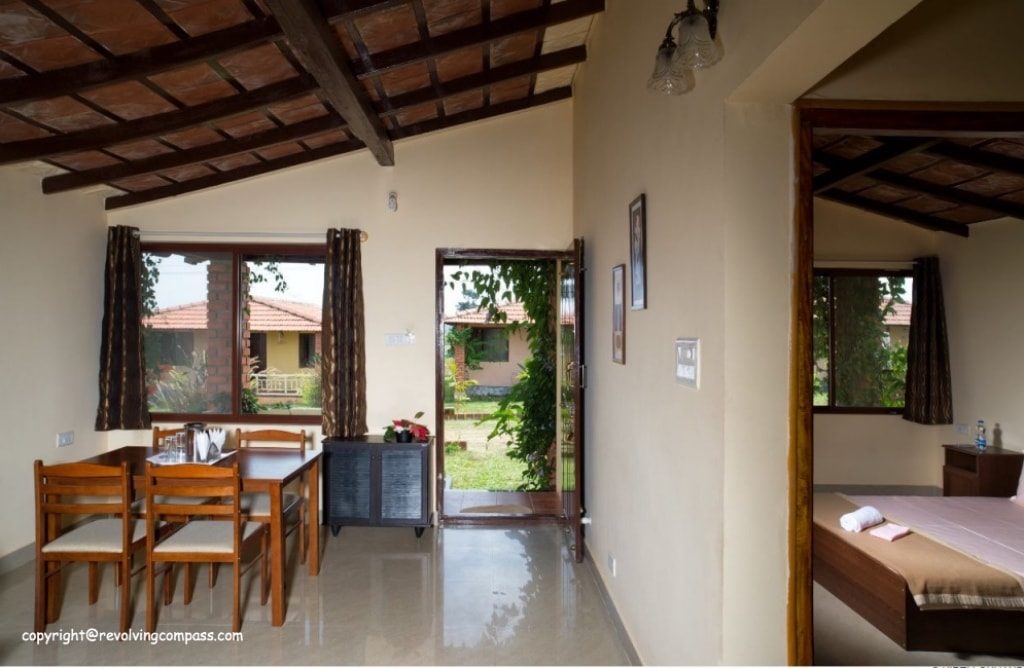 Dining Area
At the end of one row of cottages lies the dining area. And it is not just a dining area, but it is dining cum library cum game area. It is built like a large cottage. Which is covered with large glass windows on all sides, something that gives a very airy feeling. While a major portion of the dining area is covered with table and chairs for the guest to have deliciously prepared meal. At the same time, there is a rack full of various types of books, magazines and subscriptions at one end – a mini library. Also, there are bicycles stacked at the farther end of the dining area. And indoor game equipments placed inside here.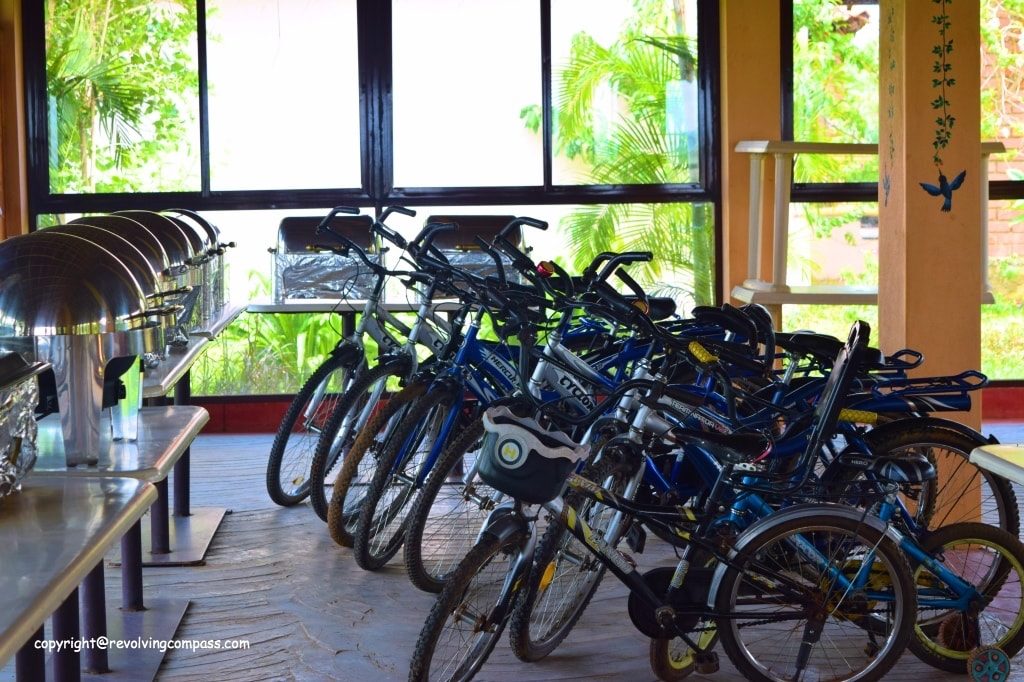 The good thing about this setup is that there are various children books in the library, kids bicycles as well as small indoor games that the kids can play with. Thus plenty of options are present which will interest kids and will be helpful in keeping them engaged.
Food & cuisines
We got an opportunity to taste all the three important meals of a day – breakfast, lunch and dinner during our stay at The Peepal Tree. On the day of our arrival it was already lunch time by when we arrived. So, after basic check-in formality and room allotment, we were served warm and freshly cooked lunch. And I must say it was very impressive. After the journey from Bangalore to The Peepal Tree Kabini, every one of us were feeling starved. So we were eagerly waiting for some delicious solution for this prolonged starvation.  And I must say, food served by them precisely met our taste buds.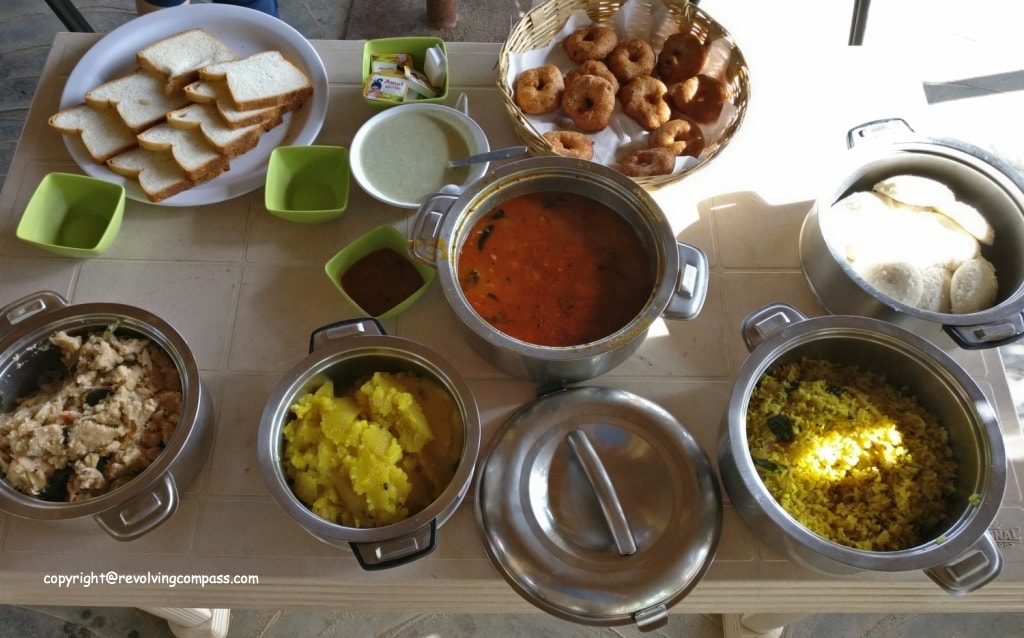 A special mention must be made for the rotis (Indian bread) which were so soft. Overall, It was a sumptuous and delicious lunch with verities of items on the table. So, we were both satisfied and filled. And we had similar great experience with dinner and breakfast next morning . Apart from the skills of the cook, the courteousness of the staff stood apart. While we had our meals, they kept asking us now and then what we needed. And they kept replenishing the dishes as we ate.
Activities & Recreation
Guests have various options to opt for recreation activities. Some of the activities that you can indulge into while at The Peepal Tree Kabini are:
Indoor games
Outdoor games
Reading books from the library
Enjoying in the swimming pool that also has a toddler's pool included
Taking a walk along the backwaters of Kabini river
When there is ample water in the backwaters, during and post the monsoon months, you can enjoy boating on the river as well.
Bird watching.
Star gazing.
Watching the cattle graze into the fields across the backwaters.
Temple Visit: Unfold History Through the ancient temple of Bheemana Kolli Sri Veera Bhadreshrewara Temple & remains of abandoned temples built by Chola Dynasty. (On Saturdays only)Our Stay at The Peepal Tree.
Village tour and a jeep safari along the backwaters.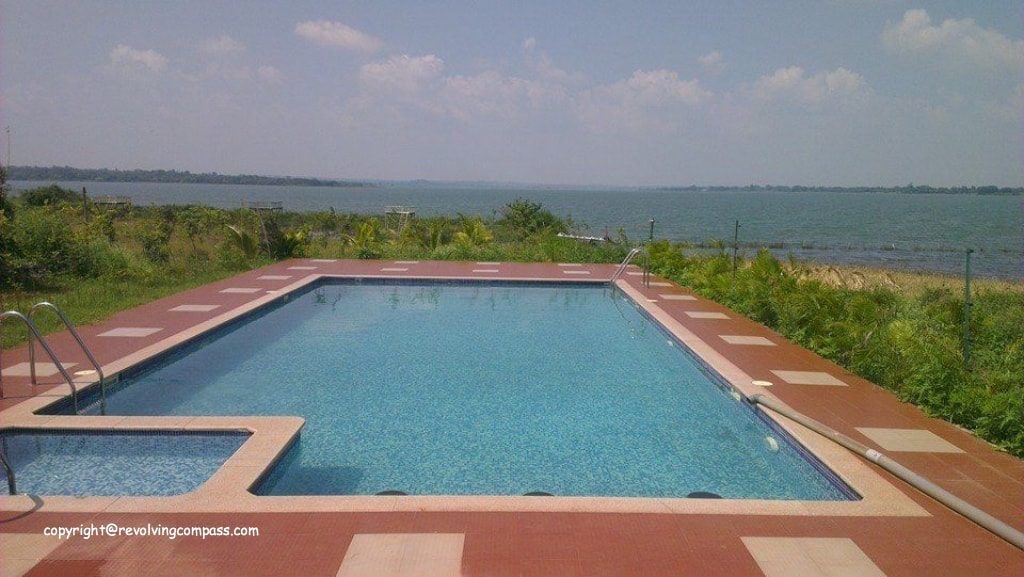 Our experience at The Peepal Tree Kabini
Arrival & Check-in
We arrived at property around 1:00 PM. We were total 5 adults and one kid of age 3. So, we stayed in two cottages and they were allotted next to each other. We happily settled in these two cottages. While the staff went into full swing to prepare our lunch. Thereafter, we had a delicious lunch.
Abhi, the caretaker at that property informed us that at 4:30 PM they will provide complimentary village tour and further will be taking us to backwater area near the forest where we can sight herds of deers and elephants. So we had 3 hours of spare time in our hand before that. Hence we decided to do some exploration across the property during this time. So we started with a walk within the property itself. It was a cloudy day and we enjoyed our walk along the pathway which passed in between the row of cottages. And our little one was happily chasing butterflies flying in and out of flowers planted along both sides of pathway. Further we visited swimming pool. And it was yet another attraction for the little one.
Visiting river area back of resort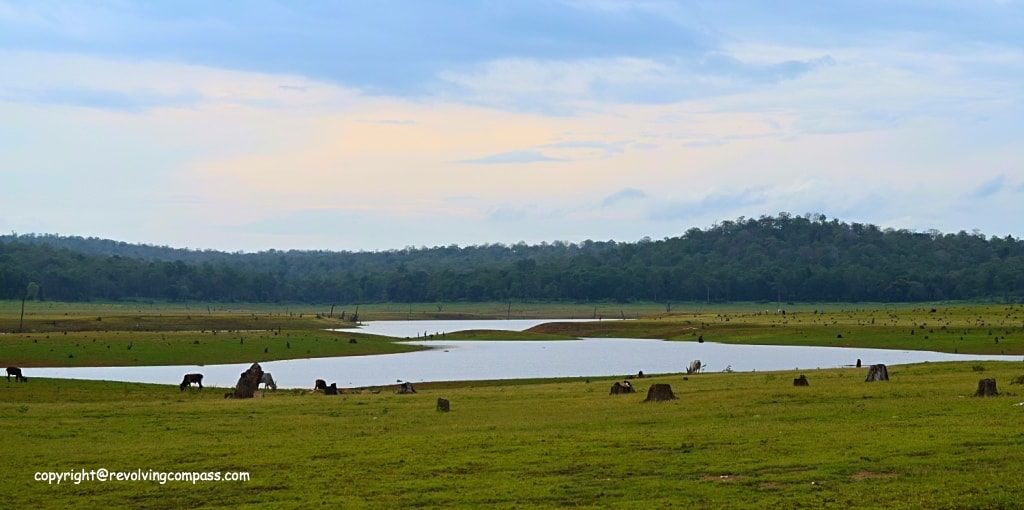 After swimming pool we passed through the plantation area to reach the end of the property. There is a small gate at the end of property beyond which there is a vast stretch of open green fields. And further ahead comes the bank of the river. Actually it is the backwater of Kabini river and  the green belt around that.
All of us stepped out of the gate and strolled towards the back water. And, it was an amazing feeling. Fresh air and breathtaking views from all around greeted us. We were feeling like free birds and fatherly light. . And this is exactly the feeling which we constantly keep missing during our stay in city. Thus compelling us to look for such vacations. Overall, this place is completely in accord with this need. So, if you are looking for a quick weekend break from the cities, look no further. Kabini and The Peepal Tree can be your perfect retreat option. After spending some precious time here we came back to our cottages and took some rest.
On village and backwater tour
At 4:00 pm we came down to dining area and asked for tea and coffee, which was served in another few minutes. By that time the driver with his Jeep had also arrived. He was supposed to take us on to the village tour and the backwaters tour. At sharp 4:30 PM we started from the resort for our complimentary tour provided by The Peepal Tree Kabini. And I must say this tour was awesome and each one of use enjoyed it to the fullest. First we drove through the bumpy village roads. Waving and greeting the locals who were so excited to see us.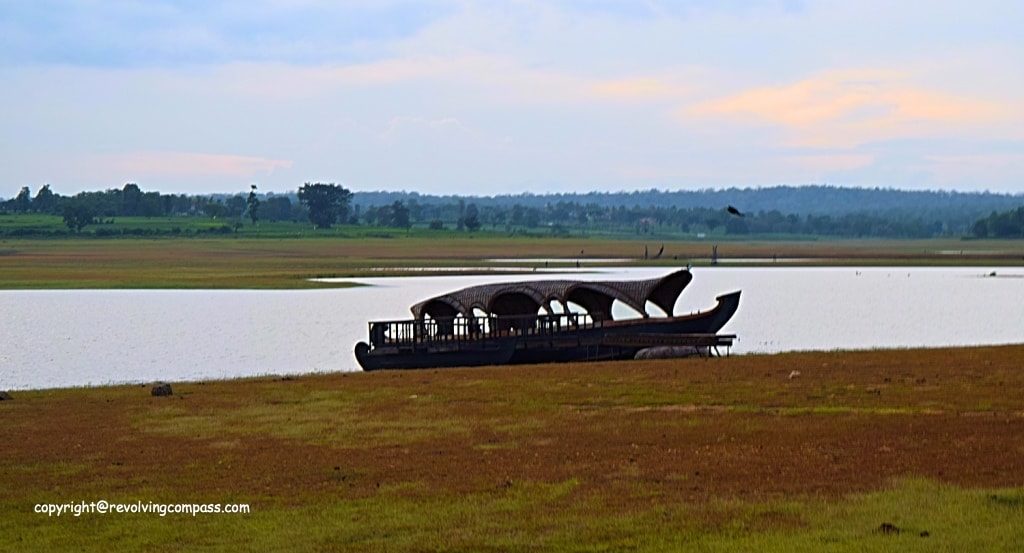 Then we finally came to an end to the road. And there was a vast meadow that stretched in front of us with hundreds of cattle grazing here. Some villagers were around, each looking after their own herd of cattle. Beyond this meadow glittered the backwaters of Kabini into the evening sun. On the father ends across the river, we could see dense forests. We saw big groups of spotted deers grazing just outside the forests. And our guide informed us that one side of the forest that we were looking at was the dense Nagarhole reserve forest while the other side marked the borders of Bandipur National Park and reserve forest.
Finally, after staying here in the meadows for a while, we drove back to the resort. But this time around we took the almost non existent road right along the banks of the Kabini backwaters. It was a much more exciting and delightful drive through the meadows.
Next morning
Next morning we got up early to the chirping of birds. And after watching the beautiful sunrise, we took a walk in the fresh air. Further we got ready and came over for breakfast. We were greeted with numerous delicious items. We filled ourselves and started again on our trip back to Bangalore.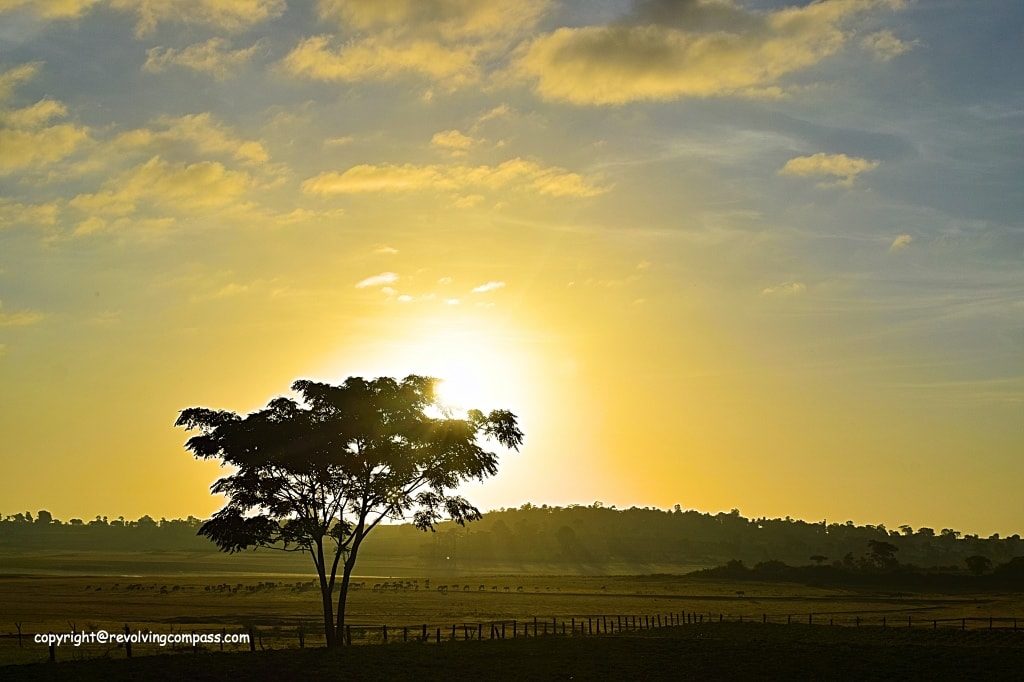 Reaching The Peepal Tree Kabini
Located at a distance of 245 KM from Bangalore and at a distance of 75 KM from Mysore, The Peepal Tree Kabini  is easily reachable via road. Most of the stretch of the road leading to the property is in good condition, except the last 2 KM stretch which is not well laid out. But still it is easily drivable. So one can use their own private vehicle or can hire a cab to reach here. Also you can reach to Mysore which is very well connected to all parts of the country. And from there you can hire a cab for The Peepal Tree Kabini. And KSRTC buses from Bangalore and Mysore also ply till Kabini. From there you will need to hire any cab or auto. But it may prove a little cumbersome as most of the properties in this area including The Peepal Tree Kabini are little inside the village, to provide great views of the backwater. So better hire a cab from Mysore or Bangalore itself.
Our Thought
Overall it was a pleasant stay at The Peepal Tree Kabini homestay. The property location is great, property setup is done nicely and staffs are very courteous. If you are looking for a weekend getaway, then it is a perfect one. We relaxed, watched beautiful bird species, read some books of our interest, tried on the bicycles, gazed at the stars and walked along the backwaters. Overall, we spent some quality family with our family in complete tranquility. It was a perfect, beautiful weekend. If you are looking for a similar getaway, it will be a perfect vacation spot for you.
Tips on visiting The Peepal Tree Kabini
Wear comfortable cotton cloths. Best is to choose earth colors so that you can blend with the surroundings and not distract the wild animals if they happen to walk closer.
Take a pair of binoculars along. They will really help you spot the animals better.
Once you take a divergence into the village from the main highway, keep asking locals for directions. Maps and apps might trick you as most of the properties are located in the middle of wilderness.
Help keep the area plastic free. Don't leave plastic bottles or poly-bags behind.
Be a little watchful at night. As you are closer to the natural flora and fauna. Although it's not an issue in The Peepal Tree Kabini as it is located more towards the village than the jungle.
2 days are sufficient to plan a weekend retreat to Kabini.
Do drop an email to The Peepal Tree Kabini with your details and confirm about your expected arrival time etc. for a smooth experience.
You can reach out to the staff in case you need anything. Even better to take their number in case you want to give them a quick call.
PS: Though we were invited by The Peepal Tree to stay over with them at Kabini, the views and opinions expressed here are solely our own and completely based out of our own experience during our stay here.