Did you know about TherPUP dog cafe Bangalore? We were introduced to the concept of dog cafes by the posts of fellow bloggers. And being dog lovers, we really liked the concept. Basically dog cafes are the regular cafes with the USP that you can take your pets along when you visit here. And mostly they have menu for your pet as well. Some dog cafes have their own dogs also, so does TherPUP dog cafe Bangalore.
However, initially we were not sure if something like a dog cafe existed in Bangalore. Intrigued, I just did a google search to find out. And to my delight as well as surprised I discovered one just in the neighborhood – TherPUP – started by Ankur and Vinayak.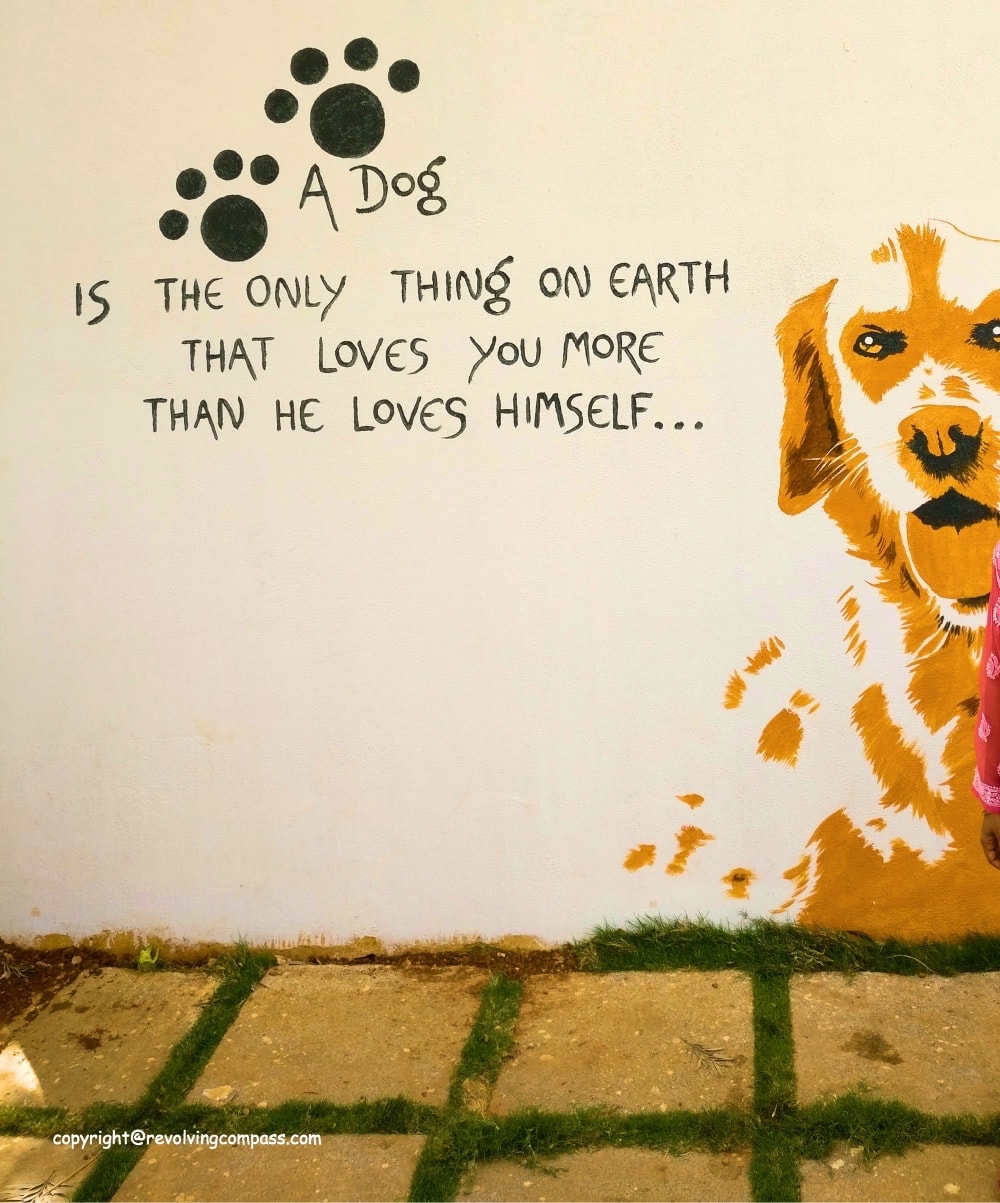 Being dog lovers and having a little kiddo who is equally crazy about dogs, we decided to head here today. And what I found upon reaching to this dog cafe was even more delightful than what I had googled about it. As we cobbled through the neighboring streets of Whitefield, with the help of our GPS service, we finally arrived at Whiterose layout, where TherPUP is located.
The first impression at TherPUP dog cafe Bangalore
From the outside, it looks like a quiet and simple site. But as we stepped inside, we immediately felt the vibrant atmosphere abuzz up with families, friends and couples. Right in front of the entrance gate is a shade with some tables and chairs set near them. We saw many families seated in this area, some with their pet dogs.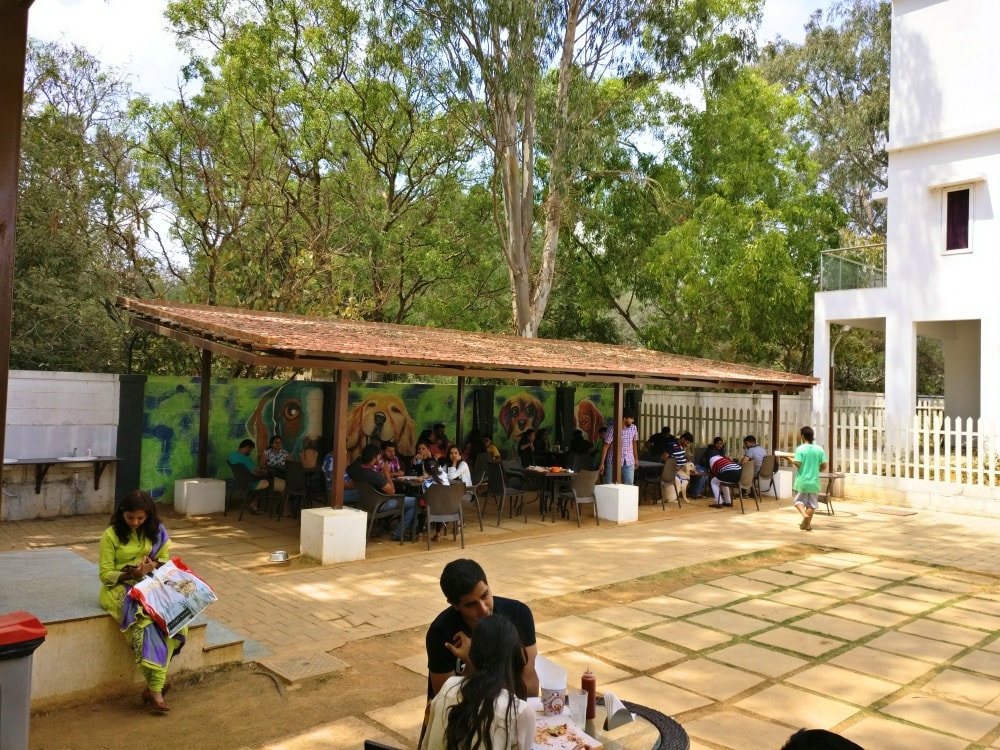 On the left hand side of the entrance lies a verandah, again with chairs and tables set. And at one end of this Verandah is the counter of the dog cafe. Behind the counter lies the cafe kitchen. While adjacent to other wall of the verandah is the backside room in which many dogs were resting. Although it took some time for us to locate the first pet, but then soon they all started appearing one by one.
Take your pets along at TherPUP, dog cafe, Bangalore
At TherPup, the dog cafe, you can take your pet dogs along and let them have a wonderful meal of their own while you enjoy your own delicacies from the cafe kitchen. Also, dog lovers who don't have pet dogs of their own can as well walk here and have a wonderful time with the dogs. There are eight dogs owned by dog cafe itself. Each one is very friendly, well behaved and a delight to spend time with. The good part is that these dogs look quiet clean and well maintained. And they also look healthy and taken care of.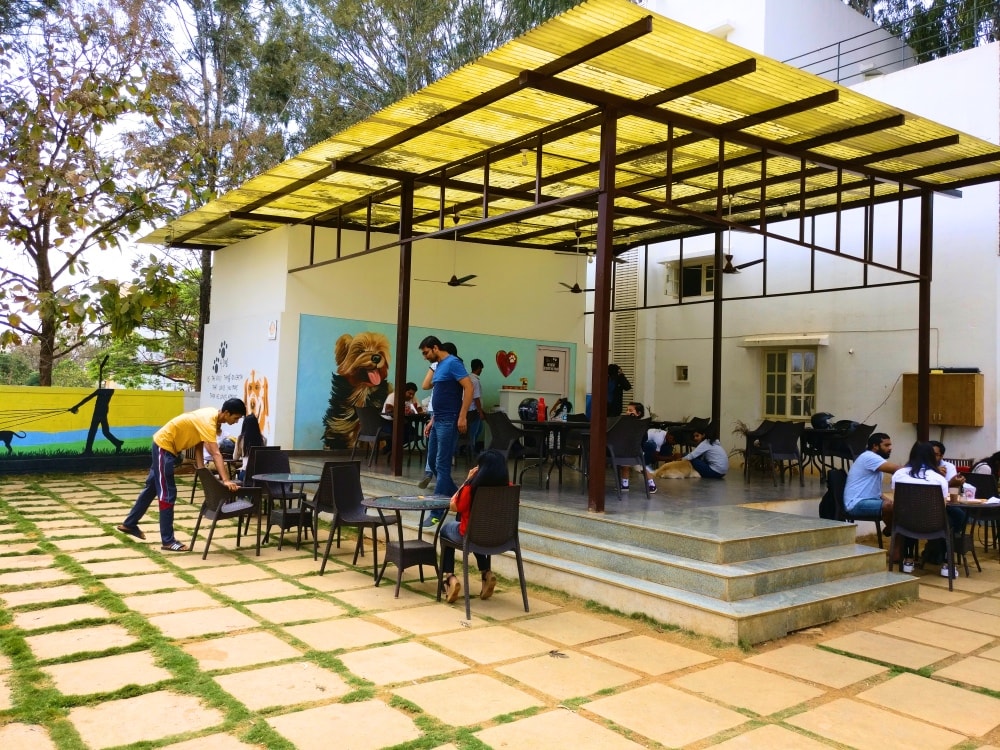 As we entered inside, we found our seat near the Verandah of the cafe. And placed our orders. The place was already almost full with visitors. People were stroking and playing with the cafe dogs, as well as with each other's dogs. Most of the space in front is free for dogs and people to run around and play.
The delicious food at TherPUP dog cafe Bangalore
We ordered some delicious pizza, pasta, coffee and a lichee juice. And our little one initially settled on a chair with us. However, the joy on her face, watching the dogs, was quiet evident. Especially when one or the other just ran past her chair.  And it was really difficult to contain her in that chair and make her finish her food. Finally I made a deal with her that she finishes the food and then we will go play with the doggy as long as she wished. And to my delight, she obliged.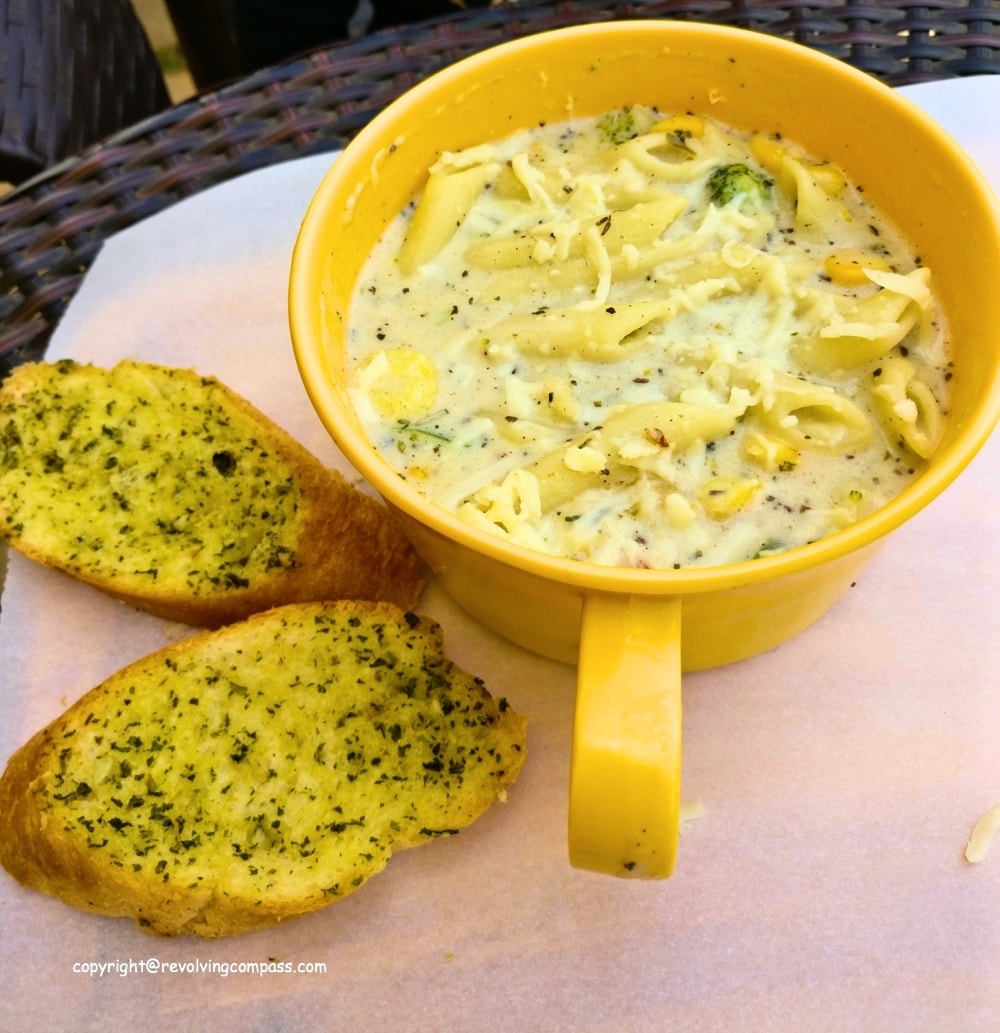 And I have got to mention, the food was also quiet delicious. We finished it at a slow pace, matching that of our daughter's, savoring the hot delicacies. Finally, the food was over and it was time to head back to the canine friends and play with them, as promised to the little one.
Rendezvous with the friendly host dogs at TherPUP
After having our food we asked her if she wanted to touch the dogs and play with them. Although she very much wanted to, she was terrified to start with. Since she had never been up close with dogs as large as the full size golden retrievers at the dog cafe premises. However, her dog craze overcame her fear and she decided to give it a try, walking closely with us.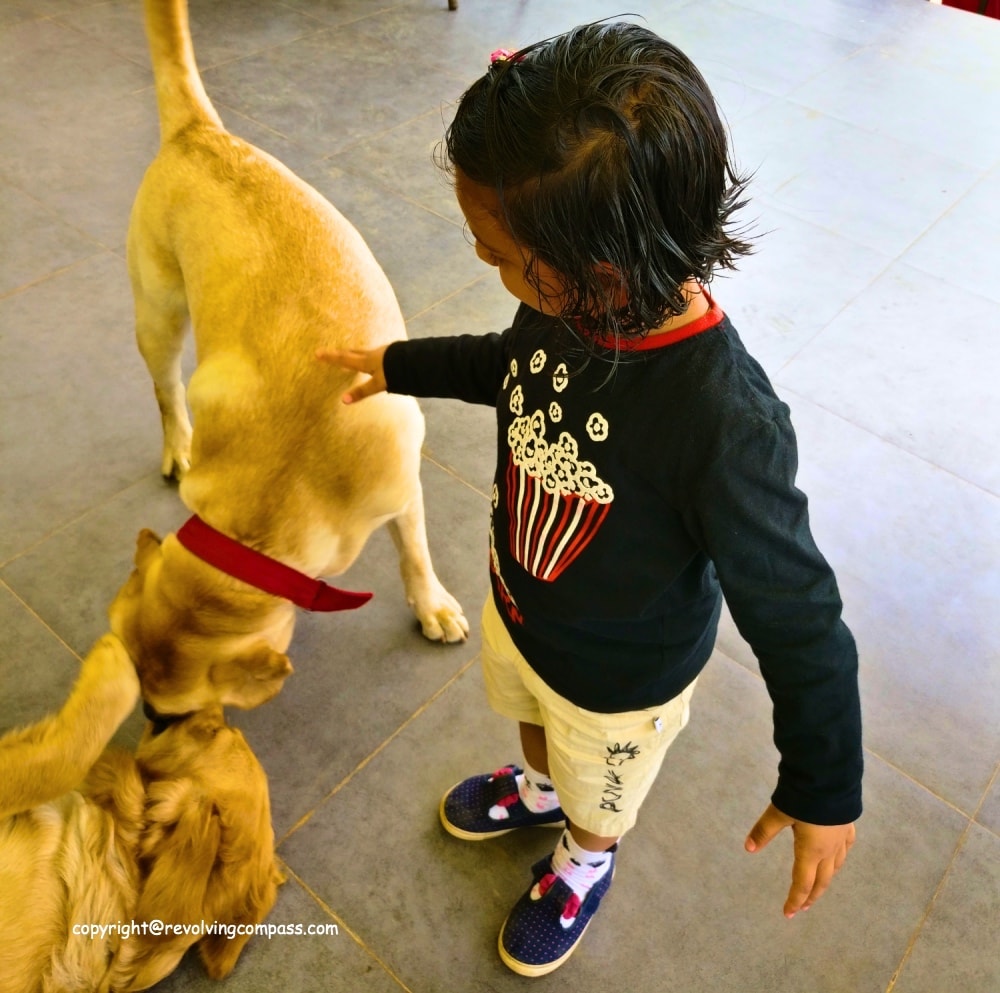 First we headed to the verandah. And our daughter joined the group of people playing with three dogs there. She has a wonderful time here. Afterwards we took her to the room behind the verandah where many of the other dogs were lazily lying around, enjoying the attention and love of visitors that was being showered upon them. Myself and daughter sat besides a big bulky black dog who immediately wanted all our attention. We started stroking his head and he soon closed his eyes to enjoy the affectionate touch.
Some time spent with little Bolognese at TherPUP
Whenever we tried to stand and go, this dog actually opened his eyes. And we could clearly see in his eyes the urge to not let go of us. We stayed there for some more time. And finally we decided to say good bye to this new friend. As we came out, and started towards the gate, the little Bolognese came running and started to sniff our daughter. I guess she was the smallest baby there, just like he was the smallest dog there. And he had found his friend amidst the crowd. No matter however much others were trying to seek his attention, he was constantly coming back to her, asking her to play with him in his doggy language. It was so cute and bemusing.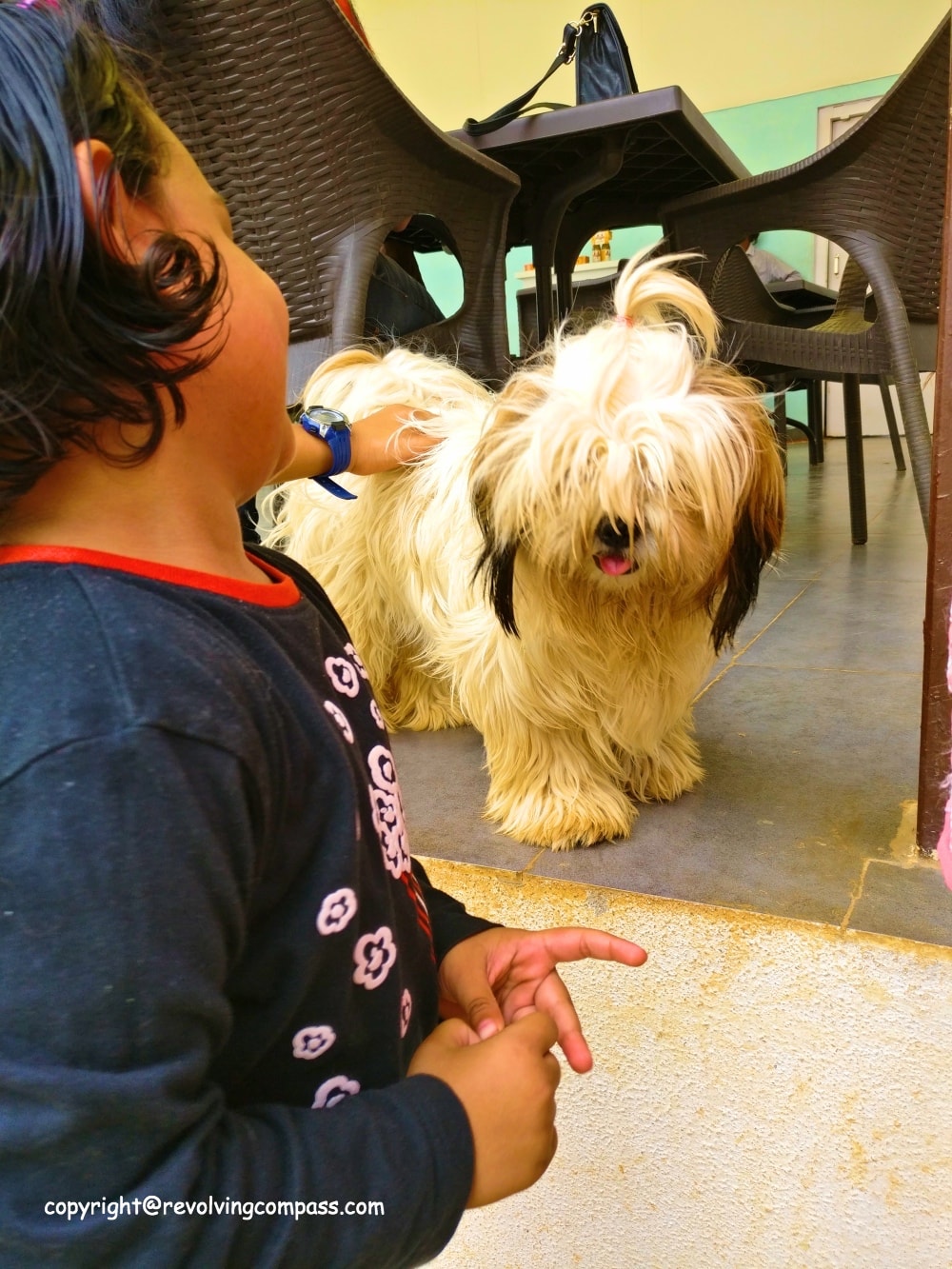 Finally, after playing with this one for a little while, we decided to head back home. This cafe has been such a discovery. After talking to them I came to know they have started operations almost seven months back. And they are already gaining quiet some popularity in the neighborhood. We are definitely going to be a regular customers. And we would suggest every dog lover who is in Bangalore or who visits Bangalore to give this place a try!! Not only did we see human bonding with the canine friends here. But we also saw dogs playing with each other and delighted to find company.
Here's a link to the facebook page of TherPUP for further information : TherPUP Dog Cafe
In conclusion
PS: Research and study have proved that dogs boost our mood. And also help us fight depression. In face, they have proved to have better effect than medicines in many cases. The unconditional love and affection that they impart makes us forget all our worries in their company. They are stress busters and also help us stay active. It's great to own a dog, but it is not possible for everyone to own one, due to various reasons and constraints. But the rising concepts of dog cafes, dog houses and other animal care shelters where we can go interact with the dogs and spend some time with them, is really great. With the disclaimer that these dogs are taken care of properly.